06.09.23
Curved Walls — and Color — Are French Architect Pauline Borgia's Secret to Designing a Small Space
At Pauline Borgia's childhood home in Corsica, every room was a different color. Growing up in this polychromatic environment, she quickly understood the power of color to create associations and identity, and now applies hues in a highly considered way — to focus a sightline, play with proportion, or create a trompe l'oeil effect — in projects by her Paris-based studio, Atelier Steve.
Although many of her projects to date have been interior renovations, Borgia approaches each like a true architect. She draws plans by hand, and begins to sketch her solutions for maximizing space, making sure every line, wall and surface has a purpose. It's in small homes where she finds the biggest challenges and the most enjoyment, devising clever space-saving solutions through curved walls, or built-in furniture. One of her favorite gestures is to carve or mold furniture elements directly into the smooth plaster surfaces, acting more like a sculptor in this instance.
Borgia is also a big advocate for sustainability in design. She frequently convinces her clients to keep the existing elements in their homes, whether that's architectural detailing or a vintage sink, to reduce the environmental impact as well as retain the character and the stories that the spaces hold. One of her most eco-friendly renovations was for an old shepherd's cottage back in Corsica, in which she chose organic materials like lime plaster, and repurposed leftover tiles from a past project.
We recently spoke to Borgia about her favorite projects and the emotion she brings to each of them, as well as her dream of one day designing a hotel.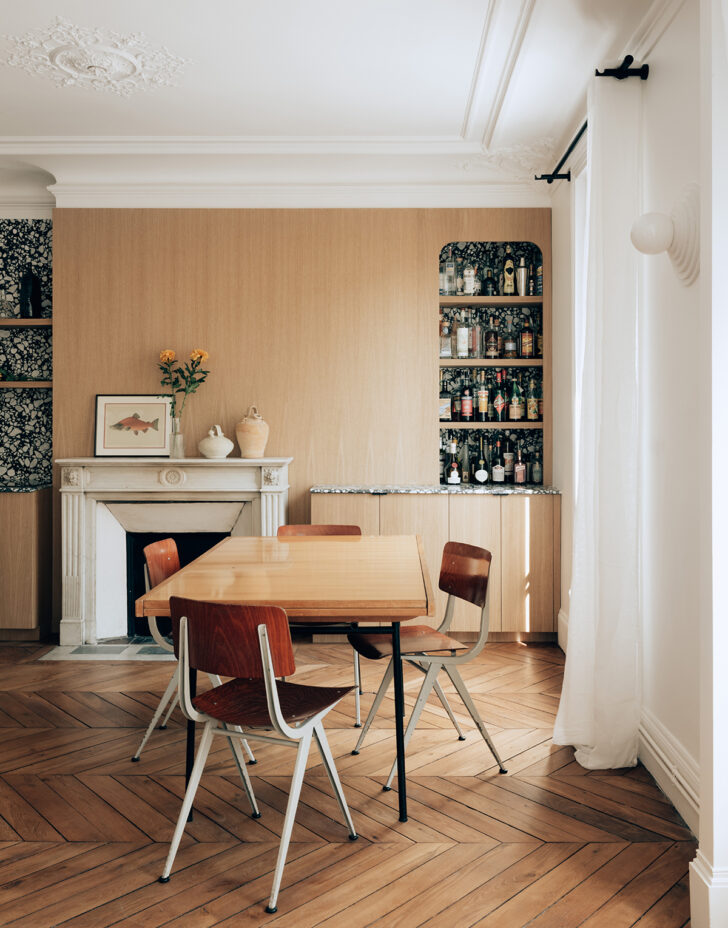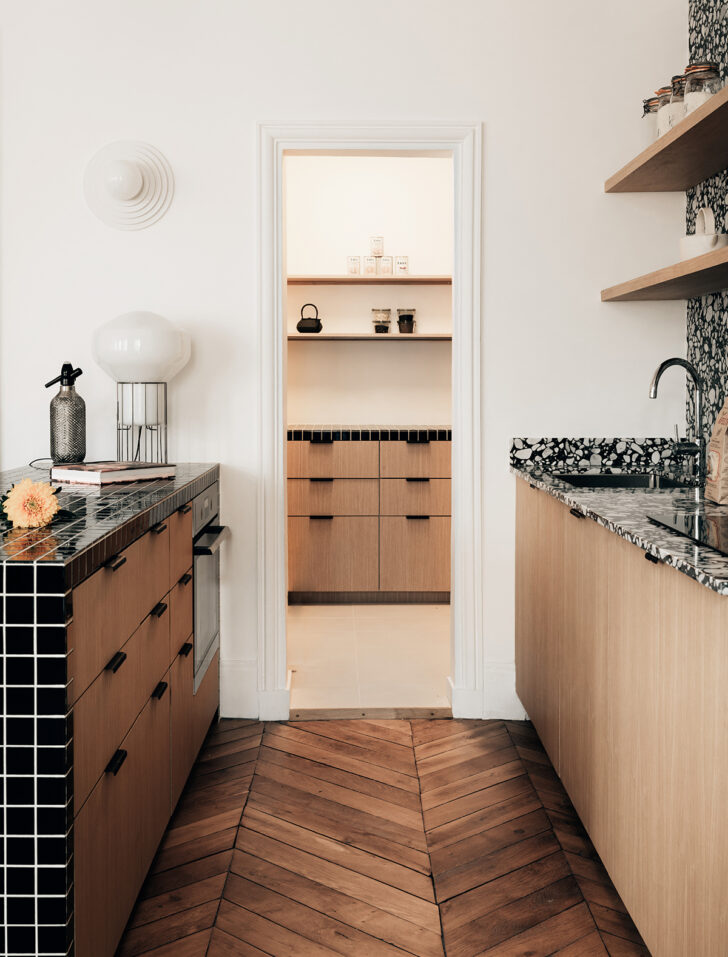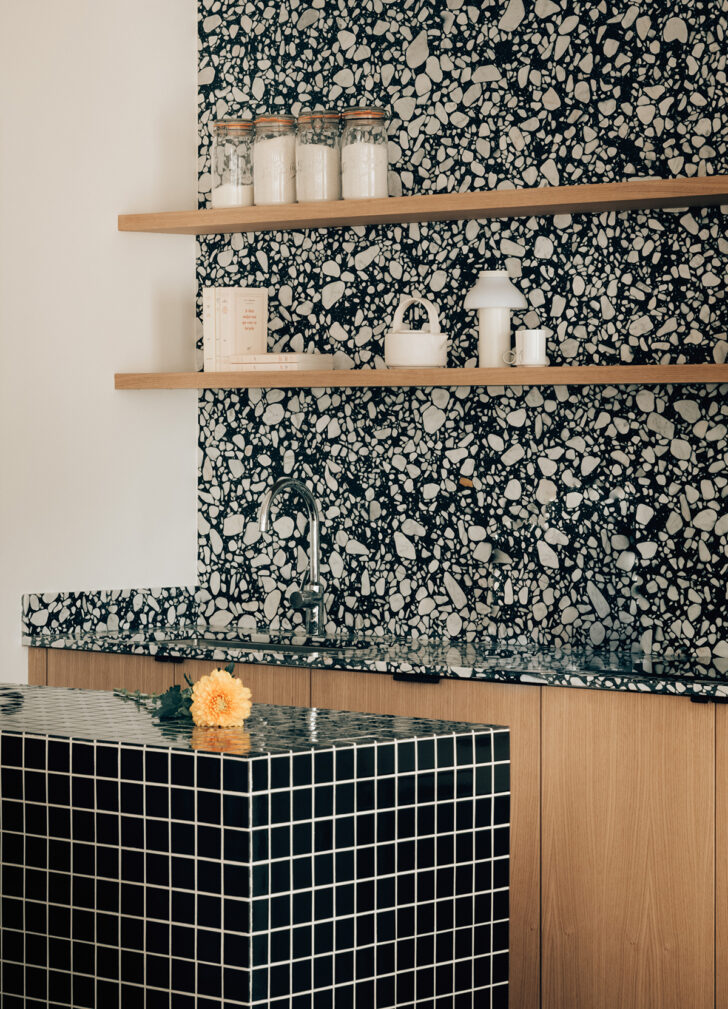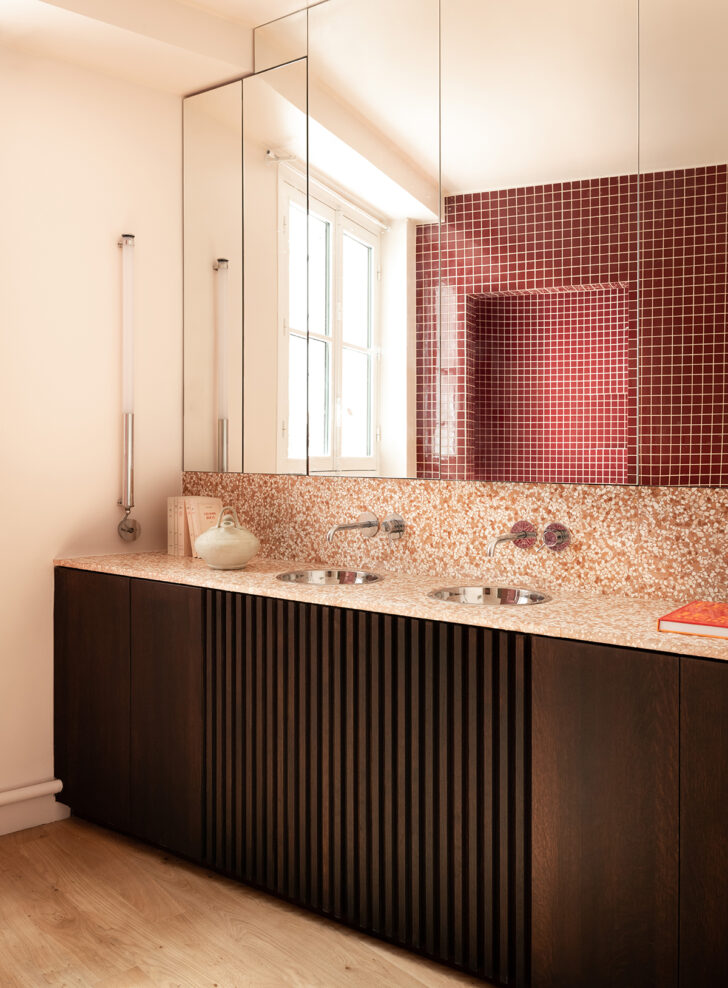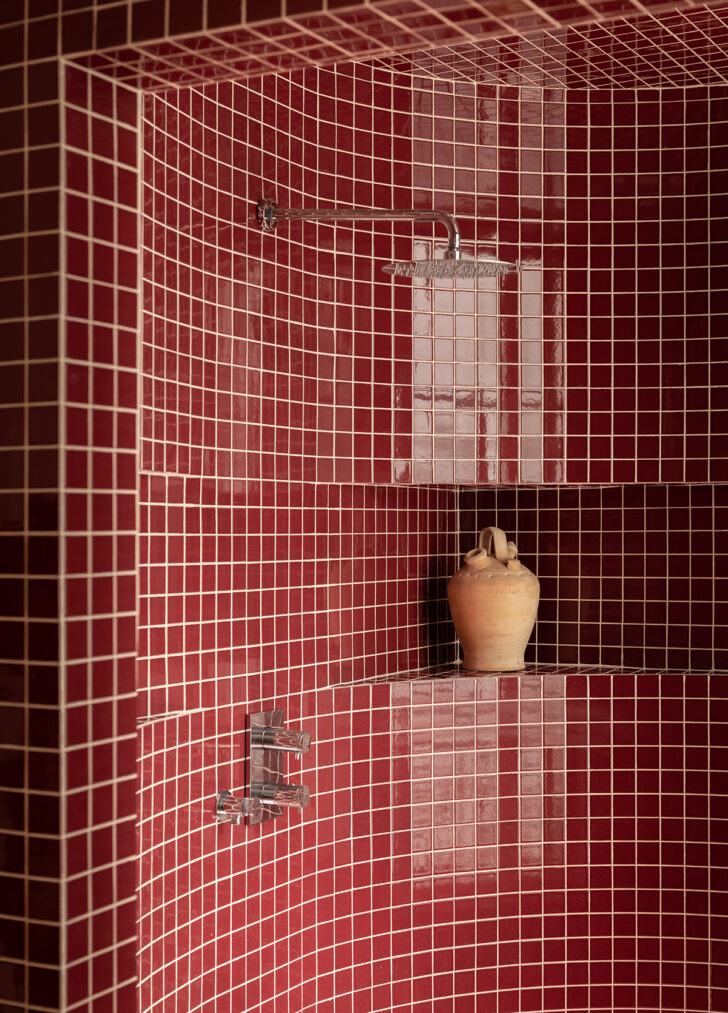 Hi Pauline! Can you start off by telling us a bit about your background?
I did my architecture studies at Paris-Malaquais, which is the school that's part of the École de Beaux-Arts. Then I started to work in a big Parisian office, before going to Hong Kong and working there for two years. When I came back to Paris, I opened my own studio, Atelier Steve. That was about seven or eight years ago.
I also worked in Hong Kong for a year, a long time ago. It's such a cool place.
There's a lot of energy there. That's why I opened my own studio after coming back from Hong Kong. I went there because in Paris, at the time, there was not a lot of work after the financial crisis, and it really wasn't a good moment to start out as a young architect. So I wanted to find somewhere with a lot of energy, and a lot of work. But after two years, I missed Paris a lot so I came back.
How would you describe your design style?
I would say my way of thinking is very French. I don't know if I have a style per se, although when people see pictures of my work, they say they recognize it as mine. Maybe there's something of the spirit of my school in there, which is that every line that you design, you have to explain why it's there. It can't just be there for beauty's sake, it has to have a function, and I think my architecture follows that. Every wall, every surface is there to create more space, or bring in more light, etc.
I also try to make sure all my designs have good proportion and harmony, because this is really important to me. But I don't know if that's a style. I guess I must have a signature though, because people have told me that. I do like to incorporate organic lines and shapes, because I like to bring emotion to my projects.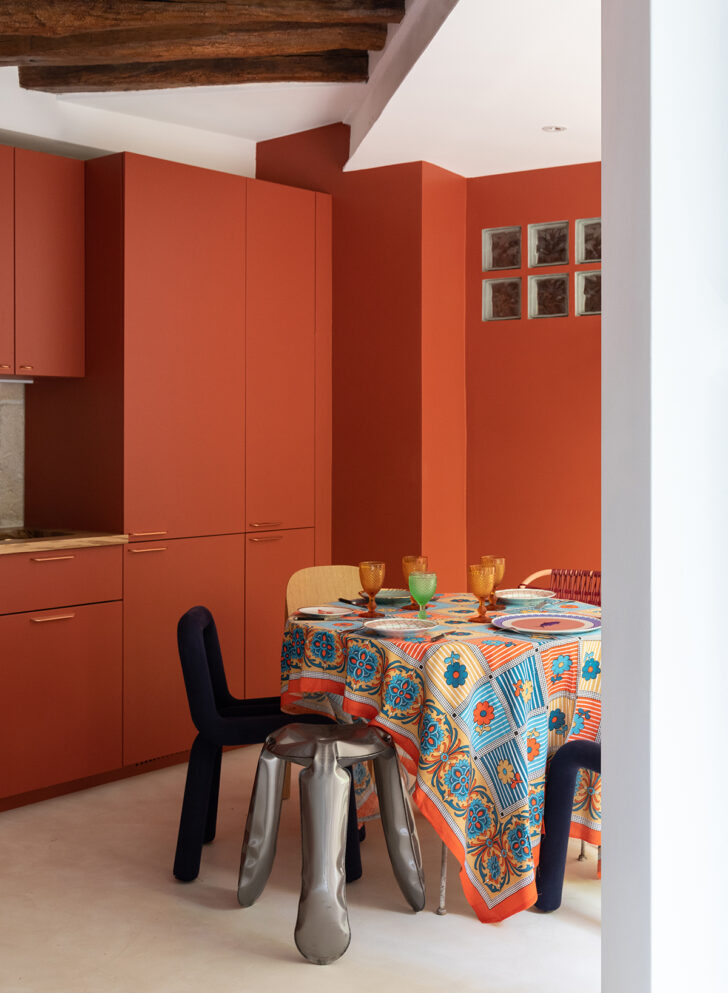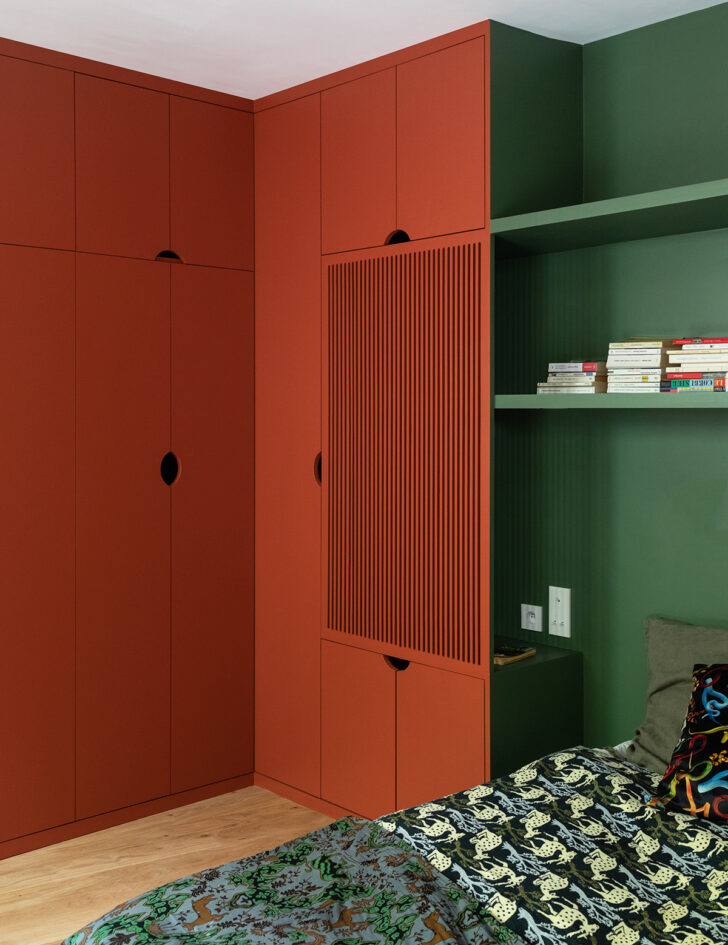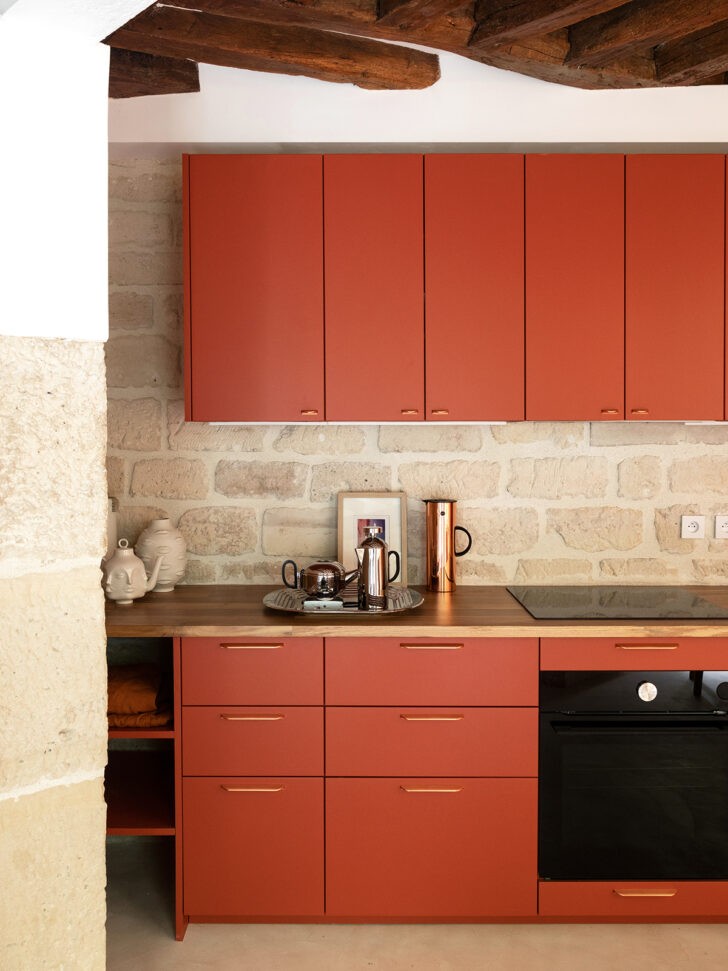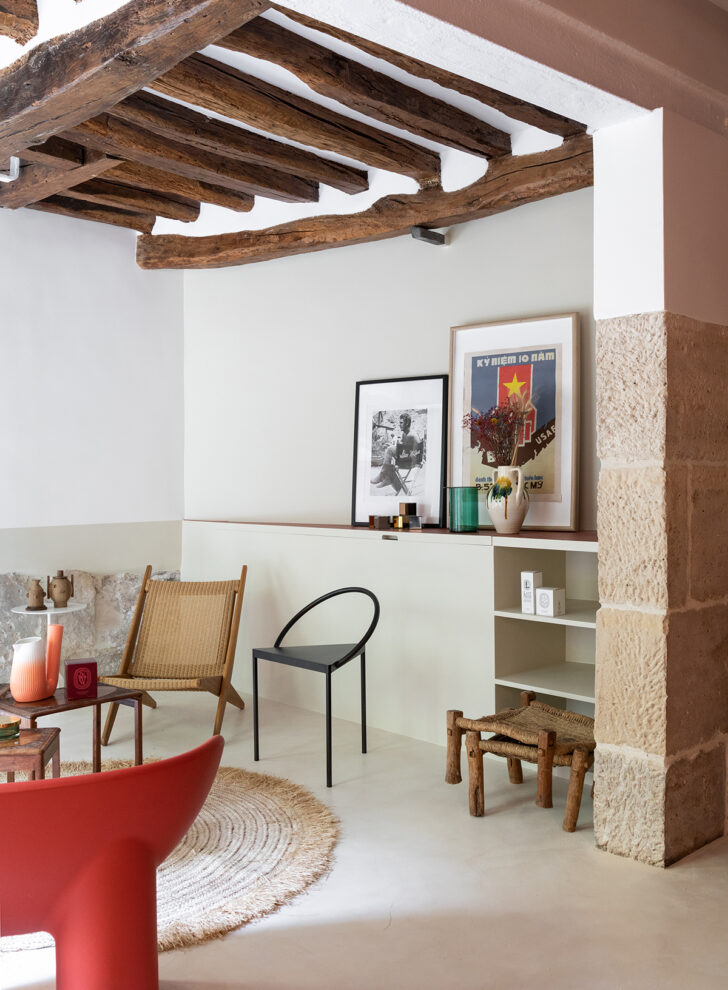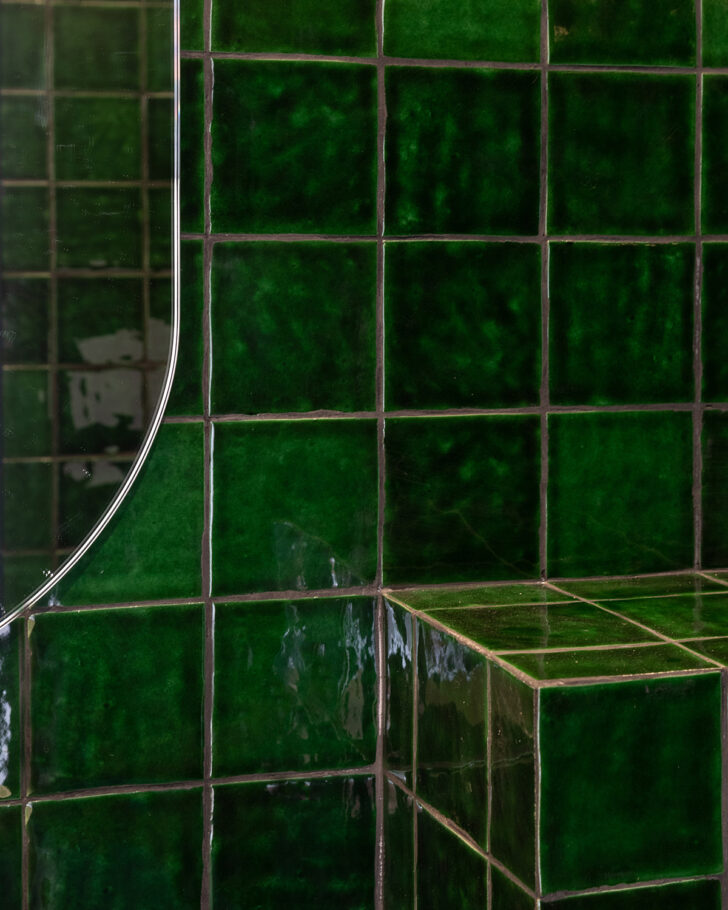 Are there any materials that you particularly enjoy working with and that you use frequently?
I really like to work with wood, because I create a lot of built-in furniture. I do a lot of interior design, and in Paris, there's not a lot of space and apartments are small. Square meters are very expensive, so you have to be clever and find solutions to do a lot with a small space. So I use wood to create this furniture.
I also really like to use plaster, which I also use to create built-in furniture that becomes part of the architecture, rather than simply pieces of design. I know I work like a designer sometimes, but I'm an architect, so when I incorporate fixed furniture into a space, that's how I treat it.
Plaster also has a very sculptural quality to it, when used in that way.
Exactly. An architect can work as a sculptor. Sometimes it's hard because a client might not want to go in that direction, but with others, they allow you to create this architectural "sculpture".
Have you found that many clients have embraced that type of style, and allowed you to really push your architectural capabilities?
Now, yes. I think my clients trust me and there have been some projects where I've been able to work differently and more expressively than others. Now I can show these projects to new clients, and because they can see the results, they say "oh, yeah, this is really good" and want to have something similar. So once you have a couple of projects to show your true capabilities, that's when you get even more projects like that.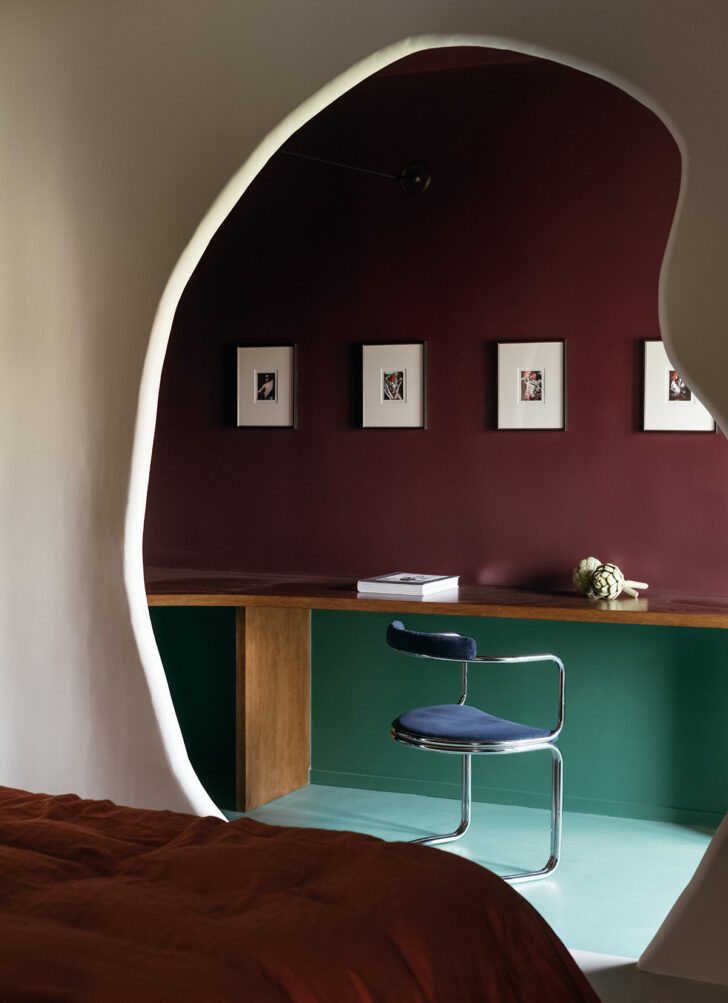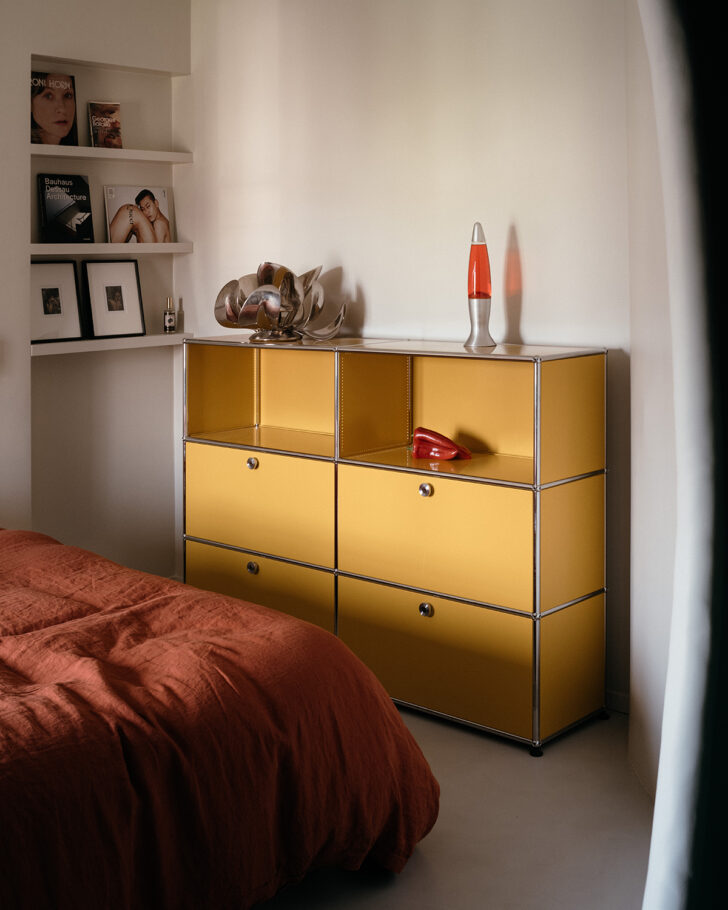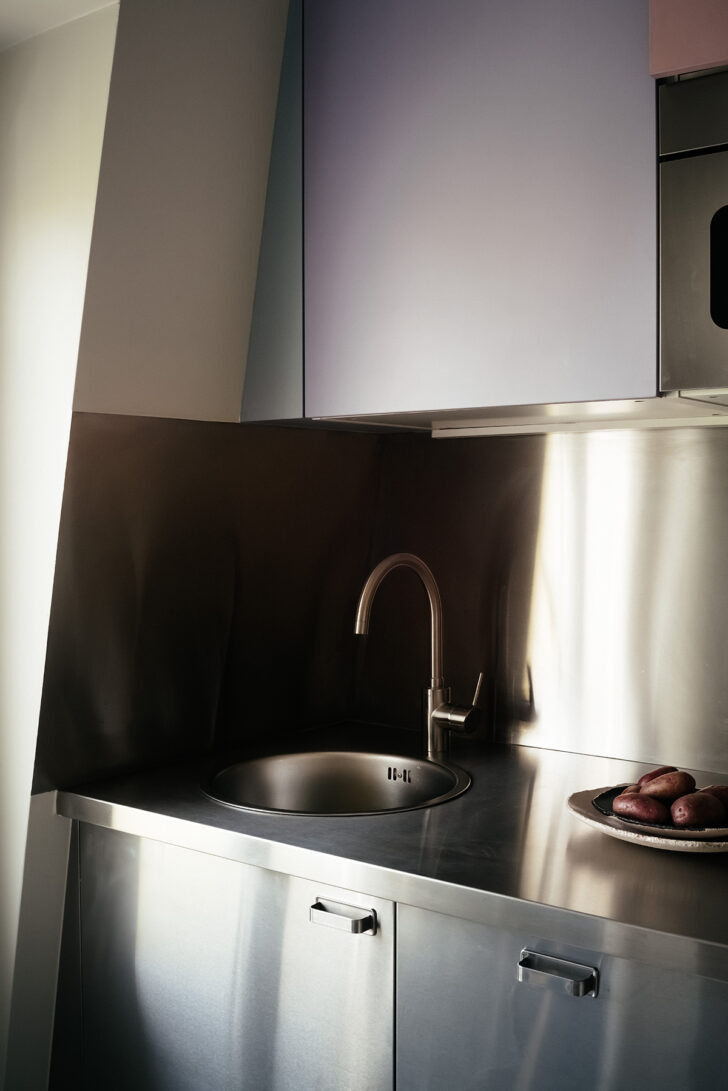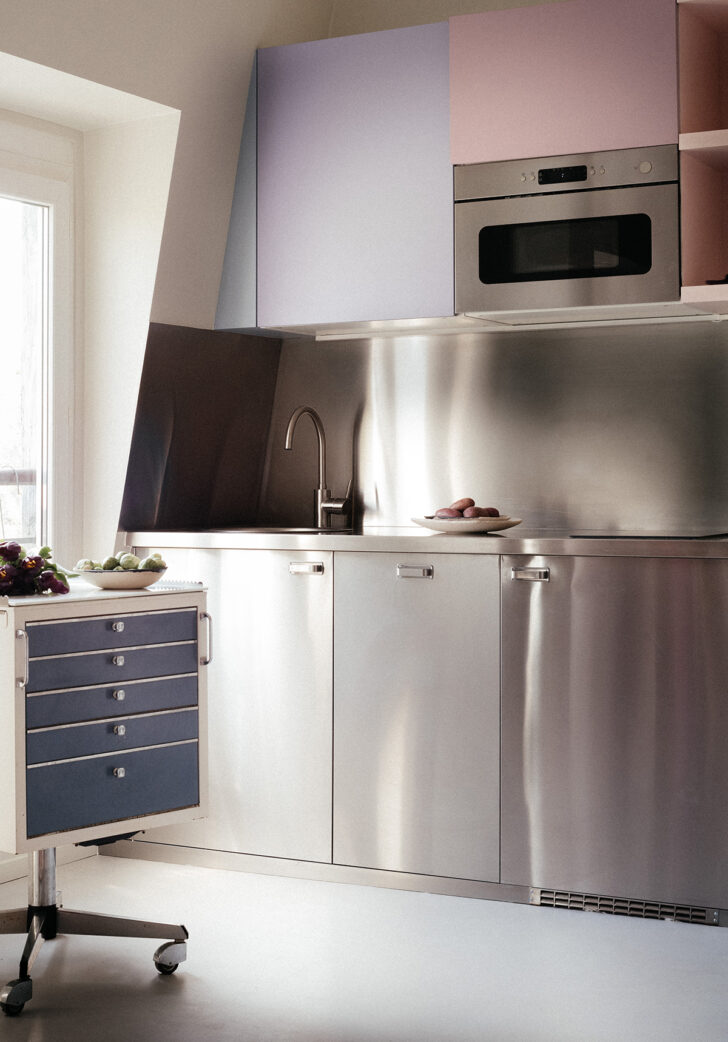 Right, it takes a few years to be able to show that you can do work that you really want to do. In the early stages of a career, you just take the jobs that you're given. But then you get opportunities to expand and develop your work to your full capacity, and then are able to show it to others.
Yes, it's true. One of my latest projects, called Martin (above), is very specific. It has a wall with a really strange shape, the colors are really weird, there's lots of materials in there. Now I can show this project to my new clients, and I can do more projects like that.
I really love this project, because it was a really small space and my client asked me to add a lot of spaces, including a room for his son, and an office within 55 square meters. So I added curved walls, and it ended up being a really nice result. Architecture, art and design all came together.
Another of my favorites is a project called Jeanne, another of my most recent. This was also a small space, and I put tiles on the floor to add more light, and included some organic walls that were, again, like sculpture. These two projects are very different: one has a lot of different materials and color, and the other one is only white.
I really like it when a space is really small and there are a lot of constraints, because this is really interesting for me. That's what architects are for, so I really love those kinds of projects.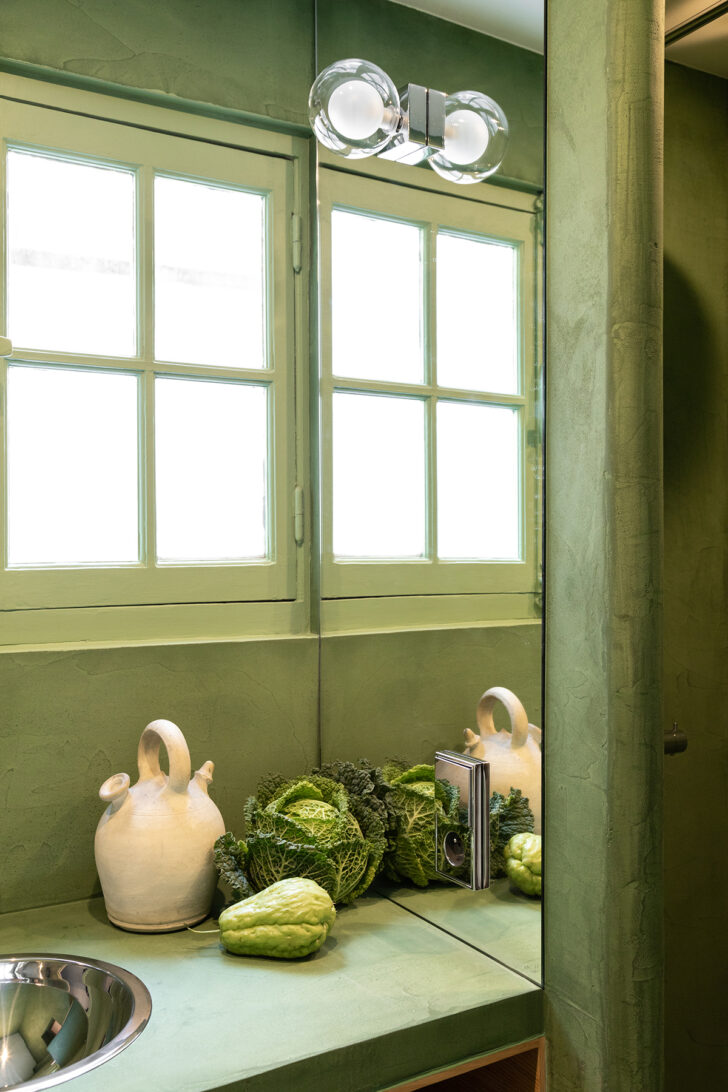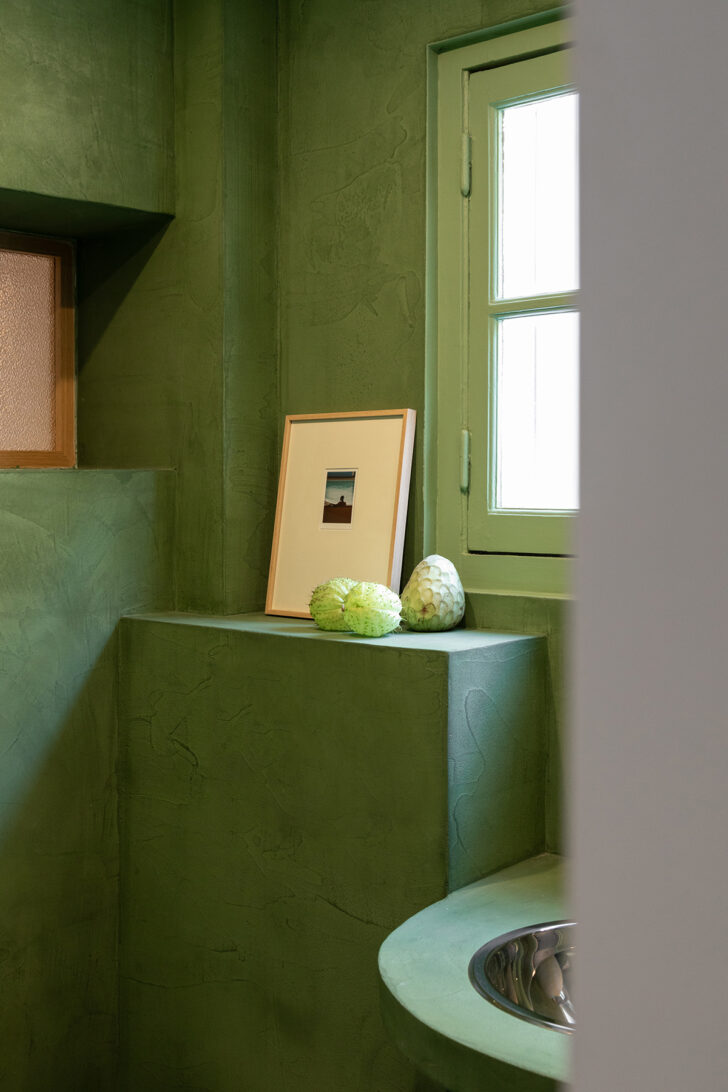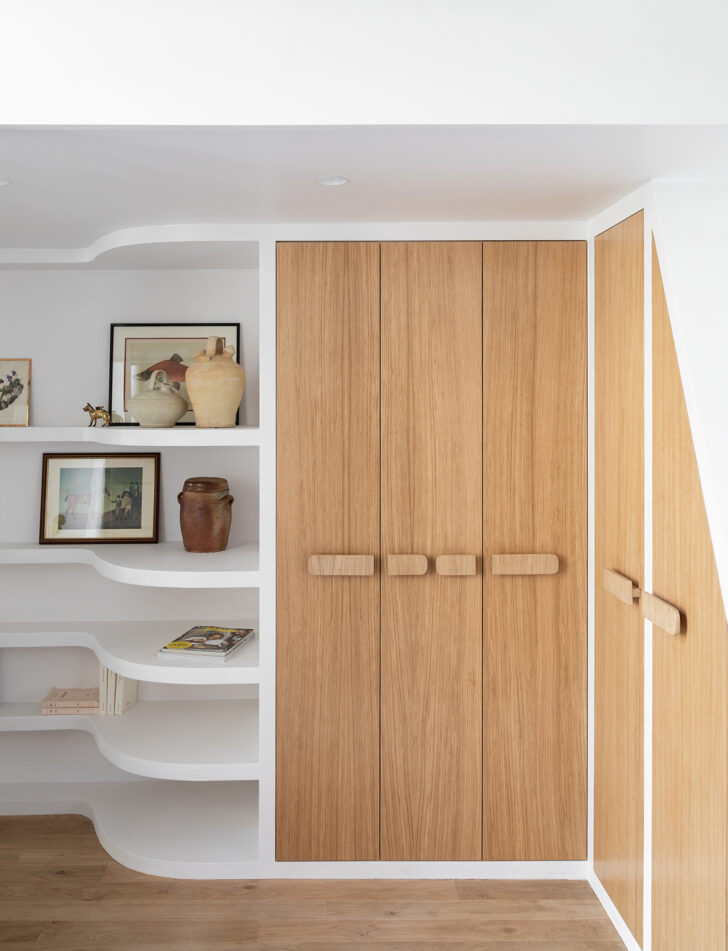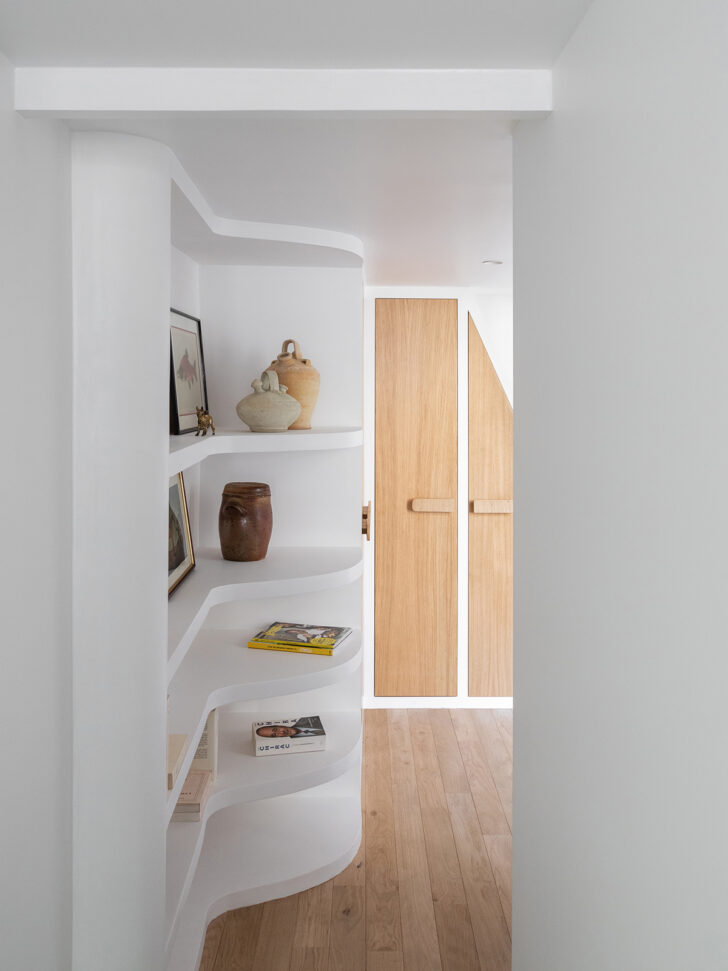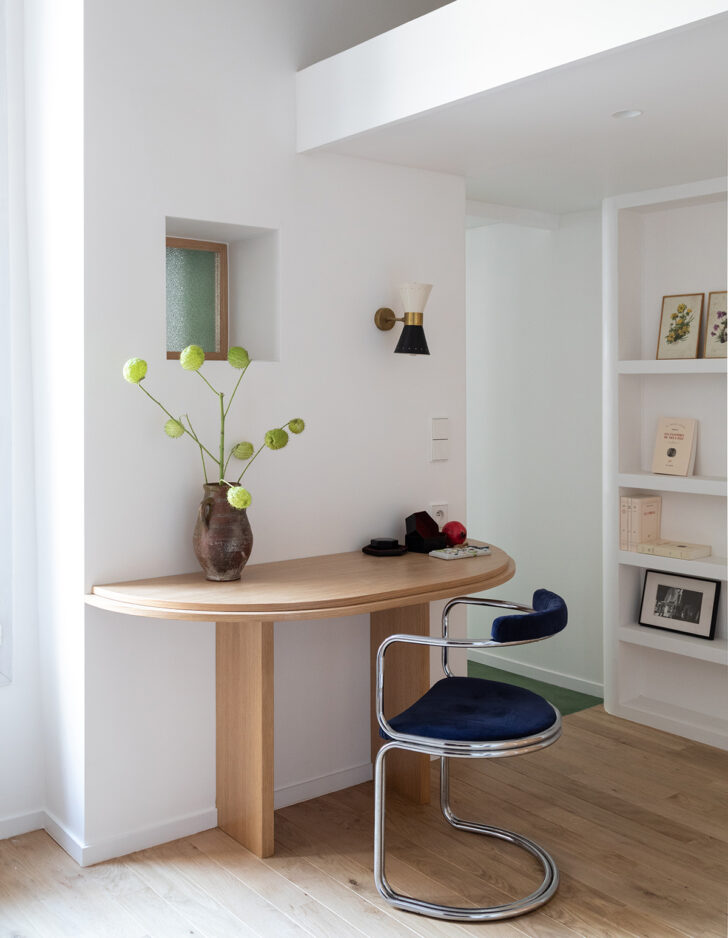 It's a big challenge, when you're faced with such a small footprint and you have to include so many elements and different functions within it. 
When a program is very specific and the client asks me to add a lot of things, it's like bubblegum. You need to stretch everything. Sometimes I'm asked to visit a place and come up with a solution immediately, and when that happens I say "no, I cannot do that. I need to design. I need to draw." For me, it's really important to draw the space and to have the plan. So I draw it by hand. And sometimes with just 20 centimeters of space, you can do something really cool. But it's hard to find that solution just with the eyes. I really have to design into the plan of the project to find really good solutions. If you find the answer when you're in the space, it's because it's easy. But you cannot find the answer, you have to design and do your job as an architect to create the right solution.
So by hiring an architect for these types of projects, rather than an interior designer, there's a better understanding of space and proportion?
Yes. If someone calls me and says that their space is old and they just want to choose some new furniture, that's not interesting. I like when I need to find solutions, and to coordinate all the functions together. And also when I use a material, like tiles for example, I will explain why I put it there. If there's water in that area, then we need tiles on the floors and the walls, but sometimes I'll create what we call "trompe l'oeil" in French—a visual trick—with the materials. But I don't use materials for decoration, or because they're beautiful, they have to have a function.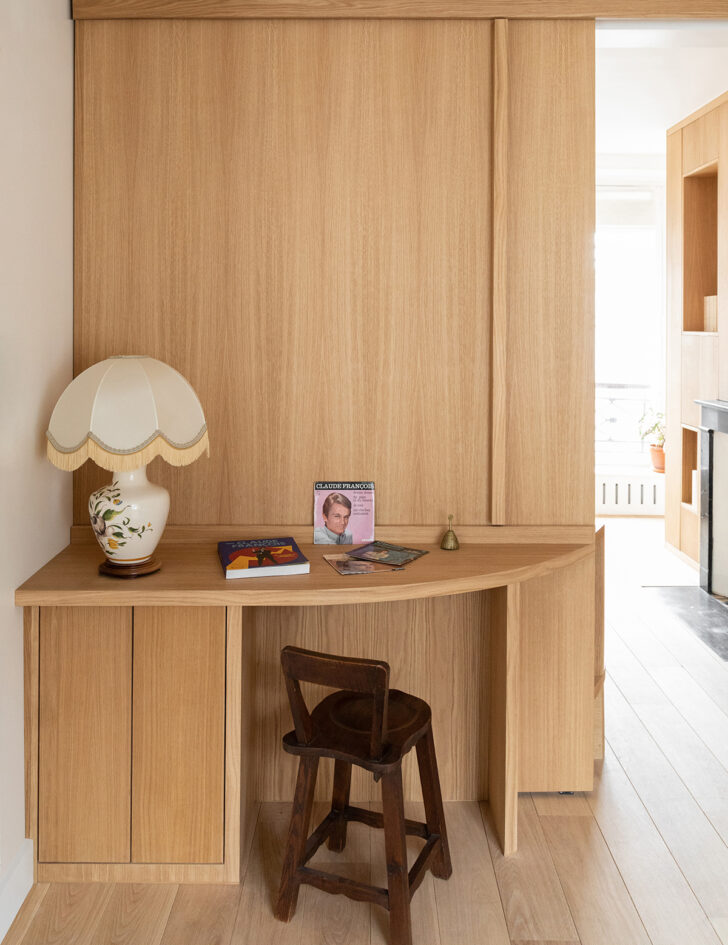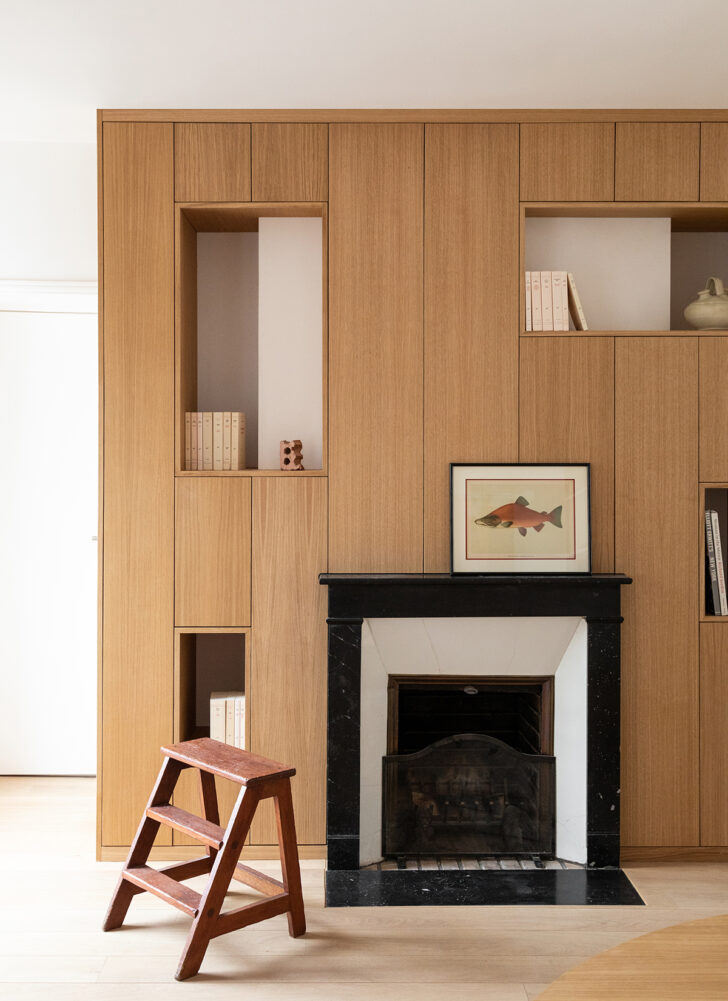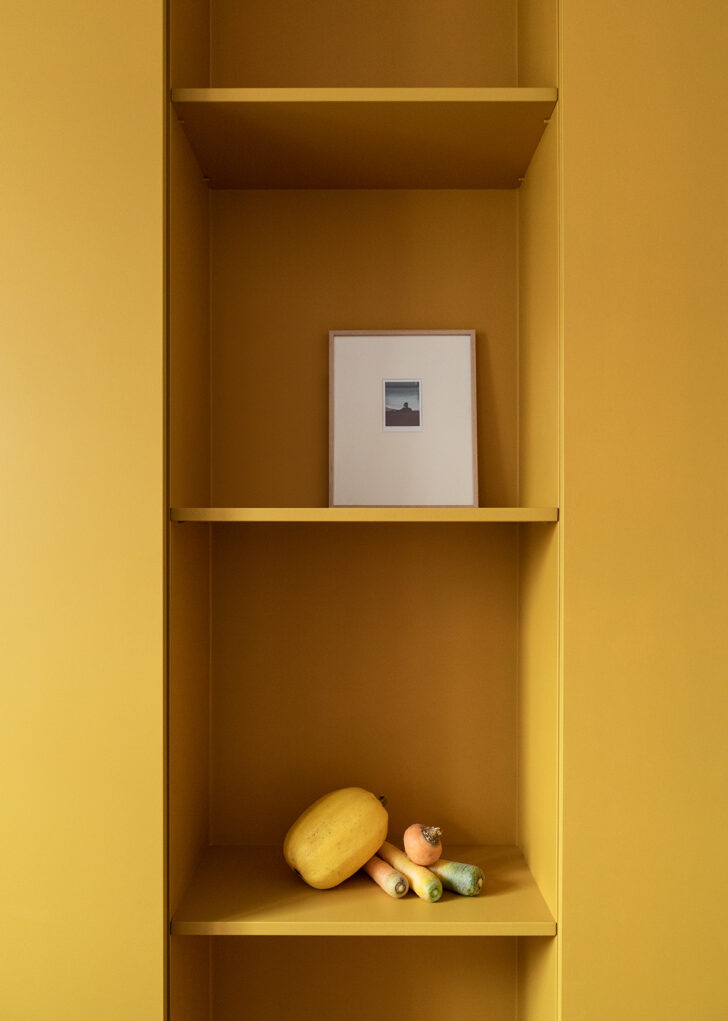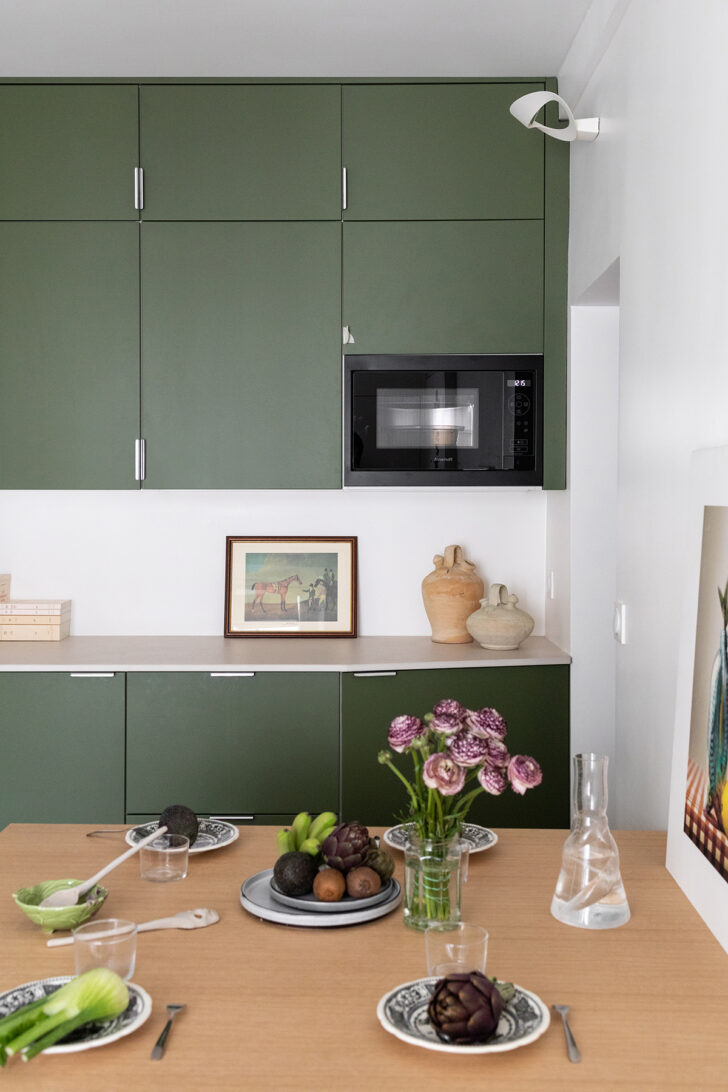 Looking through your projects, I noticed some really interesting uses of color. I'd love it if you could explain your approach to color.
I grew up in my family's house in Corsica, where every room had a different color, and I loved that. I don't take the exact same approach for my projects, but I learned that colors can really create an identity for a room. They can also help with space and proportion. For example, if there's a space with a low ceiling, I like to apply color to the bottom of the walls, up to about 60 centimeters high, which makes the ceiling not feel as low.
In a couple of your projects, you've worked with older existing architecture and inserted more contemporary elements, like the built-in furniture you described earlier. Is it interesting for you to work in an old space and give it a new spin? 
Yes, many homes or flats have such an interesting past. I'm very emotional, and sometimes I imagine the lives of the families that occupied the spaces before, and I try to preserve the old elements where possible.
And of course, for the sake of the environment. In architecture, with very big buildings, you obviously have to be very mindful of the planet, but with interiors it's not thought about as much. People remove things and do new things, and it's like nobody cares. I really try to talk to my client and convince them to keep existing things and that I can make them look great. Now people are starting to understand that, so we try to reduce the amount of removal and rebuilding within a space. We're at the beginning of that mindset.
If there's something old in a space and the client protests that it's not their style, I try to find images of how that element has been used in a really nice space, and explain to them that we can reuse it.
With interior architecture, there's a danger that everything can look very similar, because you can do the same thing every time. But if you're using elements of an existing space and incorporating them into the design, you'll end up creating a new identity each time.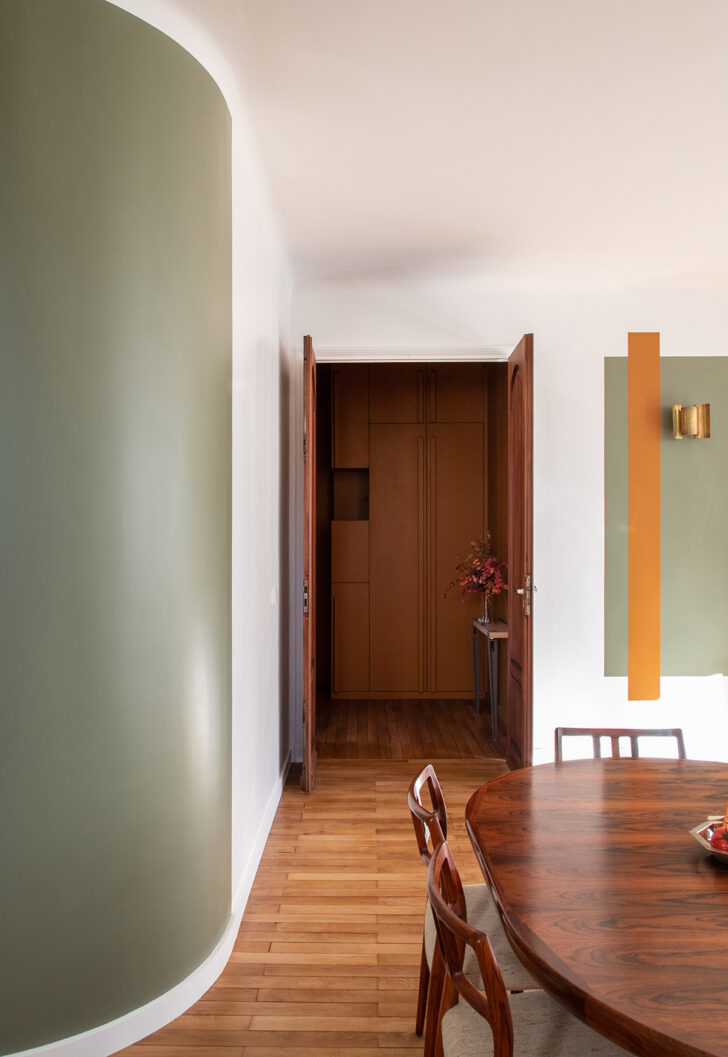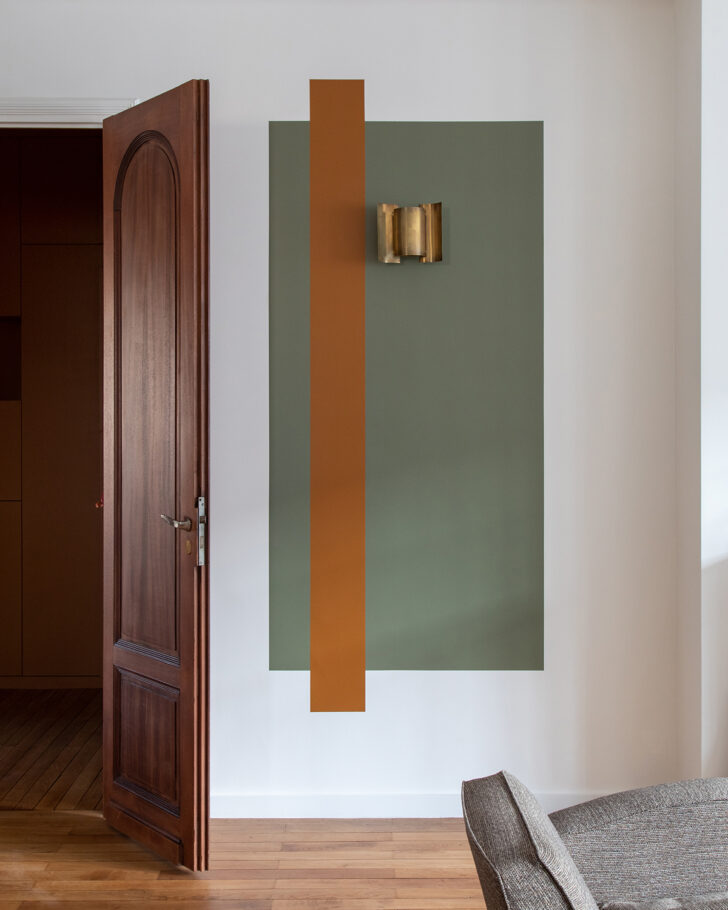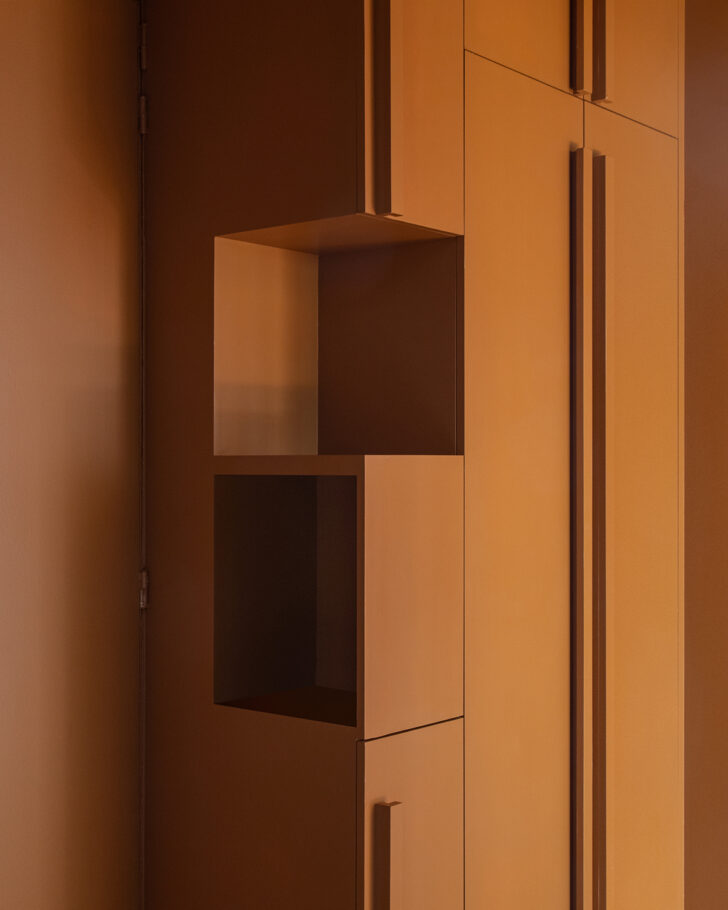 Do you think that, as a designer, it's part of your responsibility to think about sustainability and the environment, and to encourage clients to think in the same way?
Yes, of course. And architecture is really the beginning of that. It's really important to explain that we can reduce things, and we're trying to do that even more than before. Even in the past one or two years, clients have started to say that it's important for them too.
I worked on a really small house in Corsica, La Bergerie, which was formerly used by shepherds, and redesigned it using only organic shapes, organic lines, and also organic materials. The materials were naturally sourced, like lime plaster for the walls. And I also reused some of the leftover materials from my previous projects, like tiles that didn't all get used. My contractor wanted to put them in the trash, and I said "no! Give them to me and I'll use them on another project."
Are there any dream projects that you would love to work on that you haven't had a chance to yet?
I think like a lot of architects, I would love to do a hotel, maybe on the Mediterranean or even in Corsica. I could use the organic curves, organic walls, organic materials and create something that really sits between architecture and nature. I do a lot of interior architecture, and sometimes it's hard to work with nature because you're already inside a building. So I'd love to work closer to nature more.
I'm currently doing a house in front of the ocean on the west coast of France, and it's so nice to work there because it's just in front of the sea, and it's so beautiful. We're building another house close to the existing house, so we're choosing the materials and they have to withstand being close to the sea, as well as being respectful of the beach and the environment.