06.08.23
Almost Everything in Lisa Mayock and Jeff Halmos's LA Home is Vintage or Handmade
In honor of our How to Live With Objects pop-up at Nordstrom, which is shoppable through June 19 — and to celebrate the six-month anniversary of our book being out in the world! — we're going to be publishing over the next few weeks some of our favorite home tours from the book that you may not yet have seen. (It is also, we might point out, an excellent time to buy our book if you haven't already, or gift it to your favorite Gemini, a graduating college student, a dad, a host whose house you're visiting — truly whatever!)
Next up is Lisa Mayock and Jeff Halmos, who live in a 1920s-era Spanish-style house in the Glendale neighborhood of Los Angeles. Before moving to LA with their two children, Mayock and Halmos met in New York City, as designers of the somewhat legendary early-aughts cult-favorite fashion brands Vena Cava and Shipley & Halmos. After a brief stint co-running the graphic T-shirt line Monogram, they've both branched out into new lines of work — Mayock as an interior designer and Halmos in commercial real estate development. Mayock is an avid thrifter — and did an incredible dining table DIY that we're still dying to copy — so no surprise that nearly everything in their home is either vintage or handmade. We visited them on a brilliantly sunny day in the summer of 2021, and although you'll have to wait for the Instagram-only behind the scenes content to peep their incredible backyard and pool, take a tour through some of their favorite vintage and handmade treasures below.
PHOTOS BY CHARLIE SCHUCK / STYLING BY TESSA WATSON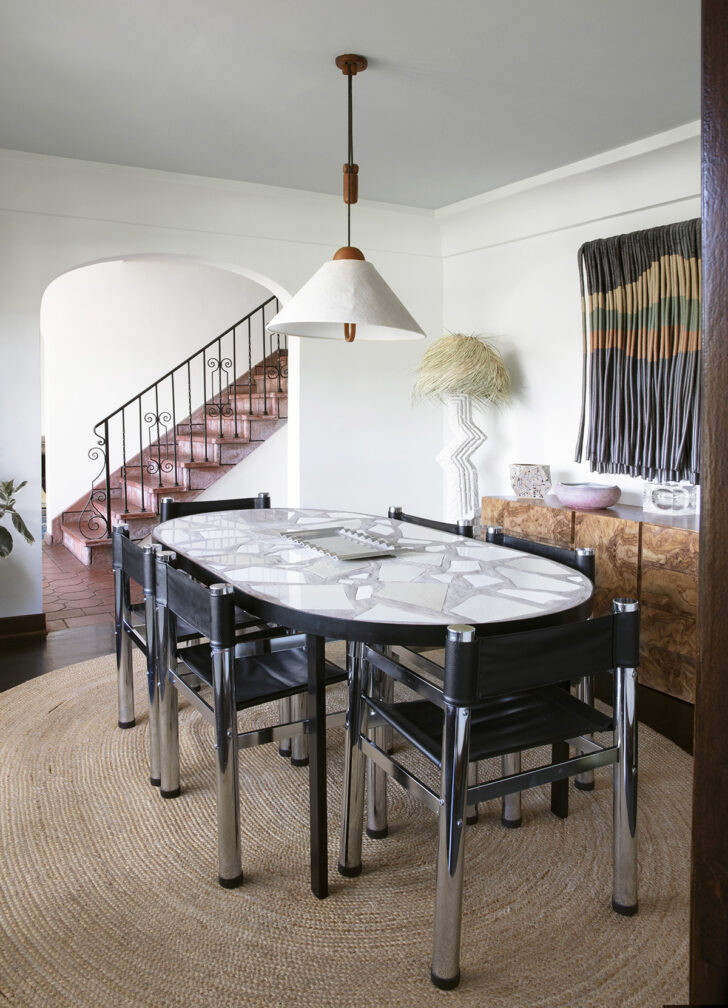 "Our house is a 1920s Spanish-style two-story, and when we moved in five years ago, the dining room felt very dark, with lots of different wood tones. I thought it would be great if we had a table with a light-colored top, but I couldn't find one, so I had the oval metal frame made by a friend who is a metal-worker, and I went to a discount tile warehouse deep in LA. I bought a bunch of different whites and smashed them with a hammer in my driveway. I set them into place, then grouted the whole thing. The entire process probably took two days and halfway through, I thought for sure I had completely ruined it because there was grout everywhere. But it turned out pretty well. It has a few stains from our kids and it's very irregular, but that's part of the charm."
"Almost everything in our house is either handmade or vintage. On the whole, I don't see a lot of new things that I'm drawn to, and I really like things that have a patina. It just looks more authentic. Often, I get things and tweak them just a bit. For example, with the dining room chairs, I found a set of four on eBay and then a set of two on Etsy. They were completely different colors and I was like, 'This would be so great if they were black,' so I reupholstered them in faux leather. I also really like using things that are meant for one purpose for a totally different purpose. We have a '70s ice bucket that, in our house, is used to hold Polaroids. Part of me sometimes wishes I could turn that part of my brain off, but I can't. I just think it is so fun to think of all the possible paths your space could take."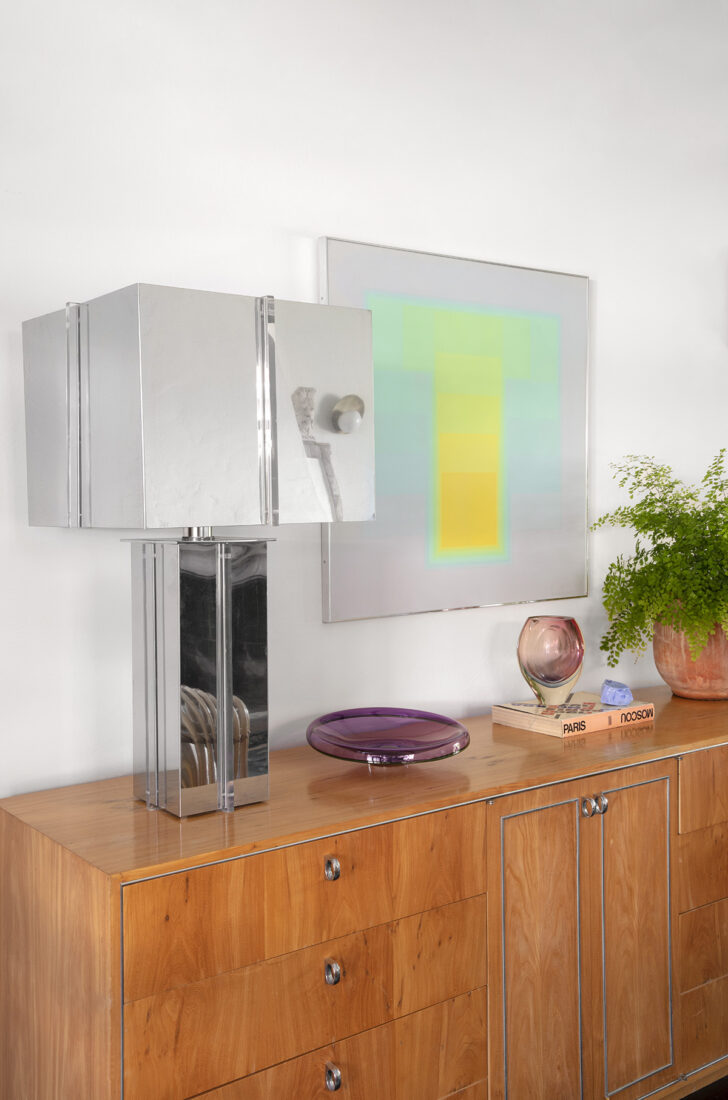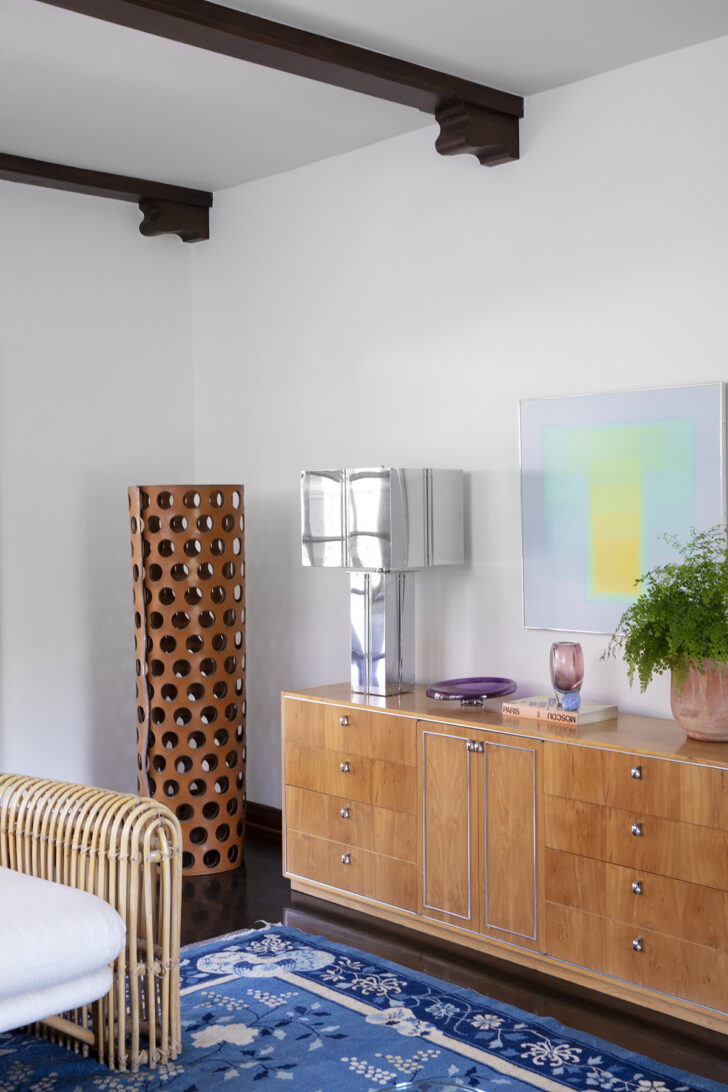 "The perforated leather sculpture in the corner of the living room was actually once a conveyor belt in a factory that sorted oranges. I bought it on Chairish. I just thought it was a beautiful object and a great color. A gigantic zipper runs all the way down the side; it's very industrial looking. I bought it originally to use it as a screen, but that was a DIY project that just never happened. But I like that it also functions as a kind of piece of Pop art."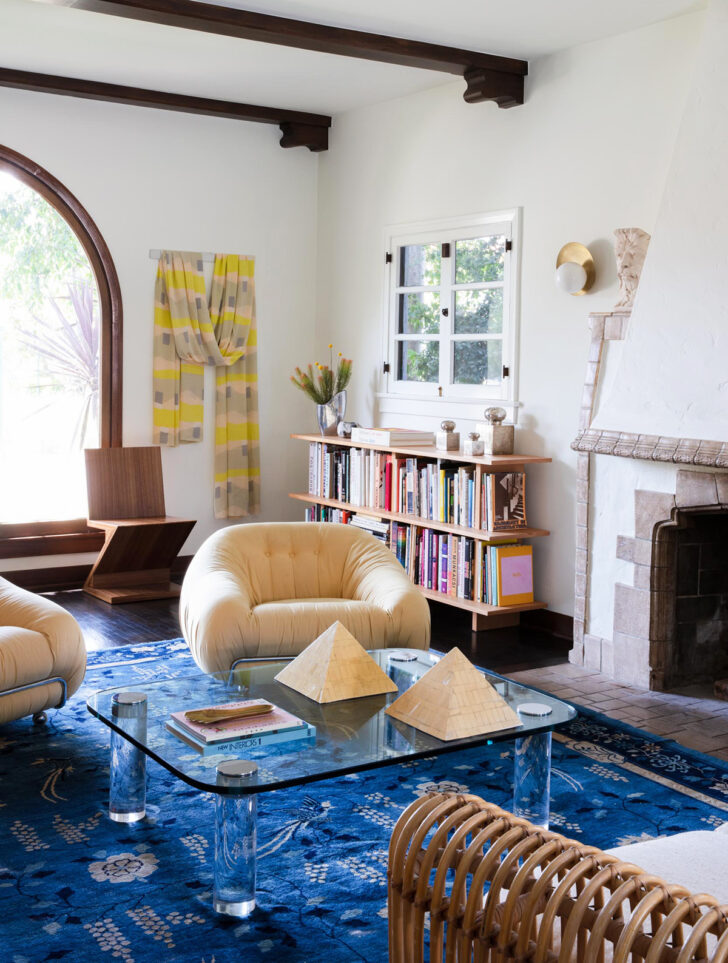 "In a previous life, I had a fashion brand called Vena Cava, and I made this wall hanging from one of our archive textiles. We wanted more yellow in the living room, so I looped a couple of yards of fabric around a metal architect's ruler that's nailed into the wall. I just love how it goes with the blue Chinese Art Deco rug, and I love the scale of it—that you can really see everything from far away."
"We had the two wooden bookshelves in the living room custom made. We love graphic design, and we wanted to have shelves that would fit the space but where you could also see the book covers displayed. Often the cover and the back cover are the best parts of a book, so that way we could admire them even when on the shelf."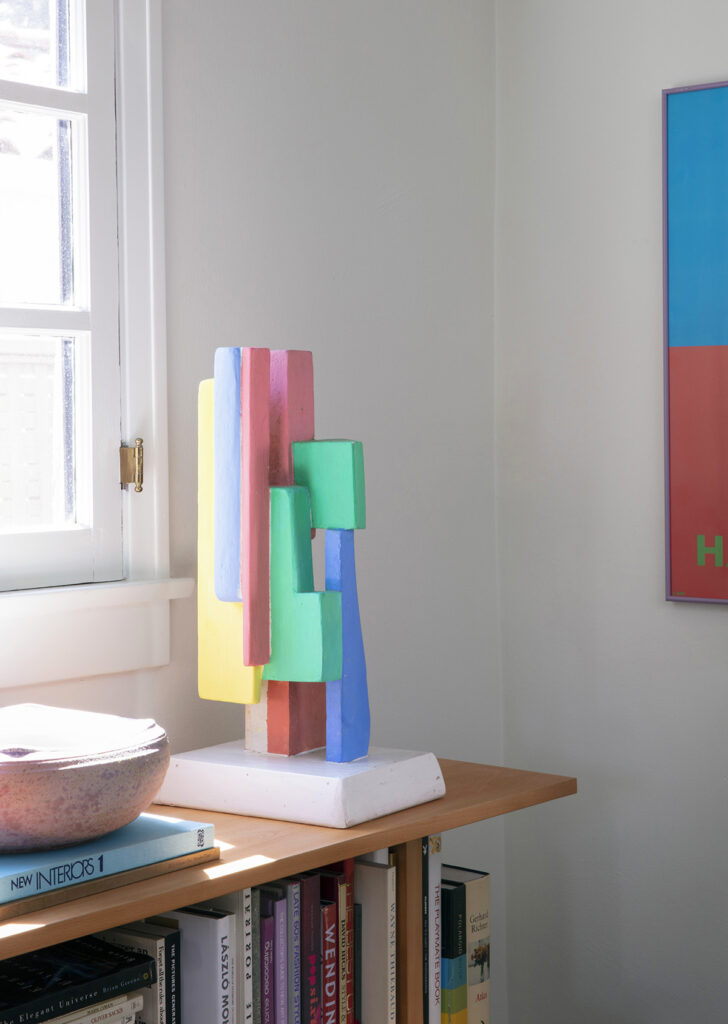 "We found this colorful handmade sculpture in Florida, where Jeff is from. We often get lucky sourcing things there because the aesthetic is more from the '80s and '90s—it's more fun, and it has a sense of humor, which is very much our sensibility. We don't love anything that's too serious. There has to be something in a room that's funny or maybe kind of ugly, that subverts things that might otherwise be too pretty or coordinated."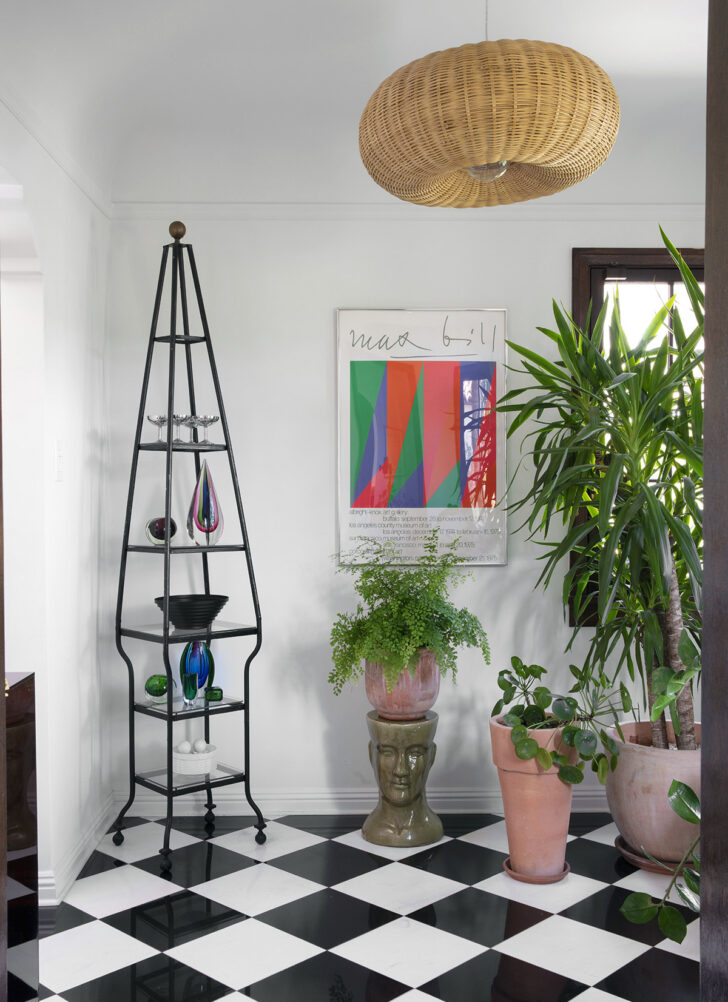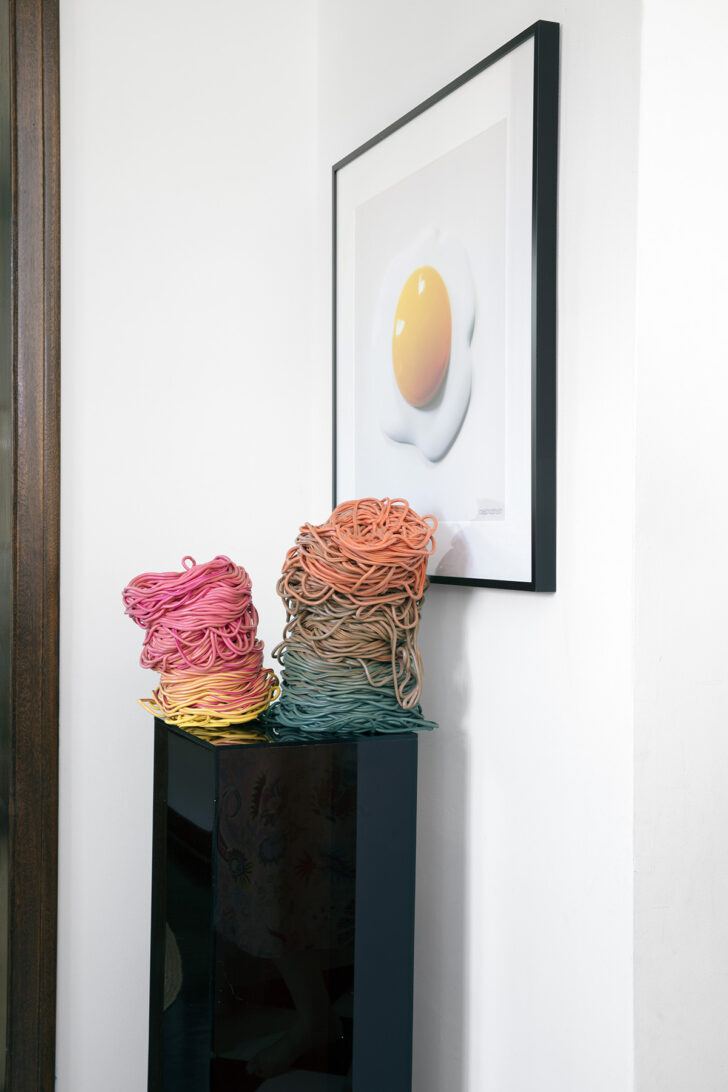 "I guess the person who made this wire sculpture had found a dumpster full of old cords in the back of a company that produced electronics. I don't know if they came in these colors or if they were able to recolor them, but they basically spooled the cords into cylindrical shapes and melted them together. I thought it was the most beautiful example of treasure trash. I love when you walk into a space and see something and you're like, 'I love that. I have no idea what it is.' The framed photo of the egg behind the sculptures is by Wary Meyers."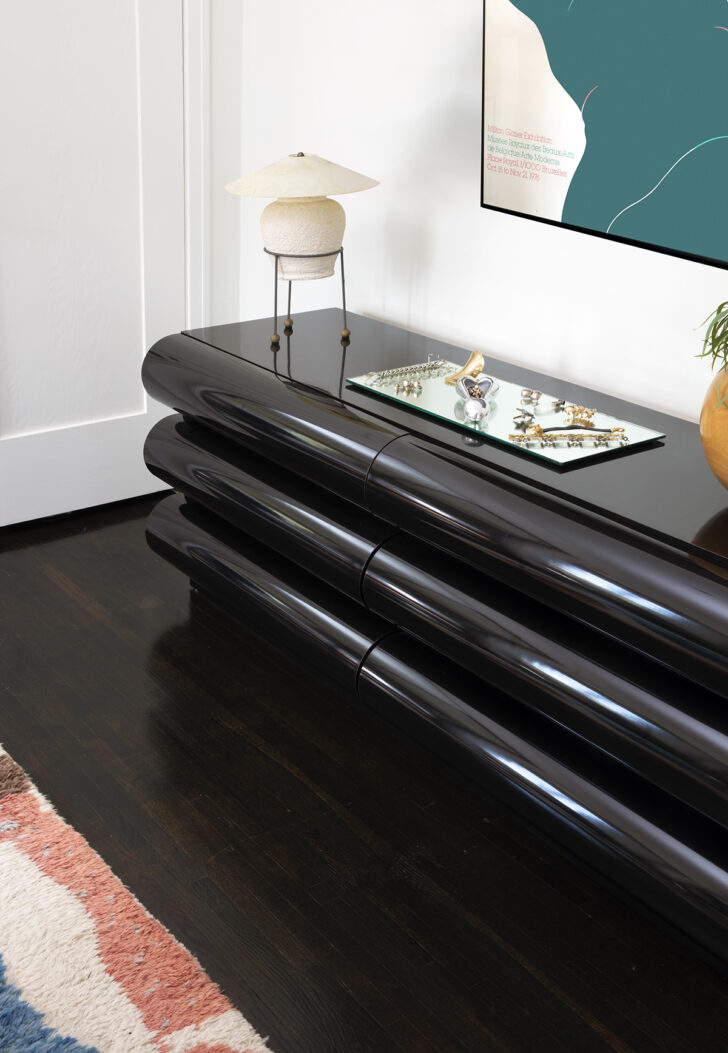 "I love collecting small silver pieces. They're like jewelry for your room. In the living room, there are three silver cubes with rounded caps. I think they're meant to store perfume or oils, but they're beautiful as sculptures. The silver lamp in the living room I found at a junk store and walked right past because it's mirrored  on every surface. It was 100 percent camouflaged. And in the bedroom, on  the black lacquered dresser, is a silver penis. It's like if Elsa Peretti made a dick sculpture. It's just the most beautiful, elegant rendering of it, and it's funny and beautiful at the same time. I feel like it really sums up the things that I love."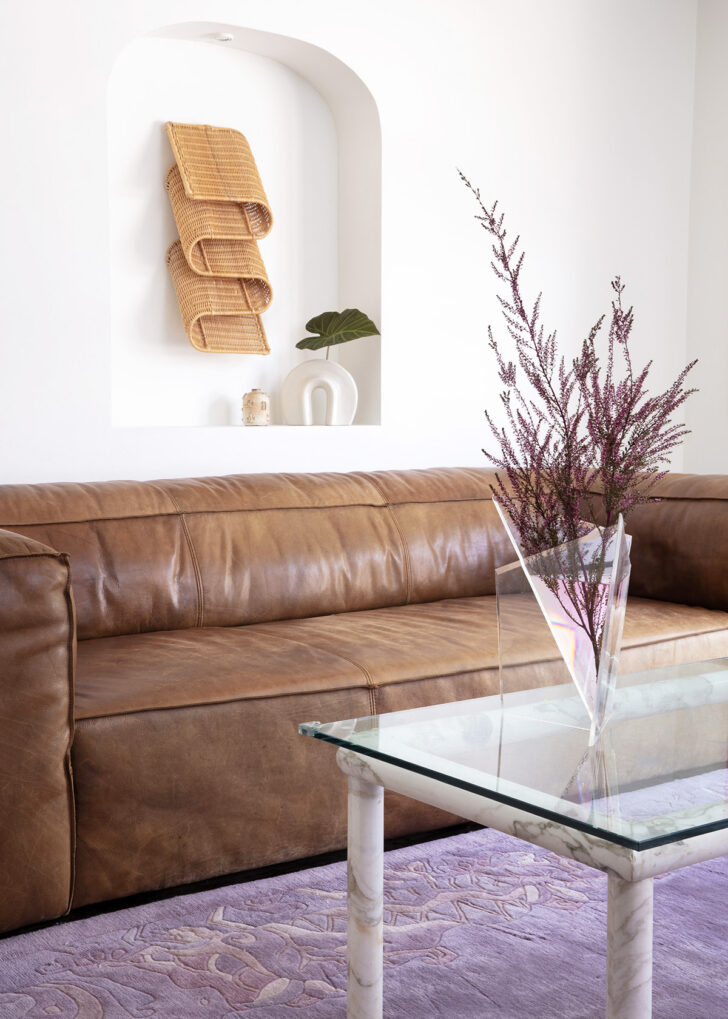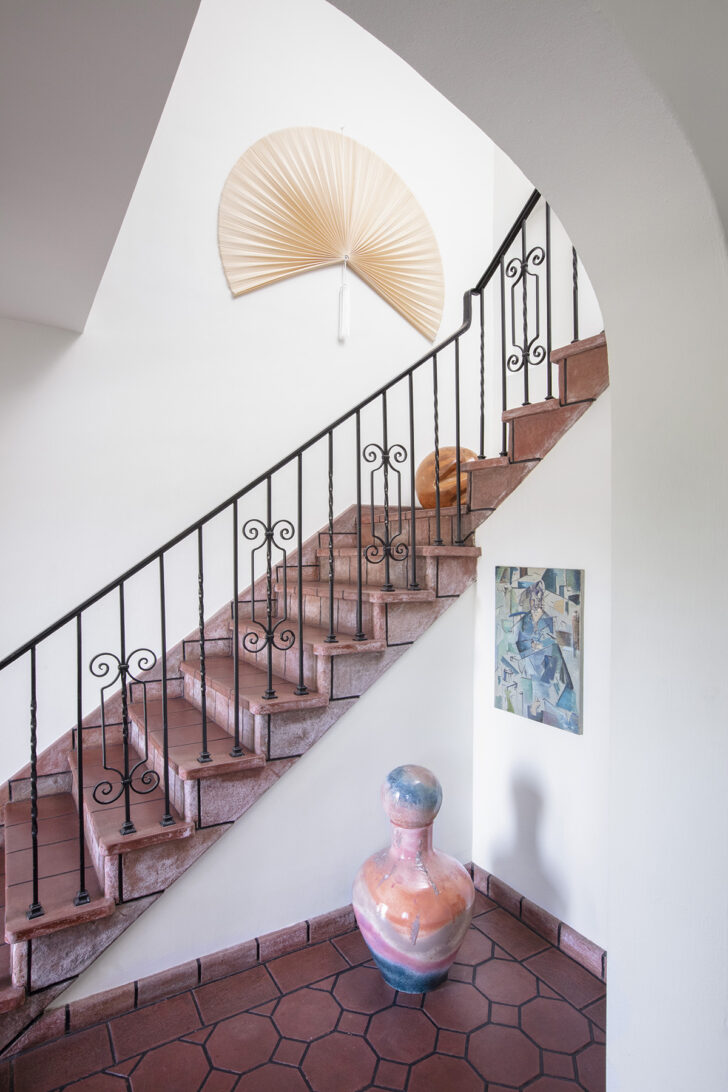 "I grew up in a house where everything was old. All of the furniture belonged to my dad's grandparent's, and it had a kitchen from the '70s and a stove from the '50s, and my parents didn't really update it. I remember my mom would always say, "If it's not broken, don't fix it." Neither of my parents have that throwaway attitude where you're just like constantly replacing and buying new things."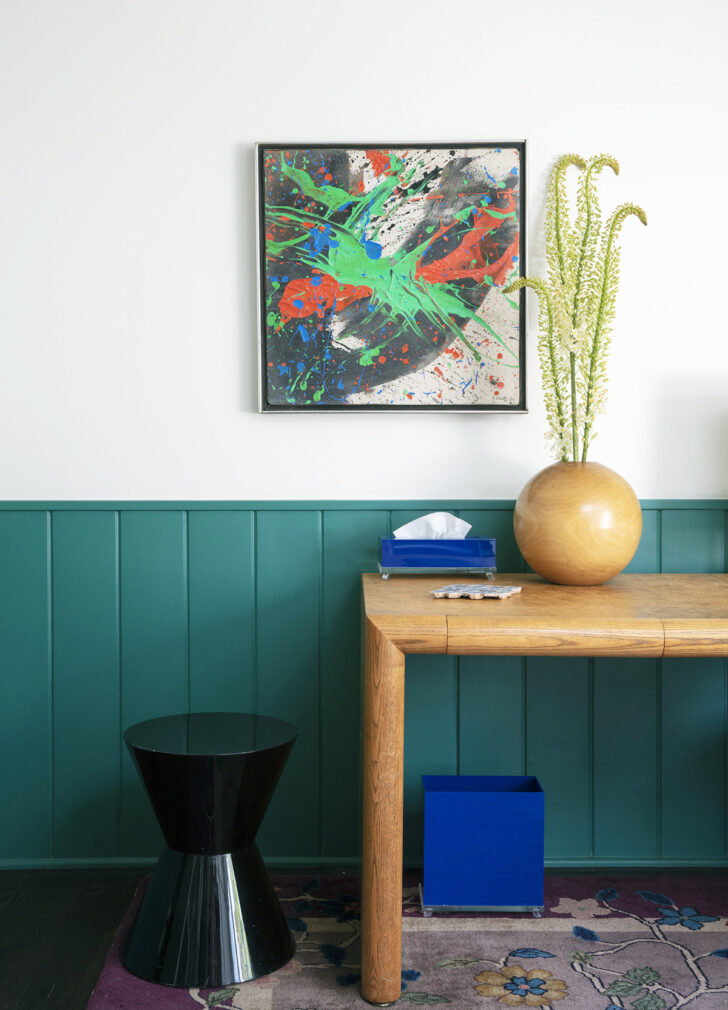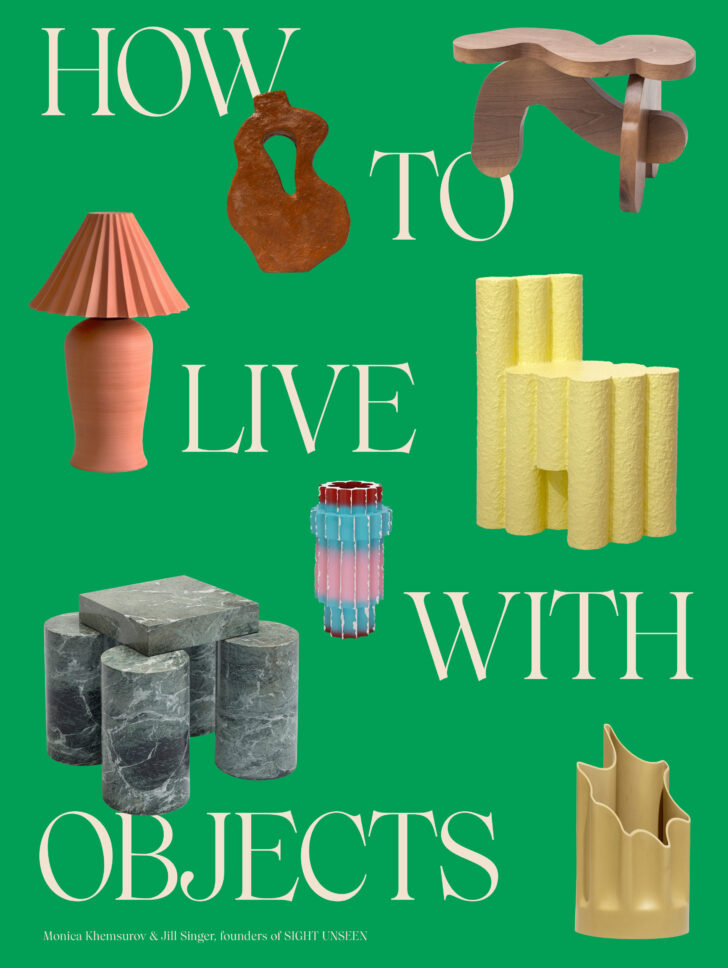 To see more home tours like this one, purchase a copy of our book, How to Live With Objects, here!
IMAGES AND TEXT ARE ORIGINAL AND ARE EXCERPTED FROM SIGHT UNSEEN'S BOOK, HOW TO LIVE WITH OBJECTS. ALL CONTENT IS COPYRIGHT PROTECTED AND MAY NOT BE USED WITHOUT PERMISSION.