11.11.22
In Celebration of Our New Book, We Asked 18 Tastemakers to Name Their Favorite Objects
In our new book, How to Live With Objects, we try not to play favorites: We selected more than 150 vintage and contemporary objects to appear in its pages, and for the most part, we couldn't believe our luck that we got to be showcasing any of them in a book, much less one that we're absolutely not going to be shy about calling the new "bible of modern home decor and style" (thank you Vanity Fair!) However, god knows we love a list — in fact, there's a whole section of the book devoted to asking people from Alison Roman to Athena Calderone to name their most cherished possessions — so to celebrate the book's launch next week, we widened the circle to include some of our favorite people in design and fashion, sounding off about their favorite objects, both vintage and contemporary. We gave our subjects the option to choose either things they actually lived with, or items on their fantasy wish list; from Sally Breer's dessert-inspired vintage lamp to Tekla Severin's dream $20K Panton sofa, they did not disappoint.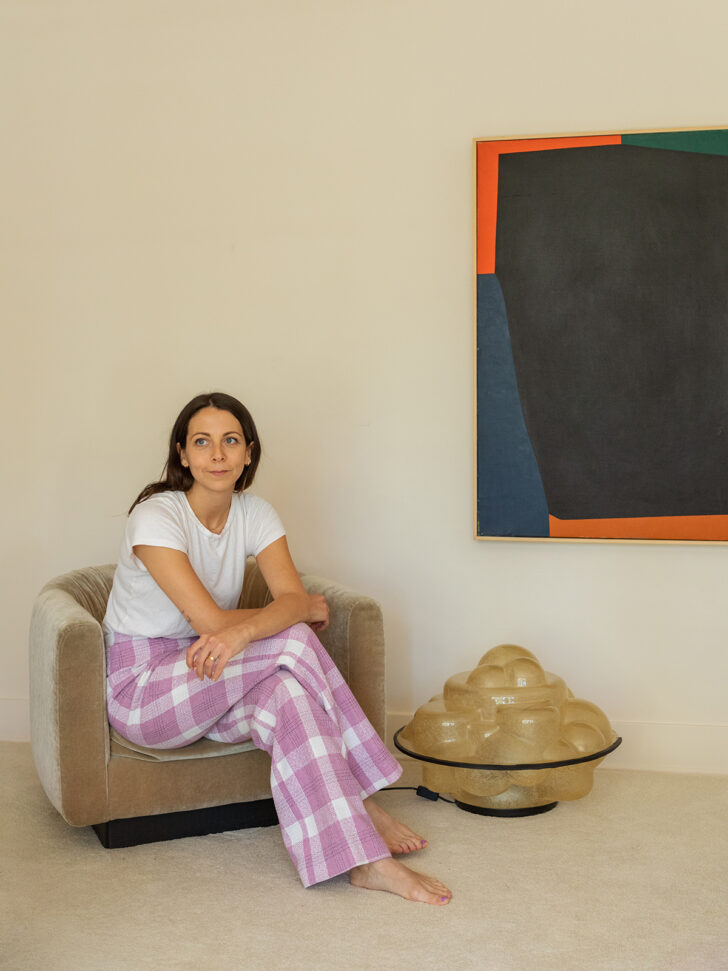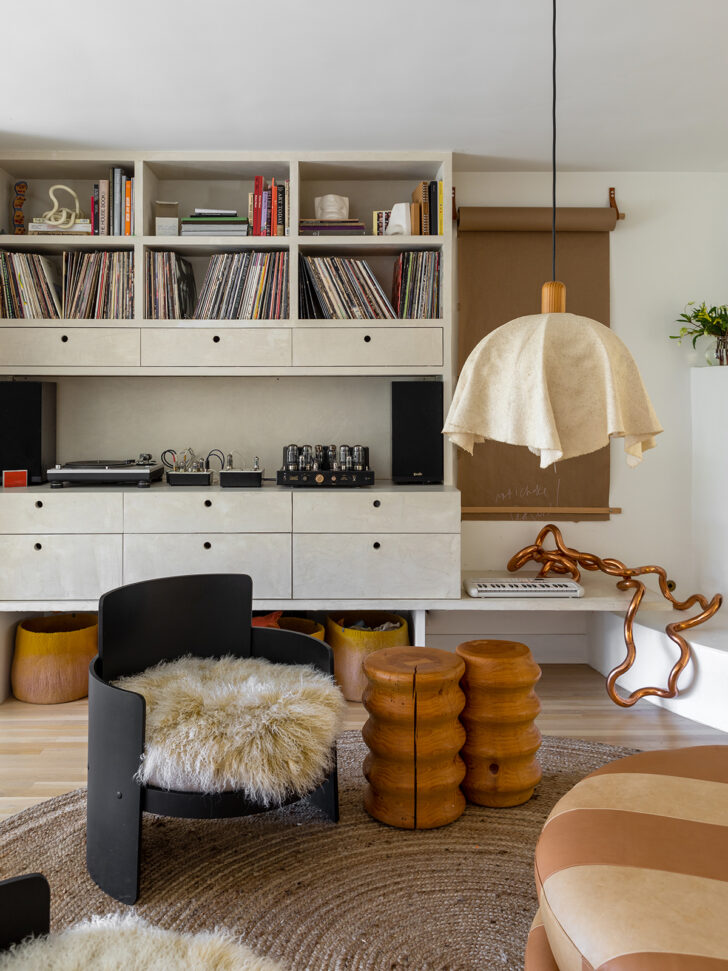 Vintage (top): Profiterole table lamp by Sergio Asti for Martinelli Luce (1970)
"I think objects — and spaces! — should be elegant with a dose of absurdity. Without irreverence or a sense of humor, it's just a pretty object, not a dynamic one. Imagine a pretty face that can't tell a joke — boring! This light is an excellent example of that balance. The shape is juvenile, like mounds of ice cream covered in chocolate sauce (hence the name). But the fiberglass and refined minimal construction make it an incredibly elegant object. I am also just such a sucker for the glowy light that fiberglass gives off."
Contemporary: Pair of cedar Dan John Anderson tables, 2019
"This is a sentimental favorite. My husband and I commissioned this pair of tables from Dan as our wedding present. He built them so that when you push them together they sort of interlock; he wasn't sure if he could do it, but he pulled it off! The rawness of solid cedar, contrasted with such an unnatural shape and sheen is what makes Dan's work (and these stools) so special. Besides being beautiful, they're also mega durable. Even before kids, I've always been drawn to things that feel special but not precious and because these are solid they can be used as table or stool." Photos by Laure Joliet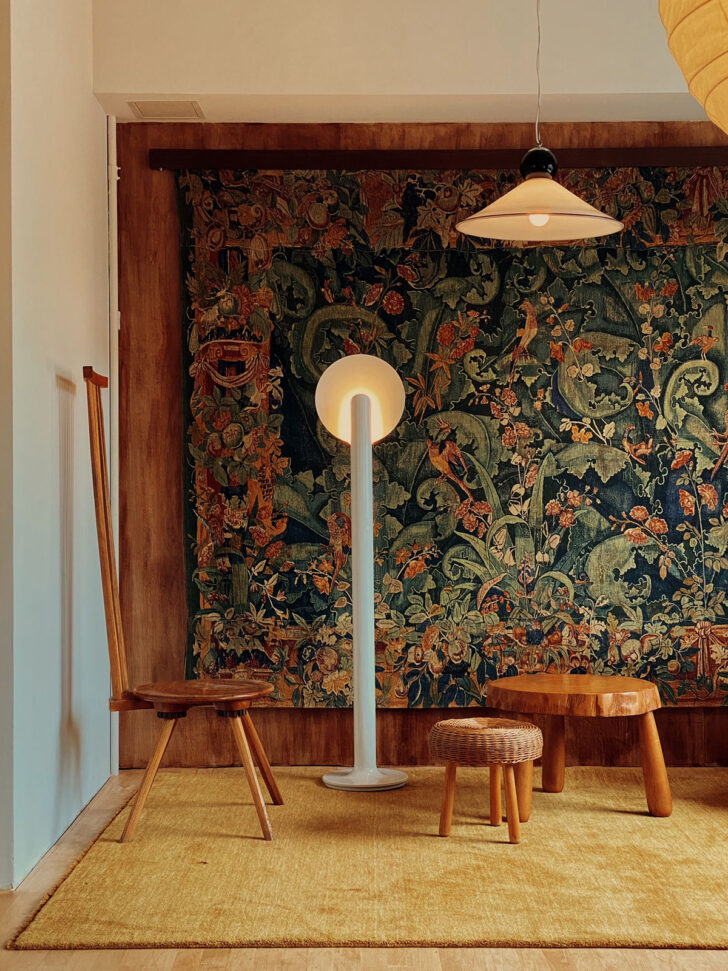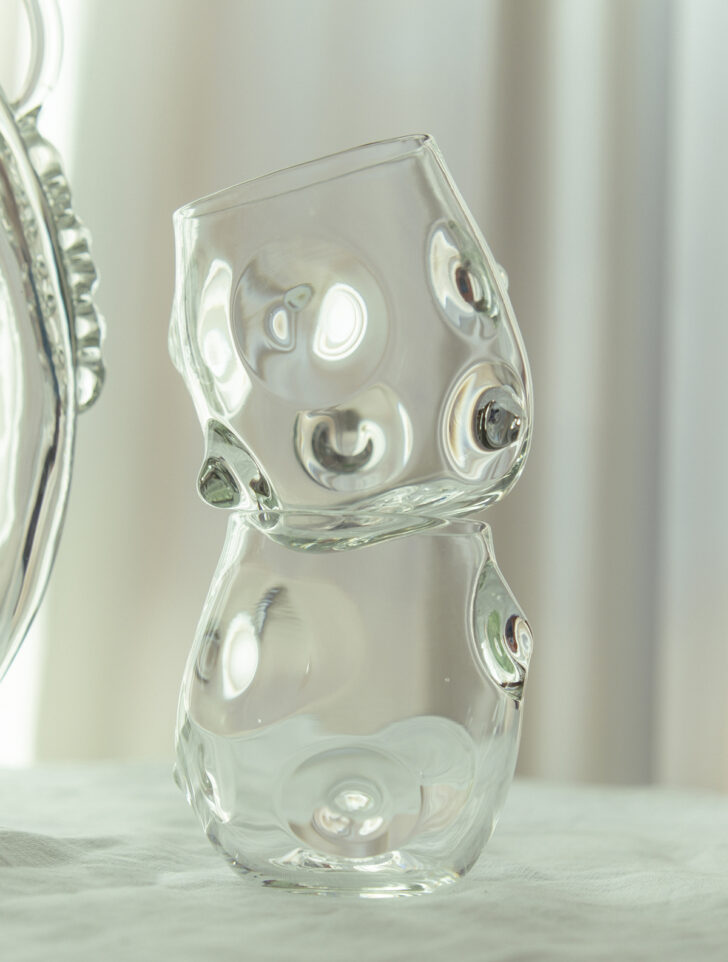 Vintage (top): Élysée Floor Lamp by Pierre Paulin, 1972
"This lamp is such a work of art. When you see it in person, you get it; it makes any room instantly modern. The light you get from it is warm and nice, and the finish is so different from other lamps — the craftsmanship is outrageous. I collect Paulin, and I bought this lamp the same day my son was born thinking that this is something I could pass down to him. It was a scary thing to buy because of the price but there was this magic in the air and that was a way of celebrating, in my own way." Photo by Clement Pascal
Contemporary (top): Bolitas by Dana Arbib
"I have recently been so into glassware from Dana Arbib. I just got a bunch of her drinking glasses, and I can definitely see myself wanting everything she makes."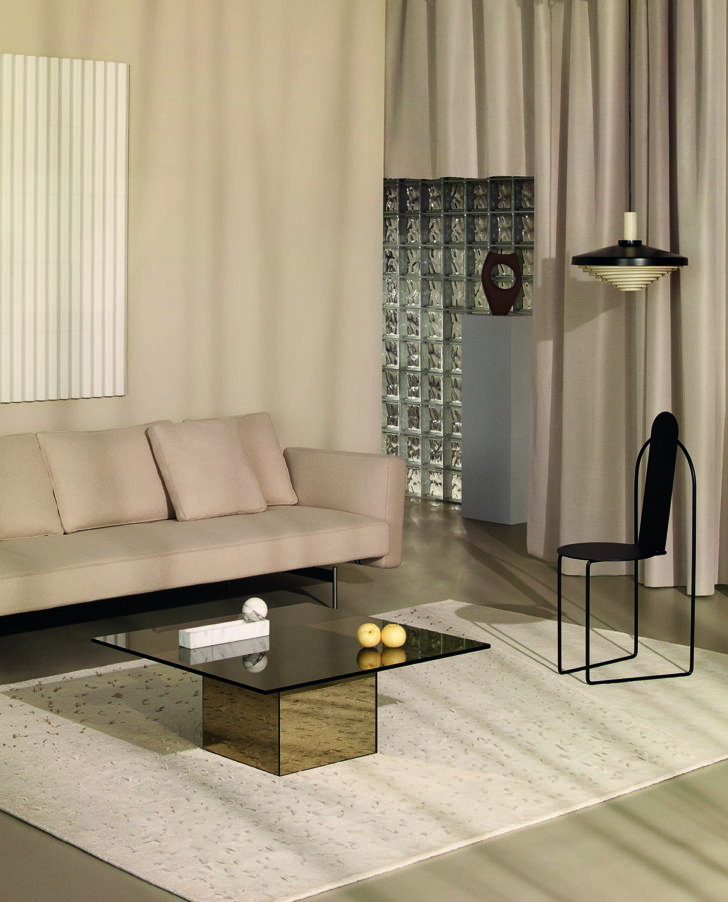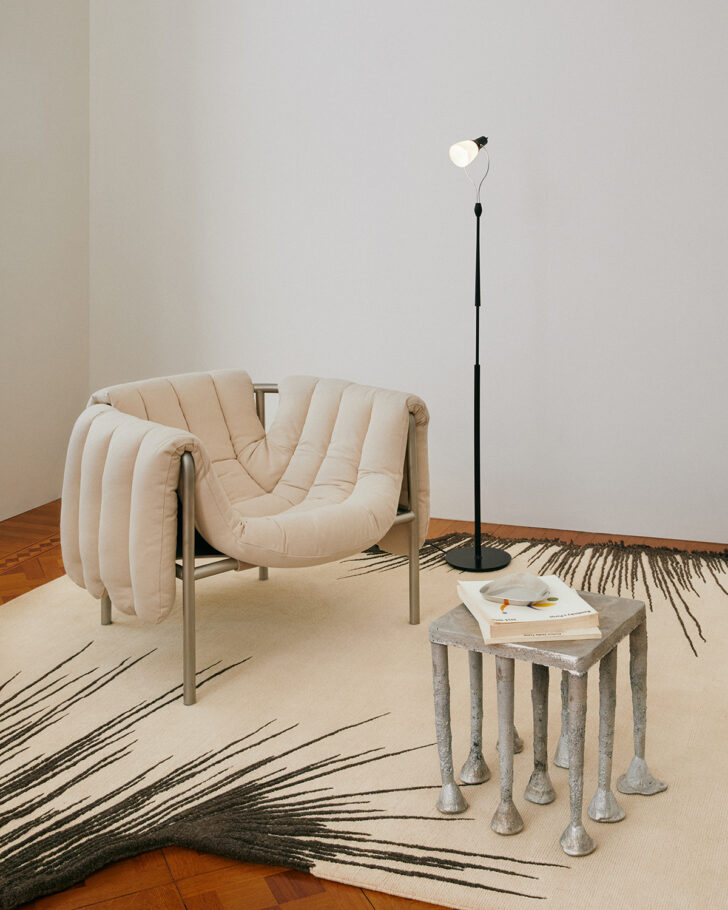 Vintage (top): Block Table by Nanda Vigo, 1972
"Choosing among the many products that exist and that I love is difficult, so I started by choosing designers and products that I've had the pleasure of including in some of my set design work. For the vintage product I thought of Nanda Vigo, one of my favorite designers of the past. Nanda was an eclectic artist, totally unconventional, able to combine art, architecture, and design through a very personal reading of space and light. One of my favorite products of hers is the Block Table. It's an archetypal product, a pure and timeless form. I personally used this piece a few years ago for an editorial in Icon Design magazine. Photo by Jeremias Morandell
Contemporary: Puffy Lounge Chair by Faye Toogood for Hem
"One of my favorite contemporary designers is Faye Toogood; like Nanda, she is a designer with a multidisciplinary approach. She has a style that's sculptural, rigorous and poetic. Her Puffy Lounge Chair for HEM is a perfect representation of avant-garde design." Set design for CC-Tapis, photo by Claudia Zalla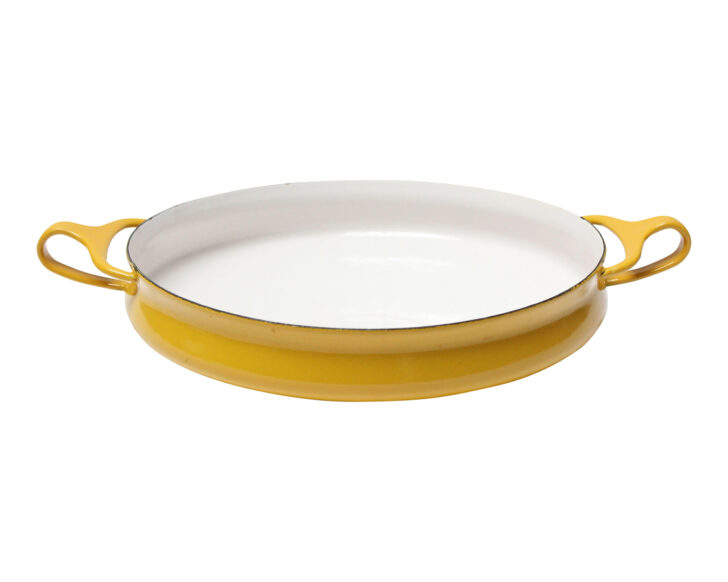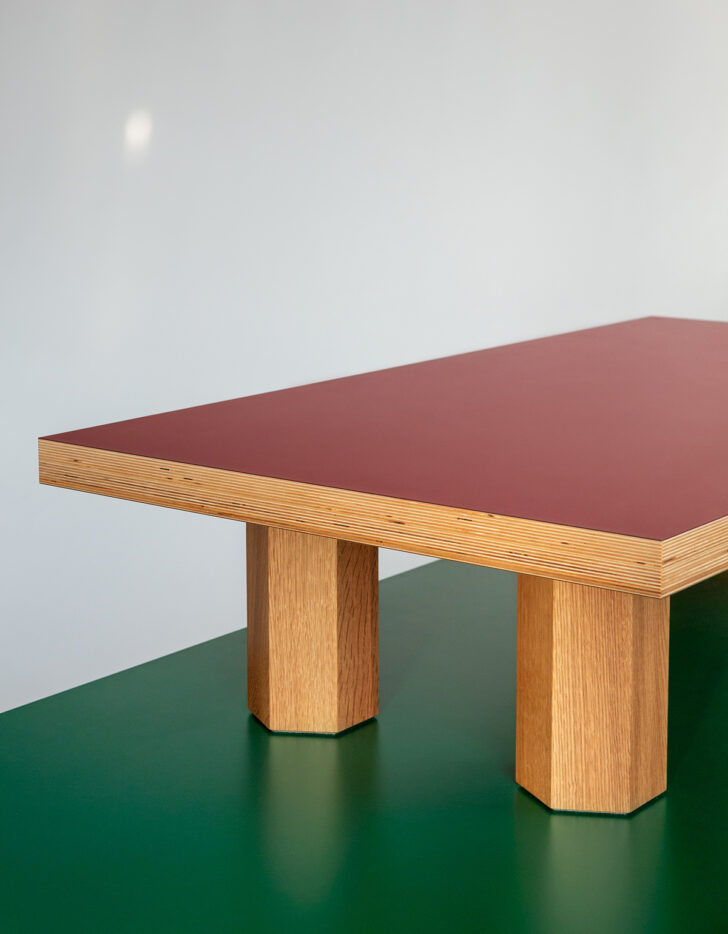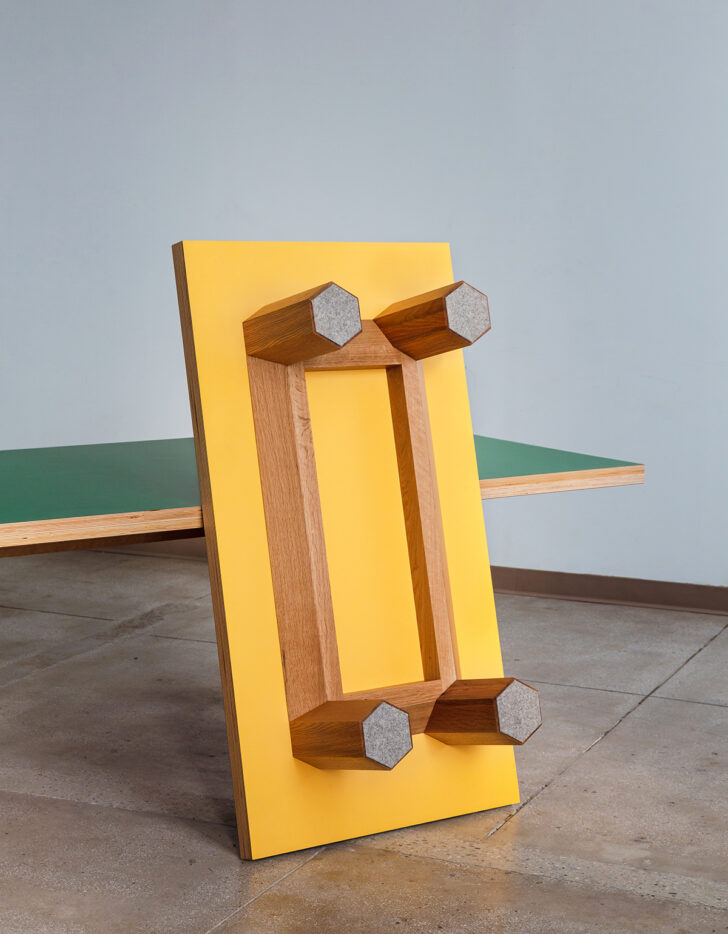 Vintage (top): Kobenstyle Buffet Server by Jens Quistgaard for Dansk
"To me, the Kobenstyle buffet server will always be yellow, on my grandmother's buffet, and filled with scalloped potatoes. Ham to its left, broccoli to its right. The handles add a delicate touch, the white interior sets off the food, and the wide opening makes it easy to see just how much is left. The perfect potluck dish."
Contemporary: GRT Architects Poole Coffee Table
"Are you sensing a theme? I love a butter yellow and it's mighty hard to find in contemporary objects. These coffee tables combine laminate, which I've long thought needed a second look, with chunky legs and a top big enough for board games or a pizza box. I see these as a riff on 1970s dorm decor in the best way." Photo by Brian W. Ferry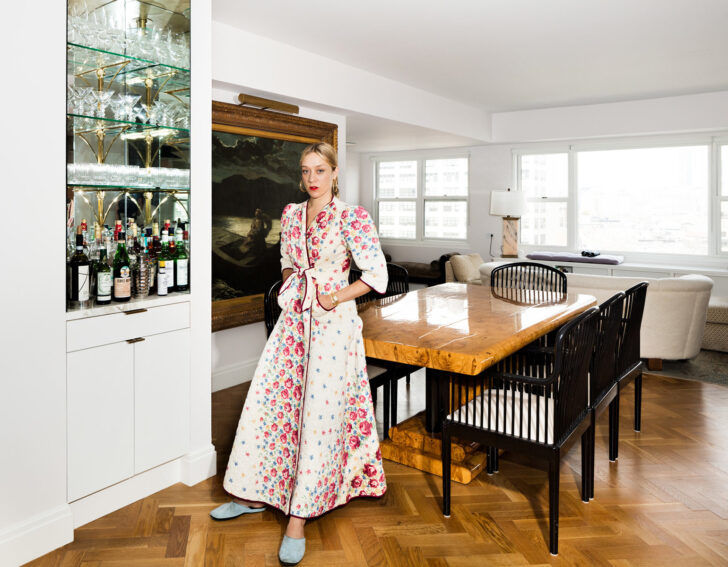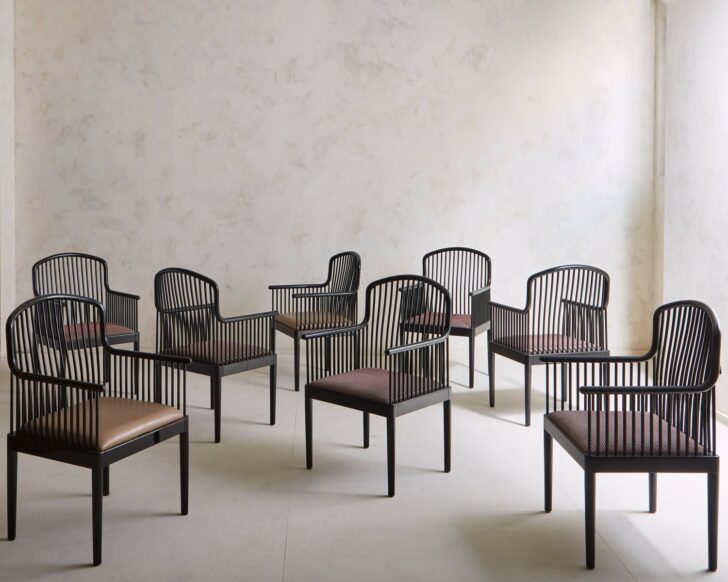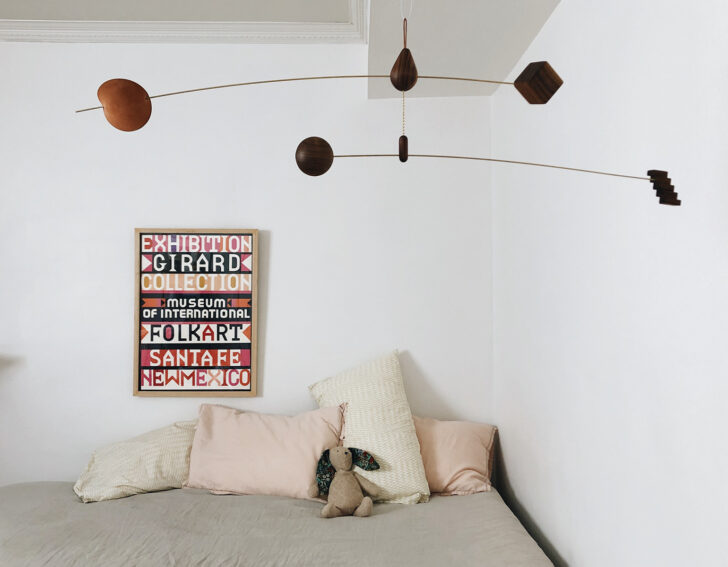 Vintage (top): Davis Allen Andover chairs for Stendig (c. 1980s)
"Via a Wright auction in 2015, I scored a set of five black lacquered Davis Allen Andover chairs for Stendig, later produced by Knoll. I think of them basically as a postmodern rendition of the traditional Windsor armchair. Later on, I sold four of the five when I moved into a studio apartment. (One Craigslist buyer could tell I was a bit distraught, so he sweetly sent me photos of the pair he bought once they were ensconced in their new home.) Sidenote: My husband despises these chairs, but I will never part with the one I have left! Coincidentally, Chloe Sevigny agrees…"
Contemporary: Mobile by Pat Kim (2019)
"At the risk of sounding obsequious, one of the coolest design objects I possess is a wood, brass, and leather mobile that Jill (Ed.note that's me!) commissioned from Pat Kim when my first child was born. (Well, technically it belongs to a now-three-year-old.) Pat posted a photo to Instagram the other day noting it's one of the only hanging mobiles he's made to date."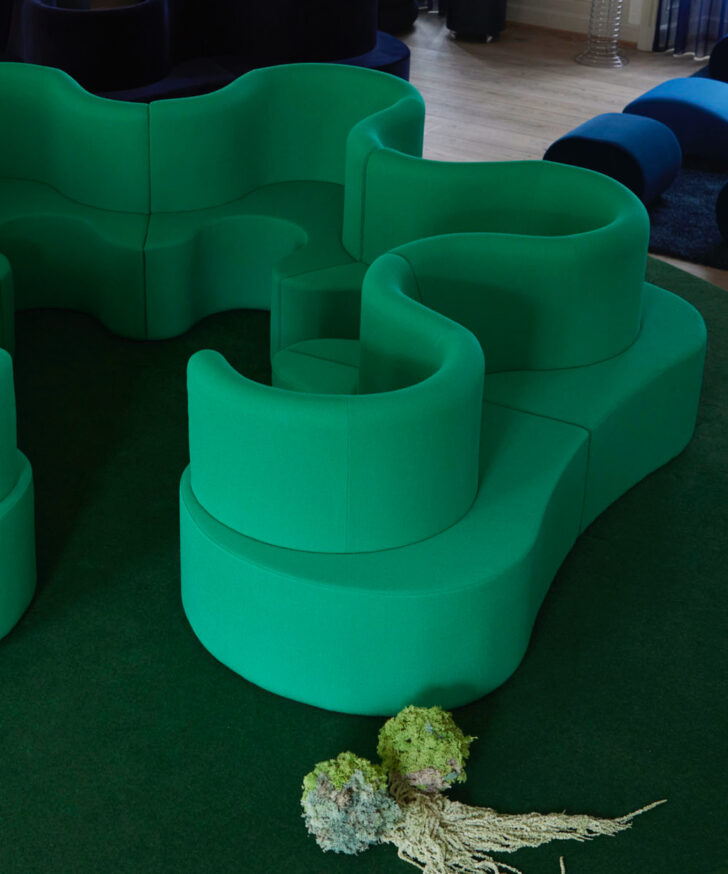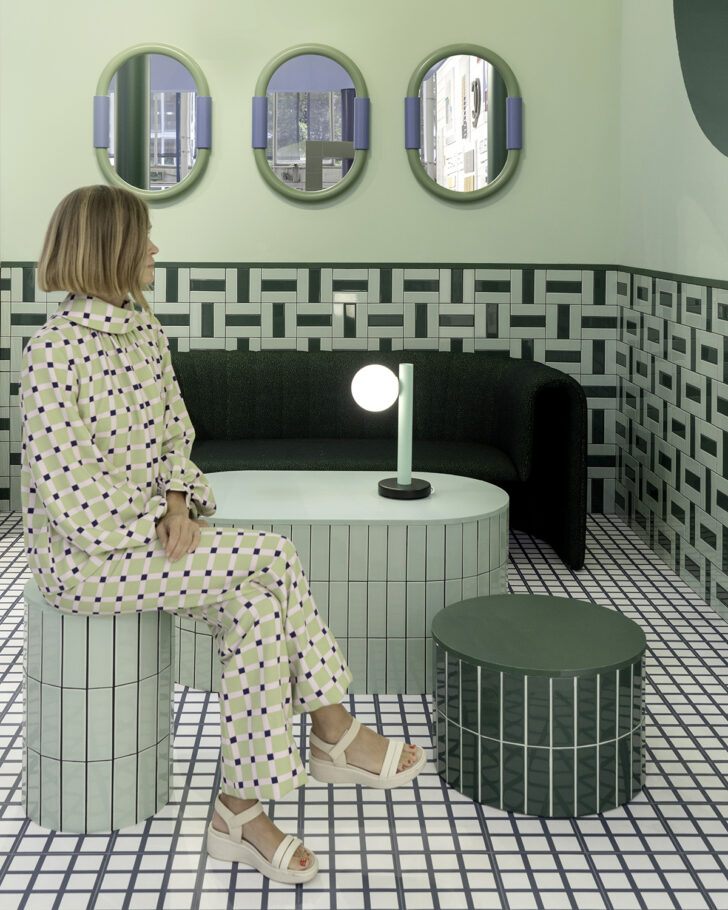 Vintage (top): Cloverleaf Sofa by Verner Panton, 1969
"Because it's like a fluid forever ongoing dream….and yet a functional, modular sofa. I saw it the first time in velvet olive green, very 1970s-style and still how I picture it every time I hear about it, and how I would want it if I could ever afford getting one. Or at least green, I love it here as well in the home of Trine Kjer.
Contemporary: Elements collection by Atelier Areti, 2022
"I love how they have reduced the design to its absolute minimum, three basic elements, exploring the archetype of a lamp with dimensions and combinations of color. I have used different pieces from the collection in my last two interior designs and I just love them, how the graphic elements play together with my color combinations and the interplay between 3D and 2D, realism and abstraction."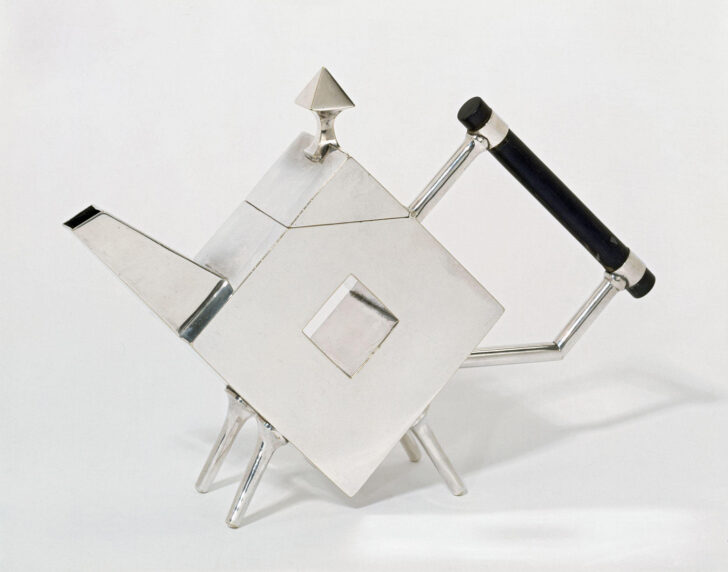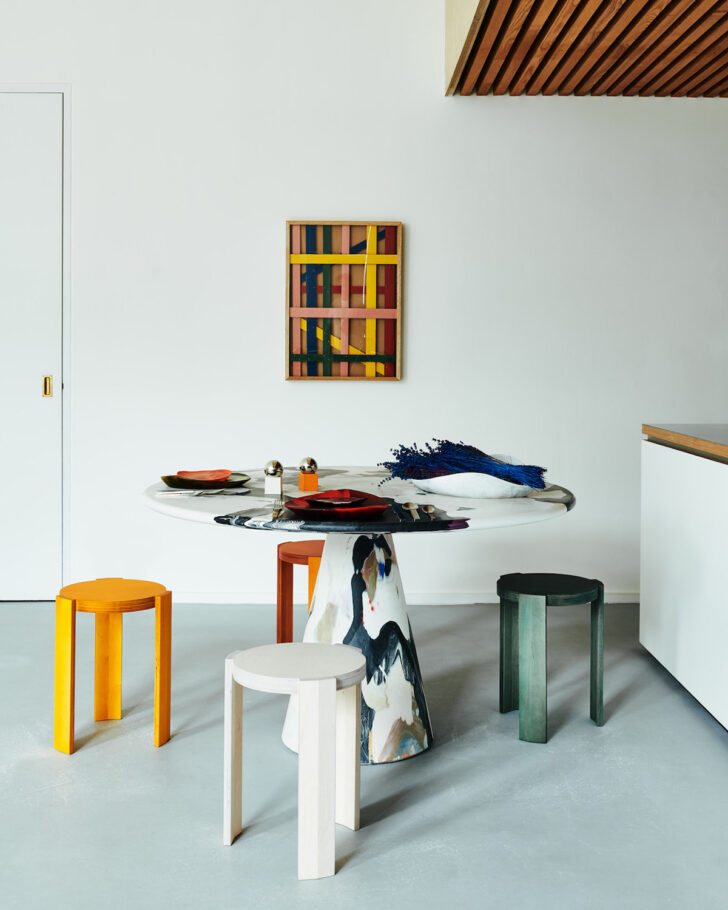 Vintage (top): Christopher Dresser Teapot (1879)
"A favorite vintage object — of which there are way too many to list — would have to be a Christopher Dresser teapot. I don't own one, just a book of his work; many of his works actually didn't get past the prototyping stage as they were deemed too avant-garde. There are several reasons I love this object so much but one is because of how unusual and radical in style it would have felt at the time of its creation in 1879: Just pop a color on it and it could be mistaken for an object designed 100 years later. I think one of the hardest things to achieve as a designer is to produce something original, so it's a nice reference to return to, to inspire you to push boundaries and not create in a vacuum. The manufacturers, James Dixon and Sons, are also from my home city of Sheffield in the UK, so another reason why the object and its material resonates."
Contemporary: Dirk VanderKooij Melting Pot Table (2015)
"I first discovered Dirk's work during LDF 2018 when we both had pieces in a curated space by Morgwn Rimel called Blue House. I'd never seen anything like them before or since. I love when designed objects are like pieces of art but still functional, and these tables look like beautiful abstract paintings. My admiration for them as an object initially was on a more immediate aesthetic level but once I knew how they were created from discarded plastics, my love was cemented. I often think as a designer obsessed with objects: 'Does the world really need more stuff?' But the way Dirk works really addresses this conundrum by creating beauty from the discarded. I hope to have a piece of his one day and include some of the plastic parts of my life that have followed me around and need a new lease of life."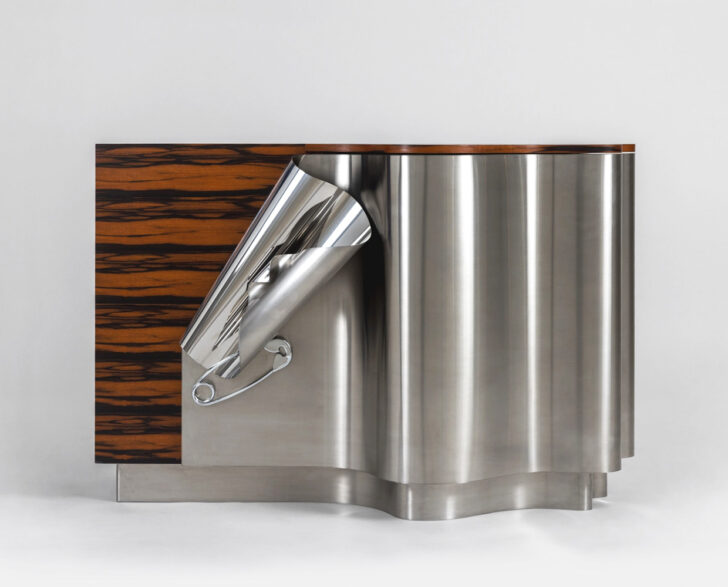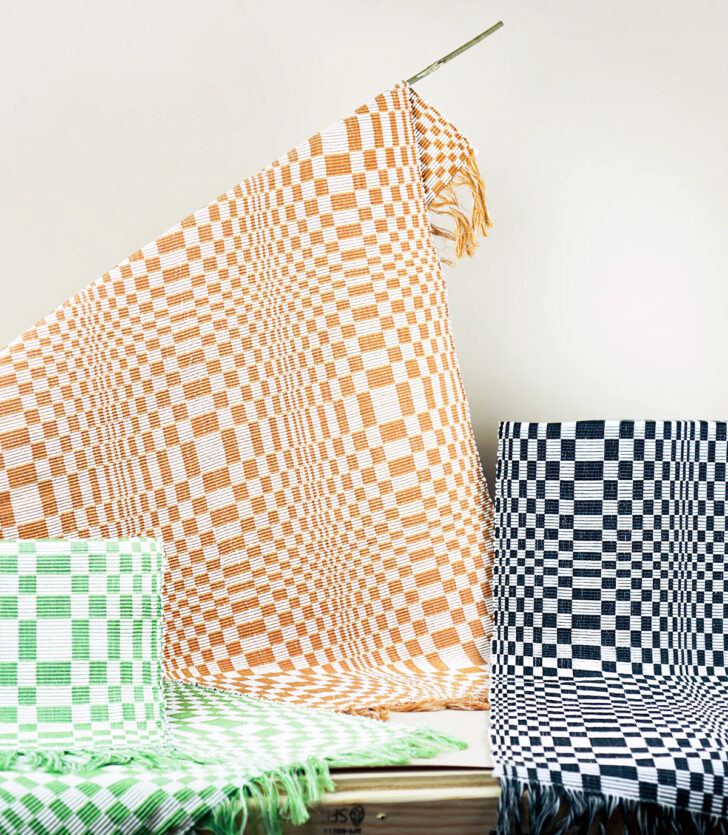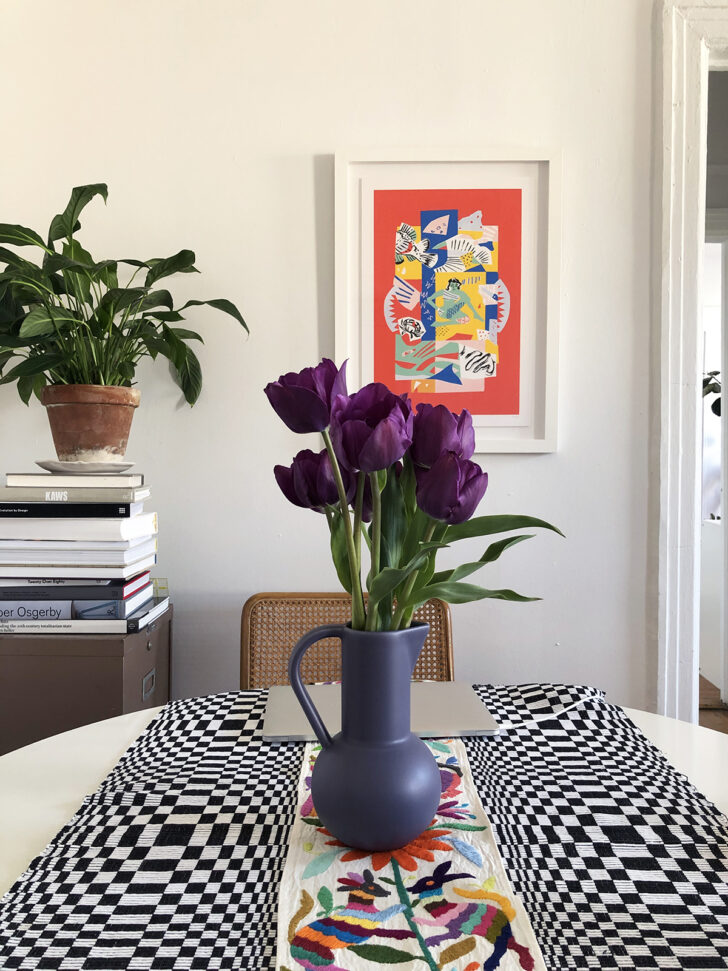 Vintage (top): Drape Cabinets by Maria Pergay (2005)
"I first saw these cabinets in Egg Collective's Designing Women III: Mother exhibition last year and haven't been able to get them out of my mind since. They're stunning. I adore how Pergay uses rare ebony along with industrial stainless steel and rippled and hard edges. It has a very balanced energy. The cabinets are also a little wry and surreal with the giant safety pin and doors that look like they're peeling away. The 92-year-old designer never fit into any single movement or 'school' of design and in a 2010 interview with The New York Times, Pergay said she doesn't even like the word 'furniture' to describe her work. Instead, it's 'an expression of — what can I say, maybe like it came from Mars or the moon?' Spoken like a true artist. If I could make a fantasy design purchase, these would be it."
Contemporary: Luna Rug by Kristine Peñafiel Salviejo from Maaari
"A few years ago, I became interested in the history of Filipino textiles after visiting an exhibition at the Ayala Museum, in Manila, of indigenous fabrics. Growing up, I only knew about the more ornate Barongs and floral-patterned piña cloth and was so surprised to see geometric abstractions of topography, plants, animals, and people. Of course, I had to learn more about these fabrics' histories. A Google rabbit hole must have led me to the Luna rug by the Filipino-American designer Kristine Peñafiel Salviejo, which I use as a tablecloth. (My laptop happens to be sitting right on top of it as I type this!) I originally saw it on Maaari, an online design shop run by two Filipino-American women who often work with artisans in the Philippines to make housewares and design objects. It's made from a Binakol fabric, which is woven in the Northern Philippines. Its abstract, optical pattern is supposedly based on a pre-colonial whirlwind pattern that's meant to ward off evil spirits. Checkered patterns happened to be very in when I bought this, and I appreciated how it was modern, spoke to my culture's history, and is helping to keep these weaving traditions alive."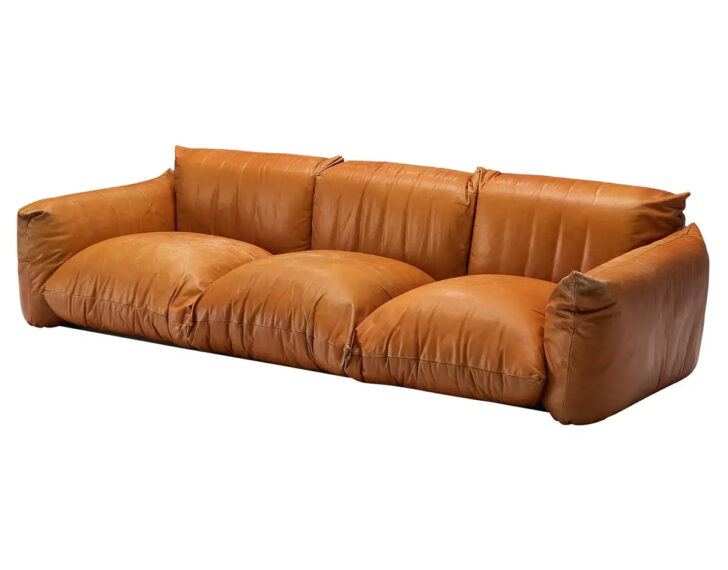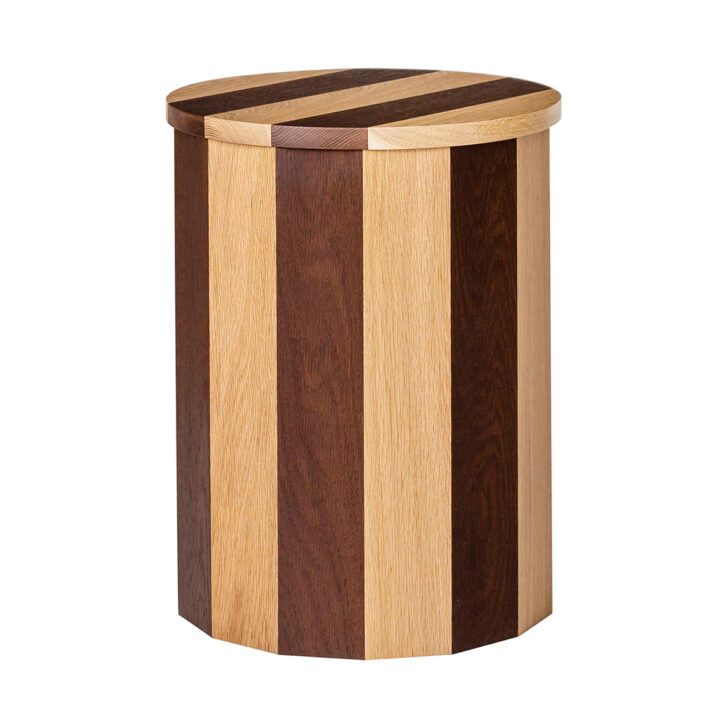 Vintage (top): Mario Marenco for Arflex Sofa in Cognac Leather
"The Marenco sofa has been on my list of most-loved sofas for years. There is something about the pillow-like configuration that speaks to me and reminds me of one of my favorite photos of my mother sitting on a puffy sofa in our living room in the 80s. She wasn't sitting on a Marenco, but I like to imagine that she was."
Contemporary: Cooperage Stool in Striped Oak by Fort Standard
"I love the use of graphic wood tone placement on this stool by Fort Standard. It's so clever, timeless and feels like it can fit seamlessly into so many spaces!"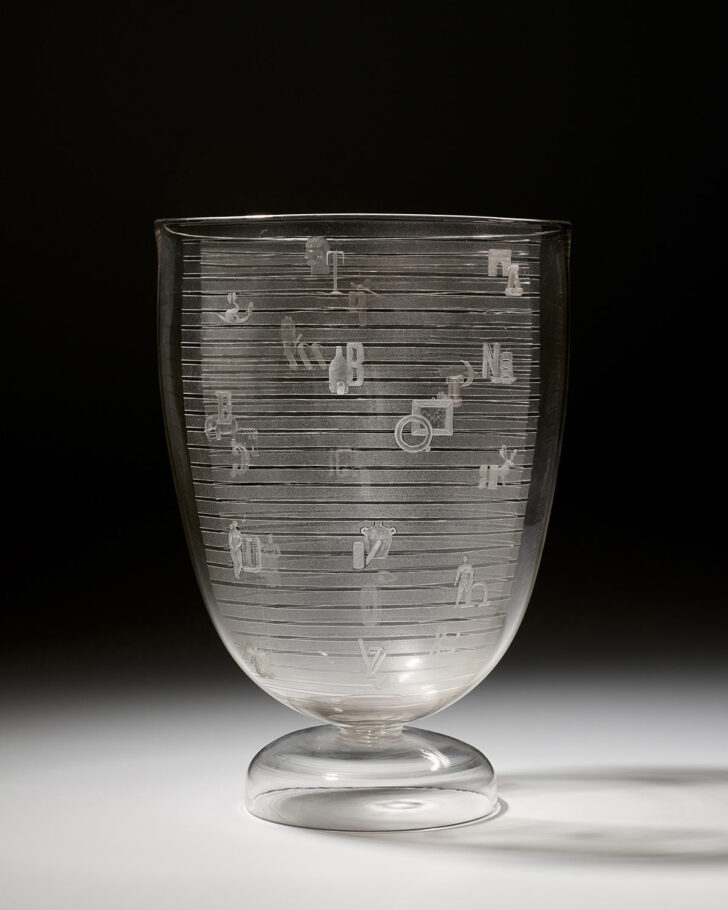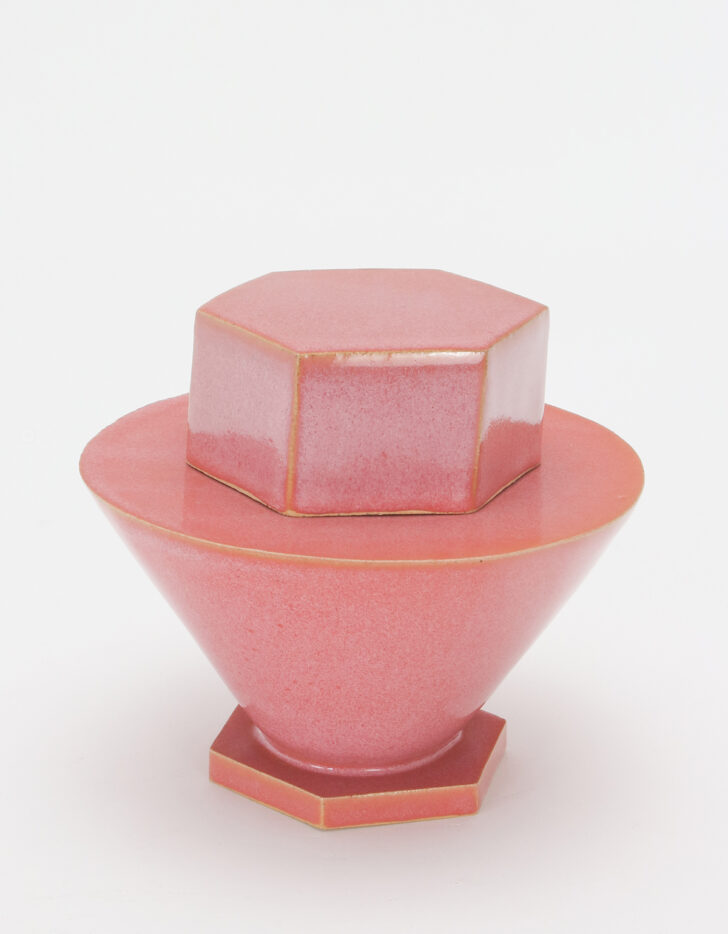 Vintage: Gio Ponti large vase with illustrated letters
"The auction house I work for sold this Gio Ponti vase from the 1930s last year. It's glass partially etched with illustrated letters from the alphabet, and it's among the most charming objects I've ever seen. I have very specific and expensive taste so working at an auction house satisfies my need to own everything I love by just being able to physically spend some time with the objects, touch them and study them, without having to choose between them and my house." Photo courtesy of Phillips
Contemporary: BZIPPY x Sparrow urn
"I have this BZIPPY x Sparrow ceramic urn on my dresser at home, which houses the ashes of my beloved cat Lawrence, who died the night we brought our first baby home from the hospital. The color is so calming to me and the shape has this sense of importance and gravity while also being happy and celebratory, which I feel honors his spirit more than your typical somber funerary objects."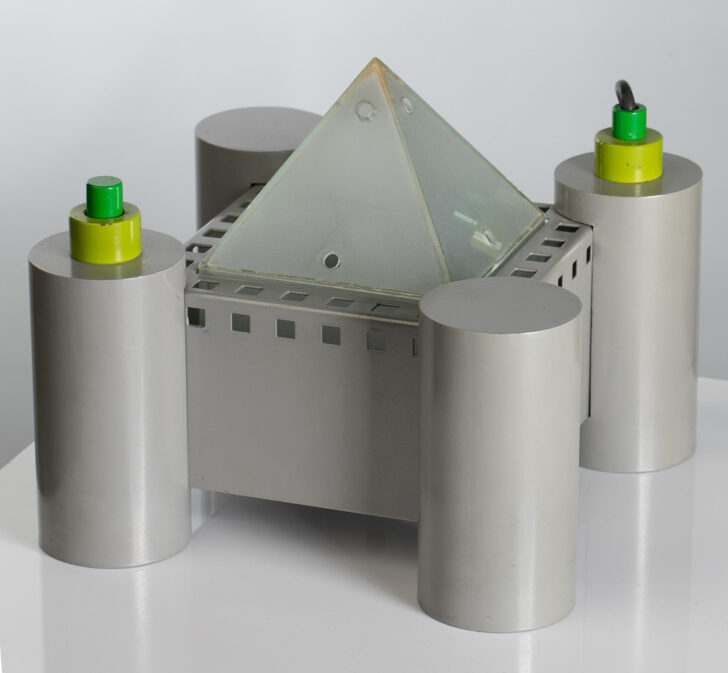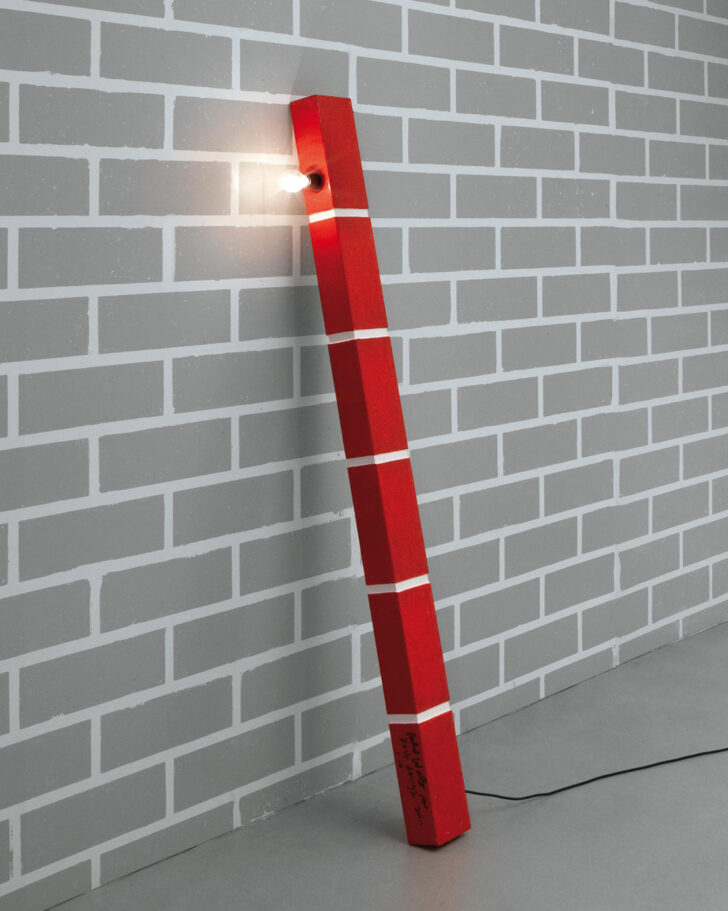 Vintage (top): Table lamp by Matteo Thun for Bieffeplast (1985)
"I really like lamps and I live with a lot of them. Some are very special, collectible things and others are just weirdos that I picked up — a lamp shaped like a giant wine glass, for example. After a long day, there's something kind of meditative about coming home, turning on some lamps (no overheads, thank you!) and hanging out with them. They all have personalities. My two favorites are both Memphis Group adjacent, but from different eras. In the vintage department, it's my prized castle lamp, made by Matteo Thun in 1985 for the Italian manufacturer Bieffeplast. It's part of a series of lamps he made that looked like buildings and I just think there's something truly fantastic about a small castle that lights up."
Contemporary: Brick Lamp by Richard Woods (2011)
"My other favorite, from the 21st century, is my brick lamp, which was made by Richard Woods for Memphis Milano in 2011. Woods did this show where everything looked like it was made from stacks of bricks, but it was actually all painted wood. Mine is a floor lamp that leans against the wall like a stack of bricks with a lightbulb screwed into one side. I still laugh sometimes when I see it. Sometimes new people come over and they don't realize these things are lamps. I love that element of surprise. A lamp is basically just a sculpture that lights up."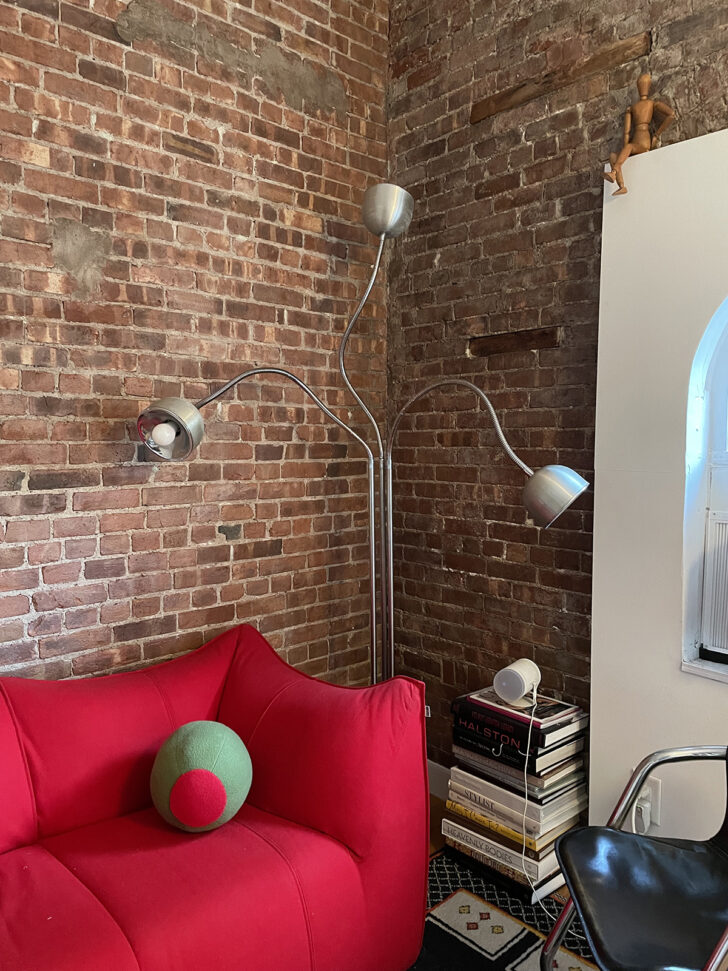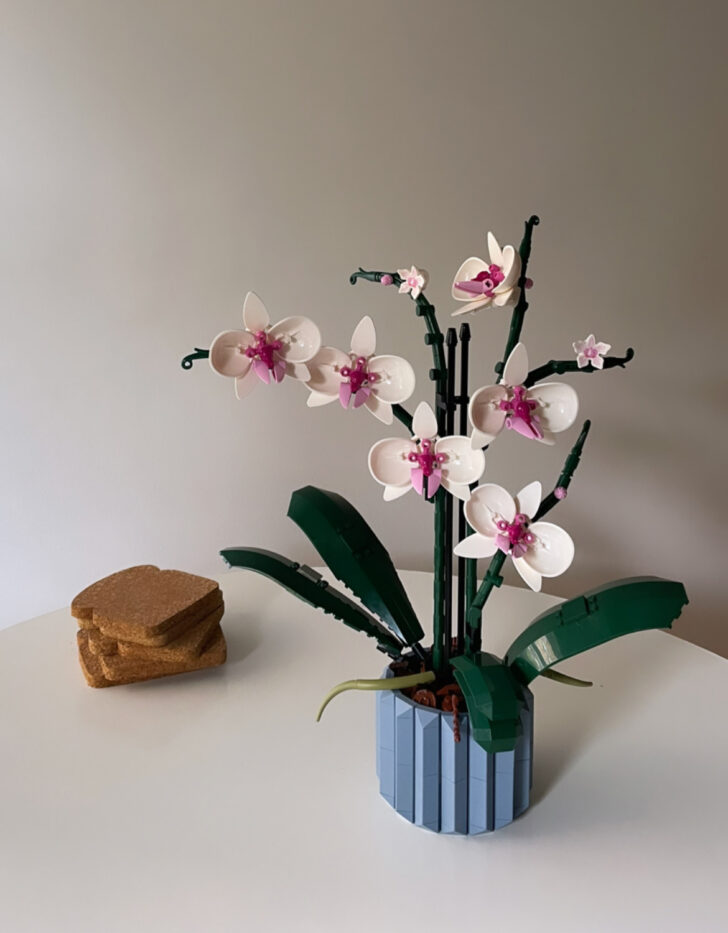 Vintage (top): Goffredo Reggiani floor lamp
"My favorite vintage object in my house (besides my Bambole couch, which brings me immense joy every single day) is the three-armed floor lamp that stands next to it. Allegedly, it's designed by Goffredo Reggiani, but I found it because I was looking on 1stdibs for something that could light this very dark and tall corner of my living room. I liked that this one was flexible, with curly, Medusa-like tendrils. (I also have curly hair.) When I got it repaired, the Lamp Surgeon, as he calls himself, told me it was 'the strangest lamp he'd ever seen' after decades in business. I considered that the highest compliment." (Ed. note: For all those who *will* be curious, the olive pillow is linked here!)
Contemporary: Lego orchid
"My favorite contemporary design object in my house are my Lego orchids. Like a lot of kids, I was obsessed with Legos growing up, and when I saw this at a toy store in Park Slope, my eyes bugged out. Putting it together was not easy, proving that Legos aren't just for kids, and it was a great use of an afternoon; very Zen. My dad loved orchids (and Legos), so it reminds me of him. And I've killed every other plant that has entered my home. I want to buy a Lego bonsai tree next. (The toast coasters, or "toasters," as I like to call them, are from the MoMA design store.)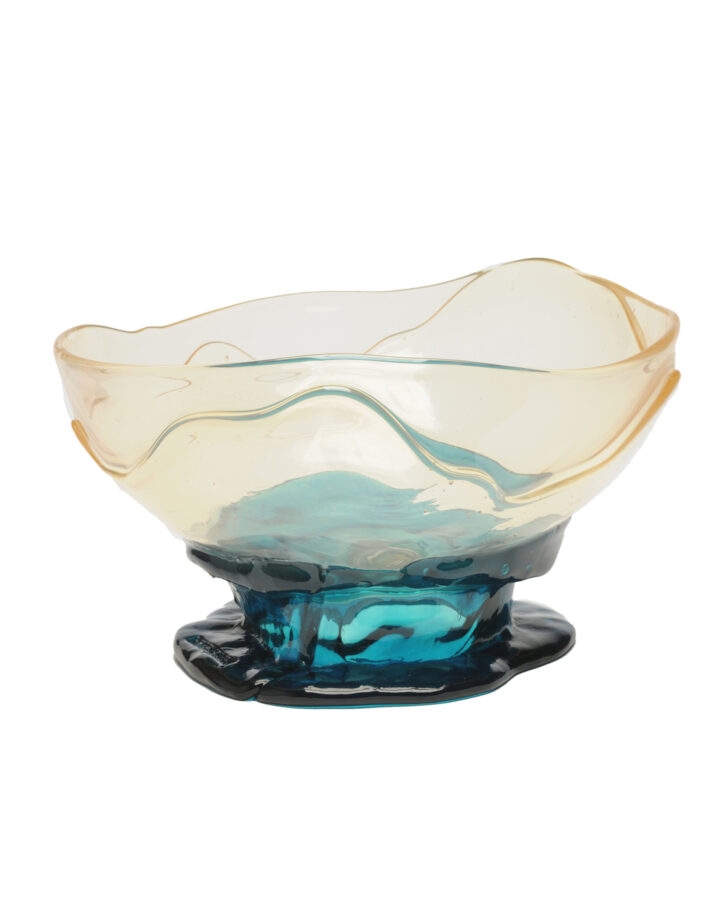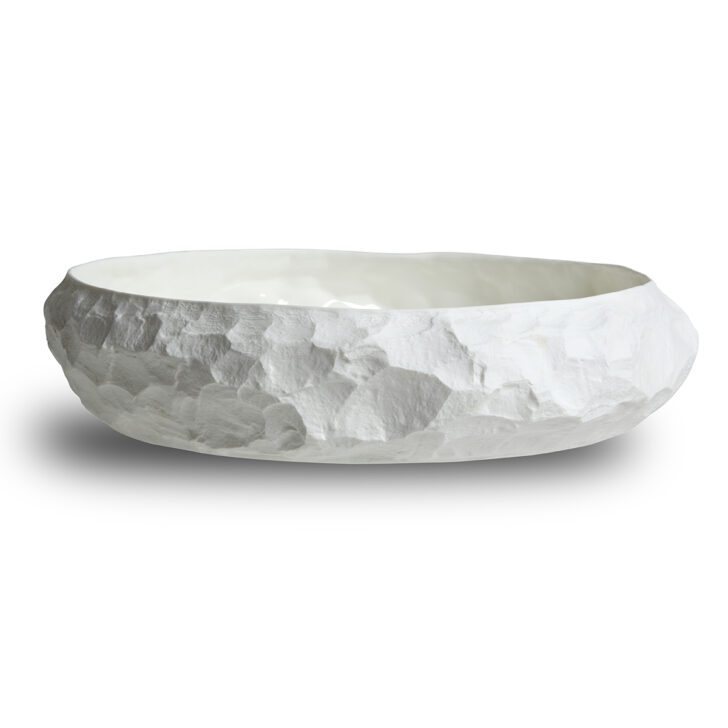 Vintage (top): Big Collina Basket by Gaetano Pesce (1995)
"Mostly I collect furniture, and the objects I do tend to be functional, so I've chosen two bowls. One designed in 2012, and one in 1995, both being made currently. I don't have the Gaetano Pesce but it's on my wish list."
Contemporary: 1882 Crockery Flat Bowl (2012)
"I have the Max Lamb bowl and use it every night that we cook for salad or vegetables. We love both designers at Home Studios, and the bowls are good examples of why: great balance of whimsy and rigor, very tactile, and you can feel and appreciate the process of shaping the material."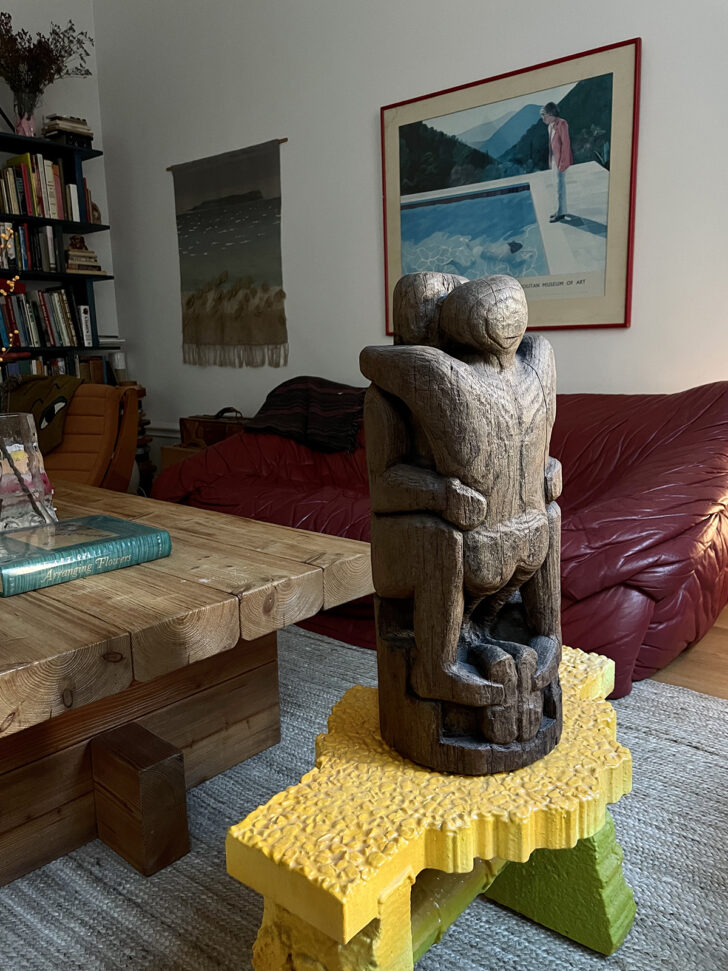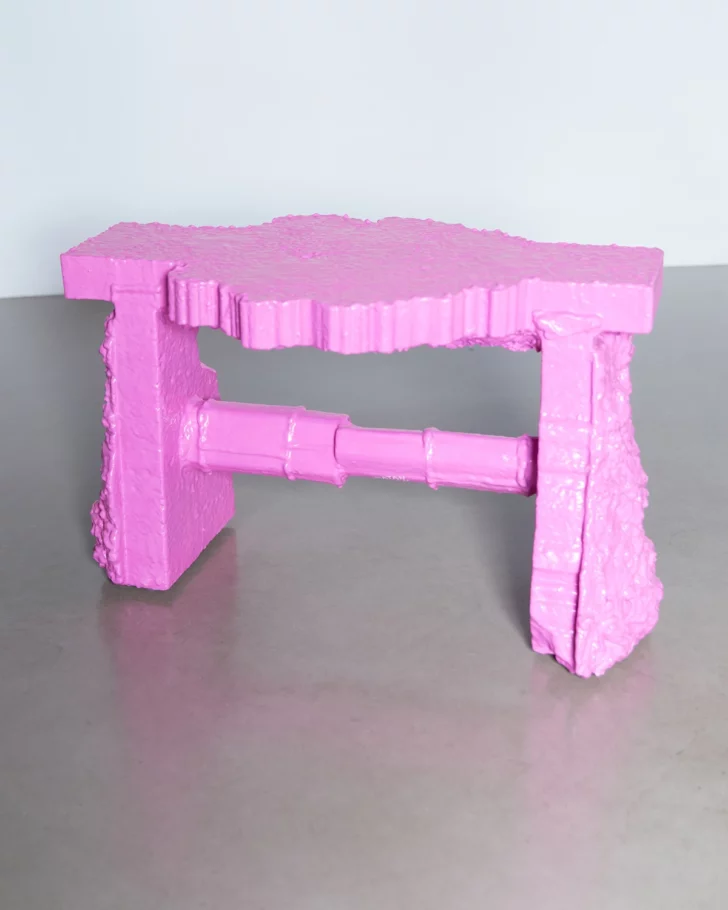 Vintage (top): Unknown by Federico Vettori
"I found this sculpture in Rome and could not leave without it and an extra bag just to get it home in. It's a good conversation starter since it's hard to say if the carved couple are having sex or if they're just hugging each other."
Contemporary: Concrete Side Table by Jonatan Nilsson
"The heaviest thing in my home. It makes me happy and is a good contrast to all wooden things I have. Everything looks great on top of it."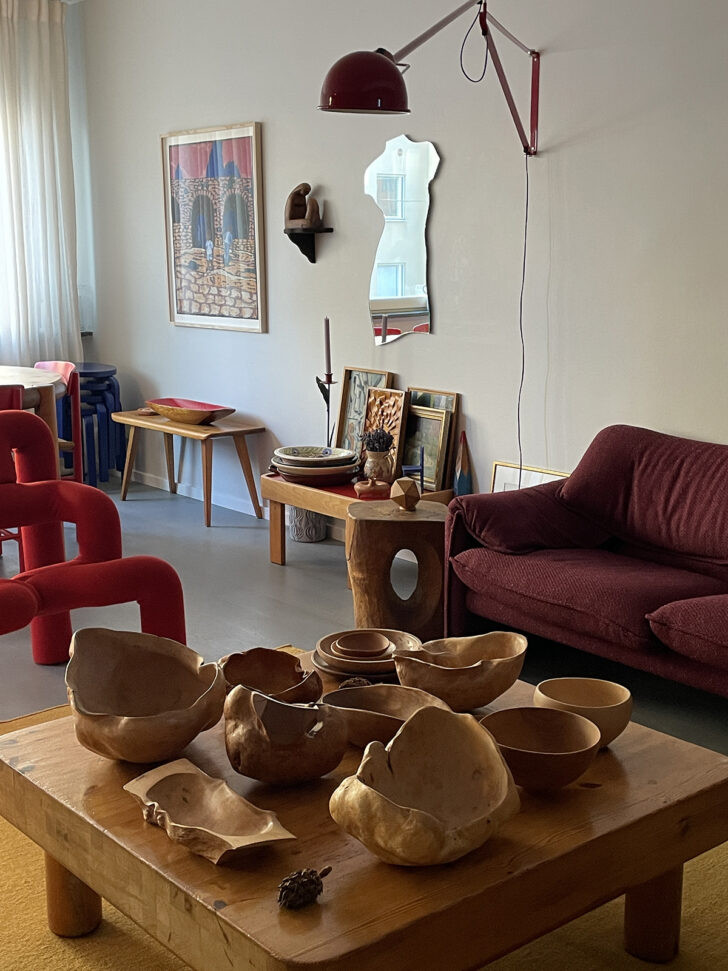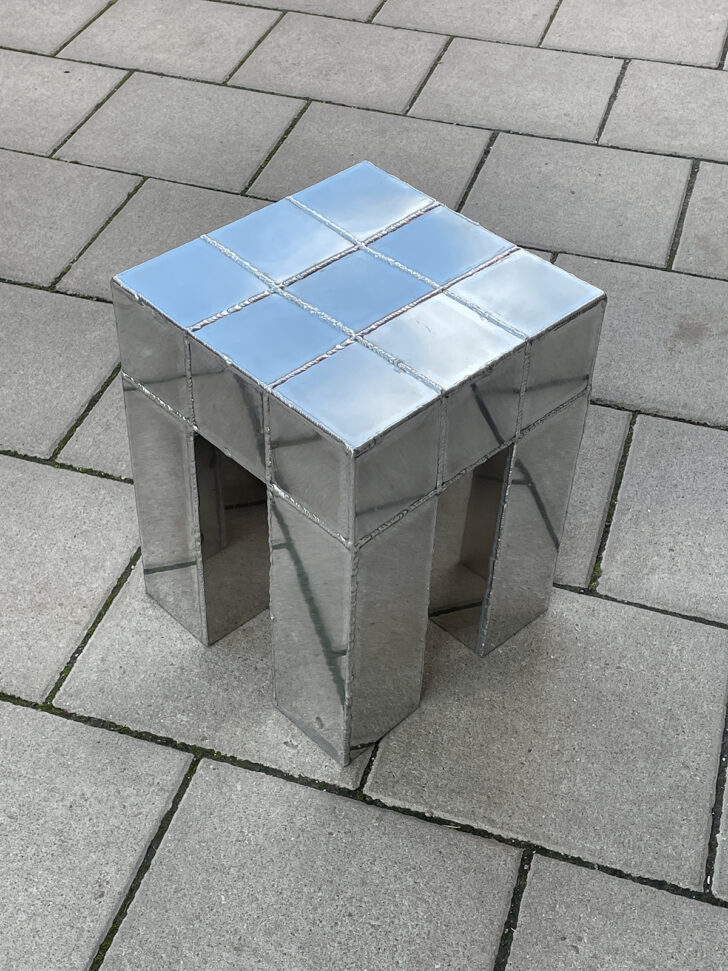 Vintage (top): Wooden bowls in all shapes and forms by random enthusiastic wood lovers "I love the warmth these bowls add to a space. They also come in very handy, I have fruit and vegetables in them, receipts, keys, makeup, sunglasses, nothing, or all of the above. They serve a purpose beyond the aesthetic, but obviously the main reason I can't stop buying them is because I love how they look and feel. Above all else I love a freeform burl bowl."
Contemporary: Unnamed welded aluminum stool by Julia Jutterström 
"We just got this in the shop and I can't take my eyes off of it. It combines my love for metal and craft, brutalism and minimalism in a very successful way. (If I owned this I would absolutely put a wooden burl bowl on top of it.)"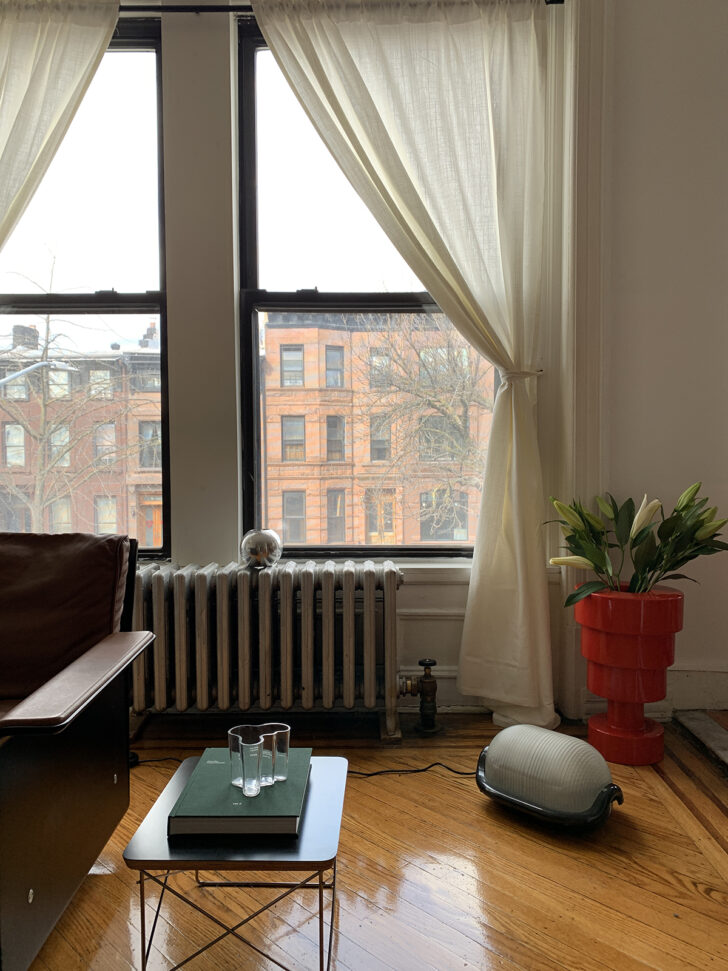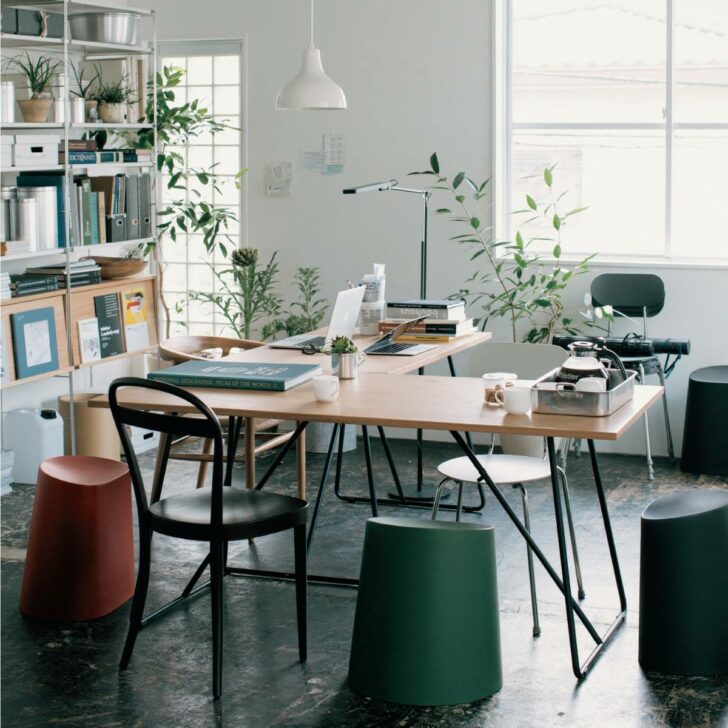 Vintage (top): Noce Lamp by Achille Castiglioni (1972)
"A personal favorite of mine, probably my favorite lamp. (I have two). The Noce lamp, which means walnut in Italian, was designed with a steel base and a shatter-proof glass lid. This allows for the lamp to be kicked around the house or taken outside all while providing a wonderful light source. Hack: as much as I hate them, using LED color changing bulbs allow you to make mobile mood listing a thing!"
Contemporary: Polypropylene Stackable Stool by Muji (2016)
"There have been few recent designs that I revisit frequently. This stool, designed by the Japanese home goods company Muji, is at the top of my list. Visually it is able to sit as a design object while also providing a function, comfortably. The ability for them to be stacked also adds another dimension to its adaptability to any environment."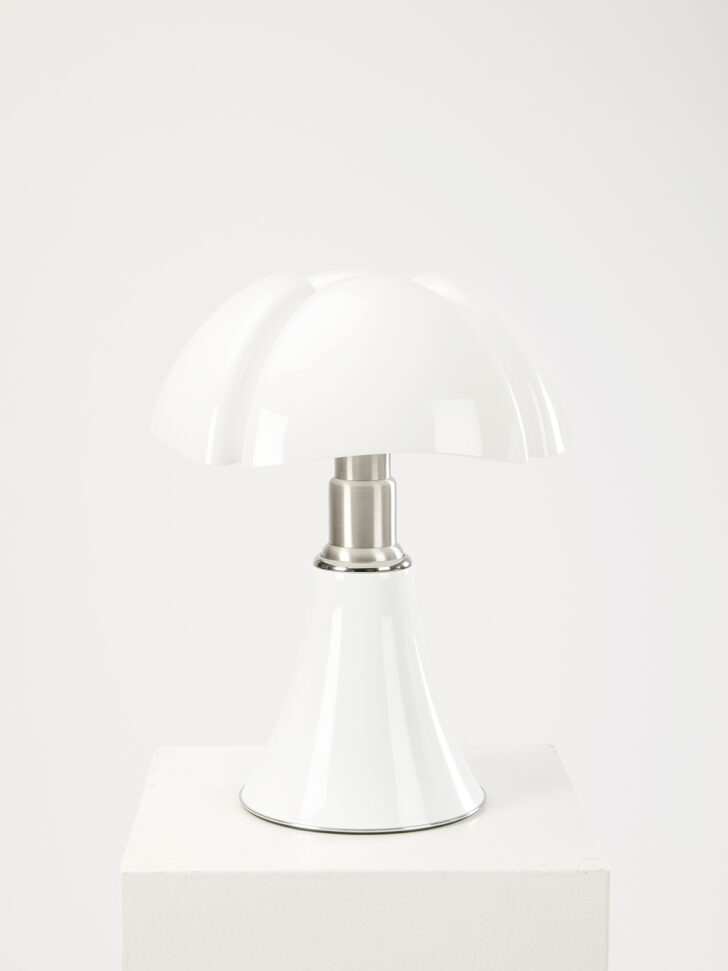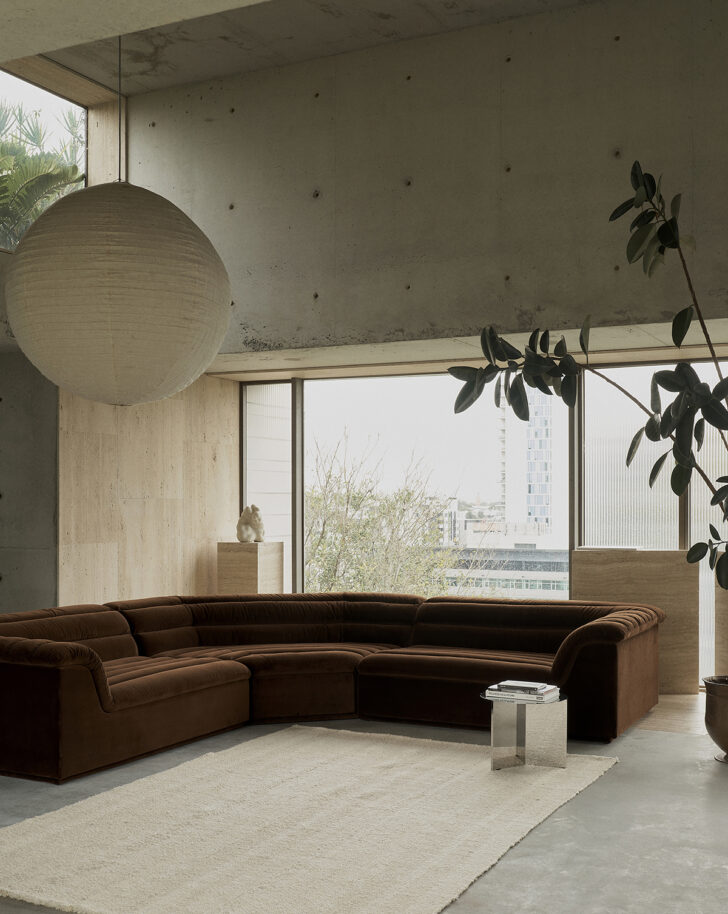 Vintage (top): Pipistrello Lamp by Gae Aulenti (1965)
"I love this lamp because it shows how nature will always be such a constant form of inspiration. The lamp is designed from the shape of the wings of a bat. It has a rounded form but still feels elegant with its tapered base. It's the perfect bedside table lamp if you want to make a statement."
Contemporary: Float Sofa by Sarah Ellison
"This might be a little cheeky but I just can't go past my new FLOAT sofa as a favorite contemporary design object. This is my latest sofa design that I recently launched with a signature brand colour created in partnership with the Pantone Color Institute."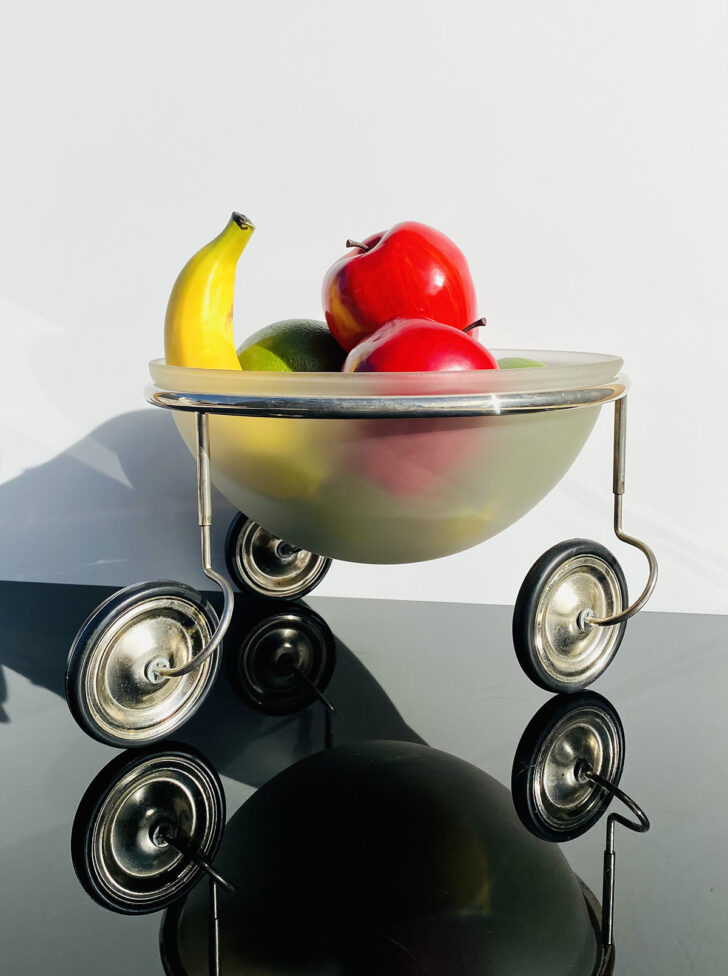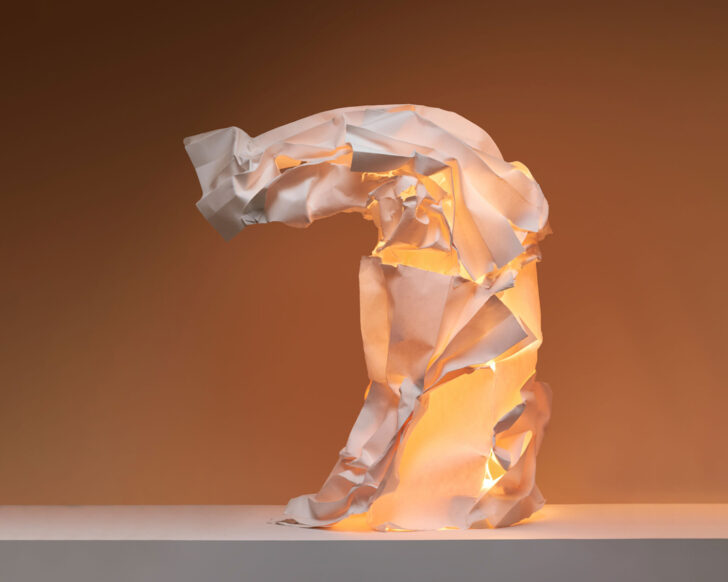 Vintage (top): Fruit on Wheels by Arnout Visser (1993)
"One of my all time favorite vintage objects I own is Arnout Visser's 'Fruit On Wheels' fruit bowl for Designum 1993. It was made by upcycling the glass window of a washing machine and adding a frame with wheels to make a clever, playful, and useful design. Awfully handy to be able to push out of the way on a counter surface instead of having to pick up and move. I actually have two, one of which I found for $5 at Housing Works in Hell's Kitchen years ago. Very excited on that day."
Contemporary: Halo Lamp by Bradley Bowers (2022)
"As far as contemporary design I personally really love Bradley Bowers Halo Lamps at The Future Perfect. I'm a big sucker for unconventional lighting, especially if it's sculptural. I'm sold. Most excellent ambient light."