11.10.22
For One Night Only at Superhouse, We Paired Works and Personal Mementoes by 16 Designers
To celebrate the upcoming launch of our book, How to Live With Objects, we put on a one-night-only exhibition last week at Superhouse Gallery in Chinatown with a *very* fun concept. To showcase How to Live With Objects' new approach to interiors — simply surrounding yourself with objects you love — we invited 16 designers, eight from our book, and eight from our exhibition partner, Areaware, to display two objects each: one they had made, and one that was meaningful to them. Each pair was displayed on a Duo Object Stand, a new, two-object pedestal designed by Sight Unseen and produced by Bestcase, which is available for sale here.
The exhibition was split into two rooms. In Sight Unseen's room, we had object pairs like a Nigerian beaded crown and sculptural prototype from Mark Grattan; an Art Deco teapot and vase from Sophie Lou Jacobsen; a preserved dandelion and mosaic catchall embedded with shells from Memor; and a scratch-and-sniff cookie box by Alessi paired with miniature versions of Sam Stewart's Shaker-inspired pantry boxes. On Areaware's side, a neon lamp given to Elise McMahon by a friend sat next to her Profile Hand Mirror for Areaware; a Oaxacan rug was paired with Natalie Herrera's Pleated Pitcher; and Bari Ziperstein showed a glass vase inherited from an aunt next to her new Hex Vase for Areaware.
The question buzzing around the party was: If there'd been no name placards, nor corresponding work made by the designers themselves, would guests have been able to guess whose meaningful object belonged to which designer? Many of the mementoes — despite being gifts from other people, or funny vintage finds, or travel souvenirs — seemed to retain a trace of their owner's artistic DNA. Was it so hard to believe that a fist-pumping watering can belonged to Chen & Kai, or that a delicate green vase, reassembled from ceramic shards, was the work of Minjae Kim? Take a look at the pairs below, and see for yourself! And don't forget to order How to Live With Objects to see more work by these designers and others.
PHOTOS BY SEAN DAVIDSON 
SIGHT UNSEEN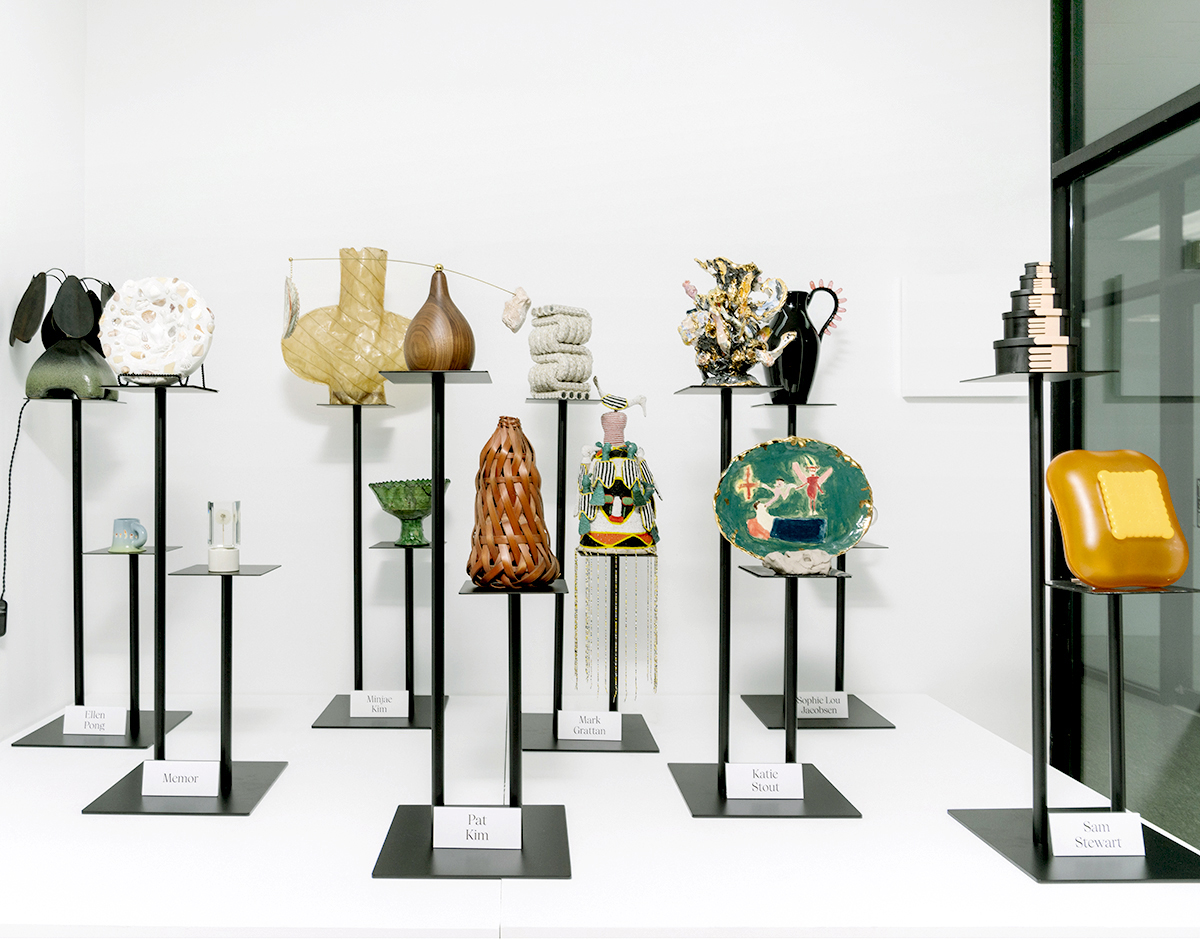 Ellen Pong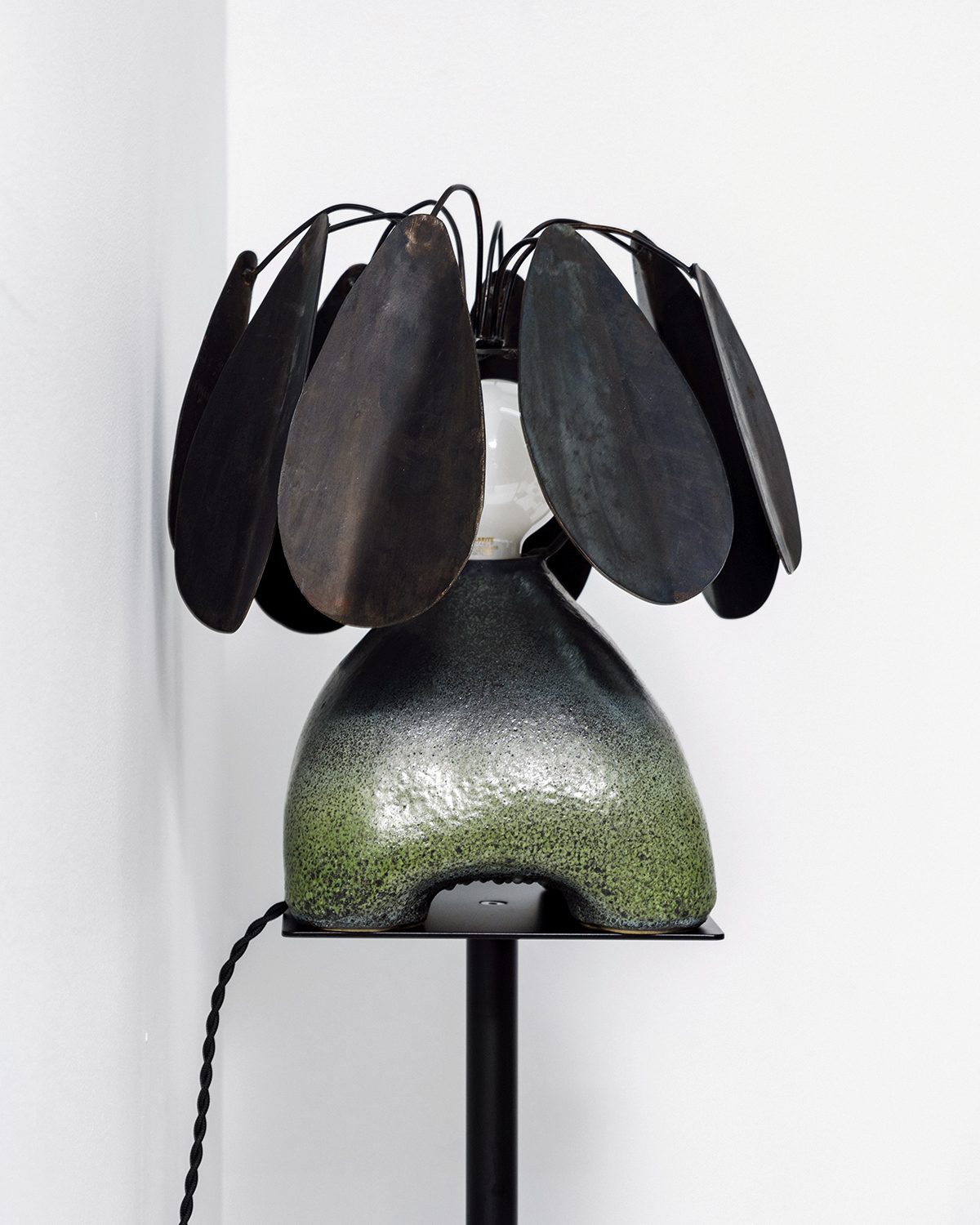 Houseplant Lamp
A lamp with a glazed ceramic base and metal lampshade, part of Pong's upcoming show at Superhouse, opening November 18.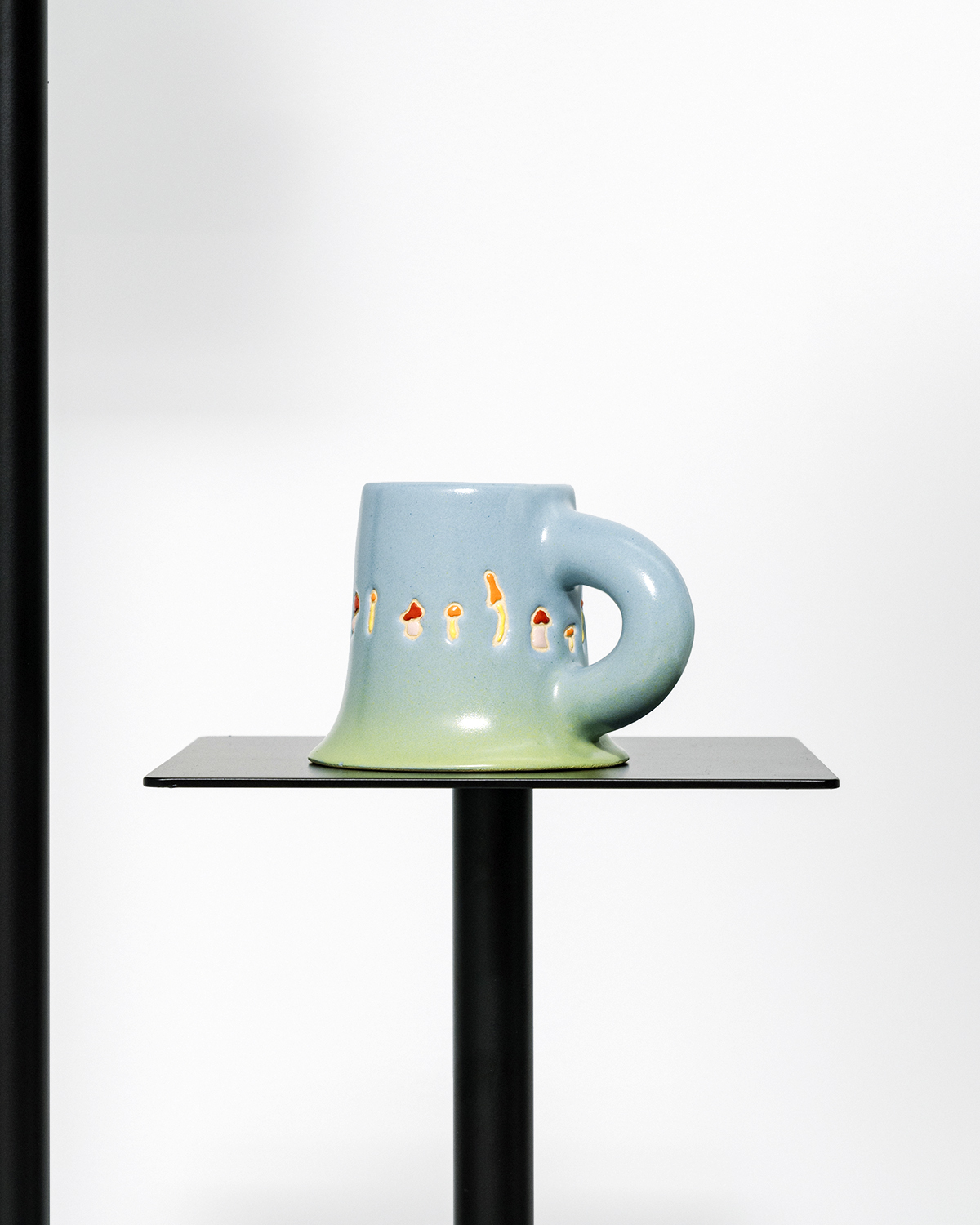 Mug by Maxim Schidlovsky
This mug was made by my friend and landlord, Maxim Schidlovsky. I was a fan of his work before knowing him, and in early 2020, I attended a studio sale hosted by him and Caroline David at Permanent Maintenance, where I purchased this mug. I'd recently started making ceramics again, just as a hobby, after a few years' hiatus. At the sale, Caroline mentioned that she was moving to Berlin, and that I should take over her desk in the communal ceramic studio. I jumped at the opportunity. Her co-founder Max intimidated me at first, and I decided he disliked me for asking too many questions. But that summer, we bonded over sfincione and White Claws on the studio roof. Permanent Maintenance has been my studio home ever since, and I'm grateful to Max for unknowingly luring me there with his fine wares.
Pat Kim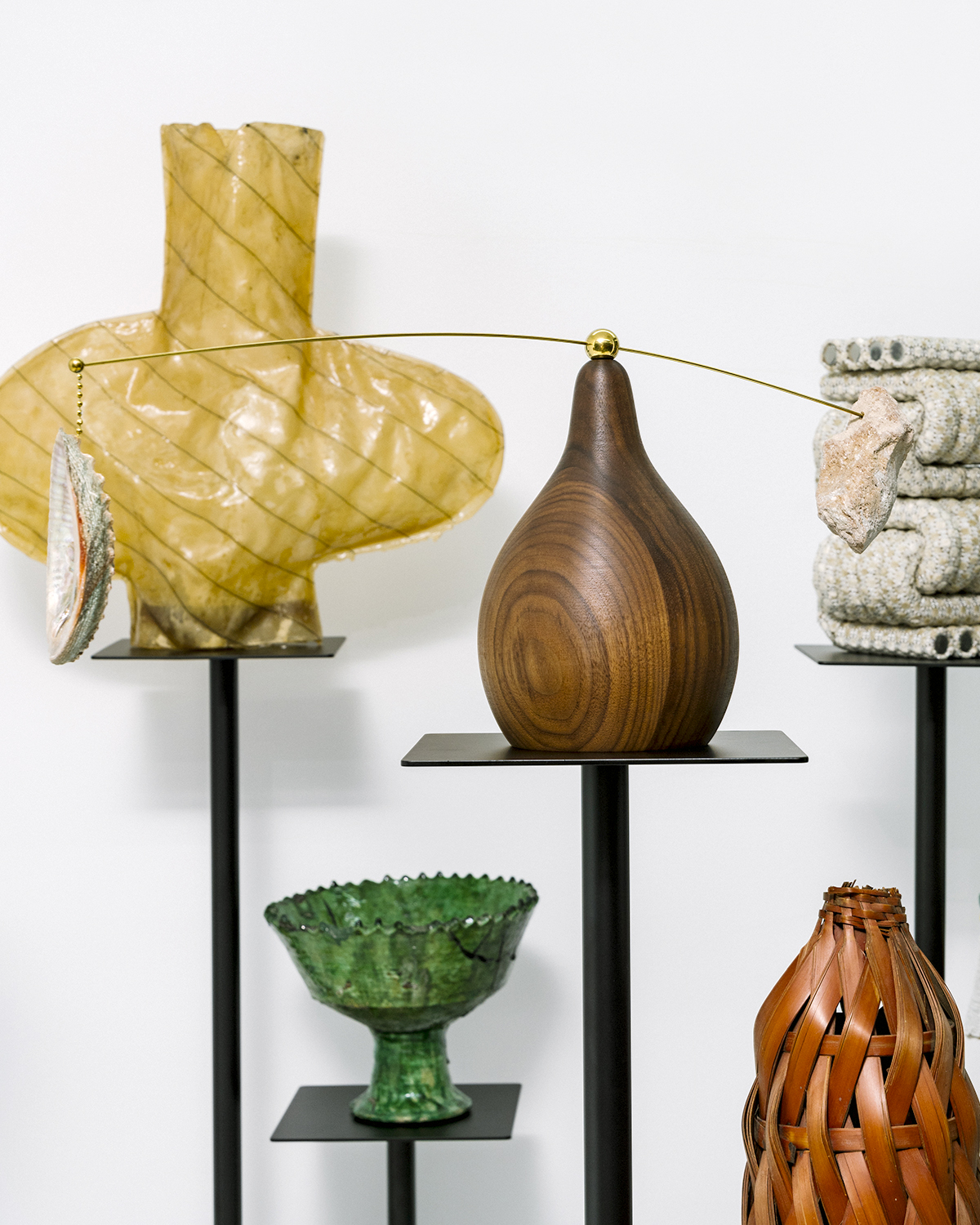 Earth and Sea Stabile
This stabile is composed of natural elements, in balance and in perpetual pursuit of each other. It is an object of contemplation.

Ikebana Basket
This antique bamboo ikebana basket was a gift from one of my closest friends, one who has taught me more than anyone the value of old things. This specific object made me realize that patina and signs of wear can enhance an object's appeal. It has inspired me to make things that age gracefully, using materials and techniques that stand up to time and use.
Katie Stout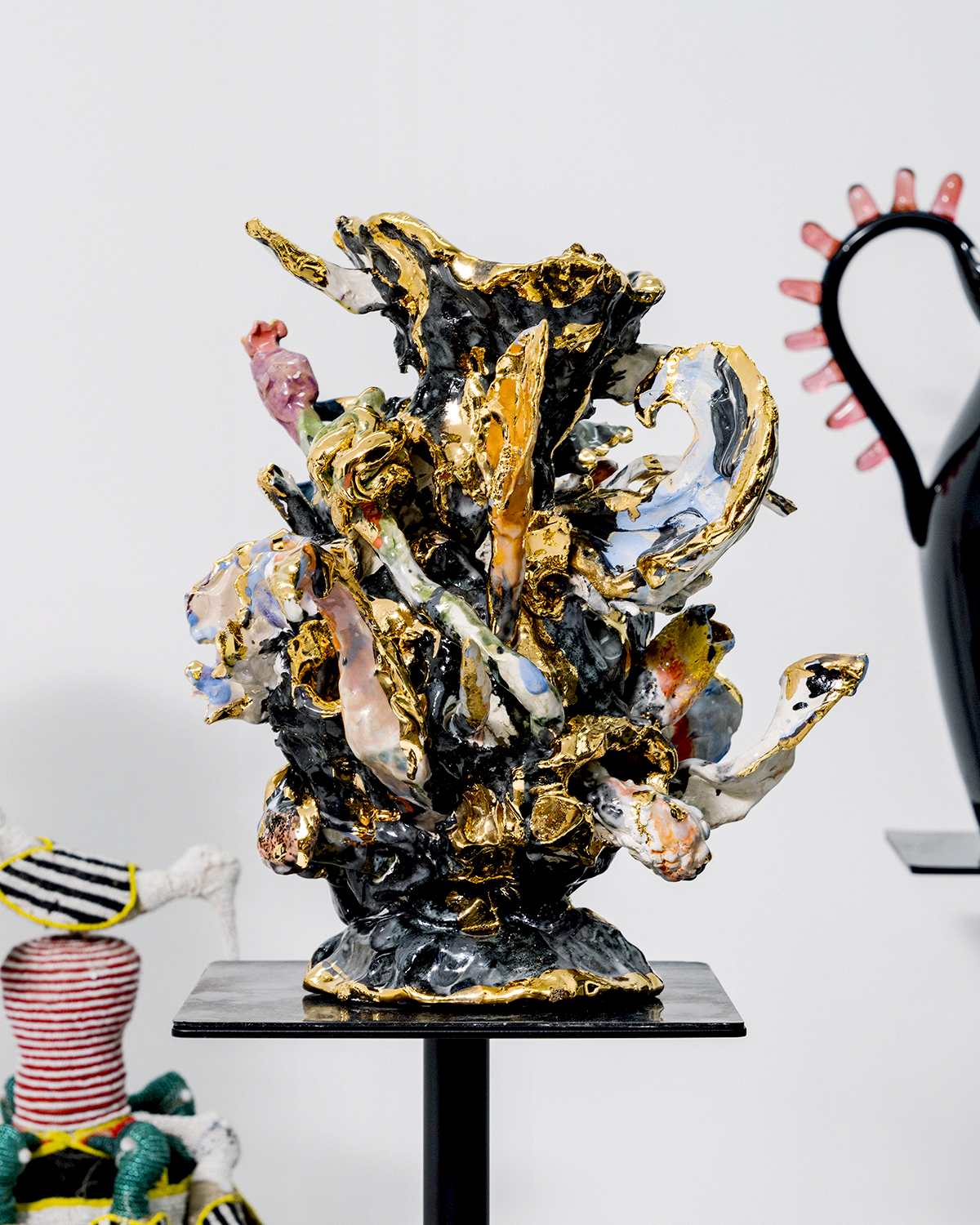 Little Patch Vase
A ceramic vase made with marginalia from my studio. It has some holes.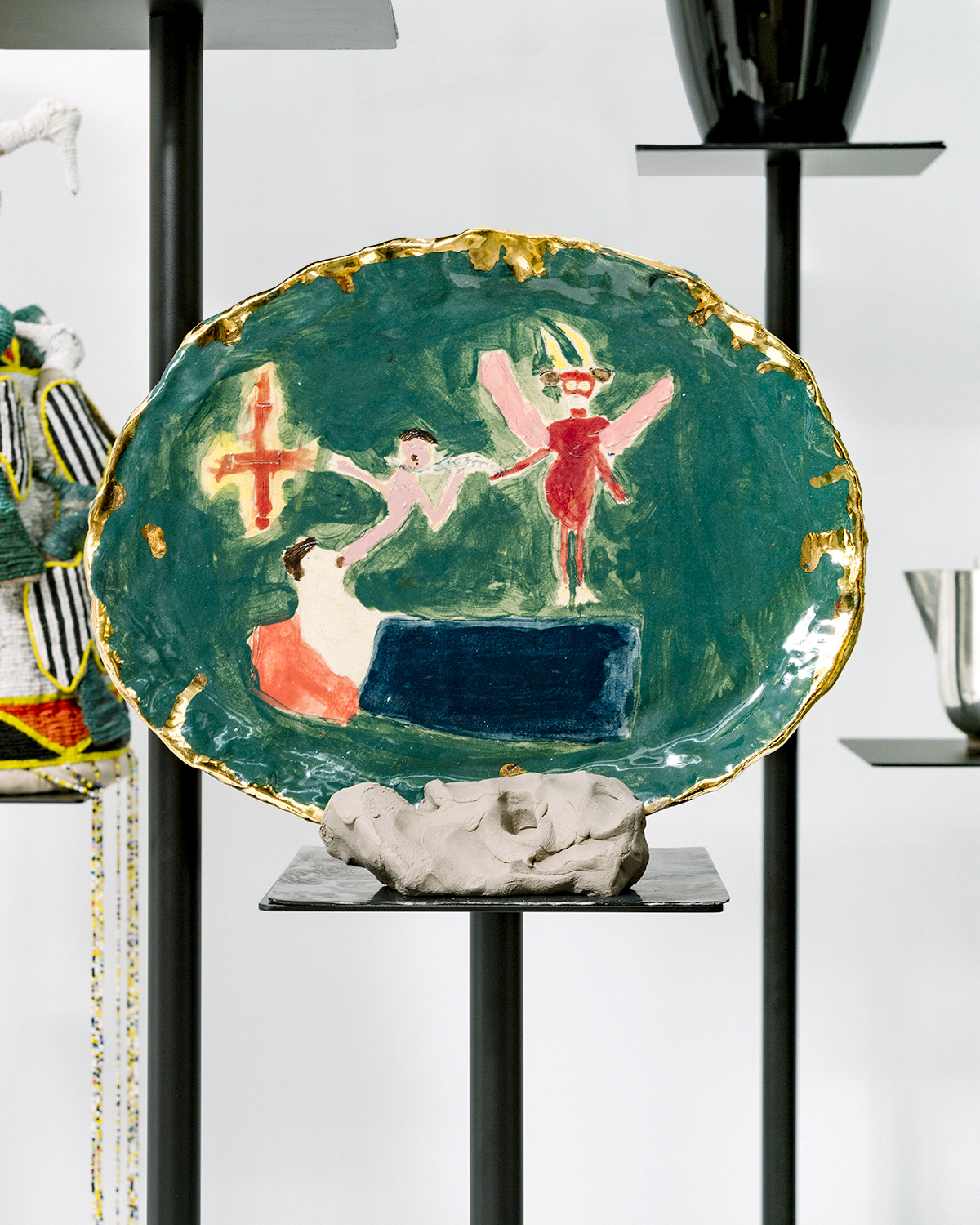 Demon Plate by Jeff Kinkle
Jeff Kinkle's platter depicts a horned demon with wings, wielding a chain that wraps around the neck of a boy-like spirit being pulled out of a man's mouth. What unholy shenanigans are at play? What is meant to be served upon such a blasphemous platter? Does the gold represent greed, lust and/or blood? On closer observation, the platter calls the viewer's sense of order into question. Jeff Kinkle also happens to be my husband.
Mark Grattan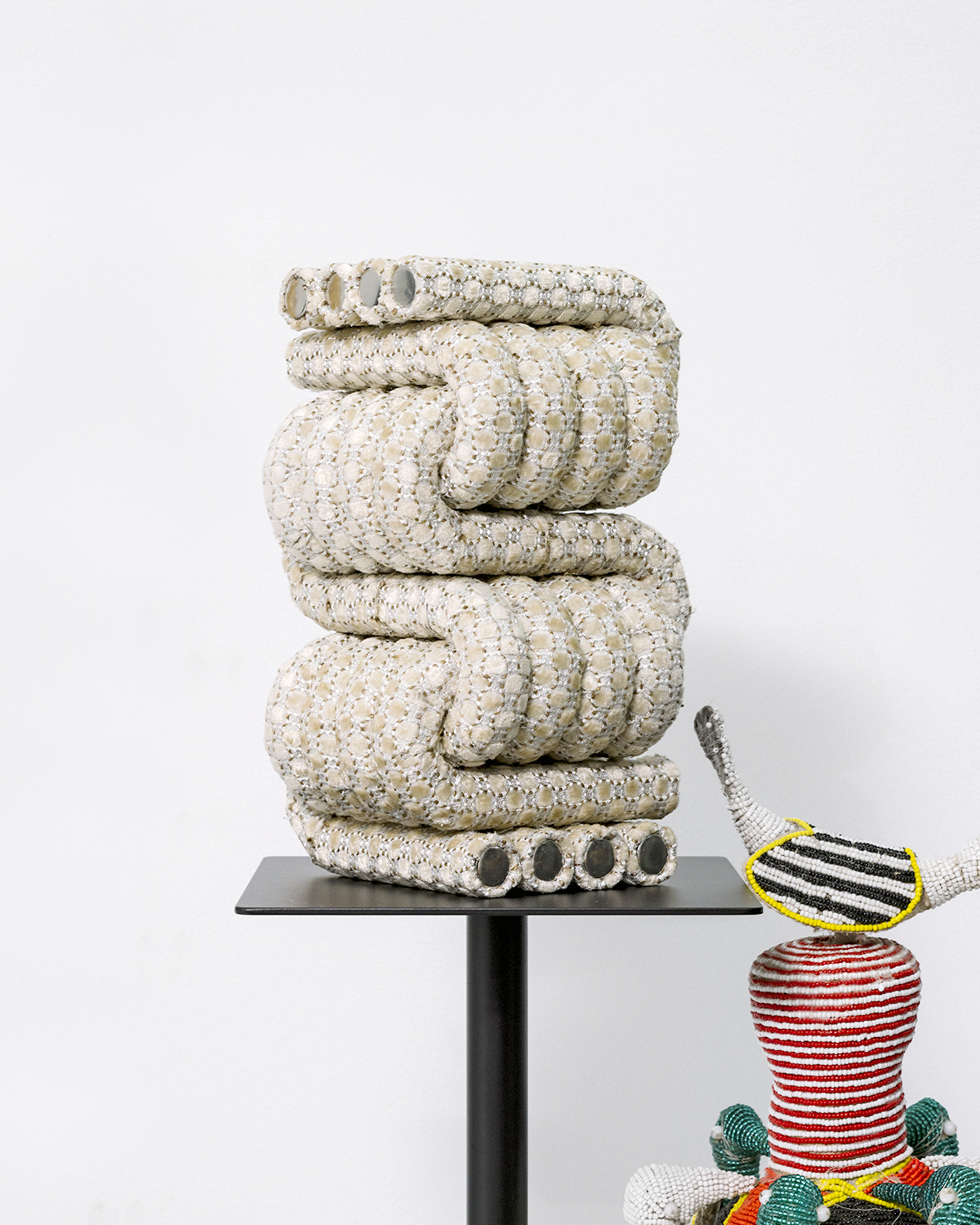 Untitled Object
This object aligns with my current design language — wrapped forms in repetition. I'd consider it more a study and less a finished sculpture. My work is consistently functional, and I think I'll stay right there for now.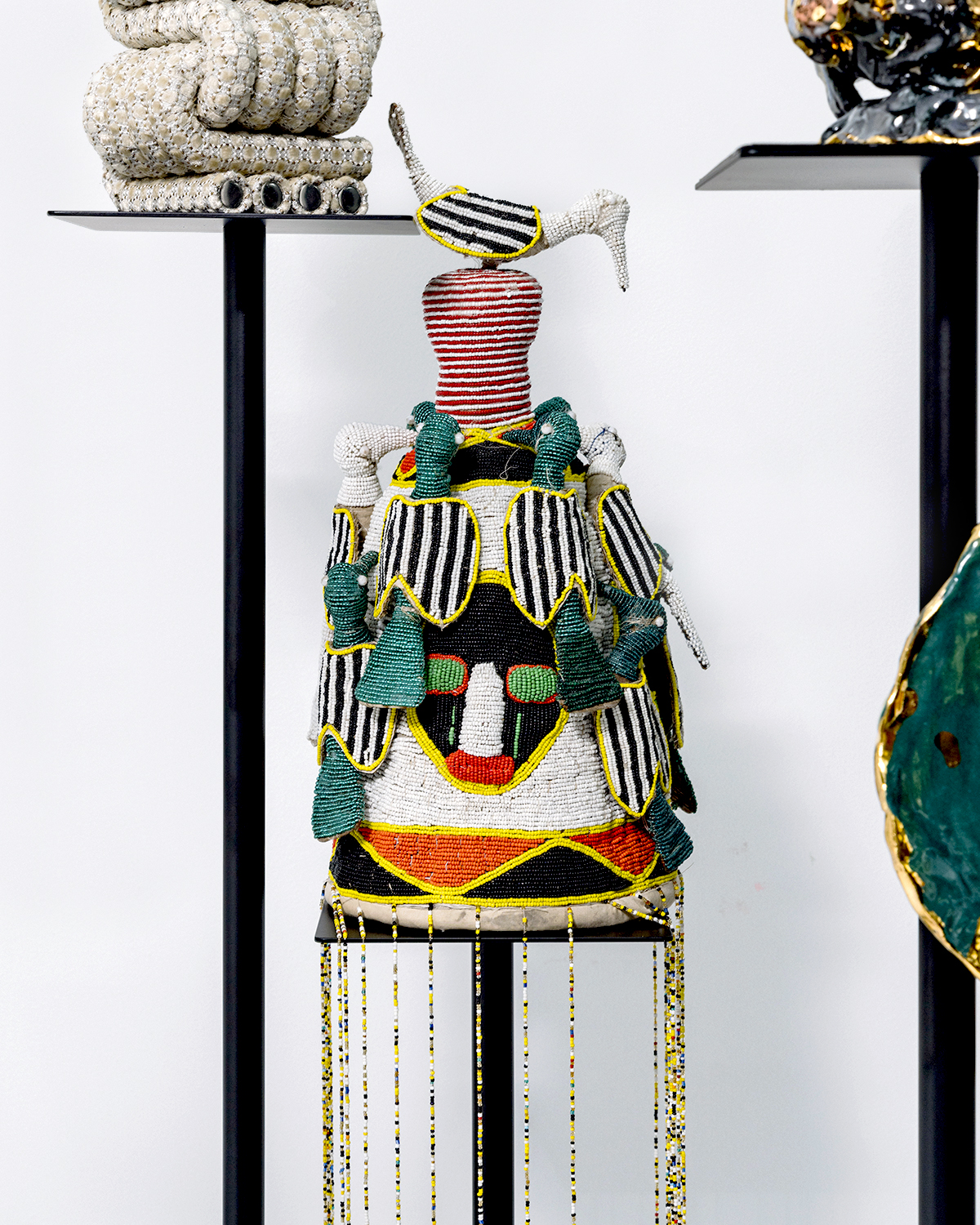 Nigerian Yoruba Beaded Crown
I got this object from a middle-aged man packing some things into his truck in a quiet section of São Paulo, Brazil. I asked him if it was for sale, then took it back to my Airbnb. After doing more research, I discovered it was a beaded crown that Yoruba (one of the largest native groups in Nigeria) kings wore during public functions. It's covered in tiny beads, which are sacred to the Yoruba people. Ideas of the divine and spiritual worlds are also represented in symbolic details like the birds and veil. The trip was a gift to myself at the time. It was one of the most memorable experiences of my adult life.
Sophie Lou Jacobsen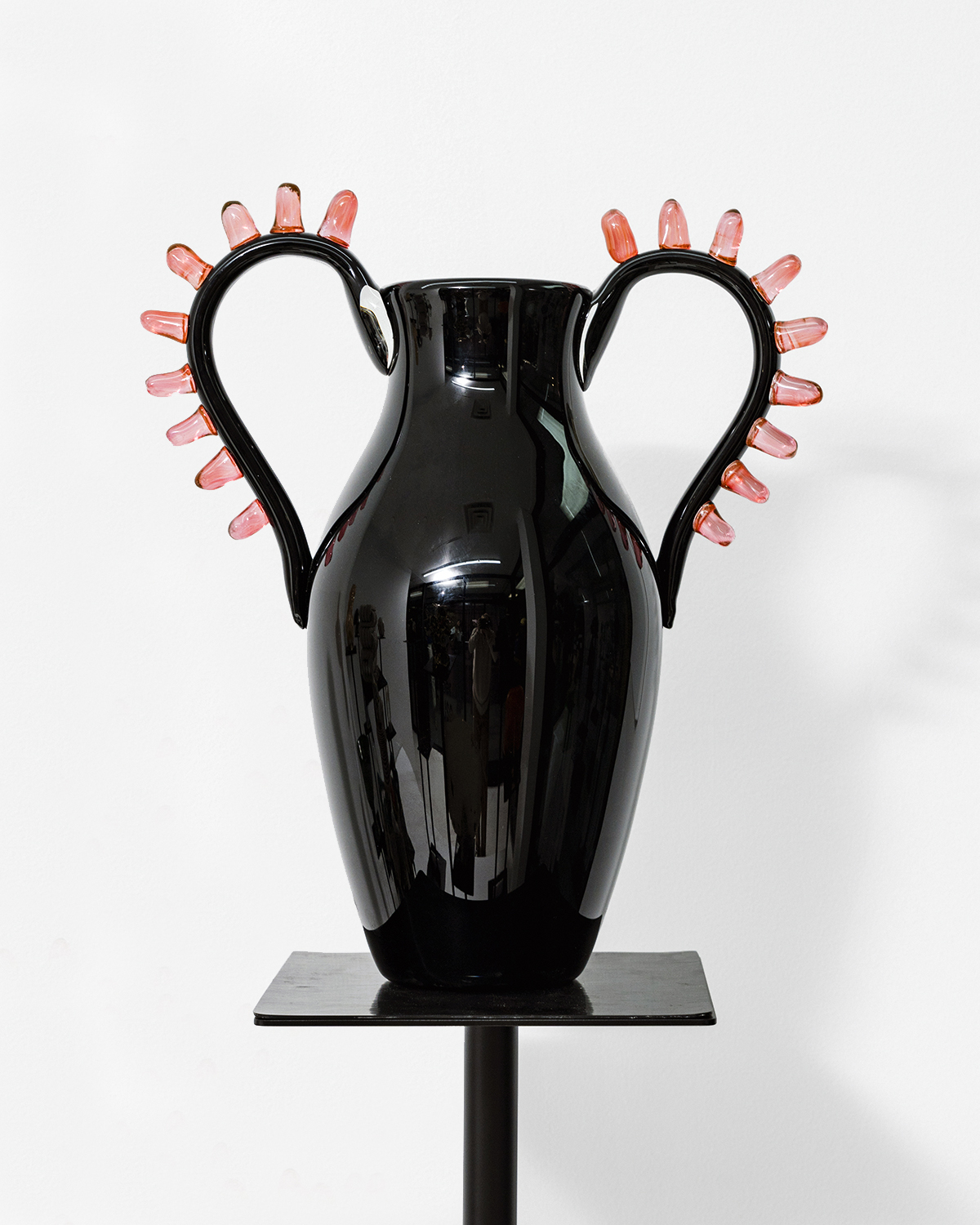 Aurora Vase
This was originally designed in May 2022 for an exhibition of vases called 'Asking for a Friend.' The show was an exploration into the physical properties of joy — what patterns and forms have been repeated throughout cultures and time periods, what emotions these forms trigger, and where color comes into play.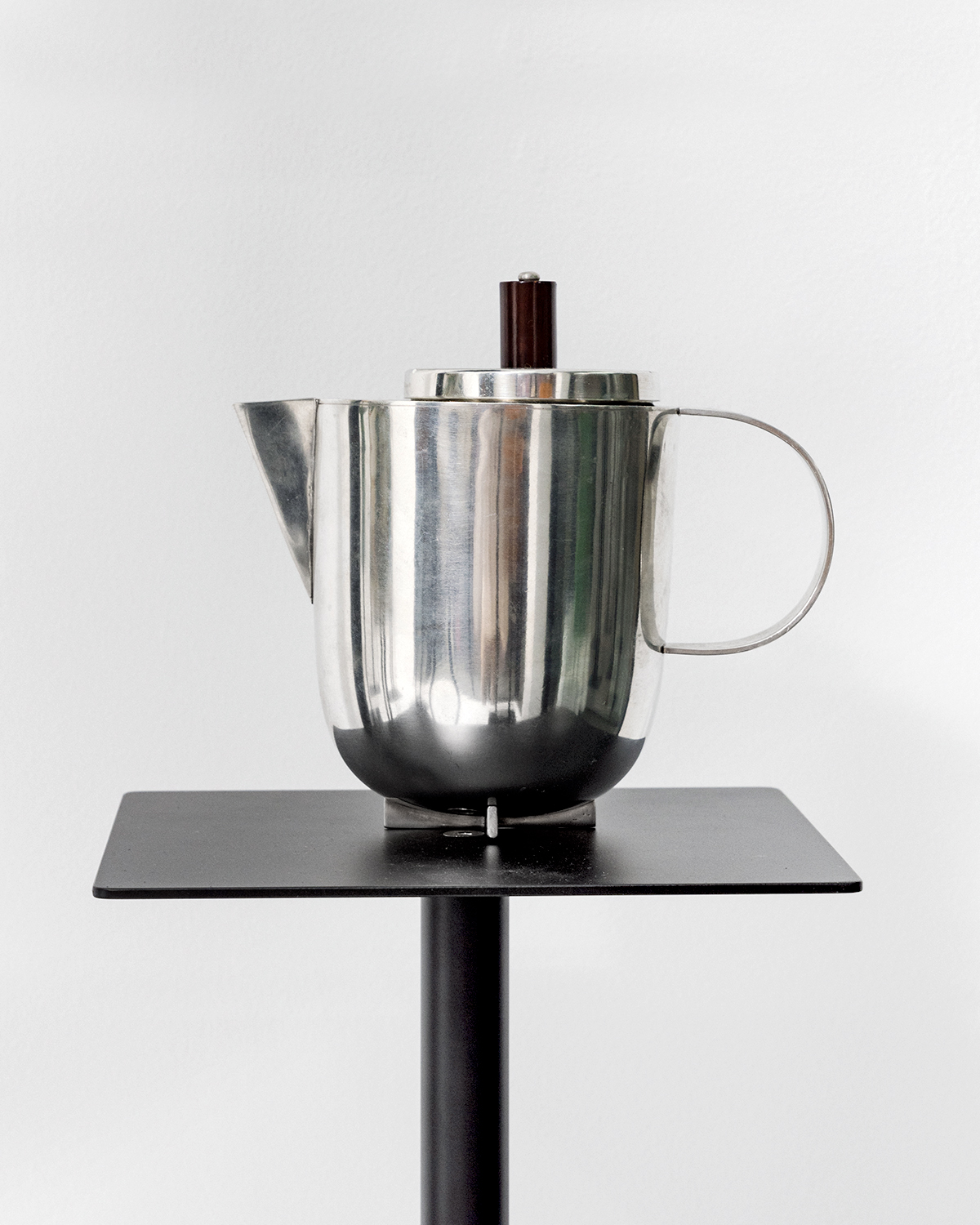 Metal Teapot
I bought this teapot at the Serralves Museum in Porto, Portugal, a beautiful Art Deco estate turned contemporary museum. It's part of a collection of reproductions of original tableware that was found at the house when it was taken over by the foundation. I'm certain the original must have been a Bauhaus-era teapot by Marianne Brandt, whom I have forever admired, and this piece also triggered my interest in wanting to work with metal.
Sam Stewart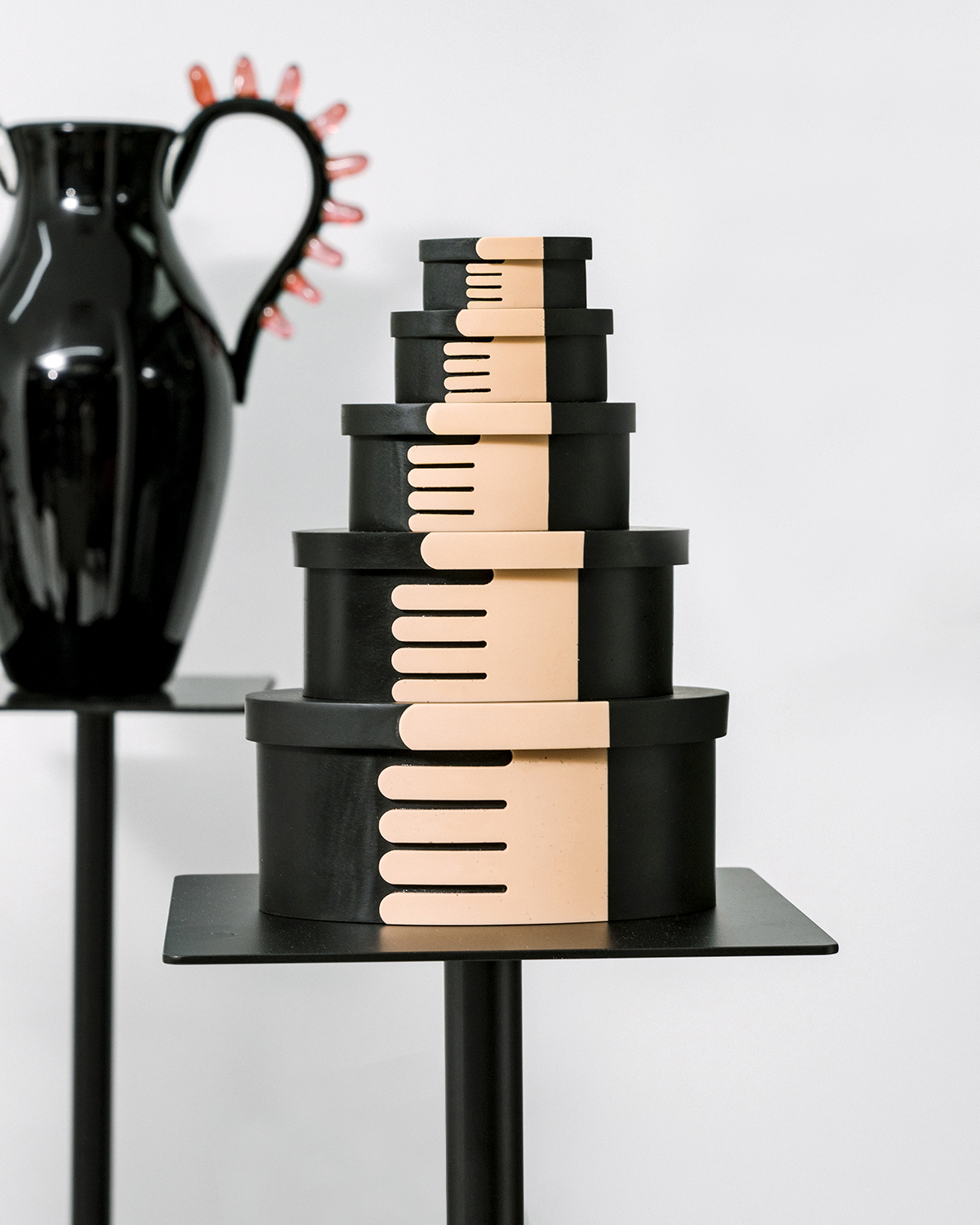 Lefty (Black Tie #00-1)
An epoxy-resin, oval-shaped, Shaker-inspired box dressed for a special occasion.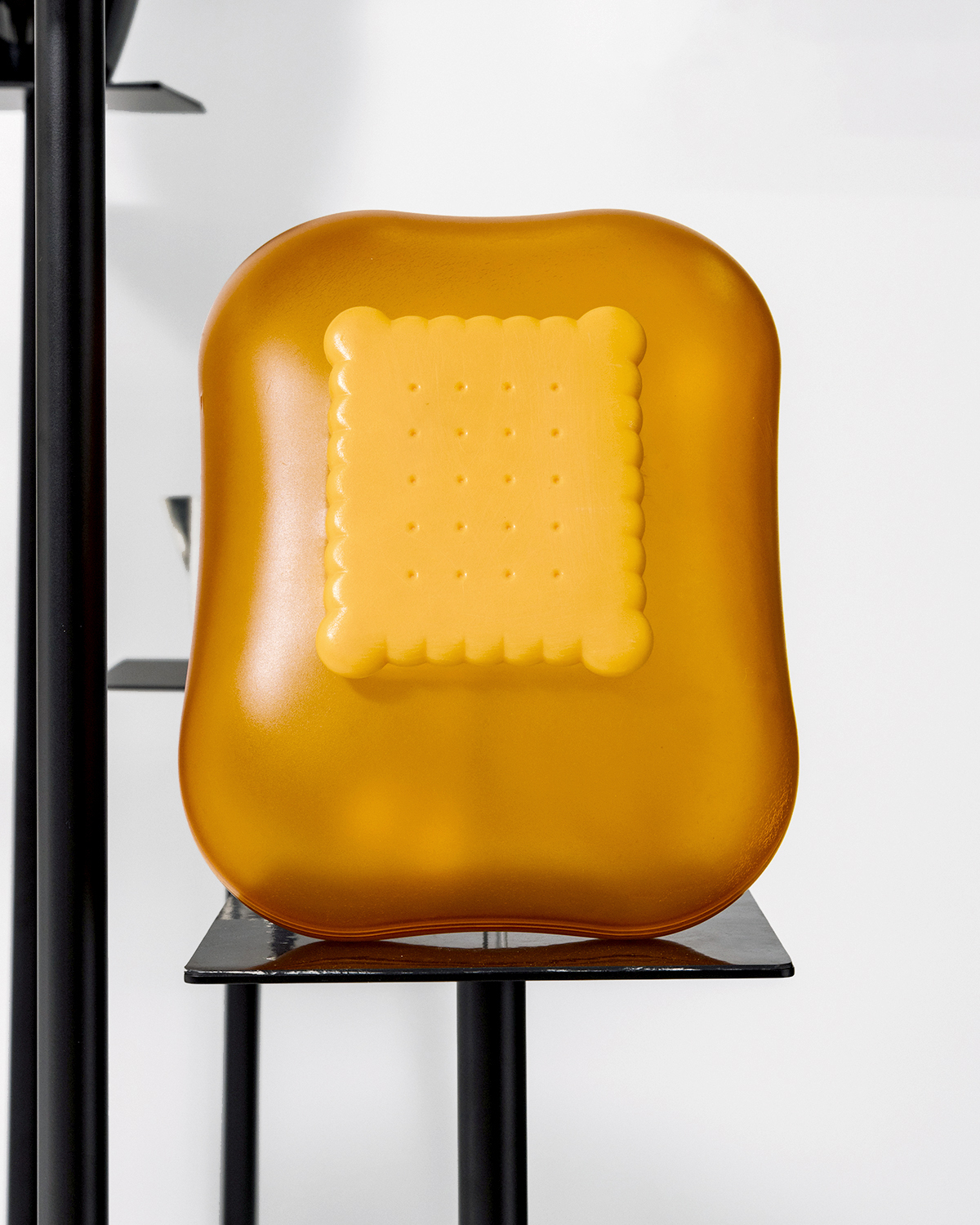 Mary Biscuit by Stefano Giovannoni for Alessi
This is a cookie box made from thermoformed resin. The lid has an aroma of butter cookies. Even though I purchased it within the last couple of years, I'm particularly fond of this design because it reminds me of the plastic objects from my childhood — Fisher-Price, Lego, Tupperware, scratch-and-sniff stickers, etc. I continue to find enjoyment in the futuristic optimism of plastics technology from the 1990s: Any complex form is possible, and you can even add an aroma of butter cookies to the plastic, which is perhaps the most interesting aspect of this design. Embedded in the material is an artificial attempt to manipulate memory.
Memor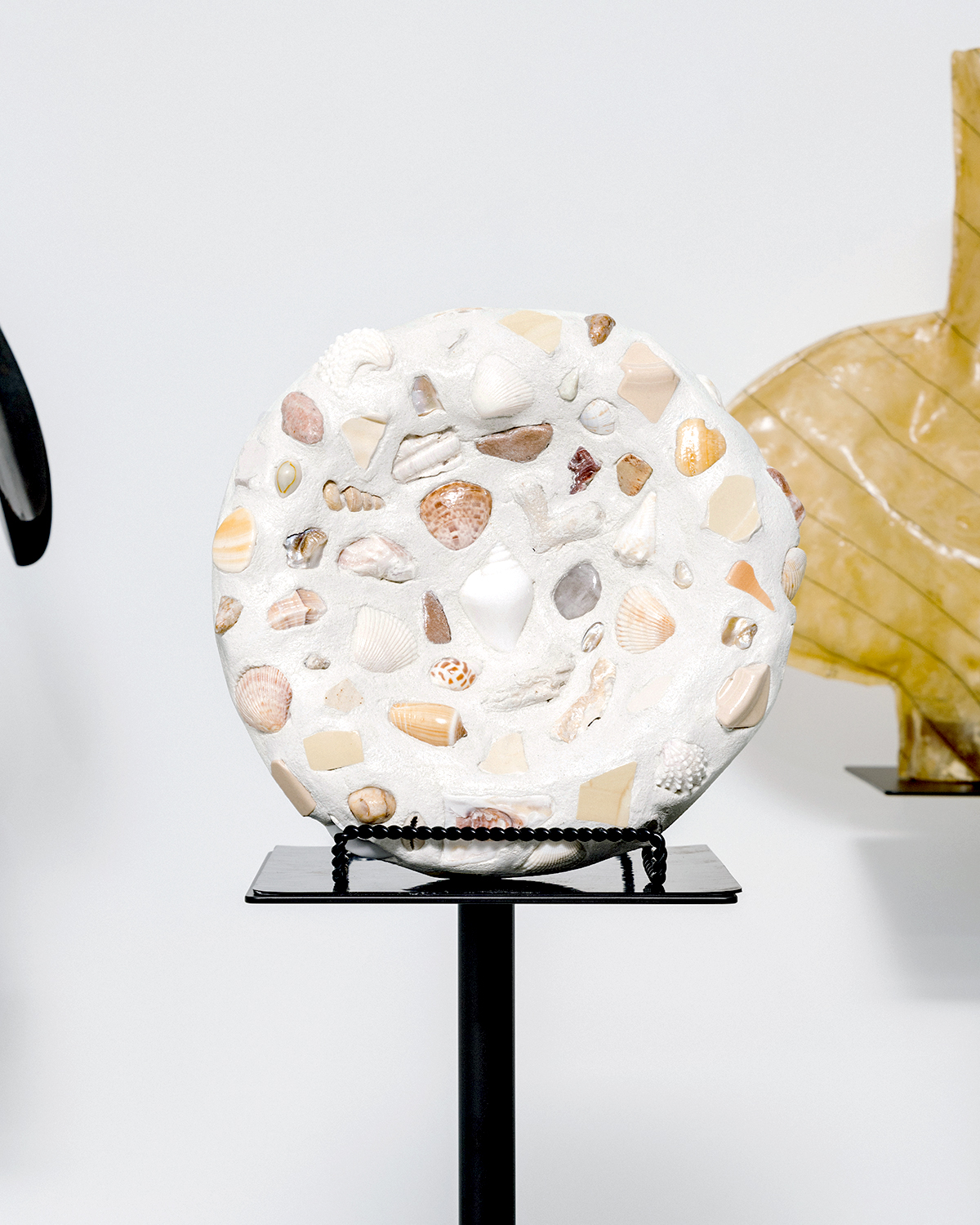 Mosaic Conch Catchall
A mosaic catchall embellished in sea ephemera and ceramic shards.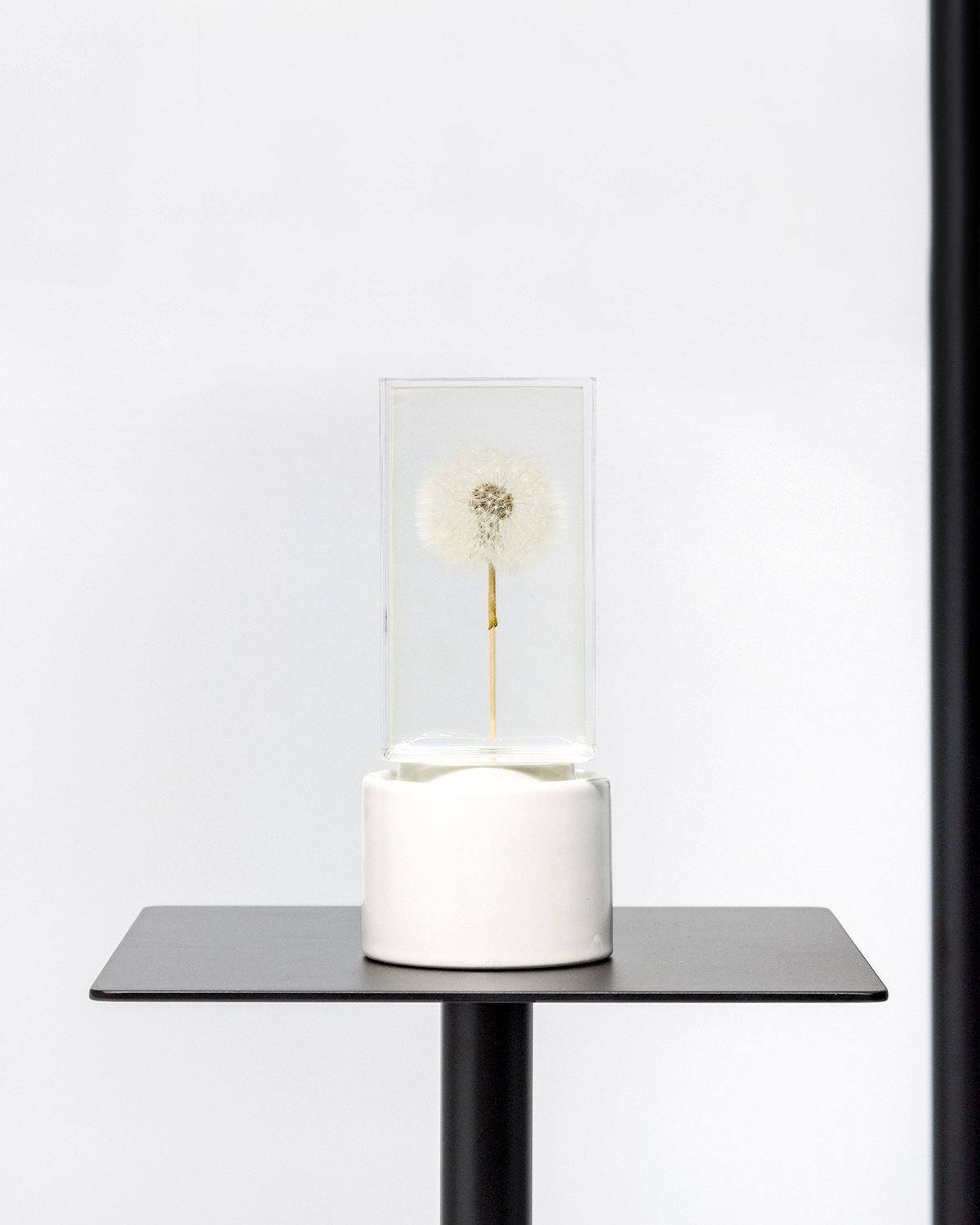 Preserved Dandelion
In college, I worked as a caretaker for an elderly artist named Jan. In Jan's home, a Swiss chalet, we spent many hours together over the course of a few years. She loved that I was also an artist and that we had a shared love of collecting; we spoke the same language despite being generations apart. Every afternoon she sat in the same chair, drinking watered-down whisky and chatting with me, and on the table beside her was this dandelion in acrylic. She would playfully look over and ask, 'How do you think they got it in there?' I think many artists share a love for dissecting how art comes to be. Pieces where the medium or process is not immediately obvious spark curiosity and appreciation. We shared that wonder for this fragile dandelion, perfectly preserved in acrylic, not a single seed out of place.
Minjae Kim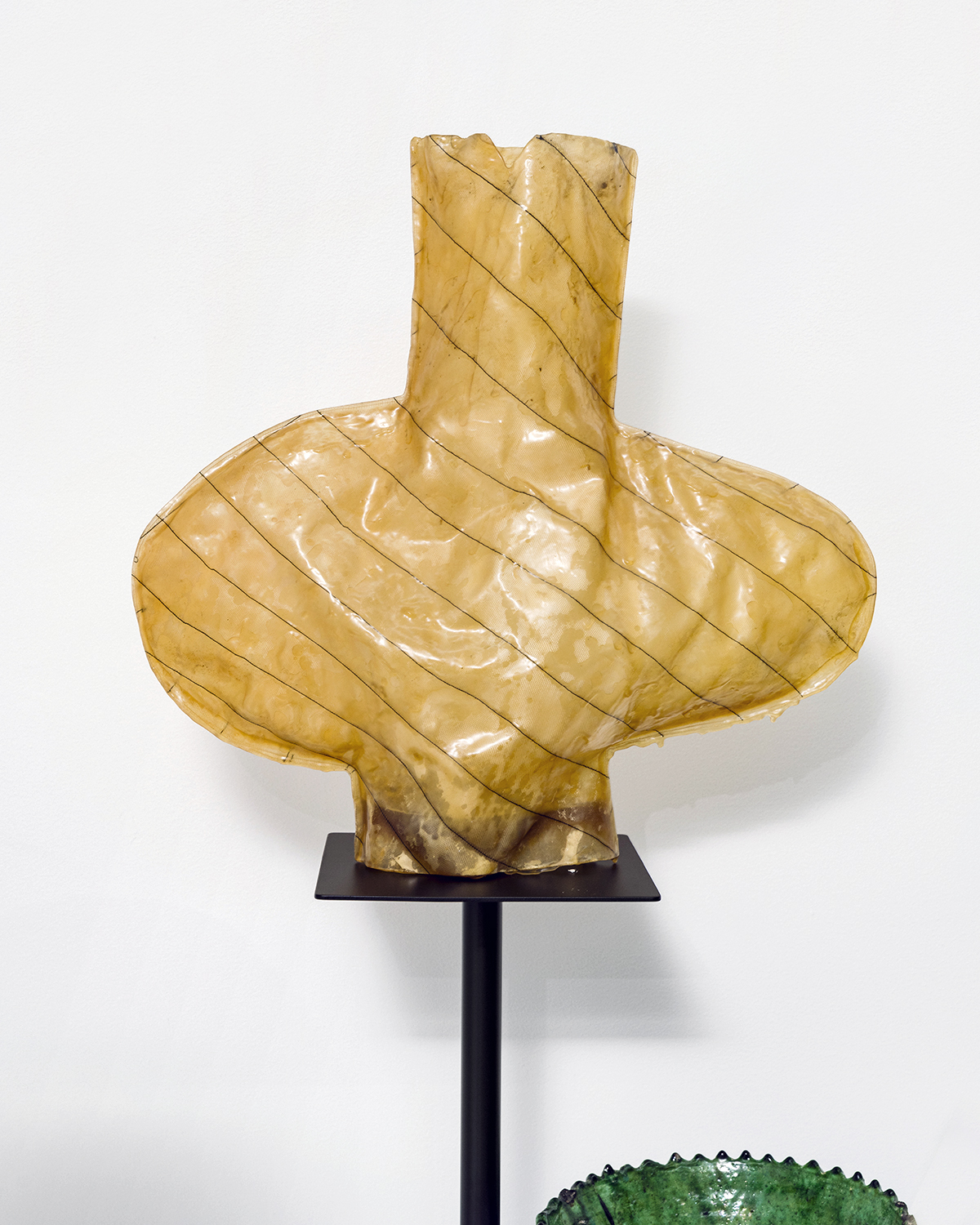 Fiberglass Vase
This vase is made from quilted fiberglass and resin. The pattern and profile are made in two dimensions, and then the volume is captured with resin. Due to the process, imperfection is built into the piece, while every bit of the piece's own history is also visibly embedded.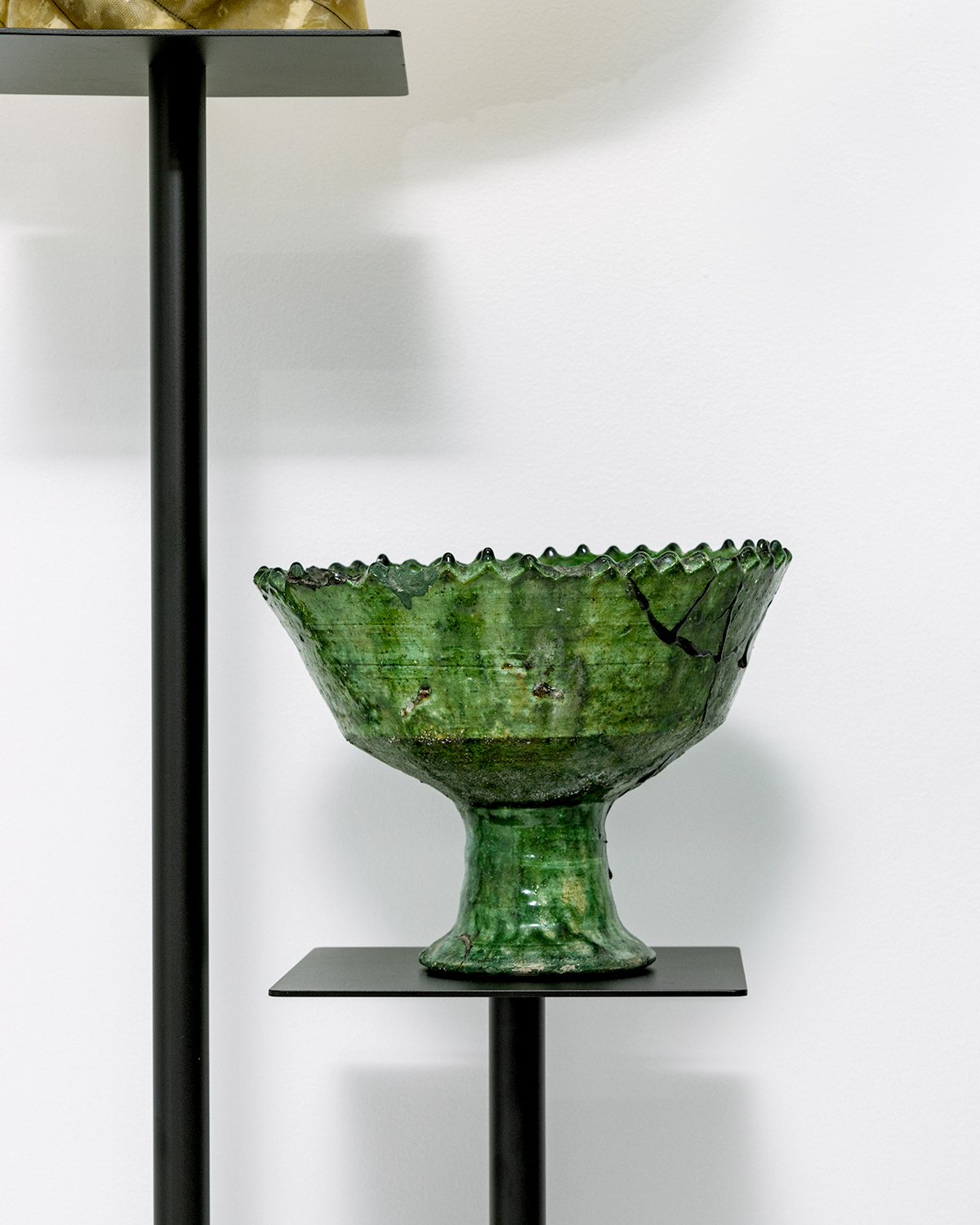 Tamegroute Bowl
This is a tamegroute bowl that I bought from Morocco, via Etsy. There was a specific void I was trying to fill with this bowl, and when it arrived shattered, I was rather disheartened. There was a lot I was projecting onto this object. So that evening I poured out some epoxy, dyed it black, and put the bowl back together piece by piece. It was an emotional process. Now the object is so specific to my history and so symbolic to what I was feeling then. I think it looks great, too.
AREAWARE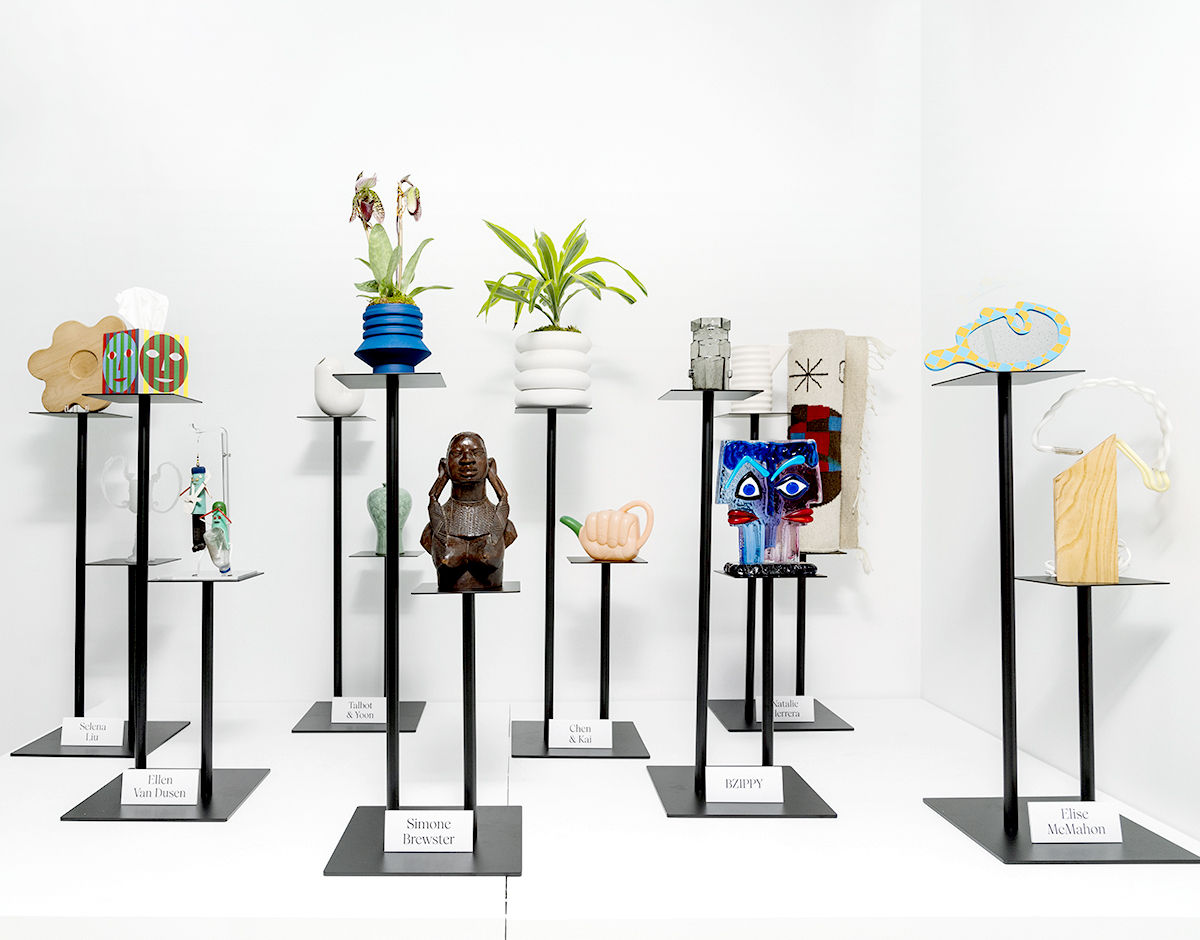 BZIPPY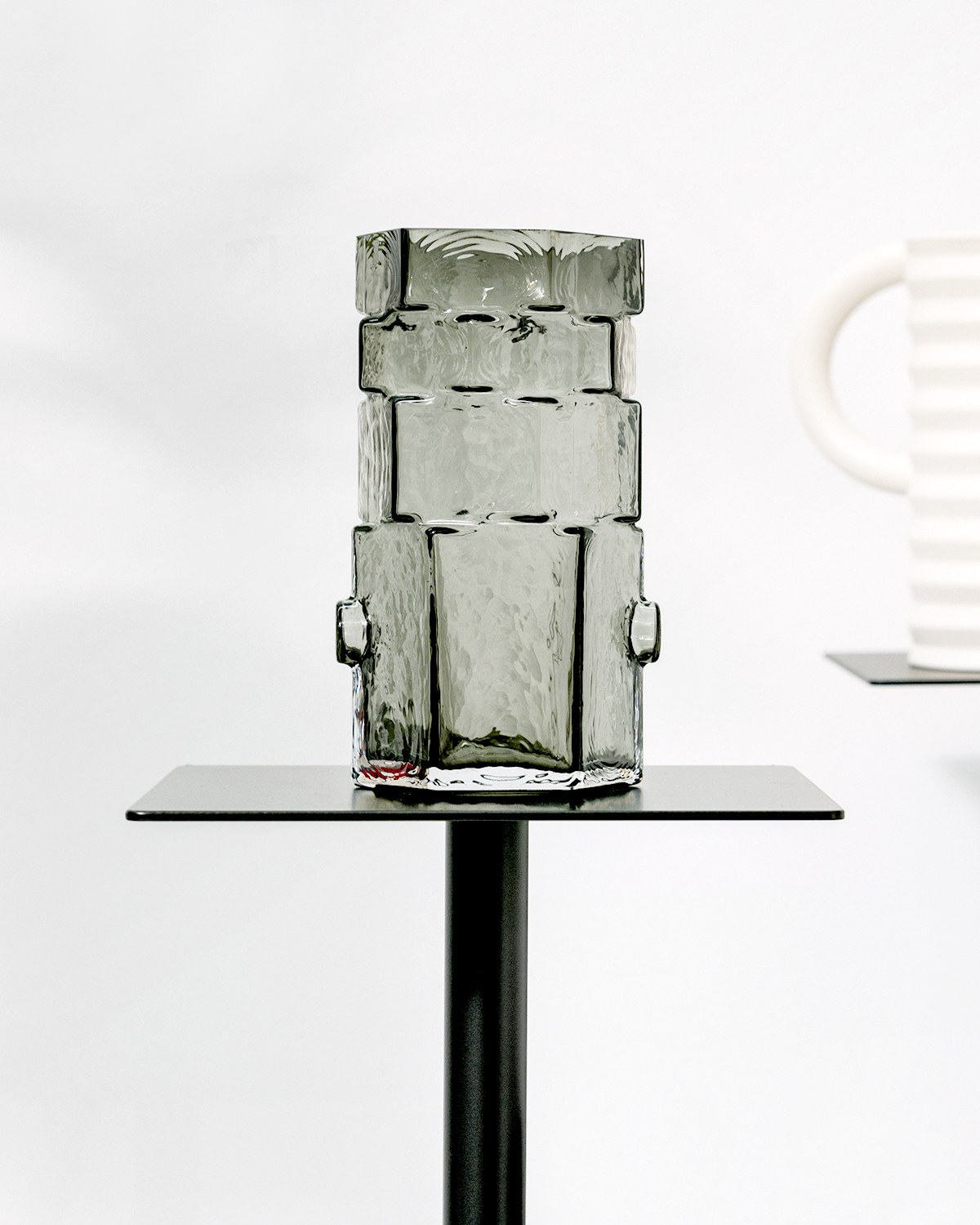 Hex Vase
A vase inspired by Brutalist design, featuring stacked hexagonal shapes. Also my first design in glass.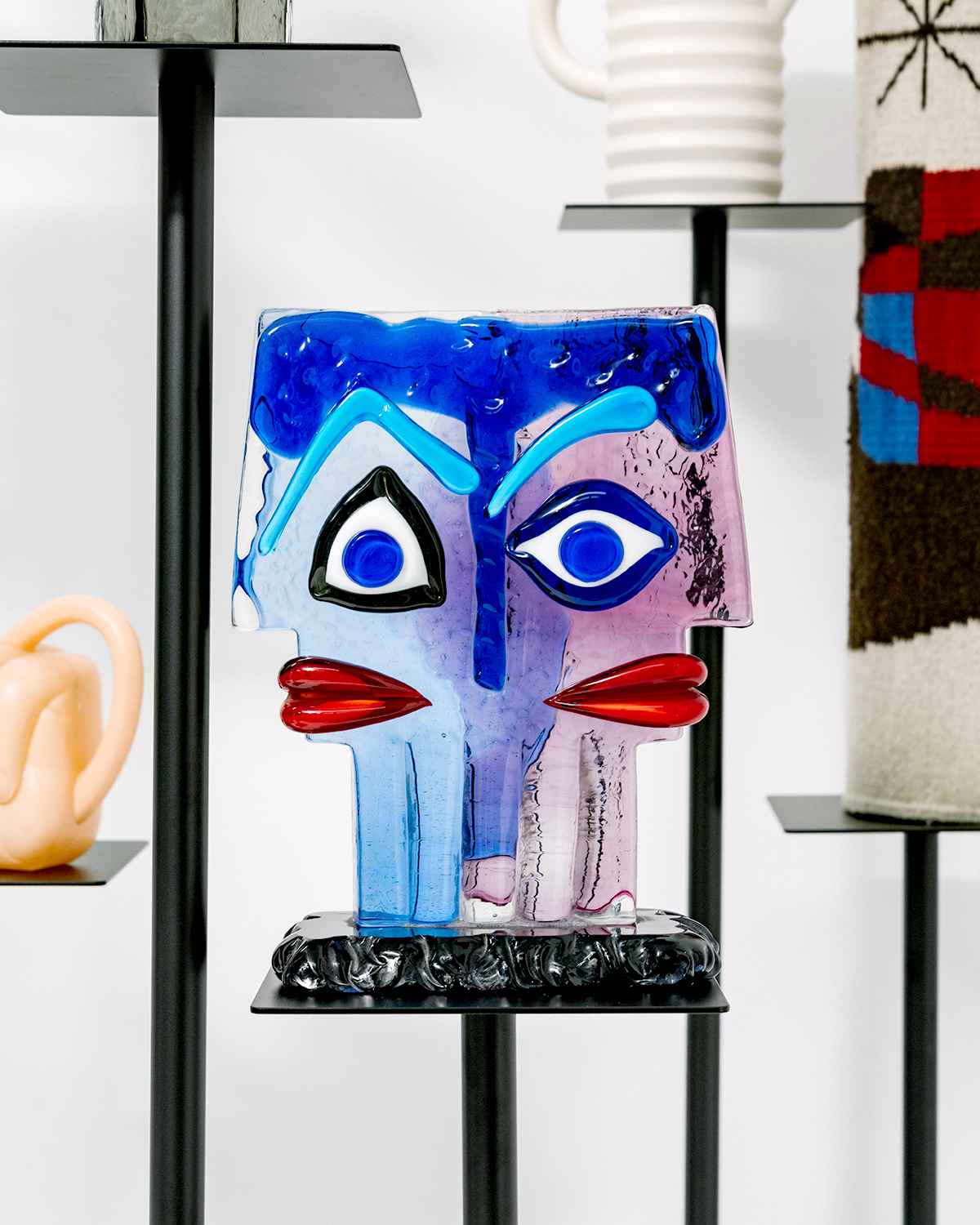 Glass Sculpture
This glass sculpture belonged to my late Aunt Elaine from Minnetonka, MN. I asked my cousins to save me this one piece from her quirky collection during a recent cleaning out of her home. The sister of my late father, she was a refuge for me growing up, with her quick wit, eclectic decor, and bountiful laugh. She collected a mix of Peter Max prints, pieces by local glass artists, and LIadró ceramics, and she loved a good kitsch object. On my visits to from Chicago as a kid, and later as an adult from Los Angeles, I was always greeted by my aunt sitting at the kitchen table of her condo, which was stuffed with objects she loved and found humor in. Connecting with her at that table, surrounded by these objects, was always a comforting feeling.
Chen Chen and Kai Williams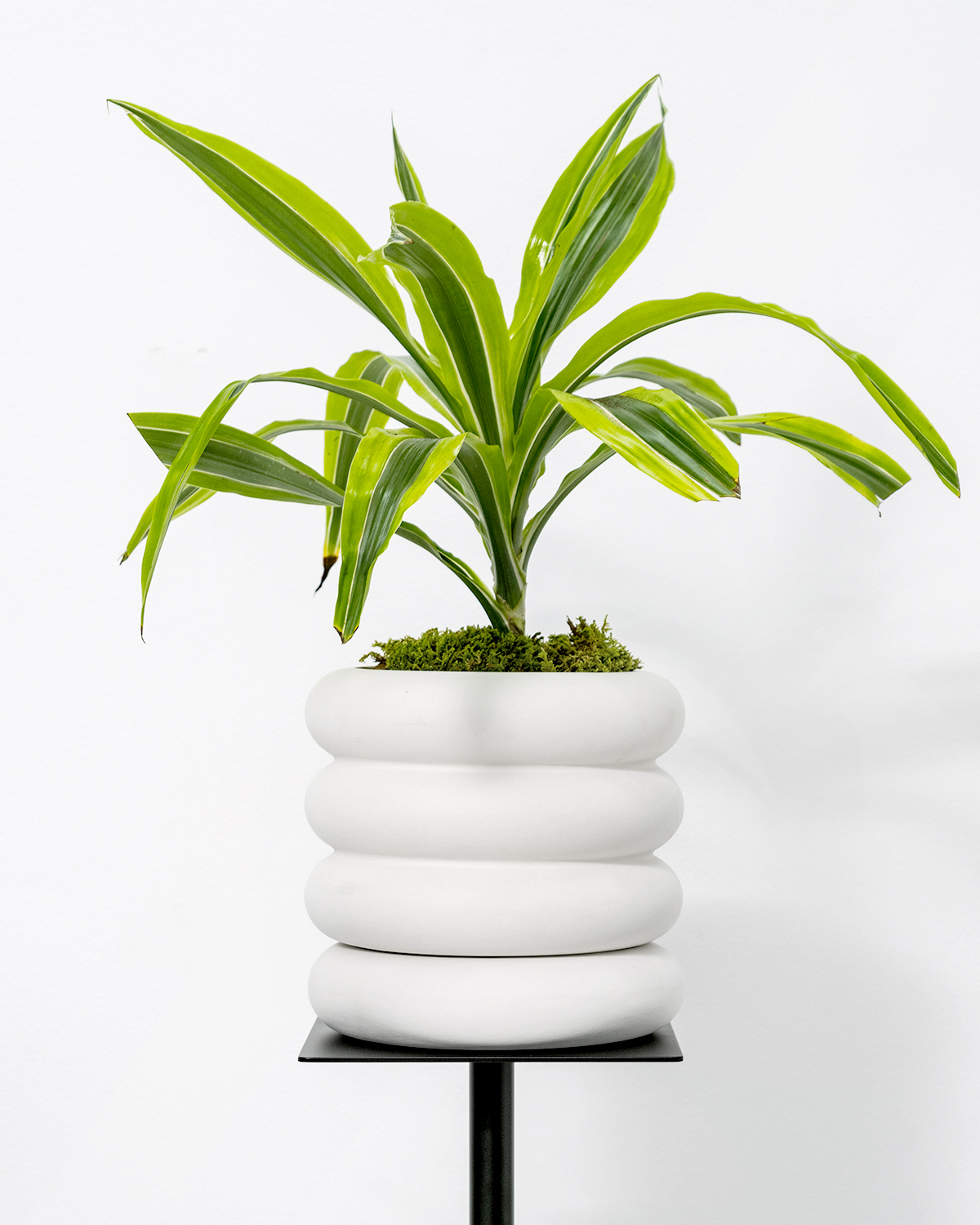 Stacking Planter
The Stacking Planter discreetly integrates both a planter and saucer into one object, while the circular stoneware form takes its inspiration from the high-voltage ceramic insulators found on power lines.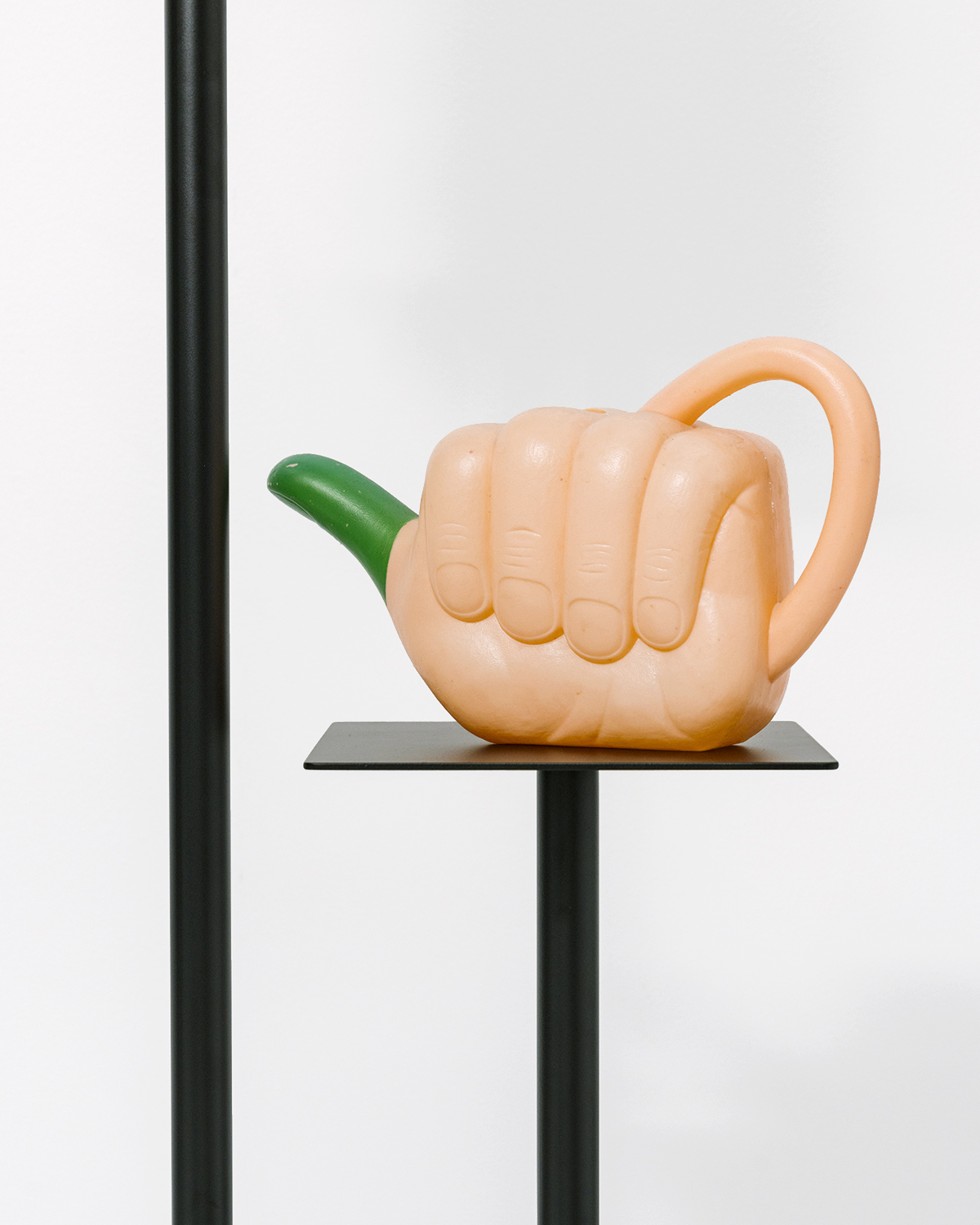 Watering Can
We love to grow plants, as evidenced from the products we've designed for Areaware. Our studio watering can is a joy to use, and we always get a laugh out of it. The design is such that when you're using it, you're giving it a fist bump.
Elise McMahon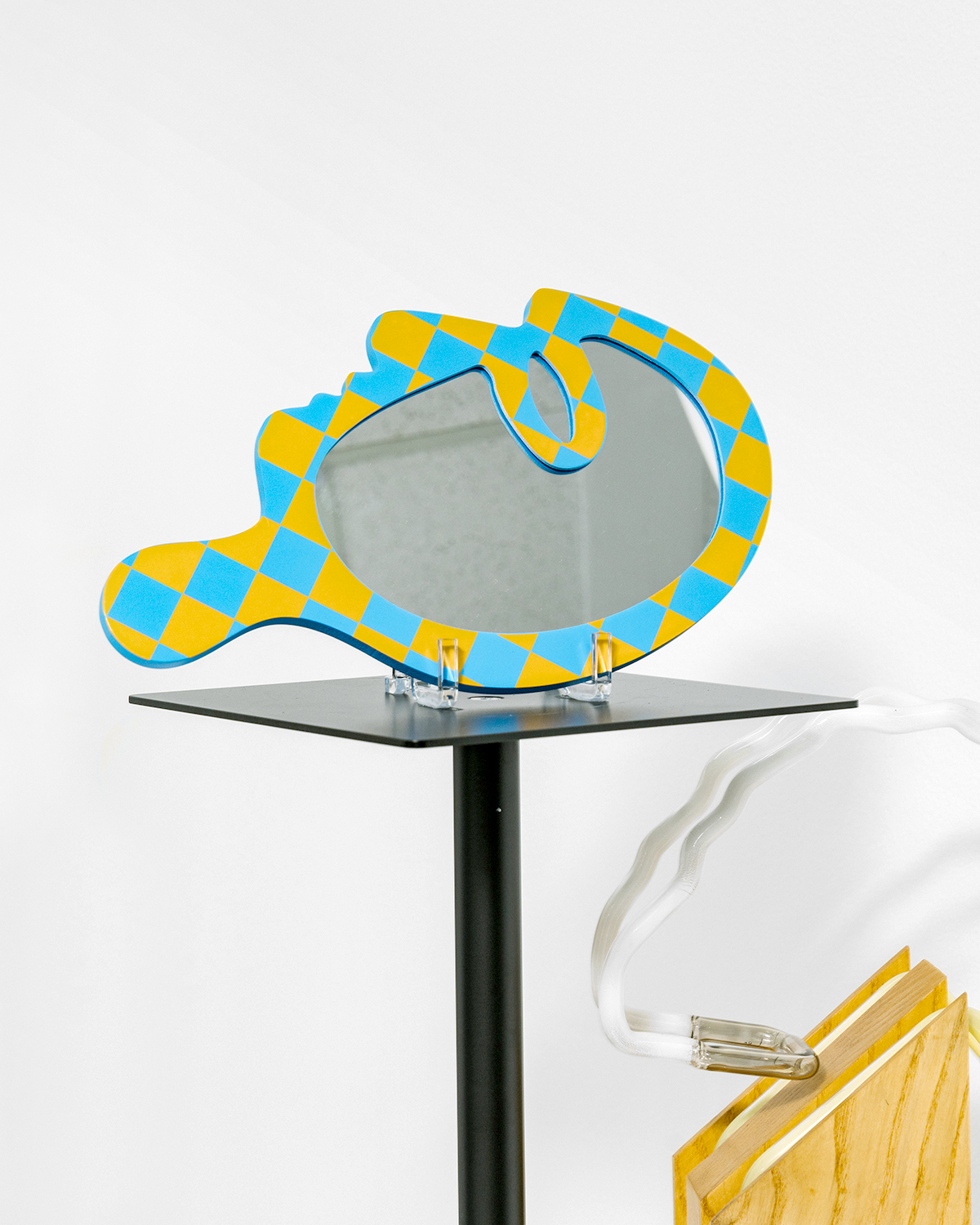 Profile Vanity Hand Mirror
A hand mirror that's colorful, playful, and stands out in a room.
Sky Light by Mariko Makino
Mariko Makino is a New York–based artist and friend who works primarily in neon, plus a range of complimentary materials like cement, wood, and metal. I love the glow of her pieces, and her methods of combining material forms, which feels both intentional and relaxed. I also love the act of gifting or trading work amongst friends. It encourages normalizing a practice of reciprocity, it challenges the need to always take money for labor, and it ensures your work remains in the home of a loved one.
Ellen Van Dusen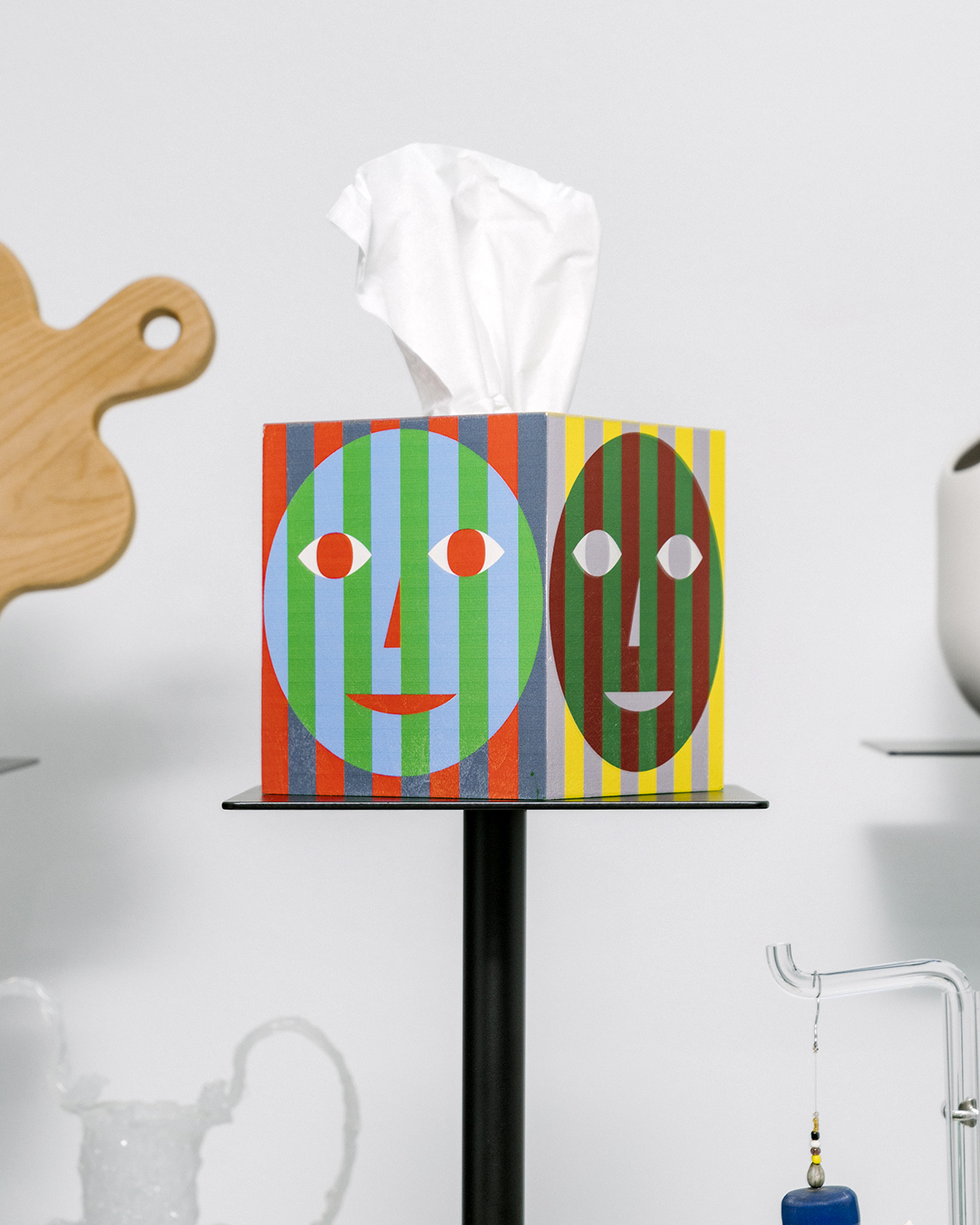 Everybody Tissue Box
Everybody sneezes. Everybody feels sad. Everybody needs a tissue sometimes. The Everybody Tissue Box fits over the top of a standard cube box of tissues.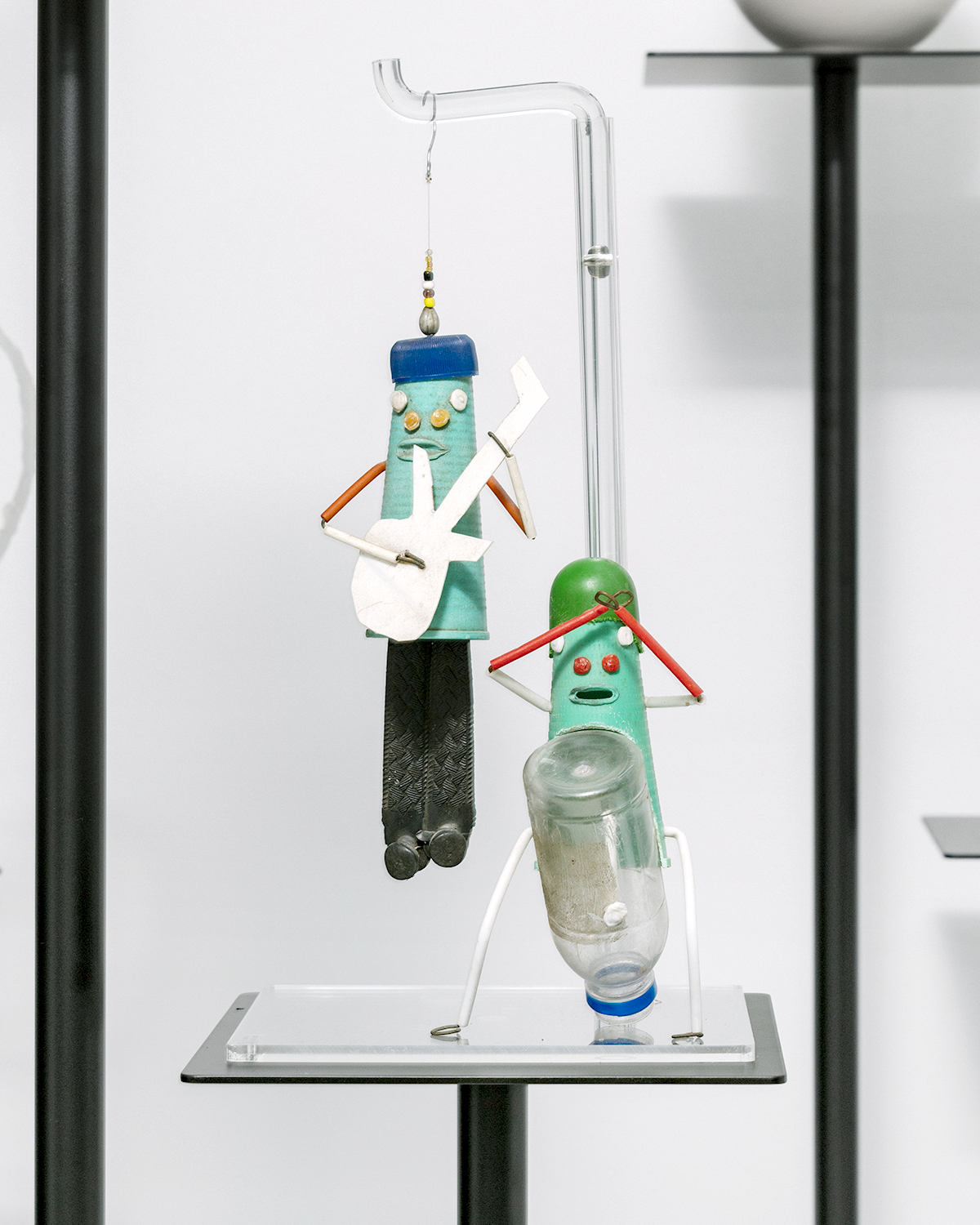 Zambian Sculptures
I was traveling with my family in Zambia and we visited a garment factory. It was set up for tourists, with a demo of how they did their printing in-house. What intrigued me the most, though, was a man who had a little table out front where he was selling characters he made out of detritus from the factory. He made all these little sculptures out of leftover spools of thread, dye containers, laundry detergent bottles, a flip flop — this whole scene of people and animals. I bought six of them, but sadly some of them didn't survive the plane ride home, and some have been damaged in moves or just through living with them. These are my remaining two, which I cherish deeply. In a cute coincidence, they're both musicians. The guitarist and the drummer.
Simone Brewster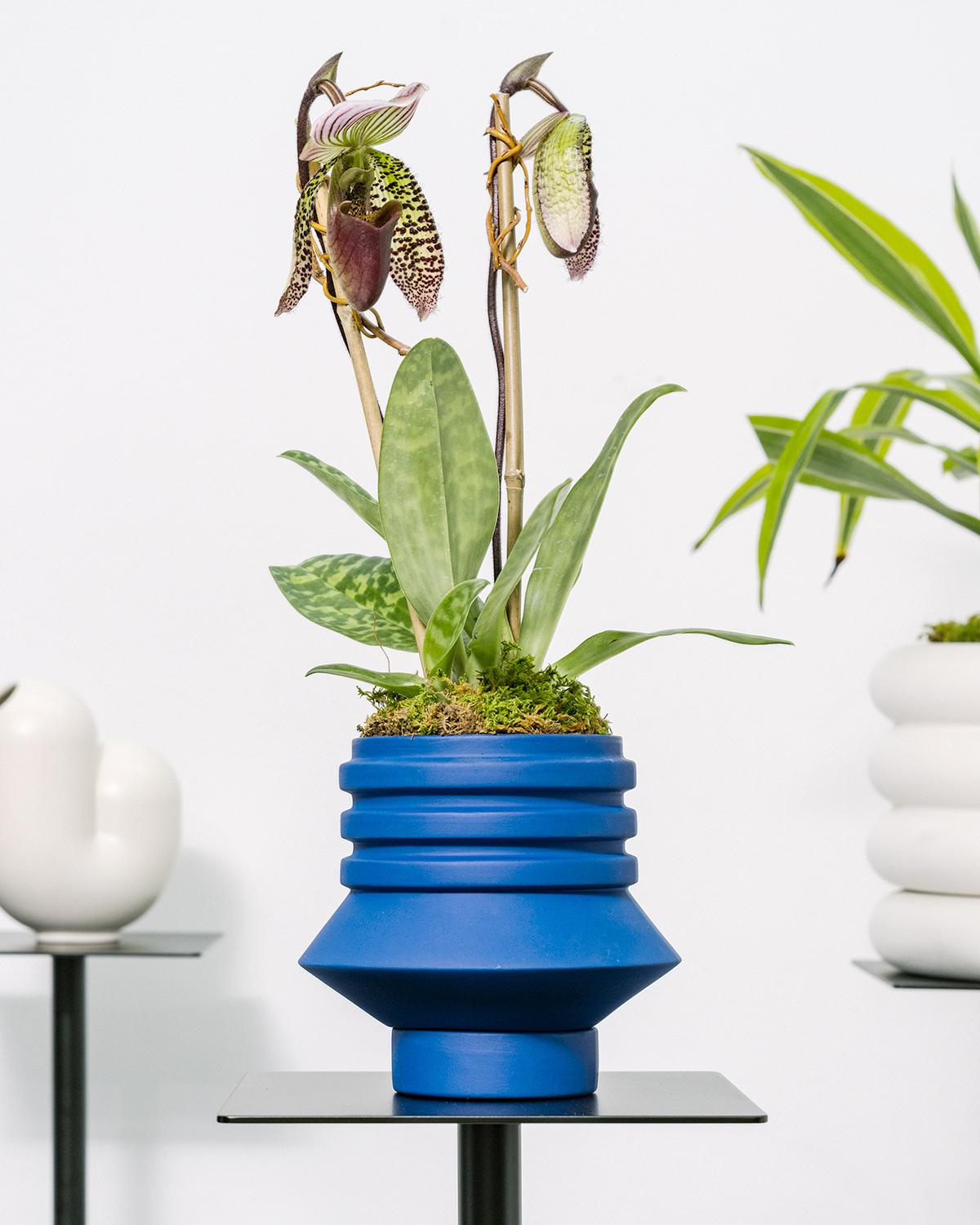 Strata Plant Vessel
A ceramic planter composed of layered and stacked shapes that naturally conceal the saucer in its form.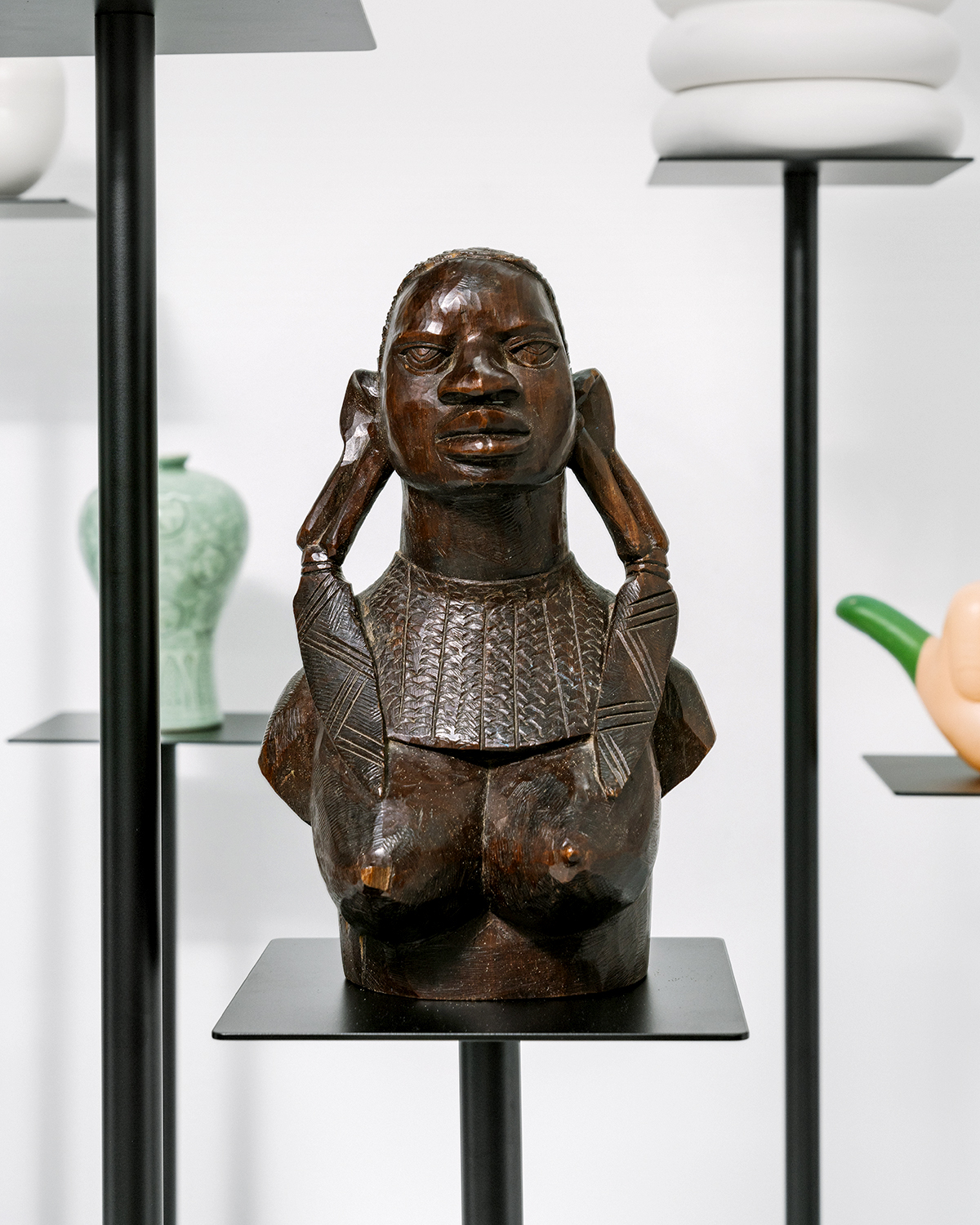 Female Bust
Wood has always meant home for me. In our home in North London, my Caribbean parents sought to capture the lands they'd left behind through objects acquired during their younger years: an ensemble of dark wooden carvings from the Caribbean and America, from sculptors who celebrated the black power movements of the '60s and '70s. Carved masks, drumming figures, cooking tools — of all these objects, the one that stays with me most is this female bust. Proud and strong, her features are hewn from one piece of ebony. On her chest lies a bold necklace, in her ears hang large earrings, and the texture of her hair is captured in the carved lines on her head. Dark wood will always be relevant to me — not only is it home, it's the material that sparked my curiosity and pride in my culture.
Natalie Herrera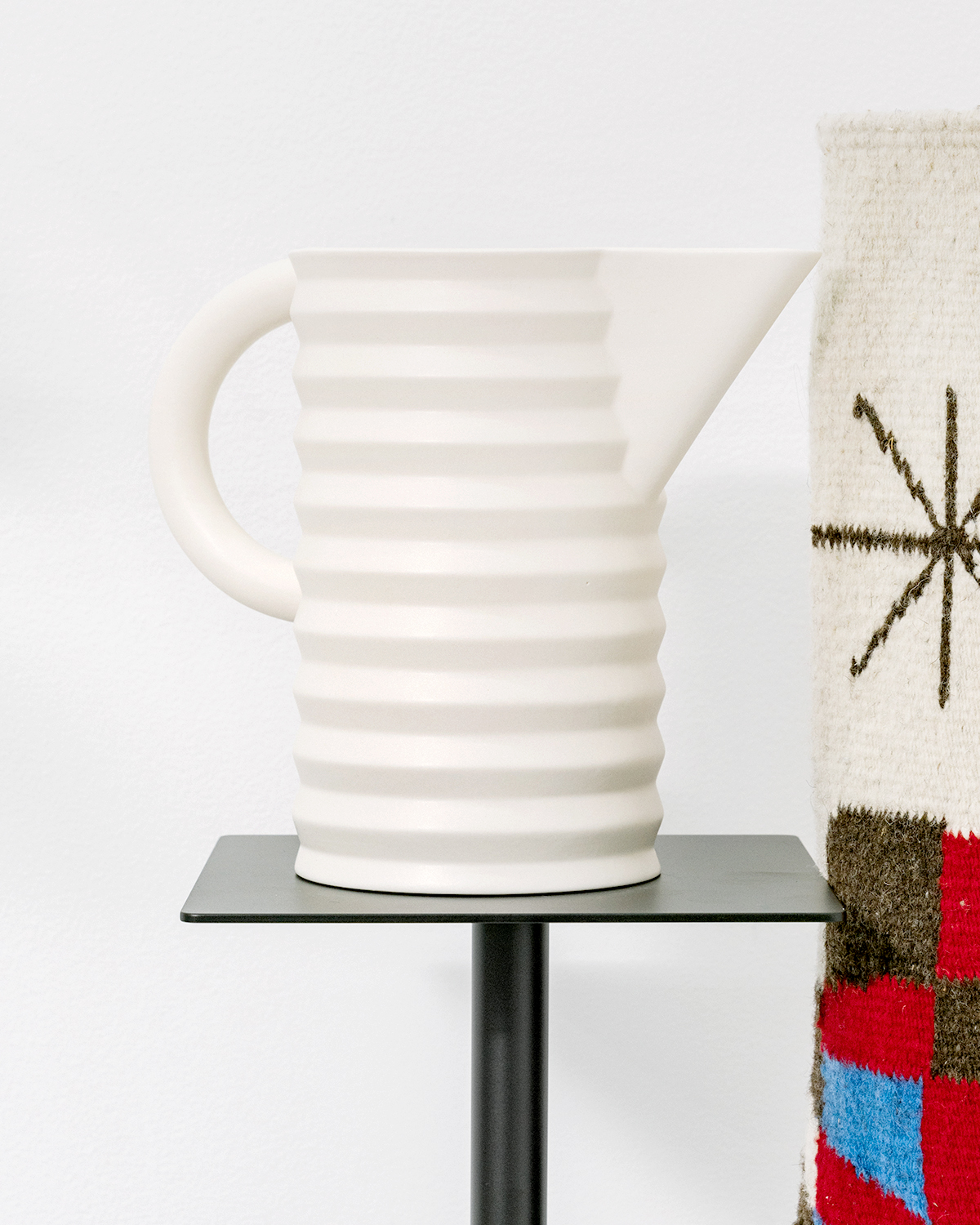 Pleated Pitcher
A sculptural water pitcher with a pleated form and an arched handle.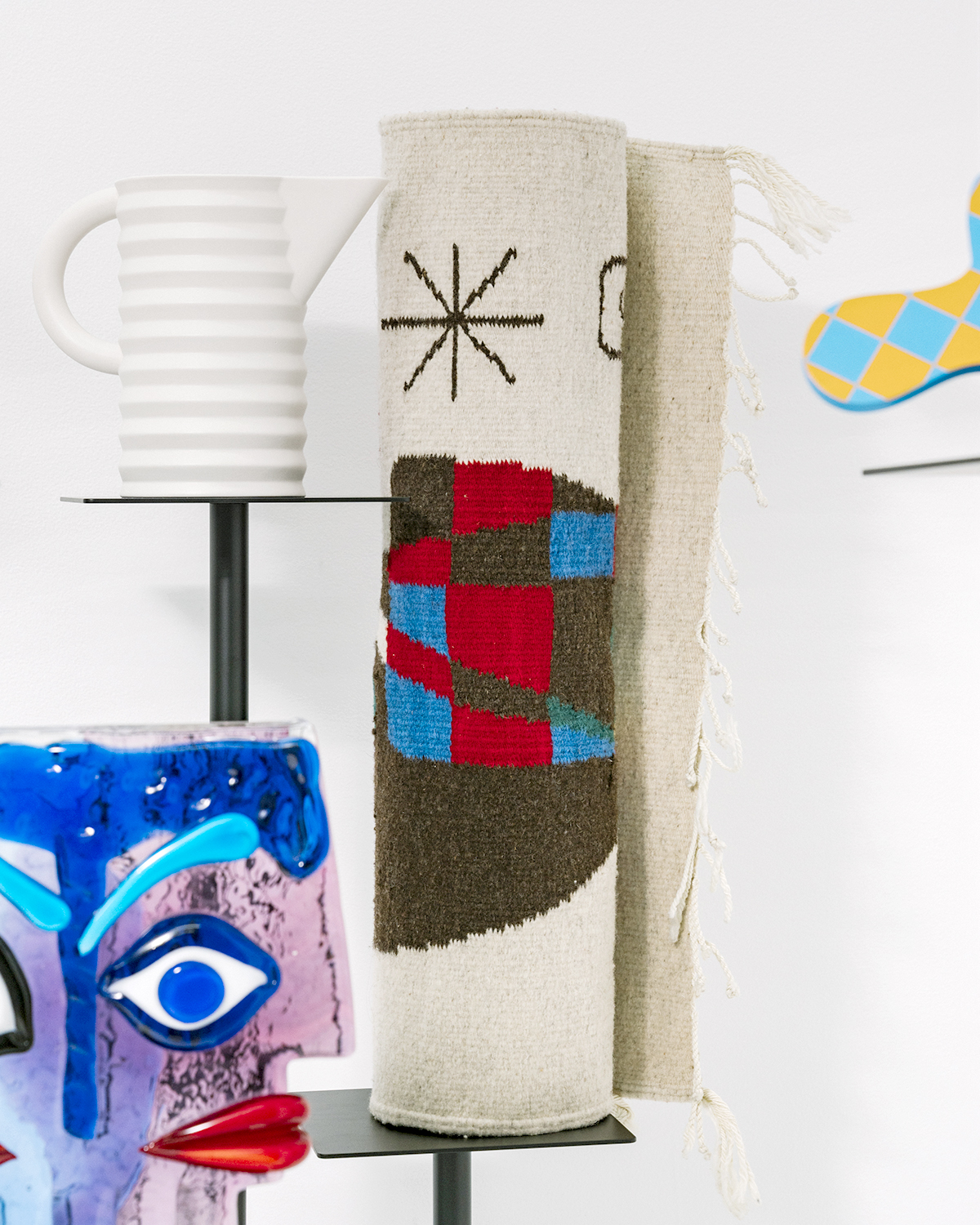 Rug
This rug is from a trip to Teotitlán, an artisan village in Oaxaca. It playfully takes inspiration from the painter Miró's work. While this item isn't one of a kind, it holds sentimental value as it was collected for a home that I didn't yet own — a sort of vision-building for the future. Over the years, I've gathered items similar to this from my travels, all small or easy to pack, since I knew it would one day make it to its destination. I now live full-time in my upstate home, where I'm surrounded by these chosen objects.
Selena Liu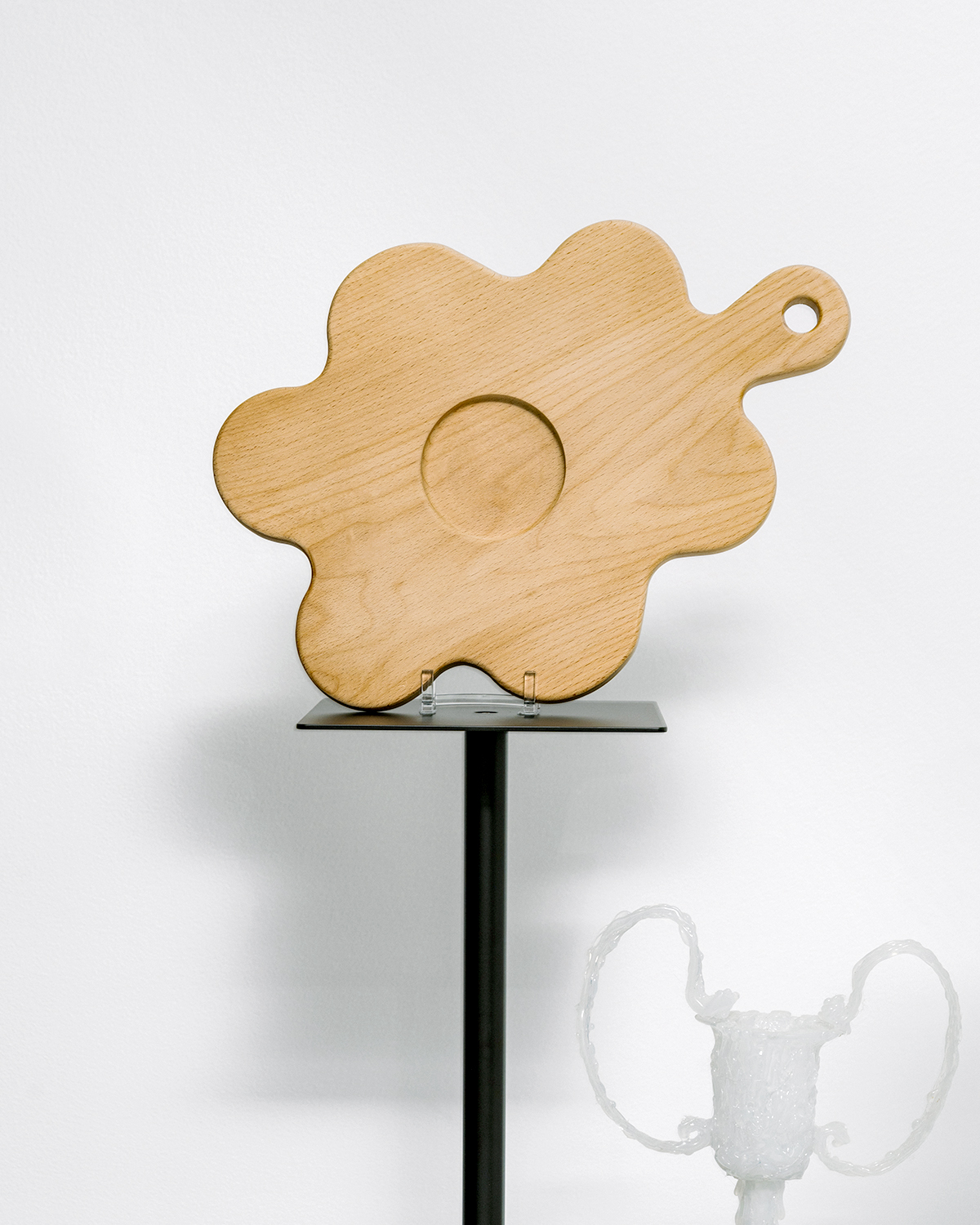 Serving Friends Board (coming soon)
This wooden board is cut in a fun floral shape and has an indented circular center, making space for a ramekin or small bowl.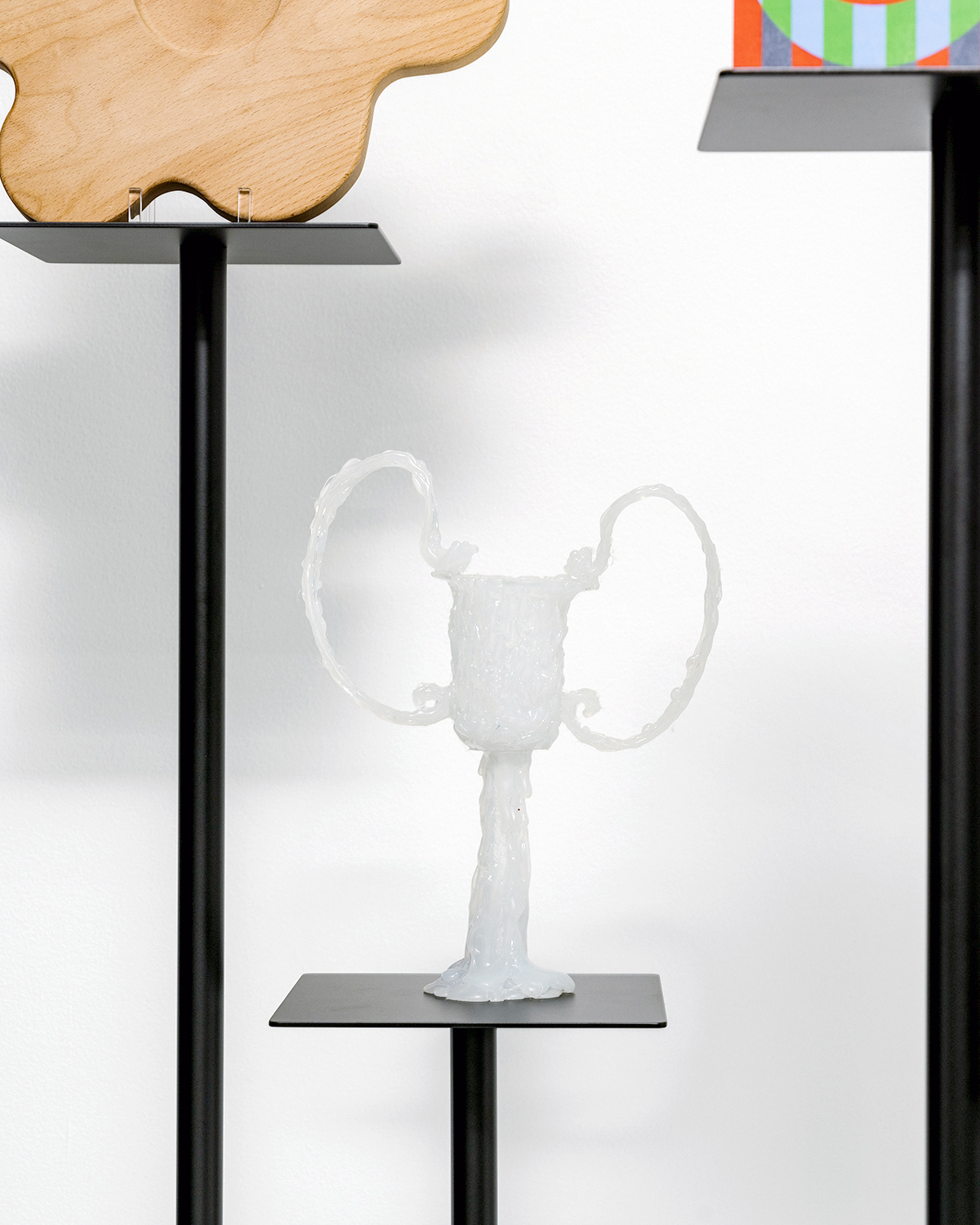 Isolation Trophy by Joseph Algieri
I purchased this hot-glue–gun trophy, by the magnificent Joseph Algieri, during peak COVID when I was working seven days a week but couldn't find time to make personal work. This piece brought me the joy I needed when the future seemed bleak, and it continues to remind me that life and art is fun. At home, it sits in my bedroom on a bright red stand right by my door so I can see it every day. I have an affinity towards silly pieces, so this trophy inspires me to explore unconventional ideas and to make objects purely because I want to.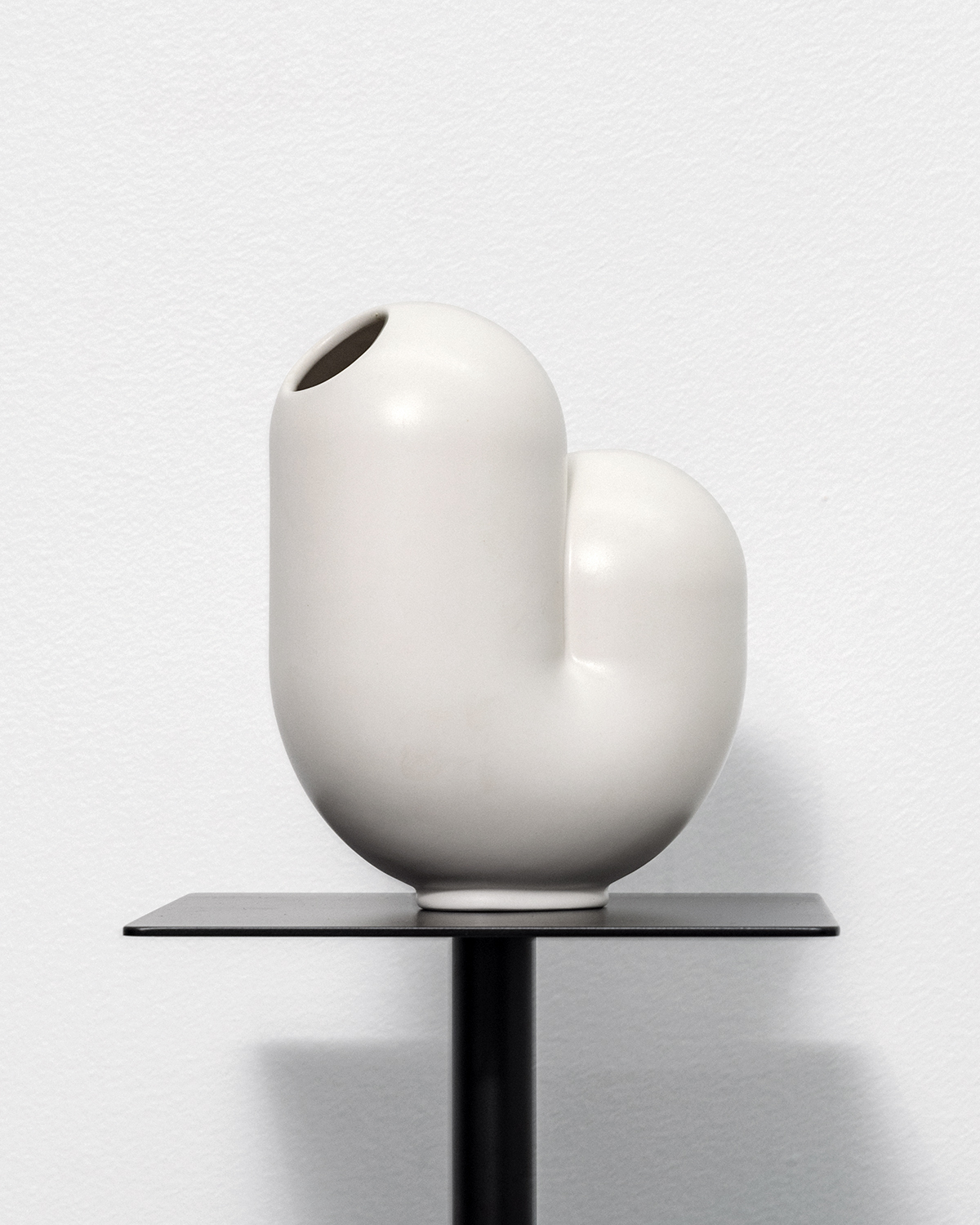 Kirby Vase
A ceramic vase for floral arrangements, small bouquets, or a simple stem. Think of it as a best-bud vase to keep you company.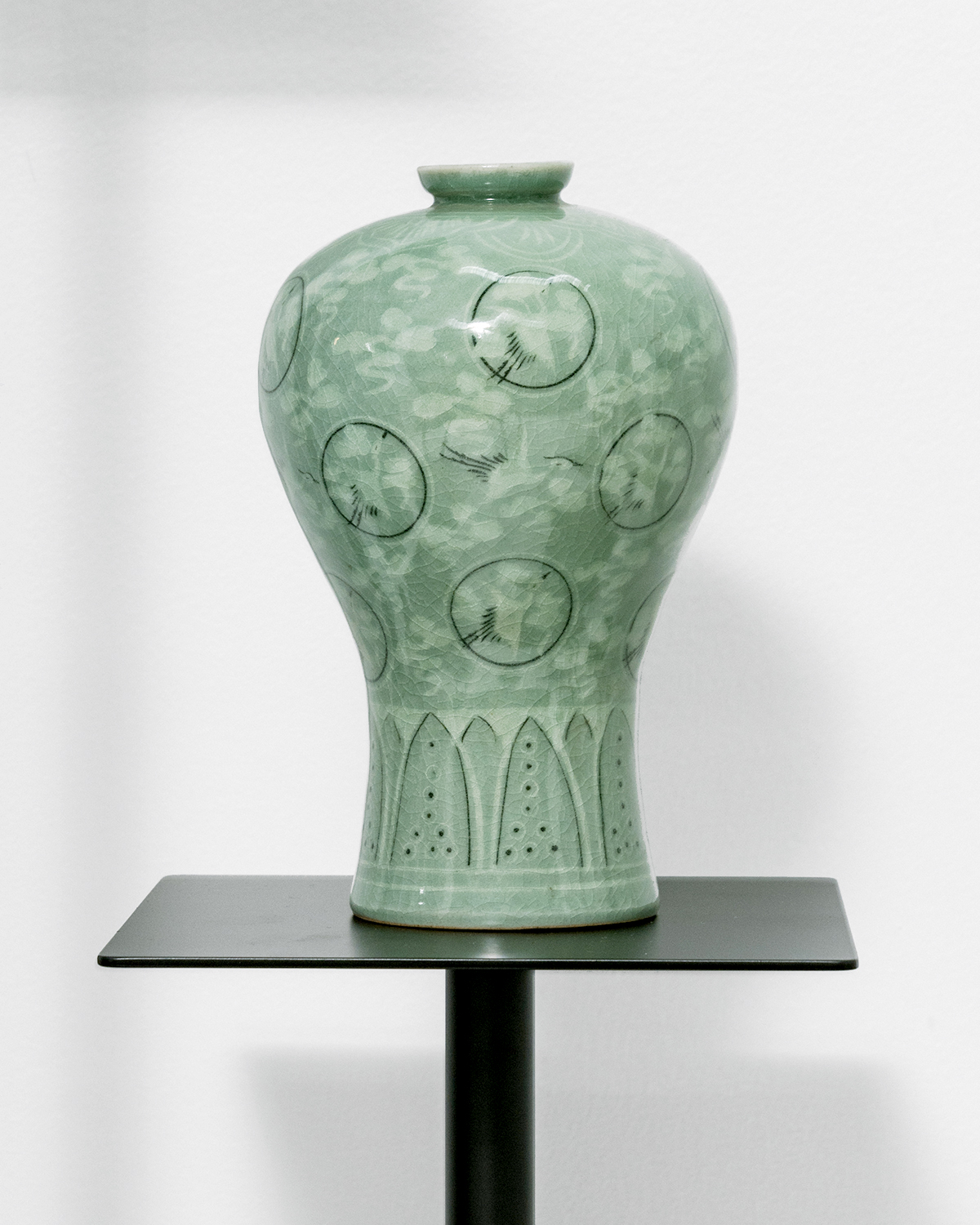 Maebyeong Plum Vase
This vase was passed down by co-founder Youngjin's grandmother, who, several decades ago — as a refugee from North Korea during the Korean War — received it as a gift. It's an example of Goryeo celadon. While celadon (greenware) was first introduced by China, potters from the Korean Goryeo Dynasty in the 12th century developed the distinctive sanggam technique of inlaying white and black pigments into carved or stamped motifs, making them appear to float within a green glaze. The slightly curled mouth, short neck, rounded shoulder, and narrow waist are characteristic of the Maebyeong-type vessel, which was traditionally used to store high-quality wines.