11.08.22
How to Live With Objects Sneak Peek! Inside a Colorful Brussels Loft That Perfectly Mixes the Vintage and the New
Often when we first tell people we're releasing our first book, they assume it's a compilation of stories from Sight Unseen's archives, or a compendium of the homes of creatives. In fact, it's more like an interiors book mixed with a handbook for personal style, one that — over the span of nearly 50,000 words — advises you on how to make your house a home. We would have been remiss if we spent that much time talking about how to live with objects, of course, without showing you some prime examples of people who are successfully doing just that, and so our book also documents 16 homes in five different cities, gorgeously shot by photographer Charlie Schuck. Today, just a week before the book actually launches, we're whetting your appetite by excerpting one of those house tours: the colorful Brussels loft of Hélène Rebelo and Edouard Beauget.
Rebelo and Beauget are cofounders of the online shop Cool Machine, which is dedicated to contemporary handmade objects. Rebelo is also an interior design consultant and curator, work she's landed partly thanks to her popular personal Instagram, where she shares hyper-colorful design and fashion inspiration. Her style — and her insatiable vintage-hunting habit — is reflected in the airy home she and Beauget share. If you spend some time scoping out her Instagram, you'll see that the loft has changed quite a bit since we shot it in the summer of 2021, but that's truly a perfect reflection of the ideas in our book: that your home should be a living, breathing, evolving thing, free to morph and change as objects come in and out of your life.
Meanwhile, enjoy this document of how we found it when we visited way back then, along with quotes from Rebelo about how it reflects her and Beauget's personalities and interests. And don't forget to pre-order your copy of our book, where so much more awaits!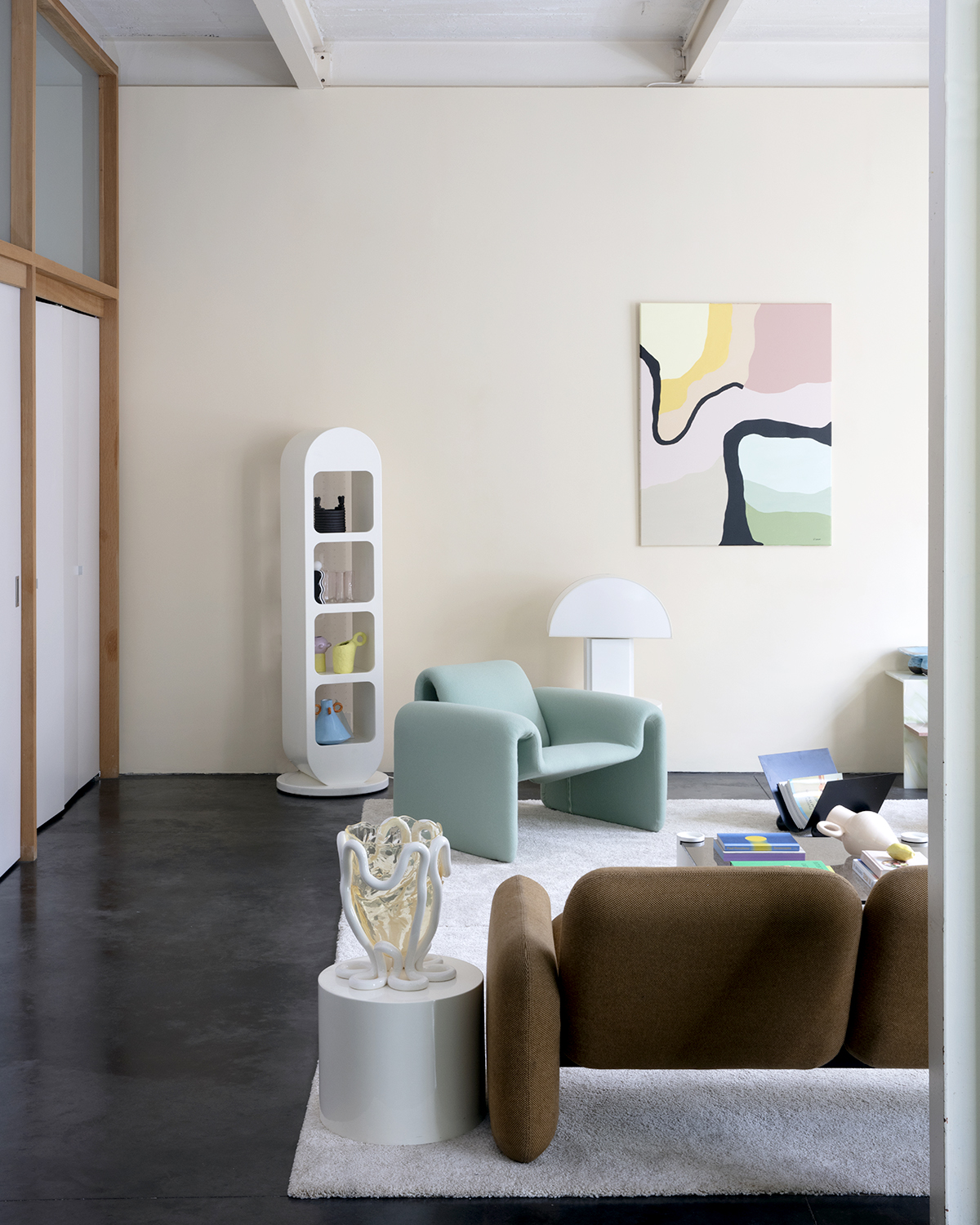 "I'm a lifelong bargain-hunter. The secondhand furniture and decor I find, I use in my work or my private life, or resell in Brussels. When we decorate, though, we always favor secondhand because Edouard, like me, has been going to flea markets from an early age."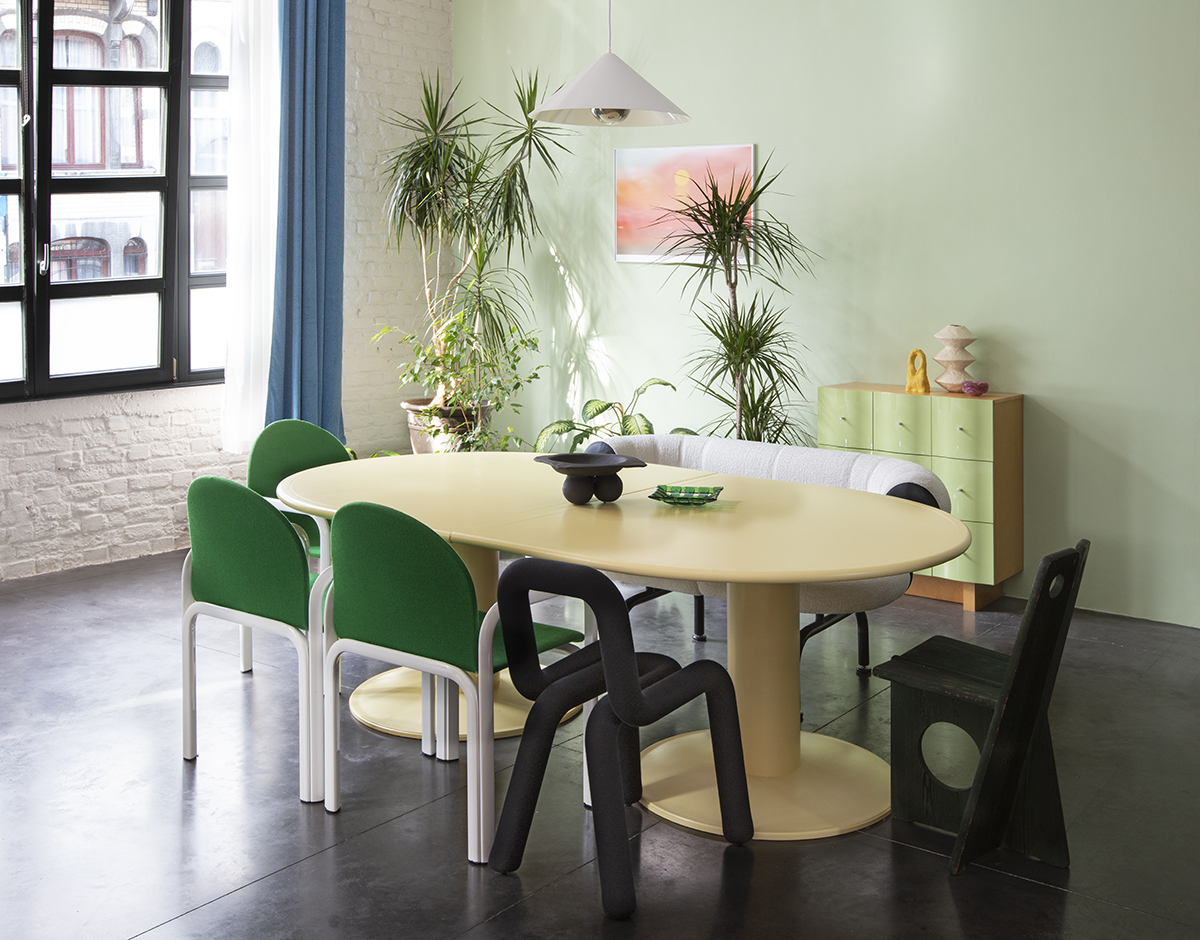 "Our loft is part of an industrial complex that used to be a lamp factory. We've always lived in small flats, so when we came here, we had to adjust to bigger rooms. We needed a big dining table so it wouldn't look ridiculous. I found this oval wooden table thirty minutes from Brussels, in a classified ad from a man who was getting rid of his company's furniture; this conference table had been sleeping in his garage for months. It was eighty euros, and the perfect dimensions for our loft, but the top was coated in thick, black plastic and the legs were a very orange wood. I decided to repaint it. My inspiration at the time was Gustaf Westman's tables, or Love House's in New York: oval, monochrome tables with remarkable legs. My dad's a great handyman who was always customizing our furniture at home, and he taught me how to transform things according to my taste. In the end, we got the perfect table for less than two hundred euros, and since this shoot, it's found its final color: a warm, raspberry red."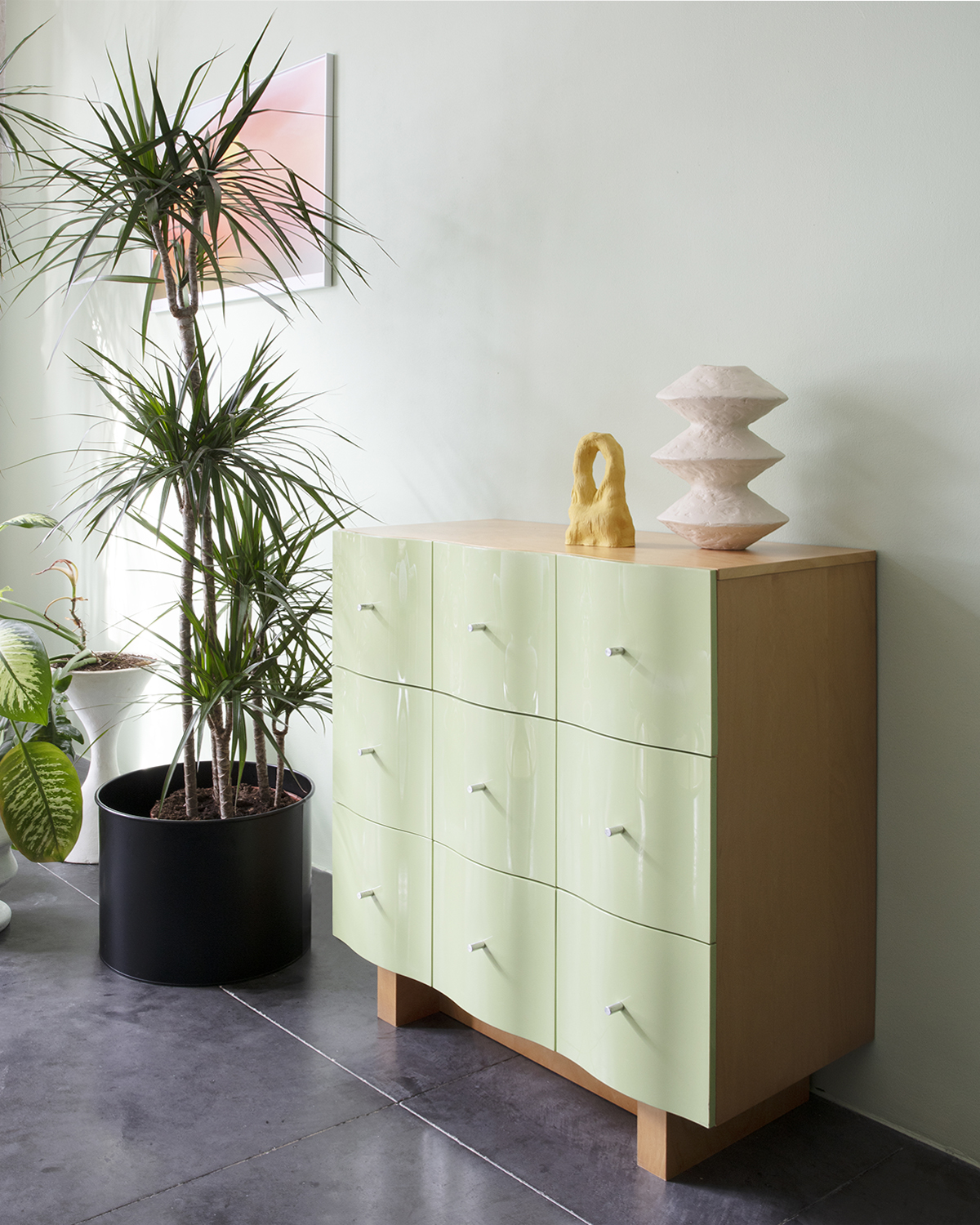 "I pay a lot of attention to the amount of money I invest. Sometimes I wait months to find a piece at a reasonable price. I have a lot of love for design, but when it comes to secondhand, I think patience is the key word. If you're patient, you can always find great deals."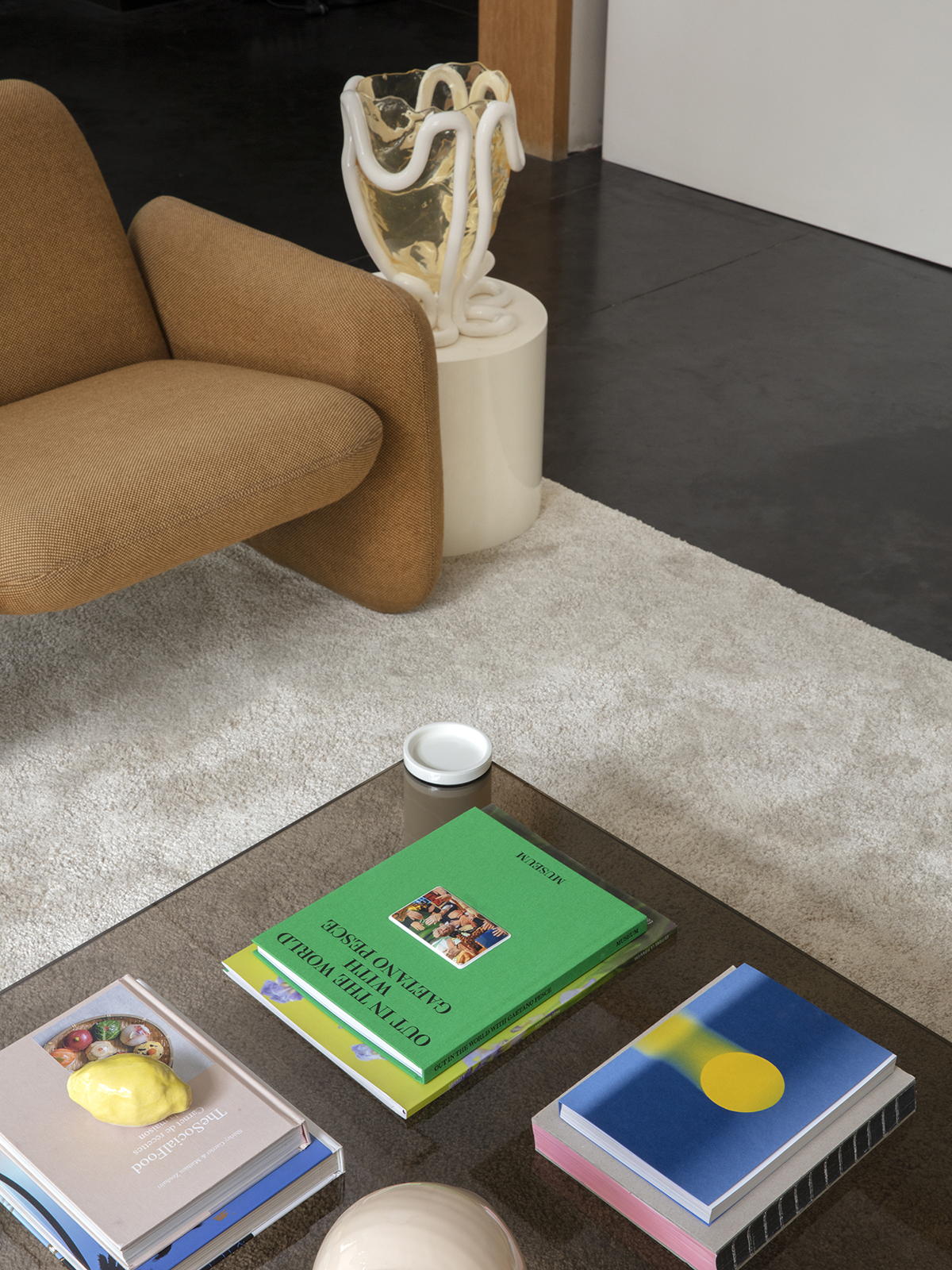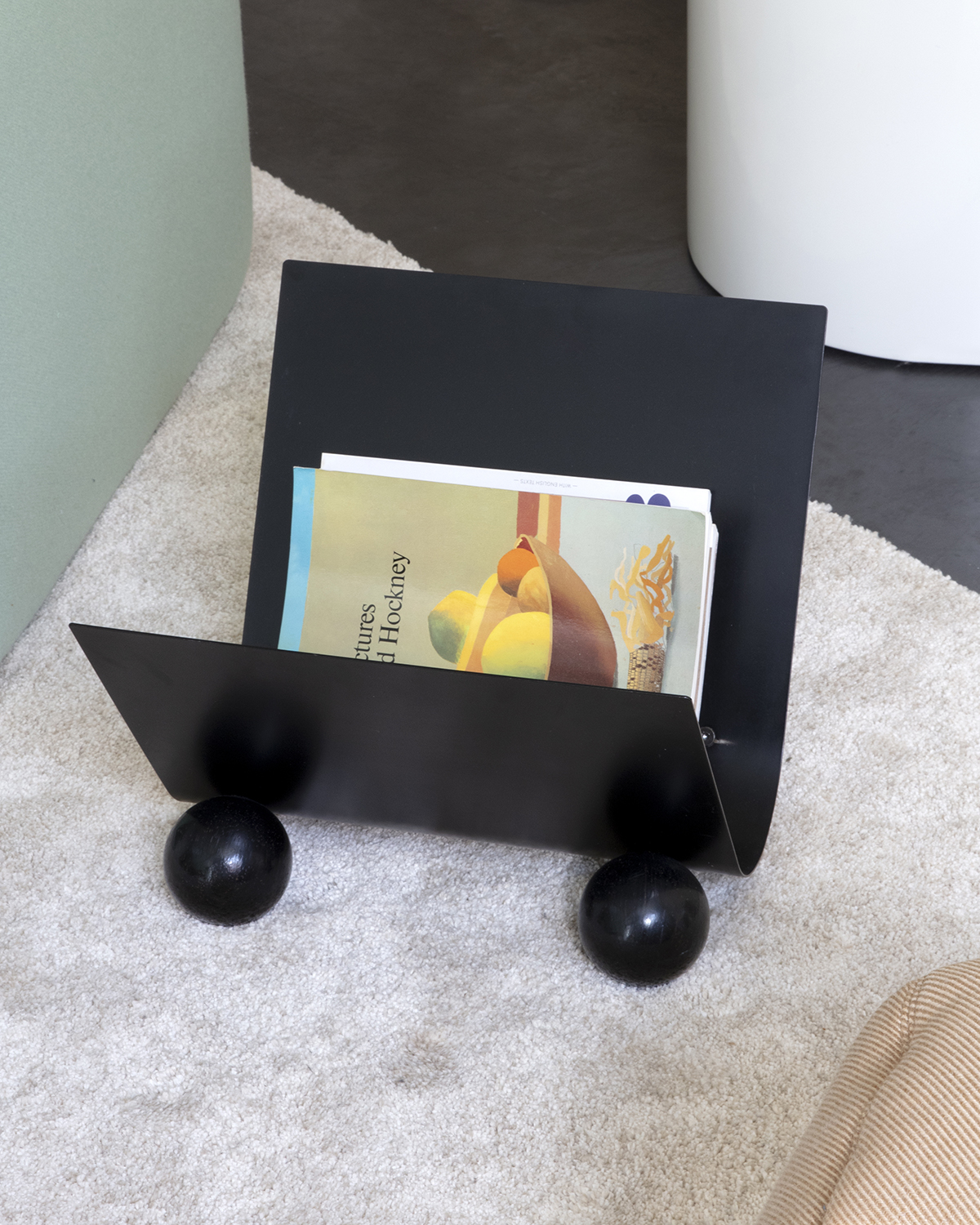 "I really like to play with shapes in the furniture, so in our house you'll find a lot of spheres, squares, and cylinders. For example, the Steiner coffee table from the '70s is square with rounded corners, and our white shelf and Herman Miller Chiclet sofa have the same shape."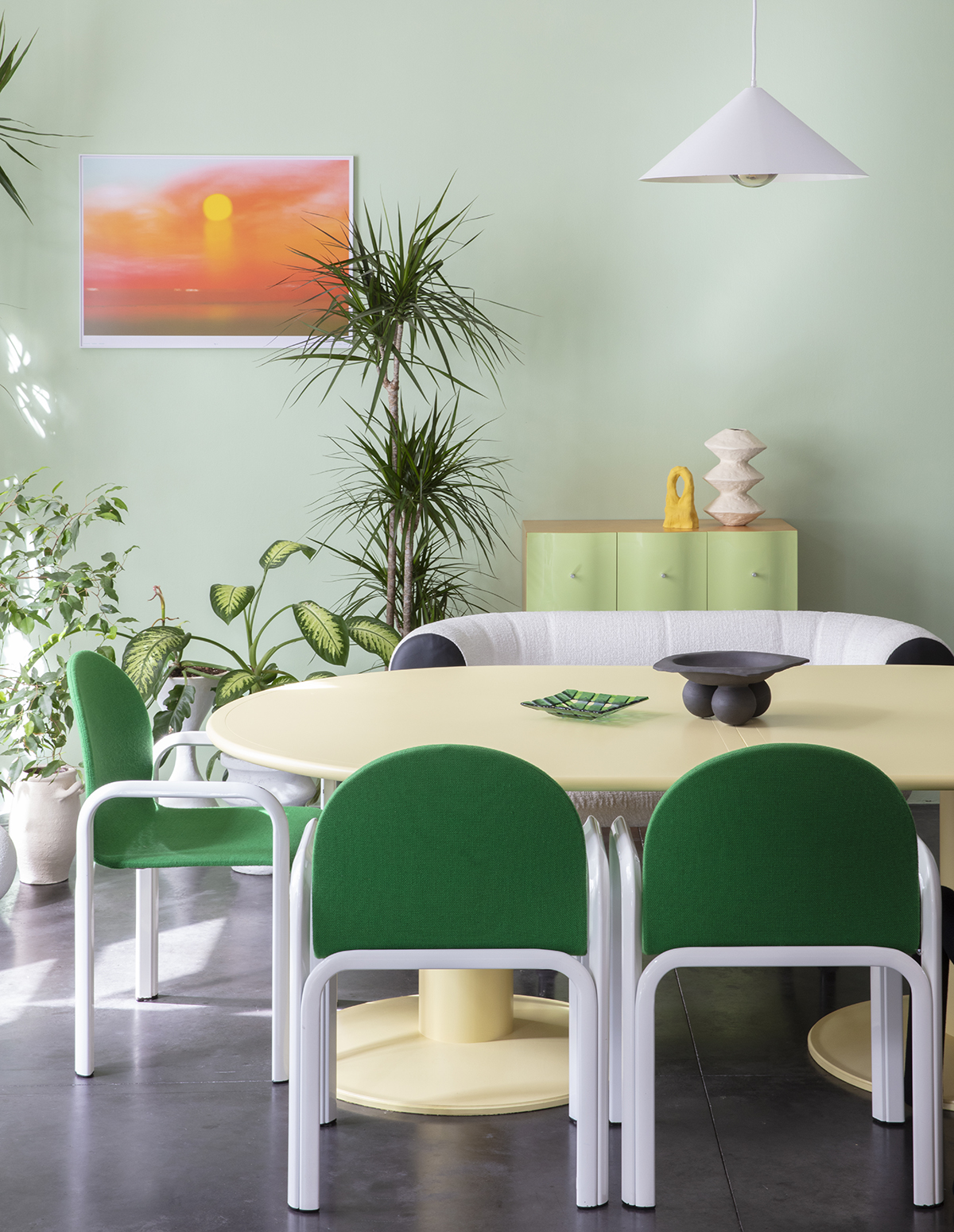 "We already had the green Orsay chairs by Gae Aulenti in our old flat, which we brought in from France. We love the bright-green vintage-wool fabric with the white lacquered metal frames. The frames contrast with the material and highlight the rounded seats. My choices are often either very geometric, or very rounded and smooth."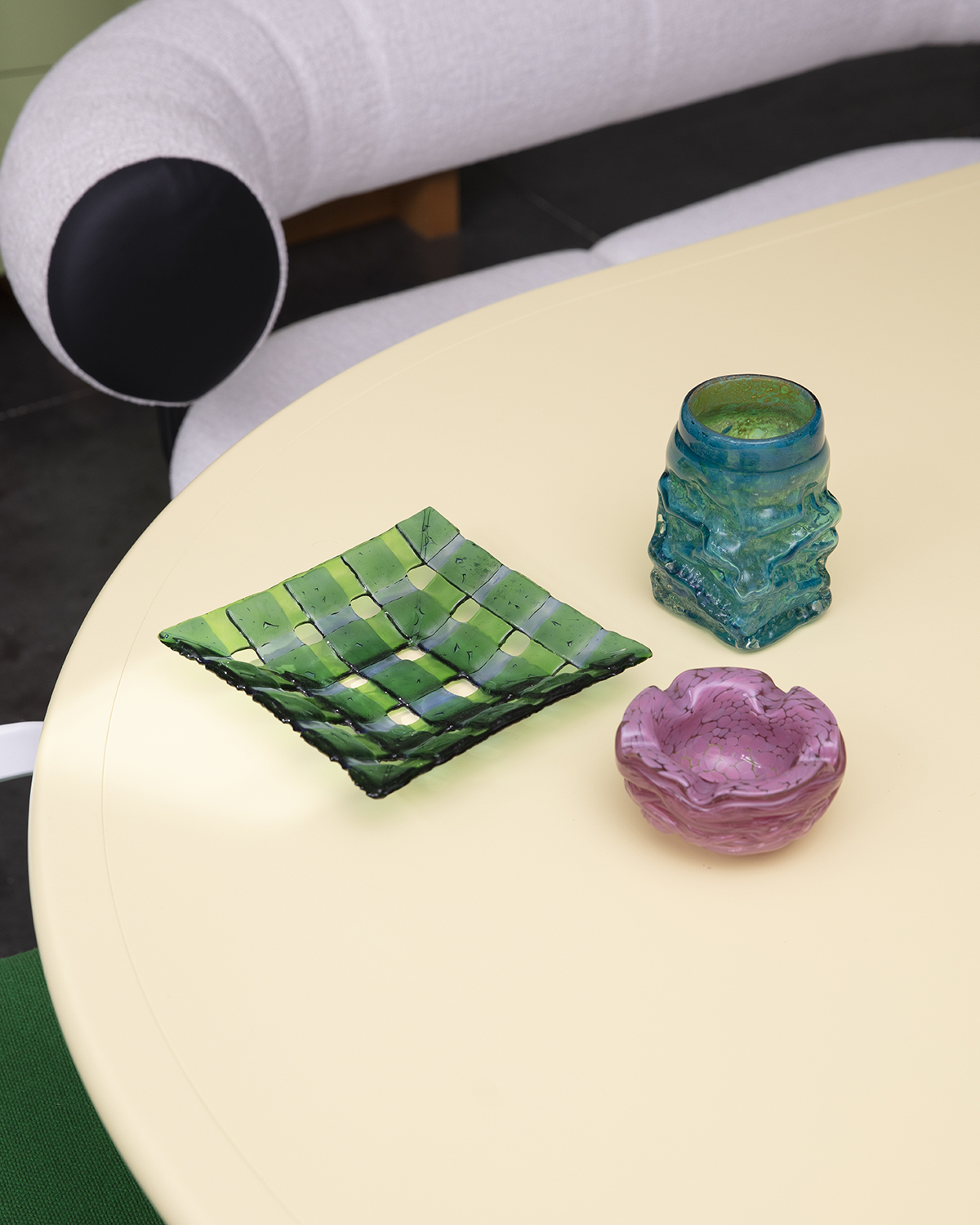 "These are pieces I found on Etsy. I had first found the ashtray and discovered it was signed by Maltese glassmakers called Mdina. I loved the dripping glass work and the colors, so I started looking for more specific items from this studio. I think their design style is very contemporary, and I like how it contrasts with our very smooth furniture. I also love colored glass for the transparency, lightness, and light it brings to a room."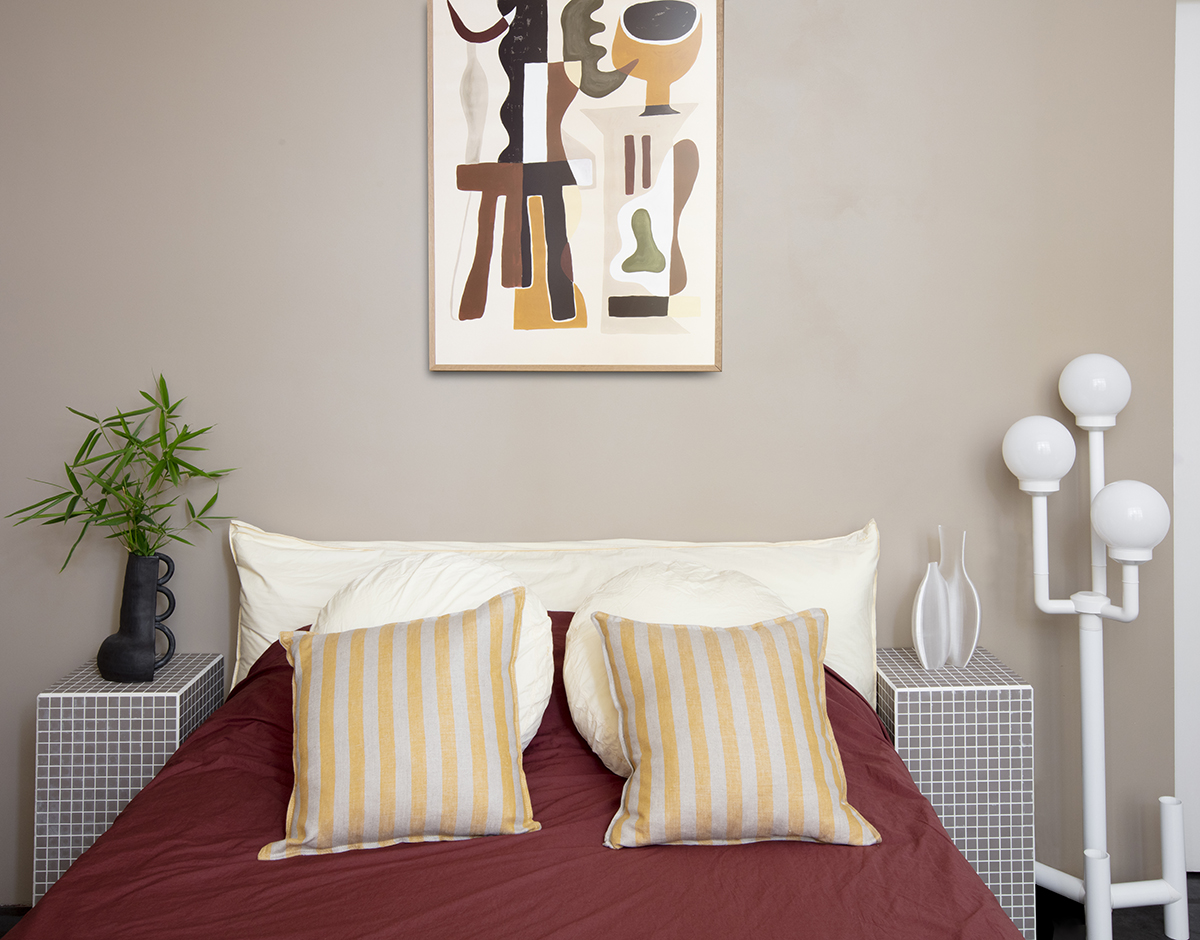 "Our flat has seen many pieces of furniture and objects come and go over time; nothing is really fixed here. Our decoration changes according to our finds. I love objects, but I'm not materialistic, and I have no problem parting with a piece."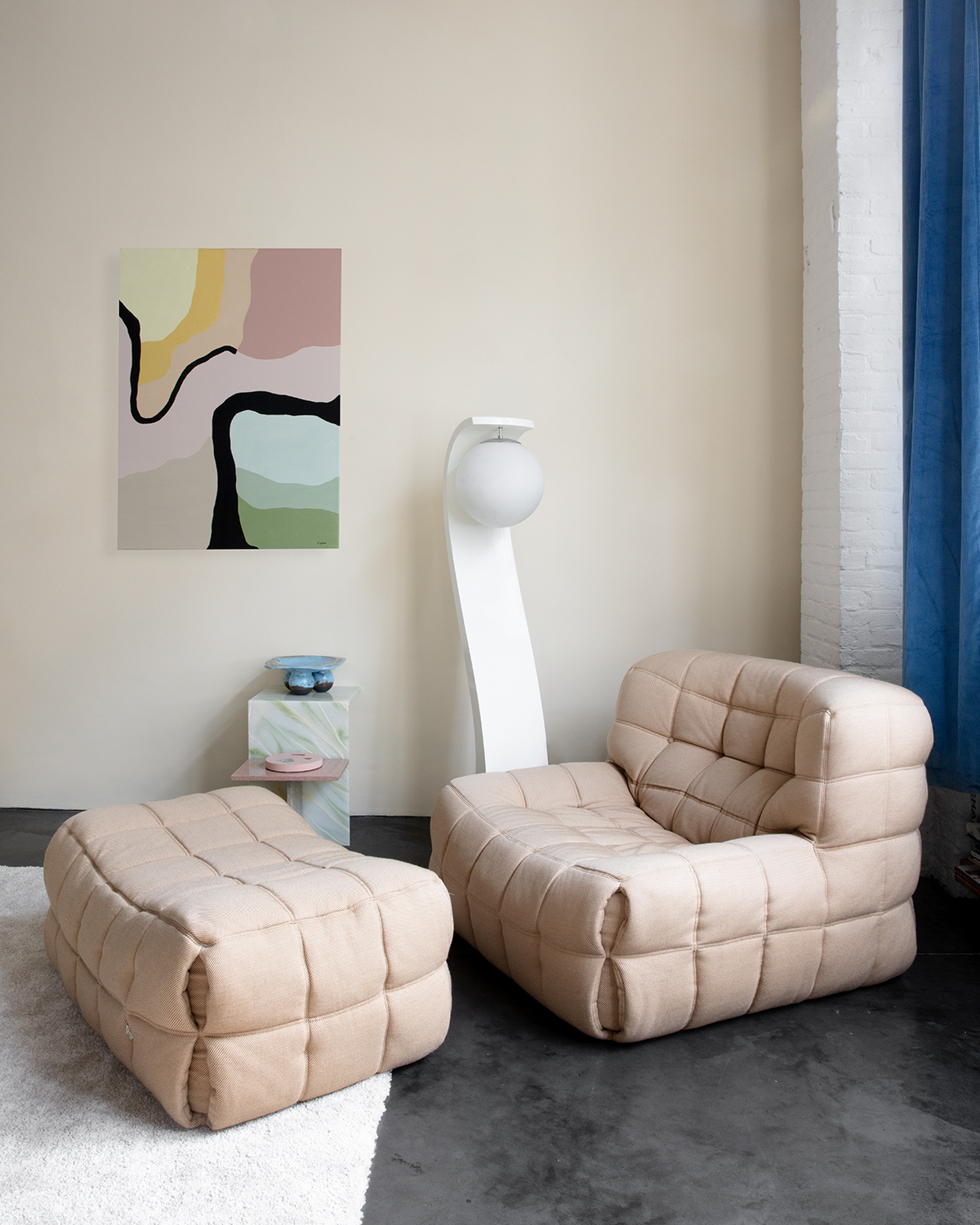 "Living in a larger, more open apartment is a challenge, because you have to mix colors, shapes, and materials in a single space. I learn day by day to create harmony."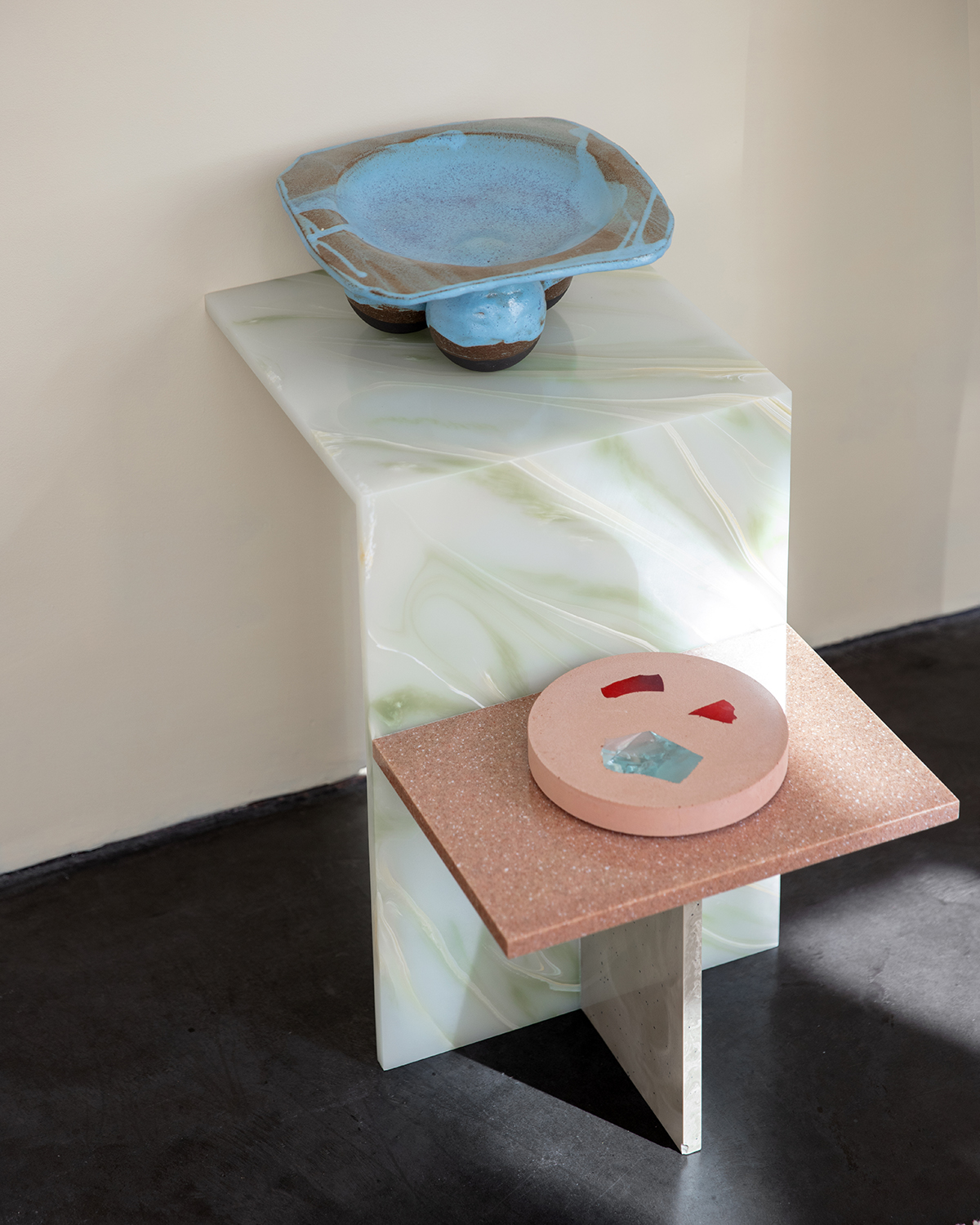 IMAGES AND TEXT ARE ORIGINAL AND ARE EXCERPTED FROM SIGHT UNSEEN'S NEW BOOK, HOW TO LIVE WITH OBJECTS. ALL CONTENT IS COPYRIGHT PROTECTED AND MAY NOT BE USED WITHOUT PERMISSION.