06.02.22
We Wrote a Book! And You're Going to Want to Drop Everything and Pre-Order It *Immediately*
We've written a lot over the past two years about people's pandemic projects, but you know what? We were secretly working on one, too, and it's a big one. Introducing How to Live With Objects, the first-ever Sight Unseen book: an absolutely gorgeous, 320-page coffee-table book, published by Clarkson Potter this fall, that champions a new approach to interiors — simply surrounding yourself with the objects you love. It comes out November 15, but it's available for pre-order now, and it's chock full of incredible images in the form of 16 interiors, beautifully shot by Charlie Schuck, and more than 150 vintage and contemporary objects, both iconic and obscure.
While we did envision How to Live With Objects as a (highly visual) manual for improving your home, we're calling it the "anti-decorating" book, because we're firm believers in the idea that, in this day and age, it matters far less whether your interior is perfectly appointed, and more whether it's authentically personal, unique, and filled with objects you have a connection to. In our object-based approach to interiors, anyone can build an authentic, layered, and beautiful home by personalizing it with meaningful art and design objects — regardless of space limitations, style preferences, or budget.
In How to Live With Objects, we'll introduce you to four categories of objects — vintage, contemporary, handmade, and sentimental — and guide you through the process of finding and identifying good ones and incorporating them into your space. We'll teach you how to find and identify makers and styles you love, which questions to ask when purchasing objects, the secret tactics vintage collectors use when shopping online, and why it's okay to have at least one thing in your home that no one else understands. We'll chat with 22 creatives — from Misha Kahn and Mel Ottenberg to Alison Roman and Athena Calderone — about the objects that are most precious to them. And we'll take you to London, Brussels, Mexico City, Los Angeles, and New York to visit the homes of some of our favorite object lovers, like Charlotte Taylor and Minjae Kim, to hear more about why they live with the pieces they do.
Of course, there have been books before ours that take a categorical approach to the foundations of a home. One of the most iconic examples — and a huge inspiration for this book — is 1974's The House Book by Terence Conran, which breaks down different interior styles, layouts, and elements, from heating to hi-fi systems. But while not everyone who hunts down a copy of The House Book is planning to change out their window treatments, every single person who picks up How to Live with Objects is a collector of things, and our book will help you refine your collection, no matter what journey you're on. — Monica Khemsurov & Jill Singer, Sight Unseen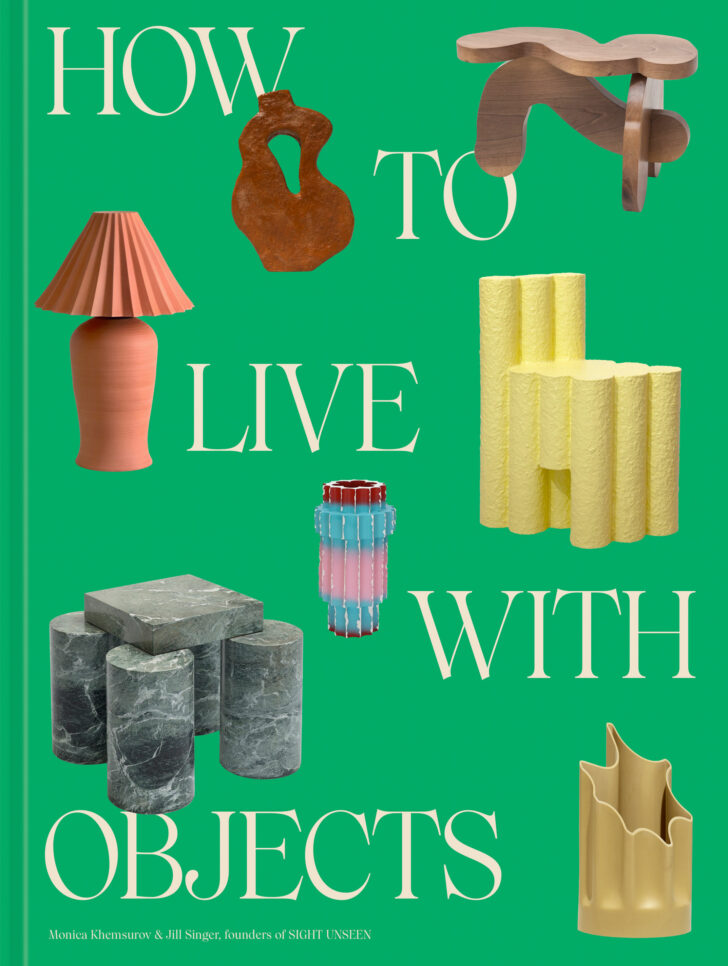 Cover design by Mia Johnson / Front cover credits: Hard Round Bench by Soft Baroque for Patrick Parrish Gallery, 2016 Family of Form Gina Sculpture by Willem Van Hooff, 2020 Stone Lamp by Natalie Weinberger, 2018 Tubes 21.12c Chair by Zaven, 2021 Untitled Vessel by Julien Carretero for A1043 editions, 2021 Coffee table by Massimo Vignelli, circa 1985, courtesy of Rago/Wright Bambu Vase, Model 3084D, by Enzo Mari for Danese, 1969, courtesy of Rago/Wright Spine: Elle Chair by Marco Campardo, 2020