05.04.17
The Glass-Walled LA Loft of New Fashion Brand Everybody is Anything But Basic
As former creative leads at American Apparel, it's no surprise that Iris Alonzo and Carolina Crespo have an idiosyncratic sense of what counts as basic. After all, these are the women who visually defined a generation by re-proportioning denim and T-shirts into high-waisted mom jeans and plunging V-necks. In leggings as pants and a rainbow array of unitards — and in a now-notorious series of advertisements — was the sense that wearing a uniform could be outré, as well as an embrace of ease that paved the way for the subsequent movements of athleisure and normcore. "I have about ten percent drama for special moments," and the rest is "things I go to all the time," says Alonzo of her own post–American Apparel wardrobe, which draws heavily from the duo's new project, EVERYBODY.
As with the brand they formerly helmed (where Alonzo was senior creative director and Crespo in charge of graphics and kids), even sweatpants from EVERYBODY come with a twist. The pieces — which are defined as unisex, seasonless basics ranging from a white cotton flightsuit to a perfect garment-dyed denim work coat — are designed by fashion amateurs, including collector Jean Pigozzi (who created a snakelike body pillow covered in African fabrics) and a 74-year old chess player Alonzo met in LA's MacArthur Park, across the street from EVERYBODY's headquarters. "I think 'basics' are things that have a long life cycle — things that aren't affected by trends," Alonzo says. In their light-filled loft, too, extraordinary objects becomes nothing more basic than a part of everyday life, like a twelve-foot tall fiddle leaf fig that Alonzo says "has been growing with me since my first apartment almost 20 years ago."
We recently sent photographer Laure Joliet to capture EVERYBODY's studio — which started as Alonzo's apartment — on the 12th floor of LA's landmark 1964 American Cement Building, an incredible structure made to be entirely supported by an enveloping latticework without internal supports. In a subsequent email interview, we chatted with Crespo and Alonzo about social consciousness and commerce, collecting functional objects, and how non-designers see the world differently.
PHOTOS BY LAURE JOLIET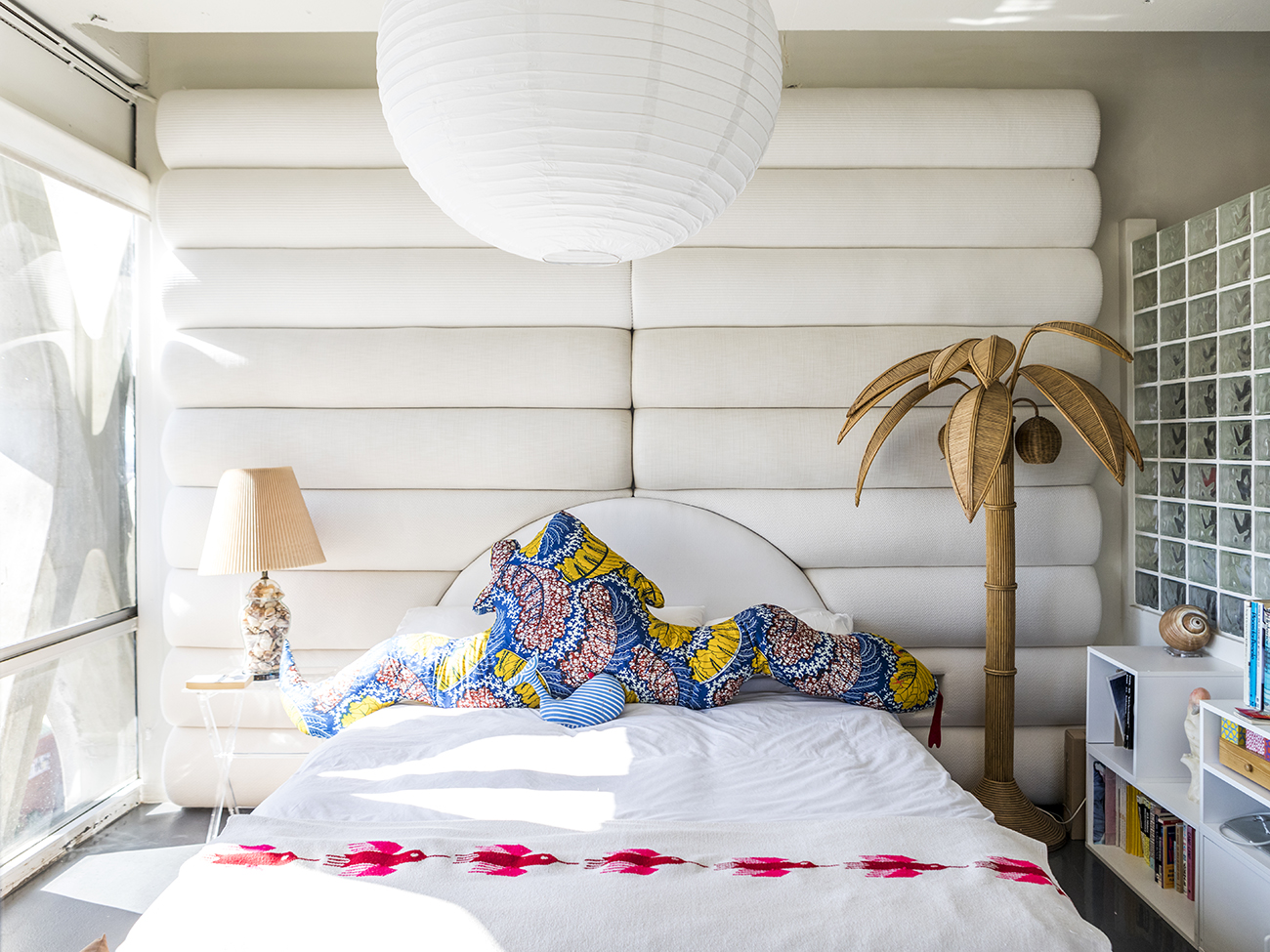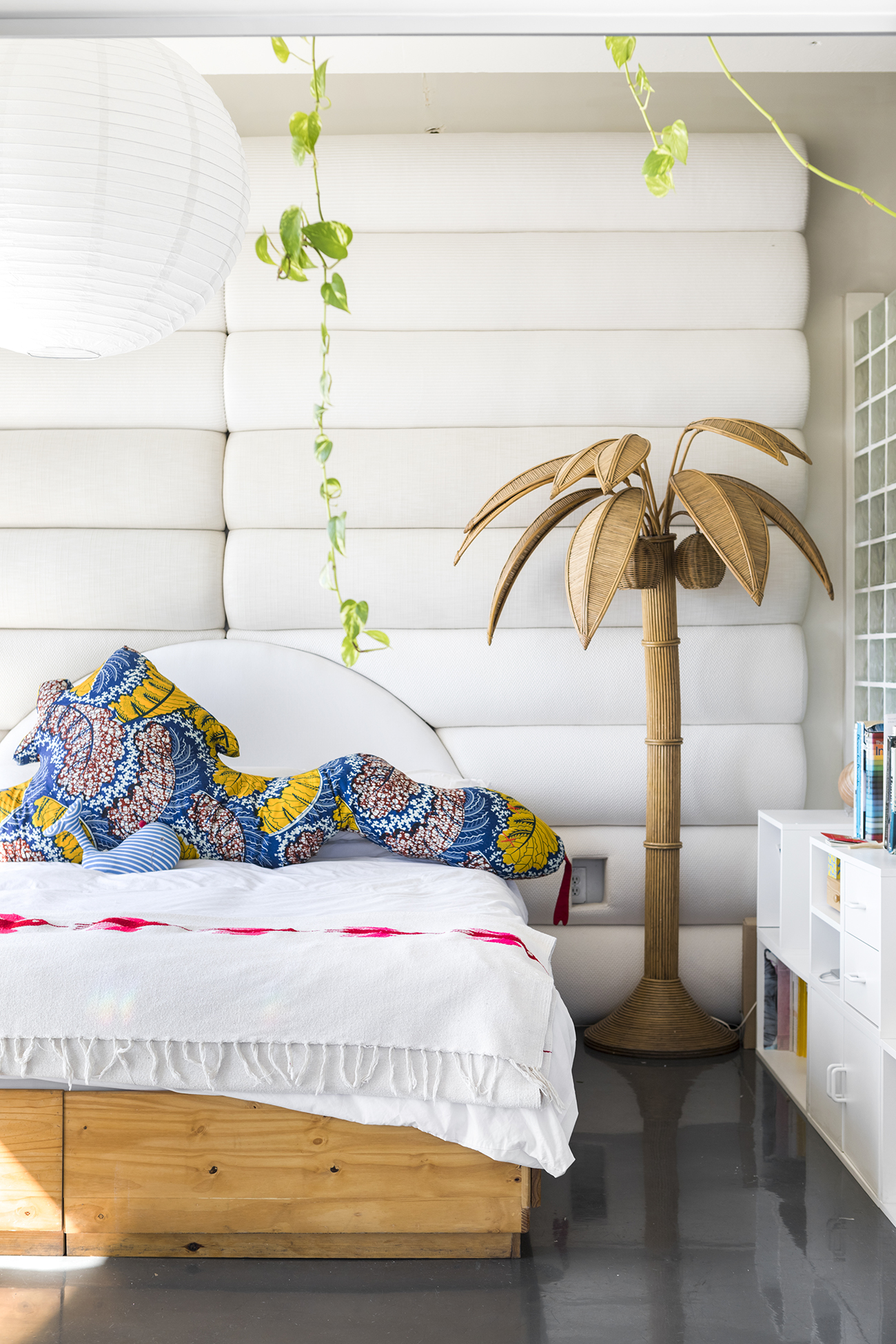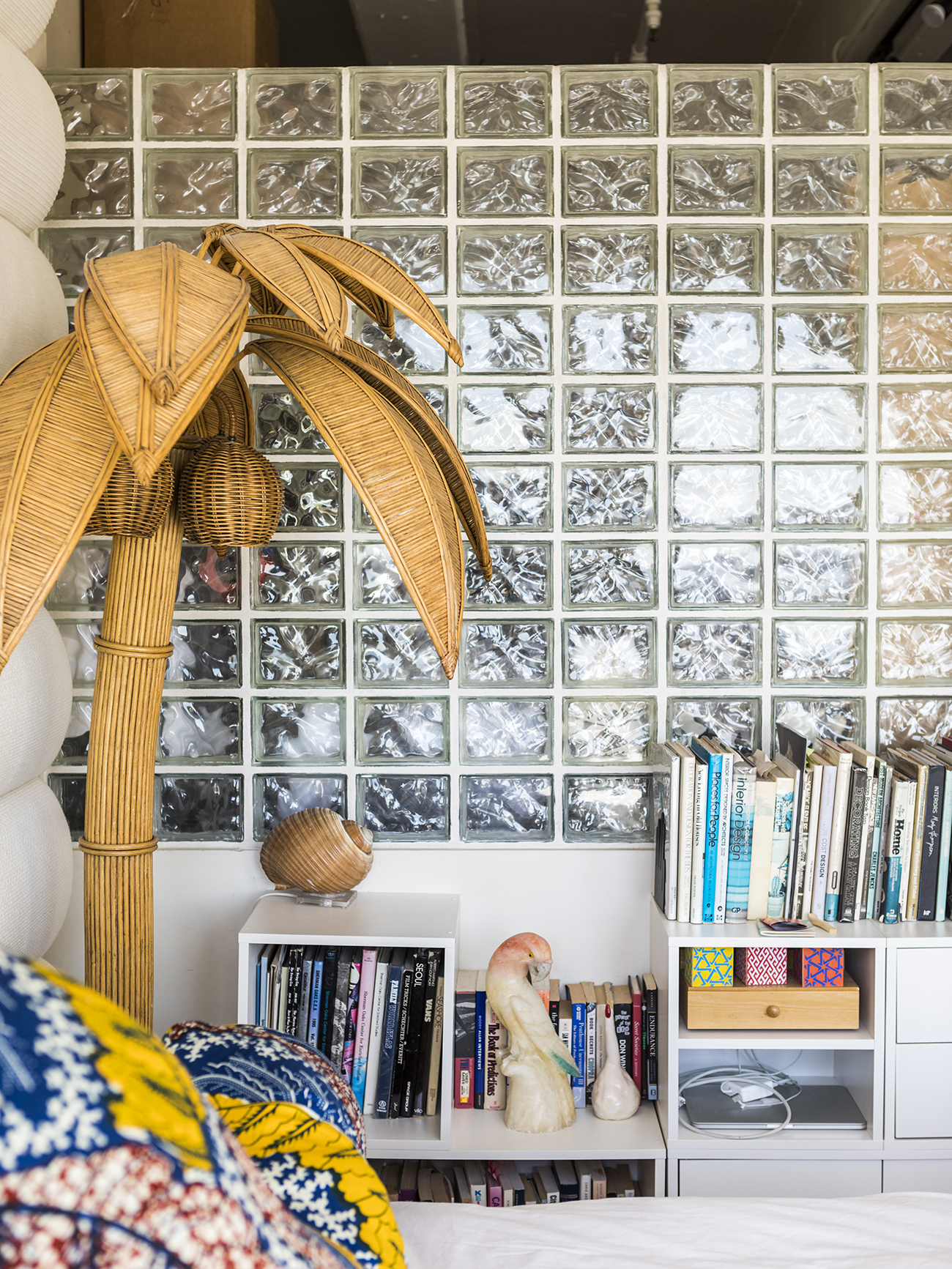 Su: Okay, first question. What is that ridiculous/amazing palm tree?
Iris: It's a lamp! I found it at a crazy Korean furniture store on Western Avenue in Koreatown. They also had a completely wicker (and functioning) bicycle which I sort of regret not buying.
Su: What do you love to collect — and how would you describe the shared qualities in the things that catch your eye?
Iris: There isn't a single item I collect, but I have a lot of things that are interpretations of other things in unexpected materials, like a near-life-sized quartz parrot, a ceramic watermelon, and a large 3D number "2" made from carved wood. I love satisfyingly tactile objects that bring me visual joy. This can be a problematic collecting habit because I come across a lot of things that make me feel good. So my recent self-imposed limitation is that the items have to be functional and not merely sculptural, i.e., a ceramic fist that is also a pen holder, a plant pot that is a face, or a plate with a fake, life-sized, porcelain orange attached to it. I also have a collection of dolls that my grandparents brought back for me from all of their world travels during their retirement. That collection stopped when they stopped traveling as much, so around the mid-90s. Plus I was too "cool and mature" for dolls when I was a teen.
Carolina: I collect dishes and things for the kitchen. You never know when you'll need a chubby glass bottle, fist-sized sauce dish, or teeny tiny serving spoon! Also, I love cookbooks.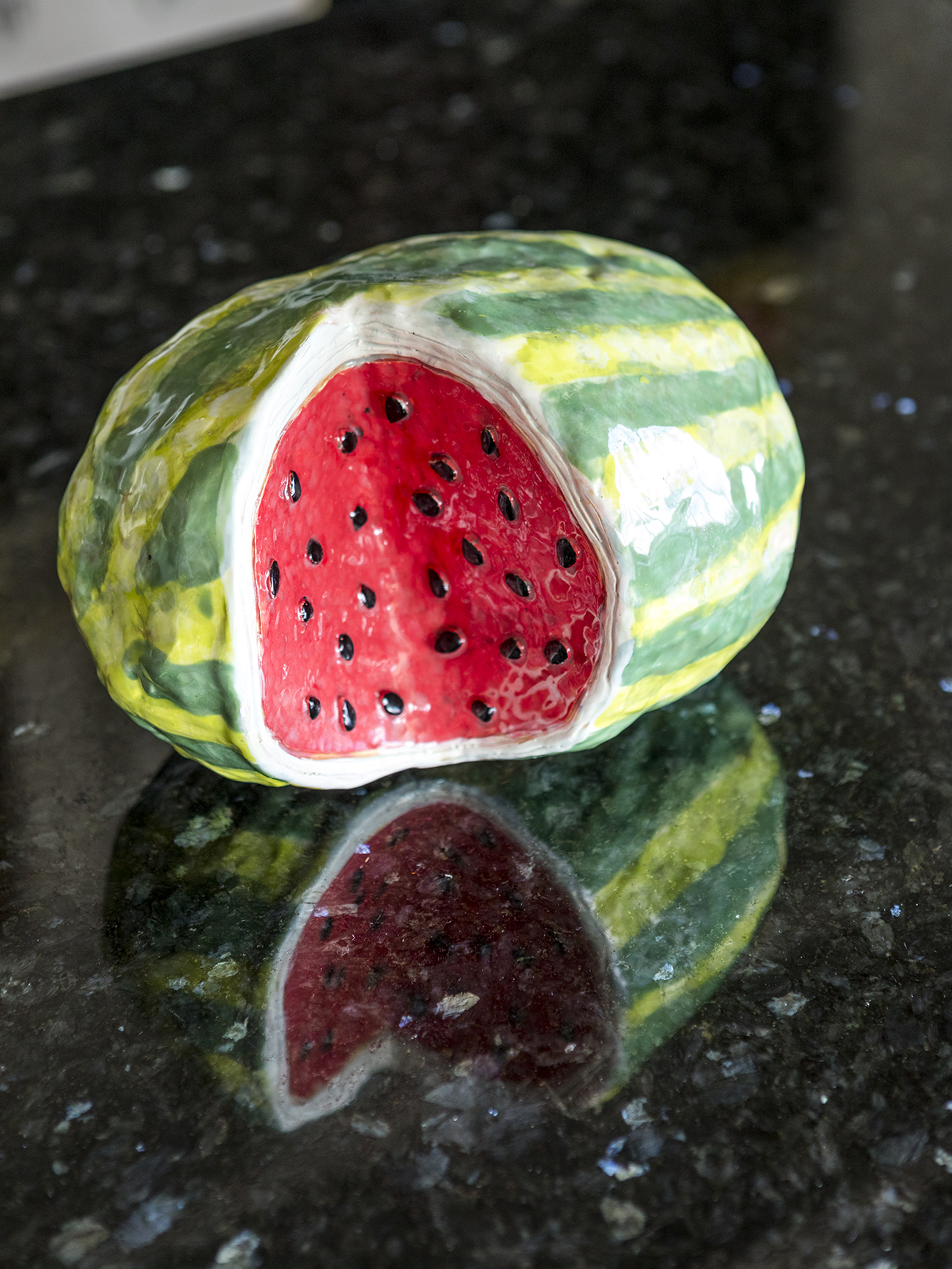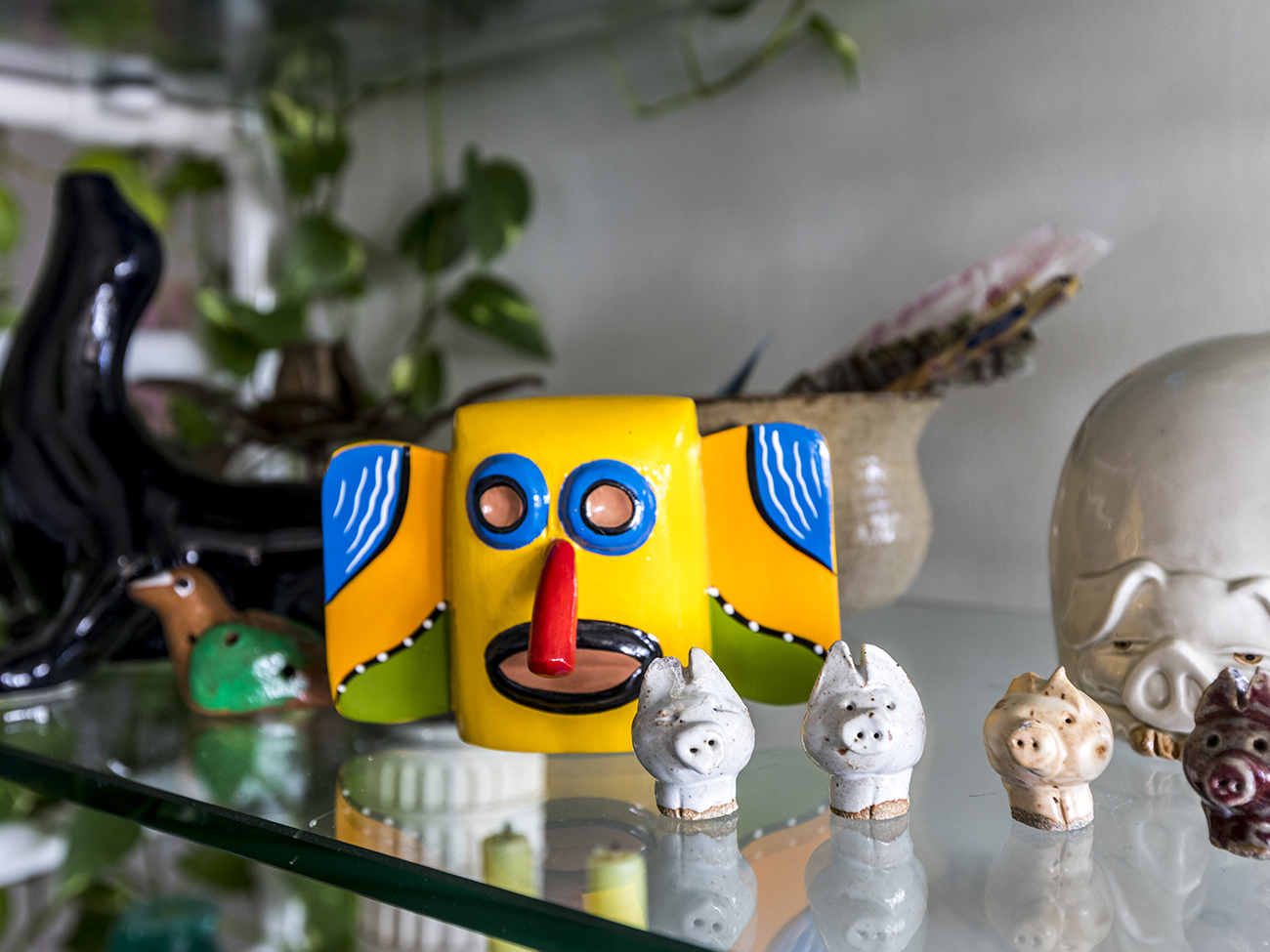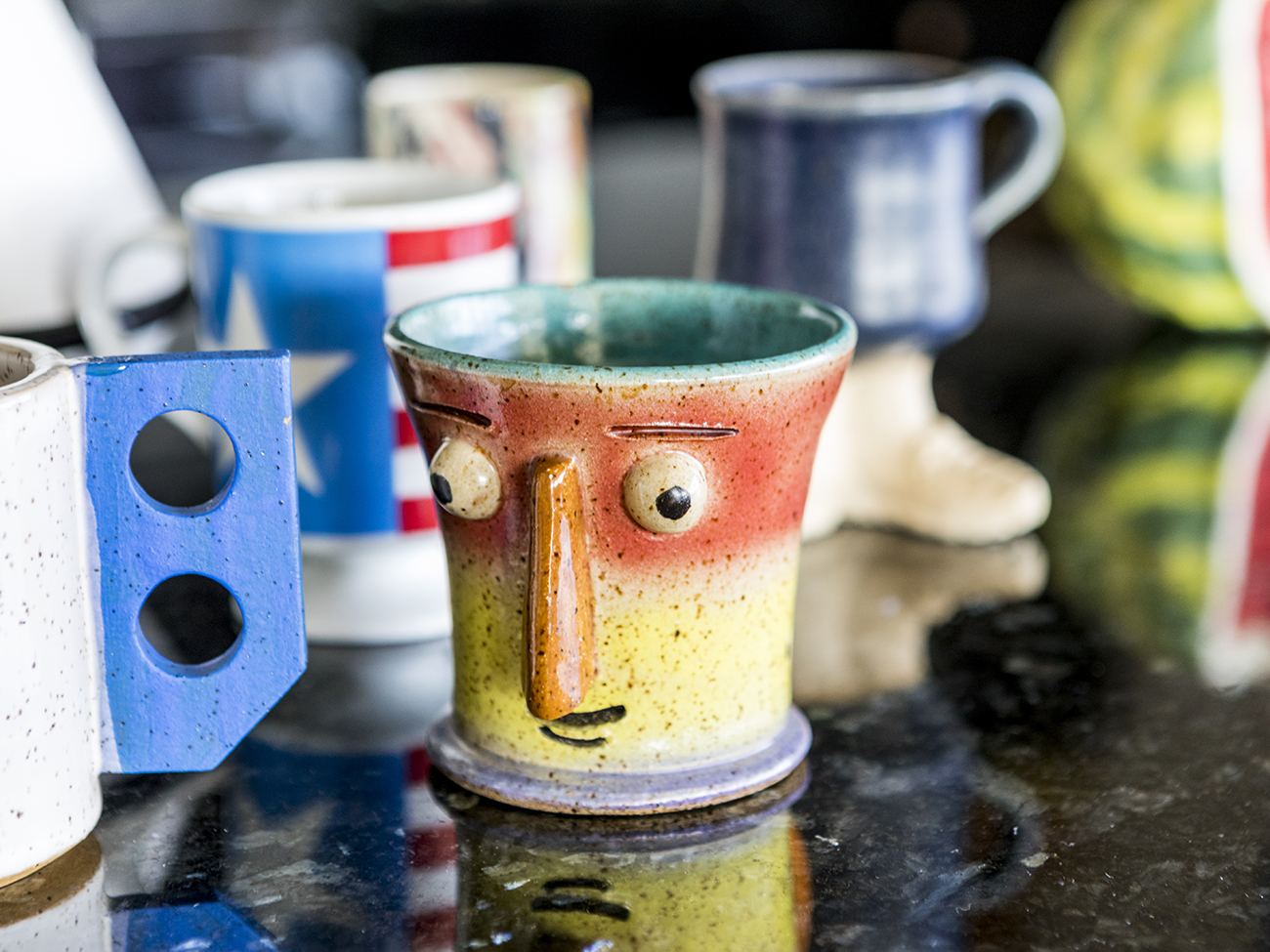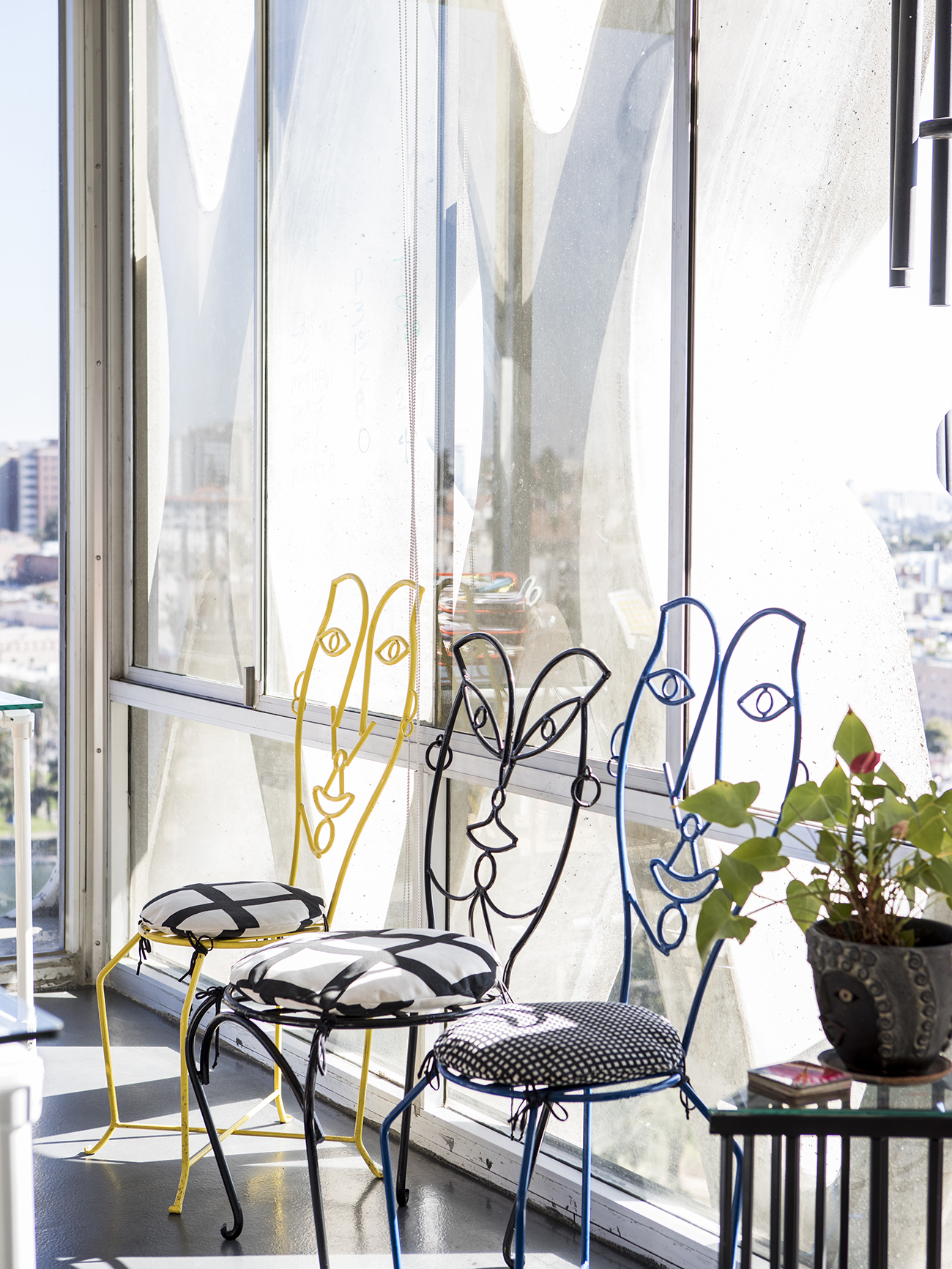 So many faces everywhere, from planters to chairs! How have you designed your space to reflect your personal ethos, and ideas around community and habitation?
Both: Yes, we have a thing with faces! It's like giving an inanimate object an instant personality, and it just makes us inwardly chuckle! The wire chairs were random scores from the Rose Bowl, and we had them powder-coated in different primary colors and made cushions from fabric scraps.
We are big fans of the "mi casa es su casa" feeling, maybe coming from our Mexican roots. Also, we both love finding and, if possible, enhancing the very best in others. It feels good to love and be warm, and we are genuinely curious about and inspired by people from all walks of life.
We've designed our space to host, eat, relax and share, and, of course, work! That means a big kitchen island, lots of seating, lots of light and nothing too precious. Broke a glass? Oh well, we'll find a new one at our next thrift store pop-in. Scratched the floor? Who cares. It's just painted concrete. Life is too short to tiptoe around a white carpet (no offense to carpet-loving minimalists). Also, plants! We love being with and caring for plants. They bring instant life to a room and we think nature is the most elegant, creative, skilled sculptor of all.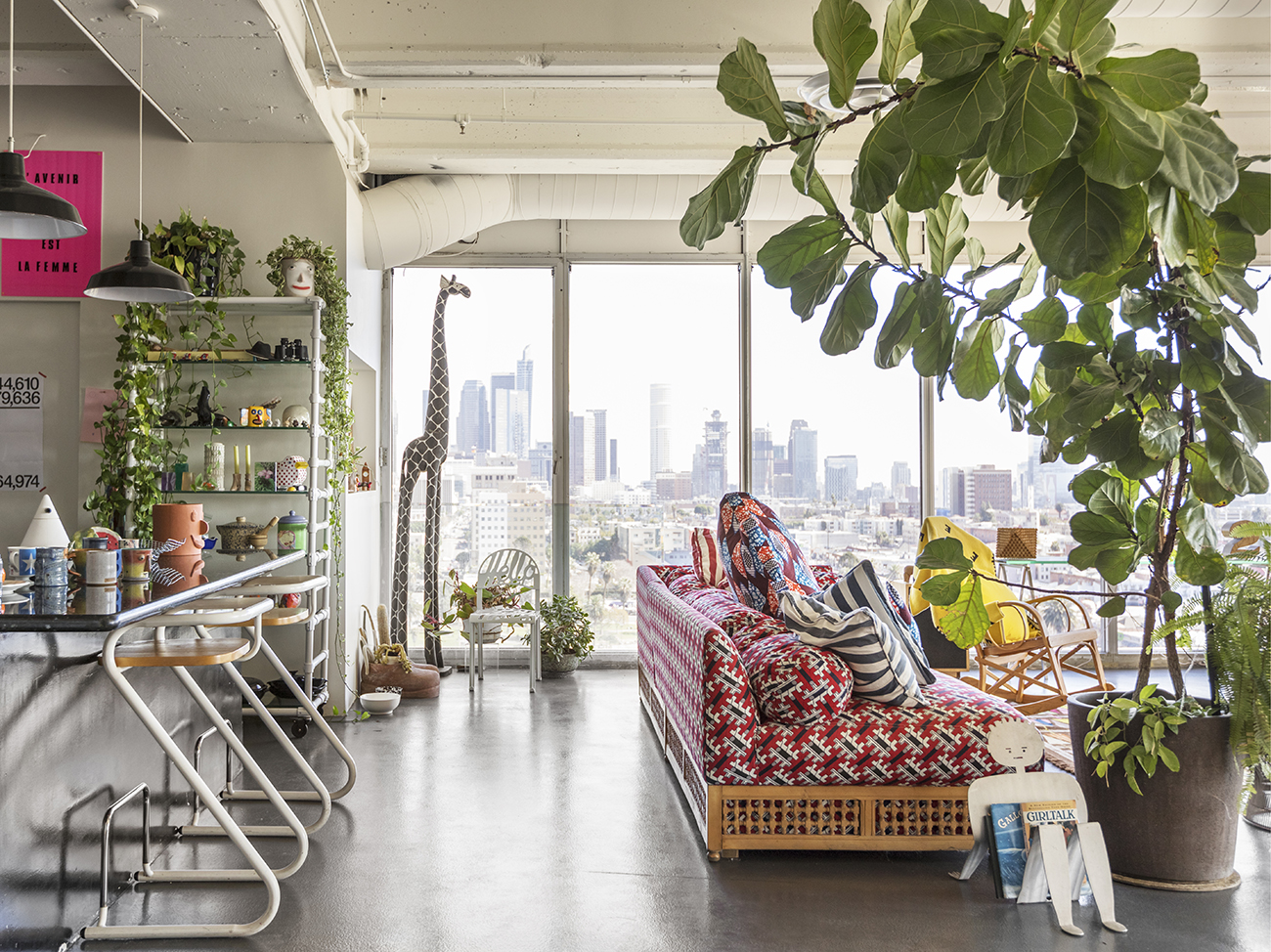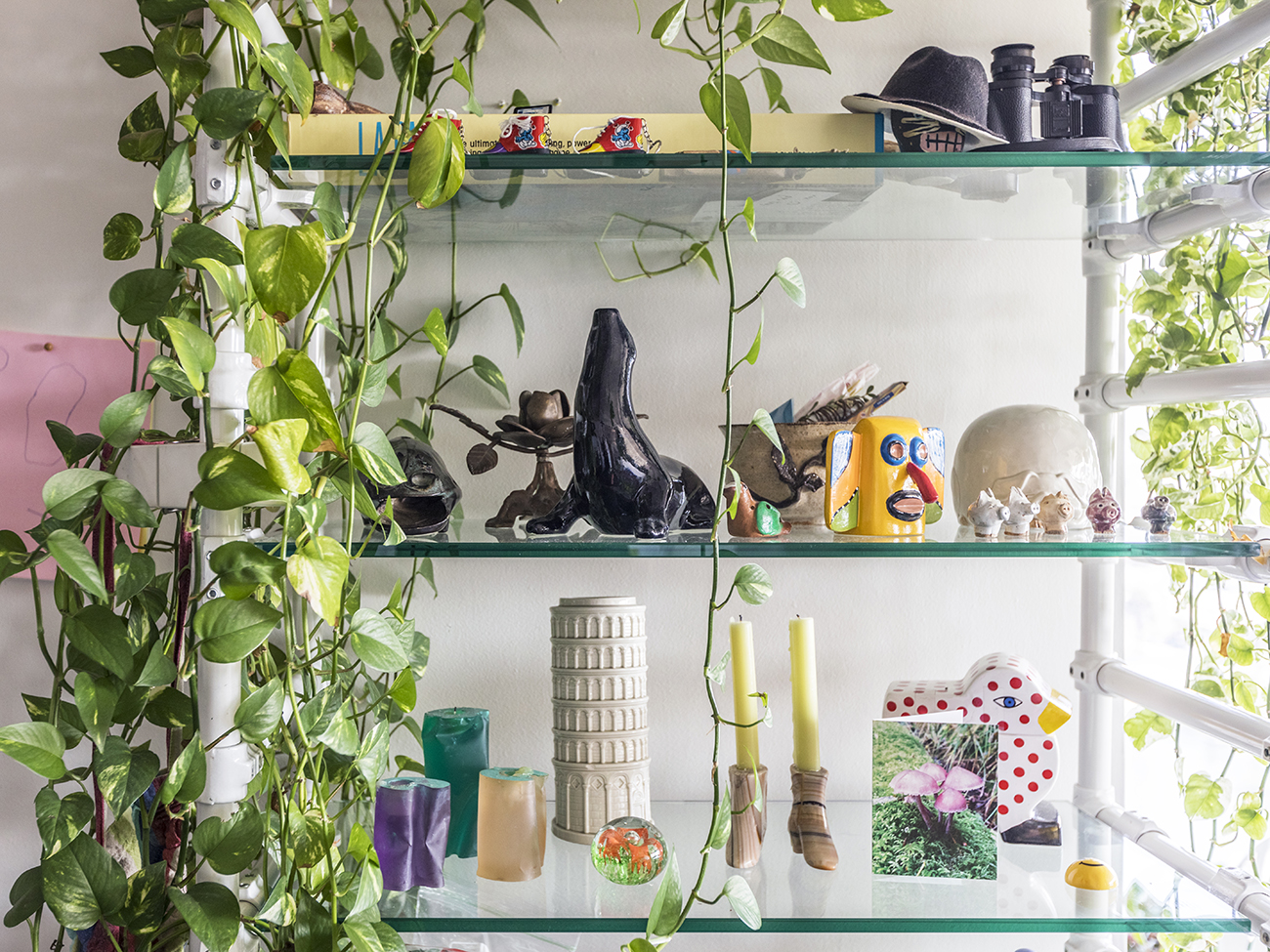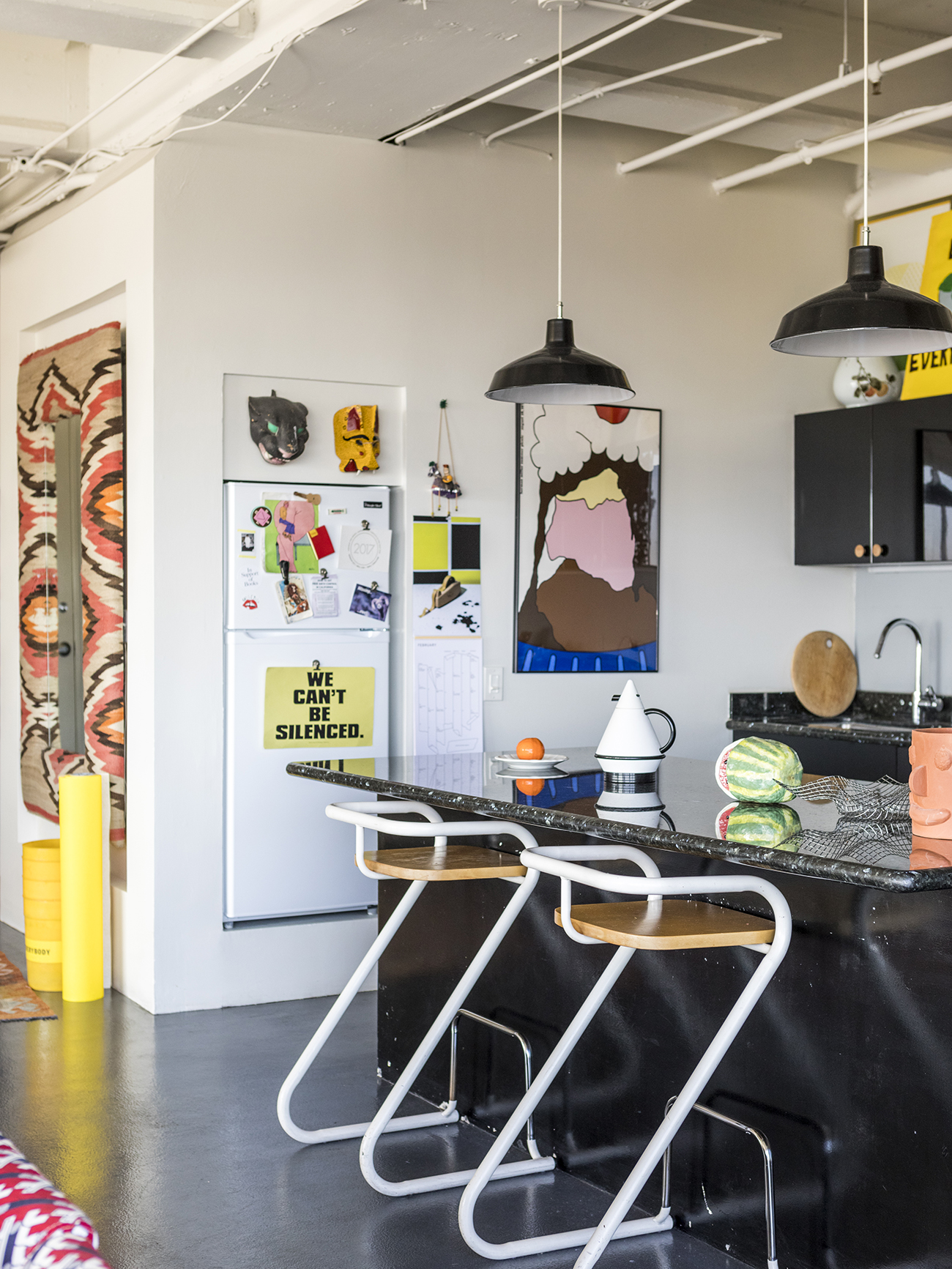 Su: What are some of the design resources and histories that inspire you?
Iris: I know it's already had its resurgence, but Ettore Sottsass and what he created with Memphis is an ongoing inspiration, more philosophically than anything. One of our contributors, Jean Pigozzi, who designed the massive body pillow in African textiles, has not one, not two, not three but four residences designed by Sottsass himself, and he has told us so many incredible behind-the-scenes stories about how and why he made the design decisions he made. Incredible. Like, Esprit, funnily enough, hired Sottsass to do art direction and architecture, but I didn't know that when I was first moved by their spirit (no pun intended) back in the '80s. COLORS magazine is major. The way they told a story when Tibor Kalman and Oliviero Toscani were in charge of it was mind-expanding for me. Nest magazine and all its unapologetic strangeness and dark humor is fabulous. The aesthetic is actually secondary to the message for me.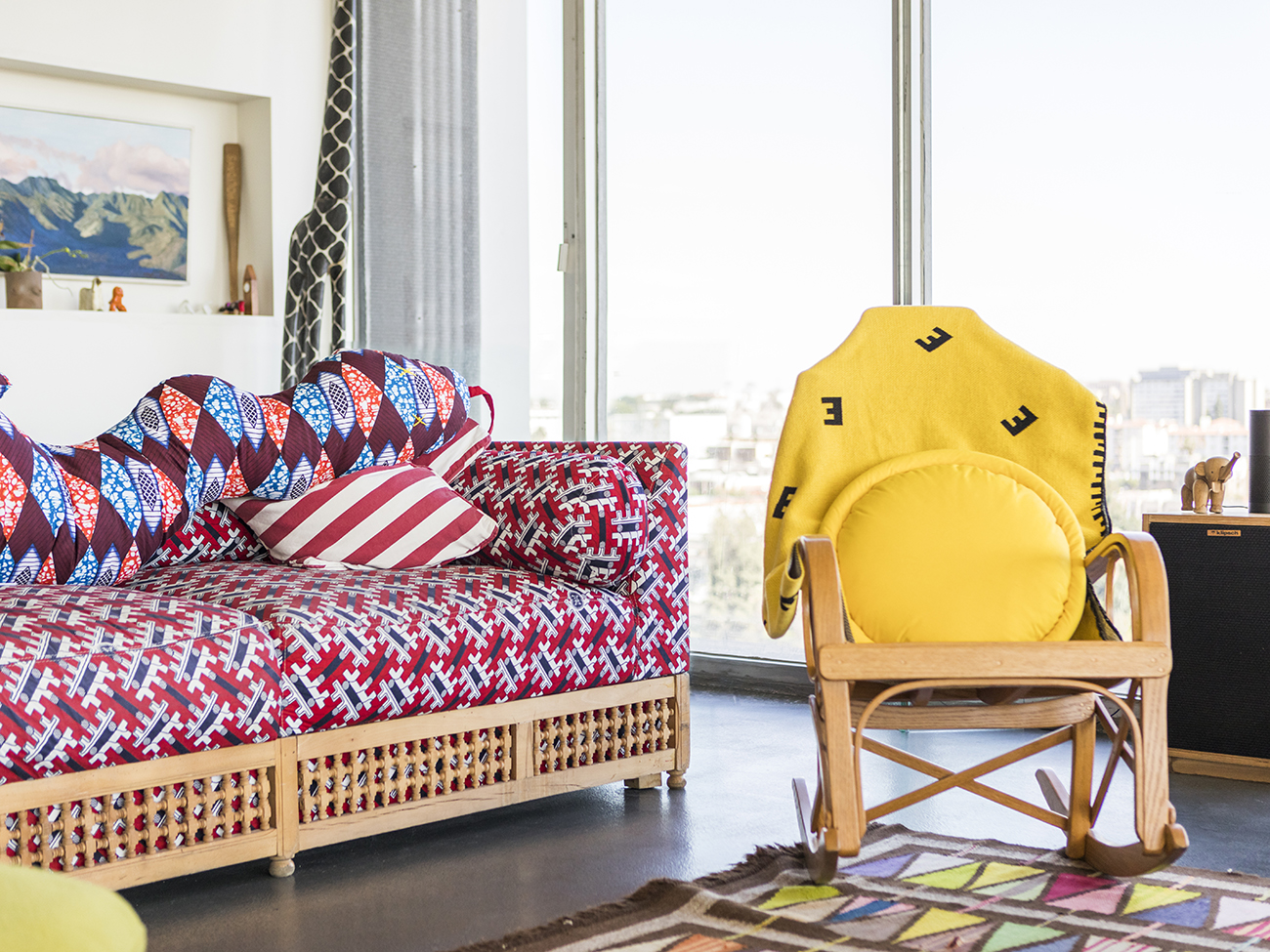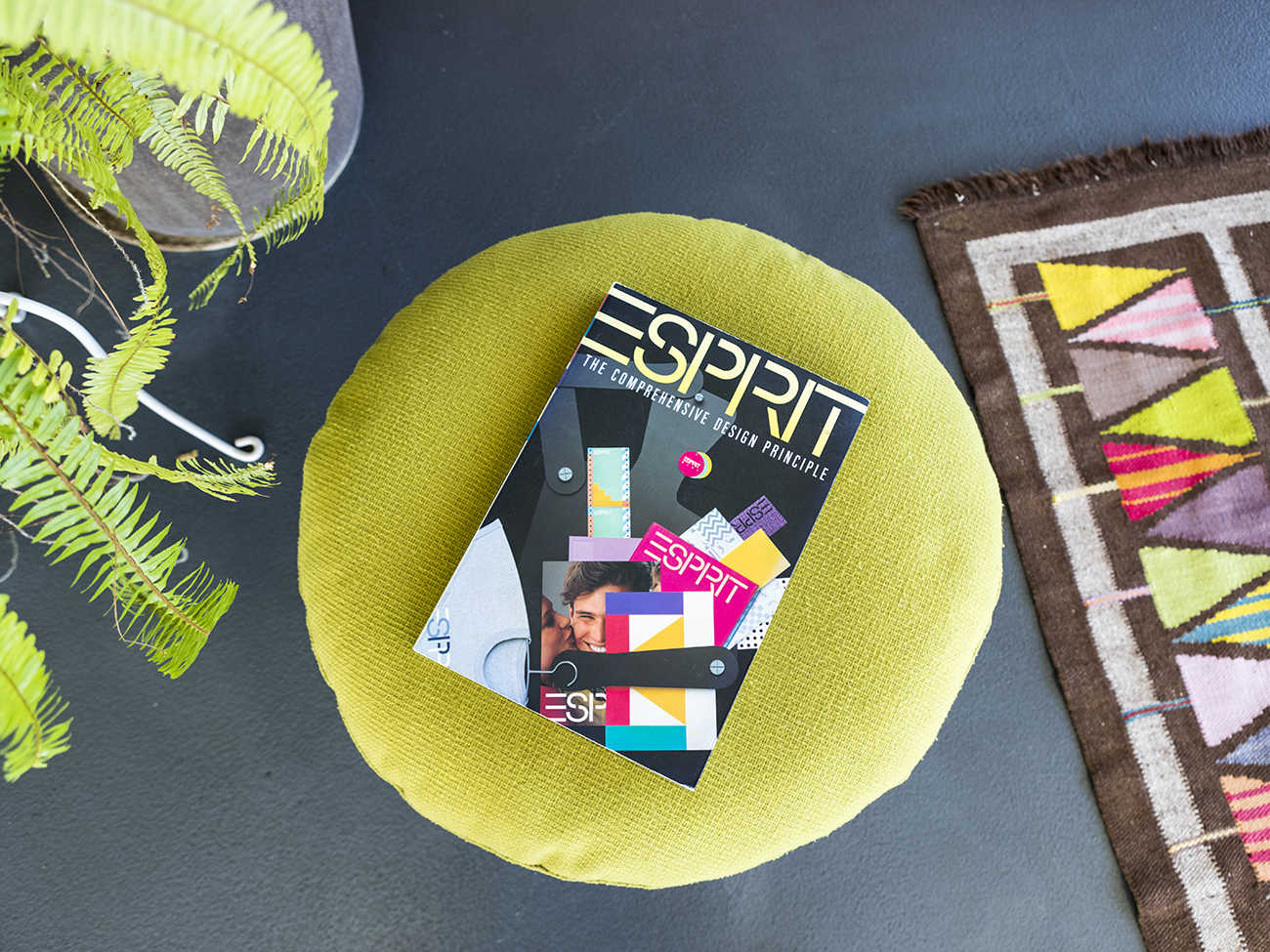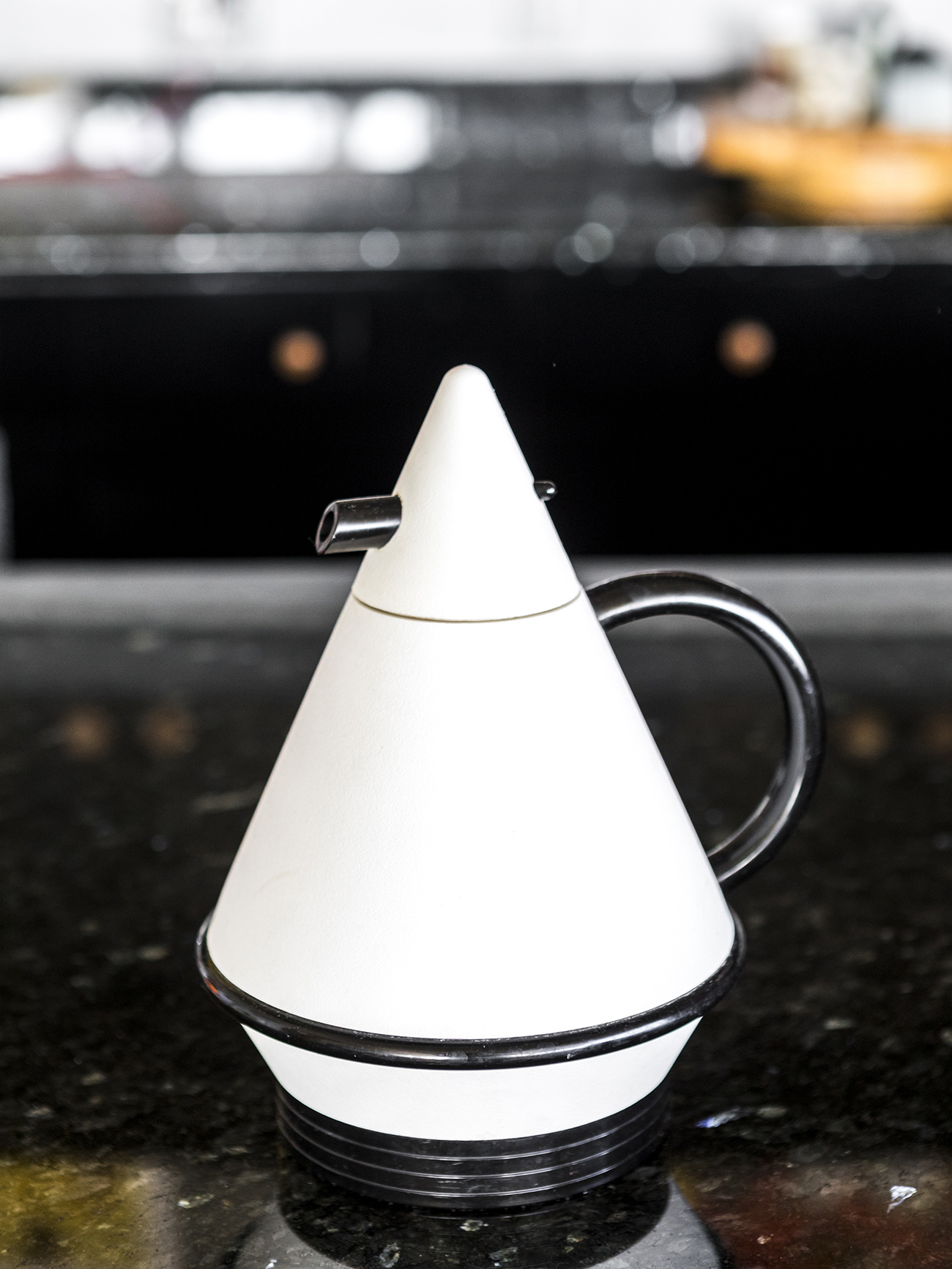 Su: How did you develop your eye?
Iris: When I was about fifteen and getting ready to graduate from high school (I finished a bit early), I wanted to start working right away. My mom asked what I wanted to do, and I said, "I want someone to pay me to have ideas about everything." She was, like, "Honey, that's not a job." About twelve years later, when I was given the title of Creative Director at American Apparel, I realized that I had ultimately found that dream job that I wanted when I was fifteen! I can't put my finger on exactly how I developed my eye; I feel like it goes back to childhood, but it's always been spurred by curiosity — through my exploration of history and everyday life and all kinds of people and places, I ended up where I am.
Su: I'd love to talk about the influence of American Apparel. It's way too early for eulogies, but, Iris, you have been called "the most influential former creative director you've never heard of." How would you describe your legacy?
Iris: Ha, that's a funny quote. I don't know, that's a hard question to answer about oneself. I was proud of bringing Nathalie du Pasquier into the company as a collaborator. I think she brought a wonderful sophistication and spirit to the brand when we did her apparel collection. It's not always about new, new, new. There's so much value in appreciating the best of what was and shining a new light on it. I also think our non-stretch, high-waist "mom" jeans that came out in 2011 were ahead of the curve, and I haven't been able to find a modern replacement for them. Also, I'm proud of the Legalize Gay movement which came from my office in 2008, and I feel resonates with the LGBTQ community to this day.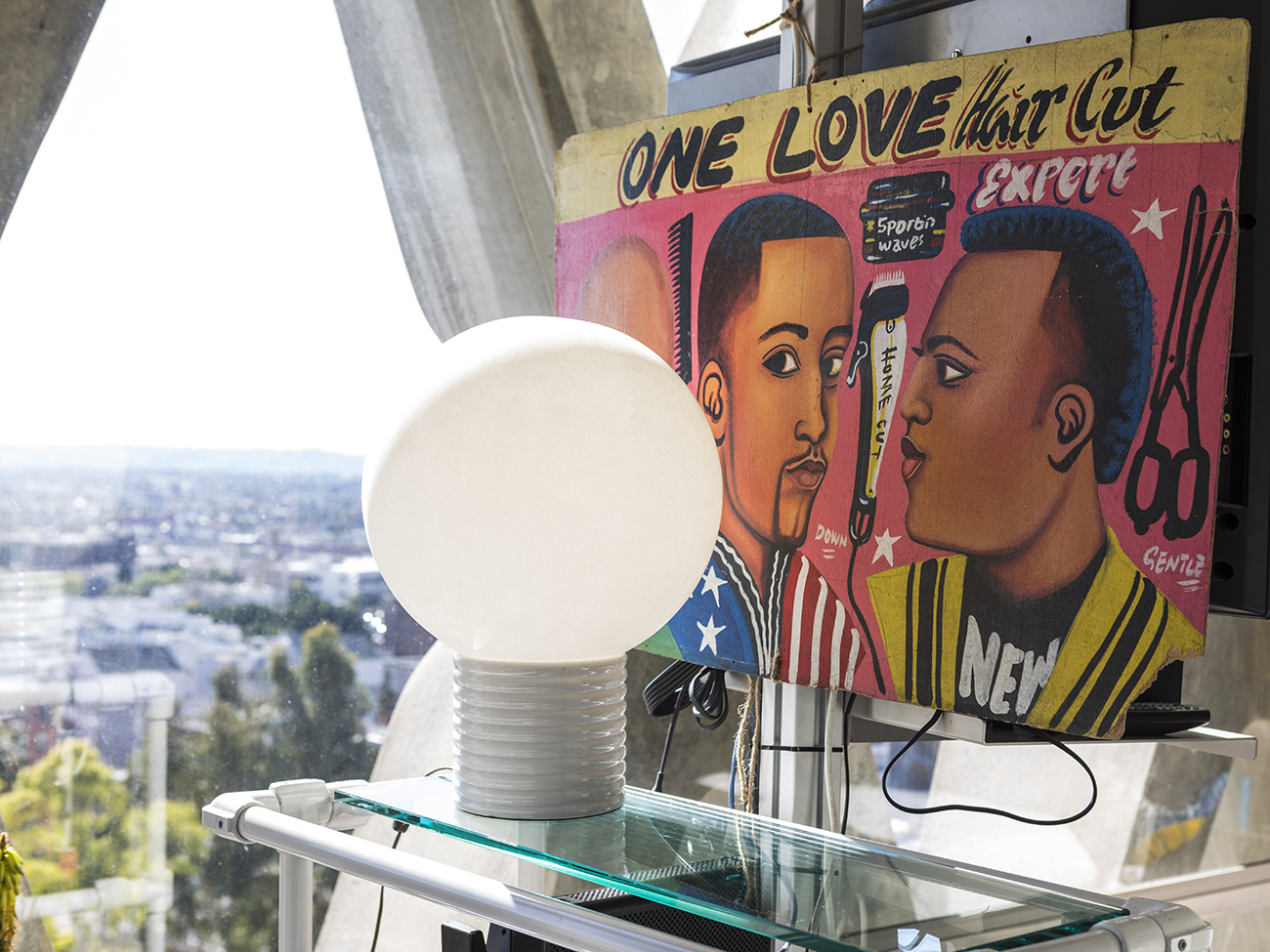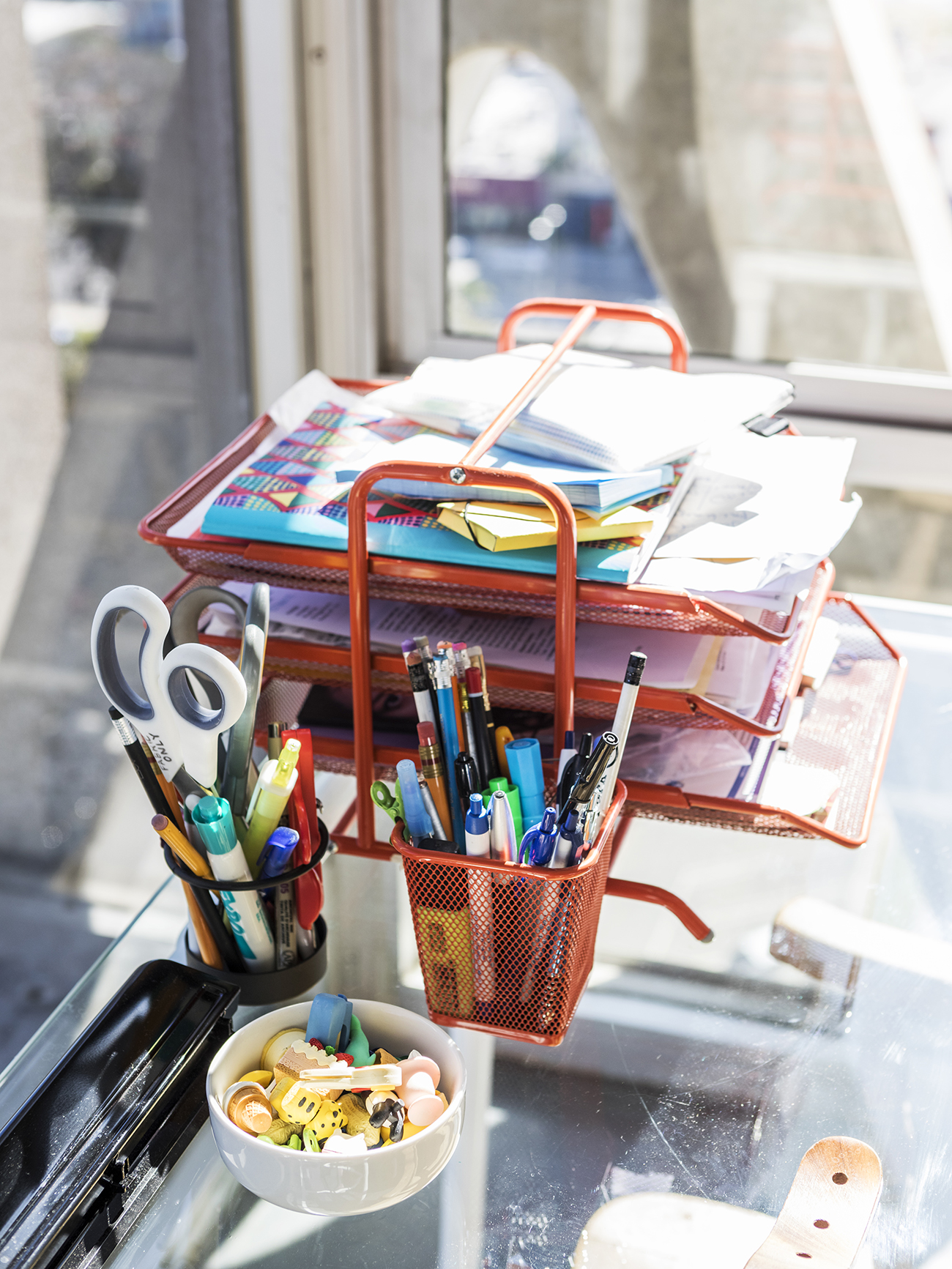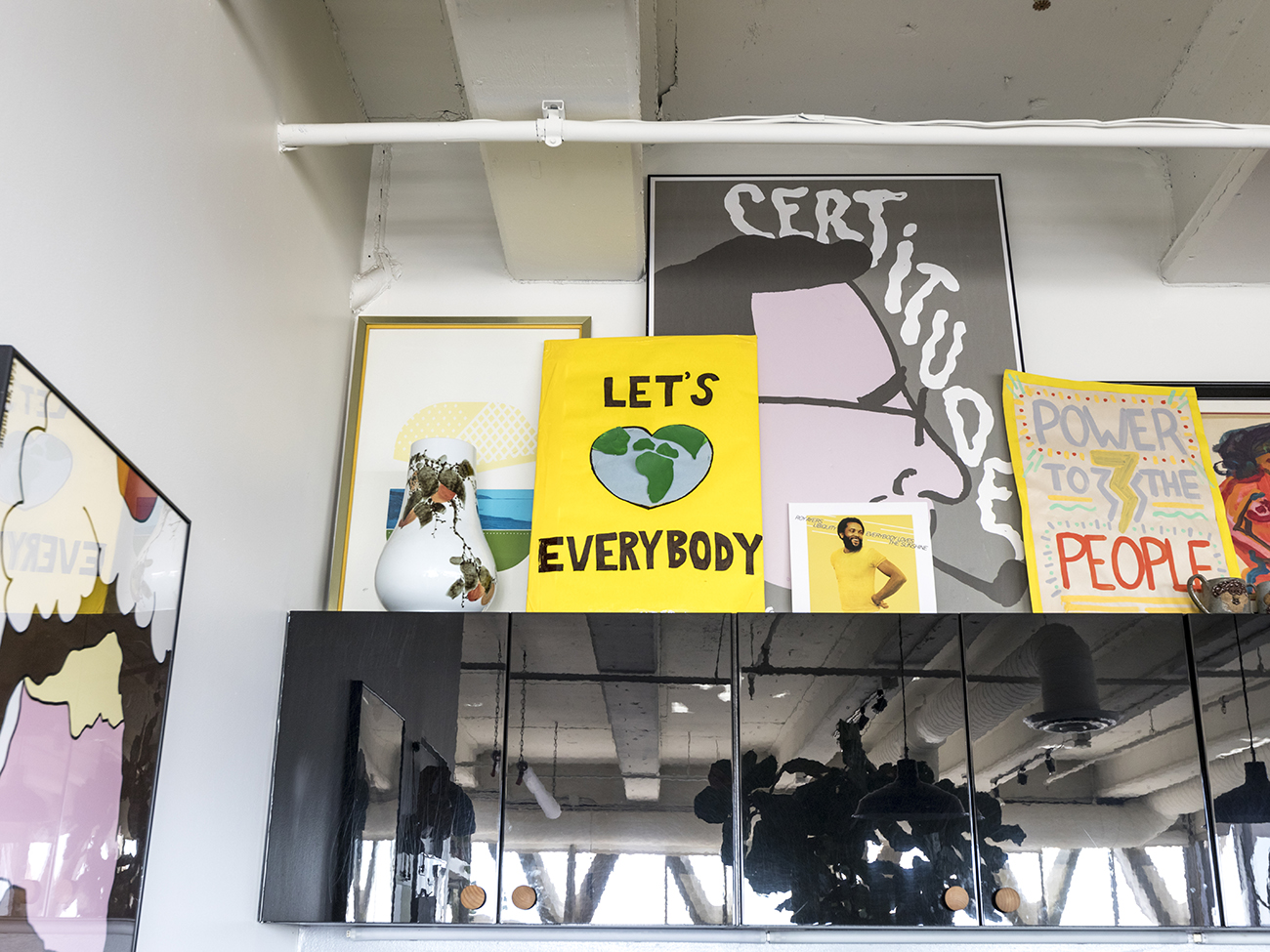 Did you purge most of your American Apparel? Do you have an archive somewhere in your apartment of deep-v tees somewhere, waiting for a comeback?
Carolina: I archived everything into two piles: Classic and Never Again. I stored them in the basement; you never know when you need to reference a piece, good or bad. Currently, we wear as much of our own goods as we can. I'm wearing some jeans I'm developing for women with a little more room on the derriere with EVERYBODY's Tailored Trash Tee, size M. I'm a jeans, t-shirt and sneakers kind of gal most days.
Iris: Uniform dressing is the only way for me these days. Zip up and get out the door. We are getting geared up to offer custom colors in Margot and Ed's flightsuit soon which is a dream come true for a jumpsuit lover!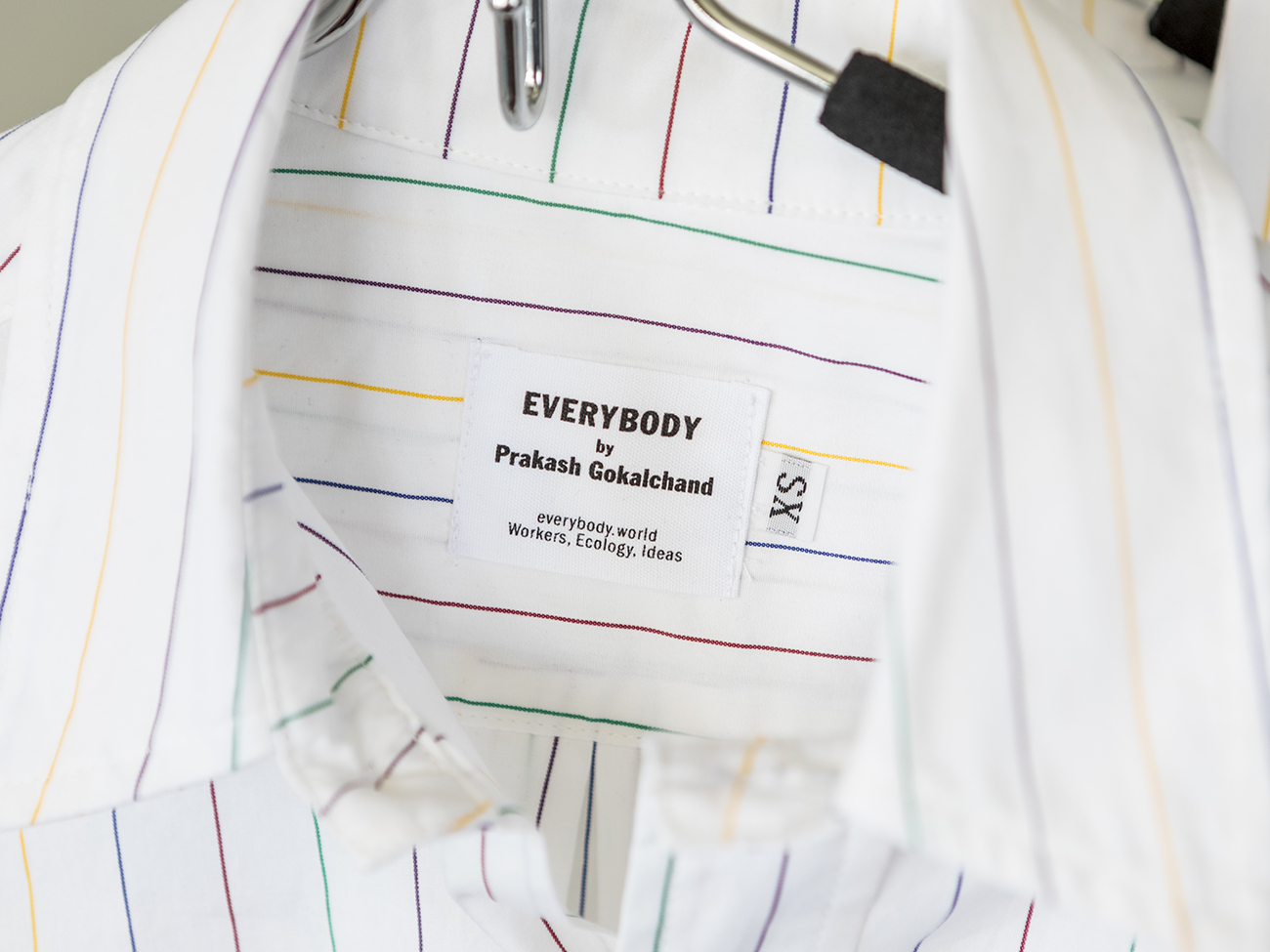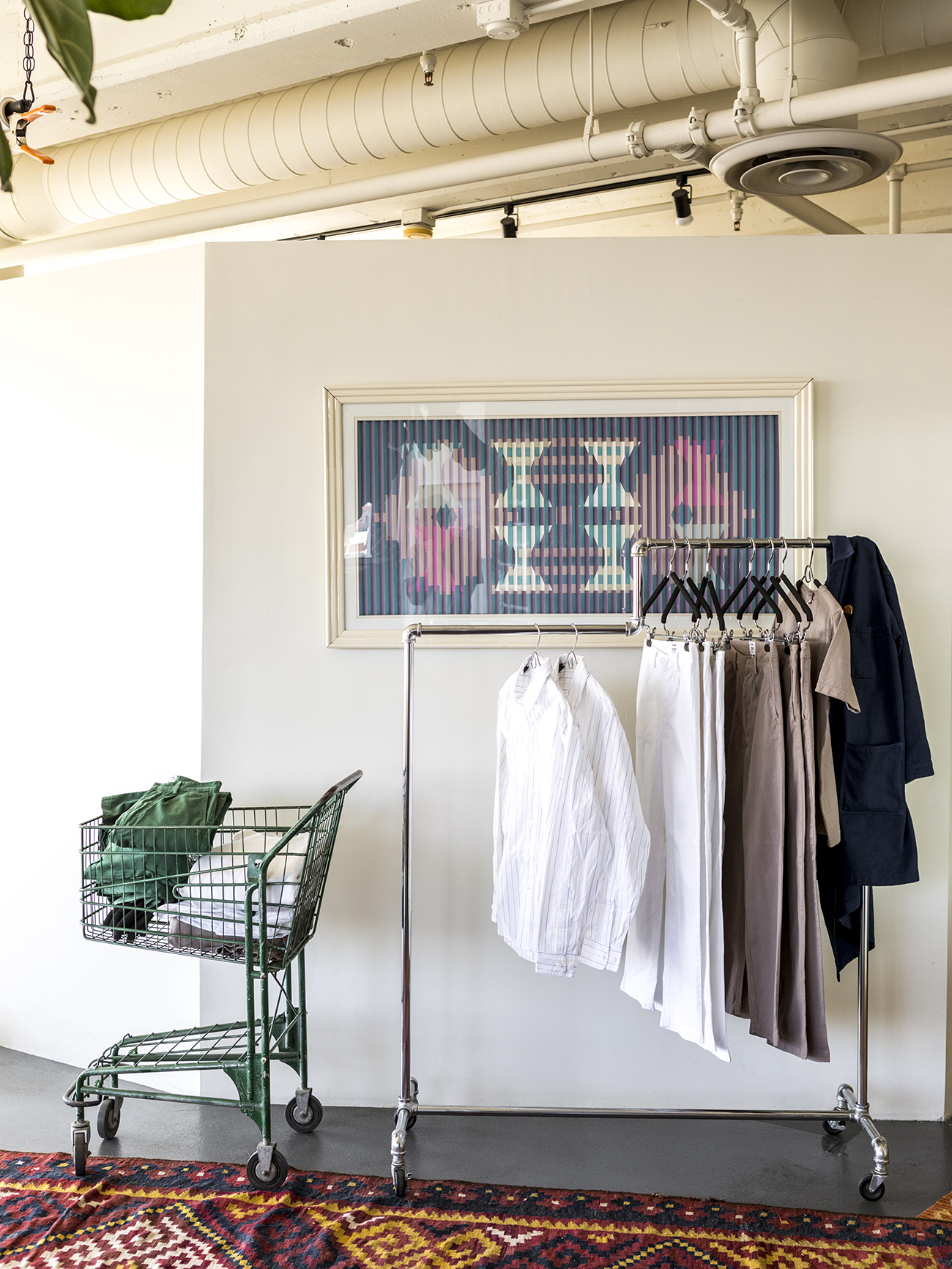 Su: American Apparel had a strong sense of social justice that infamously went awry. What lessons do you take from that about the intersection of commerce and advocacy? What are the things to watch out for, and the things to celebrate?
Both: There is a place for commerce and advocacy, but it really has to be something the founders or people that run the company believe in. At American Apparel, our main thing was championing garment workers and proving that you can build a big business without exploiting the people that are usually the most vulnerable in the equation. Dov [Charney, American Apparel founder] believed in this with every fiber of his being and would eliminate his salary (which he did over the years) before touching even a single dollar that goes to a worker.
When Paula Schneider and a hedge fund took over the company, one of the first things they did was furlough the worker's hours, which did irreparable damage to the stability of those people and their families, yet they continued to tout "sweatshop-free" and ran ads about how much they loved the garment workers. It became a marketing ploy rather than a real thing — and it collapsed from underneath them.
Su: Do you think of EVERYBODY as a political project?
Both: Not specifically. First and foremost, EVERYBODY is a brand that makes and sells thoughtful goods. However, we have an immovable set of founding principles that are inherent in every aspect of our business. We weren't interested in even going down the path of starting a company unless we could feel good about our big picture — celebrating and doing right by garment workers, the planet and the creative people involved (we sum it up to Workers, Ecology, Ideas). If things are going to change for the better in the notoriously exploitative apparel industry, everyone that is part of the equation — consumers, manufacturers, brands — have to hold hands and make better choices together.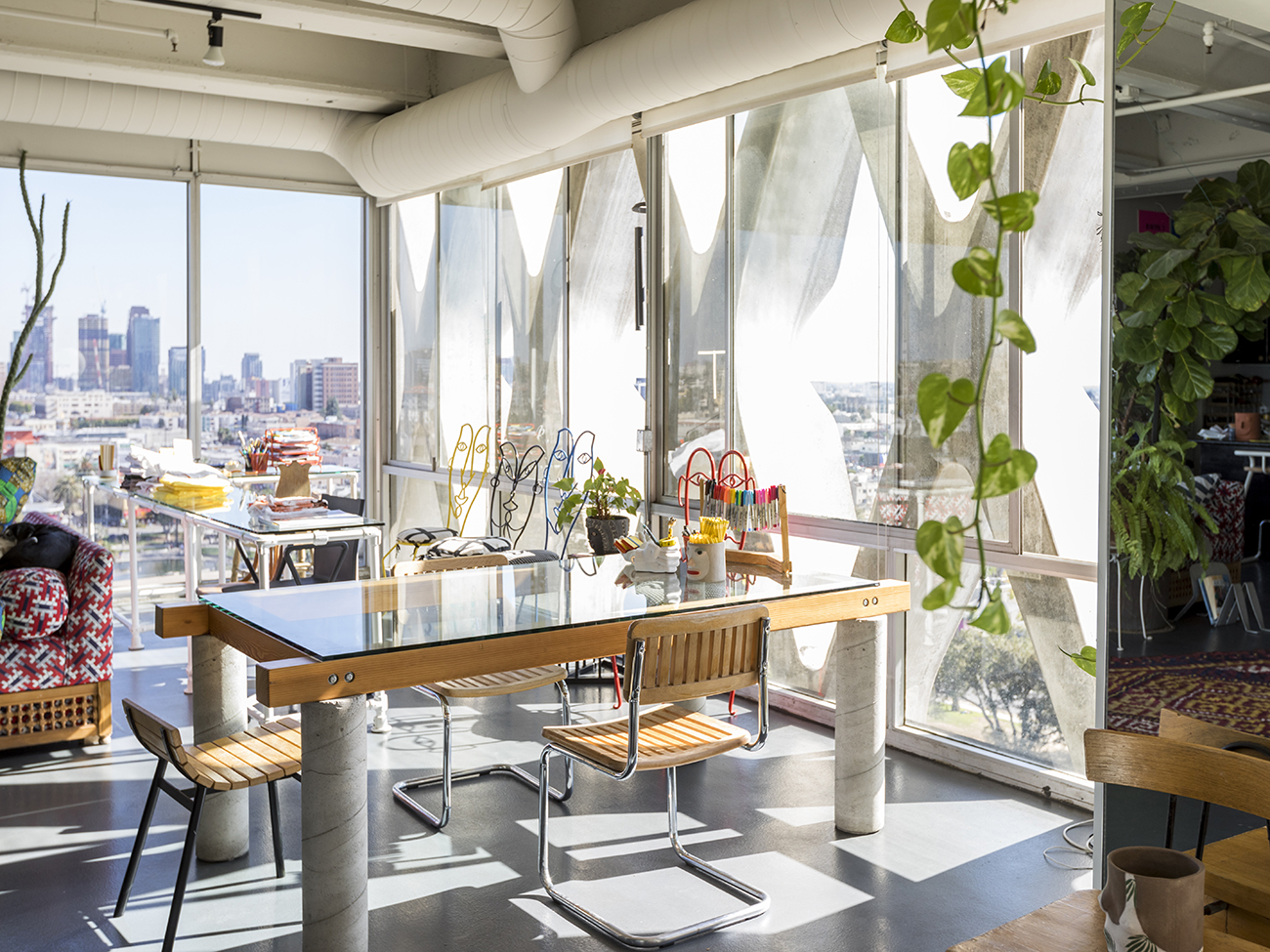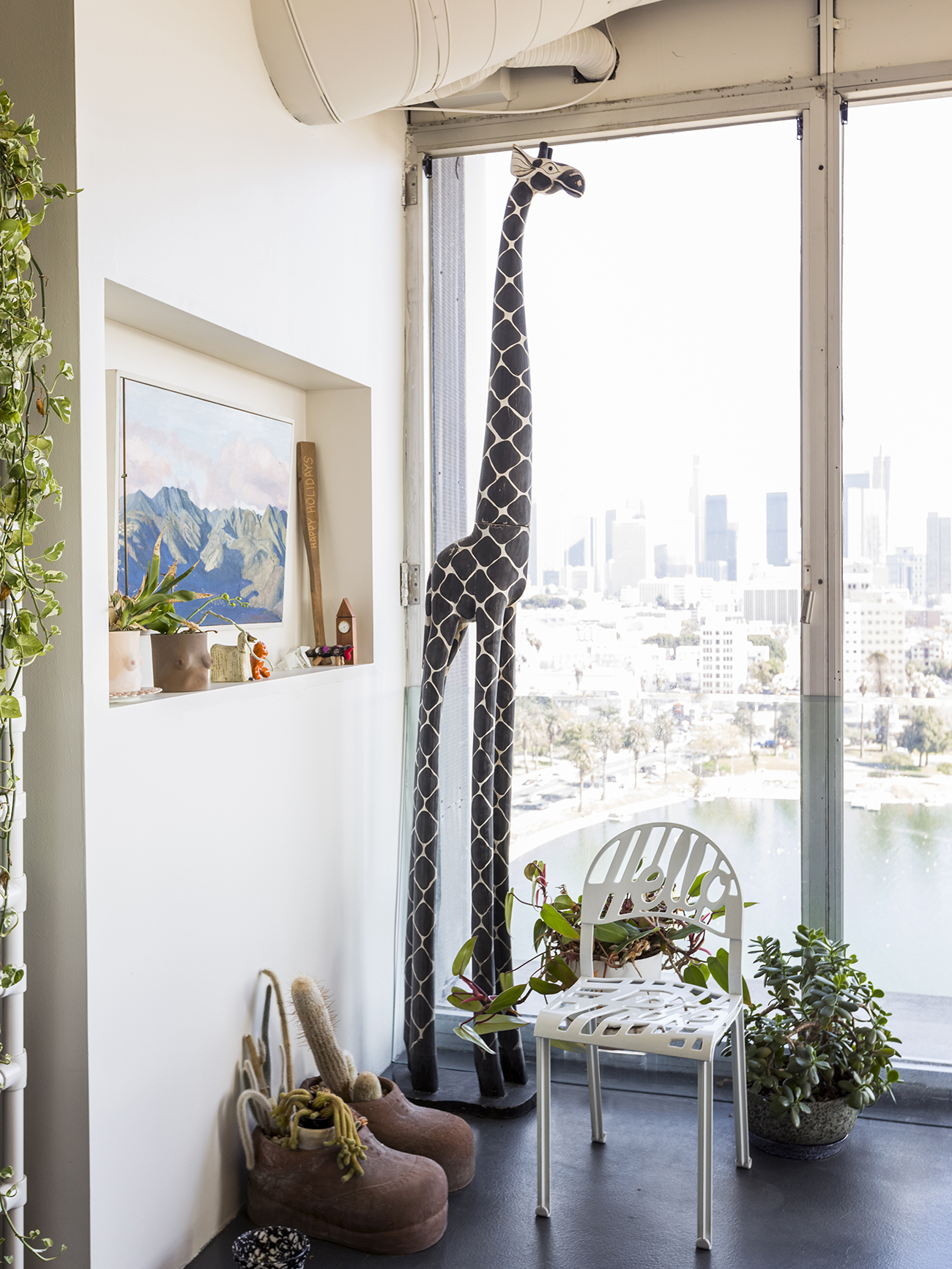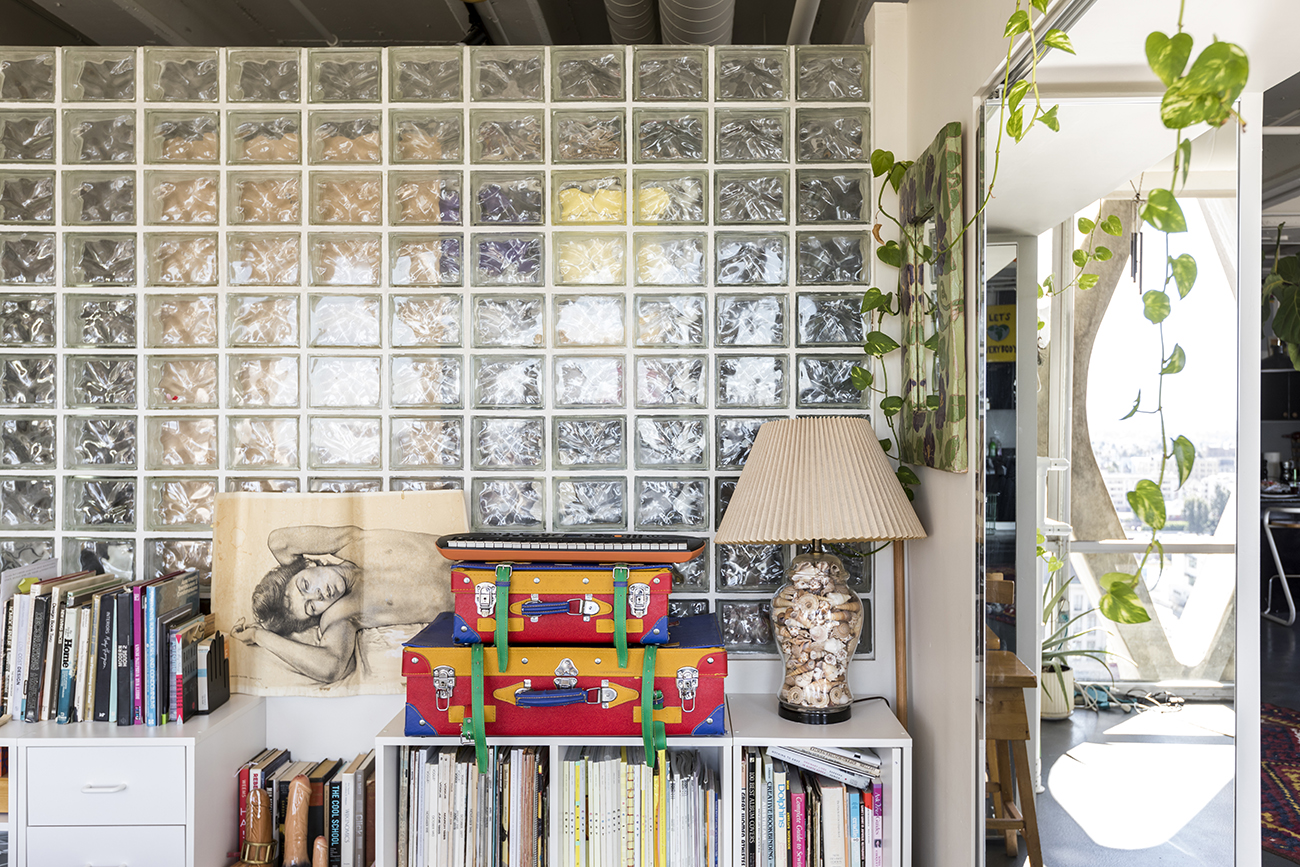 Su: Why work with non-designers? How do they see the world differently than designers? 
Both: We thought there was something important about handing the microphone (or the sketch pad, in this case) over to the customer. They have been shopping and dressing and dealing with the trials and tribulations of finding things they need and love for as long as they've been alive, and our contributors really seem to be designing to solve a problem rather than designing for something to look good in a magazine spread. Not that all professional designers only think about form, but we think the products we've made so far reflect more of a real-life functionality. Also each contributor we work with offers up a rich perspective, history, aesthetic and story that we think brings depth and humanity to a single garment, rather than it just being a thing that was manufactured and now sits on the planet for no real reason other than to fill a seasonal collection.
Su: What is the role of travel in your creative life?
Both: At this point in time, we can only travel if it benefits our business. That said, wherever we go, whether it be South Central or South America, we take every opportunity to dive into local culture, individuals and history to feed our curiosity and also potentially inspire our future. The world is a fascinating place and humanity, while it has its darkness, is also deeply beautiful.
Su: Where do you shop for home goods?
Carolina: We love finding one-of-a-kind gems at thrift stores, on Craig's List, at flea markets. Other times we have something really specific in mind and because we are in a wonderful city where you can literally make anything, we have it made. Industrial Metal Supply and the various marble yards on the East Side are amazing resources! We also don't have a problem mixing in things from mass retailers, like Target or Ikea. The key is quality and style. Sometimes it's a needle in a haystack, but you can find some good staples.