01.07.15
Oyyo, Swedish Textile Designers
Lina Zedig and Marcus Åhrén, of the Stockholm-based studio Oyyo, take a best-of-both-worlds approach to their work. If Zedig is the self-described perfectionist who obsesses over color and composition, Åhrén is the "action person, always keen to get new projects going and thinking that everything is possible." For their first collection, which launched in 2013, they employed age-old techniques to craft flat-weave dhurries, but imbued the familiar form with unexpected geometric and architectural patterns. And while their carpets — in combinations of pastel pinks, yellows, and oranges, deep blues, greens, and black — have a cozy, at-home feel, they also reflect the restless, roving spirit in which Åhrén and Zedig, avid travelers, created them. It's design for settling in, not settling down.
Åhrén and Zedig met 15 years ago as university students. "We did our final thesis project together, fell in love, and ended up moving to Stockholm together," says Åhrén. (Åhrén grew up in a suburb, Zedig "in a wooden house surrounded by pine trees in the Swedish countryside. There was a lot of mushroom picking and ice fishing.") Zedig went on to study textiles and weaving — "I've been a fiber nerd for as long as I can remember," she says — eventually starting a clothing line, Via Snella, while also doing interiors and installations. Åhrén pursued marketing and business, and founded Stick magazine, which was "something in-between Interview and Nylon with a Lucky Peach attitude." Though their professional lives often intersected, it wasn't until 2011 that they decided to establish Oyyo. The rugs, says Zedig, were a "natural starting point."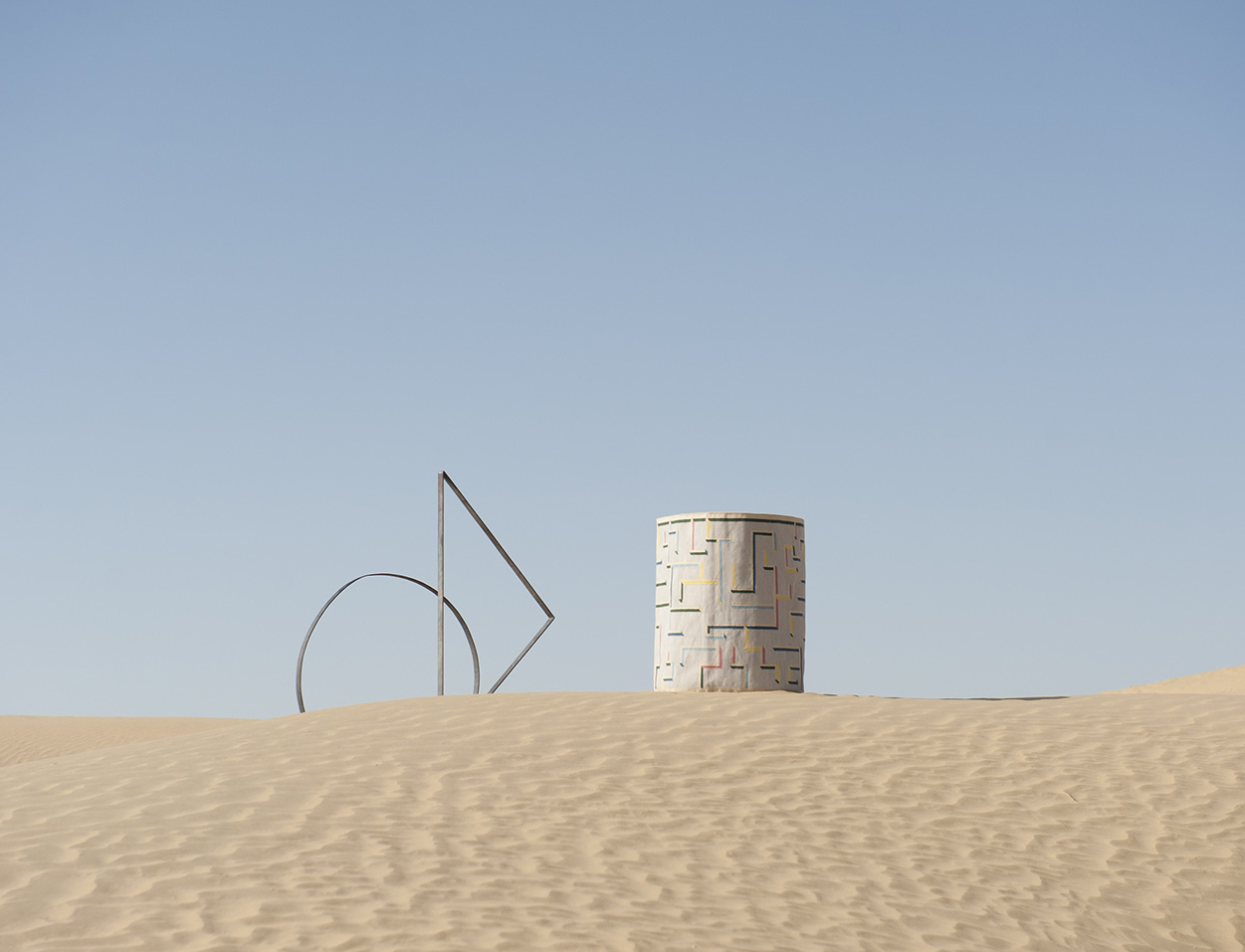 "In Sweden, we have a rich tradition when it comes to woven textiles," says Åhrén. "Most homes have several carpets and the flat woven types are most common. So we both grew up surrounded by textiles and when we started researching the Indian dhurrie we saw so many similarities to the Swedish röllakan carpet that we felt an instant connection." When figuring out how to fabricate their initial collection, they realized that much of "what is being made today is a watered down version of the antique dhurries that we fell in love with. In India, as well as here, the focus on price and faster production times has affected craftsmanship. We wanted to reintroduce a higher quality," which includes using vegetable dyes and organic cotton. They eventually found a community of weavers, in Rajasthan, who helped them realize their vision.
Åhrén and Zedig are currently back in India, escaping the Nordic winter and excitedly ramping up production on their second collection. We reached them over email to get to know these two a bit better.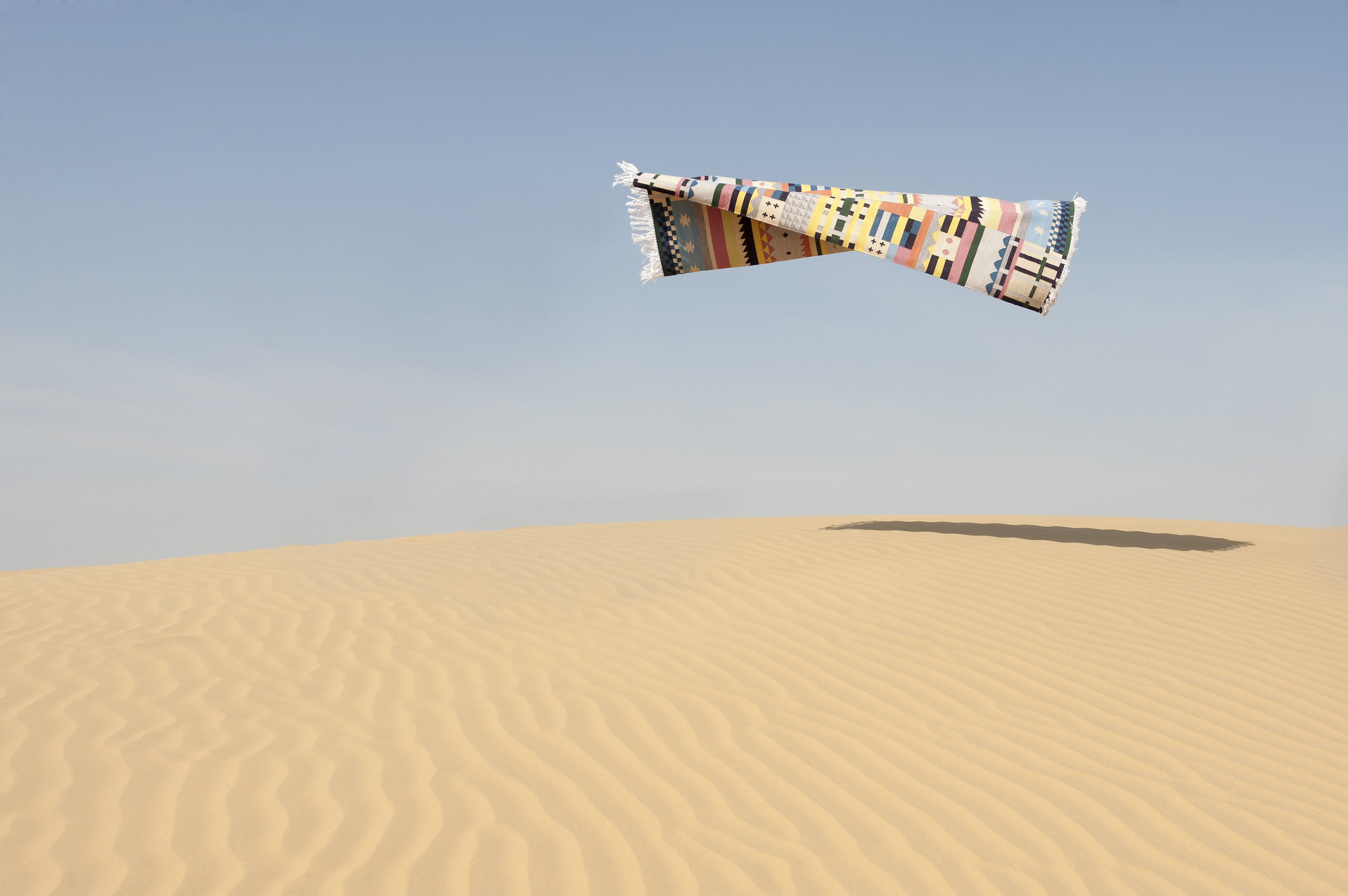 What influences your pattern and color choices?
Marcus: "When composing the patterns for the first collection, we first developed the color palette and after that the patterns came to us quite naturally. The inspiration comes from all over the place. Never Ending Story (above) for instance, draws inspirations from the Bauhaus movement and its textiles. Gunta Stötzl is an obvious inspiration, the way her patterns don't have a beginning or an end and how they effortlessly draw you in."

"I believe you can see a clear heritage of the Swedish tradition of flat weave in our designs. It is mainly manifested in the use of color and there are also elements in our patterns that can be found in patterns from Swedish flat weave from the 1920's through the 60's. Designing for this type of textile, you have to take into consideration the inherent voice dictated by the techniques of the flat weave. Certain figures are easier to work with and therefore you can find these types of figures in flat weaves from all over the world."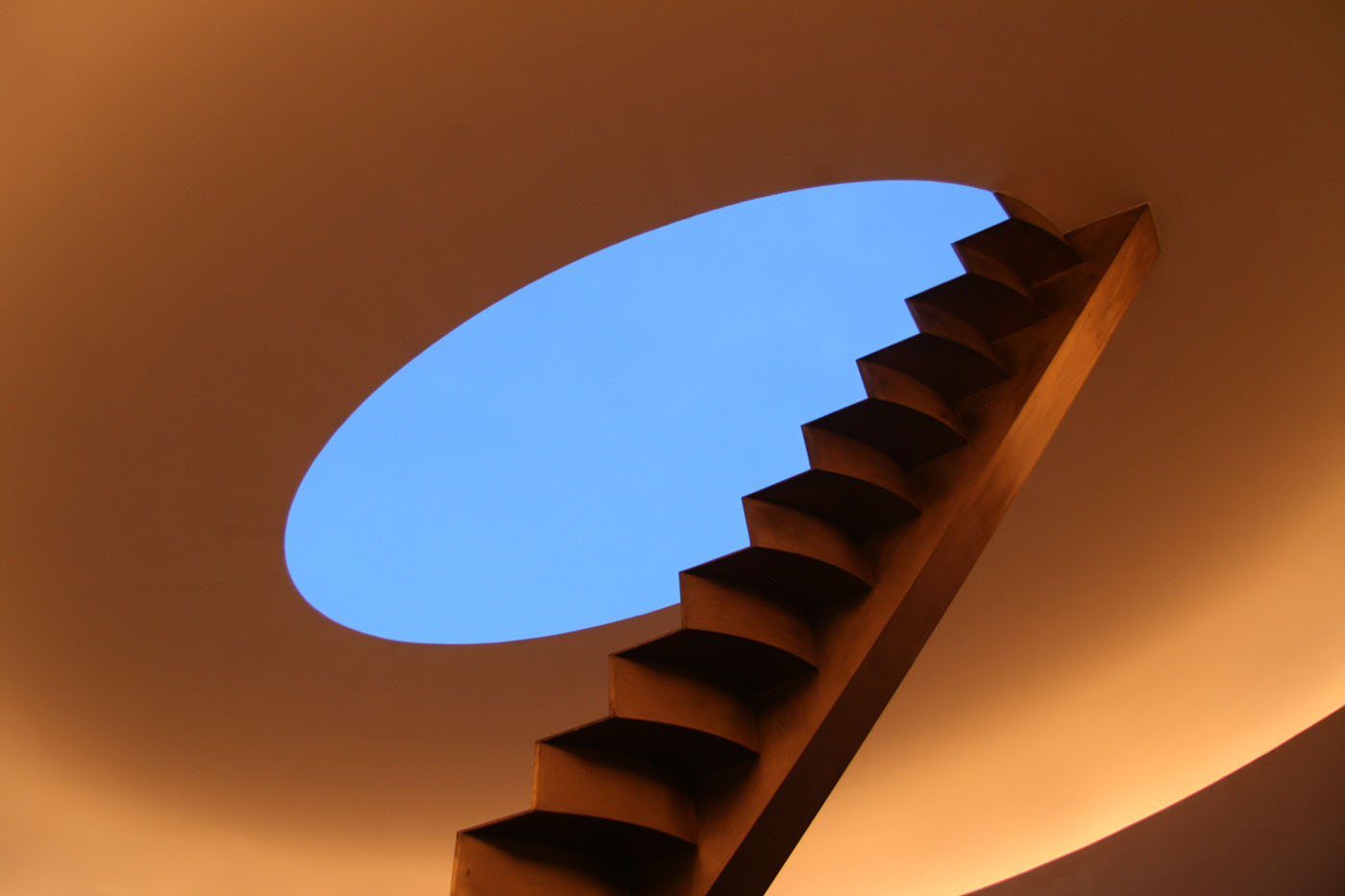 Who's your design or art hero?
Marcus: "James Turrell's work and dedication is truly inspirational. He had this great exhibition outside Stockholm a couple of years ago. I am dreaming about visiting Roden Crater when it's completed. Actually, one of the dhurries in our first collection got its name after the crater, being our very own tribute to light."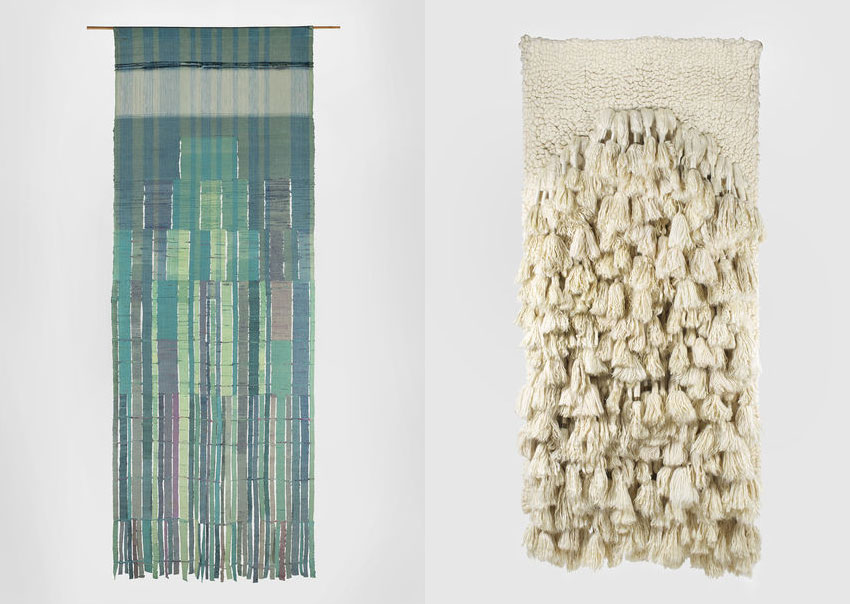 Who's your design or art hero:
Lina: "Sheila Hicks. I was lucky enough to see a retrospective exhibition of her work some years ago. I almost cried — a close friend I brought with me had never seen me that excited!"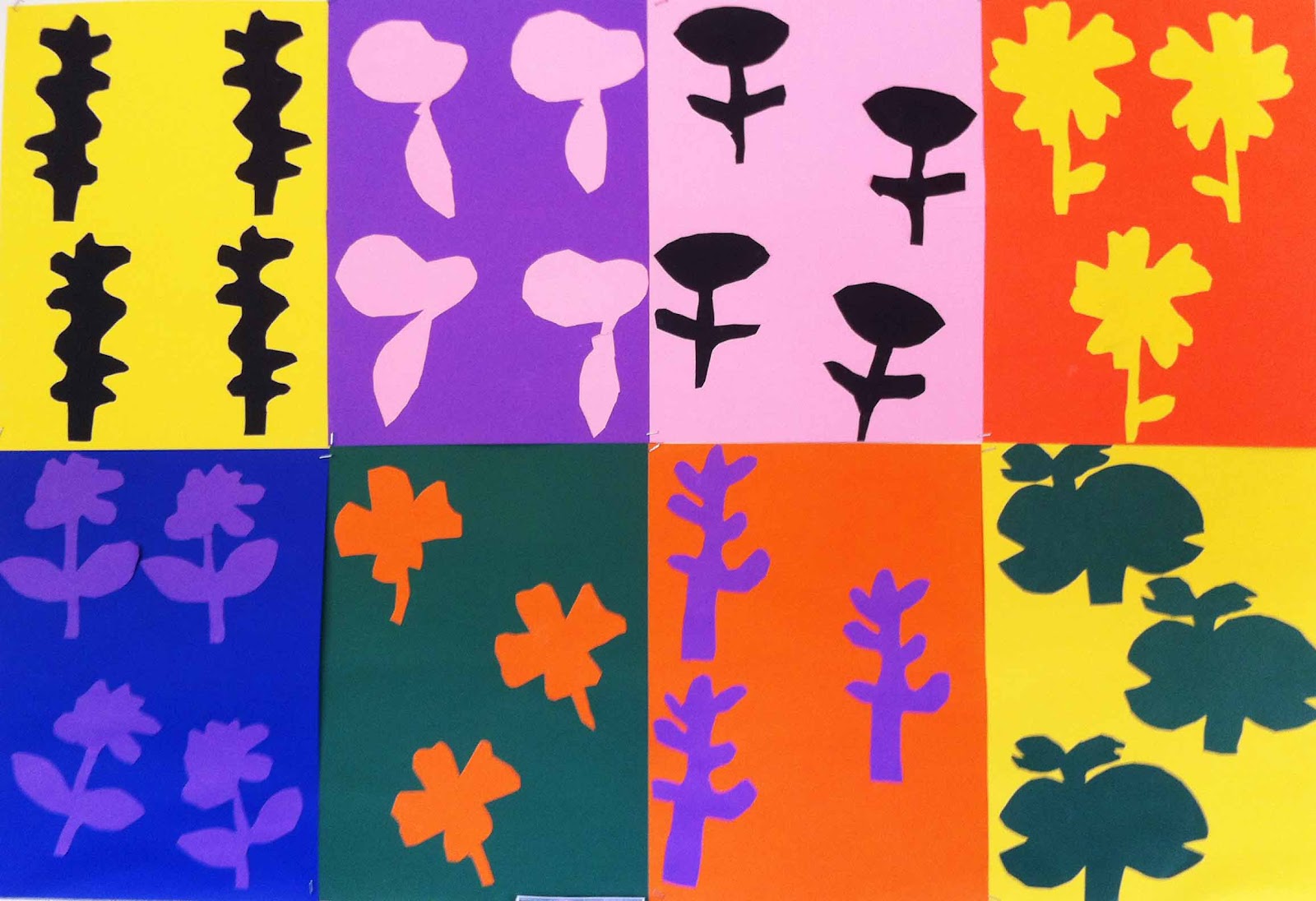 Last great exhibition you saw?
Lina: "Henri Matisse: The Cut-Outs, at MoMA. Sometimes when you get stuck, a beautiful experience like this can just kick you into movement again."
Marcus: "The Fab Mind: Hints of the Future in a Shifting World, at Tokyo's 21_21 Design Sight, last autumn. A really interesting exhibition focusing on the attempt to understand and resolve social issues through design, nicely curated by Noriko Kawakami and Ikko Yokoyama.
Where do you go to be inspired?
Lina: "Jodhpur's old city is pretty much as intense as India gets and it's a trip every time. Last year we visited the Rock Garden of Chandigarh, and I've been returning to the photos many times since then. The space itself and the history behind it is quite something."

Marcus: "Japan, for the craft and architecture. There is a general mentality in Japan that is deeply rooted in their culture that takes craft to another level: kaizen; to continually become better at what you do everyday."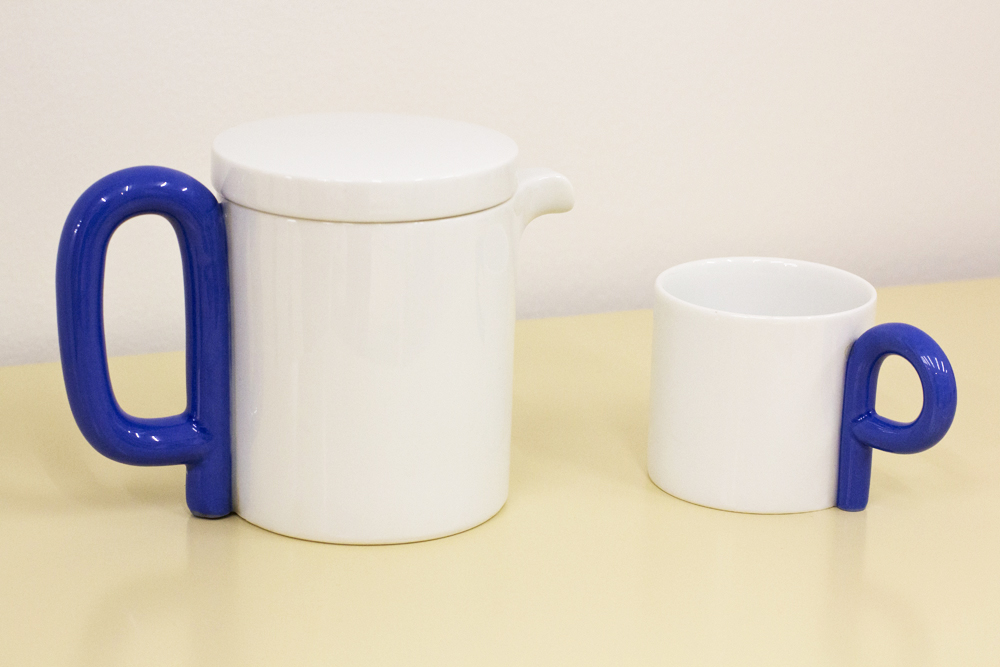 Favorite everyday object:
Lina: "My studio teapot. It's a Masahiro Mori from 1979 made by Hakusan. I use it daily and I love the shape and it always makes me smile. I'm a constant tea drinker and during the winter months I drink heaps to keep me warm."
Marcus: "My left-hand brass scissors that I bought in India last year and my silver necklace that I wear every day. It's a perfume pendant from a collection Lina made with some really talented silversmiths in Sri Lanka. I just filled it up with my new favorite scent, Onsen, named for the Japanese volcanic hot springs."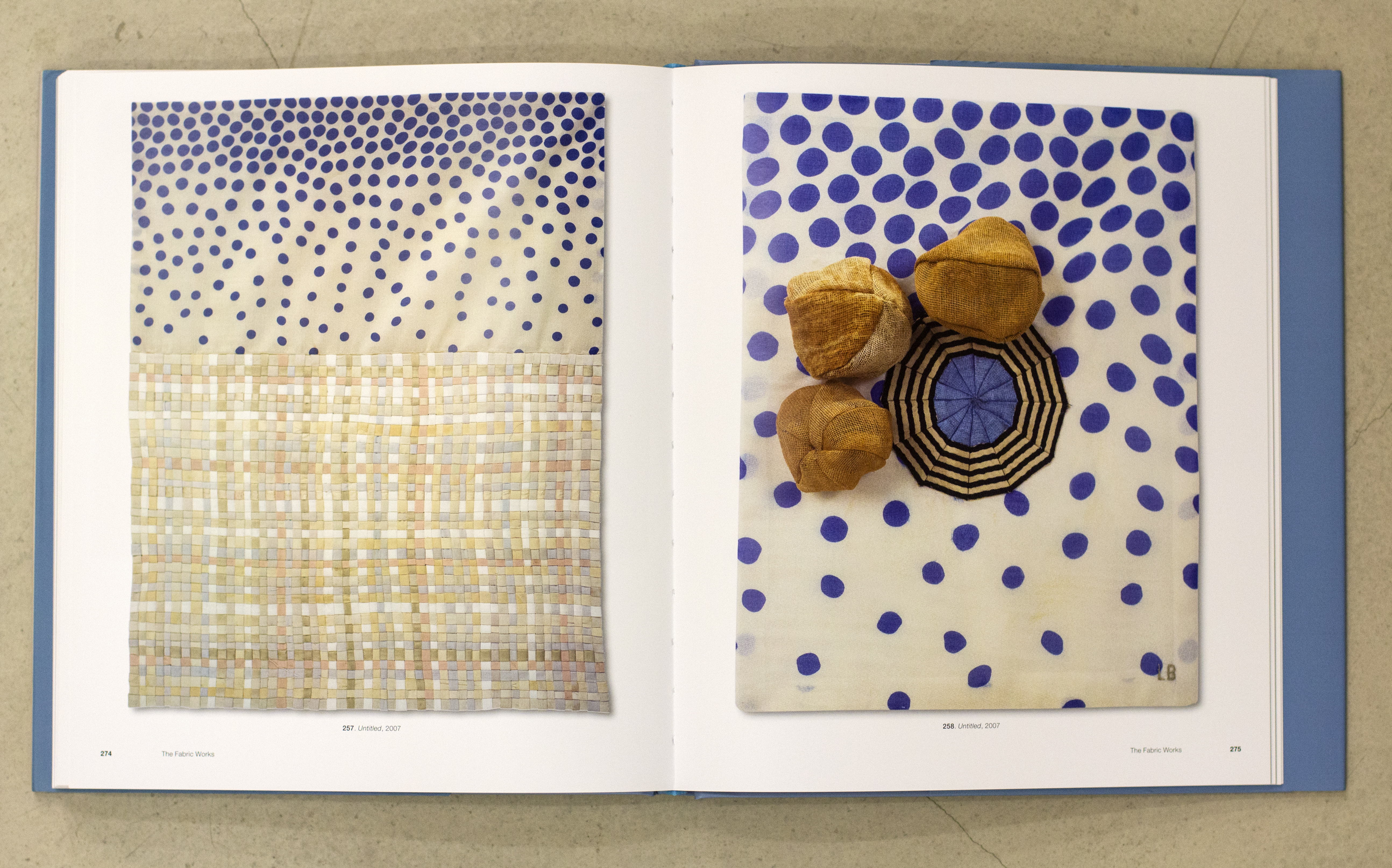 Favorite design book:
Lina: "One book that I always come back to is Louise Bourgeois: The Fabric Works (above). Sheila Hicks: 50 Years is another favorite."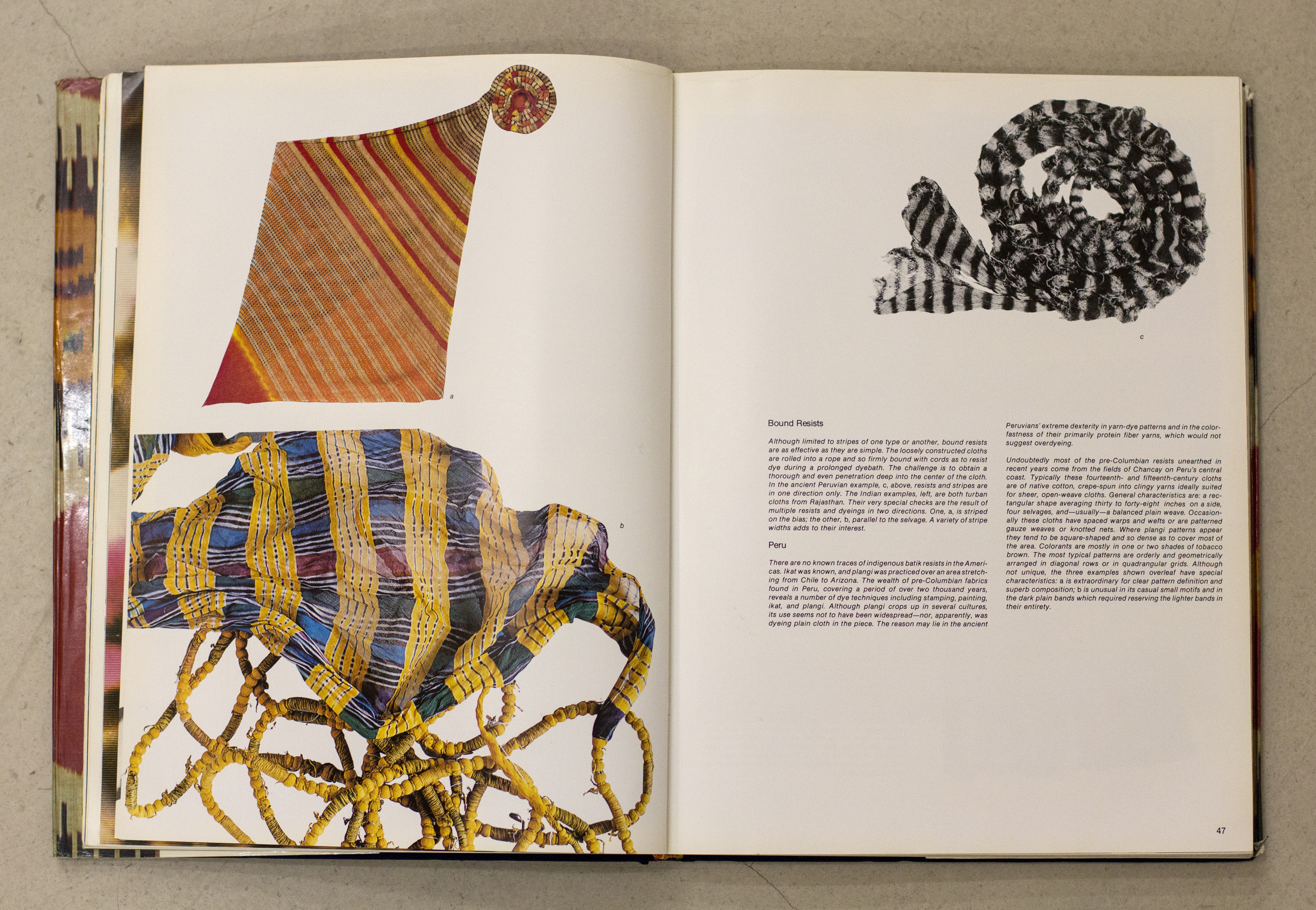 Favorite design book:
Marcus: "Right now it's a vintage book about Ikat weaving, The Dyer's Art: Ikat, Batik, Plangi by Jack Lenor Larsen (above), that has been on my desk the last few weeks. I often revisit a book of Scandinavian vintage carpets that we had printed. It's a great library of carpets that we've collected over the years. I connect in a totally different way to printed matter compared to my digital images."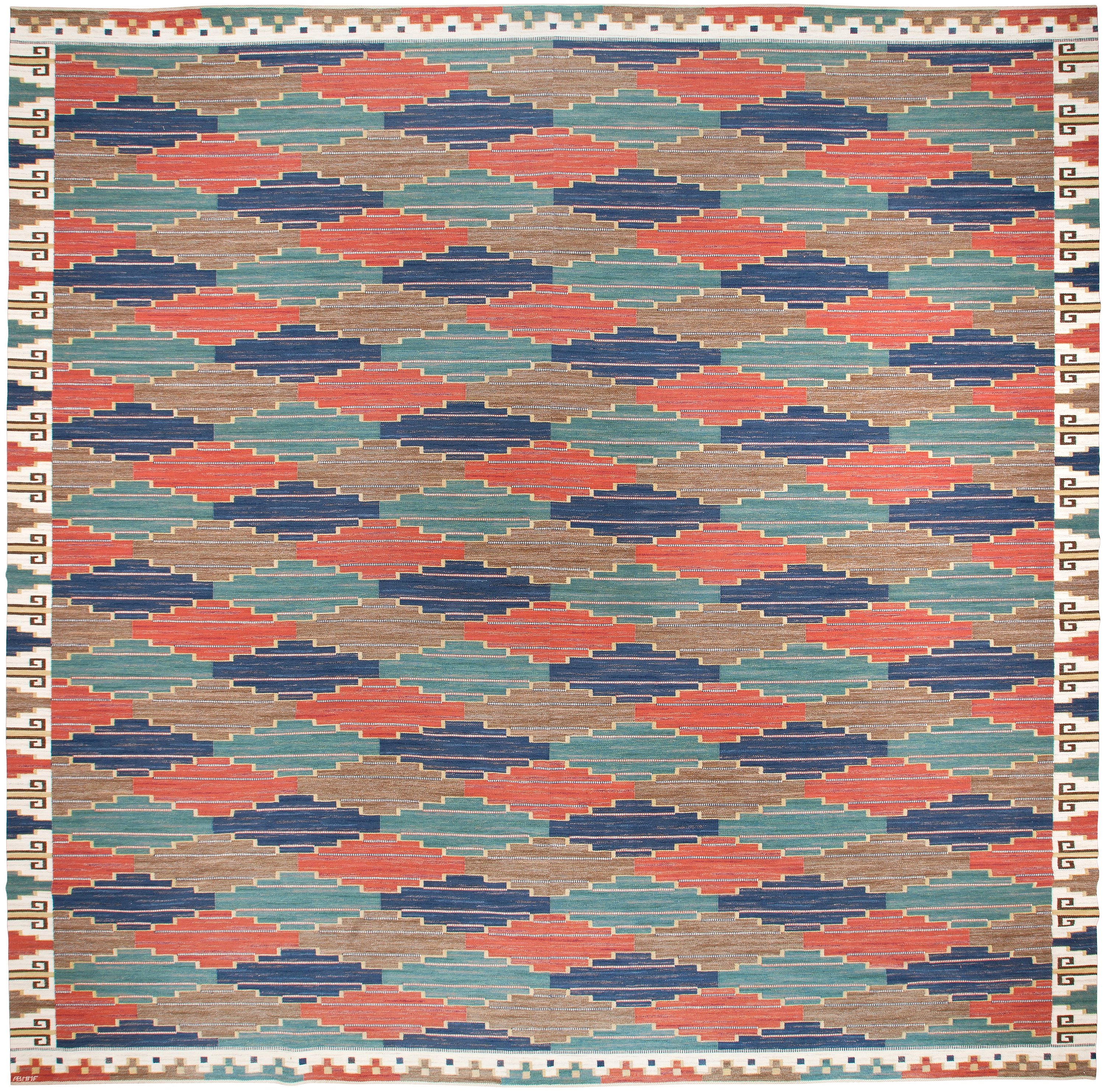 Favorite Google image search?
Lina: "It's an even tie between Whippets and Märta Måås Fjetterström (above)."
If you had an unlimited budget for a single piece, what would you make?
Lena: A house with a sento (a Japanese public bath), with a view and a studio.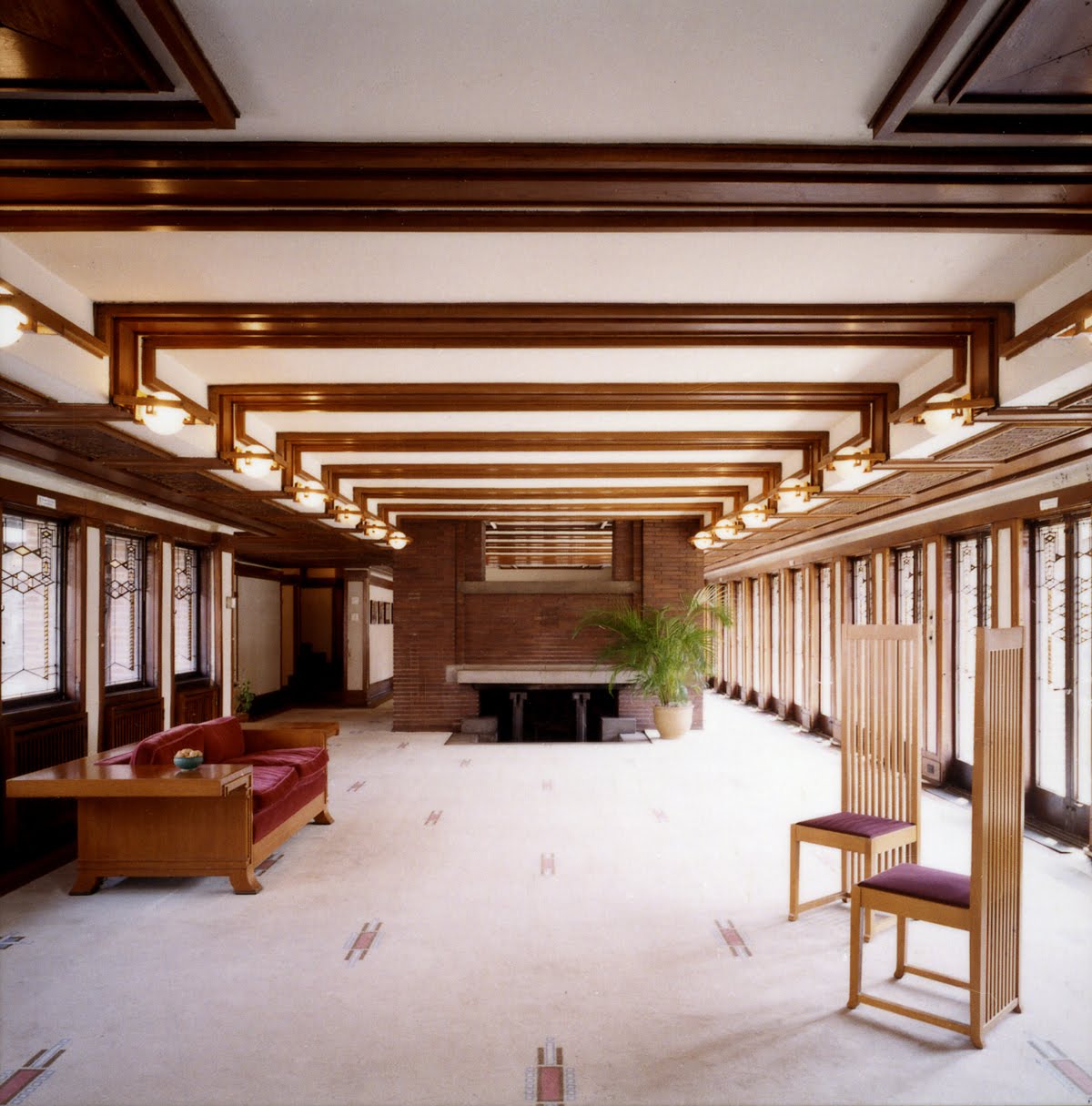 Dream place to install your work?
Lina: "Recently we've been obsessing over Frank Lloyd Wright. His buildings have so many references that, for us, are quite textile-related. It's hard to explain but they just trigger me! We visited a girls' school he made in Tokyo, Jiyugakuen Myonichikan, and this might seem like a long shot if you look at our first collection, but what we are creating at the moment would really feel at home there."

What inspired you to be designers?
Lina: "I had this strong lust to create from the start and probably got enough encouragement to keep on. I was really involved in the punk movement as a young teenager, and later straight edge, and ran my own fanzine for many years. I recently had this discussion with a fellow designer and fanzine maker from that time on how much that attitude and community has formed us as designers."
First thing you ever made?
Lina: "I remember my first cross-stitch wall hanging, that I did at the age of six. Sadly, I don't still have it but I remember how it sucked me in, I was so focused doing this tiny embroidery. I also remember the praise I got on how detailed it was. So maybe that pushed me in this direction. And at a very early age, I got really interested in making things that I could wear. I became obsessed with recreating a pair of jeans I saw in a documentary about Woodstock, when I was 12. A pair of light blue jeans covered with denim stars. I struggled with making these jeans for months – stitching them on my mother's sewing machine – then I wore them everyday for almost a year."
If you weren't designers, what would you be?
Lina: "I would like to think I would be working with food, text, or people. All of them would make me happy but the third has this uncontrollable element to it which would intrigue me but also bug me and make me sleepless."
Marcus: "I would most likely work in the restaurant industry, maybe a chef. I have worked in kitchens and it's a profession where you have to be both creative and like to work a lot."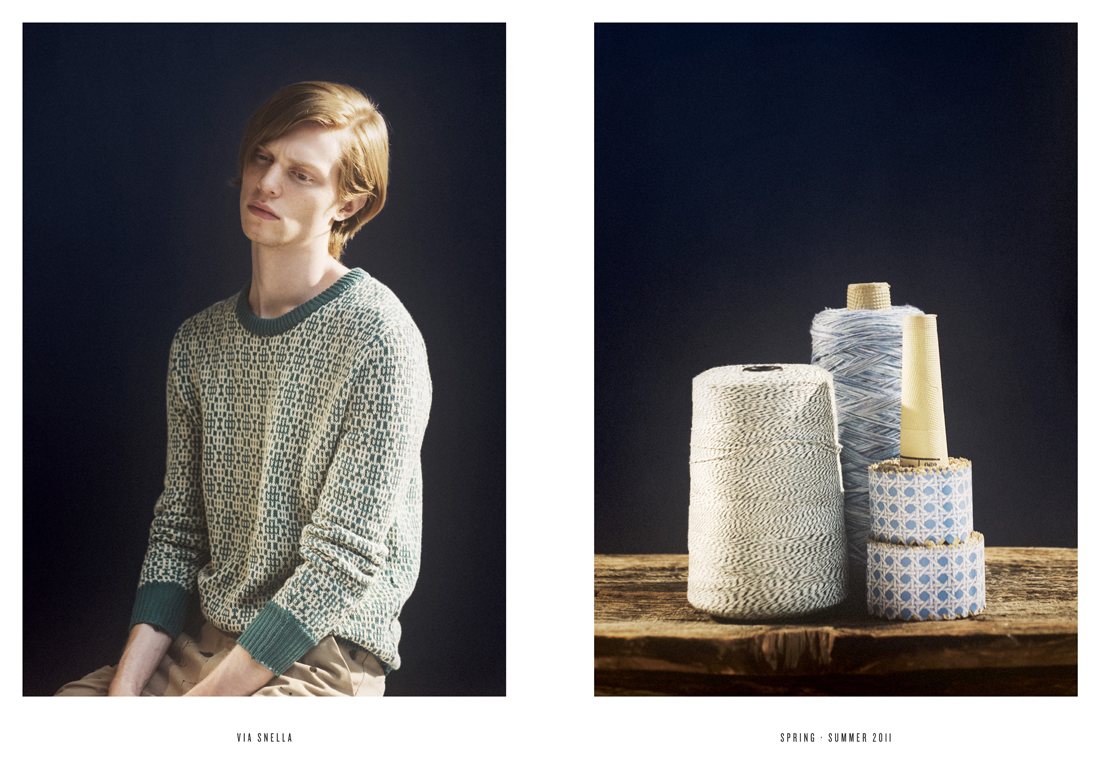 Any side projects you're working on?
Lina: "Oyyo is definitely our main focus right now. However I do take on the occasional interior project, installation work, and every now and then I'll put something out with Via Snella (above). I just love the tactile side of working with fibers and knits are my favorite thing to wear so I have a hard time staying away from that."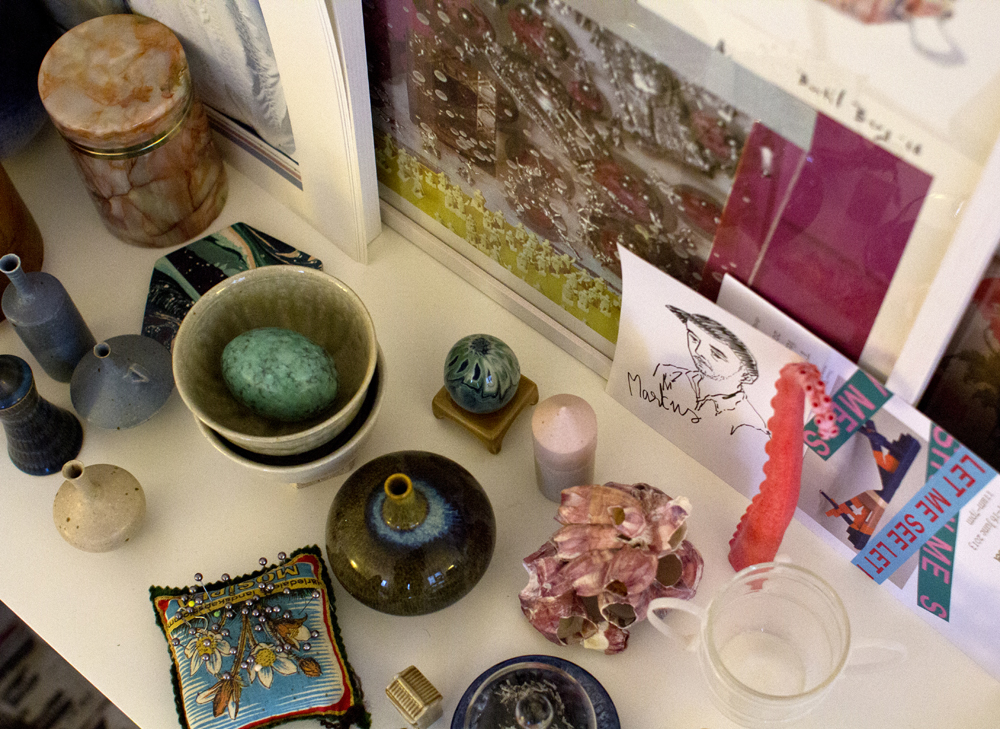 Are you collectors?
Lina: "I am, most definitely. I collect things found in nature, at flea markets or during our travels. Often I don't know where they'll go or what I'll do with them, but they tend to find their way into something I'm working on, mostly textiles. I just love putting beautiful objects together. When visiting the Eames' home in LA and listening to the guide telling stories about Ray and how she stopped painting and just did these "collections" of still-lifes, how she found them to be a progression of her paintings, I had this great feeling of confirmation — yes, let's keep collecting, no guilt."
Marcus: "If Lina is the collector I'm more of the critical editor."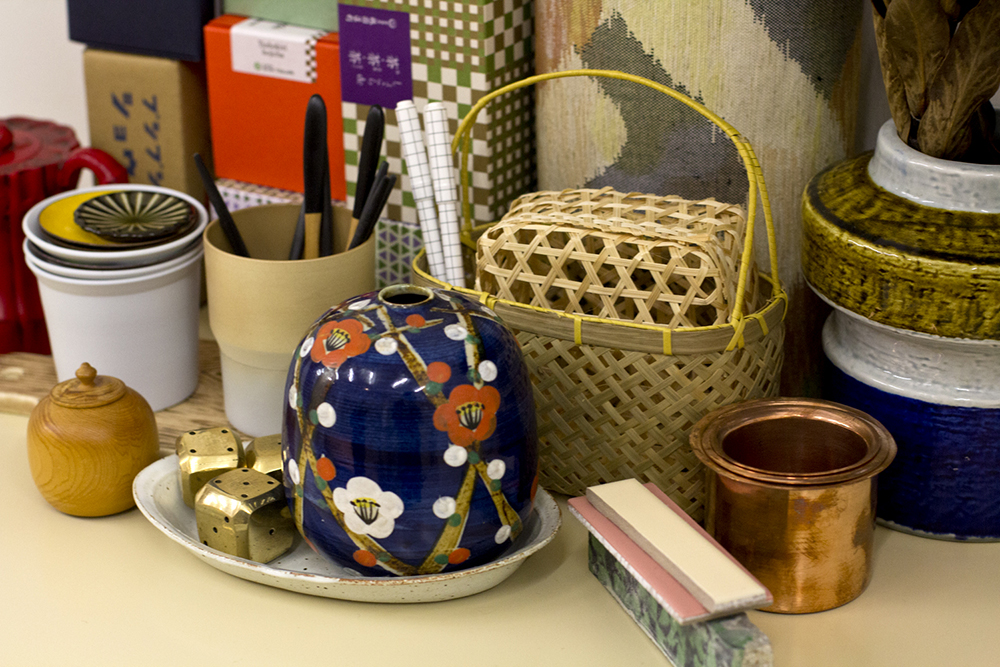 What do you keep around your studio or home for inspiration?
Lina: "We brought a lot of ceramics and nicely printed objects back from Tokyo that we spread around the studio and the flat."
Marcus: "When we travel we usually end up bringing home a lot of textiles. When we visited the New Delhi textile market for the first time we only had 30 minutes at the market before we needed to catch a train, and we ended up buying a total of 45 meters of fantastic fabric that we now have both at home and in the studio."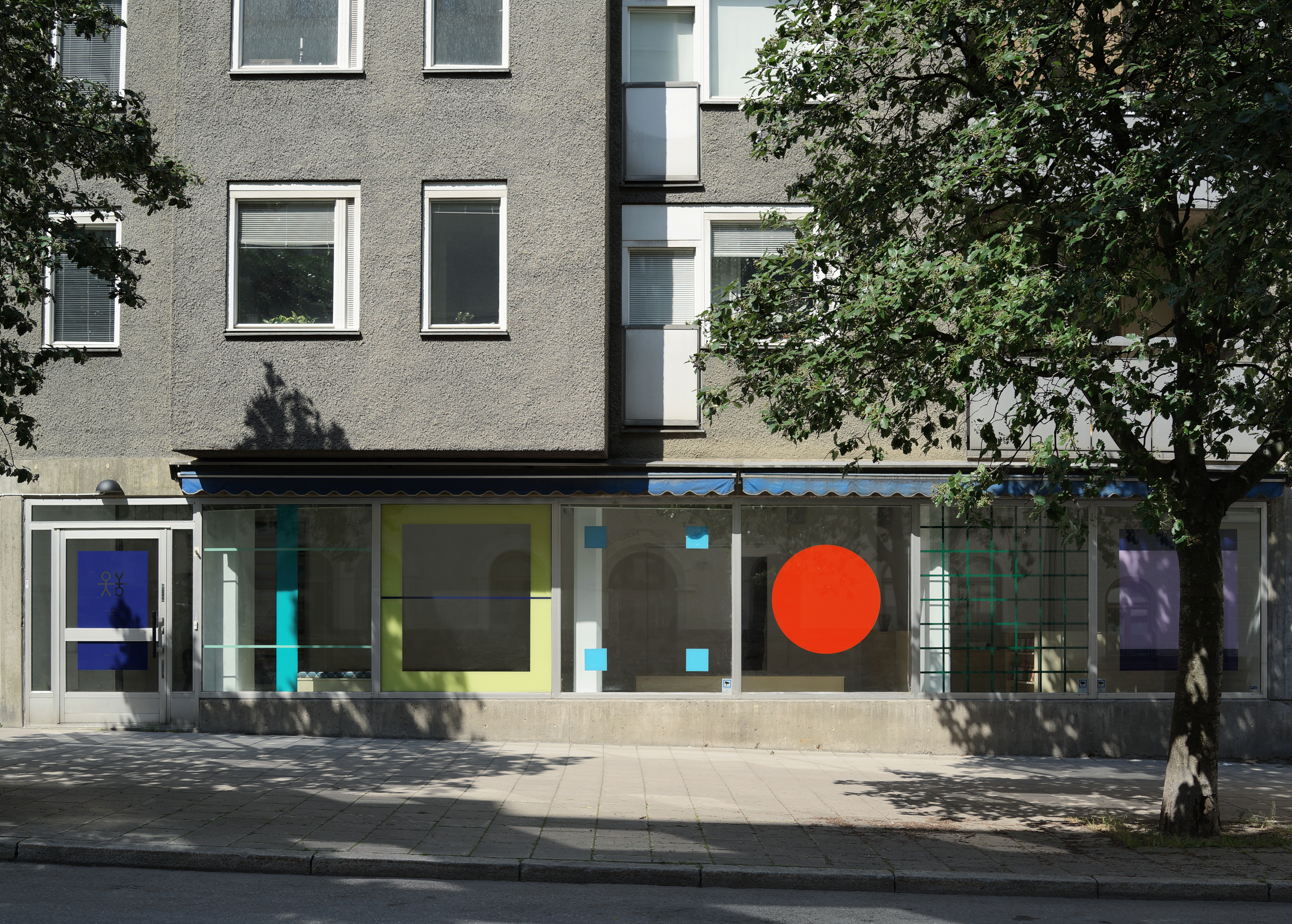 Best thing about where you live? Worst thing?
Marcus: "The summer! The winter. The summer months in Sweden have this almost magical shimmer about them, it's hard to describe. The winter on the other hand is the total opposite, we both get affected in a bad way by the lack of light and depressing weather."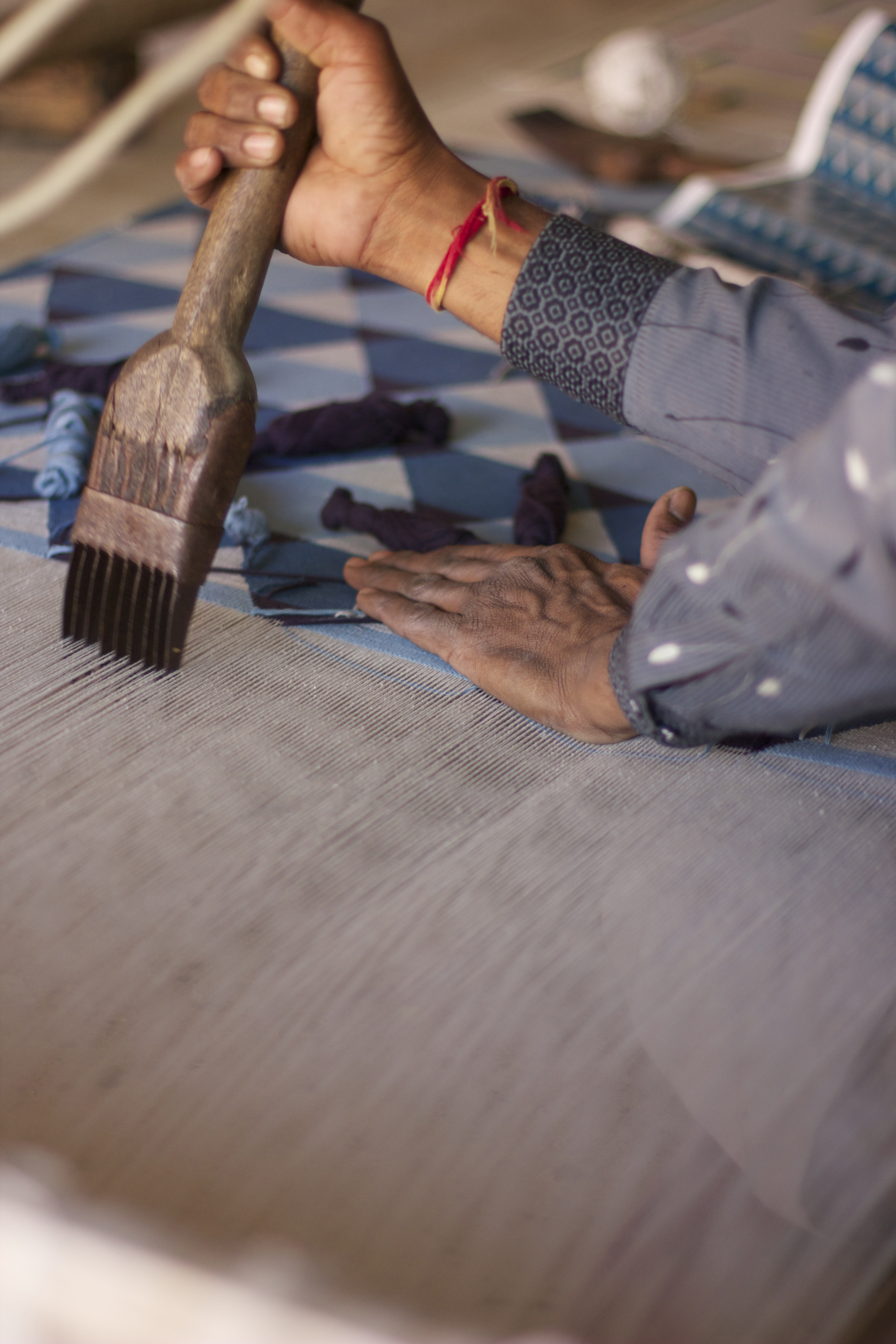 Style movement you most identify with?
Marcus: "In a way, we relate to the conscious movement that's happening right now. It's not a style movement from an aesthetic perspective, but a movement where design is a key for changing a society that has been going in an unhealthy direction. As designers, we have the power to change the way we relate to our surroundings. When we founded Oyyo, we wanted to have a lot of control over how our products are produced."
Oyyo's back to basics method involves a simple, horizontal loom — "wooden pillars that are put in the ground" says Lina. "The weaver picks the weft and doesn't use a boom but instead bangs the weft with a panja, kind of a comb-like tool."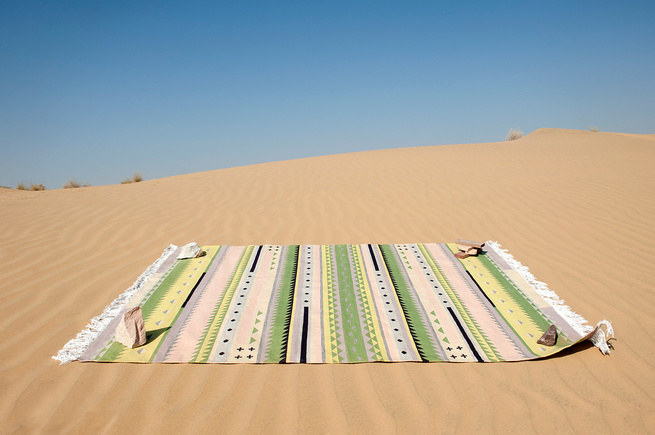 Fictional character who would own your work?
Marcus: "The first ones that popped in to my mind were Nariman and Jehangir in Rohinton Mistry's Family Matters. [Nariman is an ailing widower who moves in with relatives, including his young grandson, Jehangir, in a cramped Mumbai apartment in Mistry's 2002 novel]. I believe they would find good starting points, for stories to tell each other, in a dhurrie of ours."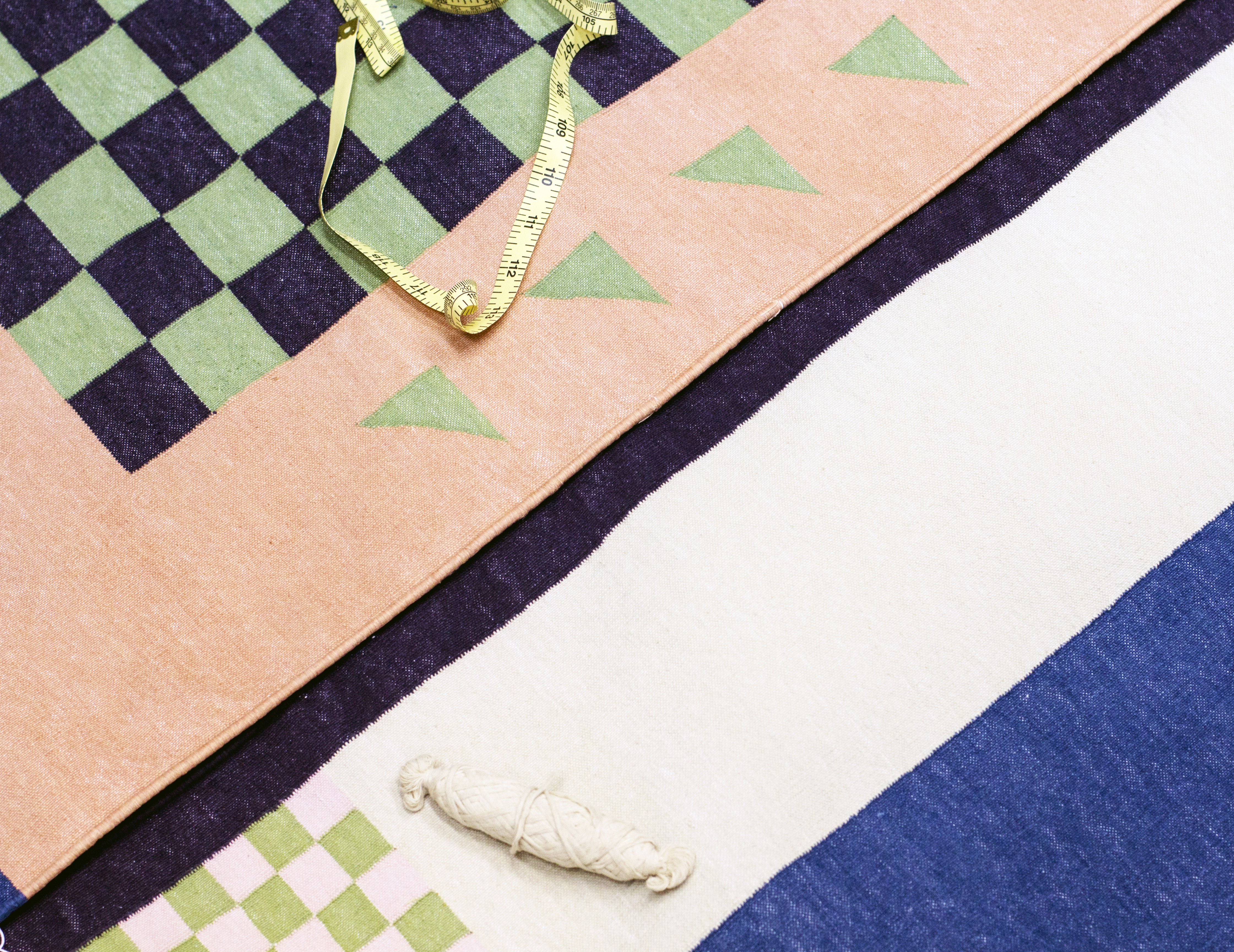 What can you tell us about the new collection?
"We don't want to give away too much before it's launched! But the upcoming collection has taken a lot of inspiration from architecture and, of course, from our travels. We have looked into a new way of creating the color range for this. For the first collection, all our 15 colors were created by using seven pigments. For this upcoming one we are still working with the same seven pigments and it's how we mix these colors that will give us a totally new range."
Right now Oyyo is:
Marcus: "In India!"
Lina: "We're doing dye development and experimentations. After this we will spend time on site with our weavers overseeing the first steps of the production of the second collection. We are also in the process of getting a handloom fabric production going and we are super excited about this."