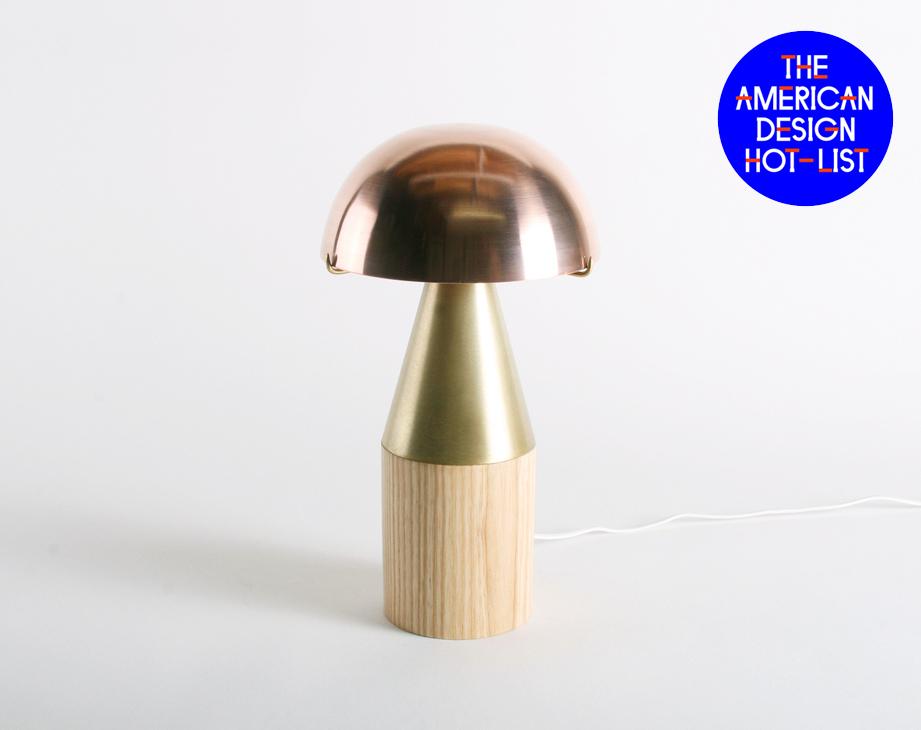 This week we announced the 2014 American Design Hot List, Sight Unseen's unapologetically subjective annual editorial award for the 25 names to know now in American design. We're devoting an entire week to interviews with this year's honorees — get to know the next five Hot List designers here, then hop on over to our Pinterest and our Instagram for even more coverage.
Bower
New York, bowernyc.com
Product designers Danny Giannella and Tammer Hijazi co-founded Bower in 2013, but launched a much-talked-about furniture collection this spring.
What is American design to you, and what excites you about it?
American design to us is a realm in which designers feel free to experiment and come up with fresh new ideas that may or may not translate into marketable designs. Either way, we see value in that free process and it strengthens the unique language we're developing. American design values the visual, artistic side of works as much, if not more than, the functionality. It's traditional materials or processes, but viewed through a contemporary lens, creating seamless hybrids of old and new.
American design is simple. We're into simple form, color, composition and function. Designers and consumers alike are drawn to simplicity and honesty in design. We've also noticed regional trends in design within the U.S., which is exciting to see. We like to think that we're not so globalized and over-saturated with influences from the internet that we lose the character shaped by our tribes and neighborhoods.
What are your plans and highlights for the upcoming year?
We're very excited about moving to a bigger shop and studio space this month. It will allow us the space to keep producing our designs as well as experiment and come up with new ones. We're seeing it as a bigger play space. We're going to take part in an exhibition during Art Basel in Miami, where we'll exhibit our Shape Mirrors and some new variations of our Contour Tables which are in the works. We also want to add a psychedelic flavor to our collection for Miami.
What inspires your work in general?
We're inspired by the unknown. We're inspired by ingenuity, inventiveness, and happy accidents. That's what informs our approach to design. We'd be bored to death if we stopped exploring new uncharted territories and only focused on safe designs that we'd fully figured out. It's not the wisest business model, but we're not the wisest business men — we're wise designers and artists that don't let business fully drive what we do. It keeps us motivated and interested. Thankfully, this adventurous spirit has lead to some marketable products that are good for business, which motivates us to continue on an unknown path lead by our passion and cojones.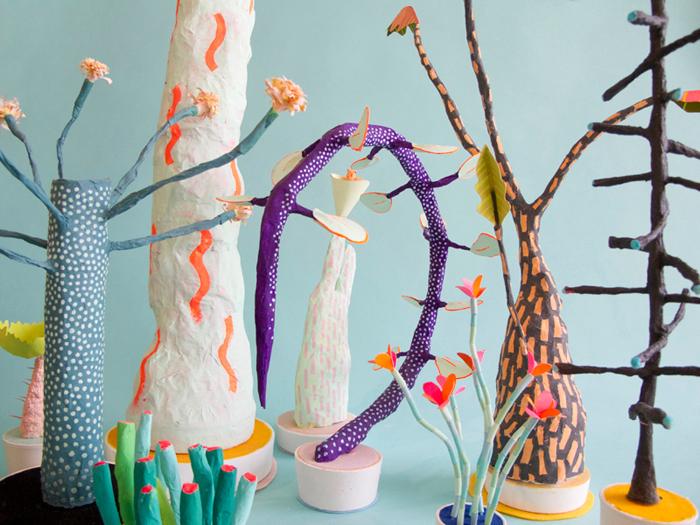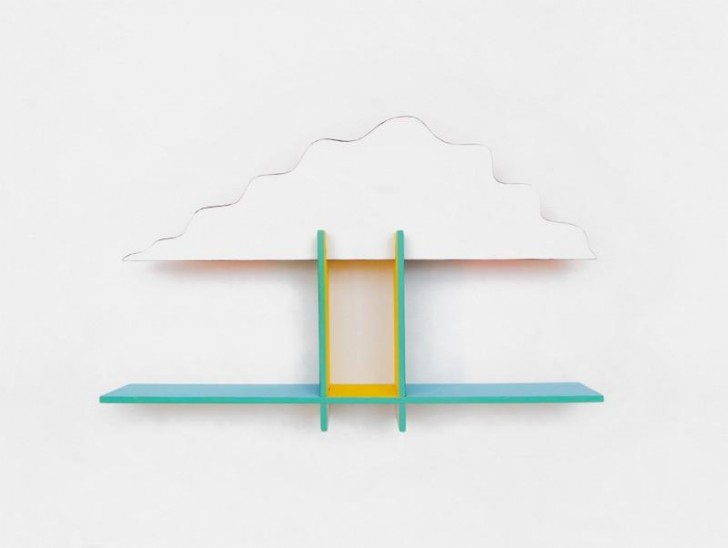 CHIAOZZA
New York, chiaozza.eternitystew.com
Adam Frezza and Terri Chiao have an eponymous art practice (paper plants, rock sculptures) and a design-studio-within-a-studio called CHIAOZZA (shelves, mirrors).
What is American design to you, and what excites you about it?
Adam: I like to think about history and imagine how native Americans might have lived, or what it may have been like for early settlers building new homes. It helps me fantasize about a kind of 'wild domestic' and the severity and ingenuity and importance of objects in our living space. We sense a beautifully mysterious line between the idea of decoration and the notion of living with things. For us, the objects we surround ourselves with are opportunities for endless experimentation, from the can of beans we chose, to the chair we are sitting in, to the vessel we use to pot a new houseplant. I like to use the things I live with. I like to live with them and use them until they fall apart or become something else. Every time we consider throwing something away, we first question its potential at becoming something else. Can that old broken chair that has finally bottomed out become a new home for one of our large houseplants? I love to see my environment shift and change, like a living thing, with small shadows of things that existed before.
Design to me is what we make it. It is an endless collaboration with our environment, our needs, our desires, our curious choices in life, and ultimately a collaboration with other designers who have made things that have found their ways into our homes. The same chair will seem different anywhere it's put, so for me the context and texture of each of our environments is the beauty of design.
Terri: We see our work as part of a continuum that includes the ever-evolving expression of the human spirit. We draw from tradition, craft, and imagination alike to make things that we feel connect to this fundamental spirit — and I think sometimes this makes our work seem primitive, childish, and playful, which of course we welcome. Maybe American design has the feeling of being a wide-open field where we're free to draw inspiration from many different cultures, histories, traditions, crafts, disciplines, mediums, etc without feeling "pinned down" to a preconceived idea of what design is, or what art is.
What are your plans and highlights for the upcoming year?
Adam: In December we're scheduled to have an exhibition of large-scale CHIAOZZA sculptures at Vox Populi in Philadelphia. We have had a desire to start taking our geometric wall objects up in scale, shifting our perspective by altering our bodies' relationships to them. We want to see how these functional, domestic objects change when they're installed in a gallery on the floor or hanging from the ceiling and are bigger than us. We're excited to see how that shift guides us into other ways of working with these shapes.
Terri: We're also embarking on our first public art project this winter, in Florida. It will be a 14-foot-tall painted cairn sculpture. In general, we're working to take our sculptures up in scale and outdoors — for instance, plant sculptures that you can walk under or climb on. I have a feeling we'll learn a lot this coming year.
What inspires your work in general?
Terri: I'm inspired by the unusual ways that people and animals inhabit the environment around them. Makeshift furniture, temporary huts, ceremonial spaces, hand-built houses, vernacular and ancient building, quirky landscaping, spaces within trees, weird structures, funny decisions, how architecture collides with nature and how people deal with it.
Adam: I love glue. I love exterior flat house paint. I love colorful plastic-dipped hardware. I go through phases of obsession with certain utilitarian tools and really enjoy questioning the function of these things. For awhile it was traffic cones, or the caps to saline solution bottles, or the pipes and nozzles that come out of buildings at curious angles. I am forever mesmerized by the idea of substance: physically, metaphorically, conceptually. Our endless pursuit of manipulating substance is fascinating for me and gives me constant permission to experiment and play with the substance and tools around me.
Both: Our collaborative practice is rooted in the idea of Play. As a tool for working together, the inherent back-and-forth move-making of a playing a game is often how some of our projects come together. Define a goal, lay the field, set the rules, and go! Along the way, we might make amendments or change the game, who knows, it's not that defined. We've created collages, sculptures, drawings, installations, and photographs in this way. We use Play as way to shift our perceptions and enter into a different kind of territory where fiction can become a reality. Lately we've been inspired by toys, games, and puzzles, and some of our work is starting to enter a more interactive place. We want to make things that a viewer or end-user can handle and play themselves. No promises yet on the outcome, but we're pretty excited about it.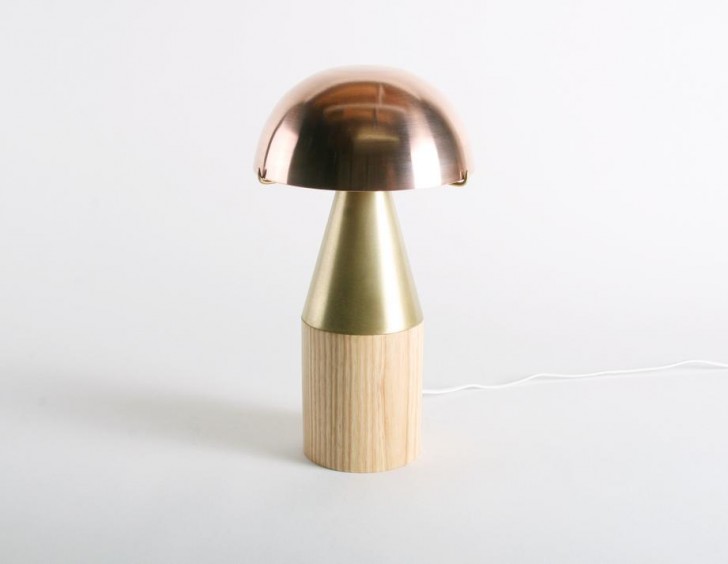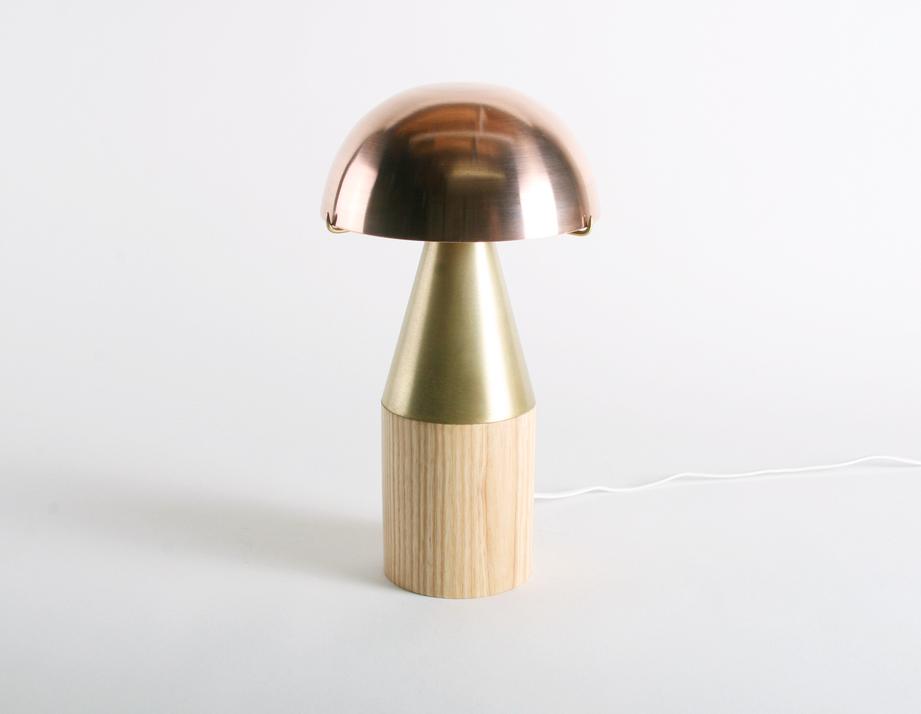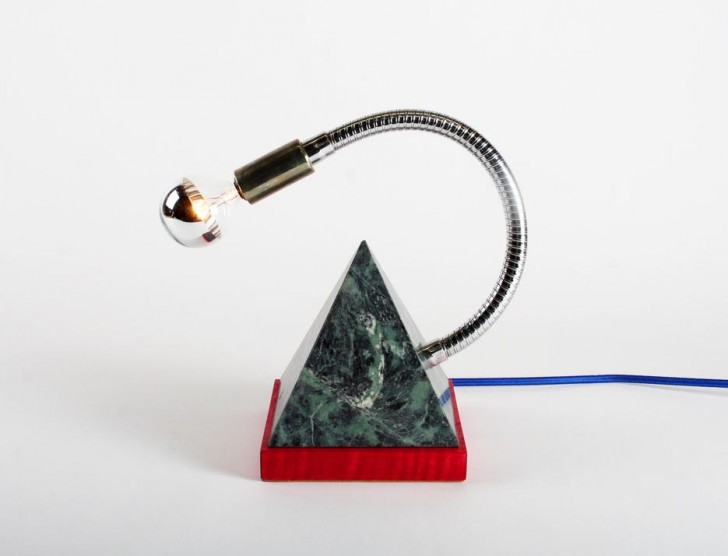 DAMM Design
St. Petersburg, Florida, damm-design.com
DAMM is a lighting studio founded by husband-and-wife team Robert and Brenda Zurn.
What is American design to you, and what excites you about it?
A defining feature of America is the ability to reinvent yourself. What gives us that ability is looking at our world through the lens of possibility instead of the lens of tradition. America is focused on what the future holds. American design has this same open-hearted spirit that finds fulfillment in exploring what is possible. We're excited to explore the resurgence in small-scale design and manufacturing that has purposely turned away from cheap homogenous consumerism. We feel like it's the second coming of the Arts and Crafts movement, but instead of rebelling against the barbarism of the Industrial revolution, this new movement is rebelling against corporatism, which has razed the aesthetics and quality of the objects we live with. What's even more exciting is the idea that the original Arts and Crafts movement changed the world so profoundly, ushered in Modernism, and laid the foundations for design bastions like the Bauhaus. It's inspiring to think that this movement is building foundations for a new American design perspective that will have far-reaching implications.
What are your plans and highlights for the upcoming year?
We're continuing to work with local artisans, learning more about materials and playing with the boundaries and limitations of materials. We're adding floor lamps, as well as some more sculptural table lamps which we hope to show in Miami this winter, as well as in New York in the spring. We're also working on a new line of home goods.
What inspires your work in general?
Most of the objects that we surround ourselves with are solid and well-made, because they're from a time when that's just how things were done. The texture, weight, and visual appeal of the objects in our life influences the way we design. DAMM is highly interested in art, and the conceptual implications of art raised by Dada and all artists who trace their DNA to it. We feel strongly that design is distinct from art and the line between them is an important one, but knowing where it is and why it's important are matters that we can only understand through exposition that is marked with uncertainty, curiosity, and relentless exploration. As Eileen Gray said, "To create, one must first question everything."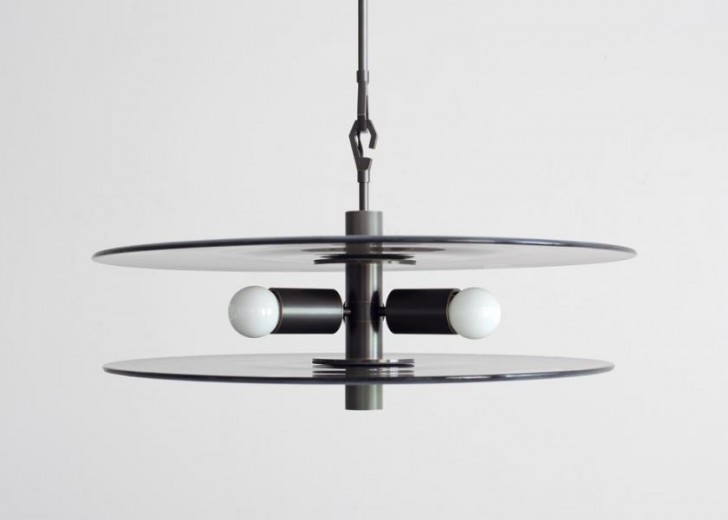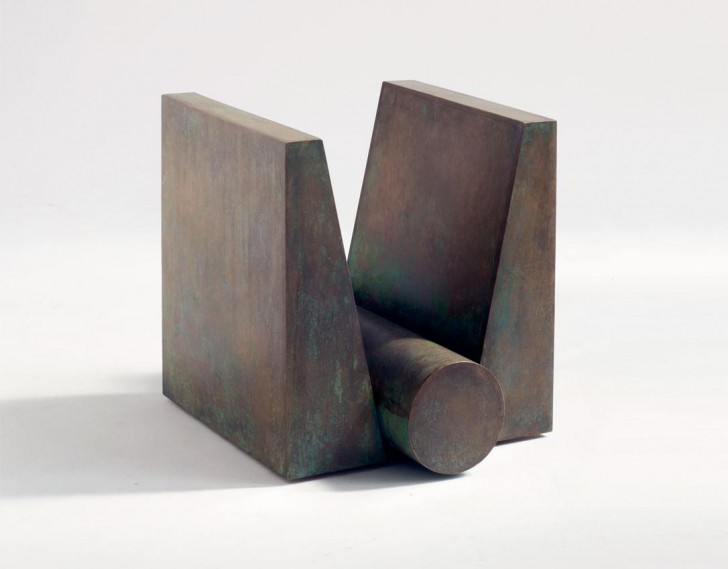 Egg Collective
New York, eggcollective.com
A Brooklyn furniture studio whose founders — Stephanie Beamer, Crystal Ellis, and Hillary Petrie — have backgrounds in architecture, art, and woodworking.
What is American design to you, and what excites you about it?
As American designers, the fact that the greater term "American design" exists means that we're fortunate to a part of something bigger: a movement and a community that's changing how things are made and where they're made. Similar to the idea of slow food, this movement has the power to alter how objects are understood, viewed, and consumed in contemporary society. The community involved in executing and sharing American design is encouraging for the future and evolution of this movement. Each year we are meeting new people who are making incredible work, and also experiencing new venues for exhibition that didn't exist in years past. It's great to see that there's an energy building behind American design that's creating an environment prepared to support the continual development of new talent and ideas.
What are your plans and highlights for the upcoming year?
This is going to be an exciting year for Egg. We're currently renovating a space on the corner of Hudson and Spring where we'll open our first showroom this winter. The space will showcase our own work alongside a small selection of artists' works. We also have teamed up with Design Within Reach and just released our first licensed product — the Harvey Mirror, a delicate brass armature that holds a circular mirror.
What inspires your work in general?
Recently we've been going back to our roots (all three of us studied architecture in undergrad) for inspiration. As a trio, we've been interested in the simple/sculptural forms found in Ancient Roman Architecture and early Brutalist Architecture — especially the Roman aqueducts, the concrete dome of the Pantheon, and just about anything by Paul Rudolf or Le Corbusier. We believe this interest can be seen in our newest collection of furniture. For our 2014 Collection, we combined five of the most elemental building materials (stone, wood, bronze, leather, and glass) with five of the most basic shapes (circle, oval, triangle, square, and trapezoid). Many of the pieces in the collection are made of thick, solid materials that are combined by stacking or slotting. These fundamental ways of making are offset by the collection's rich, earthy materials palette, and by the impeccable craftsmanship of the work.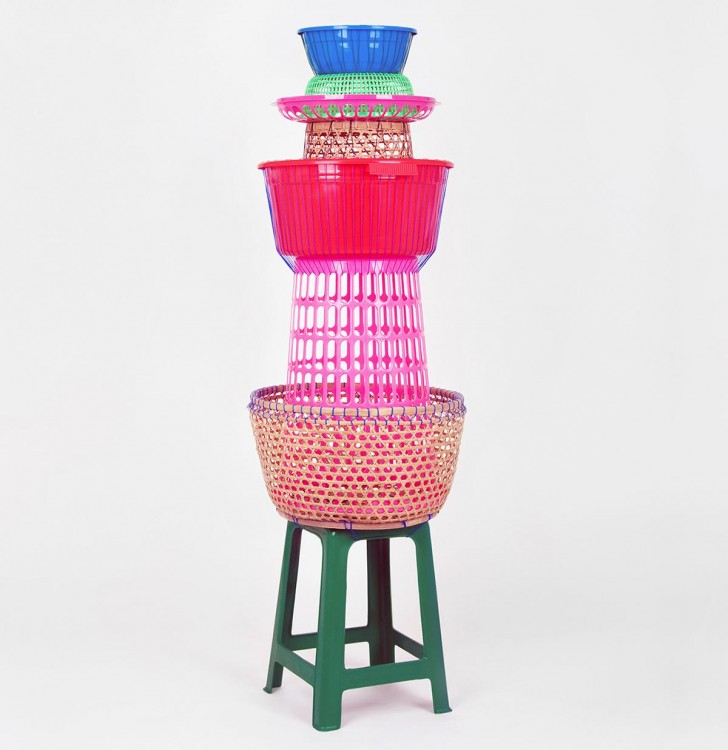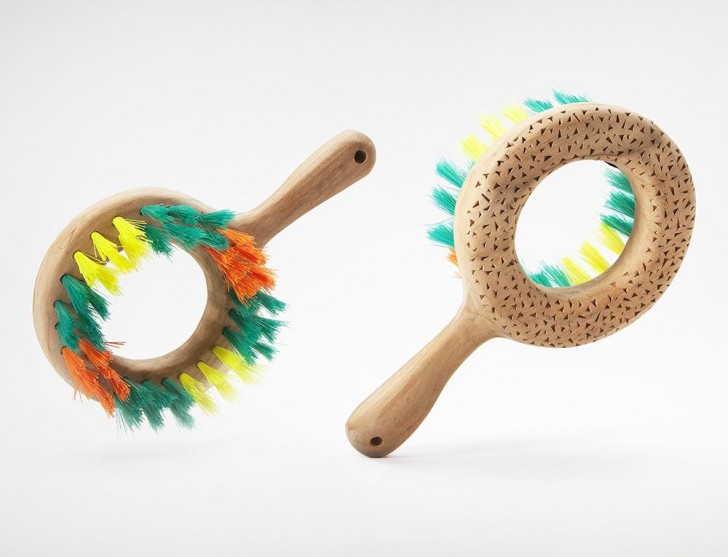 Field Experiments
New York, field-experiments.com
The trio — Paul Marcus Fuog, Karim Zariffa, and Benjamin Bryant — launched in the spring with a much-talked-about collection of objects made during a three-month residency in Bali.
What is American design to you, and what excites you about it?
We are a transnational collective now based out of New York (Paul is from Melbourne, Karim is from Montreal, and Ben is from America). This gives us a unique perspective on American design and the cultural conditions here that inform the design landscape. America is a very open and energetic place with a strong inventive spirit. There's a sense that anything is possible. It's democratic and (generally) unpretentious. All this plays out in the design here — it's well-crafted, optimistic, and diverse. It's an exciting time for American design. It's very vocal right now and influencing the international conversation. There's a renewed focus on experimental making and thinking through doing – lots of fresh activity, generally. It was the right move to debut our collection here, and we're so happy to be part of this vibrant and growing community.
What are your plans and highlights for the upcoming year?
We've just launched our new website and online souvenir shop. People can browse and buy our one-off pieces, a small selection of found objects, and our publications. Right now, we're working on a new project with Kiosk, installing a new piece of work in their brand new store on LaGuardia Place. We're also discussing a joint field trip for later in the year. We're also continuing to share our Indonesian project as much as possible. Inspired by the mobile handmade rigs we observed in Bali, used for showcasing and selling a variety of wares, we are designing a mobile souvenir store and plan to tour it far and wide.
Most importantly, we're going to continue to create without an agenda as much as possible. This is our way of thinking, conversing, and learning. We're working on a range of multiples for a small selection of stores and we're extending many of the open-ended ideas that we started playing around with in Bali, shifting their context and experimenting with new materials. Towards the end of next year, we'll be ready and raring to undertake another Field Experiments project. Right now we're exploring where that might be. We hope to open the next one up to students of design, so that they can come along for short periods to experience all that it offers.
What inspires your work in general?
We all agree that inspiration doesn't tap you on the shoulder, you need to go after it. This is what our Field Experiments trips are about. Getting away from the everyday, embedding ourselves somewhere exotic, working outside of fast-paced commercial environments, disconnecting from technology, creating some breathing space and some time to think more freely. During our time in Bali, we absorbed the sights and sounds of everyday life and undertook a more rigorous documentation of the peculiarities and the specialities. We observed the materials in daily use. We studied everyday Balinese objects including agricultural implements, kitchen utensils, traditional dress, domestic essentials, and basic furniture. We documented common makeshift objects like traffic signs, streetlights, and food stands that resembled assemblages, where basic items were bound together in an ad hoc manner to fill an immediate need. We connect with this form of adhoc-ism and it's something we will continue to expand on in our work.
We also observed the communal and manual ways of working, in particular the myriad of inventive techniques for stacking organic and man-made materials and the creative ways of carrying them from site to site. We compiled more than 500 photographs, and this visual library — along with our day-to-day experiences — will continue to inform and inspire our work for many years to come. We're super excited about conducting a Field Experiments somewhere completely different, somewhere unexpected, somewhere we currently know very little about. We can't wait to see how this new location will completely change the look, feel, and function of what we create.