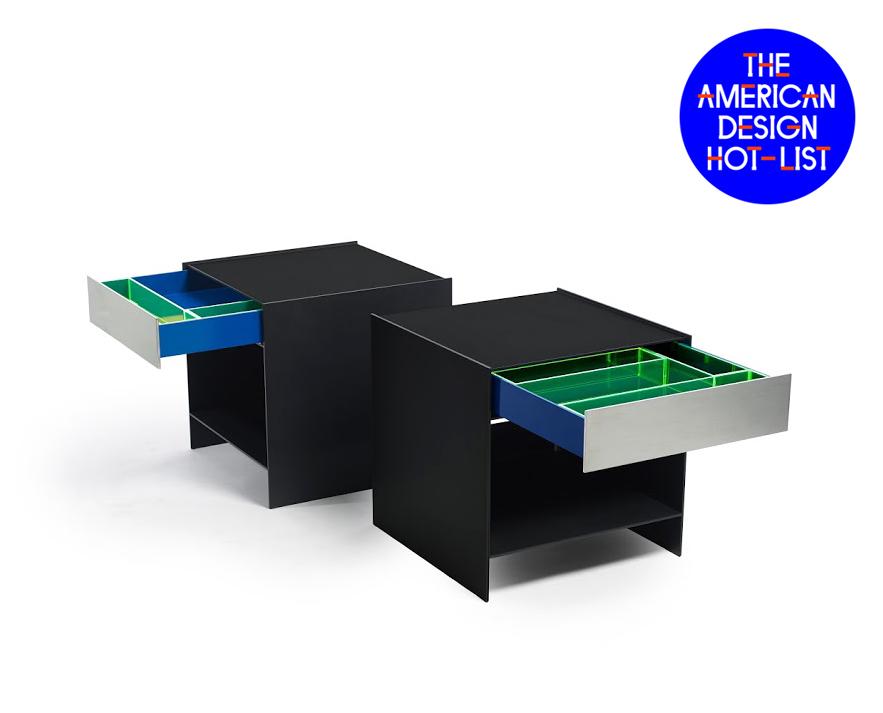 This week we announced the 2014 American Design Hot List, Sight Unseen's unapologetically subjective annual editorial award for the 25 names to know now in American design. We're devoting an entire week to interviews with this year's honorees — get to know the next five Hot List designers here, then hop on over to our Pinterest and our Instagram for even more coverage.
hOmE
New York, home-nyc.com
After an incredibly prolific year designing the interiors of New York's hippest restaurants and bars, Evan and Oliver Haslegrave of hOmE are gearing up to put their focus on furniture design.
What is American design to you, and what excites you about it?
American design to us is integrated with location and production — where and how it's made. It's most exciting to us when it's directly informed by the neighborhood of the project/studio and by the process with which it's made, where the neighborhood and process are part of the design rather than tangential (or unrelated) to it.
What are your plans and highlights for the upcoming year?
We're designing several new projects, including:
—Sisters, a bar/restaurant in Clinton Hill, opening in October 2014
—1133 Manhattan, an apartment building in Greenpoint we're having 28 paintings made for, almost all from Brooklyn artists, opening in November 2014
—Dos Caminos, a new restaurant in the W Hotel in Times Square, opening in 2015
—Our first residential project, in downtown Las Vegas, completed in 2015
We've also begun projects in Nolita, Cobble Hill, and Williamsburg, all of which are opening next year.
What inspires your work in general?
Travel is always informative and inspiring. Recently we were inspired by Salvador Dali's home in Barcelona, the Borgo Santo Pietro hotel in Tuscany, the cathedral in Sienna, the Borghese gallery in Rome, and Grenada in Nicaragua. We're always looking for new art and architecture, on any scale. Materials, too: Our approach is materials-based, and though it's always evolving, there are certain materials we will always work with and be inspired by, like reclaimed wood, stone, leather, mirror, and steel. Also sourcing — finding the unexpected, or using the everyday in unexpected ways, has always been integral to our work (especially if it somehow involves travel).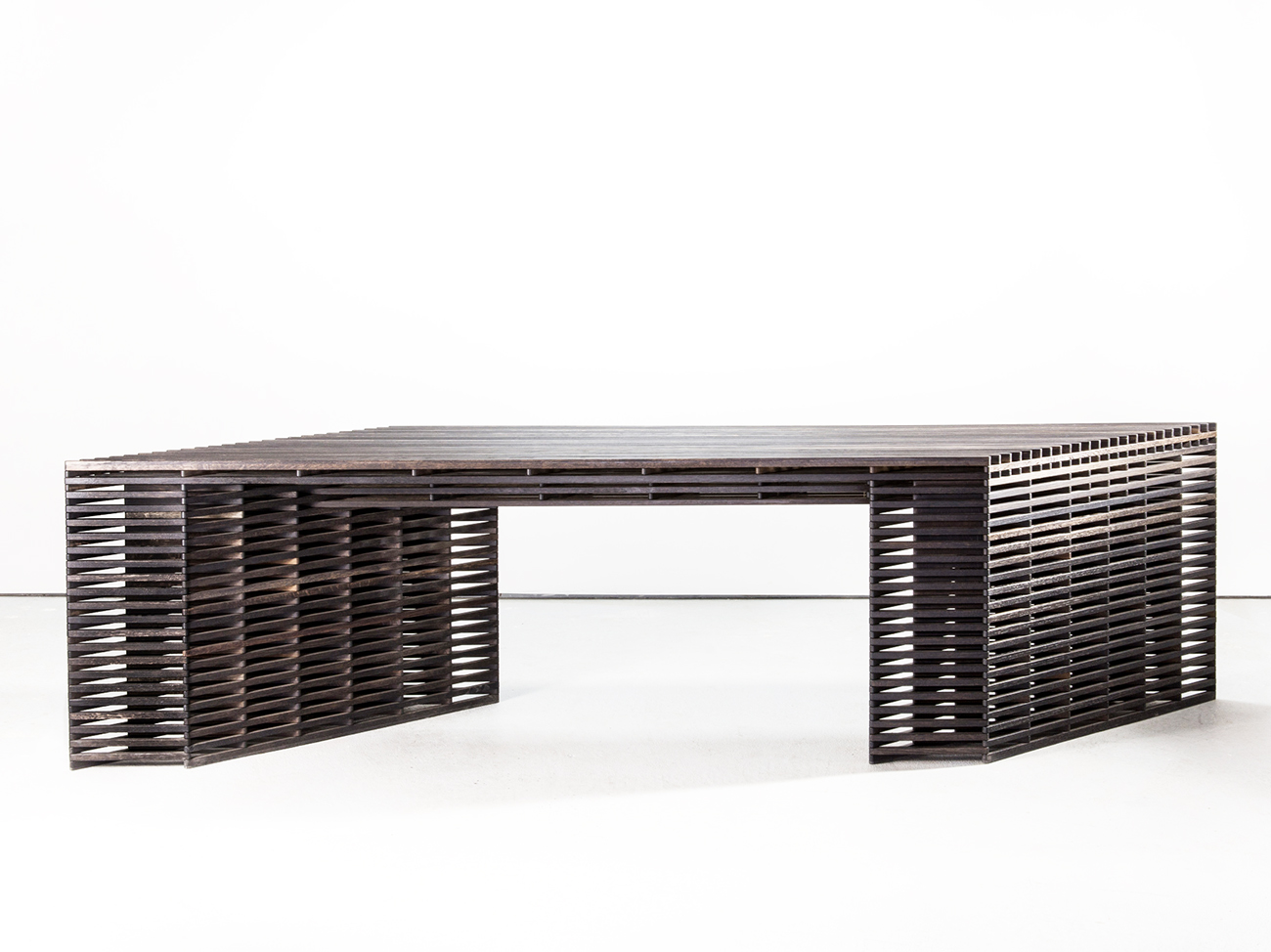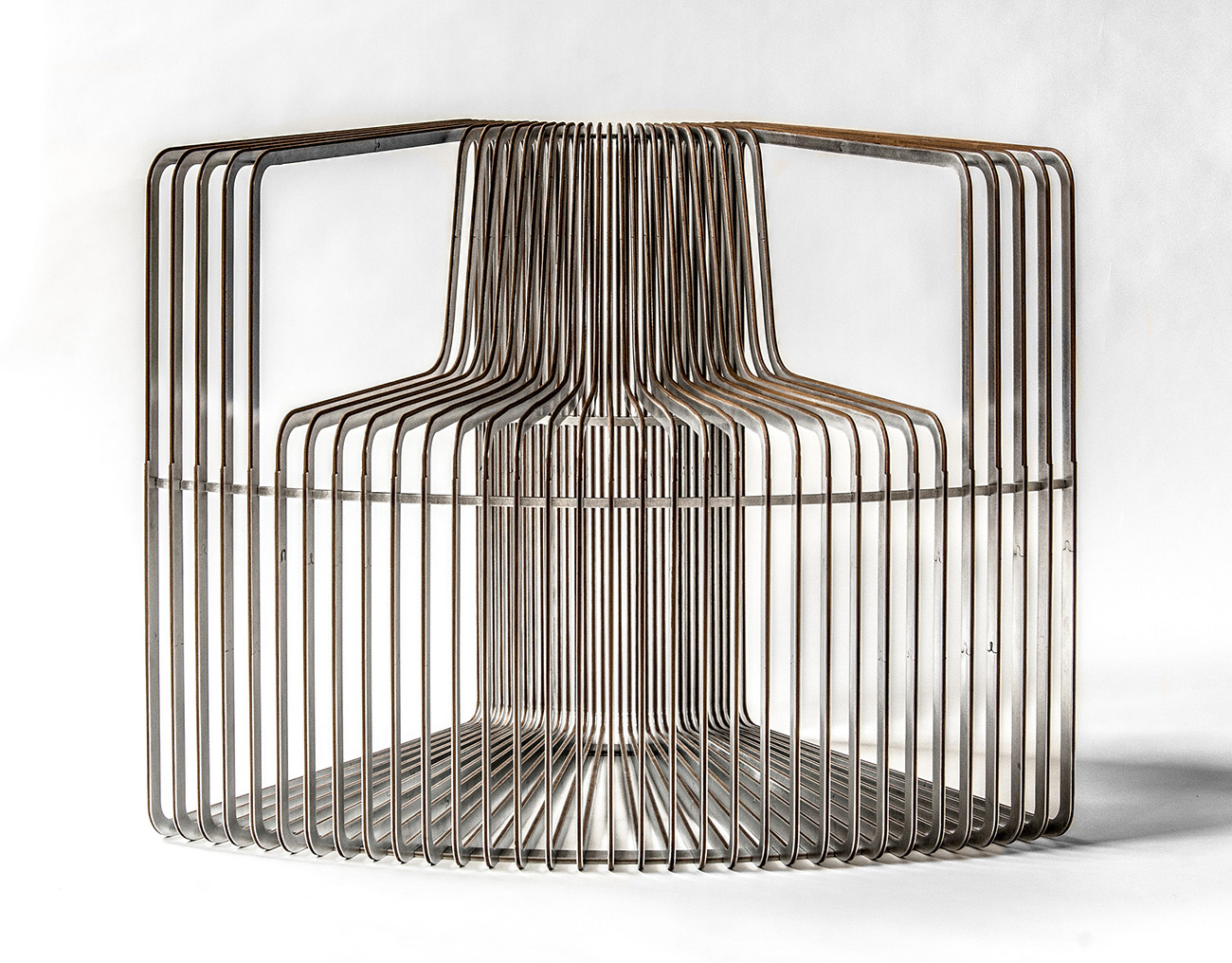 Ian Stell
New York, ianstell.com
Ian Stell fascinated the design world this year with his movable, transformable furniture, which he launched with Matter this spring.
What is American design to you, and what excites you about it?
It seems that the American design community has benefitted from being seen for years as provincial. Although the U.S. has been a significant market for the large European manufacturers, it has with few exceptions been passed over as a source of new ideas for these companies. This comparative isolation has been a gift to emerging American designers in two ways: It has forced us to be scrappily entrepreneurial, and it has also allowed us to develop a distinctive regional voice — a precious rarity amid the homogenizing forces of the global marketplace and culture.
What are your plans and highlights for the upcoming year?
I will be introducing new work using layered, bisecting anamorphic text, which I've been experimenting with for a little while. These will take the form of handwoven carpets, ceramic vessels, and furniture. I'm working on kinetic light fixtures, where form and light will be modulated through simple hands-on manipulation, and I'm working on more variations from the Pantograph series. One will be a vanity, with a shifting, fractured mirror plane and functioning drawers that pivot from a rectangle to a parallelogram in plan. I'm also in discussion with a a developer and cultural patron in Berlin about a large-scale installation on a platform in the Spree river.
What inspires your work in general?
Inspiration for me is always a moving/morphing target. Lately I've found it fruitful to flit back and forth between different departments at the Metropolitan Museum, maybe focusing on the myriad variations on a particular everyday object — perhaps a chest or a bottle. It's great the way that museum affords brash and at moments almost comical segues: a hallway behind of the temple of Dendur leads to 19th century American furniture galleries (note the drastic shift in climate control), a doorway at the end of the hall of totems from New Guinea spills into Greek and Roman statuary. I love surfing these breaks of aesthetic turbulence.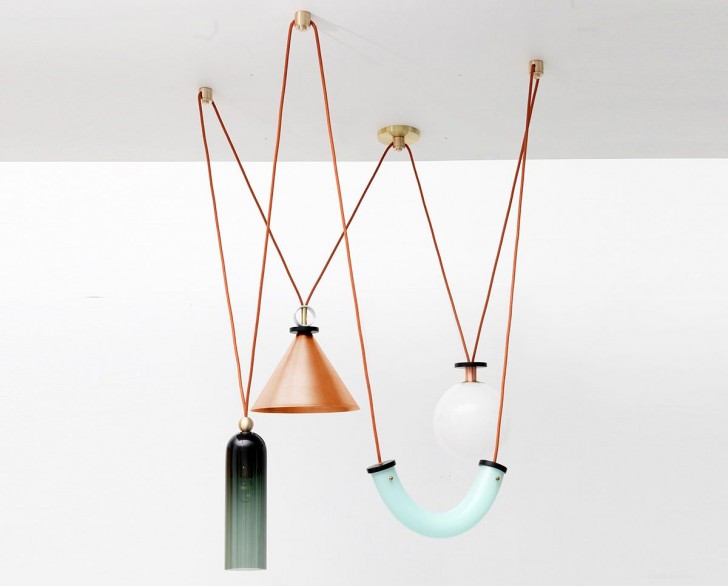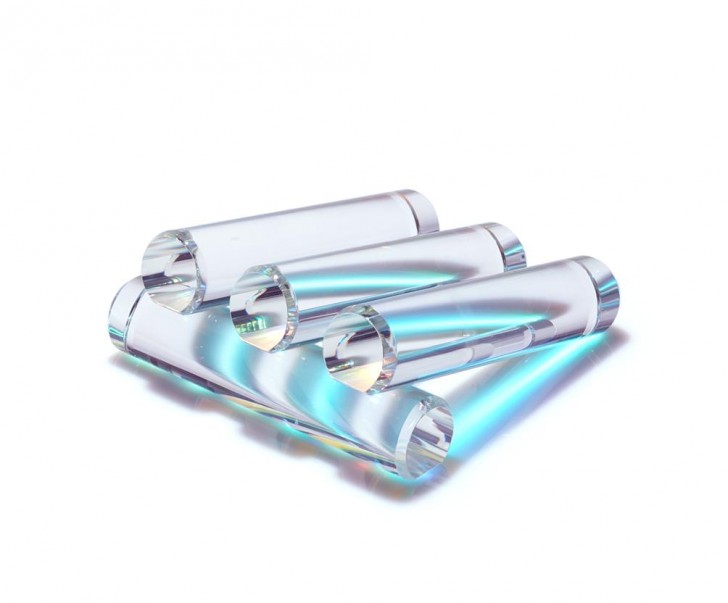 John Hogan
Seattle, johnhogandesigns.com
Glass artist John Hogan makes incredible work in his own right, but his influence on design can also be felt through his recent collaborations with folks like Ladies & Gentlemen Studio (chandelier above) and Erich Ginder.
What is American design to you, and what excites you about it?
American design, like most things American, is a mixture of many international influences and approaches. American designers combine and playfully rearrange traditional approaches, constantly breaking unwritten rules. The results of this mash-up tend to yield objects and products that pay tribute to important movements of the past while blazing trails anew.
What are your plans and highlights for the upcoming year?
This year I'm focusing on a couple of new collaborations, the branding of my glass fabrication and consulting company, and pushing my own work in new directions. I love to collaborate. It's a way to guarantee something totally new and exciting for me. Not going to spoil the surprises, but I'm super excited for current developments that will debut at ICFF.
In addition to collaborative efforts I have been helping designers to develop and realize their ideas in glass. More and more I'm hearing designers saying they have wanted to work with and implement glass into their lines but don't know how to go about it. This year I am officially launching "Ballard Assembly," offering services in development as well as fabrication. Glass can be shaped, colored, and textured in many ways. Helping designers to understand specific approaches towards focusing and developing a vision is the first step. My range of speciality includes both off hand and mold blowing, casting, and cutting and polishing glass. I work with a network of specialists in finishing designs across the spectrum of glass cutting and shaping processes.
What inspires your work in general?
My work is constantly evolving. I have some exciting new approaches that are coming out in my current works and will continue to develop in the coming year. Recently I've been inspired a lot by the culinary world. Chefs like Ferran Adria and Grant Achatz are working creatively on a whole different level. Experimental culinary has the potential to excite all five senses, which for me as an artist is very exciting and intimidating. These chefs work in an organized and well-documented system that indiscriminately and creatively considers anything and eliminates or promotes things without forced foresight. It's very much a mix of science and art. The results in many cases are truly new. This highly organized and experimental approach focusing on the specialized skills of a team is the way I'm trying to work more and more with glass. I've been told that some of my works make people want to eat them. This type of unexpected, excited response is precisely what I'm trying to achieve with glass and light.
Jonathan Muecke
Minneapolis, jonathanmuecke.com
Muecke appeared on our 2013 list, but did you hear? The designer was recently chosen to create this year's high-profile pavilion at Design/Miami.

What is American design to you, and what excites you about it?
I do not know what AMERICAN DESIGN is — BUT this is what is interesting and important about it.
What are your plans and highlights for the upcoming year?
I will continue to work on projects that have qualities that interest me for one reason or another.
What inspires your work in general?
Determine the limits of an object or event.
Determine the limits more precisely.
Repeat, until further precision is impossible.
GEORGE BRECHT, EXERCISE (1963)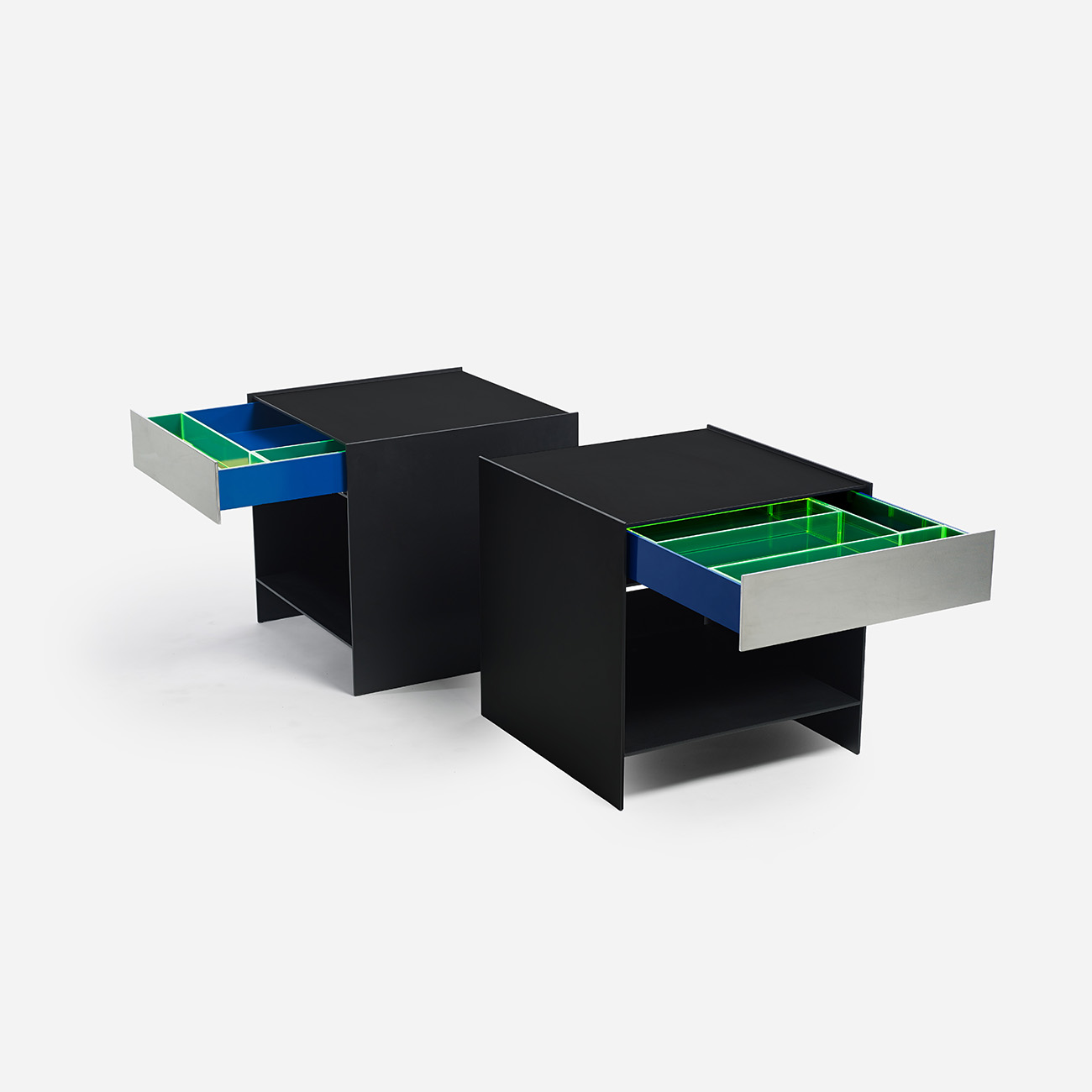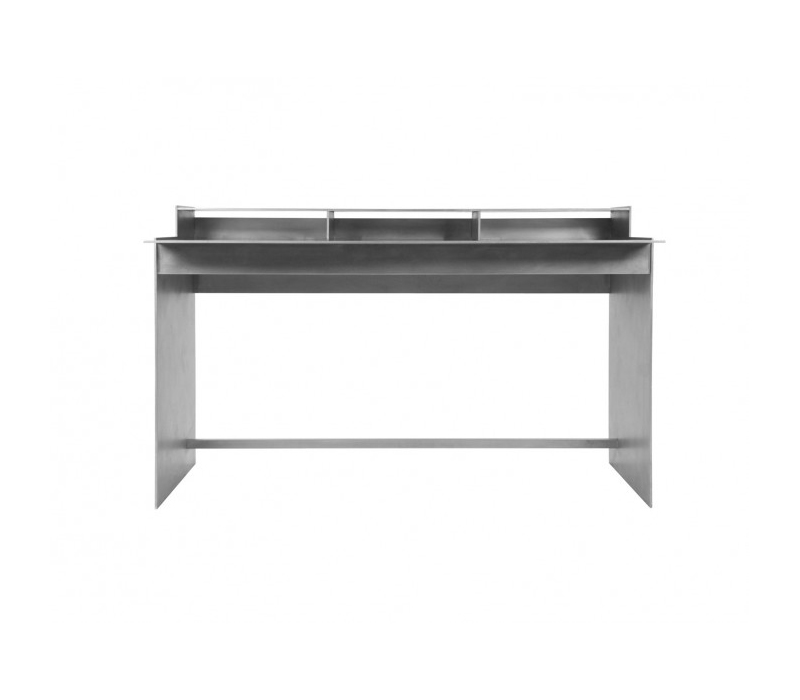 Jonathan Nesci
Columbus, Indiana, hale-id.com
Nesci learned his trade working in the furniture restoration department at Wright auction house for five years. Now he's the designer of furniture editions for galleries like Casati and Volume. 
What is American design to you, and what excites you about it?
Community is the word that I feel encapsulates the current state of American design. So many interconnections: friends, gallerists, fabricators, promoters, writers, curators, collectors, educators and other supporting roles help to make up American design. It's really all of these people, working together and supporting each other, that have made this period in time such an exciting moment. With social interconnections like Instagram I feel like the design community has a fresh, daily life and we can all support each other and follow individual progressions.
What are your plans and highlights for the upcoming year?
There is a real excitement happening with design in the Midwest. I am really excited to be included in Rick Valicenti's CHGO DSGN show at the Chicago Cultural Center that opened in May. This exhibition of the best of Chicago Design will be up through November 6th. It is a fantastic snapshot of what incredible talent is in Chicago right now. Another positive happening has been my recent move to culturally rich Columbus, Indiana. This is a fresh start to another chapter in my life and I am really excited to see what type of work stems from this nurturing environment. Christopher West of Indianapolis has been working with the people of Columbus for over a year on a international Design Biennial proposed for 2016. A group of curators and design leaders will pair the new designers of today against the backdrop of the architectural gems found here in Columbus. To pilot this program I will be installing 100 mirror-polished aluminum tables in the sunken courtyard (which was once a reflecting pool) of Eliel Saarinen's First Christian Church in Columbus this October 10th. These tables will have a life after the exhibition in Columbus as well; they'll be shown in Chicago, Miami, and New York with Volume Gallery, Casati and Patrick Parrish, respectively.
What inspires your work in general?
I'm constantly searching for fabrication processes that I haven't used before. I feel this is a key element to what I will do next, managing the process of a new design while using a new process is what I enjoy most. I tour new manufacturers frequently and learn their capabilities. I am not a maker, but I am a producer and enjoy this role of the design process. I work with talented fabricators throughout the Midwest and am really looking forward to the day when more of my work is made in Columbus, Indiana. I want to be free to work on numerous projects at once and also gain partnerships with various makers.