08.14.13
The BYCO Design Contest Results!
A few months ago, we launched a contest with BYCO, the new micro-financing site for fashion and housewares designers, founded by Jesse Finkelstein of JF & Son and his sister Meredith. The Kickstarter-like site invites designers to submit products, which then must be funded by supporters in order to cover the costs of making a prototype. Our contest allowed readers to submit designs that, if chosen by Sight Unseen's editors, would bypass the funding stage and move straight to production. At the time, we had no idea what would happen. Would anyone enter? If they did, would those brave souls be plucked from the world of designers we were already familiar with? Happily, the pool was wider than we ever could have imagined. The five chosen designers, who were picked relatively blindly, range from an ITP design student to a contractor-turned-artist in San Diego to — just one! — former Sight Unseen subject, the lovely Jennifer Parry Dodge of Ermie (whose Kid Gunta duvet is shown above). Which just goes to show that BYCO isn't merely for amateurs looking to get a foot in the door: Even for a pro like Dodge, BYCO offers opportunities that would never be possible with a small-scale production set-up. "This was an amazing opportunity, and it's a fantastic service that BYCO is providing to independent designers such as myself," Dodge says. We couldn't agree more! Read on to get to know the winners of the Sight Unseen/BYCO contest and click here to purchase their incredibly cool designs.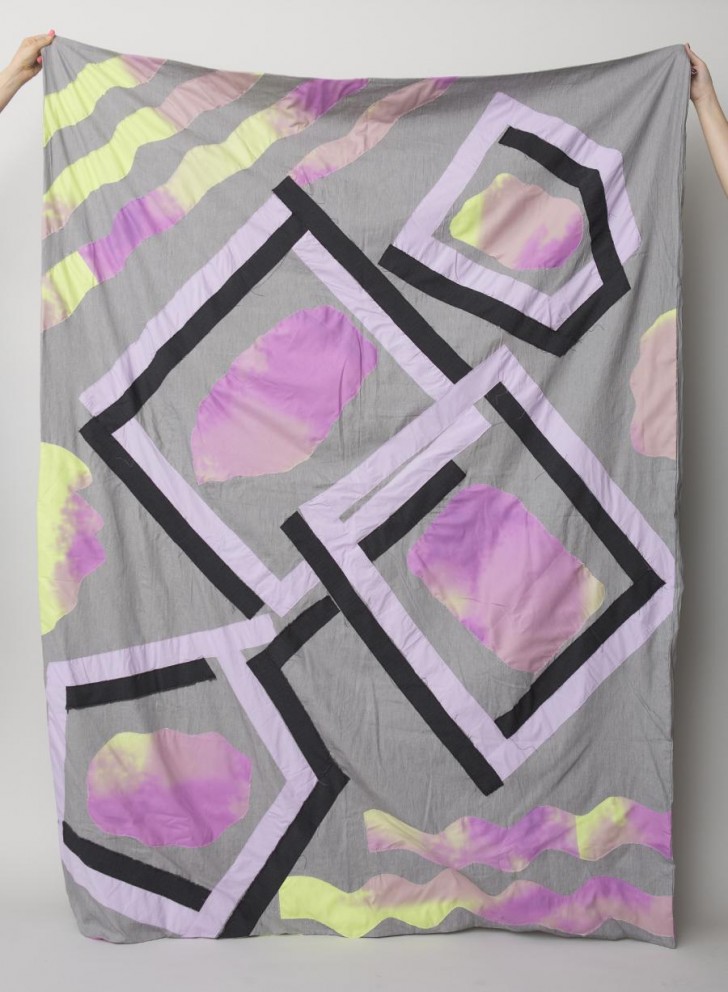 Liz Khoo, Structured Raspberry Sunshine Duvet
www.lizkhoo.com
Hello, please introduce yourself:
My name is Liz Khoo, and I live in Brooklyn. In a previous life, I was a digital marketer, but I've always made images and objects so it made sense for me to go to graduate school and pursue design. (I'm currently a student in the Interactive Telecommunications Program at NYU, which is a program where I'm exploring the physical applications of digital technologies.) My approach to product design is probably somewhat "outsider" because I've never gone through a formal program for ID or textiles or graphic design. But often I'll do hand sketches and then work it out further on screen
What inspires you as a designer?
I'm crazy about patterns and texture. London fashion designers like Louise Gray, Brood, and Meadham Kirchhoff are doing amazing things. It's the "more is more" ethos in balance — that balance being a certain humility in object, something that's not so slick. I wandered into a Richard Tuttle retrospective at SFMOMA in 2005 unknowingly, and it really stuck with me.
What was the specific inspiration behind your Structured Raspberry Sunshine duvet?
I wanted to respond to BYCO's new model for retail. It's asking, 'How do you create a template for UGC design without it becoming predictable?' It's really brilliant, I wish I knew more about how they operate behind the scenes! So for this design it was purely Photoshop and playing with the pre-determined set of BYCO fabrics.
Is the BYCO piece an extension of your existing work or is it a new direction?
I do collages and I embrace mistakes. Collage is about picking out pre-existing things and then reassembling them like a quilt, and the duvet cover follows the same process.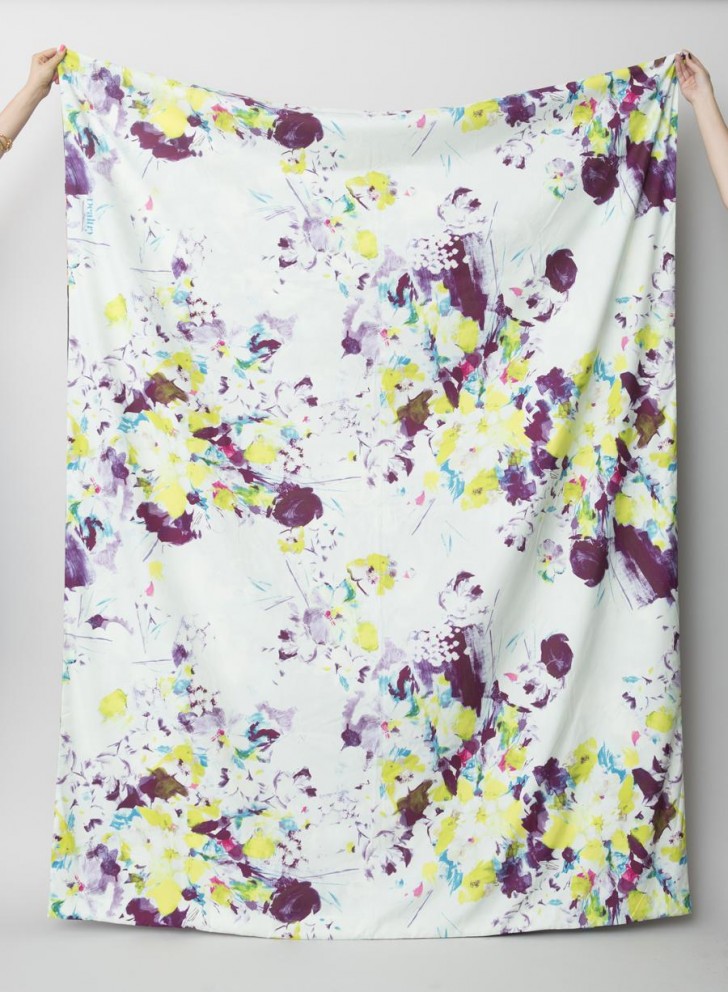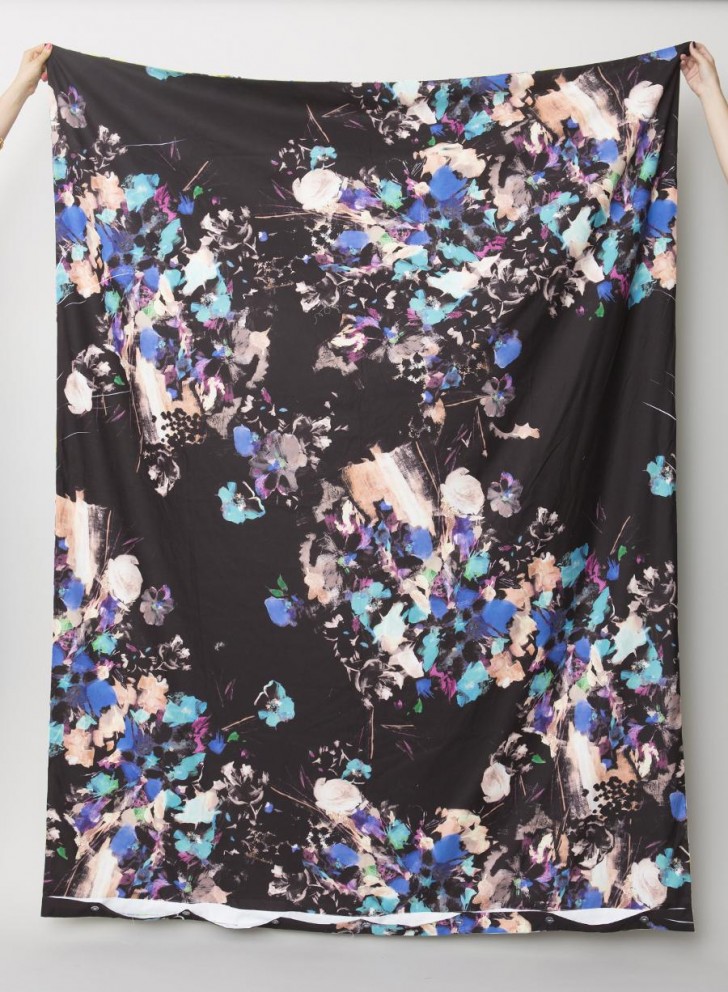 Helen Dealtry, Elysium Duvet
www.wokinggirldesigns.com
Hello, please introduce yourself:
My name is Helen Dealtry, and I'm a printed textile designer in Brooklyn. I moved to New York from London in 2003 and I've been designing textiles for a worldwide market since then. Currently I am head designer for the textile design studio Woking Girl Designs, also based in Brooklyn. My designs always begin as hand-painted or drawn images, which are then imported to Photoshop and digitally printed onto a range of fabrics for the fashion and interior markets.
What inspires you as a designer?
Nature never fails me. Being outside makes me happiest, and I've found that it leads to do some of my best designing.
Watching others work and being surrounded by folks who are passionate about their work has always helped me. If I can travel somewhere new to do this, all the better!
Moving past my comfort zone and setting higher expectations for my work helps me break new ground.  It's always a little scary, but it almost always inspires fresh thought.
What was the specific inspiration behind your reversible Elysium Duvet?
I specialize in floral patterns for a lot of my design work.  I like florals for interiors but often have a hard time finding something that's not too girly. I wanted to create a design for the home that would bridge the gap between abstract and floral printed design, and hopefully appeal to a broader customer base.
Is the BYCO piece an extension of your existing work or is it a new direction?
I'm frequently designing for other labels or design houses, so it's always exciting to put my own name on a piece and to design it with a personal style and home in mind.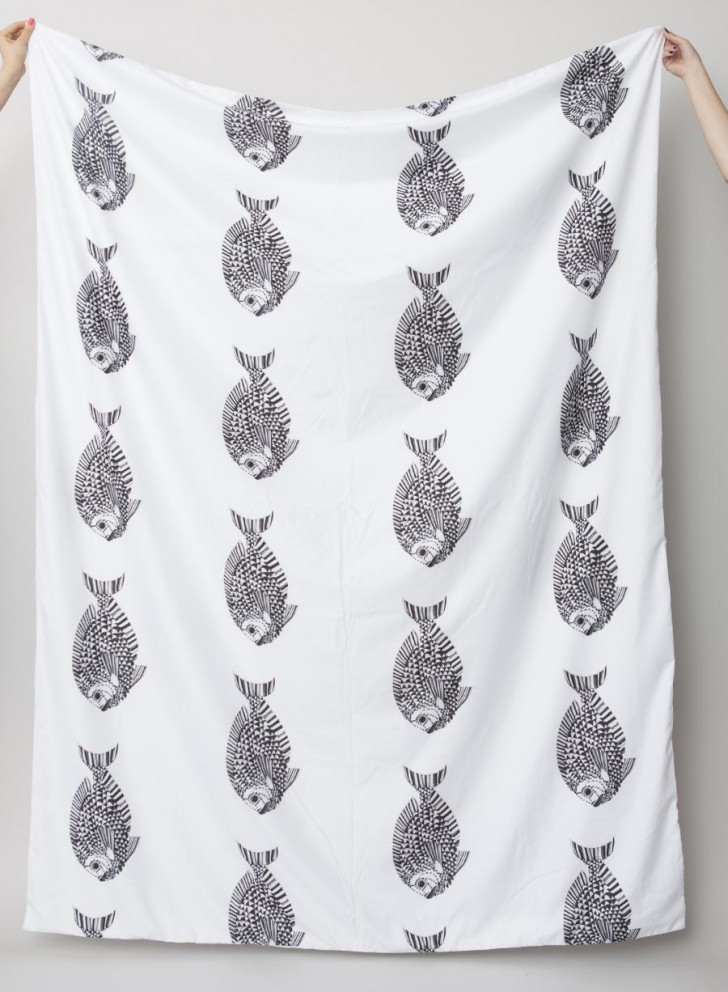 Scott Wright, Sumatra Duvet
therightart.co

Hello, please introduce yourself:
My name is Scott Wright, and I've lived in La Jolla, California, for more than 30 years. I'm originally from Northern California and was raised on the West Coast. I'm a general contractor, and I've been designing and building houses most of my life. I started an art career a little over 10 years ago. I exhibit locally, and have had some of my originals purchased by the museum store at SFMoMA.
What inspires you as an artist?
Most of my work is representational. I'm inspired by the natural environment and marine life in particular. Most of my images are done on paper, and I use many different media. Pencil, marker, watercolor, pastel, chalk. I've been using silver and gold gilding in some of my recent pieces.
What was the specific inspiration behind your Sumatra Duvet?
The original drawing that inspired the duvet design is called "Copperfish." I took it down to B&W in Lightroom and then repeated the pattern of the fish in a grid which was the original design that I submitted. Although my art is hand produced, I have created some computer generated designs from my original images. I have also had some of my designs laser etched, and would like to eventually apply that method to glass. I'm very interested in applying my designs to textiles, and I was so happy with the sample that BYCO produced! I feel that my designs have a lot of applications, and would love to pursue that aspect of the art world.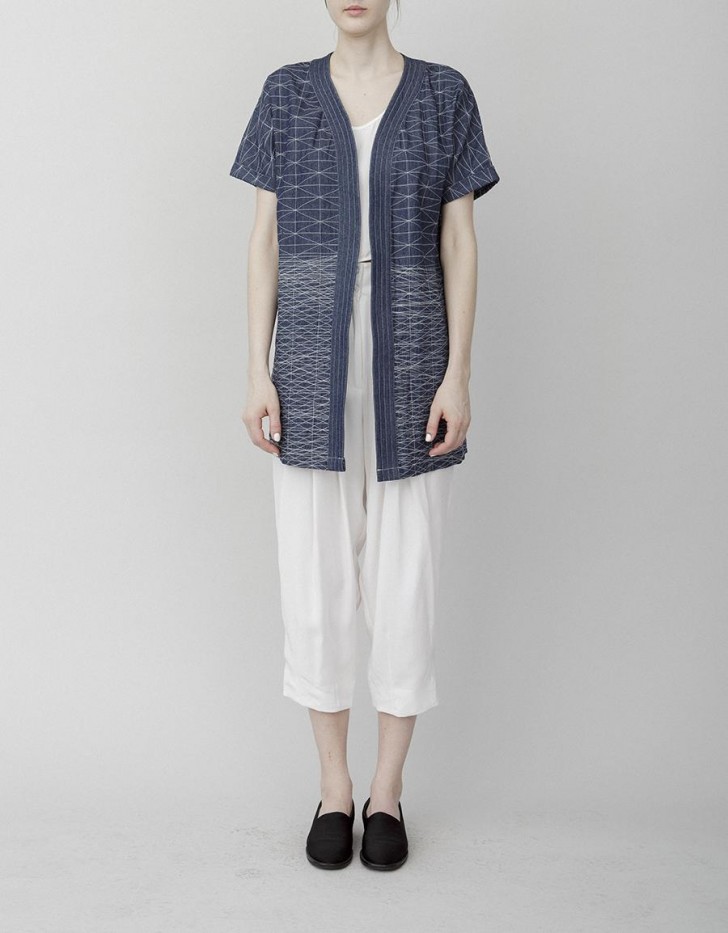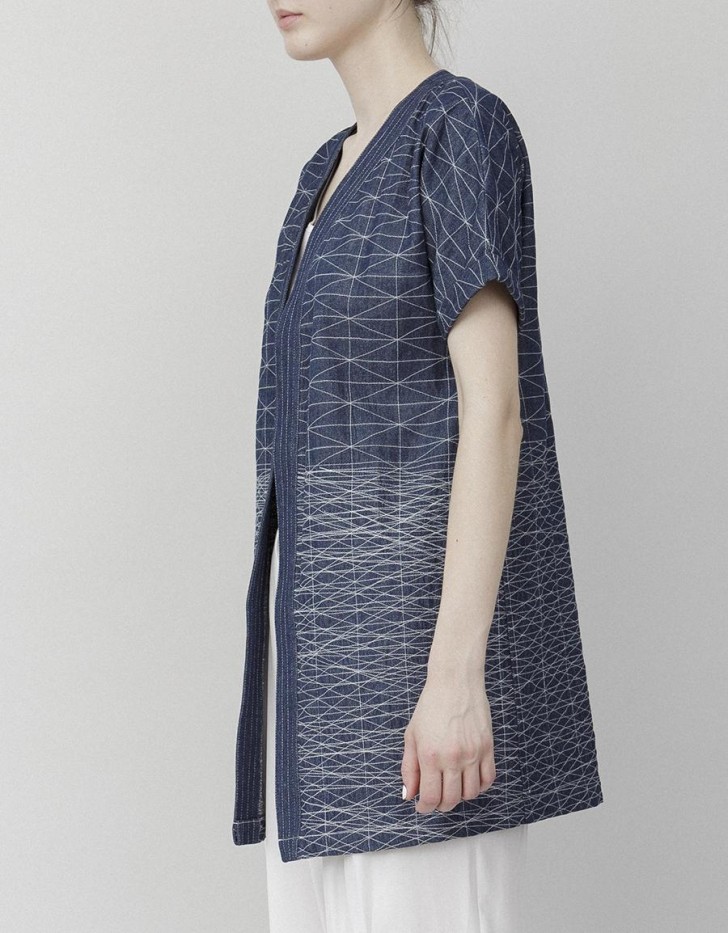 Lindsay Givens Casale, Marin Jacket
www.fouronefiveshoes.com 
Hello, please introduce yourself:
My name is Lindsay Givens Casale and I'm from Cape May, New Jersey. After graduating from Ursinus College, where I studied communication and art, I attended Parsons in New York City. A stint as a Calvin Klein Collection intern led to a job offer which I turned down, at times regrettably, to explore other interests. My design process starts off a bit wildly with lots of quick sketches and watercolors. I then step back and pluck the most essential lines, silhouettes, textures, and colors to create a piece.
What inspires your work as a designer?
I'm inspired by the strength of lines and a constant want to express more with less.
What was the specific inspiration behind your Marin jacket?
My BYCO piece is inspired by vintage Japanese sashiko-stitched fabrics. I wanted to re-imagine the nervous quality of the lines and I found the washed nature of indigo dyed denim so beautiful and compelling. The name of the piece comes from recalling the natural "blue washes" found along the coast during a road trip through Marin County, California.
Is the BYCO piece an extension of your existing work or is it a new direction?
BYCO has marked my personal reconnection to clothing design and has given me a platform to once again express and transmute my ideas into fabric.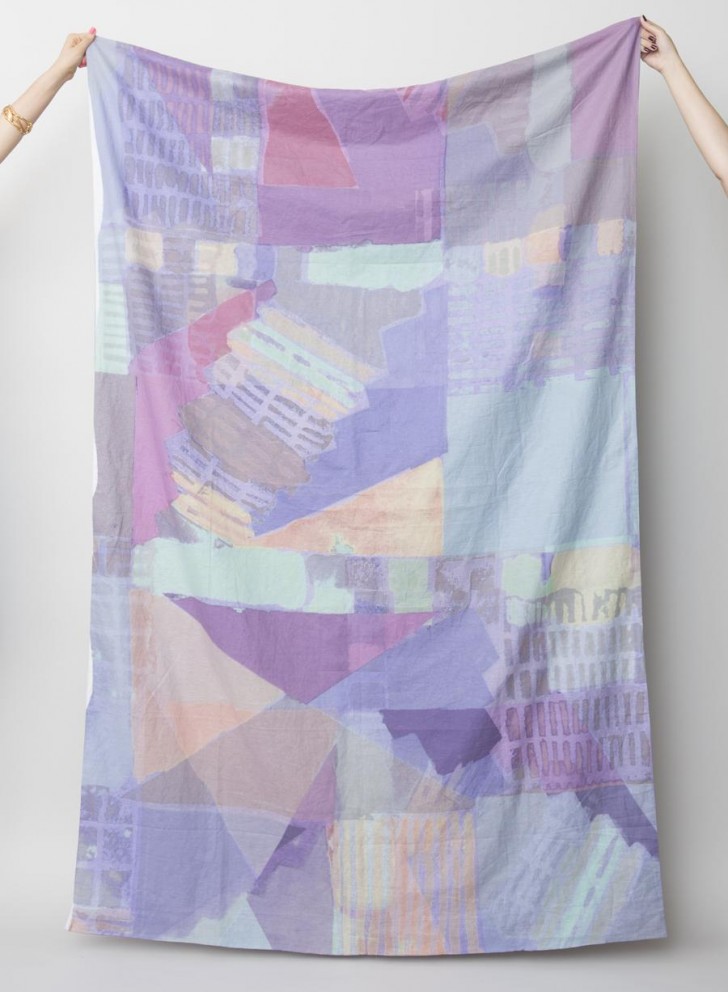 Jennifer Parry Dodge, Kid Gunta Duvet
ermie.bigcartel.com; ermieblog.blogspot.com
Hello, please introduce yourself
My name is Jennifer Parry Dodge, and I live in Los Angeles, CA. I was born and raised in Iowa. I attended the Minneapolis College of Art and Design and graduated with a BFA in Fine Arts Printmaking in 1995. I live and work in Highland Park. I design my own line of textiles and clothing under the name ERMIE, and also work as a freelance designer of textiles & prints. An essential part of my practice is also collaboration, and I curate small collections, shows and publications (coming soon) of the work of other designers, artists, and creatives who inspire me.
What inspires you as a designer?
Nature, the flawed, the accidental, the transient, light, color. Old textiles from various cultures. The work of my peers. Also see here!
What was the specific inspiration behind your Kid Gunta duvet?
I had been looking at the work of Gunta Stozl while designing my last collection. I had wanted to make something that was a tribute to her, and her work…but taking a lighthearted approach to it, as if I was a child responding to her work (because I feel quite open, curious and childlike in the presence of her expert designs). So I used watercolors, handmade rubber stamps, and construction paper — tools and techniques that I used as a young child in art classes — and created a collage, reinterpreting some of the shapes and spatial relationships of her work. The collage was used as a basis for the final print design for the duvet cover.
Is the BYCO piece an extension of your normal work or is it a new direction?
It's new for me in that I was responding to the work of a specific designer. It's an extension of my normal work in that I have been creating home goods here and there for over a year now. What is also new, however, is partnering with Sight Unseen and BYCO to have the design produced. I would not have been able to produce such a large-scale digital print on linen on my own. This was an amazing opportunity, and it's a fantastic service that BYCO is providing to independent designers such as myself.