05.05.17
Symbols, Snakes, and Spirituality in a New Collection of Terrazzo Furniture
"I try to always say yes," says Los Angeles–based designer Carly Jo Morgan, and it's easy to imagine how such an outlook might have led her to wallpaper design after taking a silk-screening course her senior year at NYU. Or to jewelry-making, under the name All For The Mountain, shortly thereafter. Or to furniture design and the curation of a community festival at her home in Topanga Canyon in the years following. She confirms that it was precisely this openness, in fact, that propelled her to her most recent project: a collection of terrazzo furniture and lighting that's as expressive as it is eye-catching. The choice of material — made by incorporating pieces of marble into concrete, which is then ground and polished by hand — underscores Morgan's interest in evolution, change, and rebirth. The same can be said for the collection's inclusion of various symbols, including hands and snakes. "I like to be reminded of snake medicine as much as possible," she says, "because it emphasizes that we can transmute all poisons, and shed the skins of the past."
The resulting collection, which includes the Yin Yang Table (twin surfaces in pink and black, enhanced with brass inlay), the Cozy Club Chair (with optional sheepskin), and the zig-zagging Serpentine Heart Song Lamp, was unveiled at the new Los Angeles gallery Not So General on April 20th. Today, Morgan shares her thoughts on transformation, her toughest critic, the satisfaction of "deep" sisterhood, and faking it until you make it.
PHOTOS BY MARIAH WYNN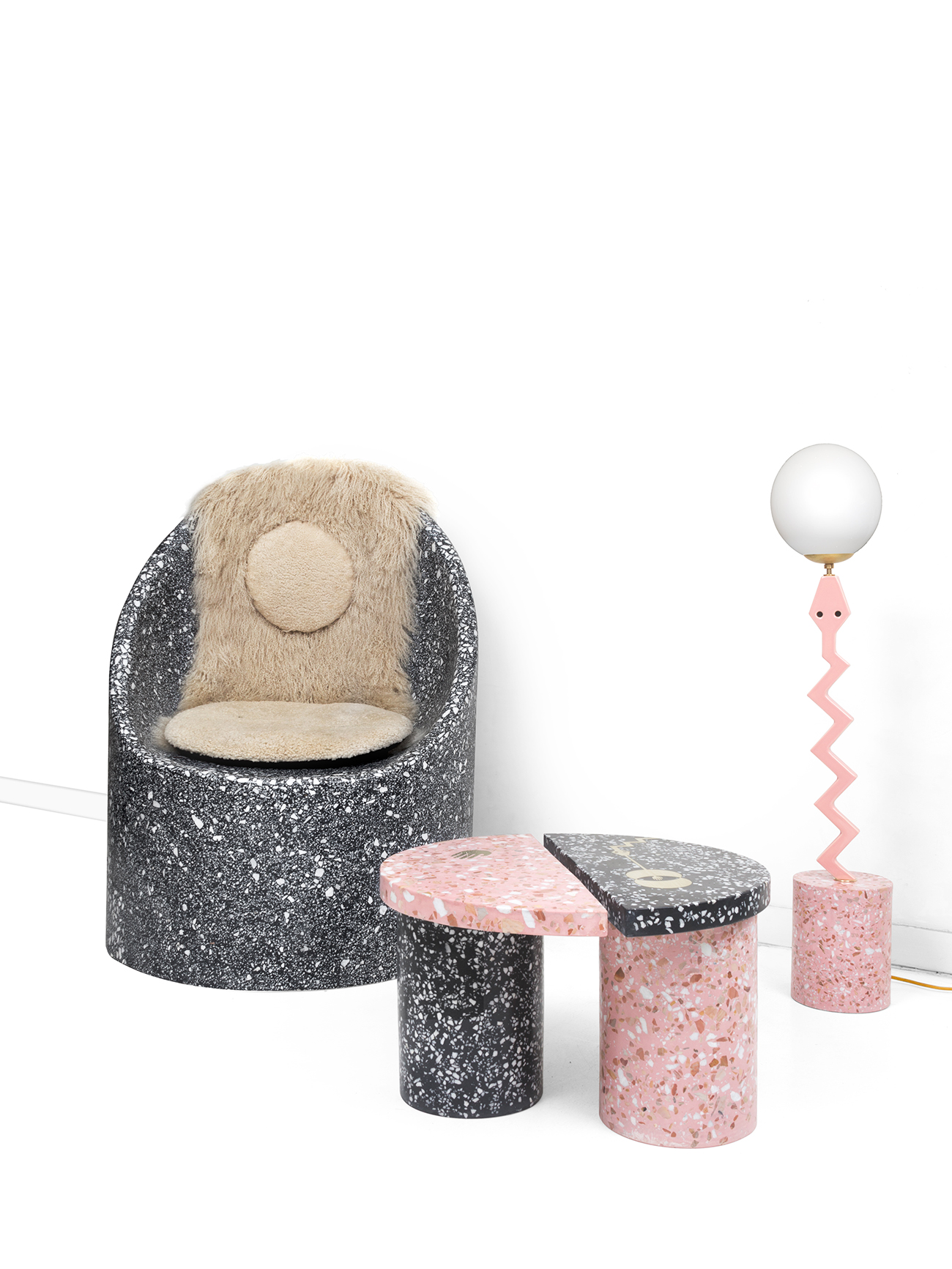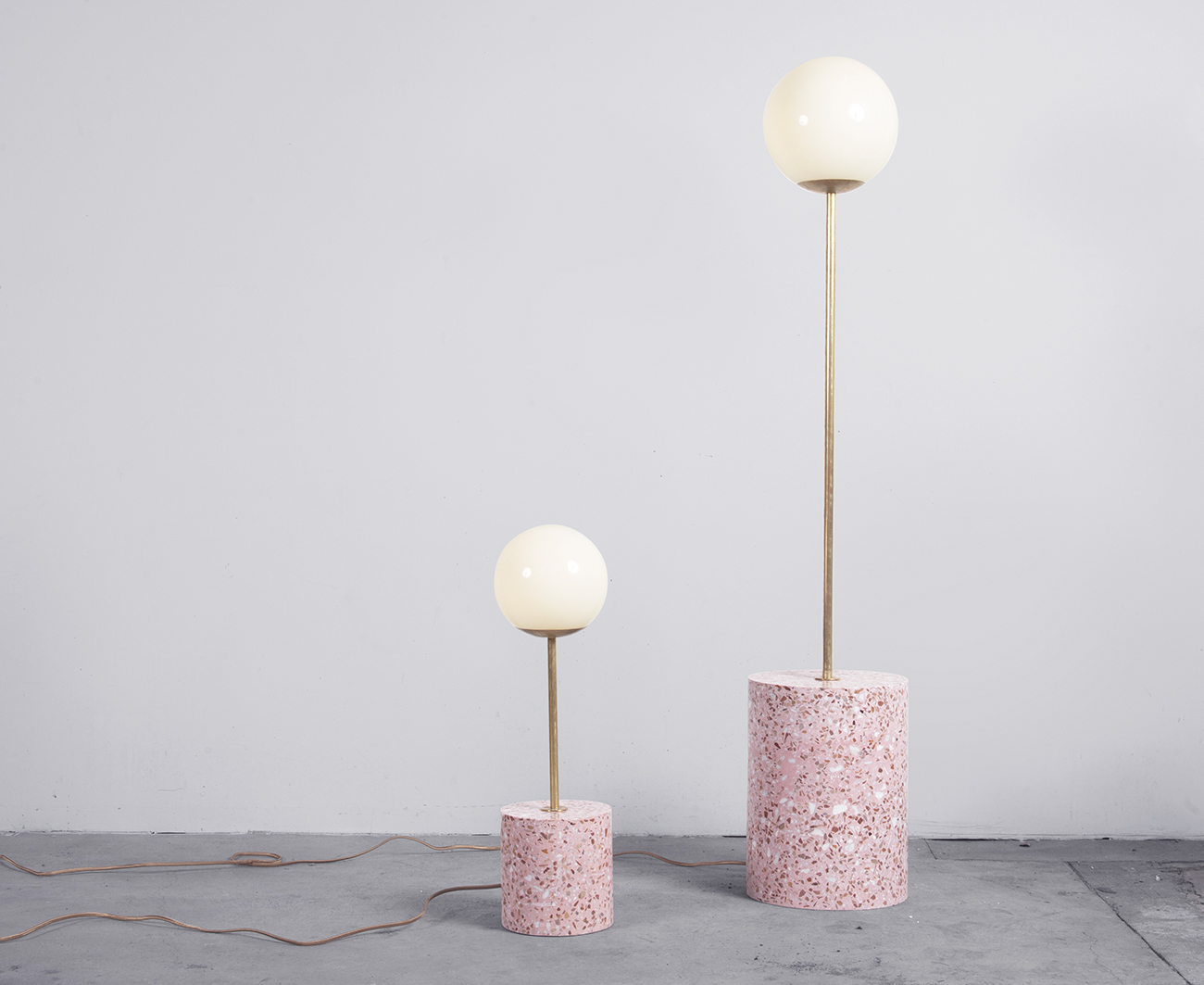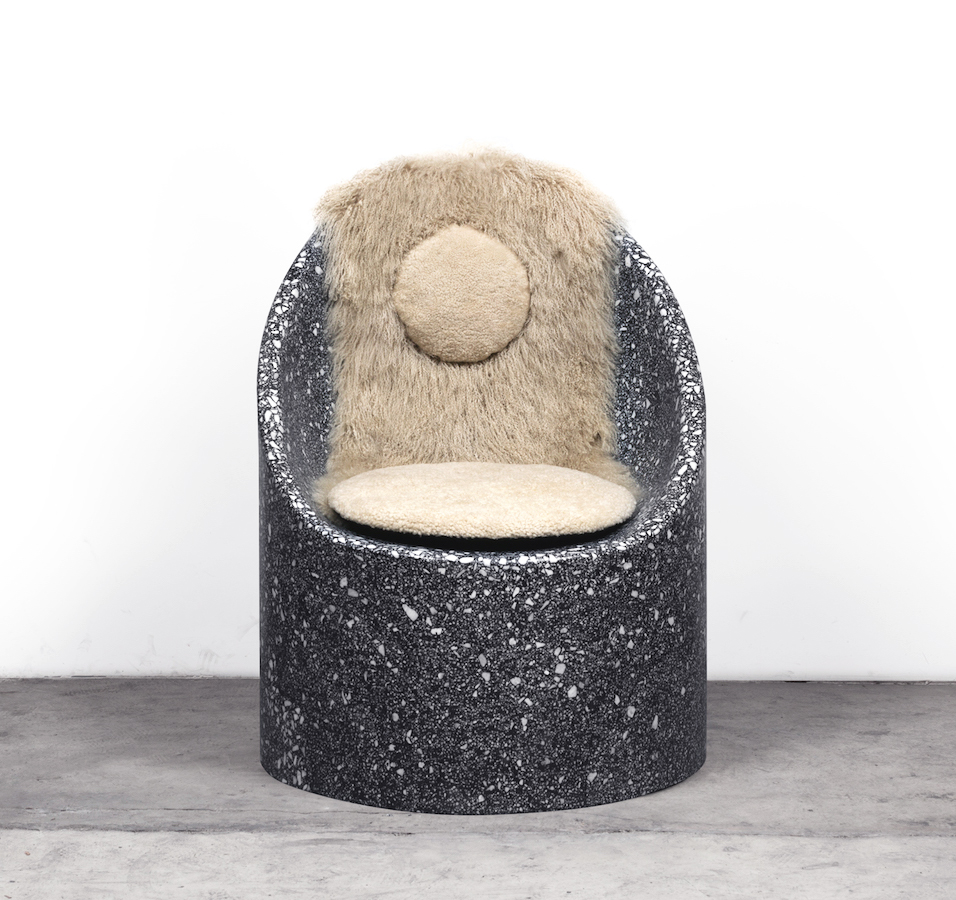 In the past, you've described your creative path as a sort of fateful, winding trajectory: from California to New York and back again; from wallpaper to jewelry to furniture design and beyond. Where has that path taken you most recently?
It's taken me to my current terrazzo furniture collection. Terrazzo is a material made using marble and concrete, and it's an incredibly labor intensive process that we're making up as we go. Each piece is unique due to the nature of the hand grinding and the layout of the marble and brass inlays.
It's technically my first solo collection, but it is in no way a solo venture. I designed the pieces, but there was a very strong team that showed up to help problem-solve and realize ideas.
What inspired the symbols featured in this collection?
Snake medicine is the energy of wholeness, cosmic consciousness, and the ability to experience anything willingly and without resistance. It is the knowledge that all things are equal in creation, and that those things that might be experienced as poison can be eaten, ingested, integrated, and transmuted if one has the proper state of mind. I like to be reminded of snake medicine as much as possible because it emphasizes that we can transmute all poisons, and shed the skins of the past. Snakes represent infinite reincarnation and rebirth. They're also often depicted as the guardians of the Underworld and the messengers between Upper and Lower worlds — a space I like to explore.
The symbols of hands are important because they represent giving and receiving, creation, building, holding, connecting.
What drives the choices you make in your art — color, textures, shapes, symbols, mediums? 
I guess everything up to this point was guided by intuition — not overthinking where I was going, and saying yes to opportunities presented to me by the universe, even if I had no idea how to do or make what was being asked of me. "Fake it until you make it," I think is the term.  
As for the terrazzo pieces, those came about after I was hired to design a restaurant in San Francisco called the Dream Cafe. The chef was very open to something trippy and different, and I was excited that I could be as weird as I wanted to be. I created renderings of a Surrealist pink moonscape, and in the process, came across Jonathan Entler's ceramic pink lighting. I went for a studio visit and showed him the concept, and he asked, "How are you going to make all that terrazzo?" It was a good question. I hadn't thought that far ahead. I rarely do. But he offered to help, and together, we figured it out. He's really the master engineer behind the forms. We work really well together because we both believe in infinite possibilities. That was how I landed on the color and the current medium.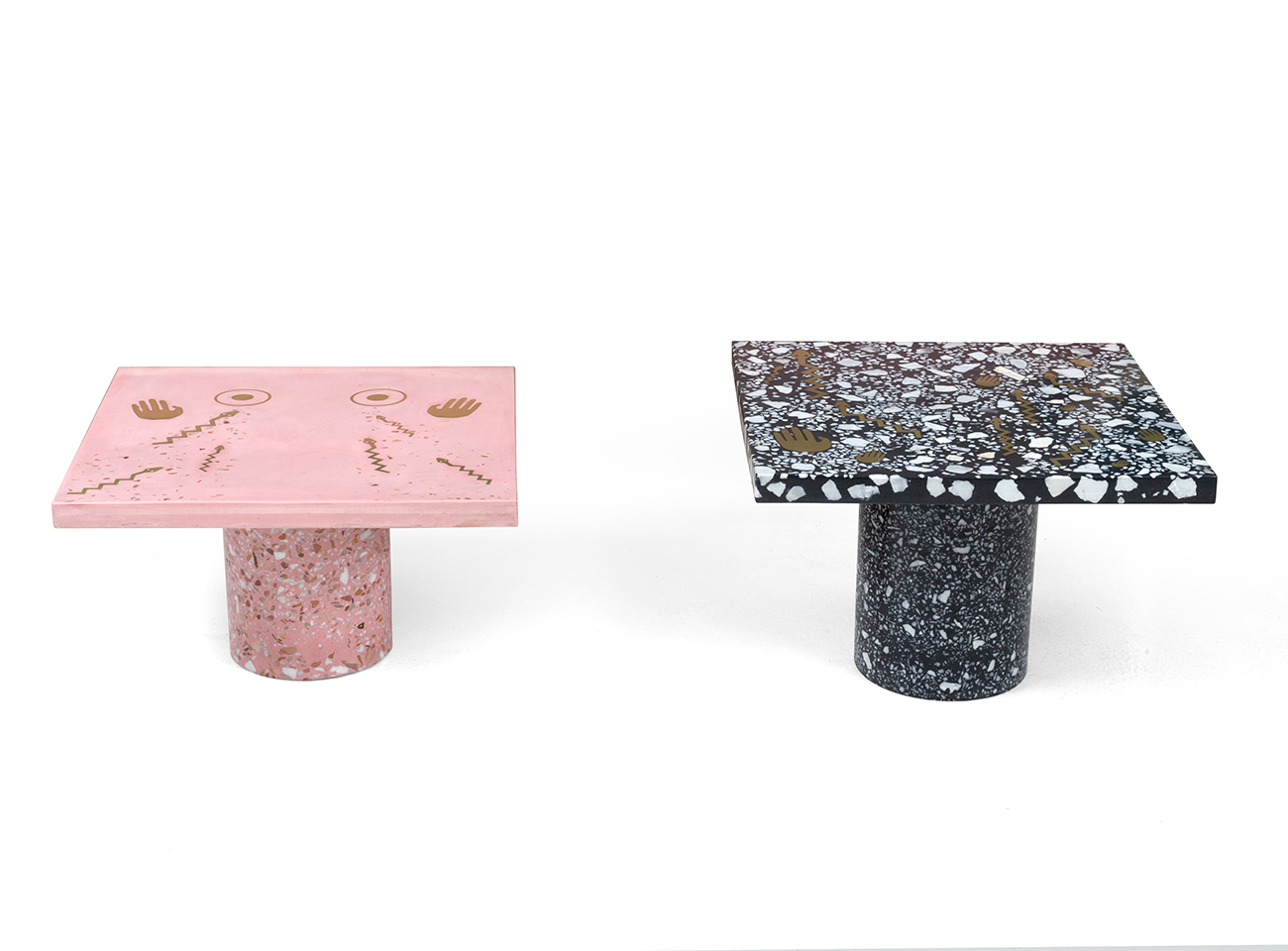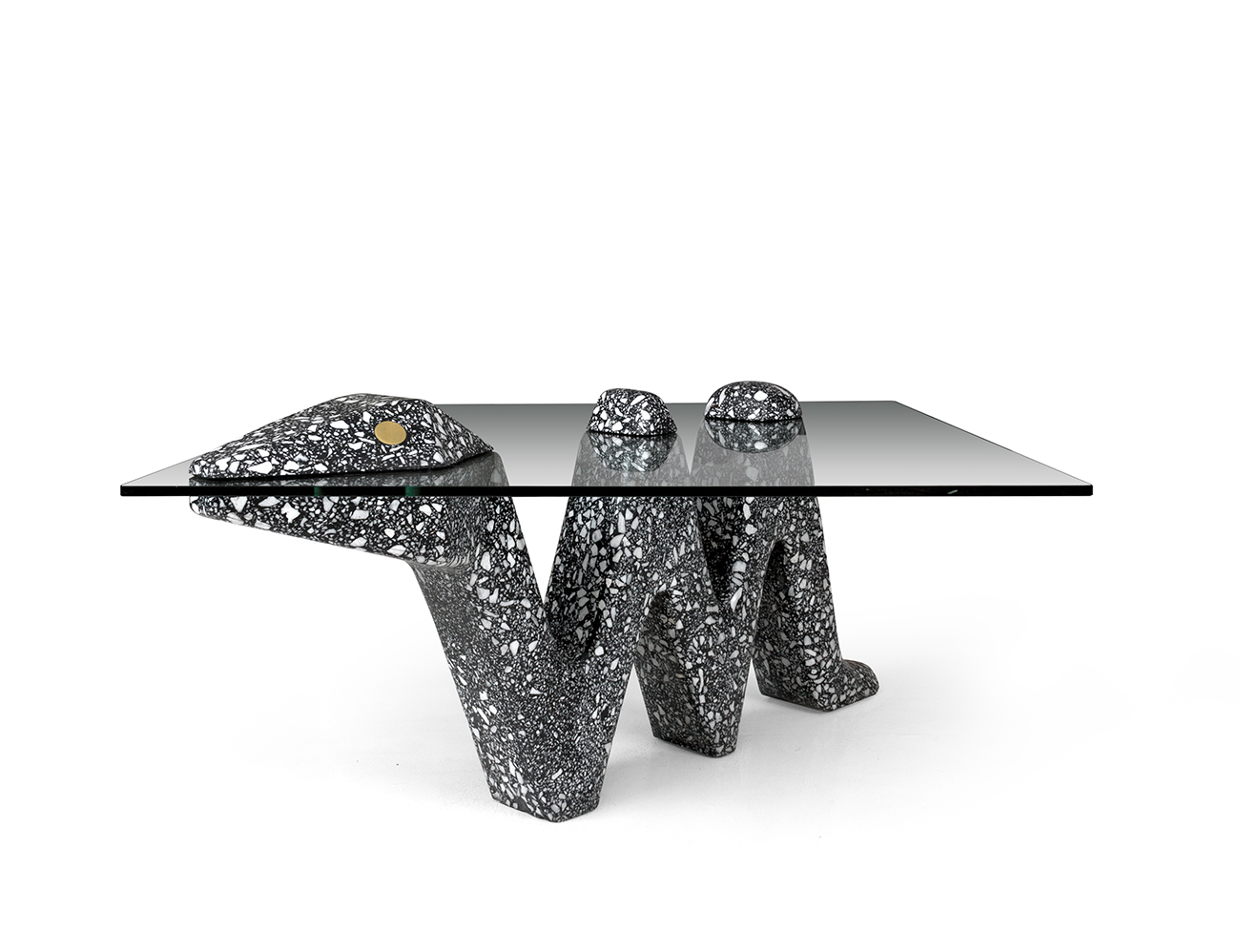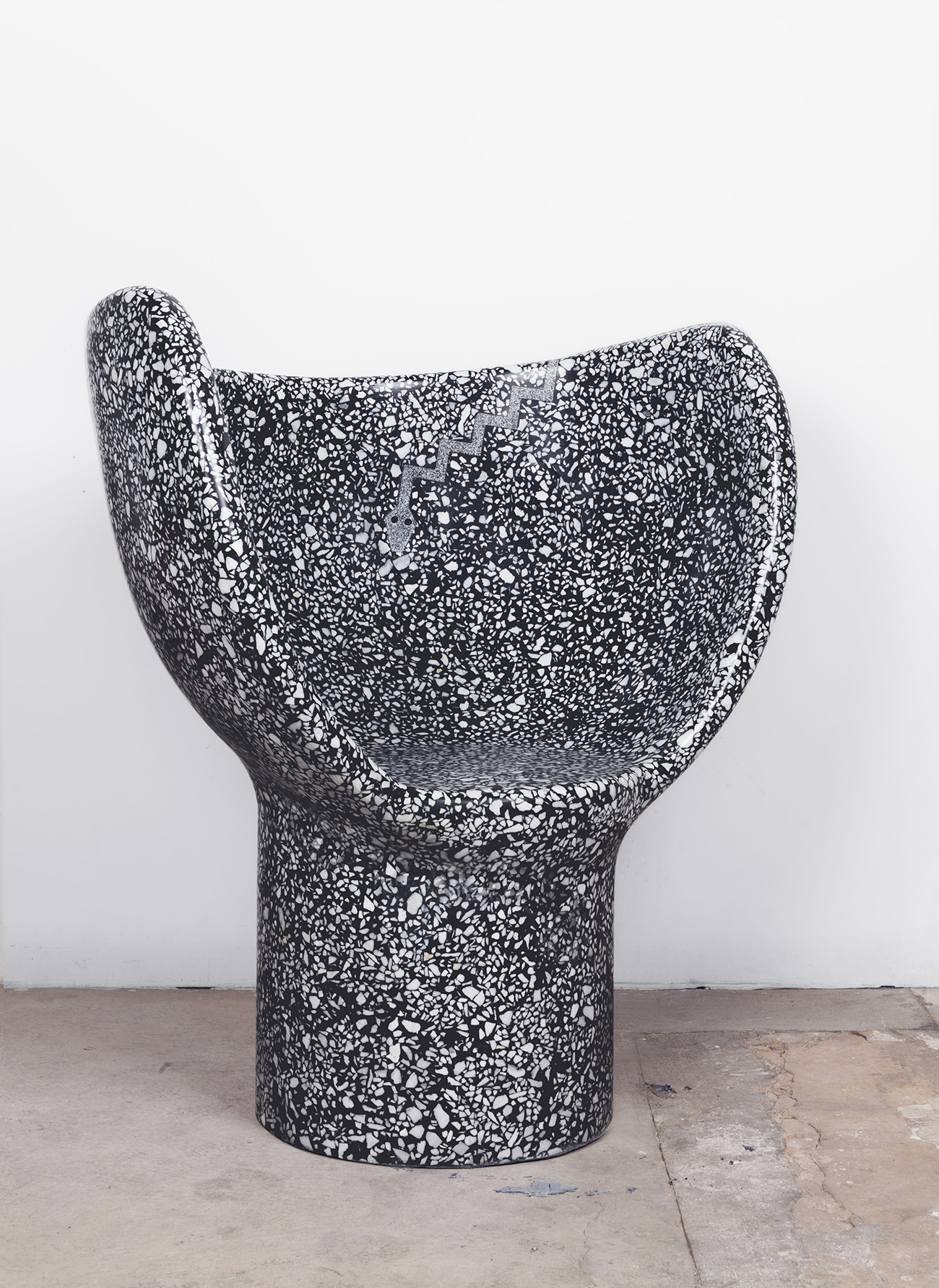 The Terrazzo line makes such a strong visual statement. Some pieces are pink, many feature snakes, there's inlaid brass and resin, there's the option of sheepskin upholstery. What sorts of spaces do you feel best do them justice?
Because terrazzo is so durable, it lives well in the outdoors — a fact that's led to a lot of potential ideas and jobs creating public spaces. I'm currently working on several proposals for Surrealist sculpture gardens, as well as an anthropomorphic amphitheater.  Fingers crossed!
Right now, we're beginning to sell directly to clients, and we've also worked with larger corporate clients, such as The Wing — a women's-only club in New York — and a tech firm's headquarters in Los Angeles. Most of the individual clients I'm working with are very whimsical and spiritual. They get the messages that I'm trying to convey. It's definitely not for everyone. And because making the pieces is so labor intensive, it ends up being pretty expensive. We're currently trying to develop a line of lower-priced lighting that's more affordable.  
Is there one Terrazzo piece that resonates with you particularly strongly?
The Transmutation table. It's the one featuring the snake with glass sandwiched in between its curves. I've been drawing, painting, and mediating on snakes for years, so to see one in 3D is very exciting. It lived in my home for a few weeks, and I've never seen my three-year-old daughter, Cookie, so excited about something. She jumped up and down and hugged it while screaming, "Mommy, this is so beautiful!" It meant a lot to me. She can be a tough critic.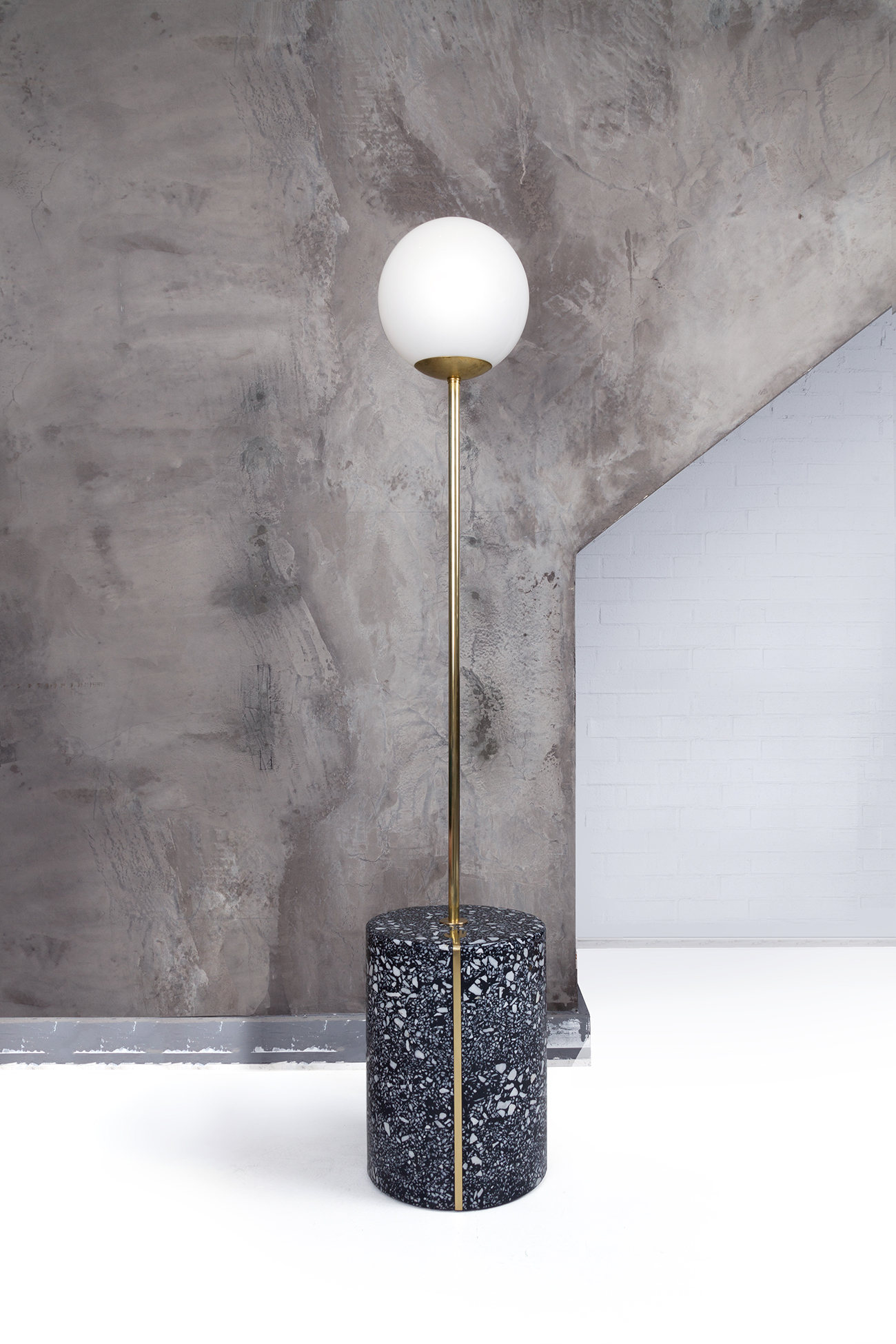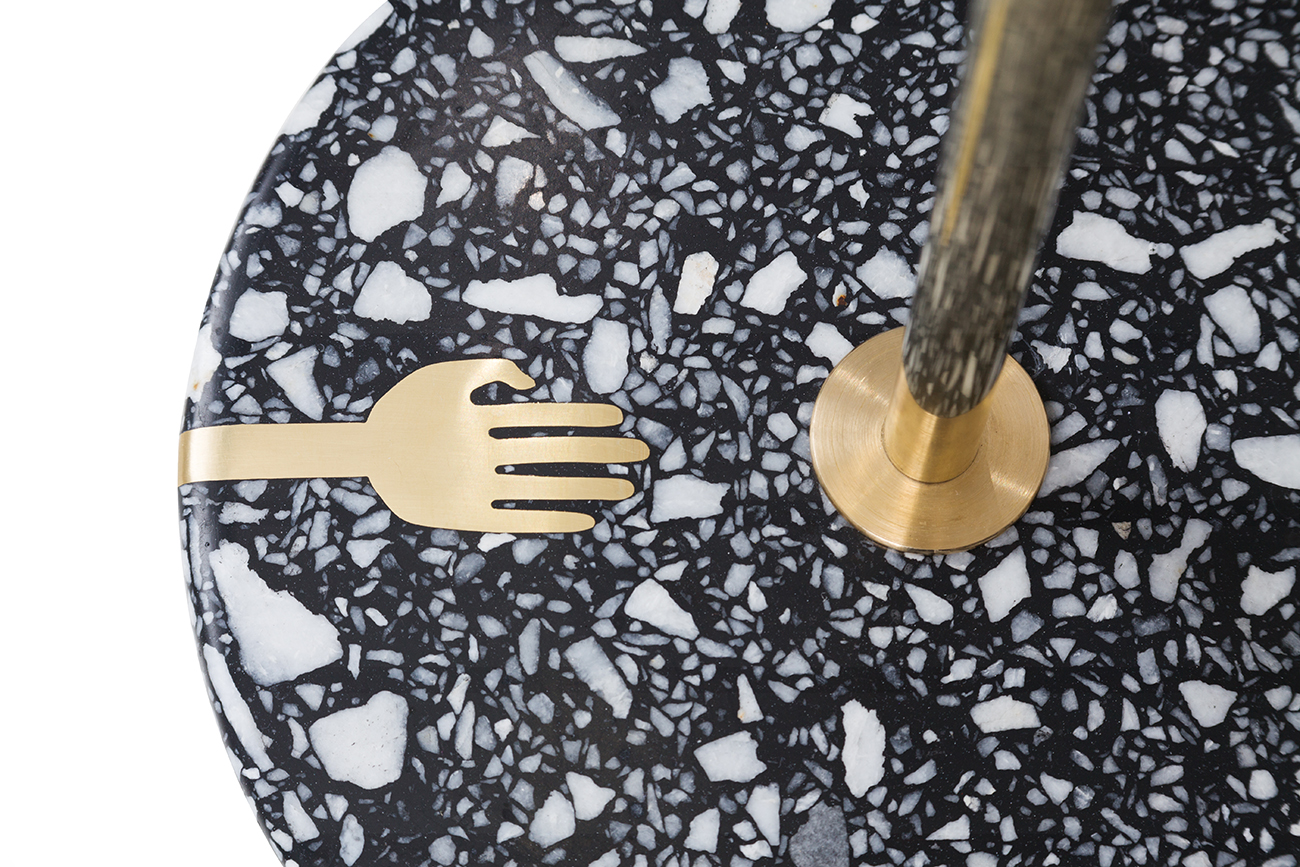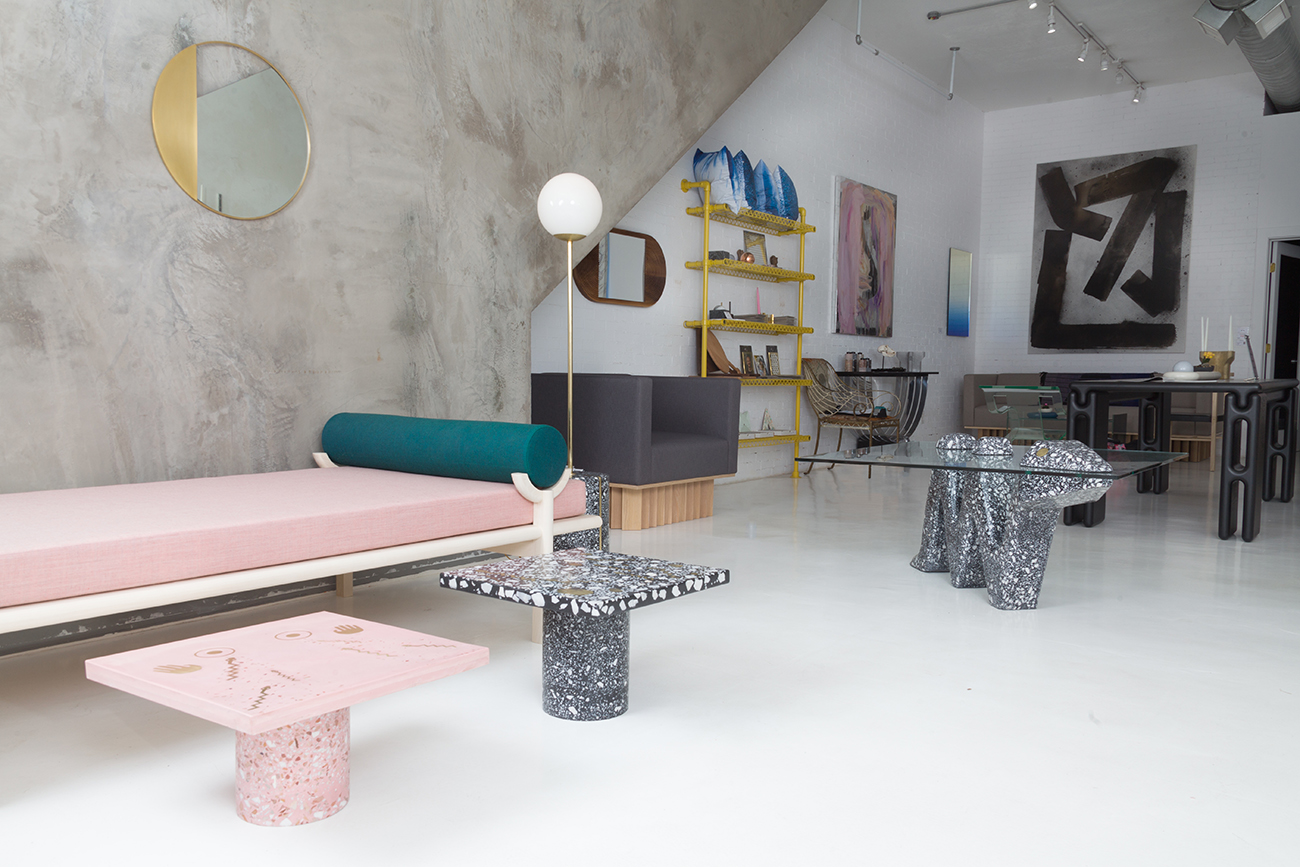 Your debut solo exhibition, Transmutation, took place recently at a new LA gallery called Not So General. How did that come about?
The owner, Paul Davidge, reached out for a studio visit at the perfect time, just when we were starting to reach out for representation. As I mentioned before, I try to always say yes, and this seemed like a perfect fit. He and I are both beginning new ventures without knowing much about the field, but we believe in this new chapter of life. It's been a pleasure.
You mentioned working with The Wing, and there seems to be something of a spotlight on women in design at the moment. Can you speak to your personal experience as a woman in today's design industry?
Women everywhere — not just the people I work with in the design field — are blowing my mind. I loved working on pieces for The Wing in New York, because their whole team was female. I love being a woman, finally. I spent most of my life identifying more with men, which I grew to realize was more out of my own insecurities. Something has softened in me, especially since becoming a mother, and now strong, inspiring women are flowing into my all aspects of my life. The sisterhood is deep.
What is next for you?
I'm trying to call in clients that are interested in creating some super trippy mythical landscapes, and I'm working on a hotel concept that is somewhat of a healing retreat center and cultural incubator. I can't say much more than that! It's going to take a lot to get it going, but all of the partners involved are deeply passionate about community and the importance of connecting people in an inspiring atmosphere. I'm trusting that it's happening. The terrazzo pieces feel like an important stepping stone that's getting me closer to some more interesting work involving spaces that come to life and serve the purpose of bringing people together — to unplug from the hustle, connect with one another, heal, be educated and inspired.