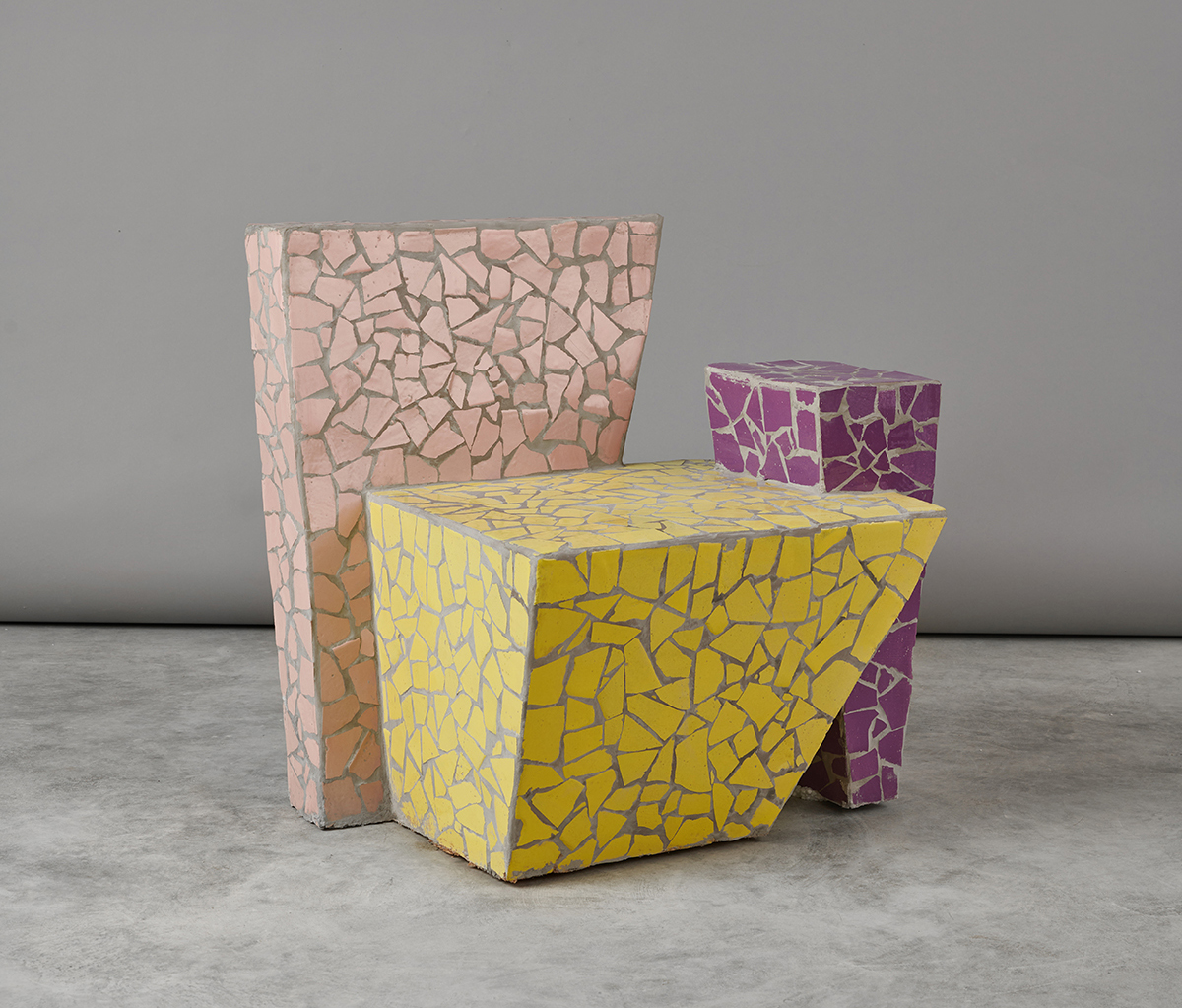 A weekly Saturday recap to share with you our favorite links, discoveries, exhibitions, and more from the past seven days. This week: Sophie Lou Jacobsen's new glass menorah, a terrazzo-inspired lounge chair, a '60-inspired floral furniture collab, and Alex Tieghi-Walker's new New York gallery.
Discoveries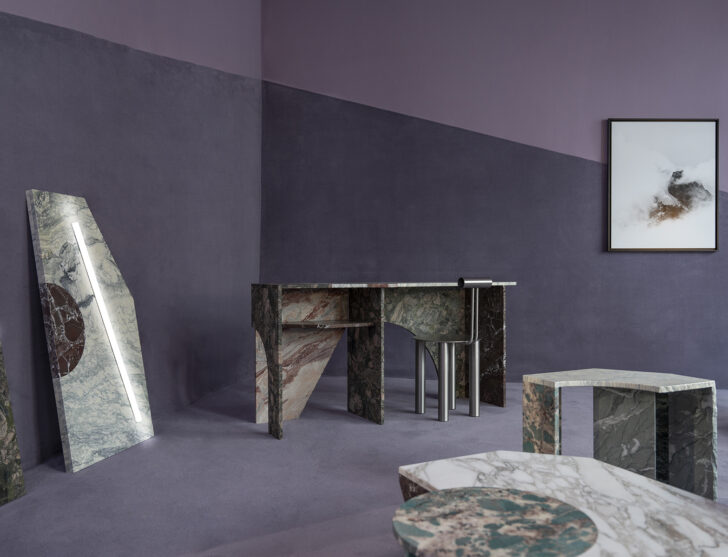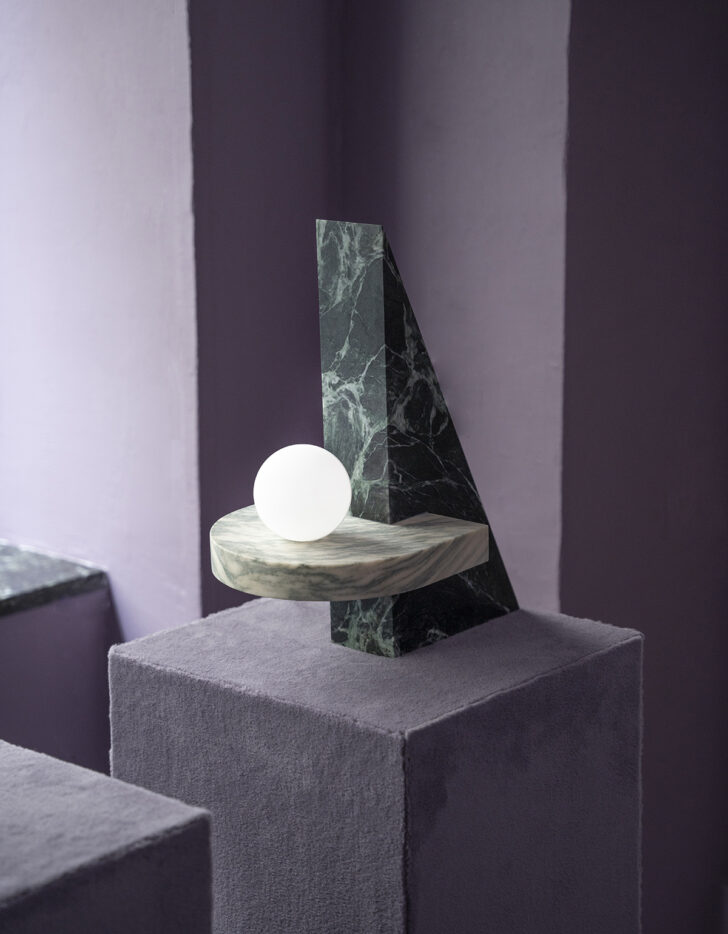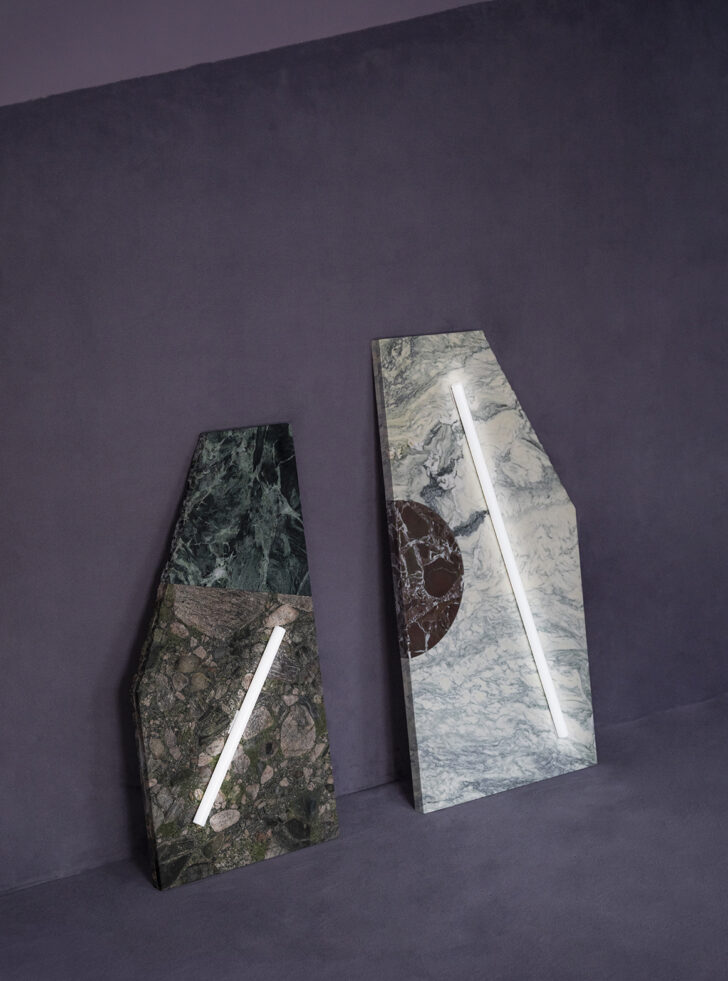 The Parisian gallery Boon Room recently launched a gorgeous new limited-edition furniture collection by Studiopepe. Called Ritagli, the pieces are made from marble waste and originated from a desire to examine sustainability from a material perspective. Ritagliare is an Italian word meaning "cut-out."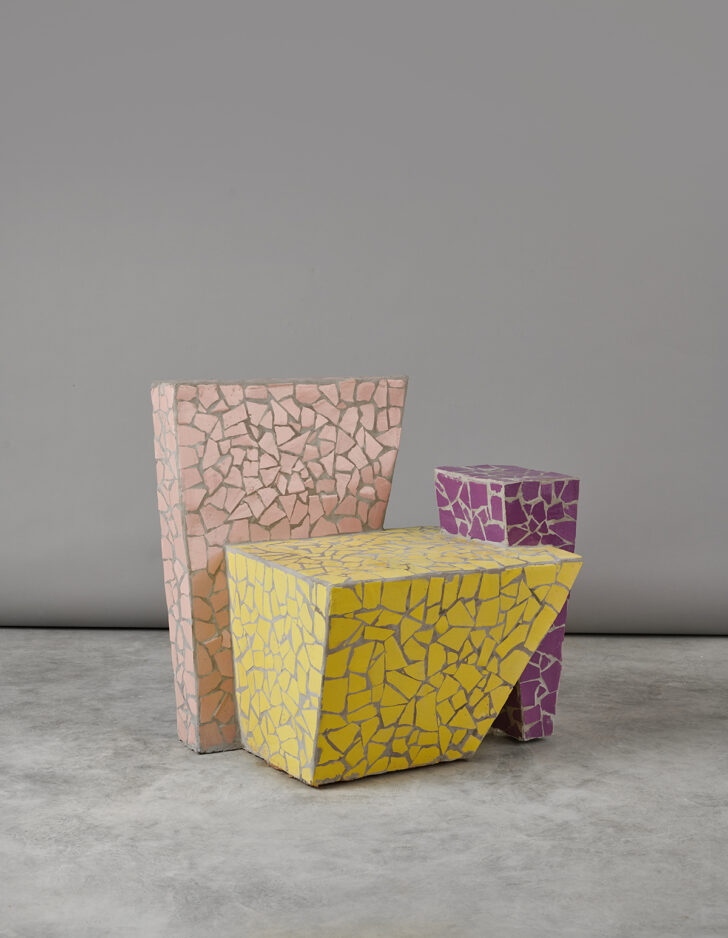 Masquespacio's new Say Hi chair for their in-house Mas Creations line looks like what would happen if Peter Shire began to work in terrazzo rather than spray-painted metal or upholstered foam. Very neo-Memphis.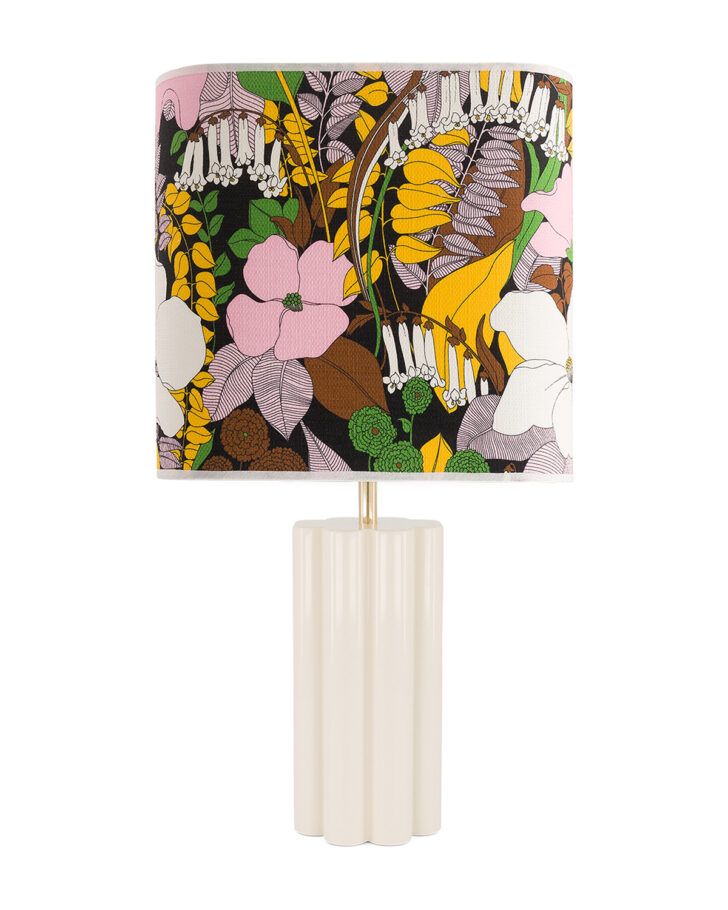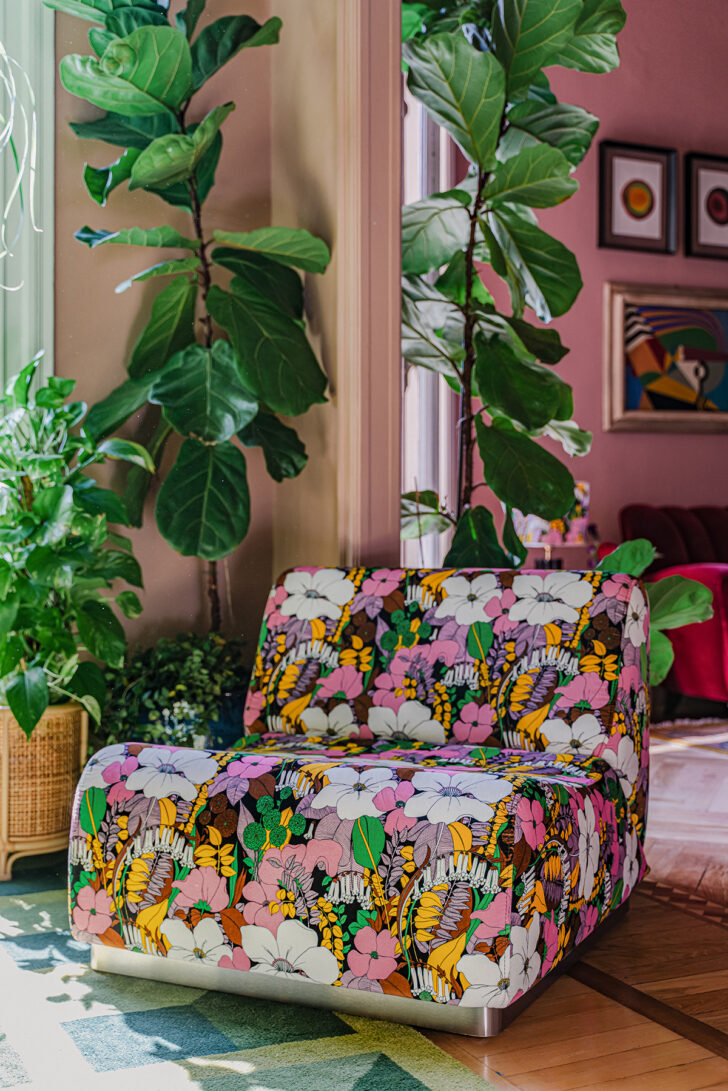 Honestly, the '60s doesn't get much love these days in the design world, with the '70s still and forever reigning supreme. But this over-the-top floral furniture, a collaboration between Constance Gennari of The Socialite Family and J.J. Martin of La Double J, recalls that decade in the best way.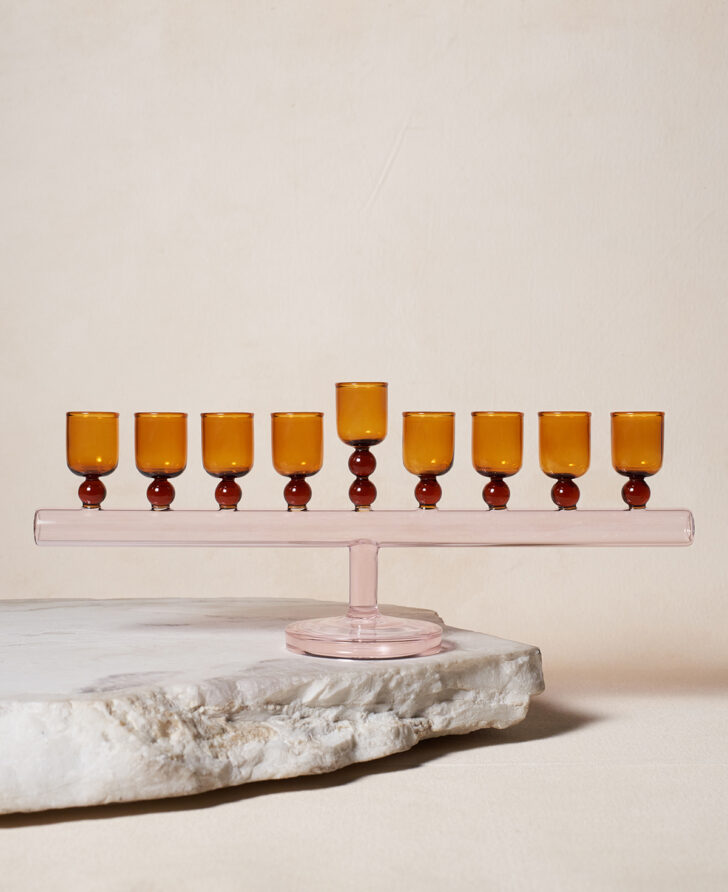 Ever since our viral menorahs story last year, I've been hoping that Sophie Lou Jacobsen would make a menorah in glass, and this holiday season, I'm getting my wish: Jacobsen teamed up with the Judaica company Via Maris to make an oil candle–based borosilicate Chanukah, available in three very chic color combos.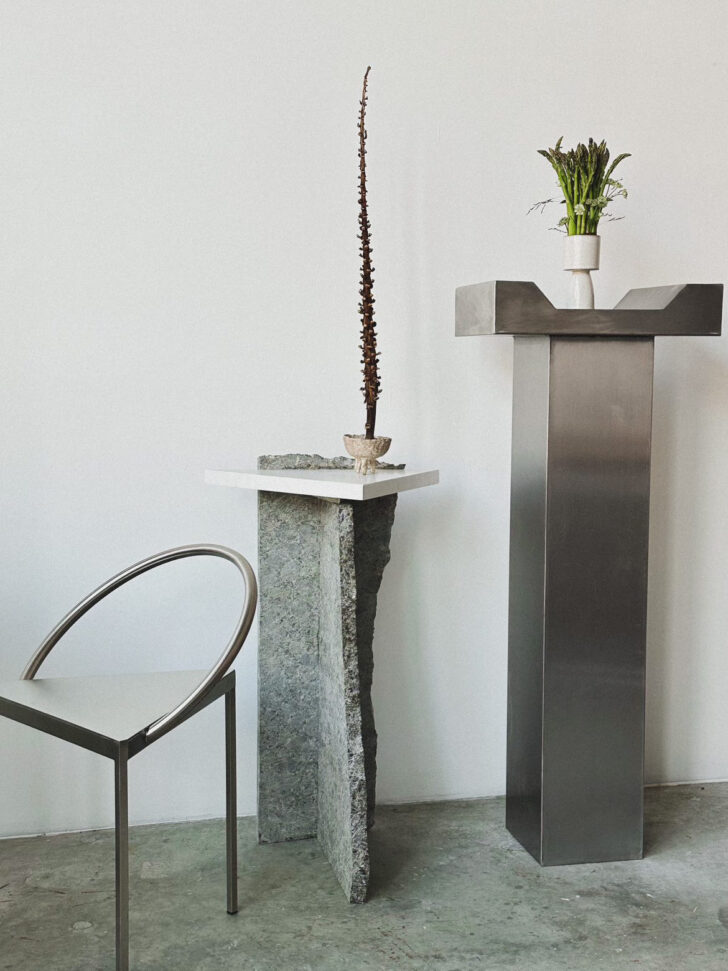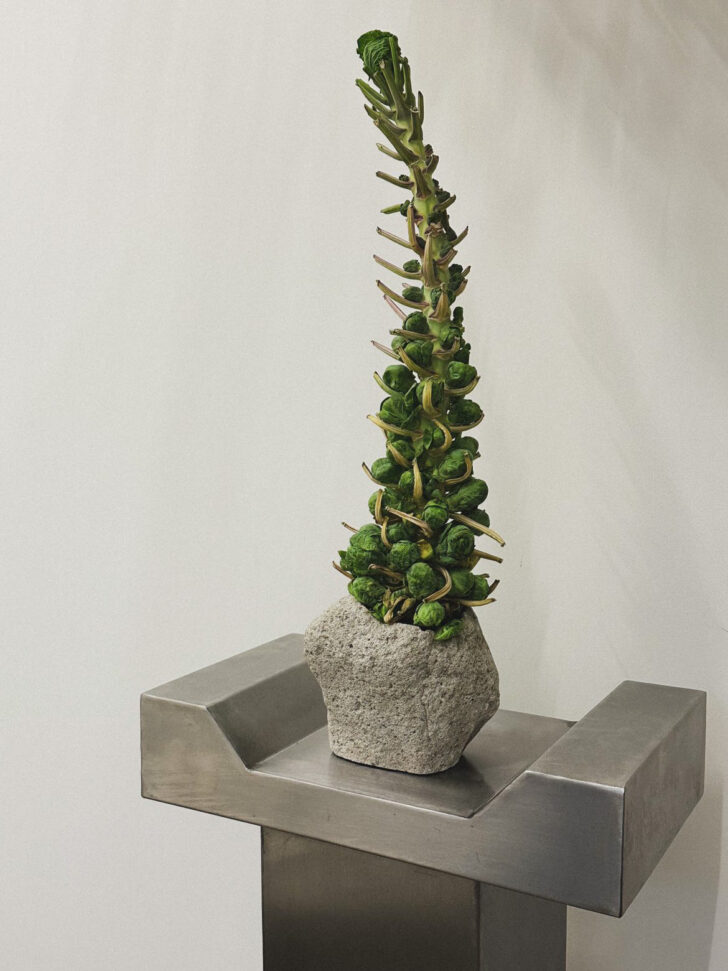 The Brooklyn floral studio Flover recently teamed up with a coffee shop called Rhythm Zero to open a joint space near Transmitter Park in Greenpoint. The shop looks like a Scandinavian magazine editorial come to life, with oil portraits, Menu candlesticks, and very good, slightly obscure, vintage furniture. Flover is making these metal pedestals in-house, however, and they'll really up your display game. Contact the studio for details.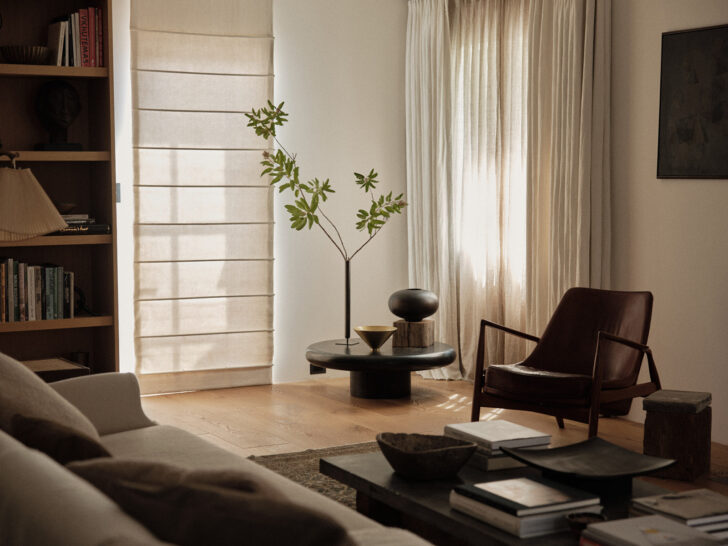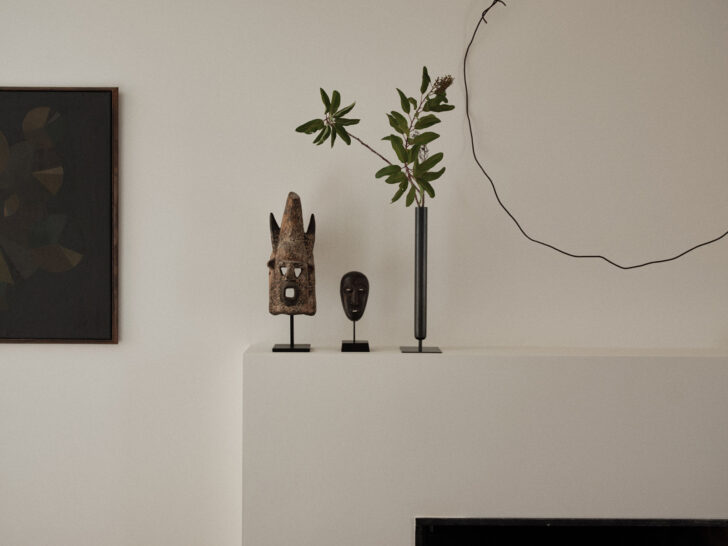 Speaking of Menu candlesticks, stylist Colin King recently expanded his collaboration with the Danish brand to include several small, spare home accessories, including lava stone bookends, a slender bronzed brass vase meant to hold sculptural branches, wooden bowls and platters, and a conical brass bowl. Photos by Rich Stapleton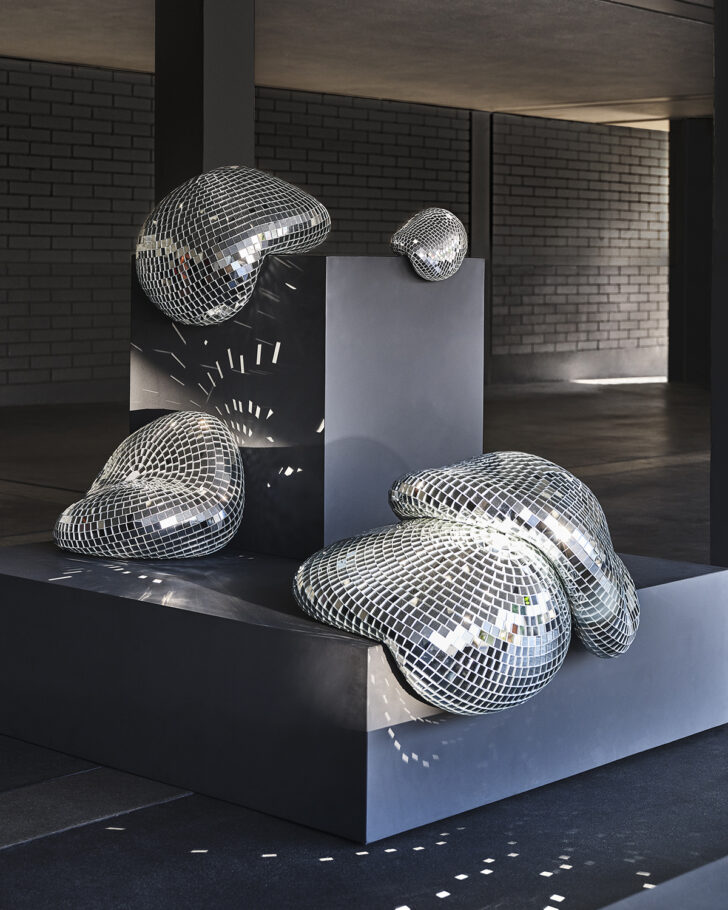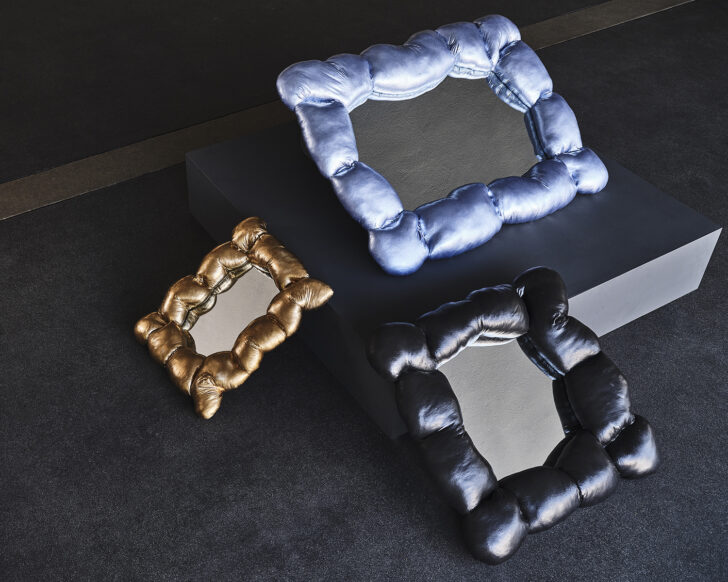 Kelly Wearstler recently unveiled eight new collections to her online collectible design gallery, for which she worked with artists all over the world, from Dirk van der Kooij in the Netherlands to Grace Whiteside of Sticky Glass in Brooklyn. One of our favorite additions to the lineup is a series of inflated mirrors by Nashville-based artist Amelia Briggs, made from reclaimed materials such as latex, oil, and glass. The collection also includes custom editions of the melted Rotganzen disco balls that everyone (including me) kind of loves. Photos by The Ingalls
Books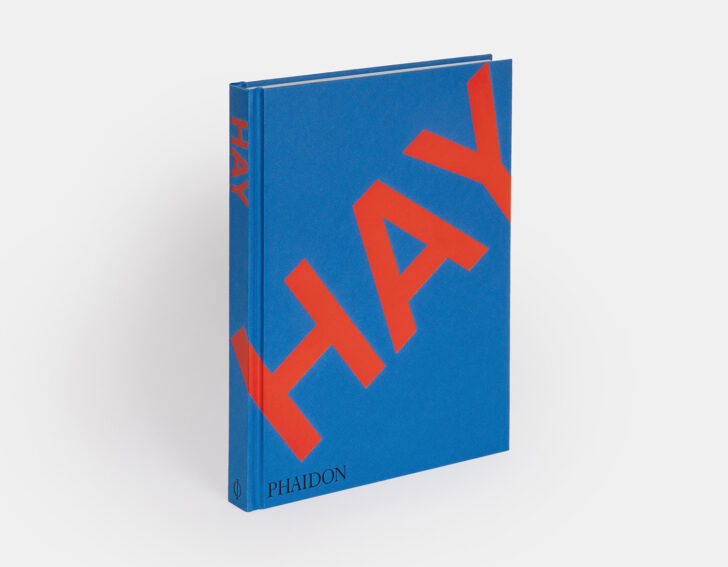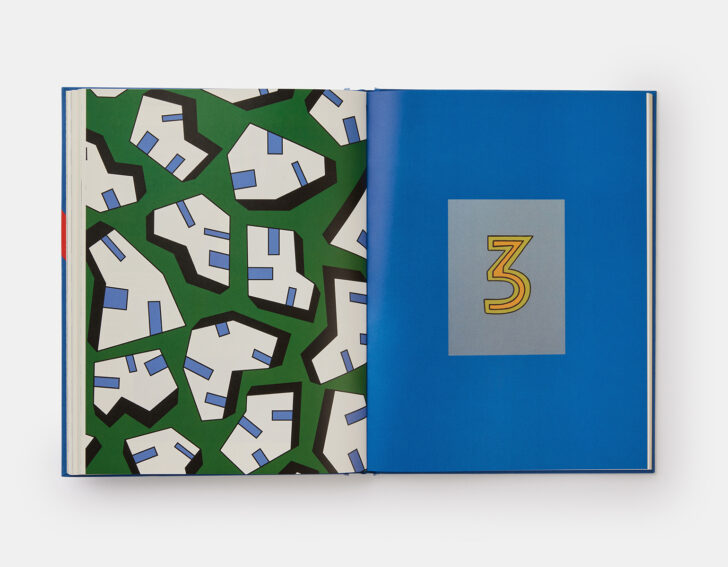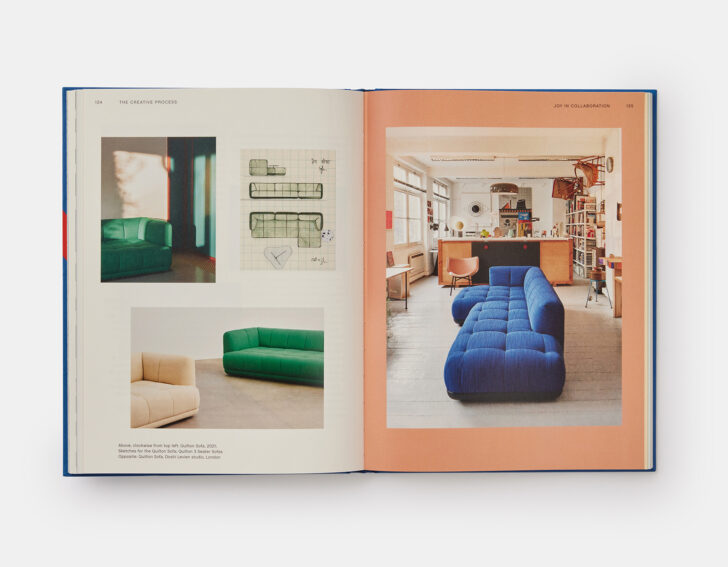 Perhaps I'm biased because the new Hay book was designed by Sight Unseen fave Clara van Zweigbergk and written by a dear friend — Kelsey Keith, editorial director of Herman Miller, but this seems like a must-add to your design-book collection. Excellent debossed fabric cover, fun Nathalie du Pasquier chapter dividers, great essays, and a look back at 20 years of one of our favorite brands.
Exhibitions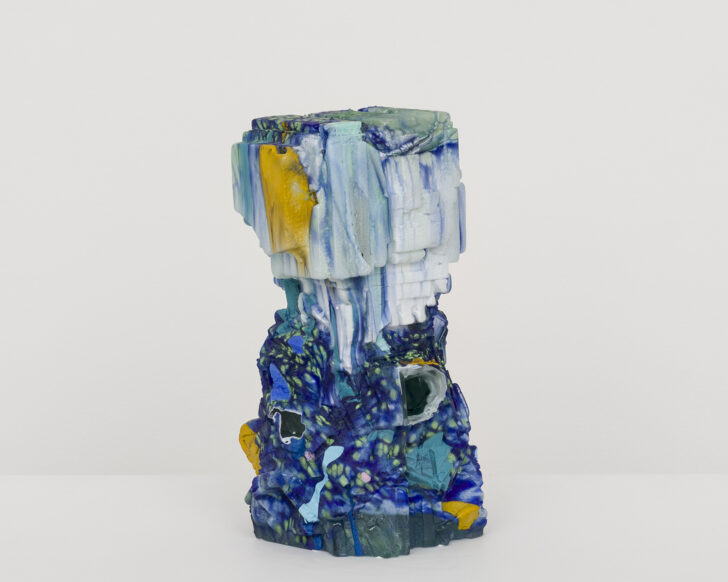 A new Thaddeus Wolfe solo exhibition just opened at Volume Gallery in Chicago. Called Entropic Blocks, it features sculptures with increasingly graphic relief work; many of the mold-blown vessels appear to be dissolving into rubble. On view until December 17.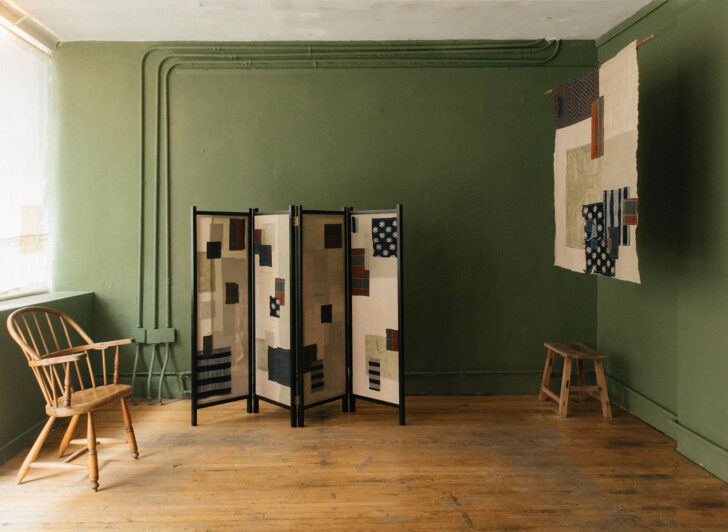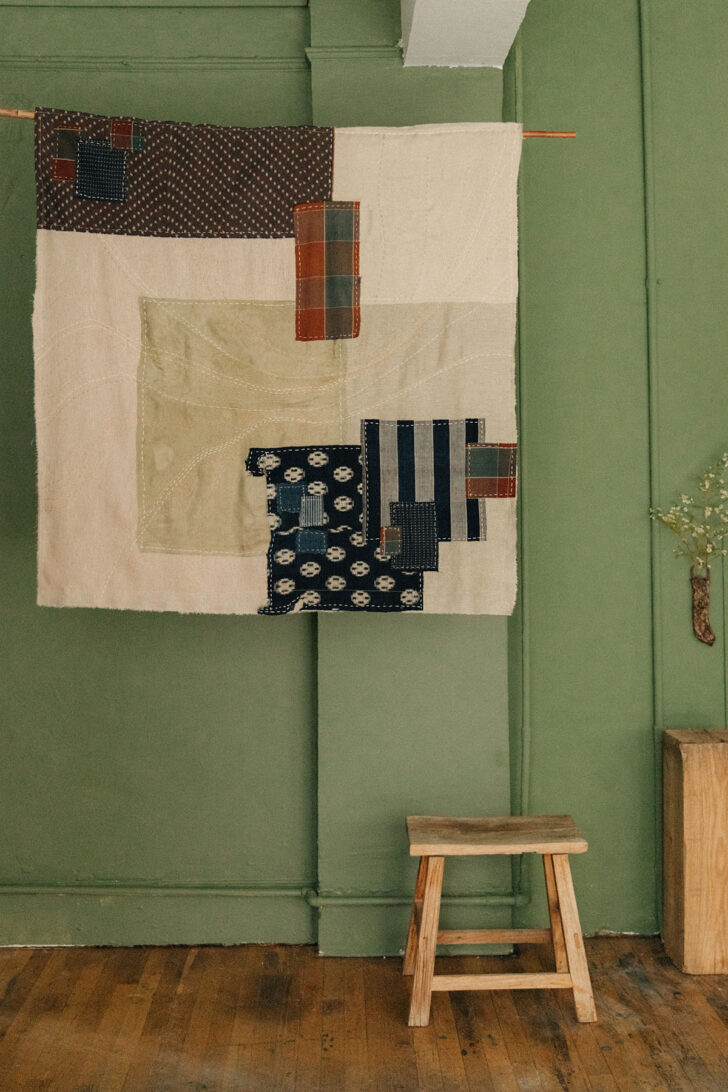 Alex Tieghi-Walker of Tiwa Select recently uprooted from LA and opened a street-level gallery called 181 Mott in New York, with a debut exhibition by textile artist Megumi Shauna Arai, whose stitched, hand-dyed linens were inspired by the Japanese tradition of boro. The space will open in full in the new year in collaboration with chef Chris Kronner, primarily celebrating artists with unconventional art backgrounds.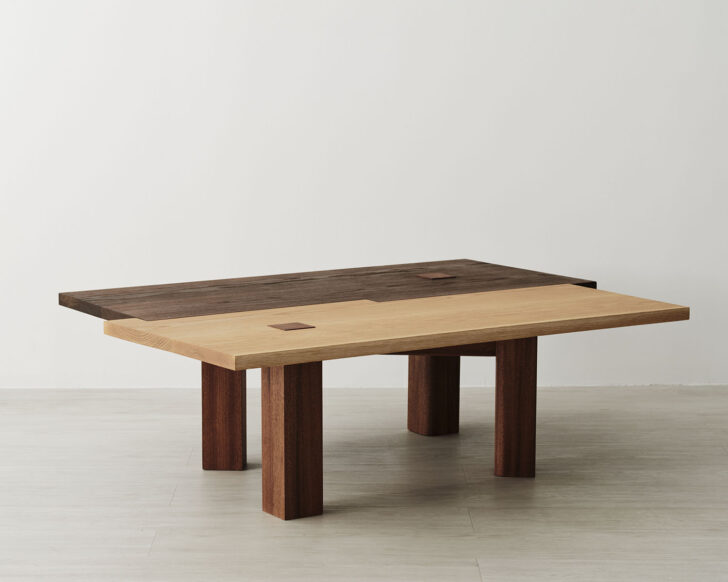 Brooklyn designer Gregory Beson just opened a solo exhibition of furniture at Love House in New York. Called Tenderness, the star of the show is this tri-toned coffee table, made from interlocking pieces of white and fumed red oak and inset with Sapele mahogany legs.  On view until November 20.