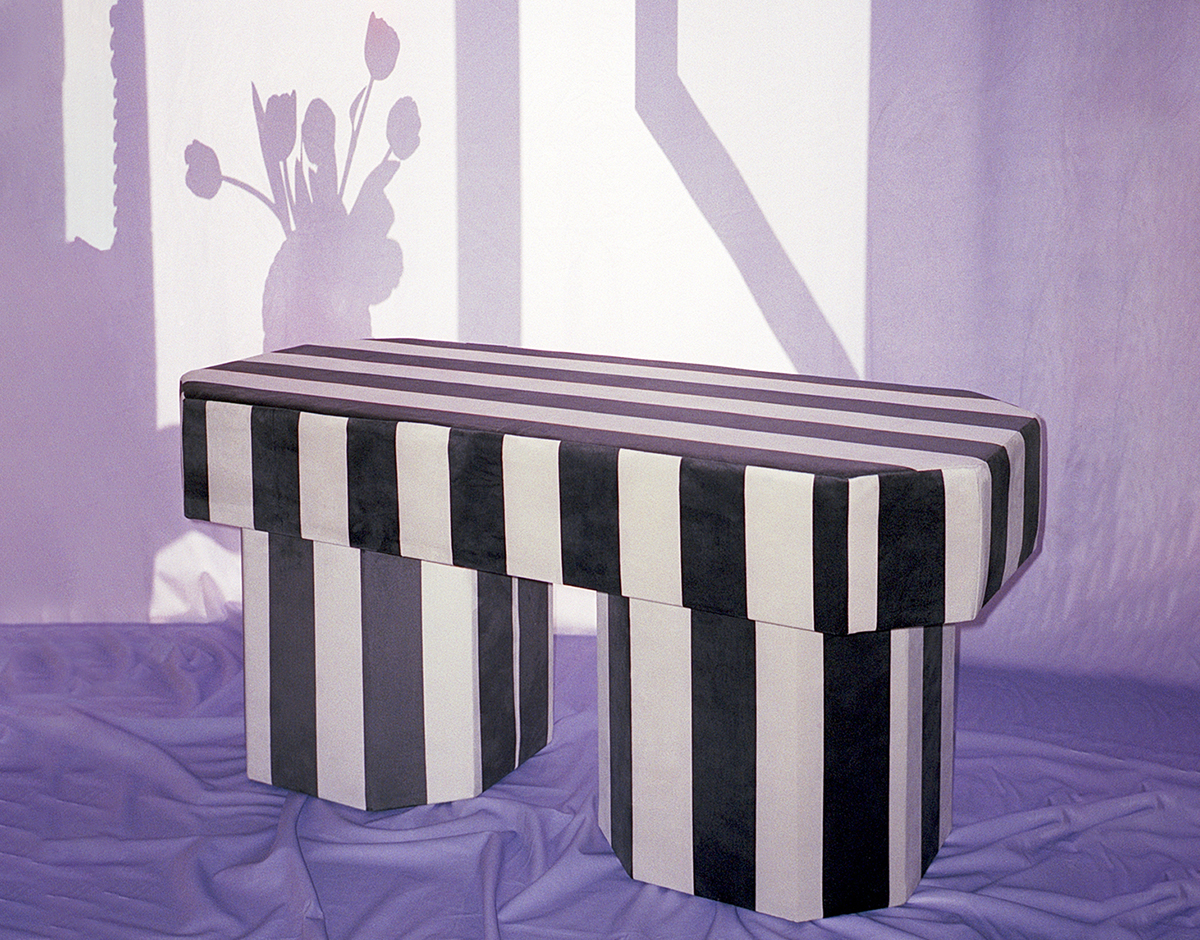 A weekly Saturday recap to share with you our favorite links, discoveries, exhibitions, and more from the past seven days. This week: acid-house Victorian-floral bedding by Jonathan Saunders, a fun new striped bench from Spain, and lots of summer travel porn in the form of two restaurants and two hotels in four different sun-soaked locales.
Exhibitions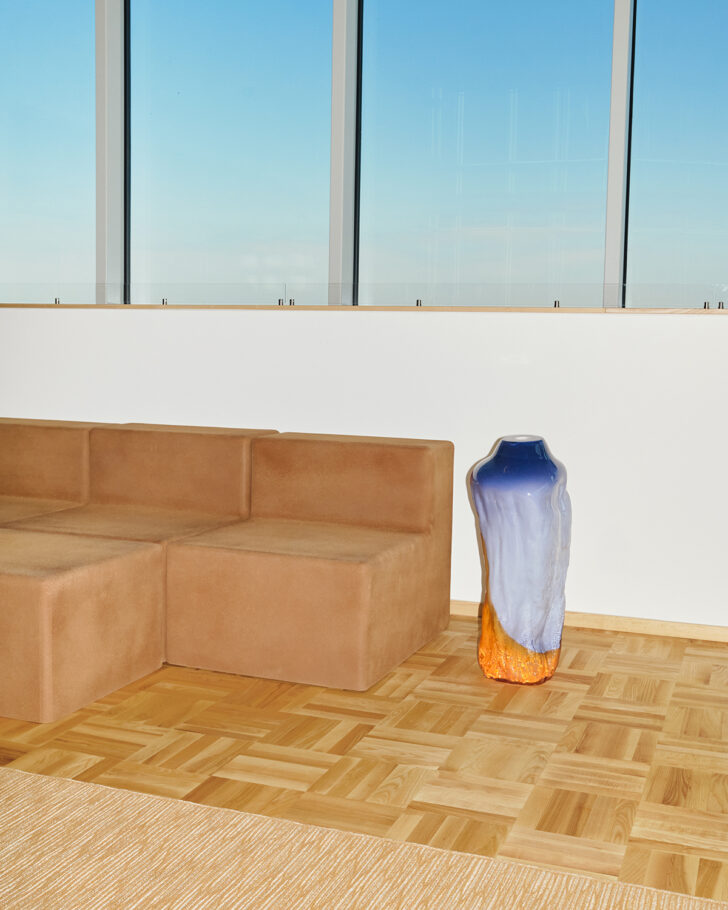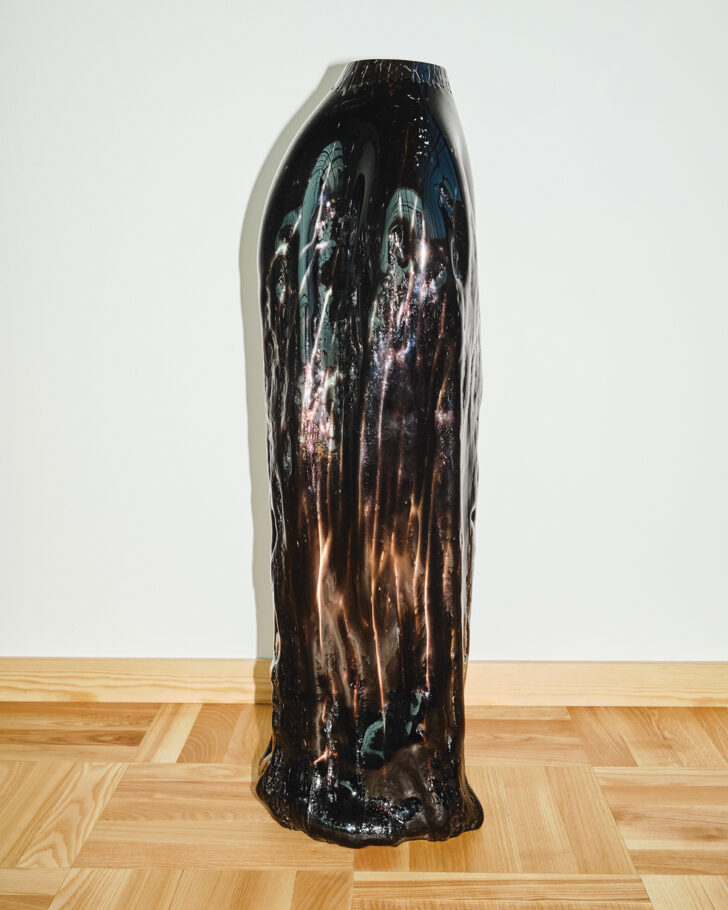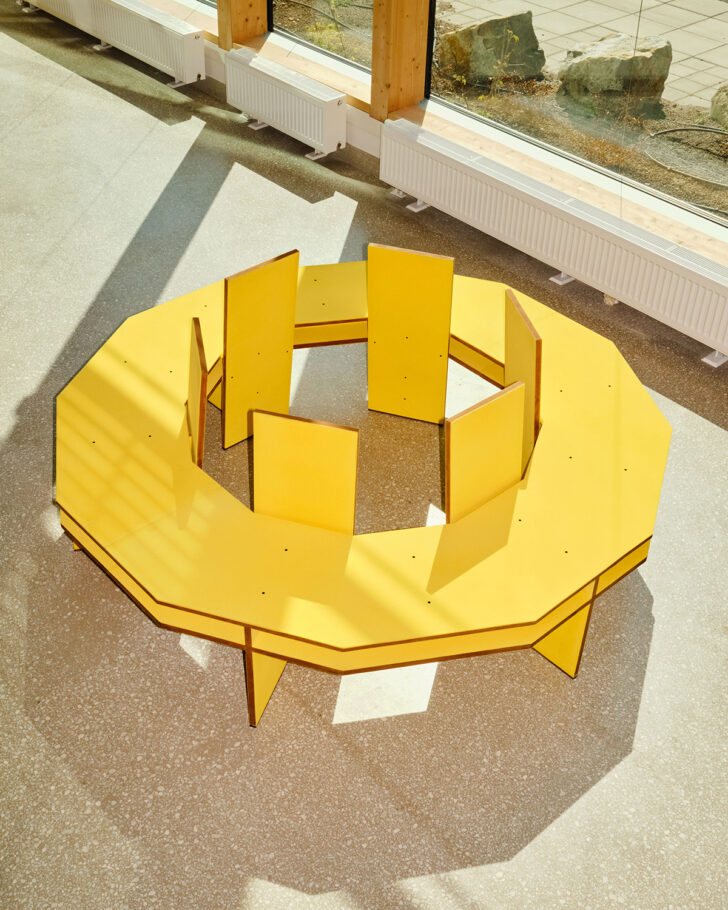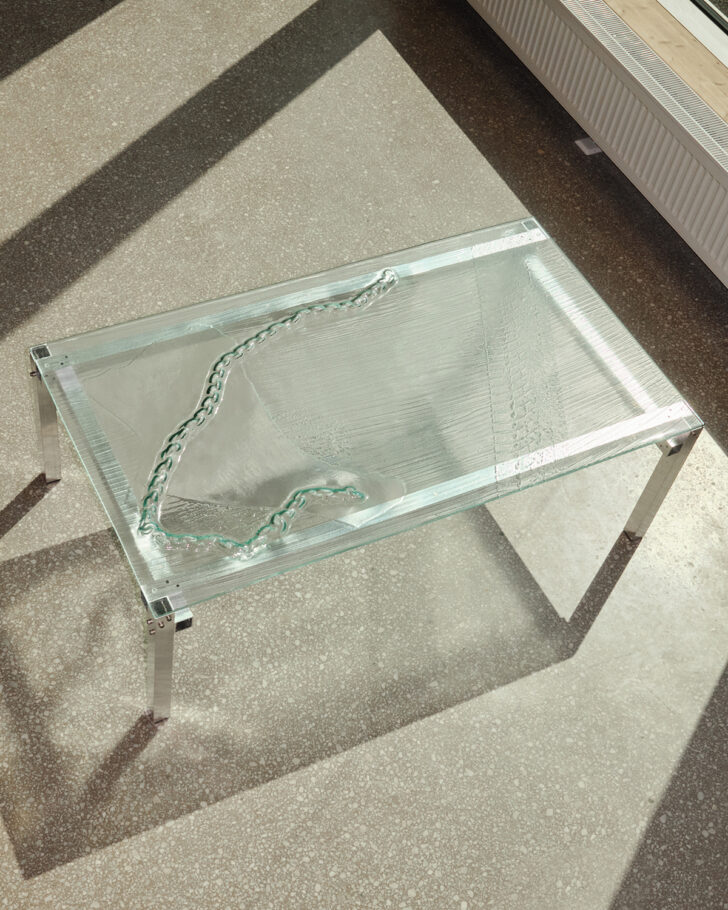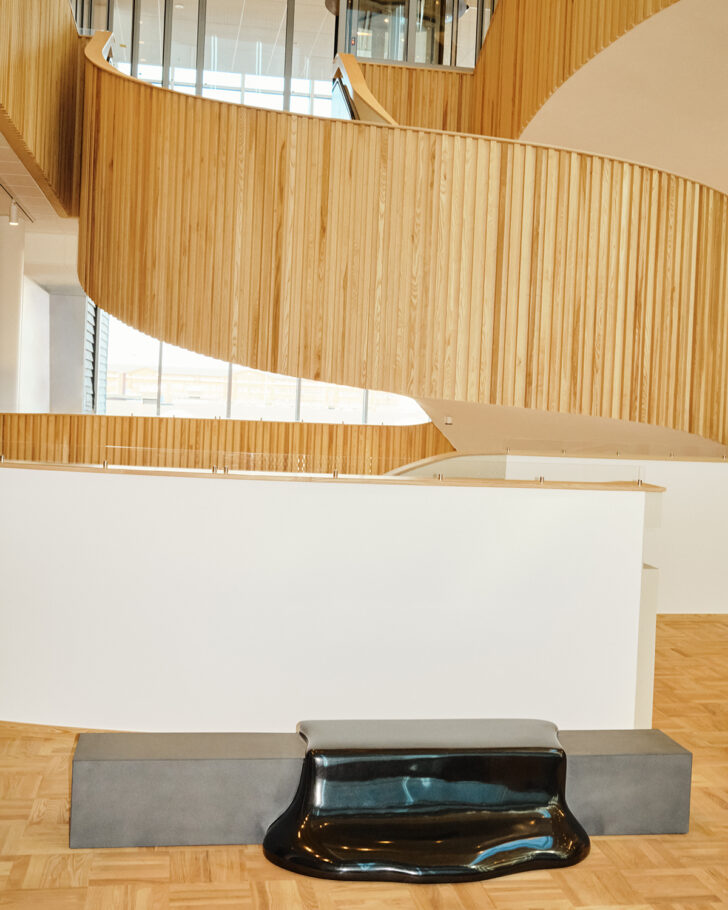 Reason number 2,308,394 why we love Scandinavia: We can't imagine in a million years an American energy corporation working with an up-and-coming local design studio to furnish the common spaces in their headquarters — especially mostly with design-art pieces — but that's exactly what you're looking at in the photos above. The Malmö duo Lab La Bla recently completed a lounge, reception area, coat room, and other sculptural moments inside the Swedish HQ of the (mostly) renewable energy carrier E.ON, complete with a blob bench that looks like an oil spill and glass vases blown inside tree trunks salvaged from the company's property. Photos: Lars Brønseth
Interiors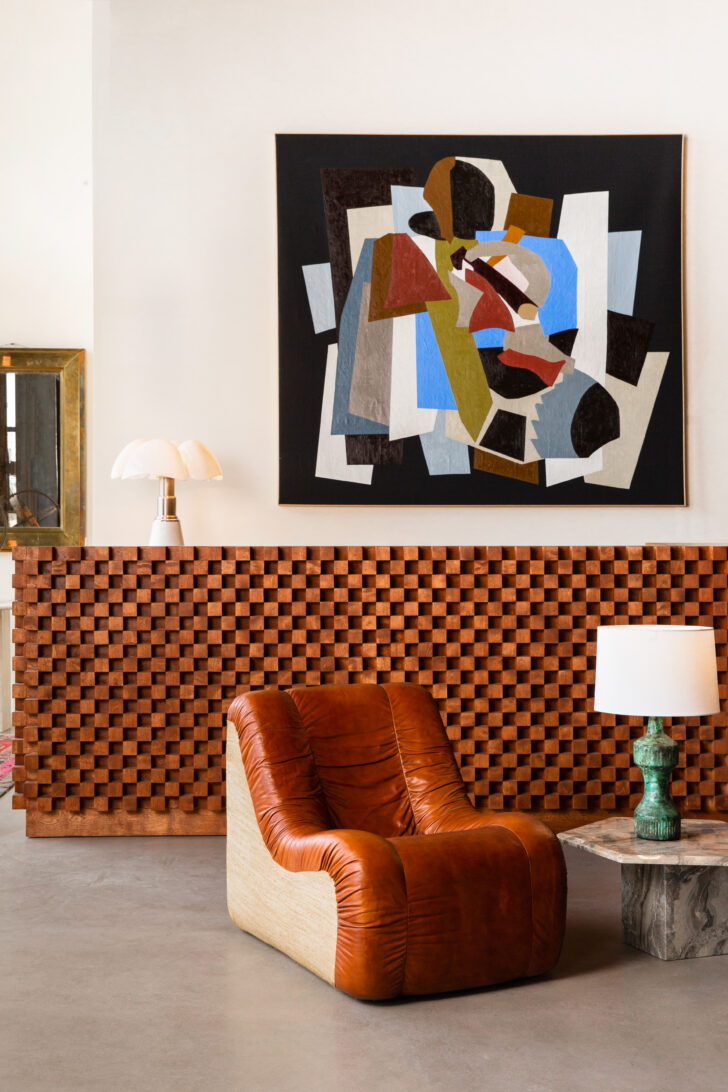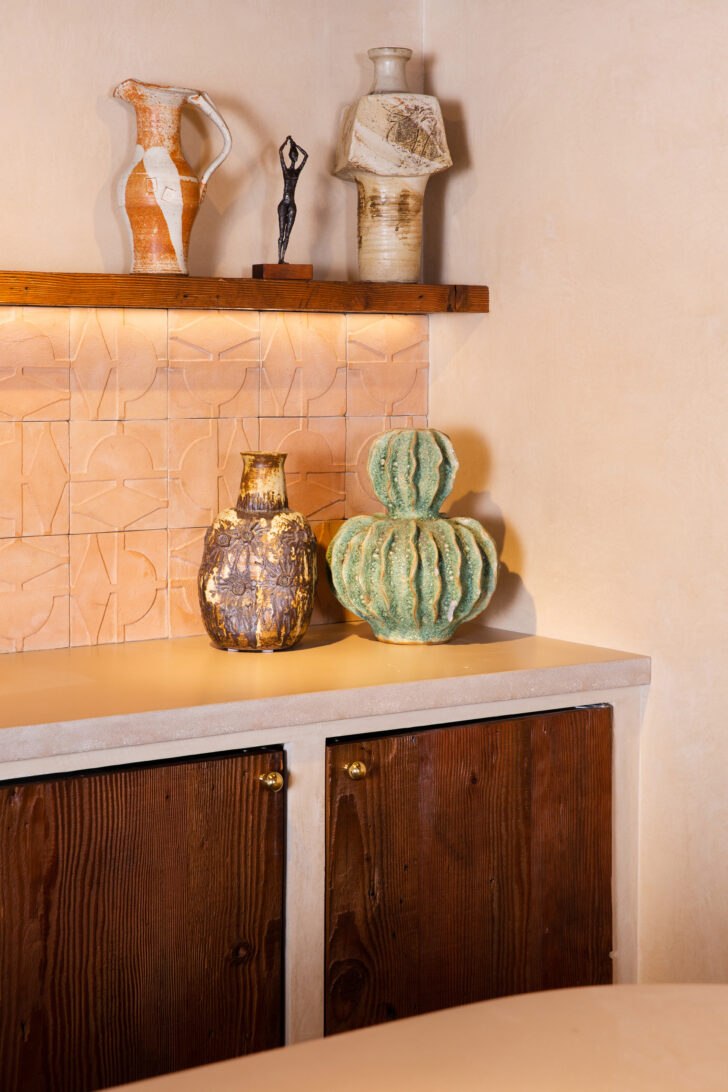 Vintage dealer Tricia Benitez Beanum recently opened a permanent space for her gallery, Pop Up Home, in Los Angeles, and while the space is a whopping 7,800 square feet, the standout moment is the hand-carved wood cash wrap in the top photo above, which was designed by Jason Koharik. (The bottom photo features a sampling of Benitez Beanum's impressive collection of vintage ceramics.)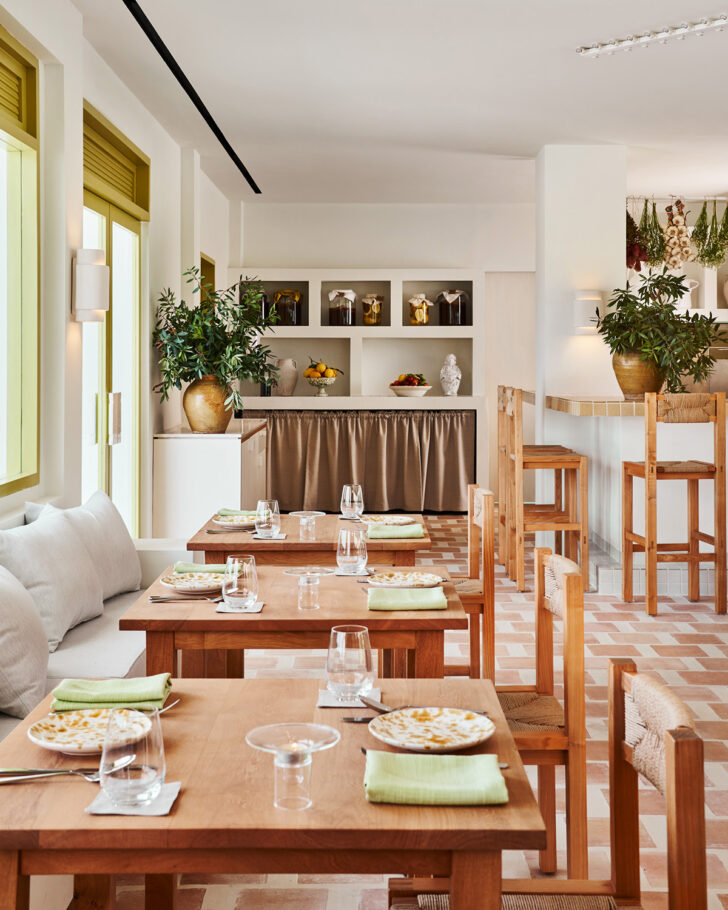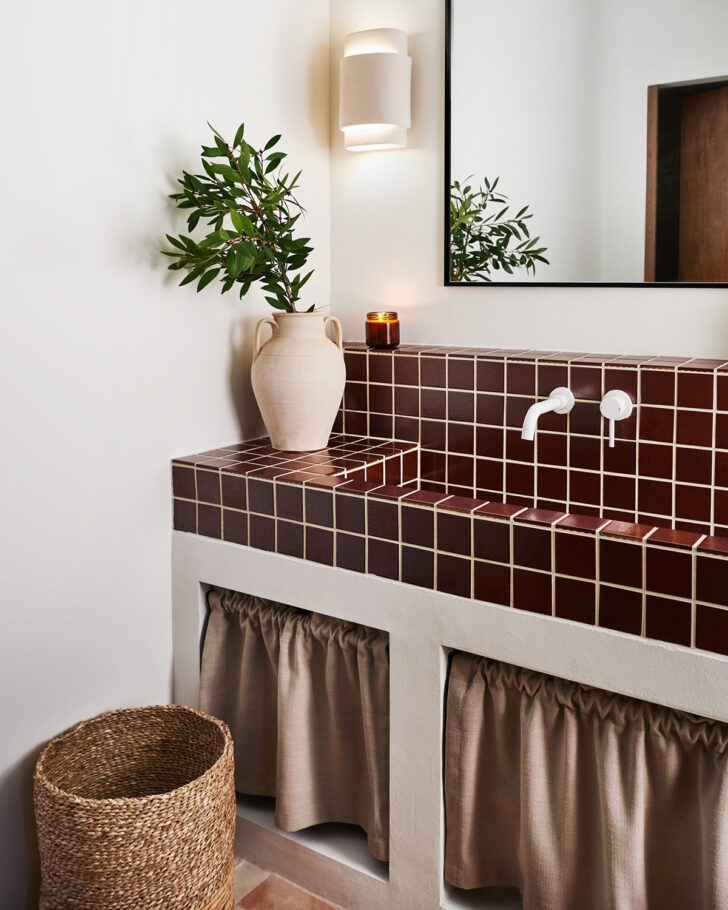 Brown tiles, mocha ruffles, mint napkins, terracotta floors, greenish-ochre accents — in their new interiors for the Puglia-inspired beachside restaurant Fico Singapore, the London design duo Nice Projects hit all the right style notes while also creating a space that's airy and cozy at the same time. All of the ceramics are Puglian, while all of the tables and benches were made by a Singaporean workshop, Roger & Sons, from naturally felled local Tembusu trees. Photos: Lisa Cohen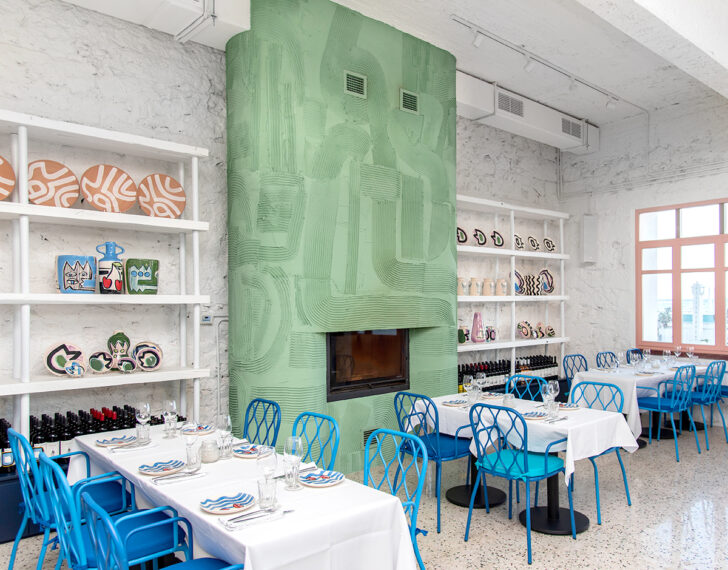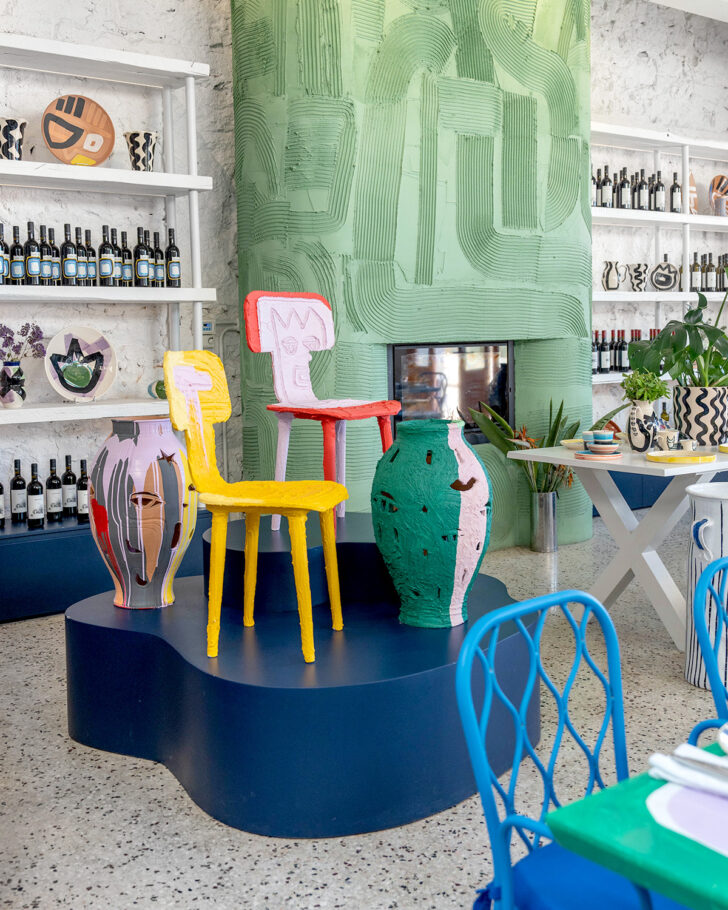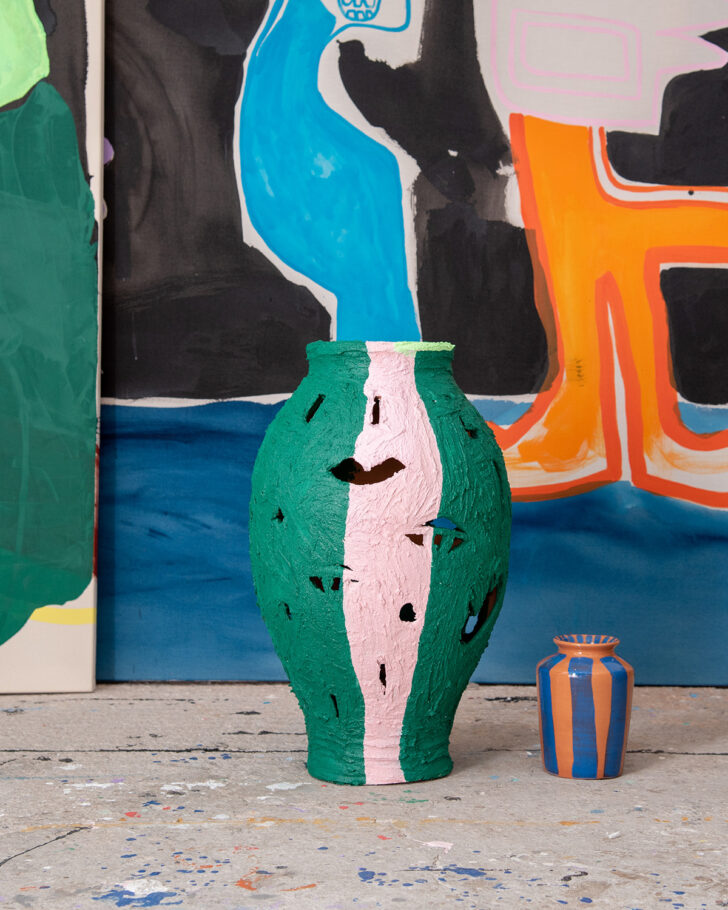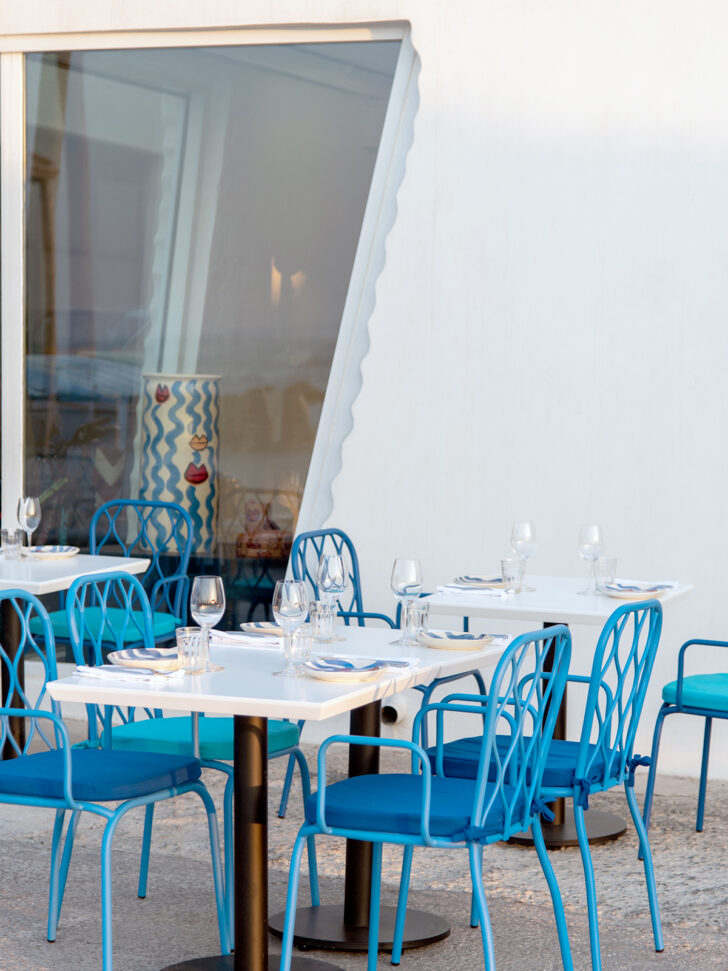 I've actually been to this particular beachside restaurant and can vouch for both the decor and the food — it's Maiami, a new hotspot in Chania, Crete, belonging to the Greek-American artist Alexandra Manousakis. She makes colorful paintings, ceramics, and furniture from her open studio at the back of the restaurant, then sells them in the front, flanking the space's signature textured-plaster floor-to-ceiling fireplace. Manousakis took over the 1950s building from another family restaurant called Maiami (the Greek spelling of Miami), and kept the name, the pink doors and windows, and the original terrazzo flooring in tact. Photos: Vicky Tsatsampa
Hotels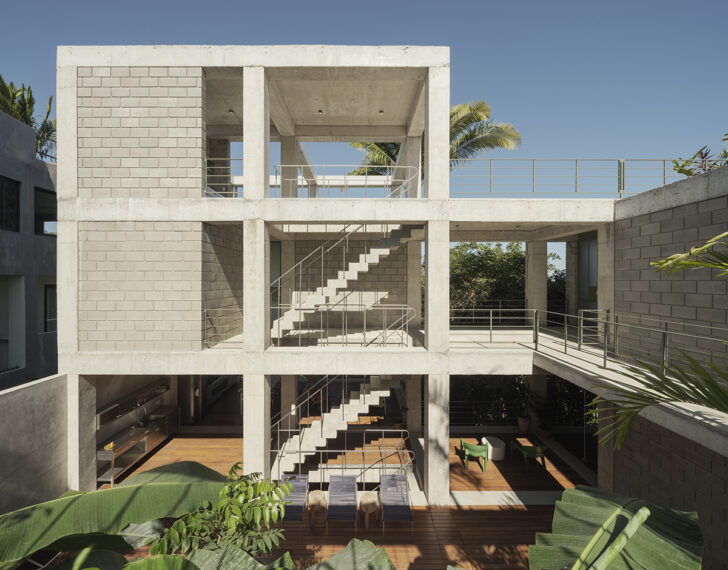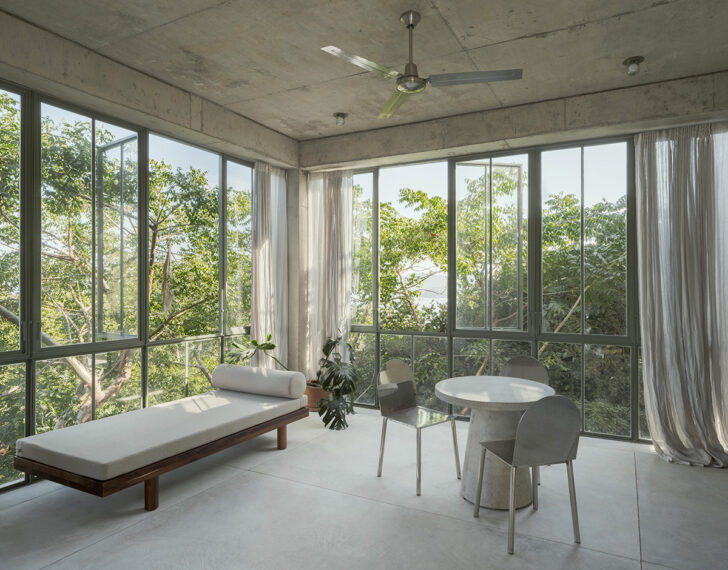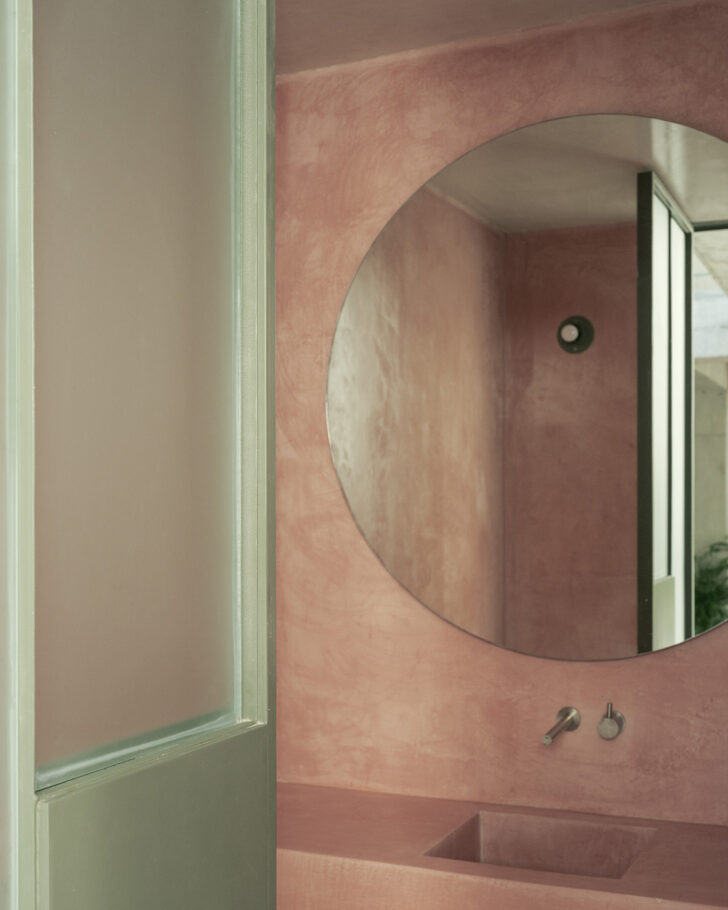 The travel-porn vibe is strong in this weekend's Saturday Selects! Here's a new hotel in Sayulita, Mexico, called Nico, which pairs vernacular concrete architecture by Hybrid with interiors by Palma, which are filled with vintage finds and commissions from Mexican and American studios. The pink stucco bathroom is a *moment*.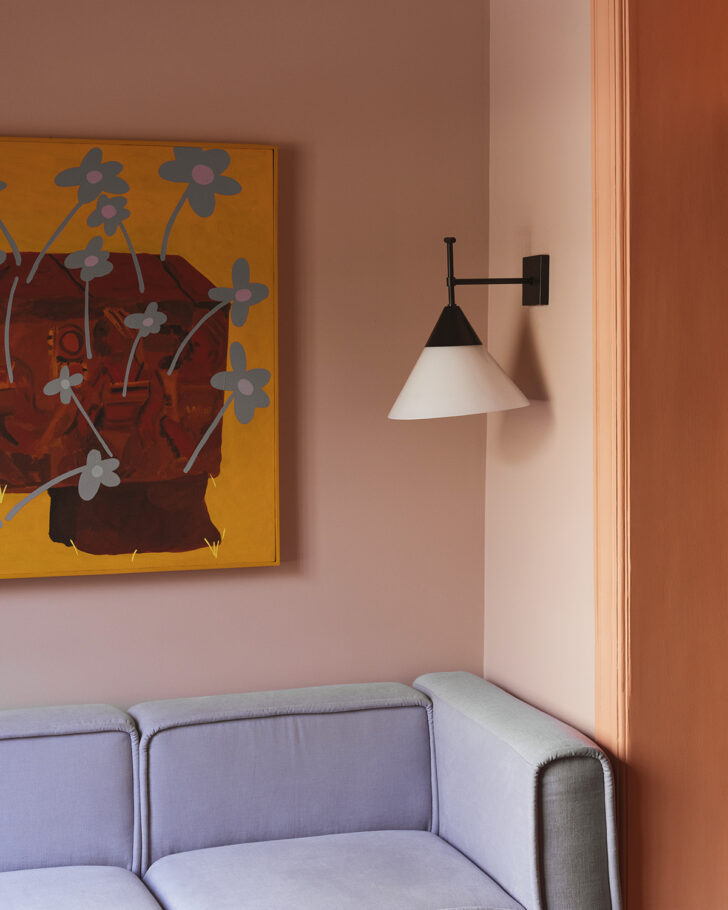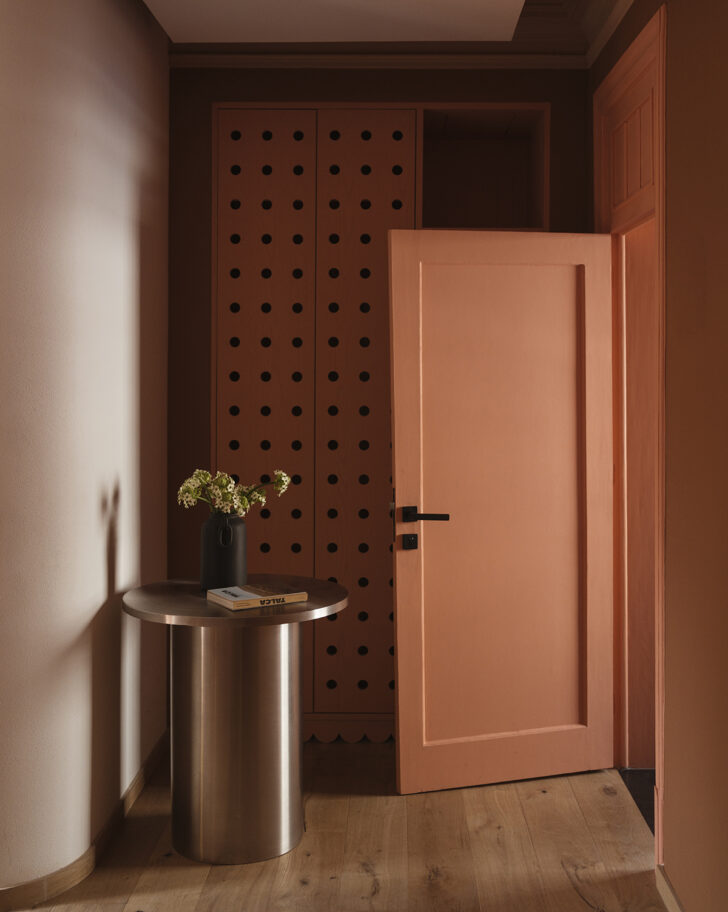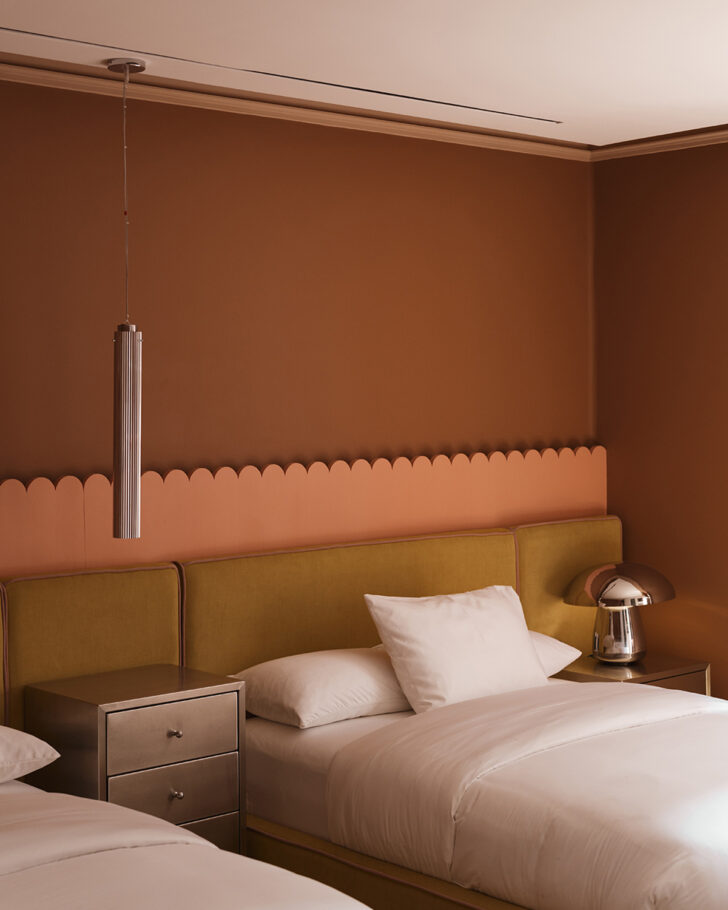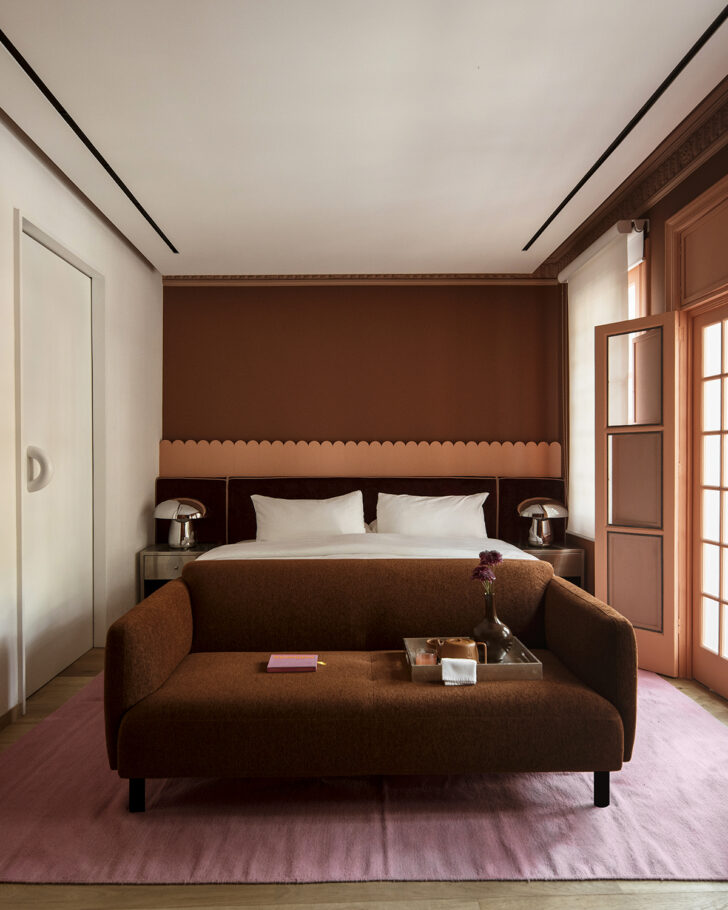 More travel porn, and more pink, of the peachy variety: We've featured (and stayed at) the Ignacia Guest House hotel in the center of Mexico City in the past, but it recently got a brand new reno by its original designer Andrés Gutiérrez. The hotel formerly occupied half of the 1913 French-style Porfirian mansion in the city's Roma neighborhood, but after recently getting the chance to acquire the other half, it added four new rooms packed with traditional and contemporary Mexican designs, including many by Gutiérrez himself.
Discoveries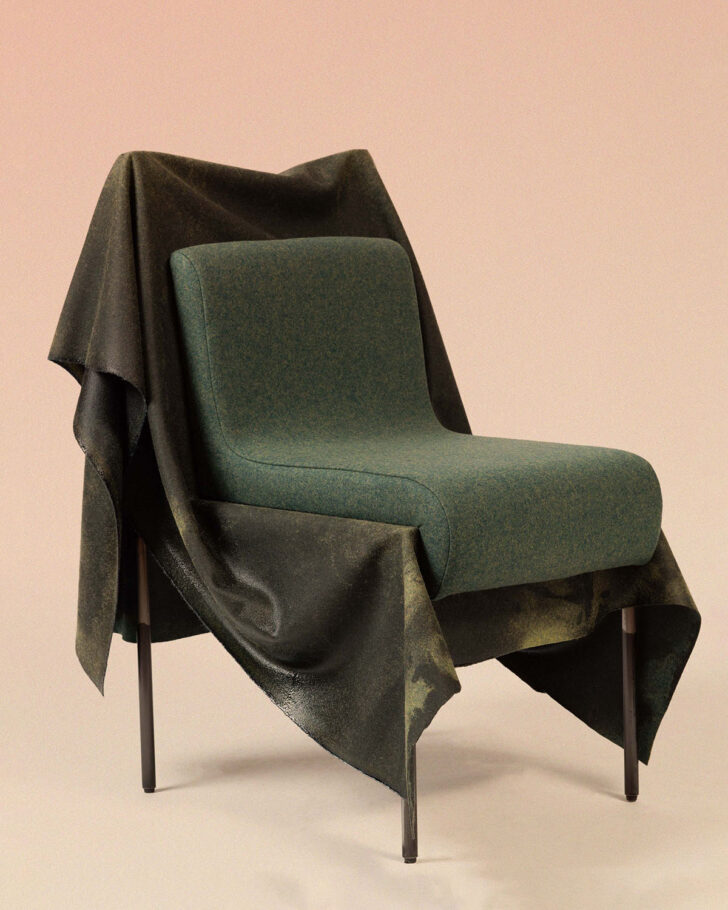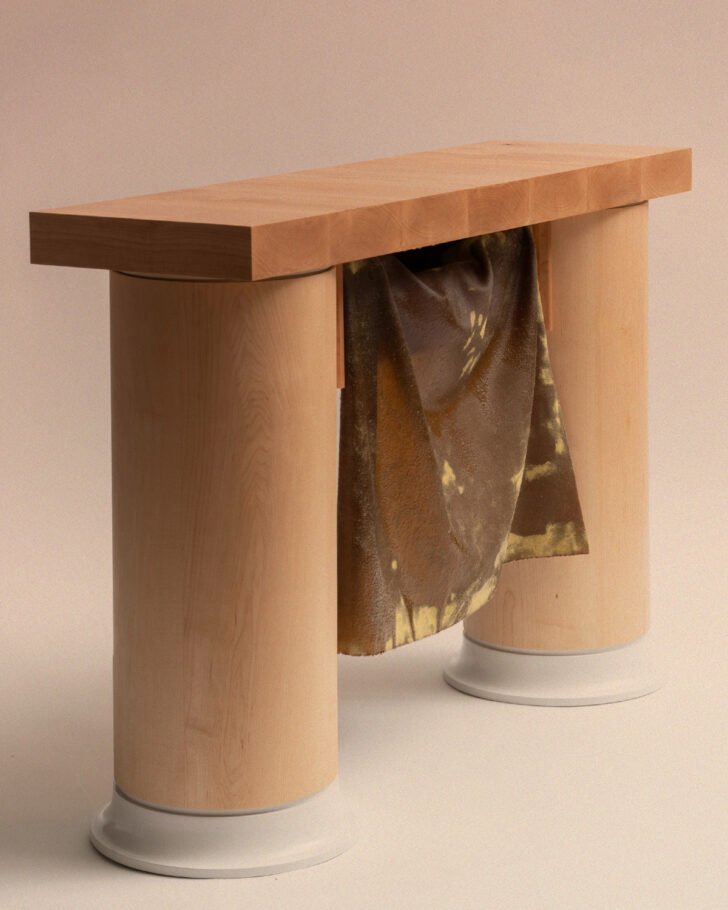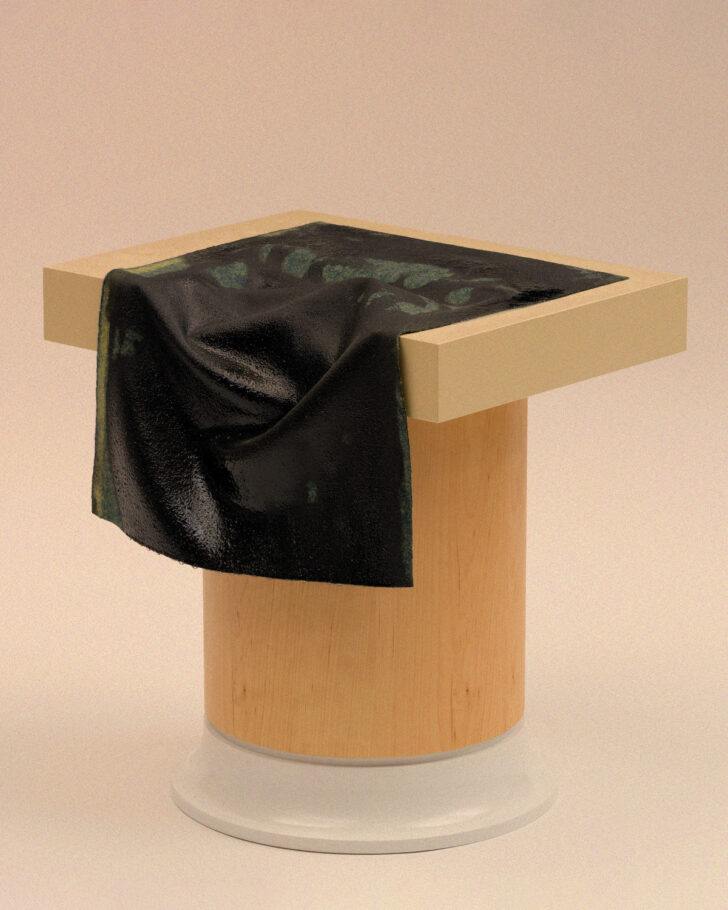 L.A.'s Caleb Engstrom has been fabricating furniture and interiors for other designers for a few years now, but recently branched out into his own studio, Rest Energy. His first collection, Wet Wool, plays with the textural weirdness of resin-dipped wool, a material that, he notes, unexpectedly still produces warmth and insulation even when it's saturated. We especially like the loincloth-esque cylindrical console.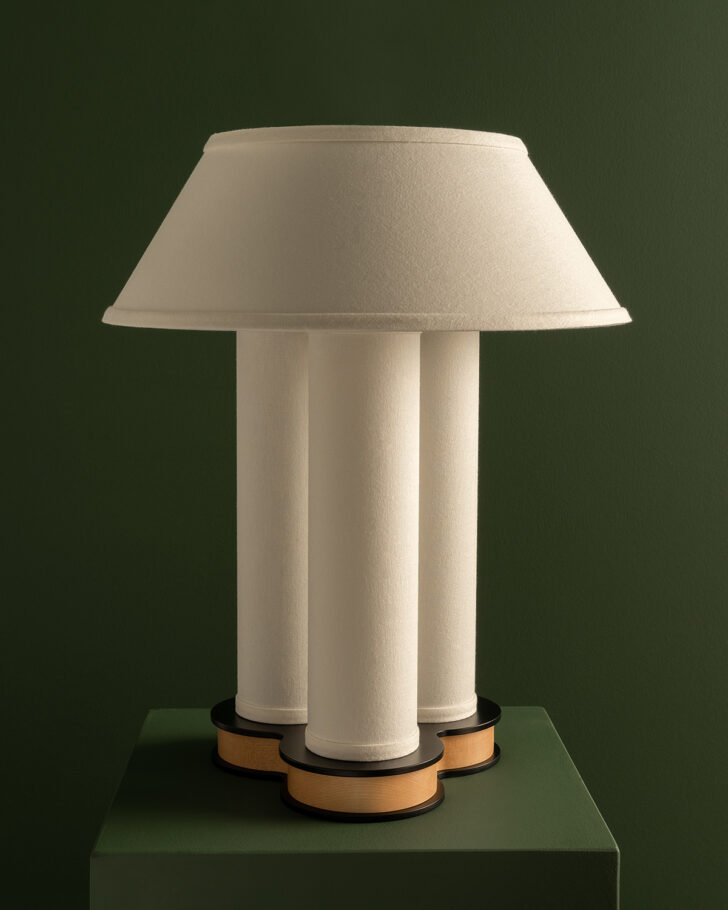 Years ago we fell for an all-linen (base and shade) lamp by Rhode Island's Studio Dunn, and now there's an equally elegant new take on that work that combines three columnar elements and a hardwood base. It's just the right balance of classic and contemporary.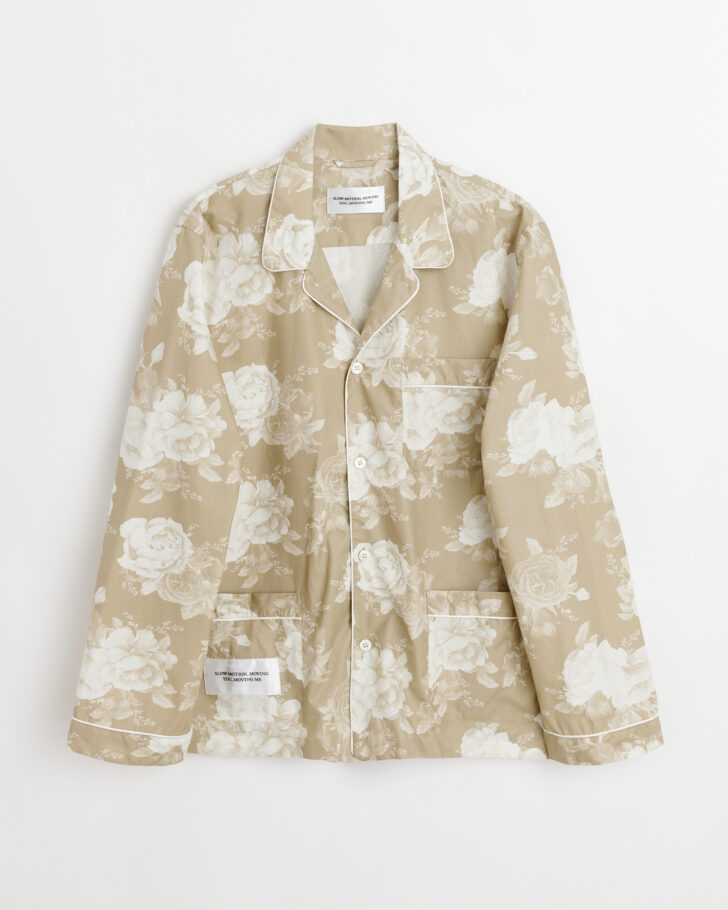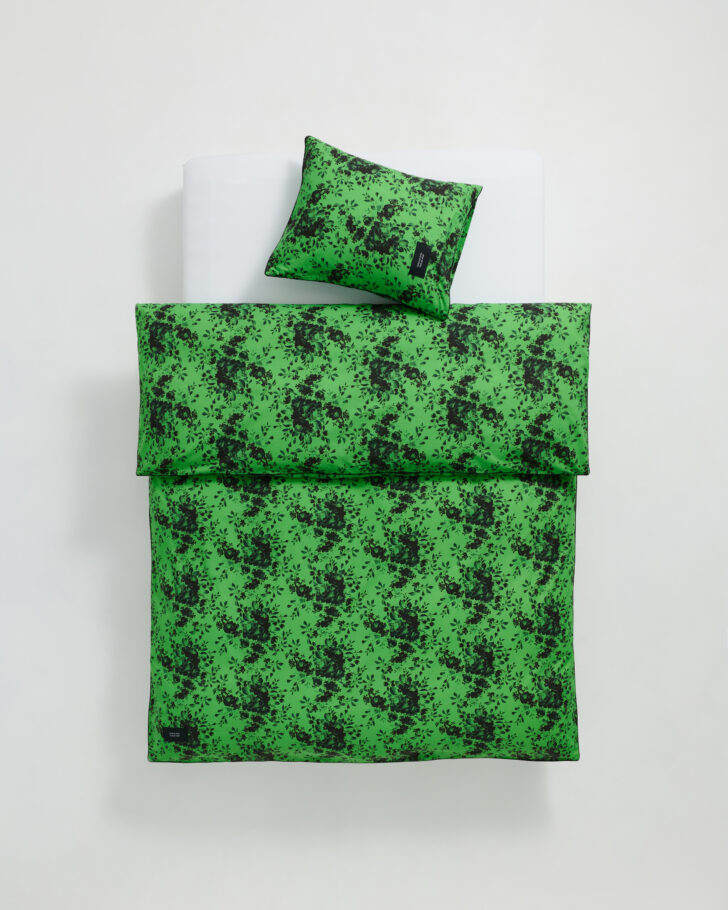 Hot on the heels of its parent company Kvadrat's textile collab with Sahco — which featured some equally unexpected florals — Swedish bedding and furniture brand Magniberg has just released a gorge collab with British fashion designer Jonathan Saunders on a series of bedding and pajamas intended to look at Victorian florals "through an acid-house lens," says the brand. The designer "repeatedly copied Victorian flowery wallpaper until the details faded away, dissolved but still floral. The strong color palette evokes '90s-era raves and New Wave artwork, a source of inspiration for Saunders." The bedding is designed to make a serious statement, especially in bright green, and the pajamas are designed to be also worn outside the house (obvi).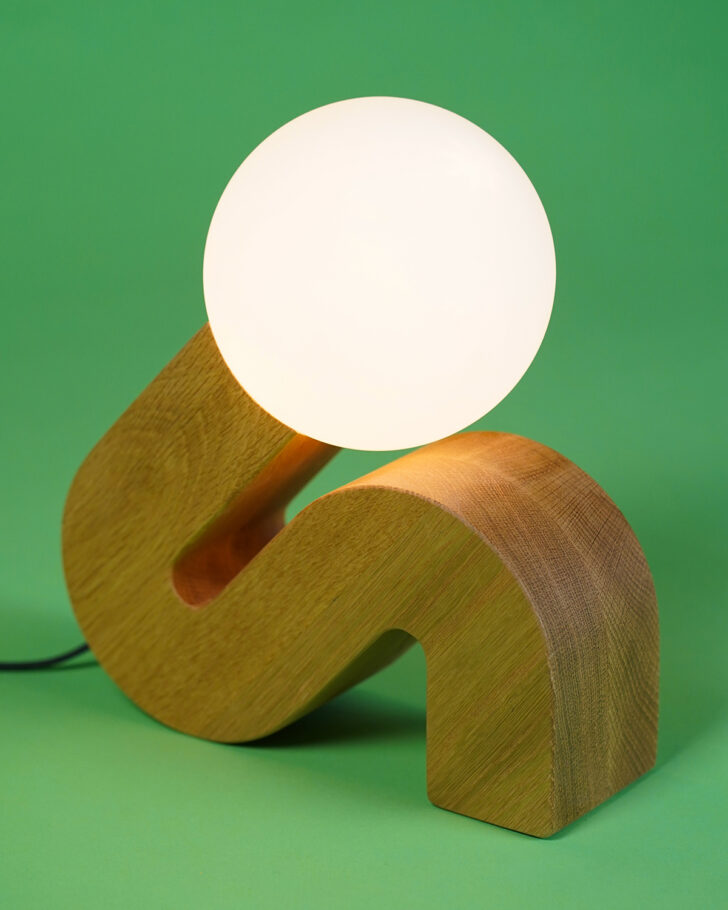 Though we aged out of squiggles many years ago, we try not to rule out a shape family entirely from the get-go; there are still instances where waviness can be chic. The sinuous form of emerging Pennsylvania brand Lubbux's first offering, the Curl lamp, is rendered in super-simple local oak hardwood, which makes it a bit more timeless, despite its proximity to trends.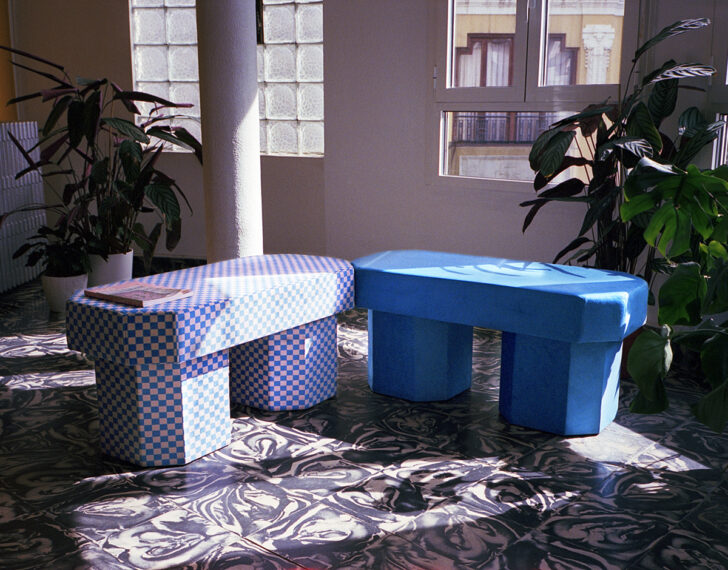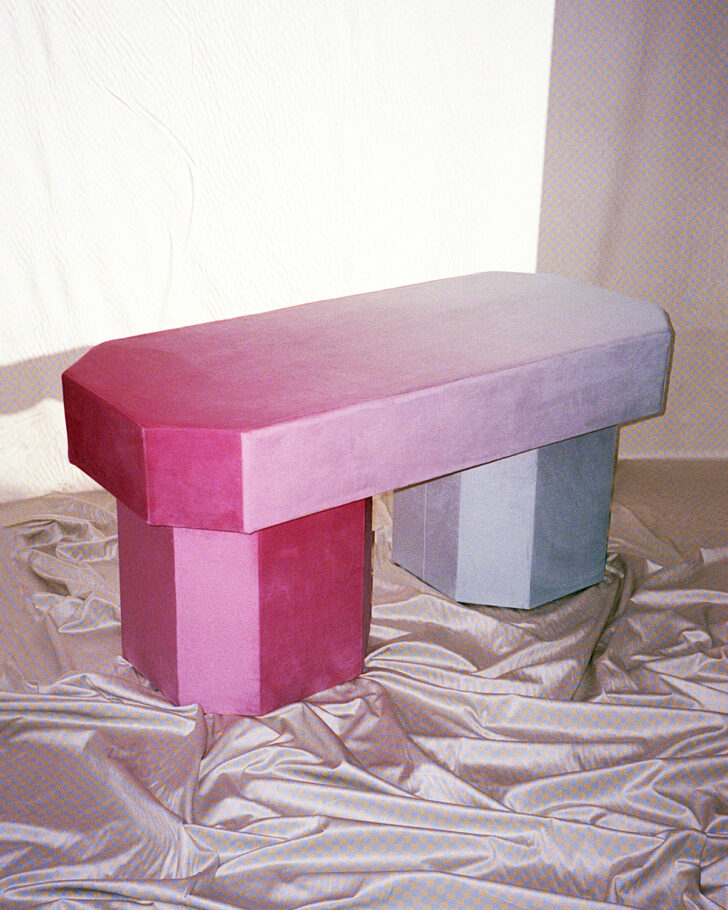 Same goes for the Viva bench by Carolina Micó for Spanish brand Hotique — while checkerboard has no doubt jumped the shark, we like the whimsy of these chunky, velvet-upholstered seats, which also come in bright blue, ombre, and the fat black and white stripe seen at the top of this post.