07.31.23
Design is Undead — How the Seance Aesthetic Came to Possess Our Homes
Have you been reading For Scale? It's a furniture-focused Substack that seemingly everyone is turned onto, and we get it — it's an absolute joy to read, with favorite topics including but not being limited to: plastic, children's furniture, the "twink aesthetic," and, hilariously, Barbra Streisand's interior décor. So, we did what any editor with half a brain would do: We hired For Scale's excellent and very fun writer, David Michon, to pen an ongoing column about current obsessions. Today's subject: what David (and now we) are calling the SEANCE AESTHETIC.
There is a great and growing interest in not-new a.k.a. vintage furniture (as well as a zillion excellent sellers finding the best things and dusting them off for modern relevance, something I talk about a lot in FOR SCALE). But there is another way to talk about reviving dead design — and that is reviving the dead through design.
This happens, of course, via the important domestic aesthetic surrounding the séance. You may have read another article, published during the witching hour of 2022, on "Middle Ages Modern," penned by none other than SU contrib Dana Covit, who rightfully points out the skillful eye of venues like Montreal's Bruises Gallery and their ability to make this stuff feel really very delightfully relevant.
Mainly, séance aesthetic is simply a nice counterpoint to slim-and-Swedish, but we also face an important séance-y anniversary this year. Cultural filmic touchstone The Craft (1996) turns 27 this year; 27 is both The Age At Which Music Dies (e.g. Jimi, Jim, Janis, Kurt, Amy, i.e. totally a morbid moment) and also, numerologically, the symbol of spiritual awakening. So, we face a milestone anniversary.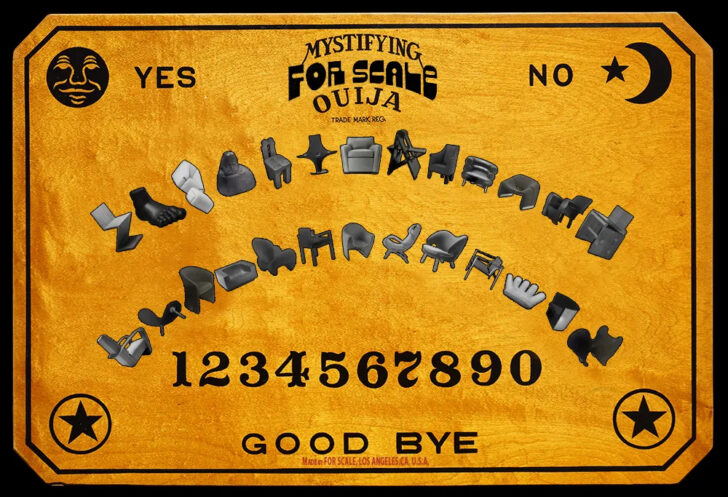 Ultimately, however, séance has three very interesting elements that might influence our approach to or understanding of interior décor:
• Communing with the past, in an effort to make it Present (at the heart of the "not-new furniture" movement)
• Banishing ceiling lights, and focusing on intimacy (I will also introduce the "trapped light" concept)
• A reappraisal of round dining tables, which we're on the fence about but which the séance requires
Also, we're attempting here to show that all the great elements of séance needn't be executed as gothic or witchy (even Middle Ages Modern avoids it!). Very valid as domestic décor approaches, of course, but worthy of their own special moments.
So, turn off your mind, relax, and float downstream with us…
SCÉANCE-TIFIC DÉCOR ANALYSIS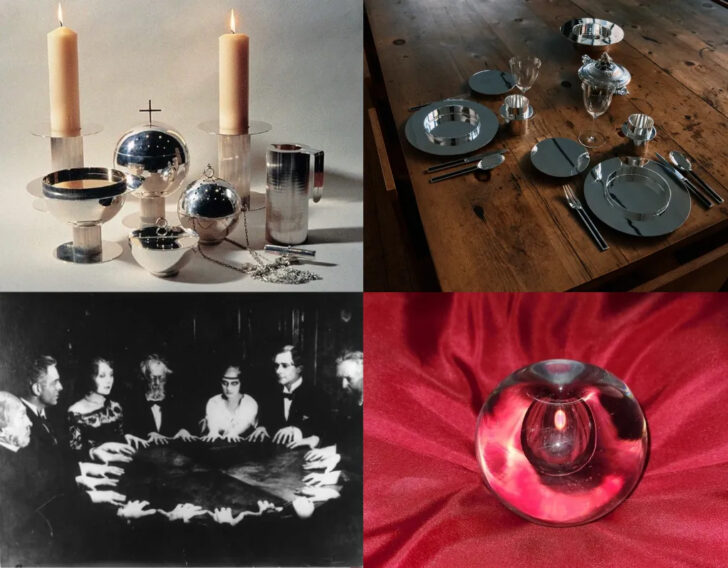 Clockwise from top left: The Vignellis for St. Peter's Church in Manhattan; Donald Judd's designs revived for Puiforcat; a bud vase (or is it a crystal ball?) by Timo Sarpaneva; a literal séance
The séance, of course, is an attempt to connect to and ideally commune with spirits in another realm. And, as such, séance aesthetic is an important acknowledgment of the only rule of interiors: It's all about relationships. (Between things, in the case of décor, i.e. arrangement / our relationship to space. In the case of formal séance, of course, it's a relationship between us and some other plane of existence.) 
Secondly, the séance is a group activity and highlights the criticality of a suitable place to join together. This is, in any home, a task best accomplished by the dining table.
For a séance, the dining table can be round and only round: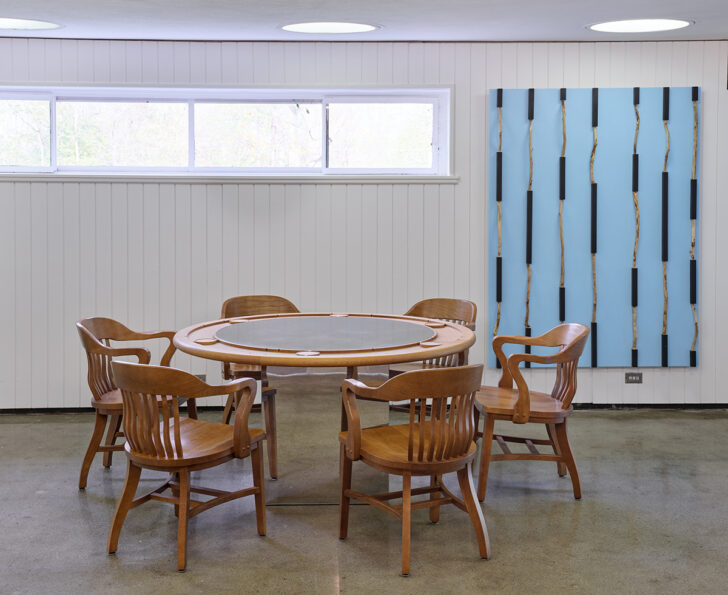 A favorite round table (technically a poker table, but who's counting), at the Gerald Luss house in Ossining. The mirrored base seems appropriate here!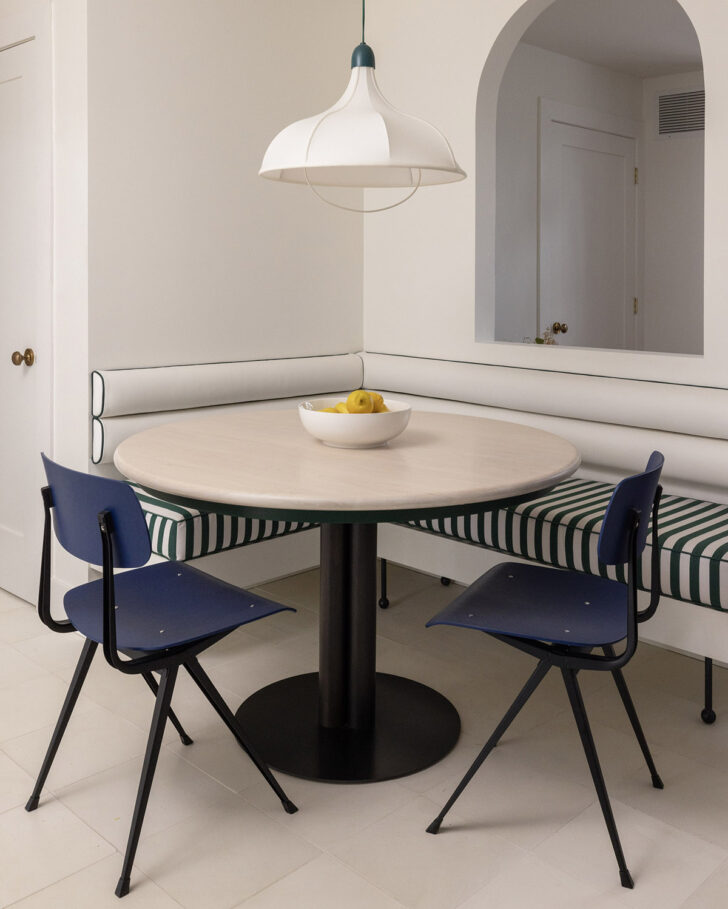 Jill is recently convinced that her home is in possession of a ghost, so you are cordially invited to a séance (complete with Steven Bukowski table) at her home in The Hamptons, traditionally a very un-séance-like locale but also the sometime home of….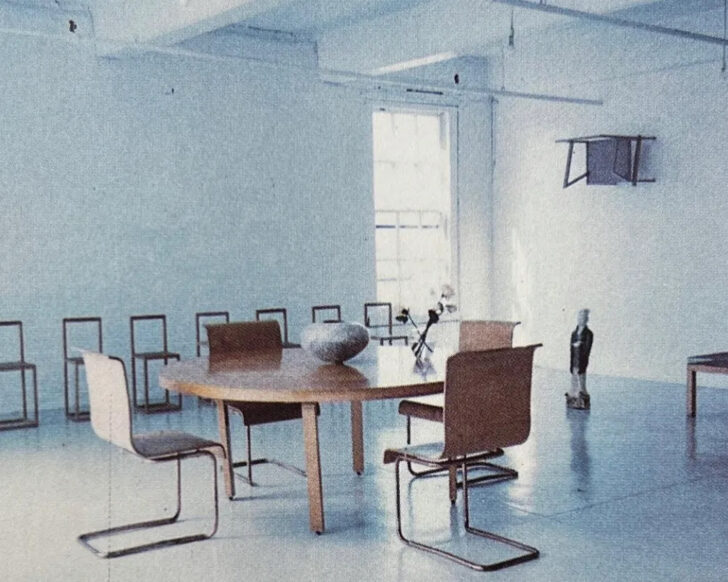 …experimental theater director Robert Wilson, whose New York home was photographed for Dominique Nabokov's 1998 New York Living Rooms
Above, the home of Robert Wilson also demonstrates some key séance attributes that may apply elsewhere, in addition to the round table.
• Limited distraction, useful in keeping focused entirely on the table and those around it
• A bank of chairs for observers. A great place for your B List.
We're also great fans of other strategies to make dining very inward-gazing, including excessively tall chairs. Here is an image from Karen Fisher's 1972 book Living For Today: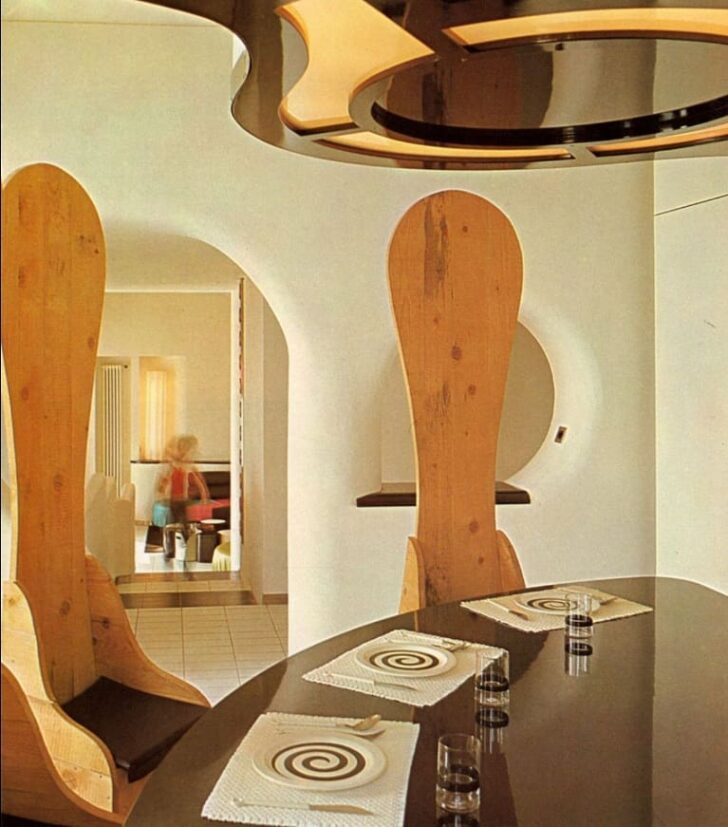 Swirly plates are also very "After your salad, a trance!"
Those chairs are Fratina Chairs by Italian sculptor Mario Ceroli,1972 — made from Russian Pine, which is why they have that great bathhouse/platza energy to them maybe? (Or, less generously: tongue depressors; wooden takeaway cutlery.)
ASIDE: Also, of course, of course, the high chair features in one of the greatest at-home séances of all time, that of Delia Deetz (who also uttered décor's most important line: "If you don't let me gut out this house and make it my own, I will go insane, AND I WILL TAKE YOU WITH ME!")
To summarize the value of a round table, it's basically equitable and non-hierarchical. See below on psychic effort required in a round versus Any Other Shape table (I use the classic rectangle for simplicity) by each diner: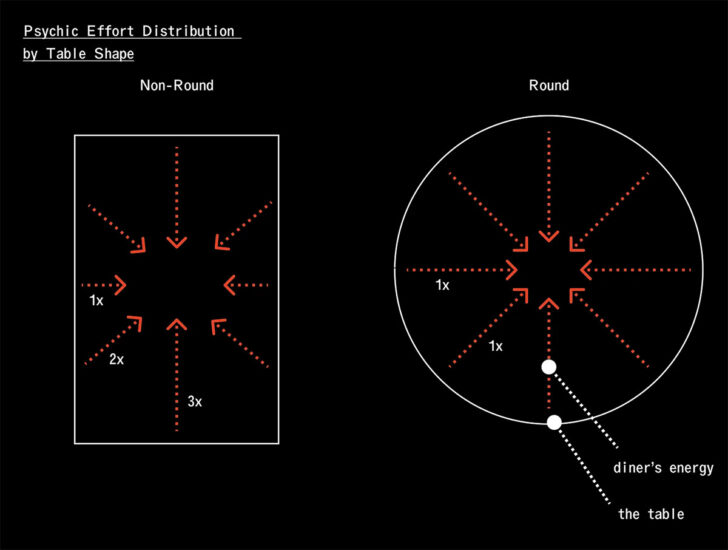 All this changes, however, when in the context of a Large Feast (e.g. weddings), 'cause isn't there something v elegant about the loooooooooooooooong (and narrow!) feasting table?
NEXT, INDULGE IN SOME PARAPHERNALIA, and introducing "TRAPPED LIGHT"
Let's first meet some good friends of the aesthetic (who are consciously, for us, not "goth" or, like, obviously Wiccan or whatever): Lella and Massimo Vignelli.
We all know and love Massimo and Lella Vignelli; many of course will know Massimo as the designer of the NYC subway map. Massimo was obsessed with maps, but he was even more death-obsessed. His friends have suggested that his own funeral was — and we quote — a "recurrent theme" in conversation. A.K.A. he must have been, erm, a real treat at dinner parties.

He designed his own urn (a black cube; very "NeXT" by Steve Jobs), for example, plus selected the music and speakers and guests, as well as the location: St. Peter's Church in Manhattan, for which he had designed the interiors. (Control freak! Which, every once in a while, is super duper to see.)
For the purposes of the Everyday Séance look, one absolutely must import a little funereal energy, and the candle-incense ceremonial accoutrements of the church are an easy crossover, and for that we turn to the work of the duo did for St. Peter's (in 1975):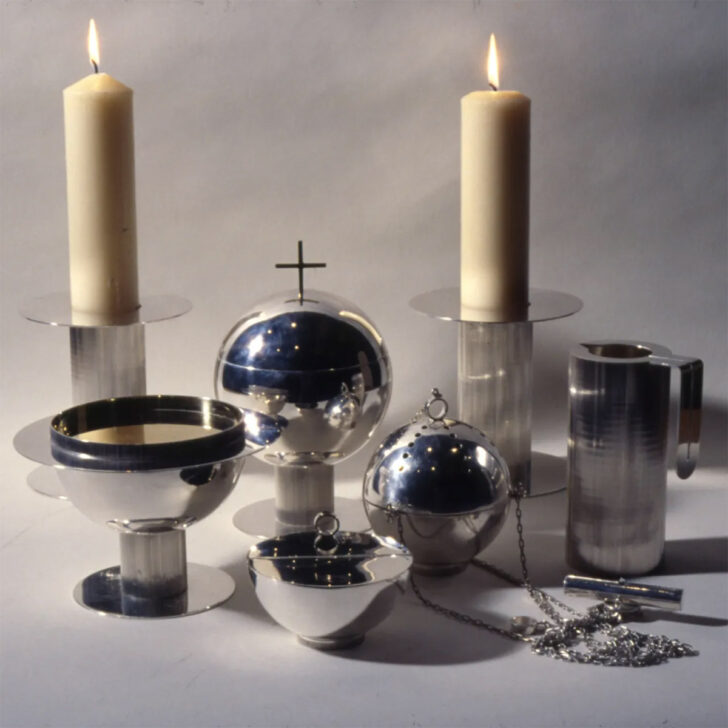 Would love to see how people approach drinking from that goblet.
The Vignelli's altar set, as coolly modern as it may be, is really kind of too sexy for church — almost subversively Hot. Sexy-for-church gives it a sort of dark edge, and Dark Edge is important. Plus, you'll note the grooves in the stems of things and on the pitcher, were designed for "trapping light" – and that is very Dark Edge, to trap intangible matter. 
ASIDE:
The Vignellis were, as is obvious, very good at silver. But, they were also very good at cult leader-style clothing (a.k.a. monochromatic and loose). Again, quite good for Séance, because they speak to the "Spiritual Guide" in all of us: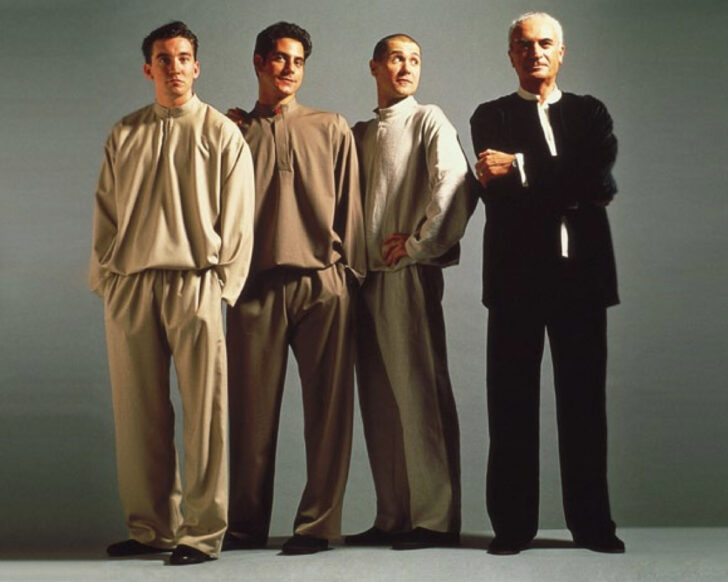 That's Massimo on the right, there
A MORE PRACTICAL INTERPRETATION, FOR THE TABLE
We can appreciate that (1) you can't actually acquire that stuff from St. Peter's, unless you steal it, but also that (2) even something equivalent is rather specific.
Fear not, however: There is a light-trapping, very similar, and yet also "intended for domestic use" set of things. And, lucky for us right now, they were brought to life by a dead man.
The dead man is artist Donald Judd, deceased in 1994 (R.I.P.). And, though sketches for these were made in 1989, they were finally produced only this year — care of the Judd Foundation (and in particular Donald's son Flavin) and the French mega silversmiths Puiforcat  (which was acquired by Hermès in the 1990s). Anyway here they are: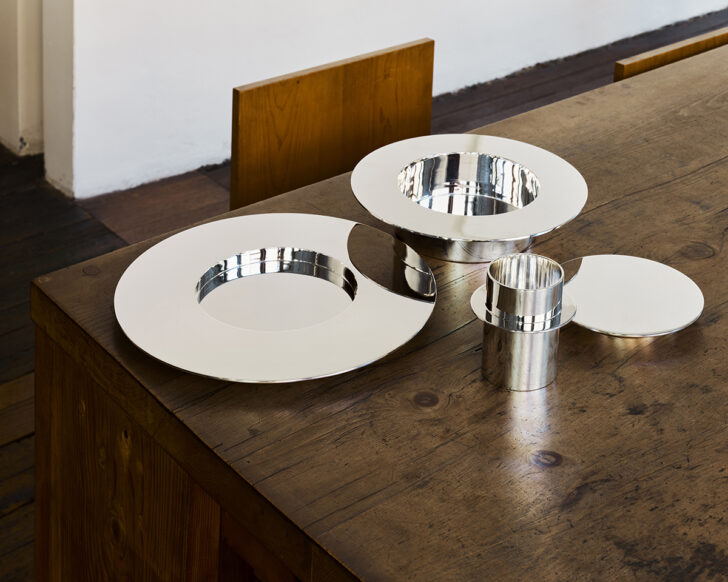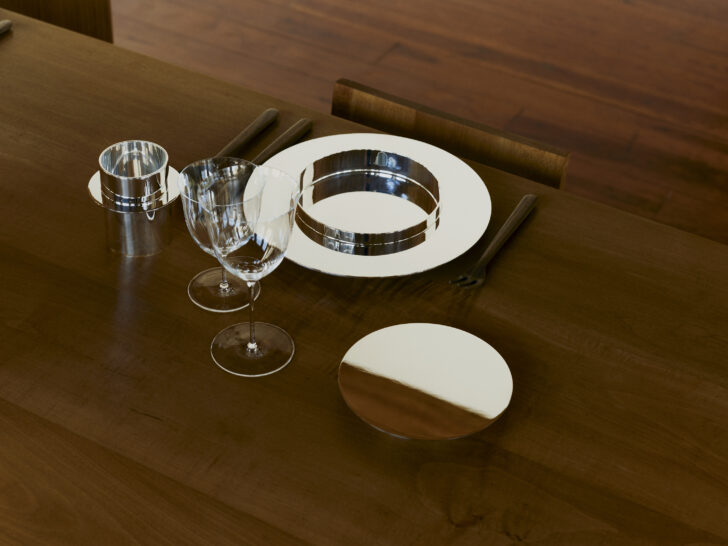 One must have a wide and uncrowded table to absorb the sheer WIDTH of Judd. His personal dining table in New York was such.
The look is very Ritualistic and shares some Trapped Light properties with the Vignelli altar set, in this case mainly — as you can see — that the inside-y bits are super reflective and give the illusion, nearly, of producing light.
The "TRAPPED LIGHT" world loves: GLASS
Trapped light is intriguing: the sense that something is kind of possessed by light —i.e. without producing light itself, it seems to kind of hold onto it. For that, the Vignellis came up with grooves, and Judd has those very inward-looking reflective bowls. But, the true hero here is the crystal ball. 
Tapio Wirkkala made one that was egg-themed, in which rare examples have a silver yolk ; and living-and-working crystal ball maker (a.k.a. glass artist), John Hogan, does the trick quite well himself.
Or, if practicality drives you, think beyond the balls to the vase family, which actually are often also balls, like those of Timo Sarpaneva (like Wirkkala, Sarpaneva is Finnish). 
FINALLY: INVITE IN THE ELEMENTAL SIGN OF FIRE
Here is another very good principle of the séance aesthetic that works well beyond its confines: the intimacy of light. And, a choice of a light source that is very much alive, and very fragile.
That is, of course, candlelight.
Candlelight is, as you may know, fire — a very powerful force, an elemental sign of astrology, and a metaphor for life and death itself (so easily is it snuffed out). 
We'll continue to look to the Finns for this, as the aesthetic sense of Timo Sarpaneva is, again, appropriate: He developed his signature look age of eight or nine, after making a hole in a hunk of ice with his finger (kind of pervy?). He realized, we infer, the delight one might have in playing with space and transparency. It's all very Schrödinger's Cat because the approach is pretty much about the blending together two opposing states, i.e. solid object and empty space — as in, the empty bits are what give interest to the solid object bit.
His finger-in-ice look is probably best seen in the Arkipelago candle holders, but his greater achievement is the classic Festivo, seen here from the days when Iittala had a truly excellent brand logo: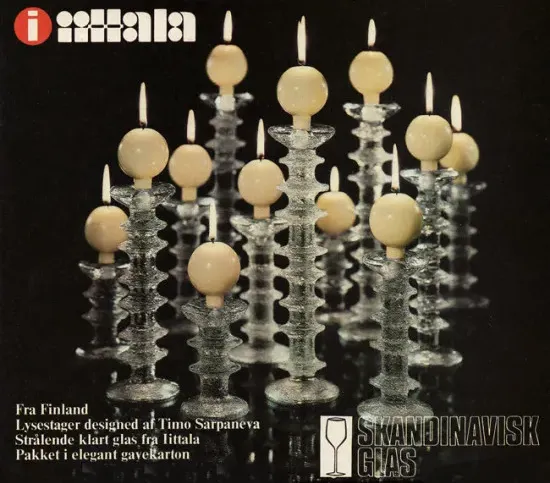 Not quite finger-in-ice style, but there's a kind of "inviting in of the negative space" around these because of the grooves. (Also very good to grip onto!)
And, assuming you aren't choosing a full-fledge gothic, witchy séance but are maybe intrigued by it, the Festivo actually have a kind of gothic essence without being that: They wouldn't be out of place in some 15th-century castle, against a kind of pastoral tapestry, or next to something you got from, well, Bruises Gallery. Equally, you can imagine them at home in the home of a stark minimalist like Robert Wilson.
And, that really rounds out The Tablescape.  The tablescape is where the séance aesthetic shines. You don't (or shouldn't) séance in your bathroom, for example.
The main takeaways are: the important of the dining table and a case for ROUND; and, strategies for equitability and intimacy amongst you and your guests.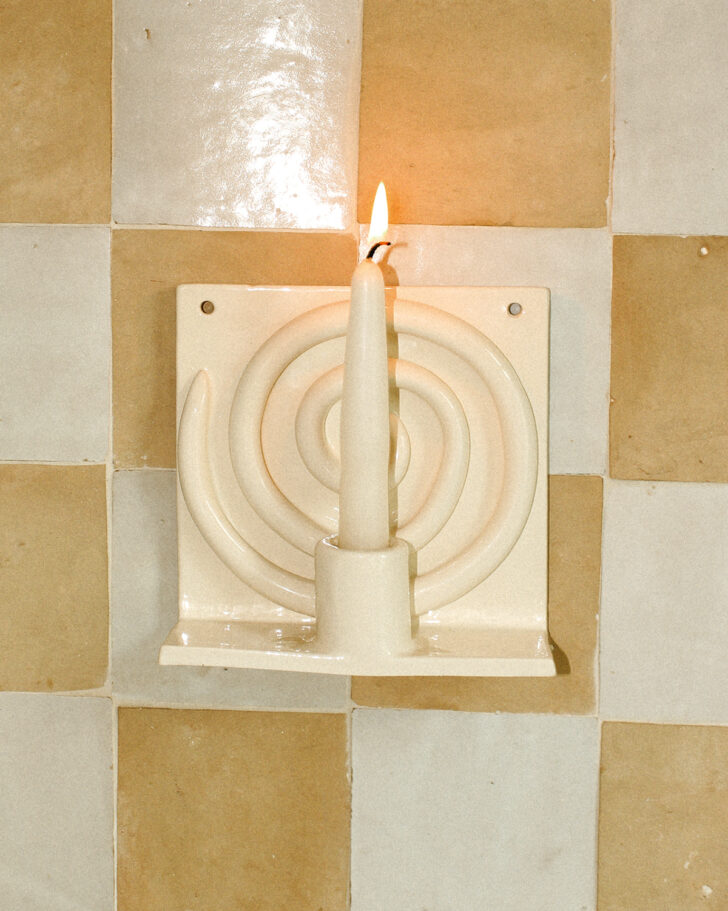 A favorite 2023 instance of séance aesthetic: The collaborative swirly candles made by Casa Veronica x Raini Home.
BONUS 1: ON "THE ESTATE SALE"
Once upon a time, I attended an estate sale in Topanga Canyon and had an unnerving experience. As in, apart from a large collection of skulls (we didn't ask), the entire home was furnished almost precisely as I would have dressed it up.
This was the décor equivalent of attending one's own funeral.
But, an estate sale in general gets you into the right headspace. Séance, in its essence, is about unfinished business. We yank the souls of those who've passed into our realm, and we find resolution (hopefully). (Or something like that, right?) And that is also what is at the heart of the Estate Sale (their unfinished business being: making their next of kin a little extra money.)
Both the delight and creepy aura of not-new furniture is that it has had a life before you. And, at the estate sale this comes into focus. They are also very voyeuristic, which is an added benefit. All the ones ever seem to be on estatesales.net. (We love a Dot-net!)
BONUS 2: GHOSTS
I do not actually believe in Ghosts*, but I do believe in ghost lamps, for the most part (not to be confused with Ghost chairs, which aren't welcome at our séance, or, really anywhere, overused as they are).
In Los Angeles, a favorite used-things seller, Same Old, recently unearthed the gem that is Shiro Kuramata's 1972 Ghost Lamp: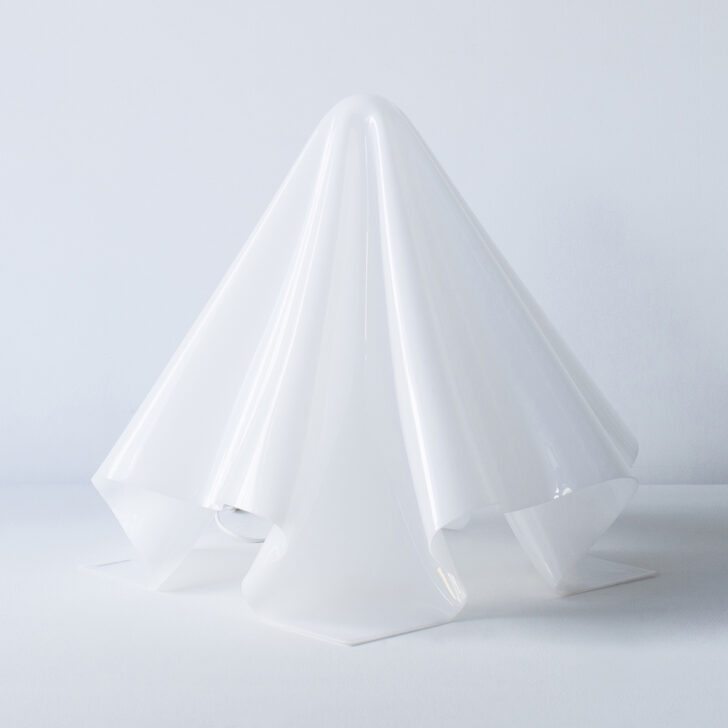 This photo makes it look huge, but it's a table lamp.
If you're feeling like you want to push the envelope, this is a high-quality way in which to do it.
(*I don't believe in Ghosts because I once spent a weekend at this creepy-amazing centuries-old German estate for the birthday of dear friend — and if that place was not haunted, truly I believe nowhere is!)