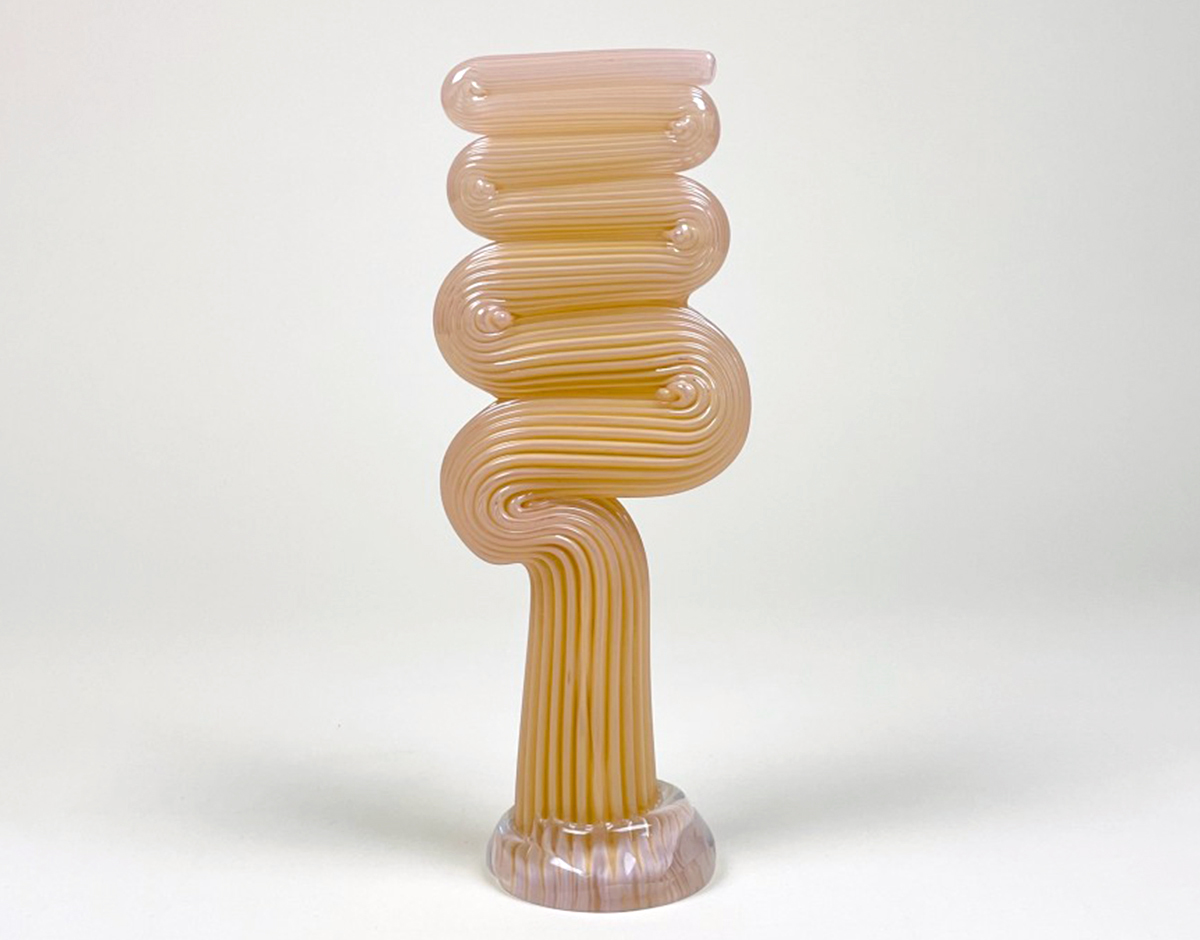 Jill and Monica share their October picks, including King Tut–inspired ceramics, reissued martini glasses from the '80s, and a source for buying Moroccan rugs straight from the artisans who make them.
Jill's List
1. LIZ BECKENHAM
So many questions about Liz Beckenham. Who is she? Why did this lot of her wonderful ceramics get passed up in 2017? And where can I find more? This one was on recent favorite Instagram account Two Poems, but sadly it has sold. They remind us of similarly flat pieces by Norwegian ceramicist Elisabeth Von Krogh.
2. RON GORCHOV
Sometimes, when everyone in your Instagram feed tells you to go someplace, you should probably listen. Such is the case with the new Ron Gorchov exhibition at Cheim & Read in New York City, open until December 18. Gorchov passed away last year in Brooklyn at the age of 90, and these paintings are from the last four years of his life, each a color- field canvas stretched over a curved, saddle-like stretcher. So pretty.
3. PASTIS DE MÉXICO
On a recent trip to Mexico City — my first out of the country since COVID — I bought this beautifully packaged bottle of pastis to bring to my next group friend outing. Being a little travel-rusty, I completely forgot it was in my carry-on, and the bottle was confiscated at the airport. Can someone explain why this incredibly inane 3 oz rule still exists? Anyway, I hope airport officials enjoyed this lovely piece of design, and here's hoping it starts shipping to the States someday soon.
4. JONATHAN LASKER
Neither an under-the-radar nor a new find, Jonathan Lasker has been making abstract art since the 1970s, but it's just something we're simply feeling right now. This one is a particular favorite, with the big scribbles resembling a chair and the small ones losing their inherent scribblyness through repetition.
5. NITSA MELETOPOULOS
We covered French artist Nitsa Meletopoulos once before — for her contribution to a Fracas Gallery show last year — but these little vases, inspired by the alabaster vases from Tutankhamun's tomb, were worth a share. They're for sale at Volume Ceramics, and we love the extremely precise body framed by droopy handles.
6. PLANNERS FOR PEOPLE WHO STILL USE PENS
I've been trying to uncouple myself from technology lately to the extent that one can, but even I cannot fathom using a day planner at this point in time. However, if you can, may we suggest this collaboration between Rotterdam-based graphic designer Marjolein Delhaas and Dutch fashion brand Susan Bijl?
Monica's List
1. OKTETT MARTINI GLASSES
I've seen these 1980s Bodum glasses before in their vintage form, and always thought it was slightly weird how they paired a plastic base with a glass top, mostly because what's so nice about drinking glasses is the feel of a weighty, stable bottom. That said, the chunkiness of these reissues mostly makes up for it, and they're just so good looking — there's a whole series of them now available at Moma Store. Currently wondering if the new packaging is as good as the old was!
2. RASMUS NOSSBRING
Spotted this amazing new glass sculpture at Arranging Things in Sweden… It's just over $1k but the form is really wonderful, it almost looks like pasta, or candy. It's quite different from Nossbring's previous work at the shop, which all had smiley faces, including this hilarious glass carrot. Check out his other work on his IG.
3. ENGOLD TRAVERTINE VESSELS
The Australian furniture and housewares brand Engold is bringing back all sorts of vintage-inspired lewks, and they particularly love stone, as well as stone paired with glass or lucite, and maybe also things resting on balls. We recently spotted this series of vessels that pair a geometric travertine shape resting on a big lucite sphere.
4. THE ANOU
Does everyone else know about The Anou or is it a crazy secret I just discovered? Not totally sure, but it's the online shop of a collective of over 600 artisans from cooperatives, associations, and workshops across Morocco — as in, you are buying directly from the artisans themselves, not from a middle man. The rugs are so good! And so affordable! And the money goes straight to the communities making the works. The designs are beautiful too. Can't believe this boucherouite is only $279.
5. DOMENICO GNOLI
I've been seeing works by the late Italian artist Domenico Gnoli on our Instagram feed this week, and it turns out that the painter — who was active in the 50s and 60s and then died in 1970 — is having a renaissance, marked currently by a big show at the Fondanzione Prada in Milan (pictured). Not sure why his work feels so timely ATM but I'm officially obsessed with his up-close paintings of clothing details. They're almost cartoonish but so sophisticated at the same time.
I6. LOUISIANA POSTERS
If you're on the hunt for affordable art and don't mind the exhibition poster vibe, this is just a small endorsement for the online poster shop of the Louisiana museum in Copenhagen, because they truly have the best art posters I have ever seen. I guess partly because the typography is so nice? I want them all.