Related Stories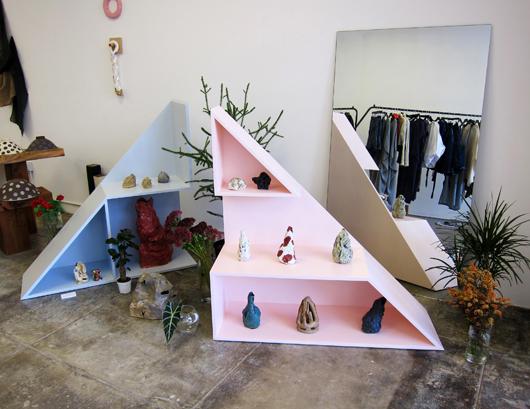 03.02.12
The launch of the first-ever Sight Unseen printed edition — debuting in April as part of the Karlsson's Vodka Unfiltered project — is just around the corner. As of today, we're putting the first 100 copies up for pre-sale in the Sight Unseen Shop, which will ship to buyers on approximately April 13. We're only printing 400 for now, so
click here to grab one
while you can! An 88-page softcover designed by Studio Lin, it's packed with 21 brand new, up-close-and-personal stories on Peter Shire, Anntian, Keegan McHargue, Shabd, Shin Okuda, Wary Meyers, Andy Rementer, Raven & Boar, Cmmnwlth, Sanntu Mustonen, Leutton Postle, Chen Chen and Kai Williams, New Friends, Jade Lai, Nacho Alegre, Patrick Parrish, Brian Janusiak and Elizabeth Beer, Felix Burrichter, Roanne Adams, Roman and Williams, and Sebastian Wrong. Meanwhile, today is your last chance to guess the subject of our sneak peek photograph for a chance to win a free copy.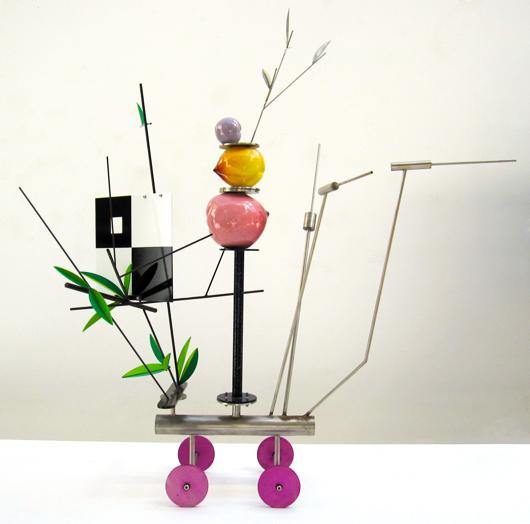 01.18.13
We have some pretty fantastic subjects coming your way next week, but before we take off for the weekend, we felt it our civic duty to alert Los Angeles readers to an opening tonight at the Santa Monica Museum of Art for one of our favorite designers, Peter Shire. When we first visited Shire two summers ago for Paper View, we were well aware of his work for Memphis, his public art, and his too-hot-to-keep-in-stock ceramic cups. But it wasn't until we were touring his actual studio and came upon a massive sculpture made from metal, wood, and other found objects, that we were introduced to his "teapots." Shire swears that each one is functional, though his wife jokes that though you can send water through them, it might not get to the spout. But function in these pieces is beside the point; the eight pots on view at the museum's "Tea for Two Hundred" exhibition tonight range in height from two to six feet tall. Shire approaches the cartoonishly large teapots in a way that other designers usually reserve for more practical objects like chairs: "Throughout his career," writes curator Elsa Longhauser, "he has continually reinvented the object, using it as an armature to experiment with material, scale, and function."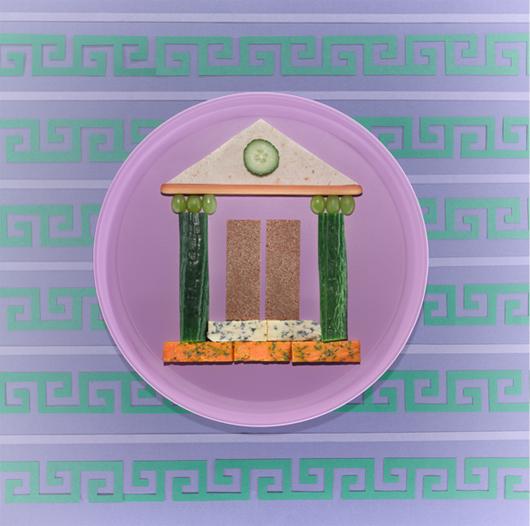 08.21.12
In the summer before starting Sight Unseen, one of us had a very brief flirtation with the idea of attending culinary school. Along with design, food is our great love, so we were pleased this week — and maybe even a little bit jealous — to stumble upon a new magazine out of London that unites the two disciplines in the most fantastic of ways. Called The Gourmand, the first issue tackles subjects ranging from David Shrigley's new cookery-themed opera to Jeff Koons's recipe for apple dumplings. But our favorite feature — plucked from the site's website, which has a sprinkling of teasers for the print edition as well as practical food recommendations from artists, contributors and London's culinary cognescenti — has to be this collaboration between art director Jamie Brown and photographer Luke Kirwan, which depicts 20th century art and design movements in foodstuffs like American cheese and pink wafer cookies.