09.24.19
Three Designers Turned Their Hotel Rooms Into Studios for A Weekend Residency — Here are the Results
There are three things that have fascinated Sight Unseen since the beginning — travel, and its ability to crack open a designer's perspective; materials, and the endless ways in which they can be recast or re-contextualized; and the idea of applying certain constraints to a designer's practice or otherwise taking them out of their comfort zone to see what inspiration may strike. (Remember this fun series?) So when the opportunity to combine those three things came about, we of course jumped at the chance. With the help of the design-forward travel app HotelTonight — which allows designers to choose from a curated selection of hotels that might drive creative inspiration — we issued a challenge to three designers: Spend a weekend in a city you've never been to, bringing only the tools you can fit into a carry-on, and use your hotel room as a mobile studio in which to create a design object inspired by your travels.
We sent Chen Chen to the Woodlark Hotel in Portland, Oregon; Chris Wolston to the Hotel Peter & Paul in New Orleans; and Eny Lee Parker to the Noelle in Nashville. And while we chose those designers for their particular ingenuity with materials, we never could have anticipated the results. Best of all, each one-of-a-kind object is now for sale in the Sight Unseen Shop, with all proceeds going to the charity of each designer's choosing. Read on for a peek at one of our favorite projects in recent memory.
PHOTOS AND VIDEOS BY SEAN SULLIVAN; STUDIO PHOTOS BY BALARAMA HELLER
Chen Chen, Woodlark Hotel, Portland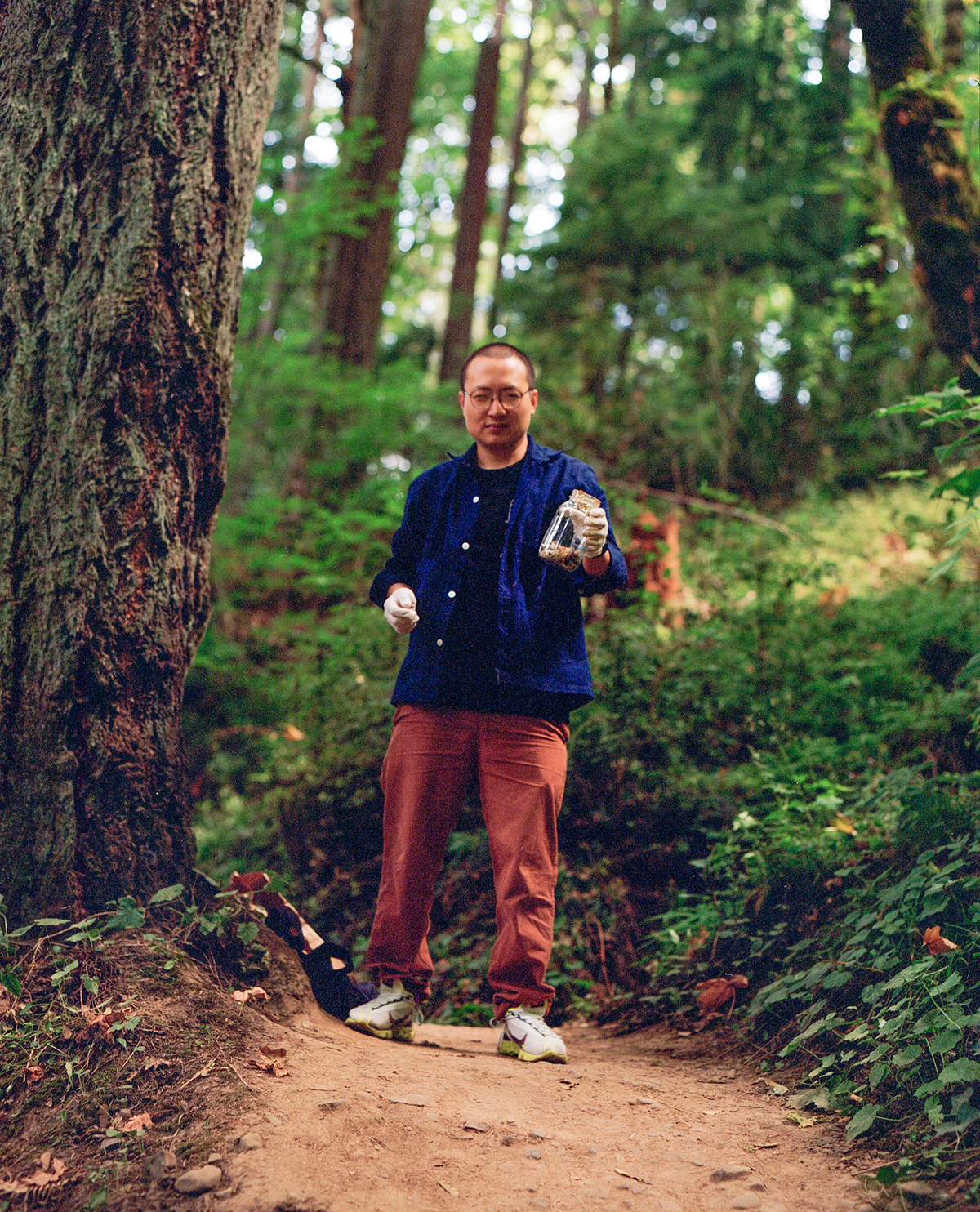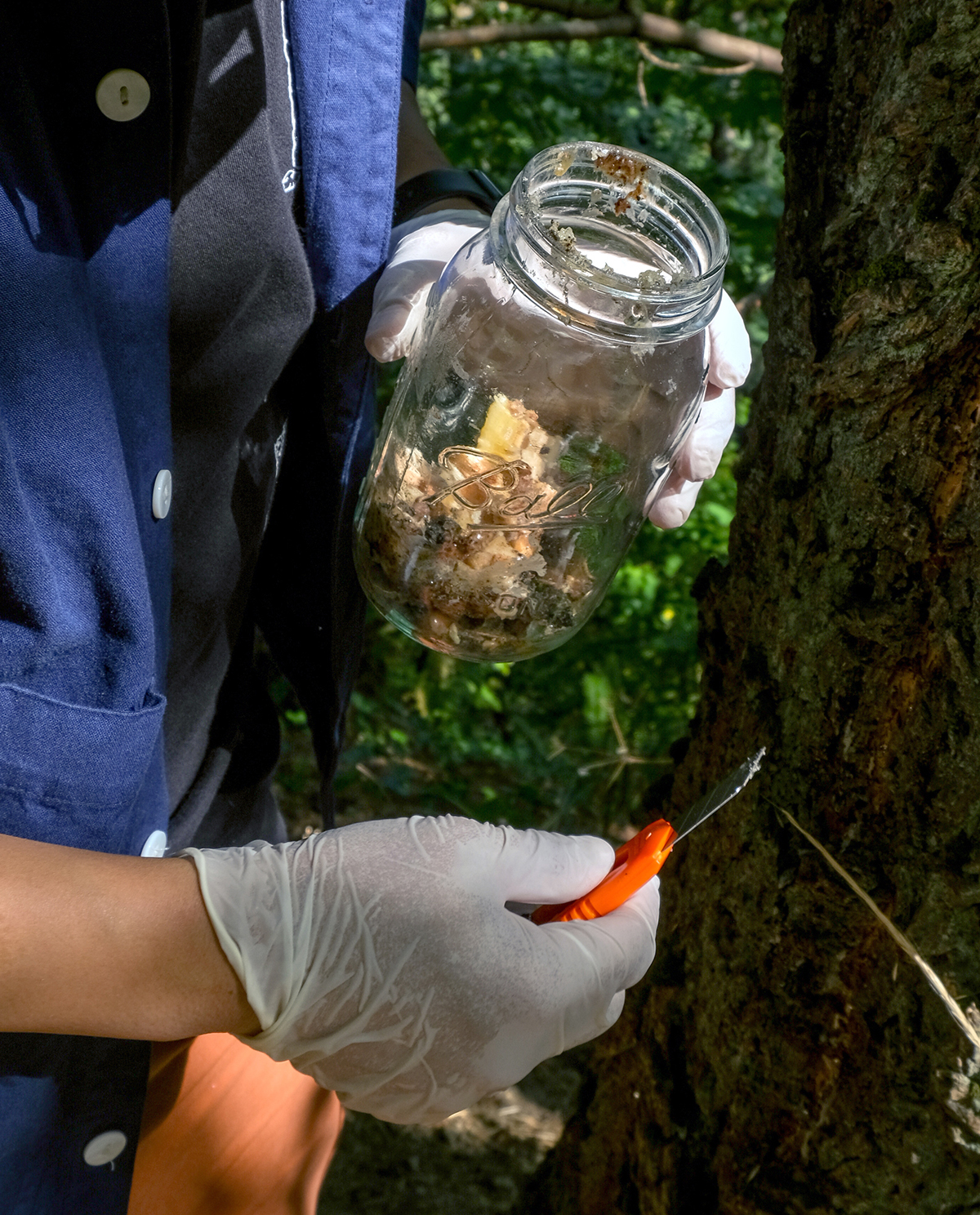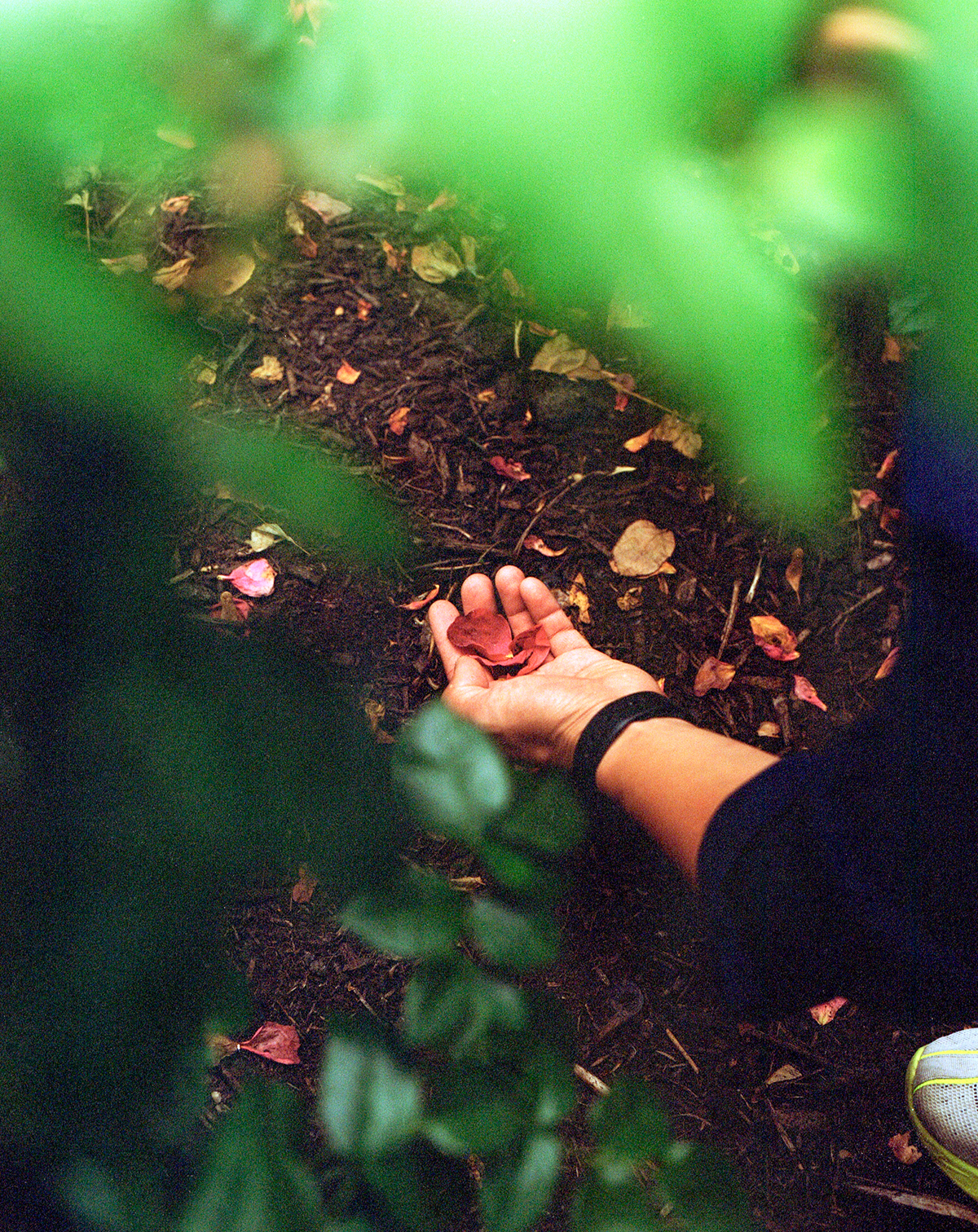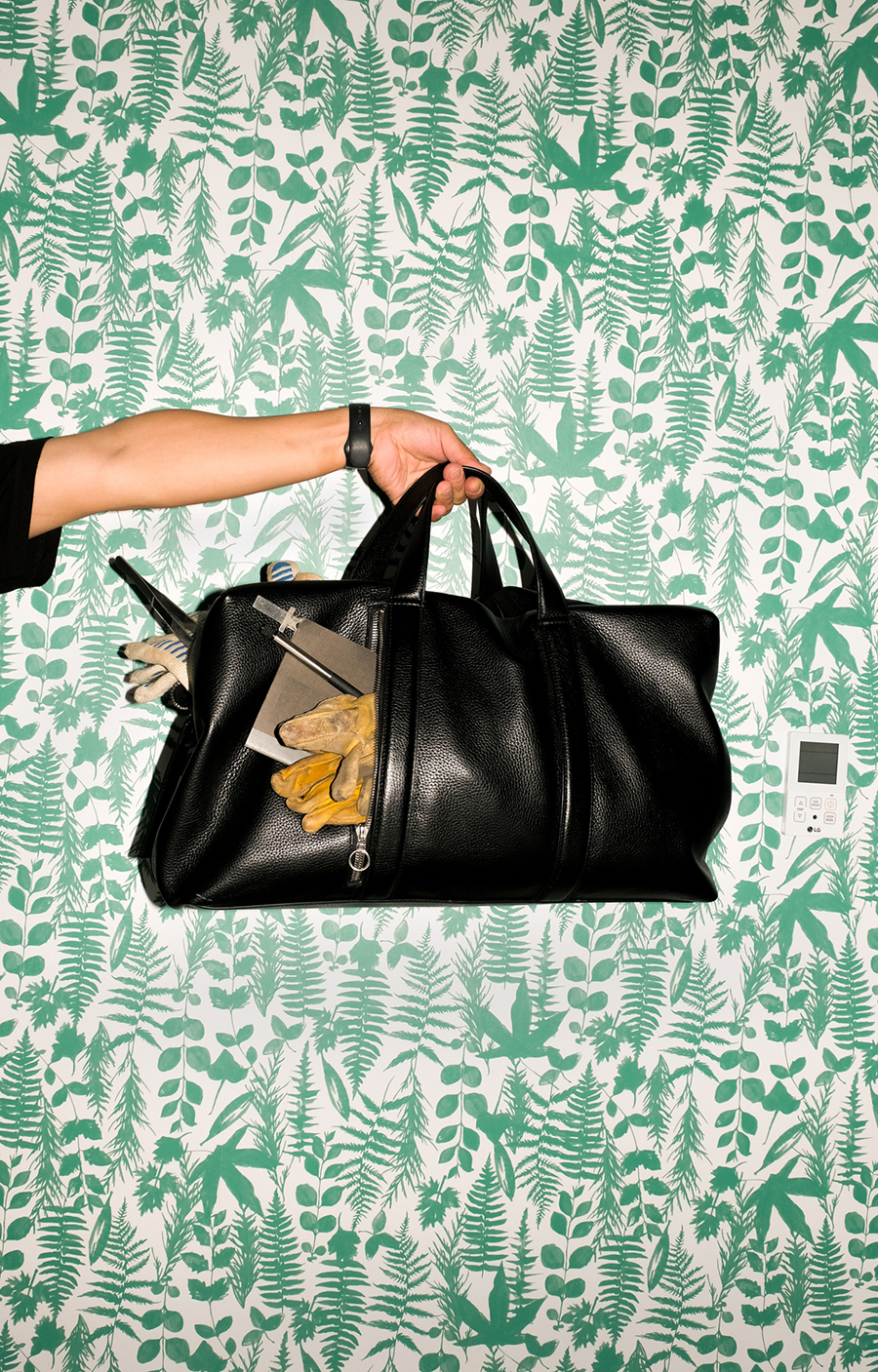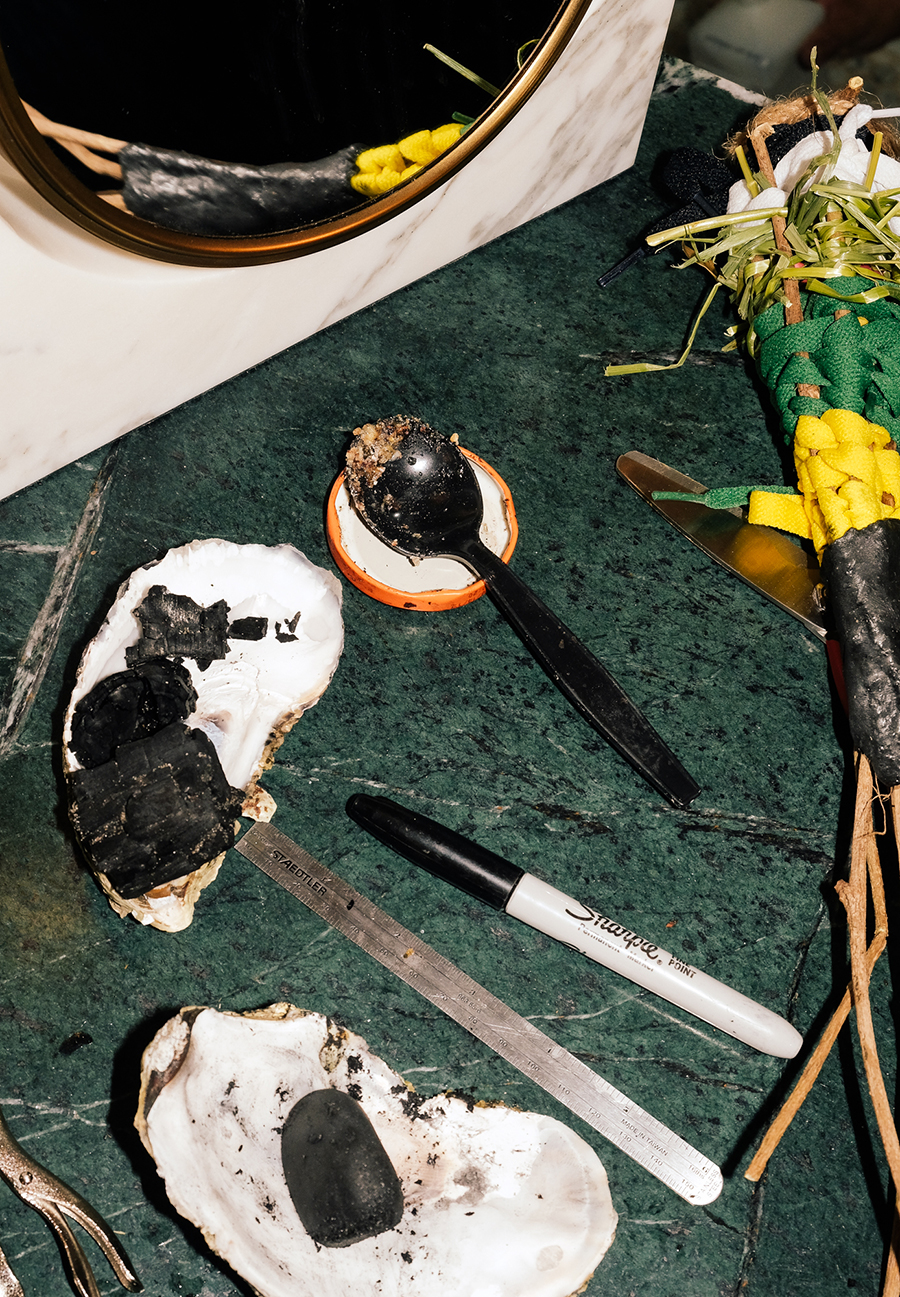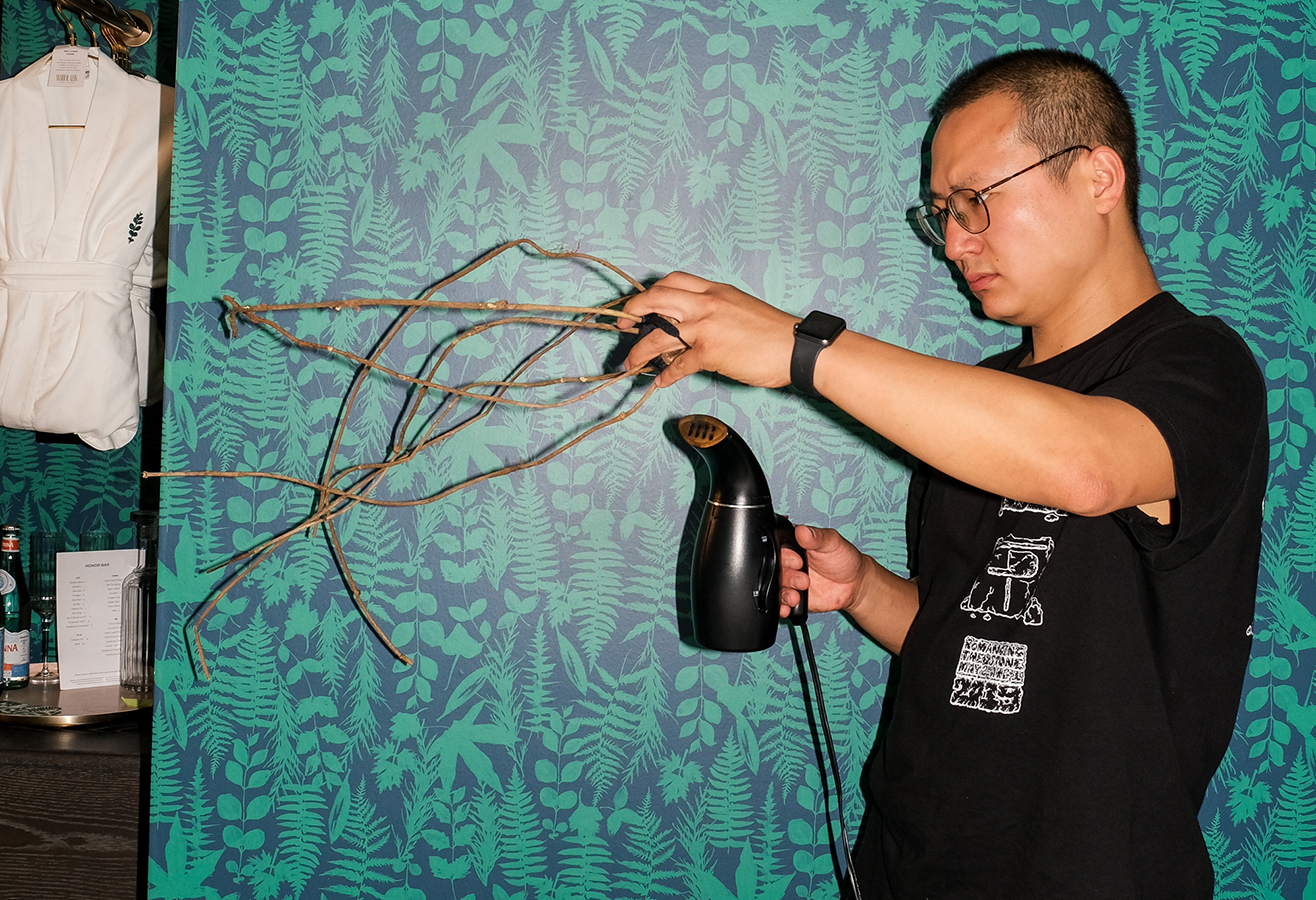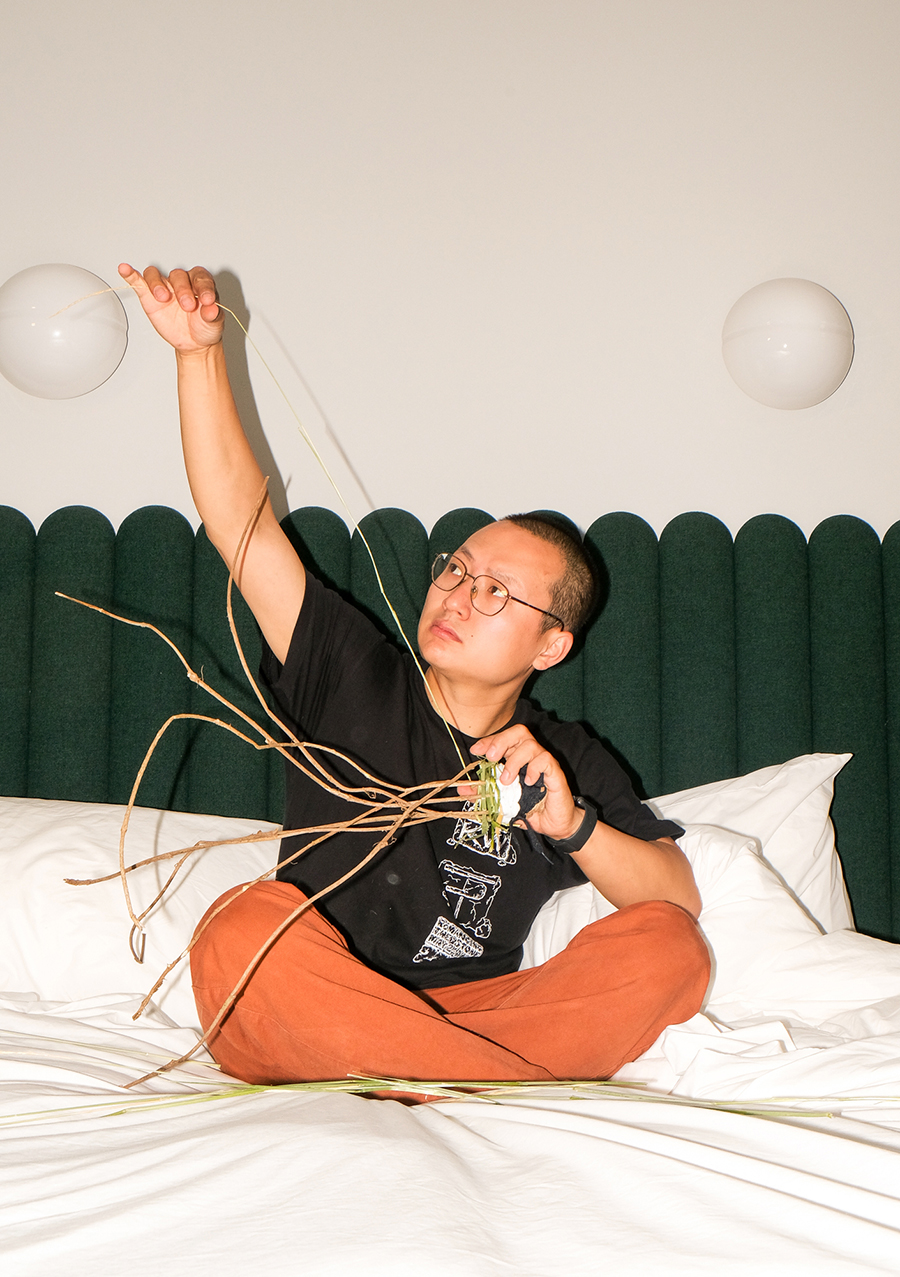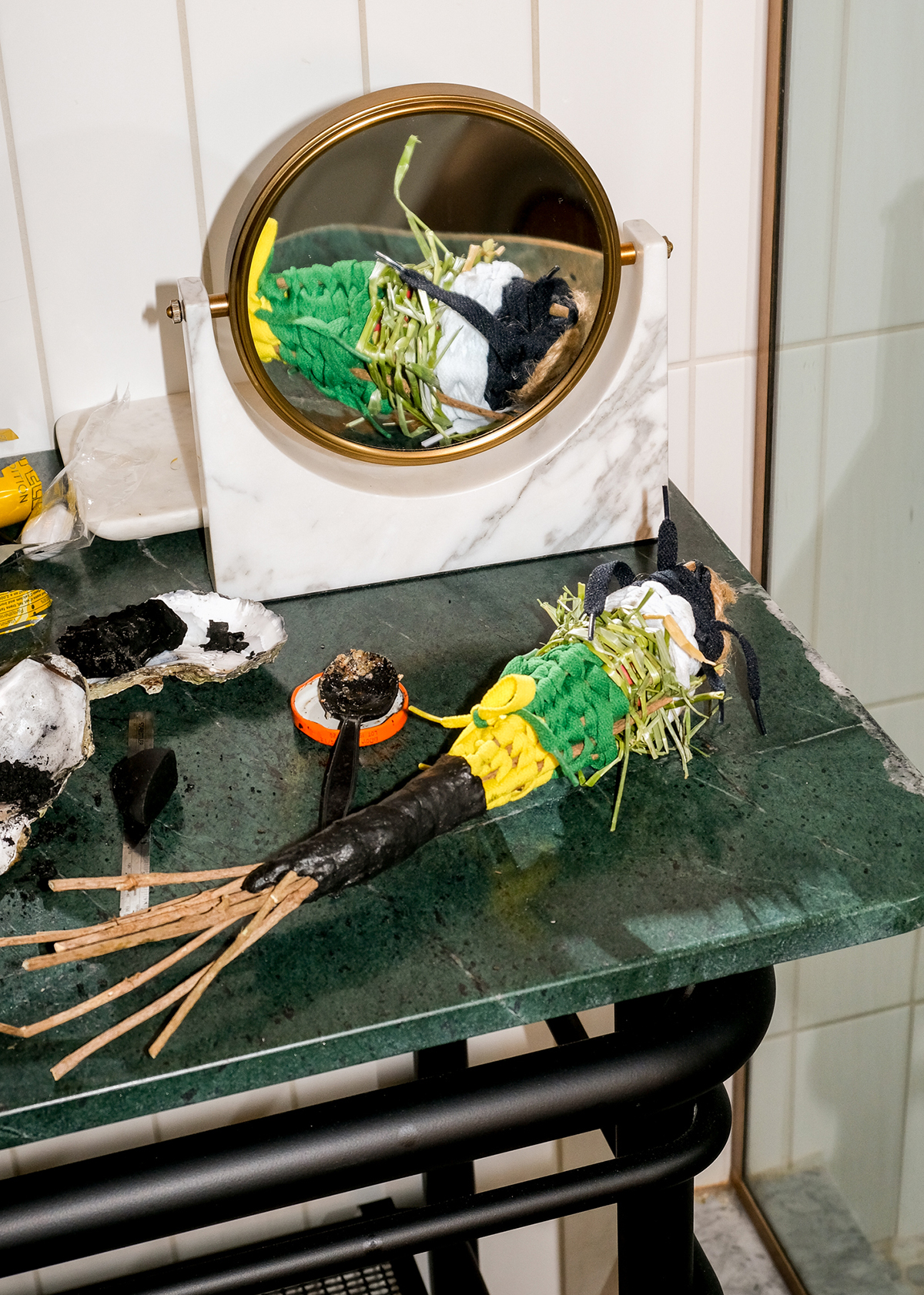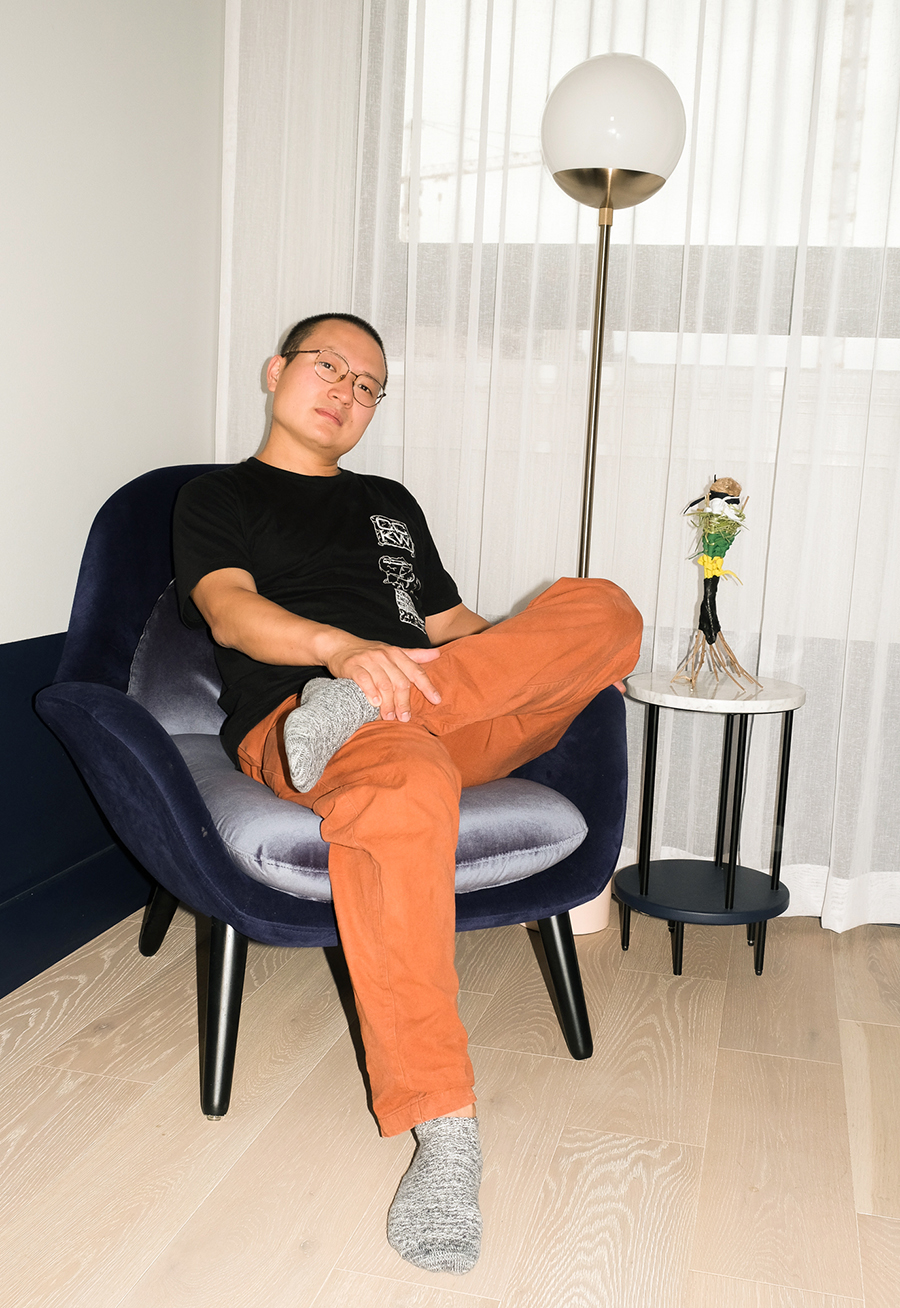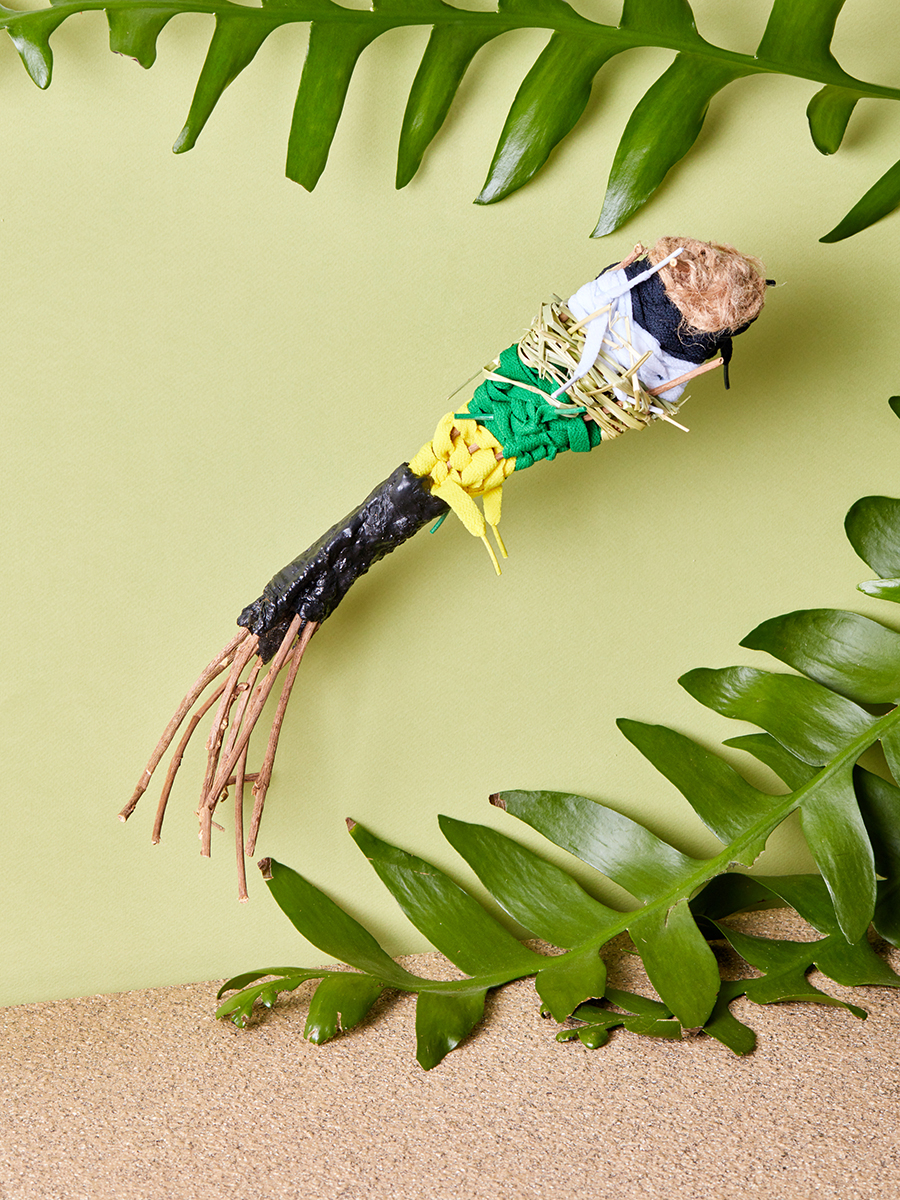 We sent Chen Chen to the Woodlark Hotel in Portland, Oregon. For his day of inspiration, he did a fair amount of wandering, taking in Portland's sights and — more importantly — scents, gathering fallen rose petals from the Rose Garden; pine sap, vines, and grasses from Forest Park; and spent charcoal from bonfires on the beach. He also bought shoelaces in a nod to Portland's inextricable link to Nike. Upon returning to his hotel room, he got crafty, using a hand steamer to soften the dead vines and Red Bull cans from the minibar to MacGyver a burner stove. He wove a basket to encapsulate the decomposing rose petals, and mixed the sap and charcoal to form a woodsy, pine pitch seal. The result is a kind of sculptural scent diffuser with the lingering aromas of the Pacific Northwest.
Purchase Chen Chen's Pine Rose Censer here, to benefit the Equal Justice Initiative
Chris Wolston, Hotel Peter & Paul, New Orleans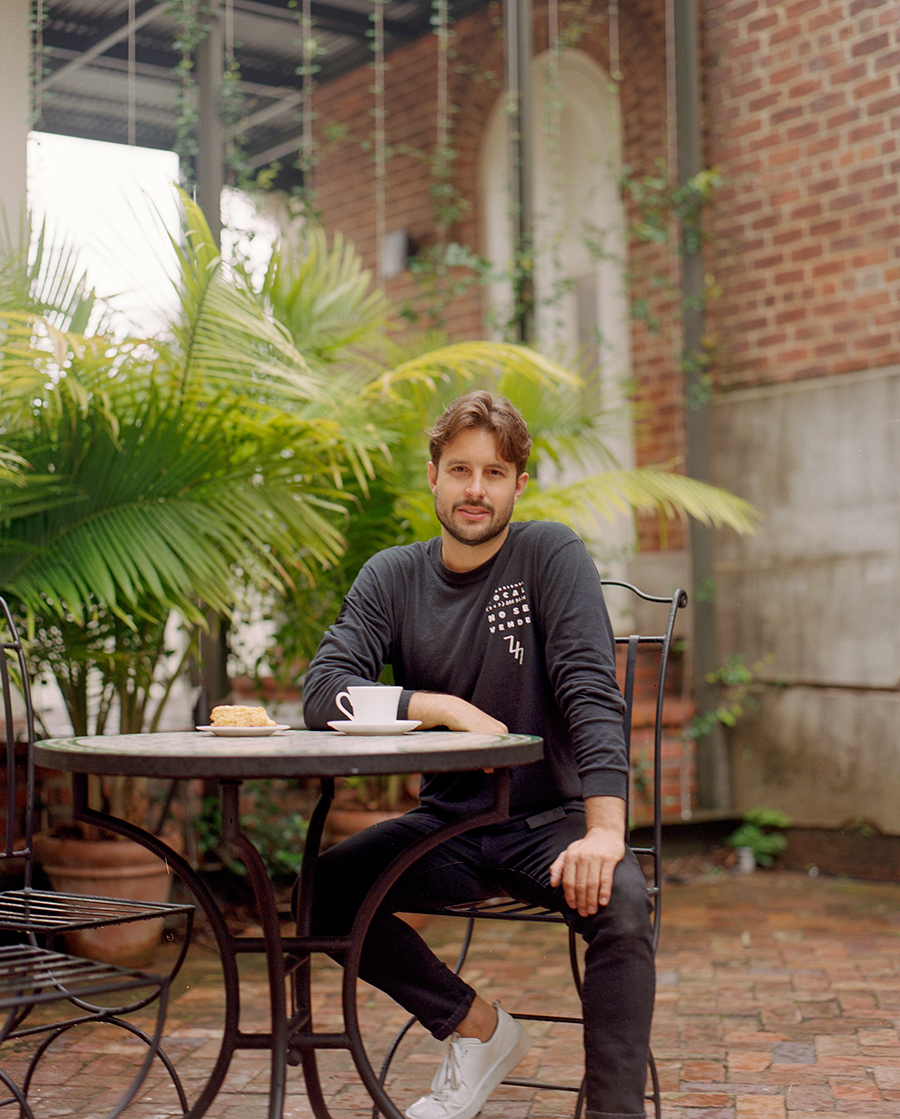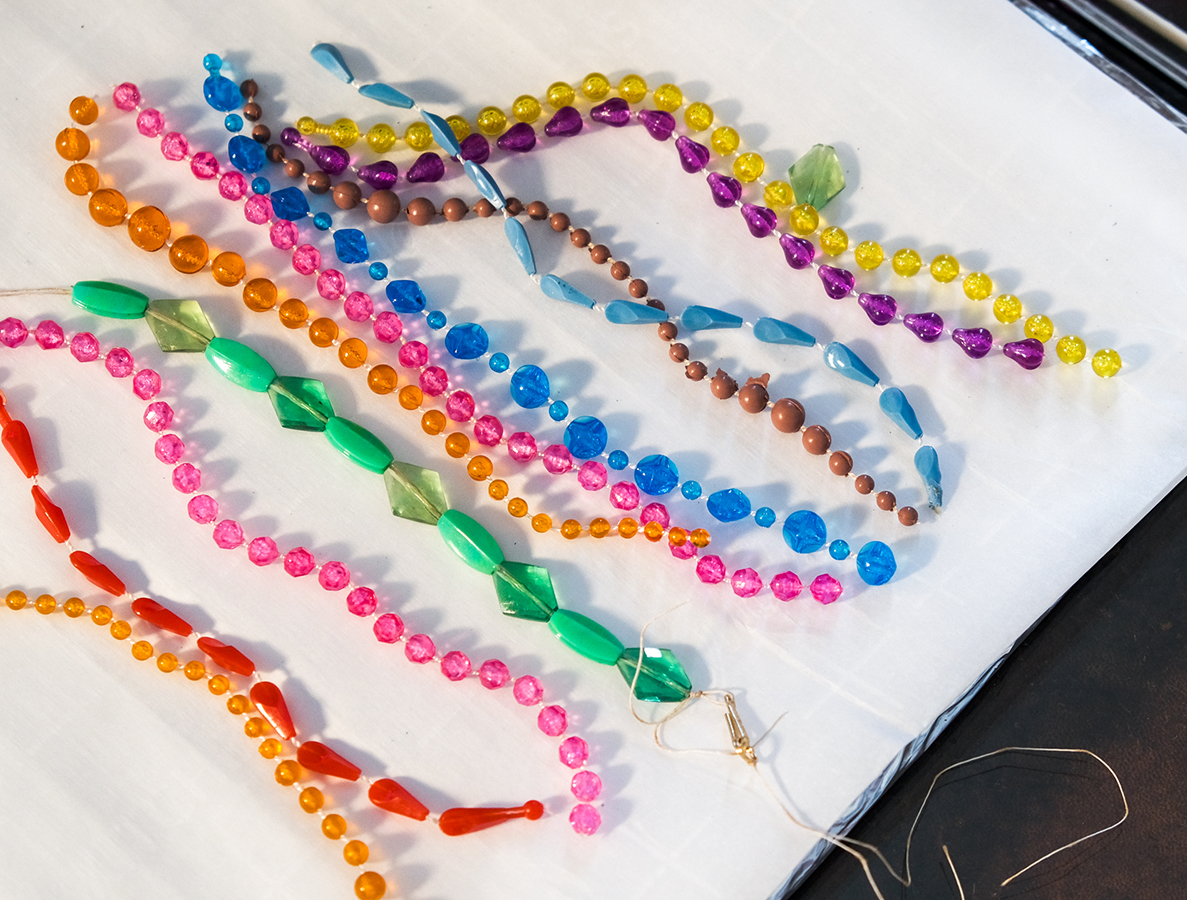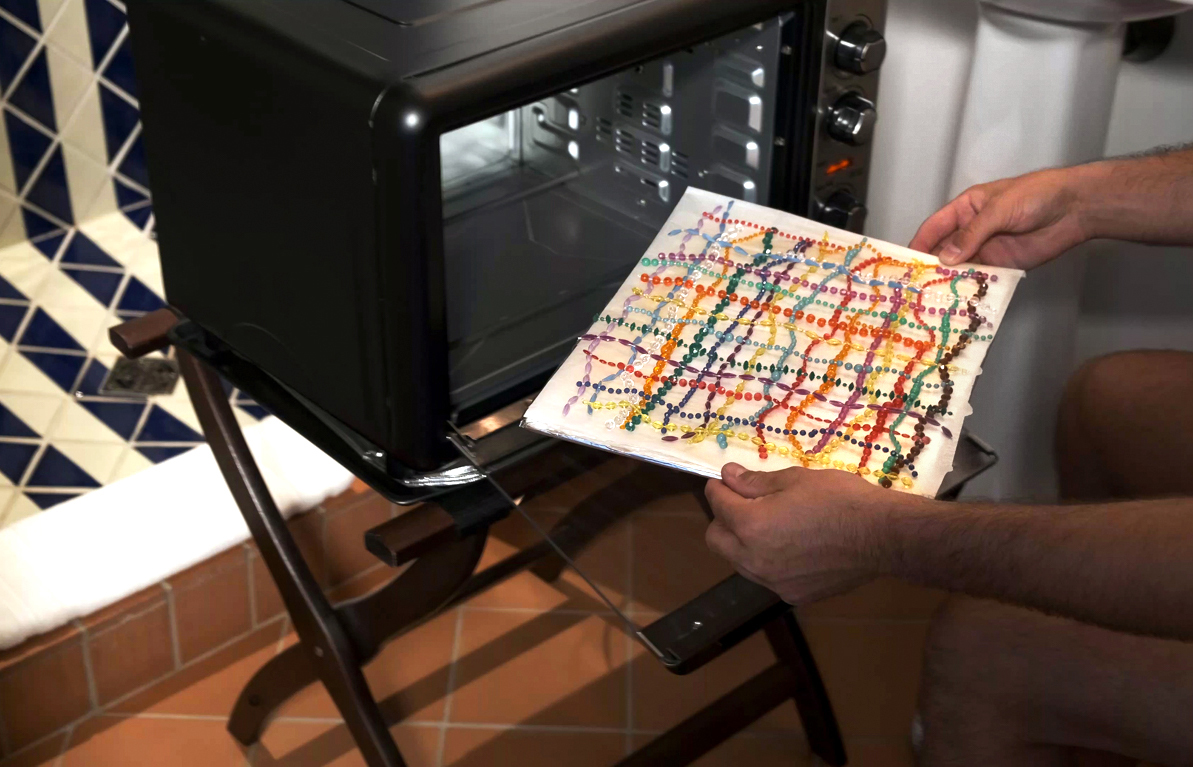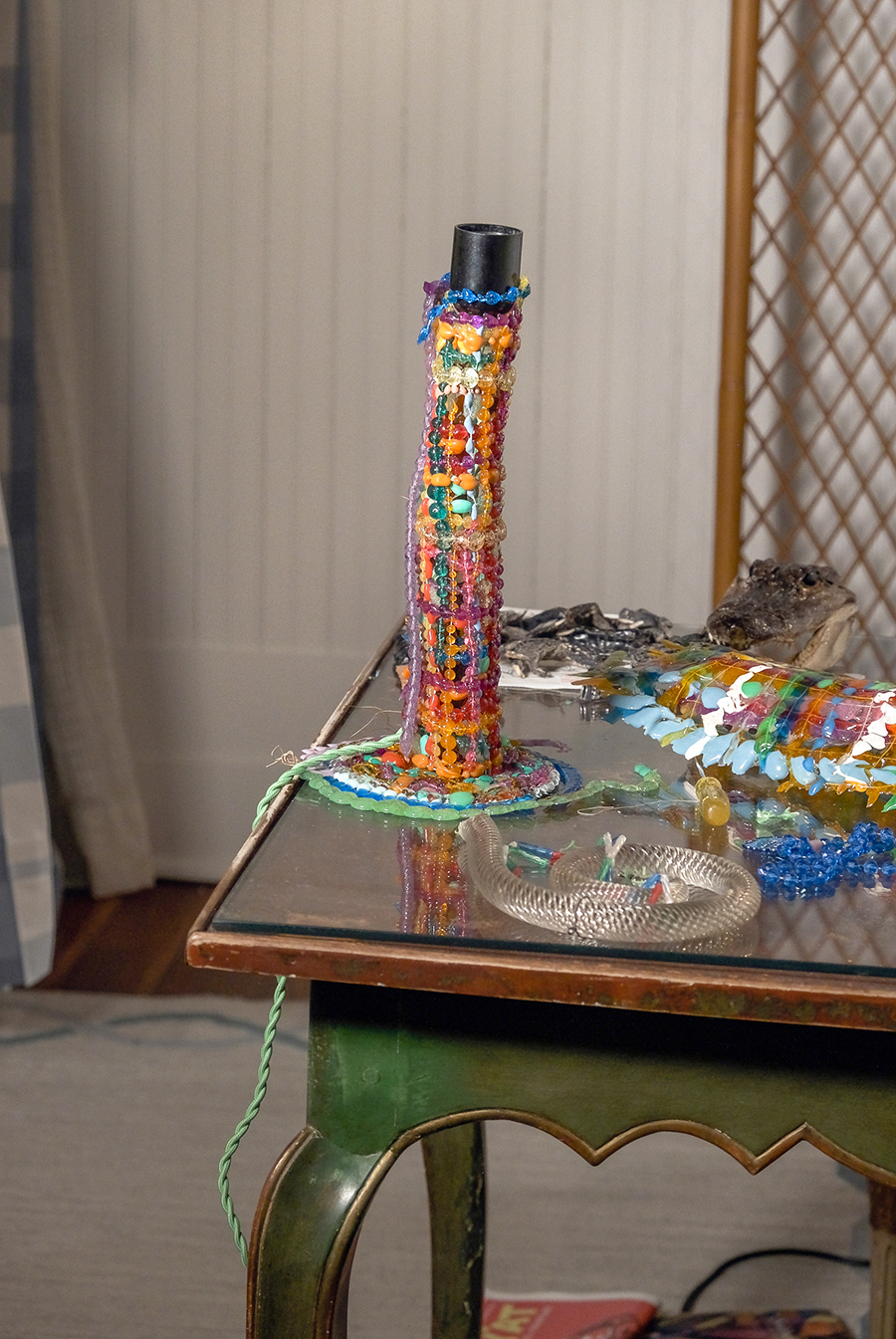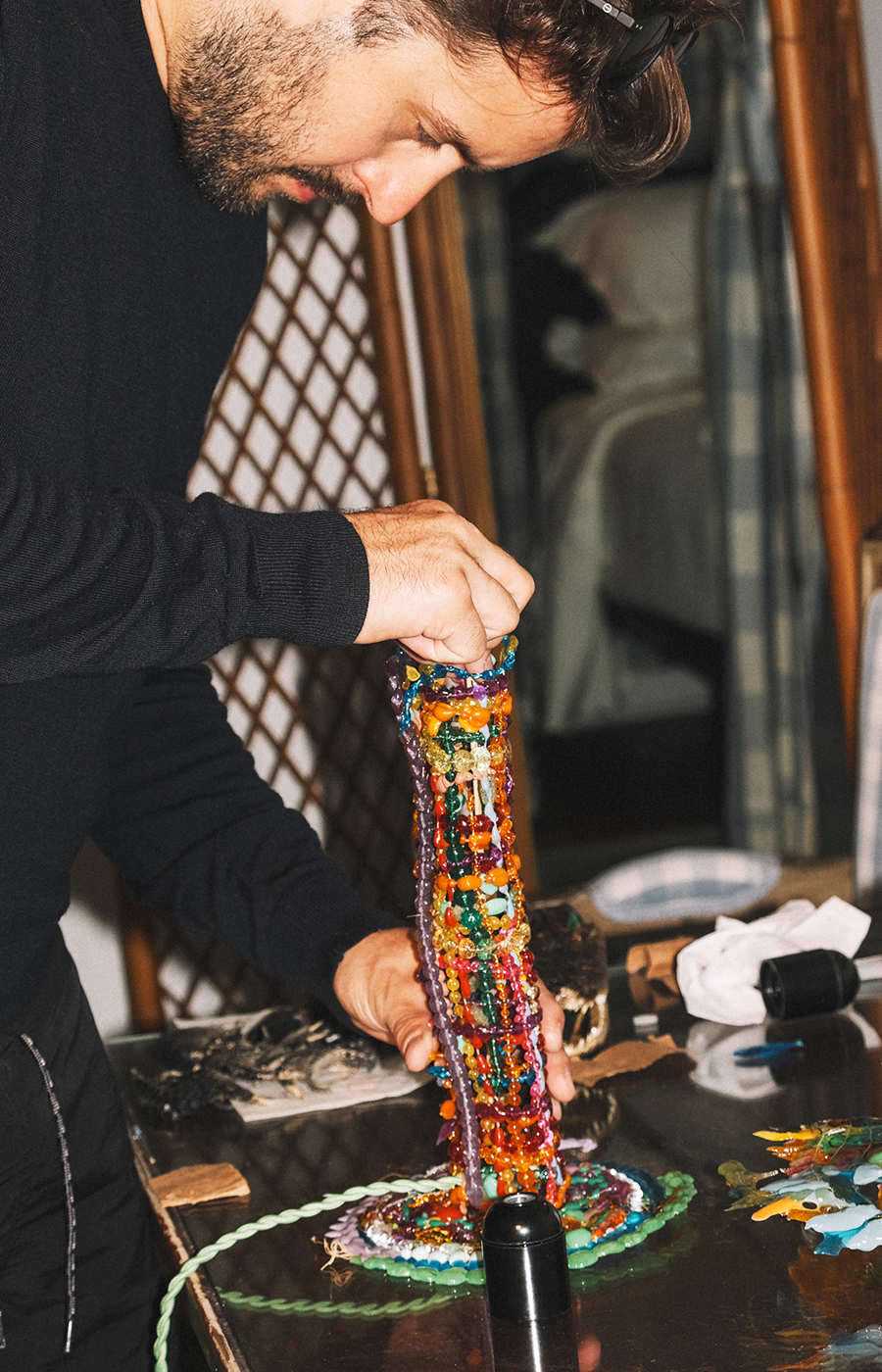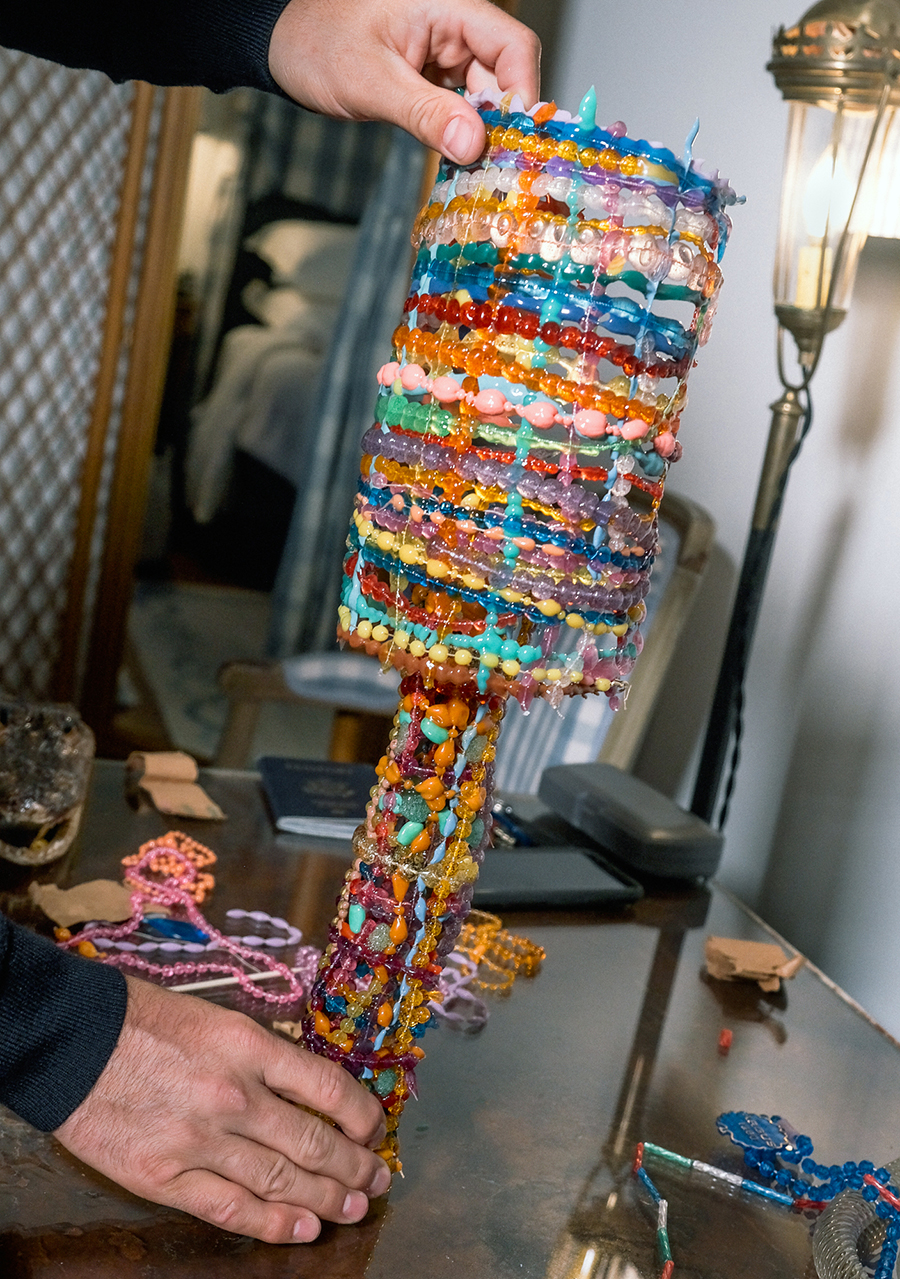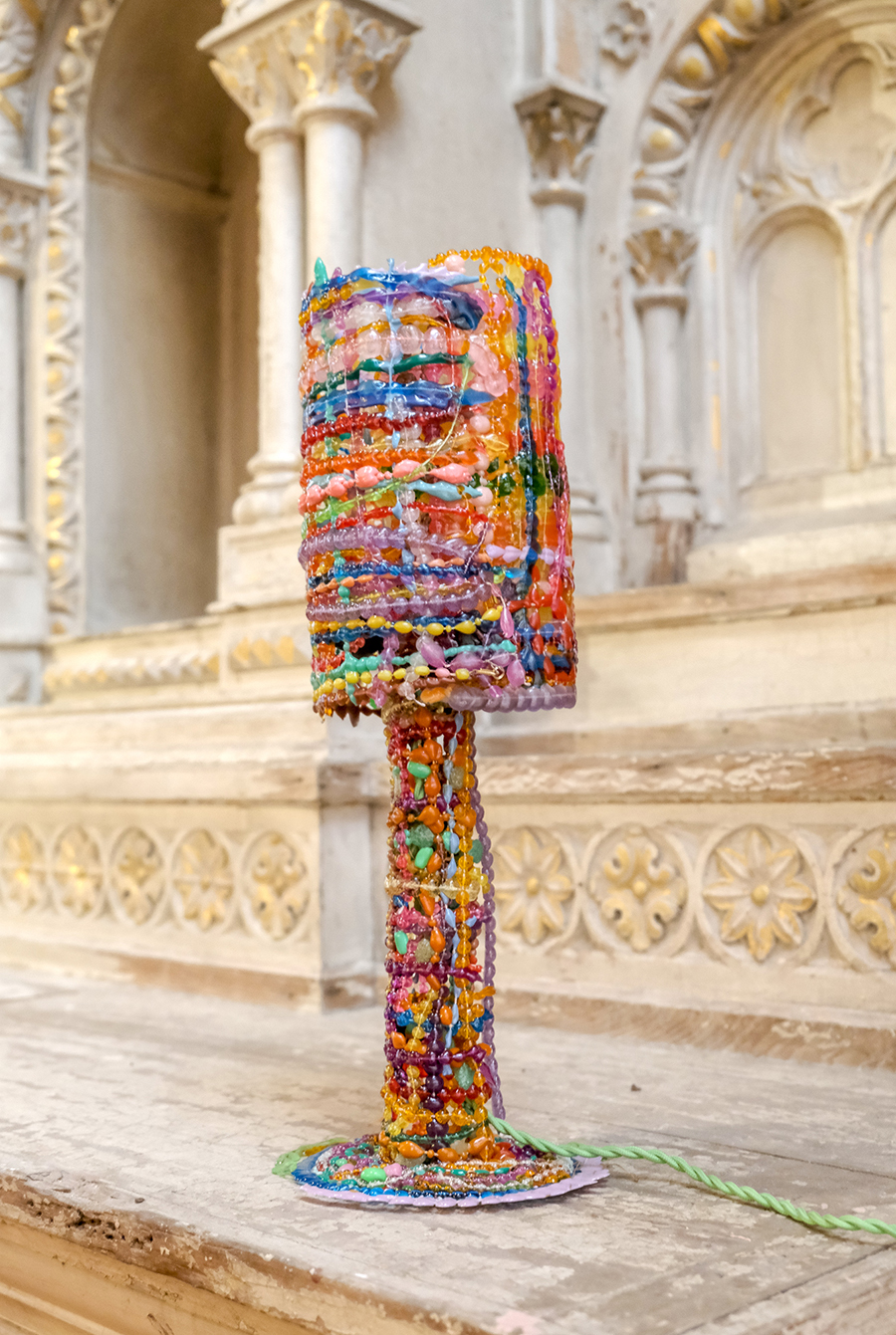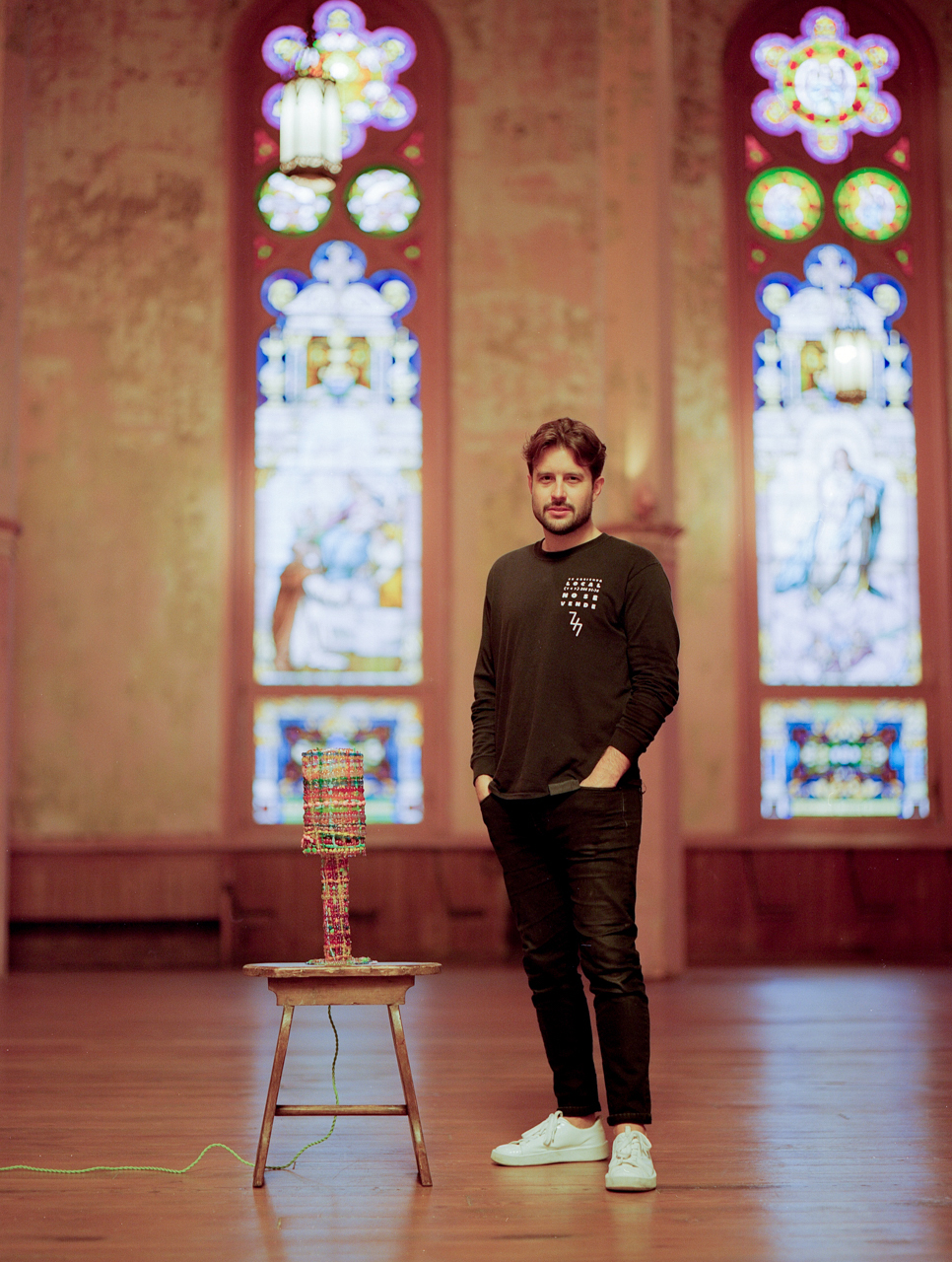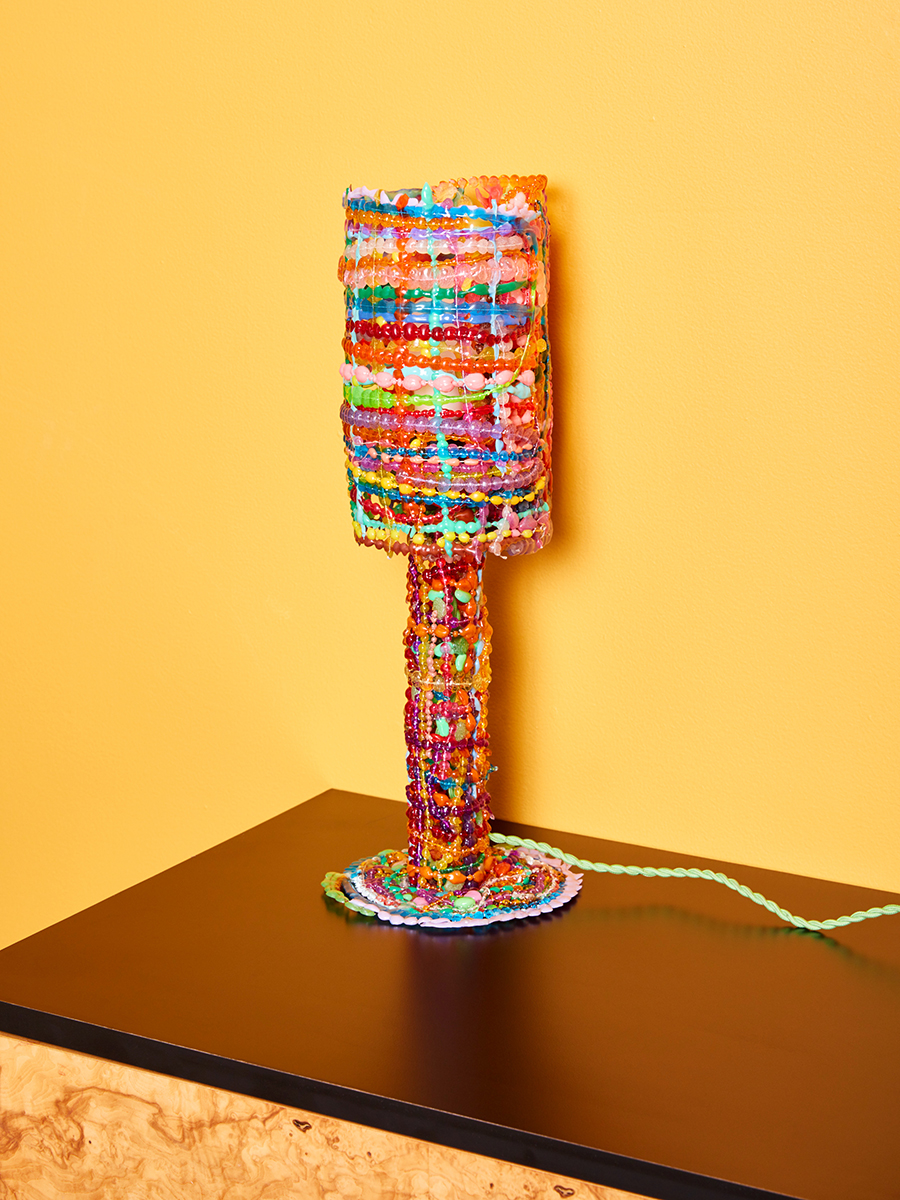 Visiting New Orleans for the first time, Chris Wolston stayed in the Marigny at the Peter & Paul, a former Catholic church and school turned boutique hotel. After considering, but ultimately discarding, the idea of making a kind of stained glass out of plastic alligator heads, he turned to vintage Mardi Gras beads for inspiration. Borrowing a toaster oven from the hotel and using a toilet paper roll as a mold, Wolston melted down the beads to create a shimmering, multicolored lamp.
Purchase Chris Wolston's Serpentina Lamp here, to benefit Campos de Gutierrez SOLD OUT
Eny Lee Parker, Hotel Noelle, Nashville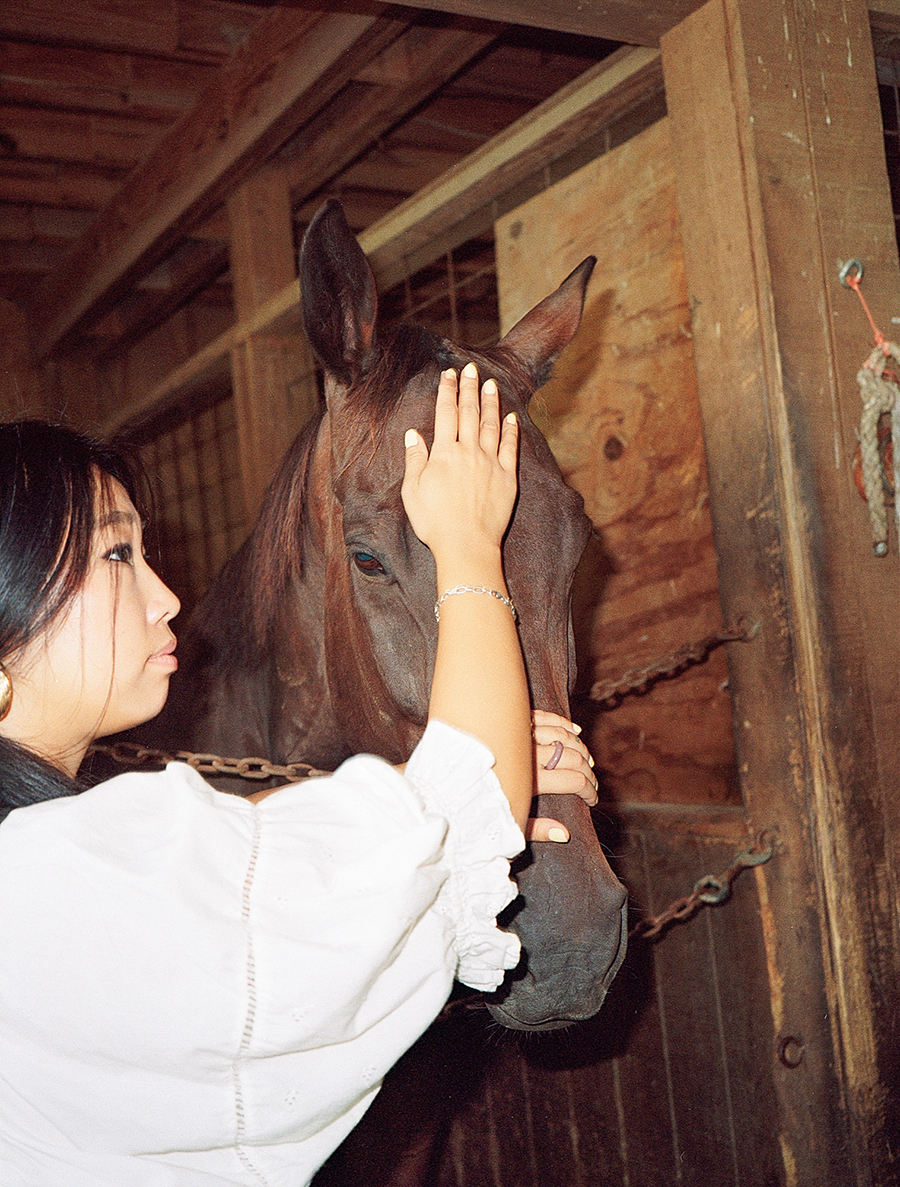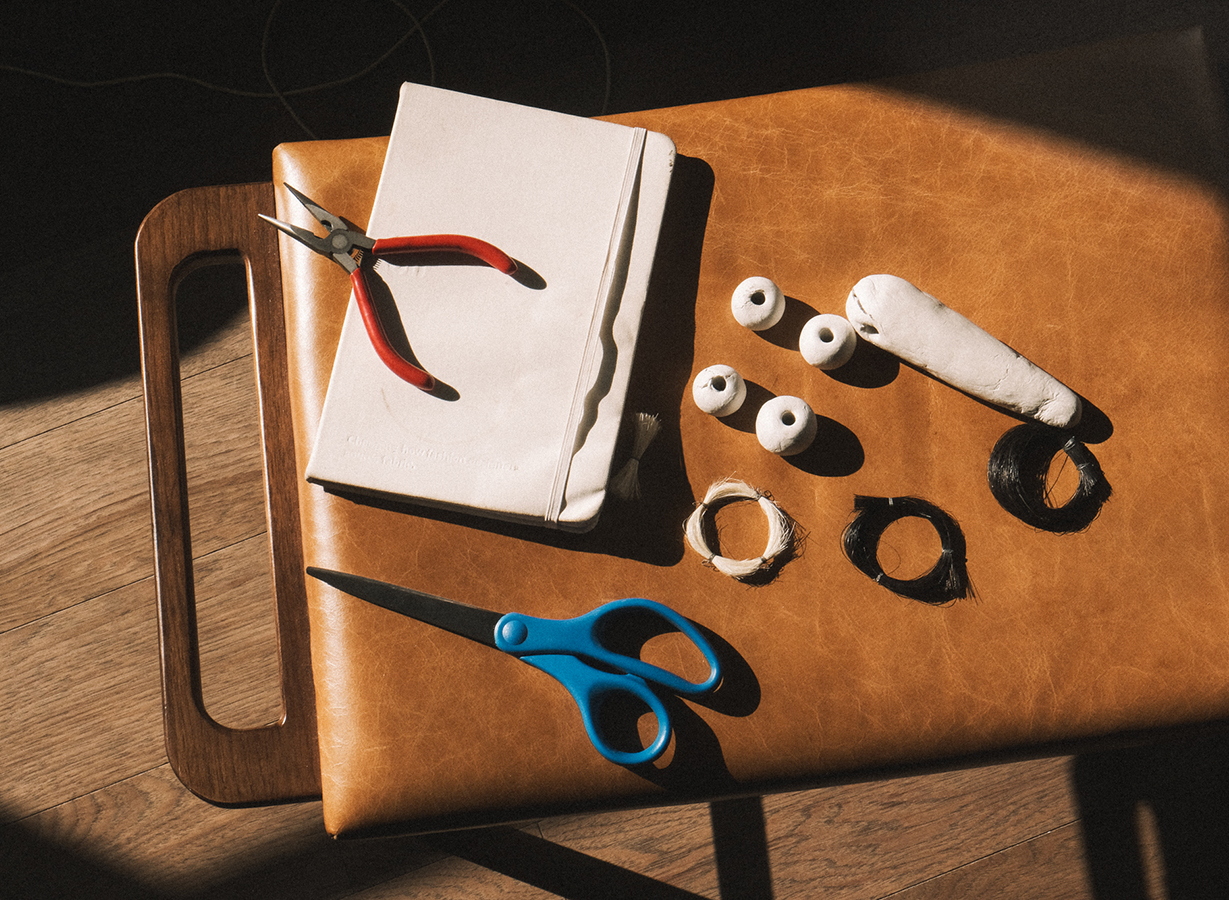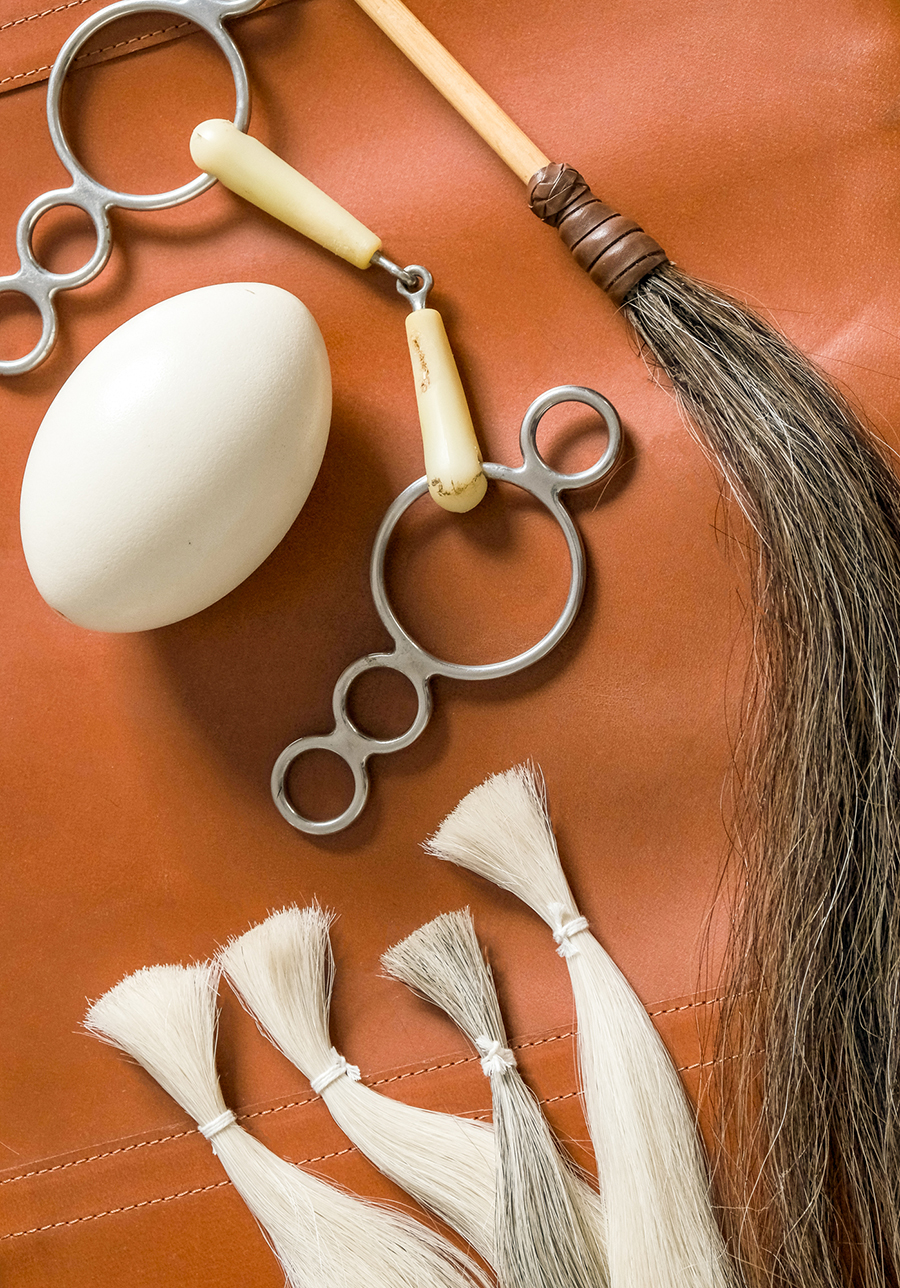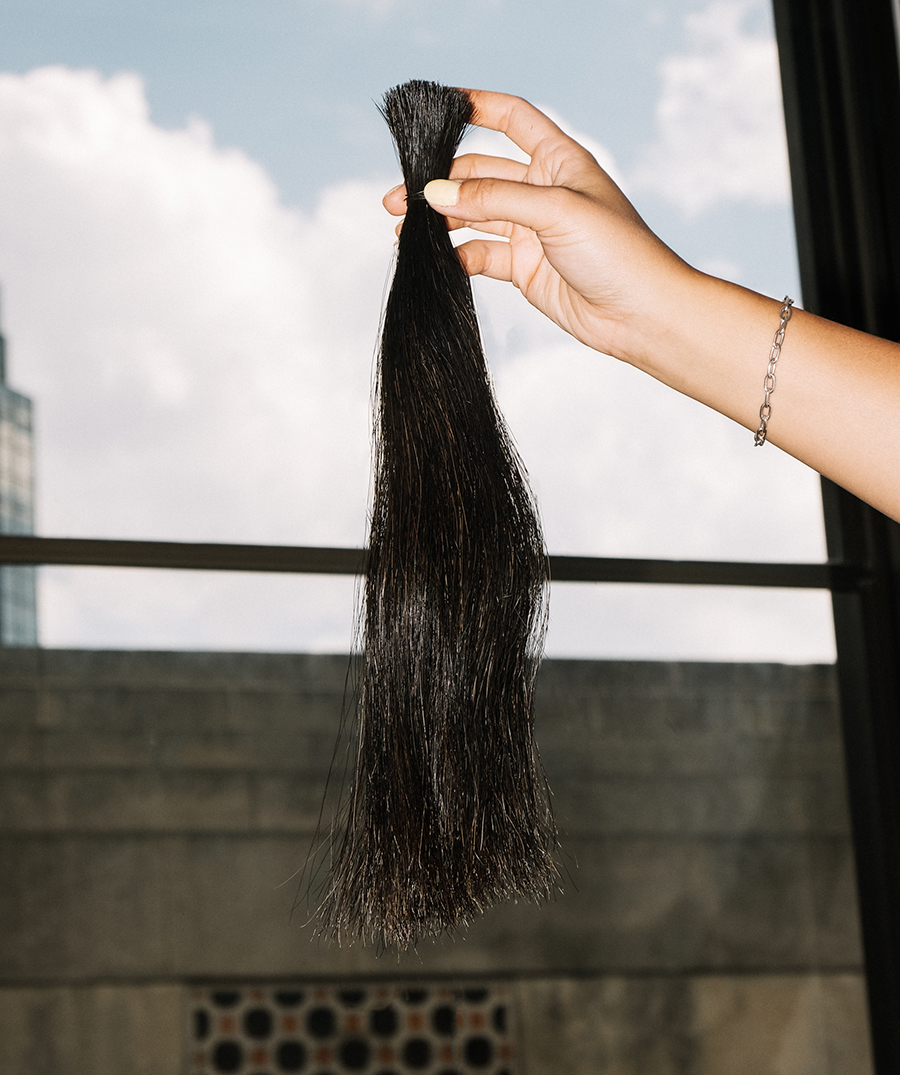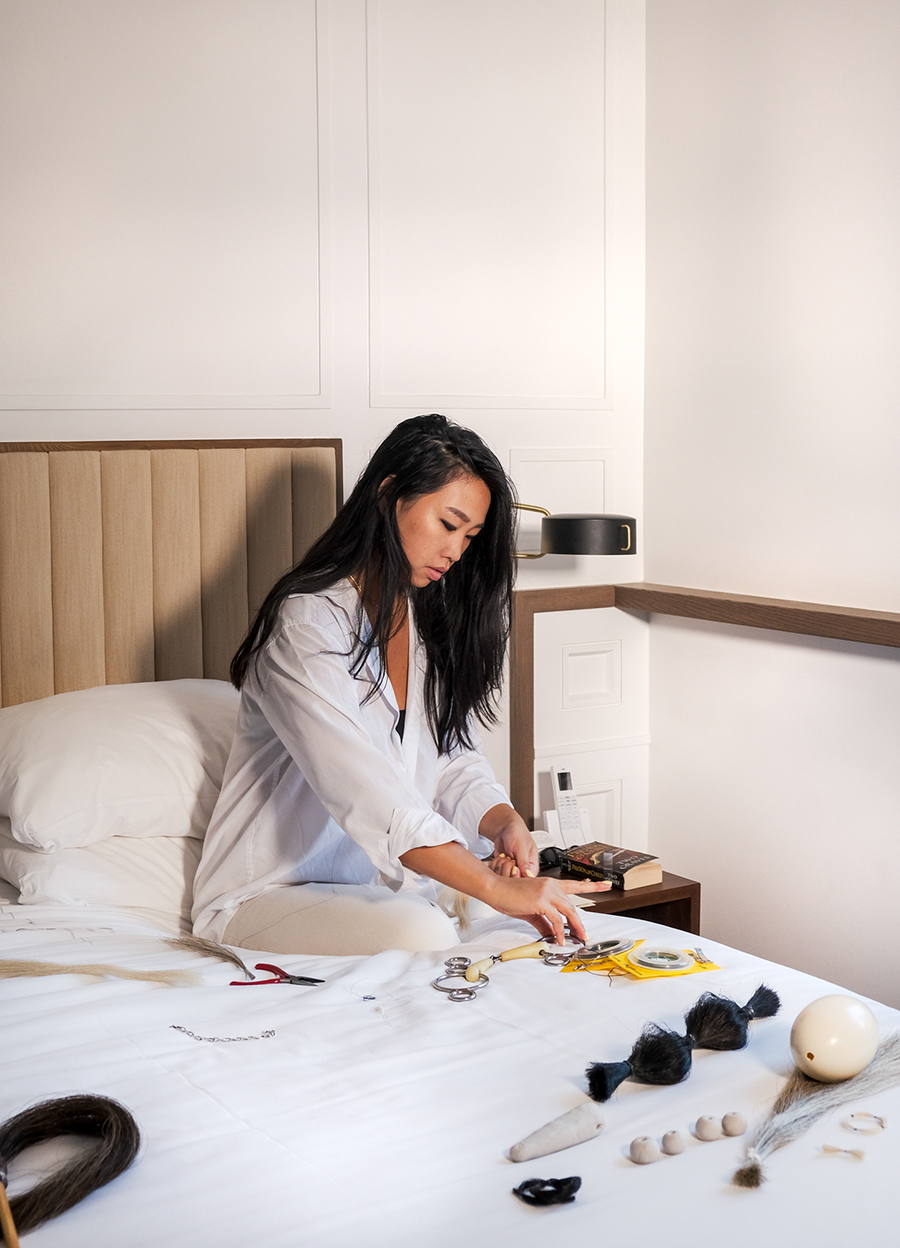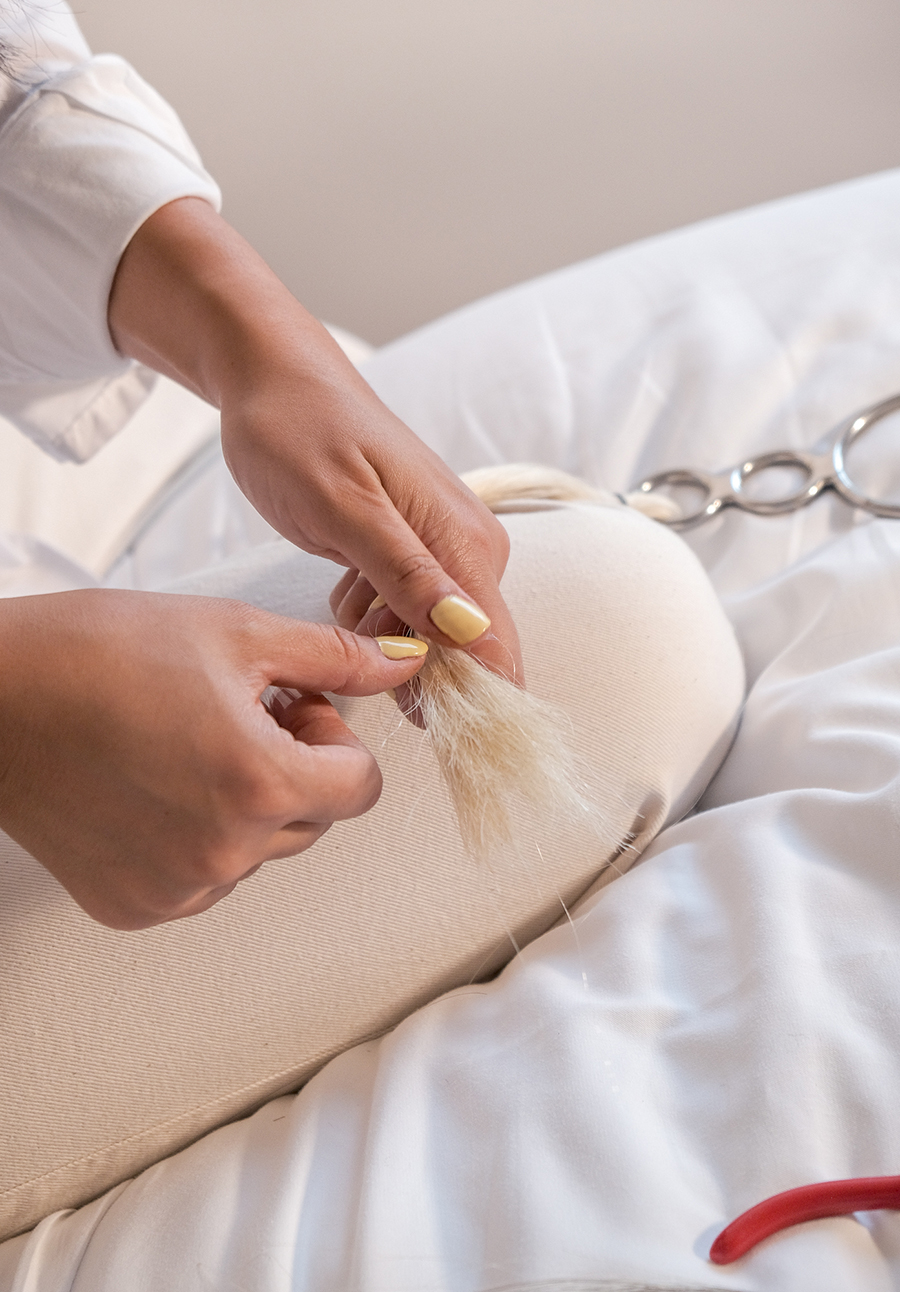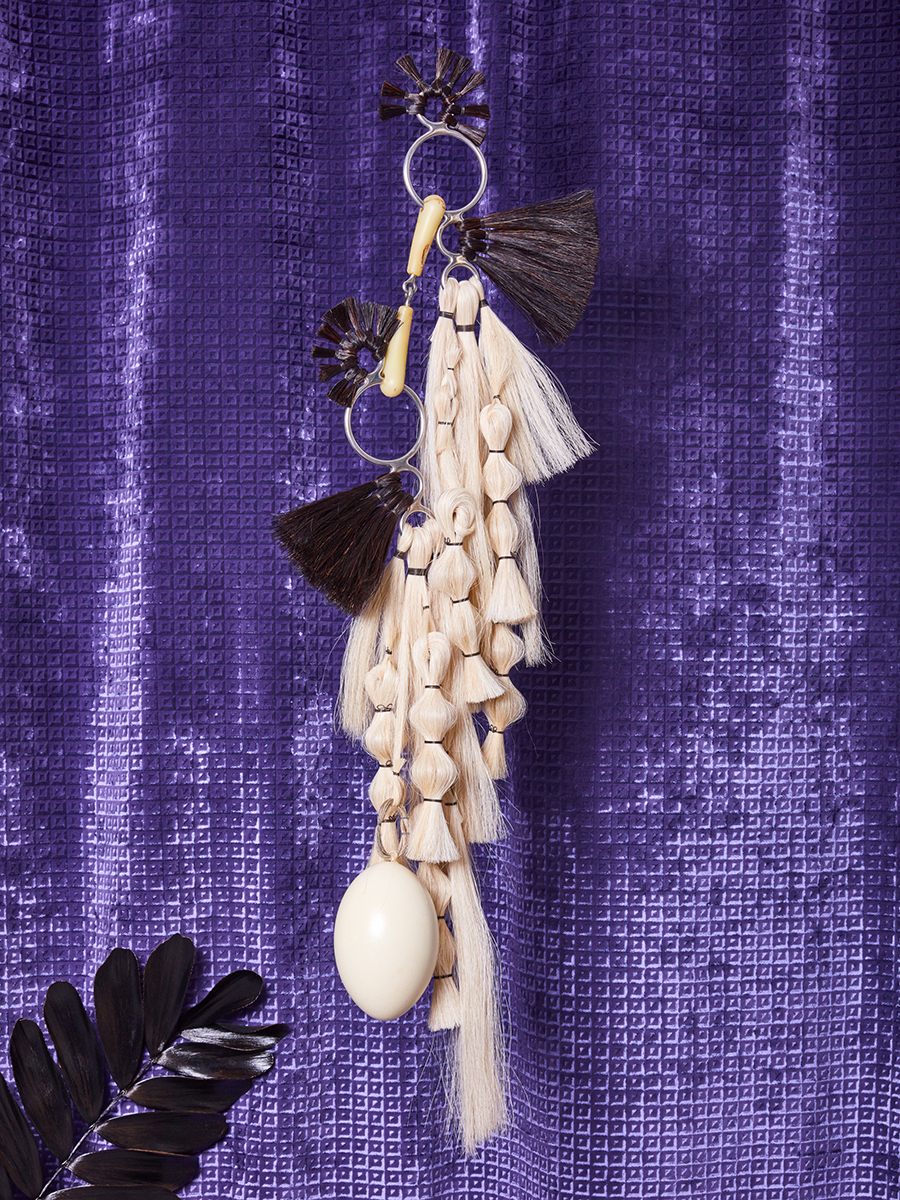 In Nashville, Eny Lee Parker went antiquing, typically the first thing she does when traveling, and visited a horse farm, where the owners gifted her a few equestrian essentials. From there the idea for a custom wall hanging with horsehair, ostrich eggs, and metal bits — inspired by garlic braids, no less —  fell into place almost immediately.
Purchase Eny Lee Parker's Garlic Braid Wall Hanging here, to benefit the Equal Justice Initiative SOLD OUT
This post was sponsored by HotelTonight, but all thoughts and editorial content are our own. Like everything at Sight Unseen, our partner content is carefully curated to make sure it's of the utmost relevance to our readers. HotelTonight's platform is comprised of the world's leading, design-forward hotels, allowing designers to choose from a curated selection of hotels that they know will drive creative inspiration. Perfect for last-minute travels, further supporting creative careers. Thank you for supporting the brands that support Sight Unseen.