05.18.18
A Conceptual Hotel Suite Inspired by Op-Art and '80s Design
Technically speaking, designer Steven Bukowski and artist Hannah Bigeleisen have designed a bedroom together before — the couple have been married for two years, and share a home in New York's Bushwick neighborhood — but this week marks the first time they're creating one that the public is invited to explore. Bukowski, who helms his own design studio, and Bigeleisen, who is a painter and sculptor, began collaborating professionally on furniture last year; for this year's Sight Unseen OFFSITE, they've teamed up with the support of HotelTonight — the app that offers booking deals on some of the world's best design and boutique properties — to envision the ideal hotel suite, which they've brought to life in a 100-square-foot space inside the show at 201 Mulberry.
Merging Bukowski's eye for form with Bigeleisen's eye for color and pattern, the black-and-white-striped suite's furnishings include a brand-new bed, dresser, lounge chair, lamp, planter, and — naturally — the coolest Yves Klein Blue minibar we've ever laid eyes on. The best part? You can purchase the furniture in the room by "booking" the suite on the HotelTonight app.
We asked the pair to tell us more about how the project came about.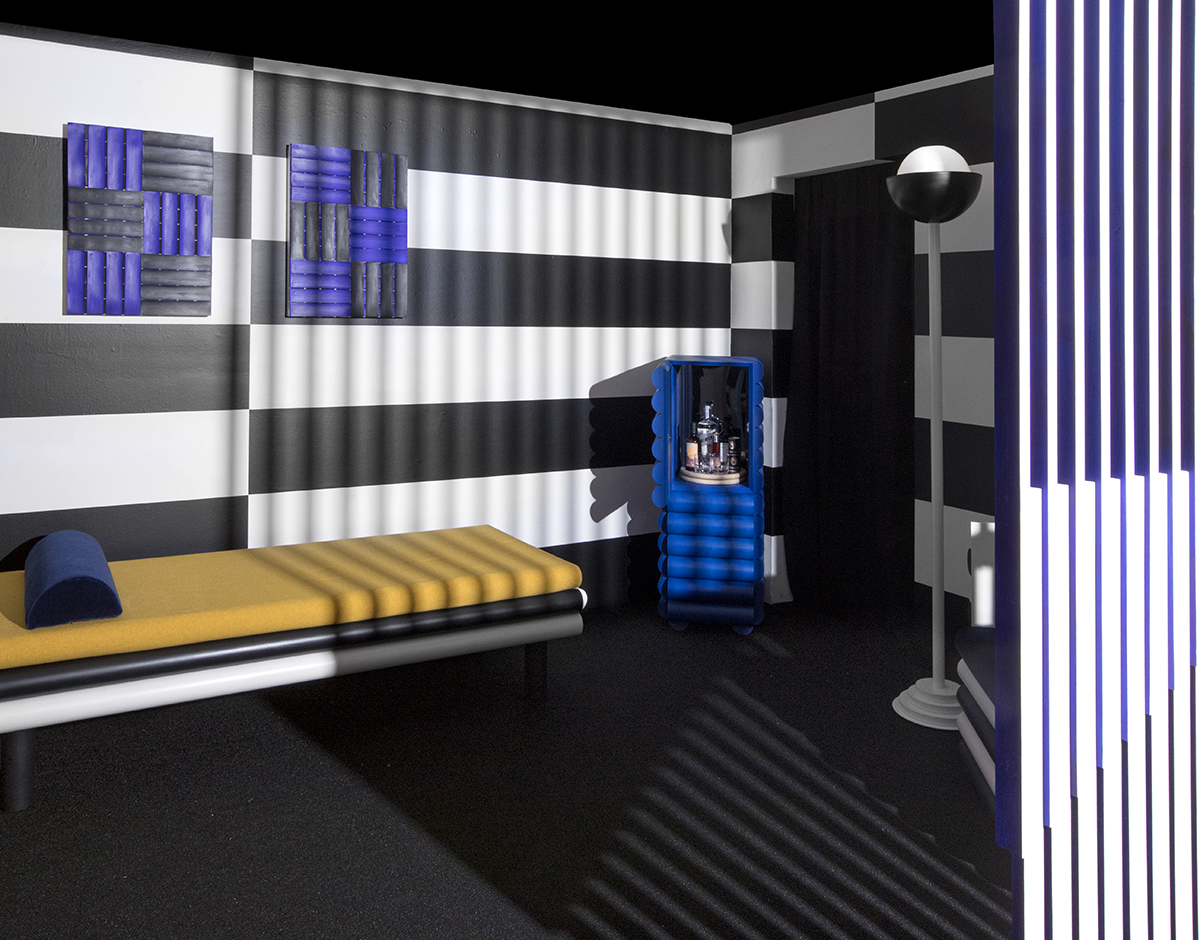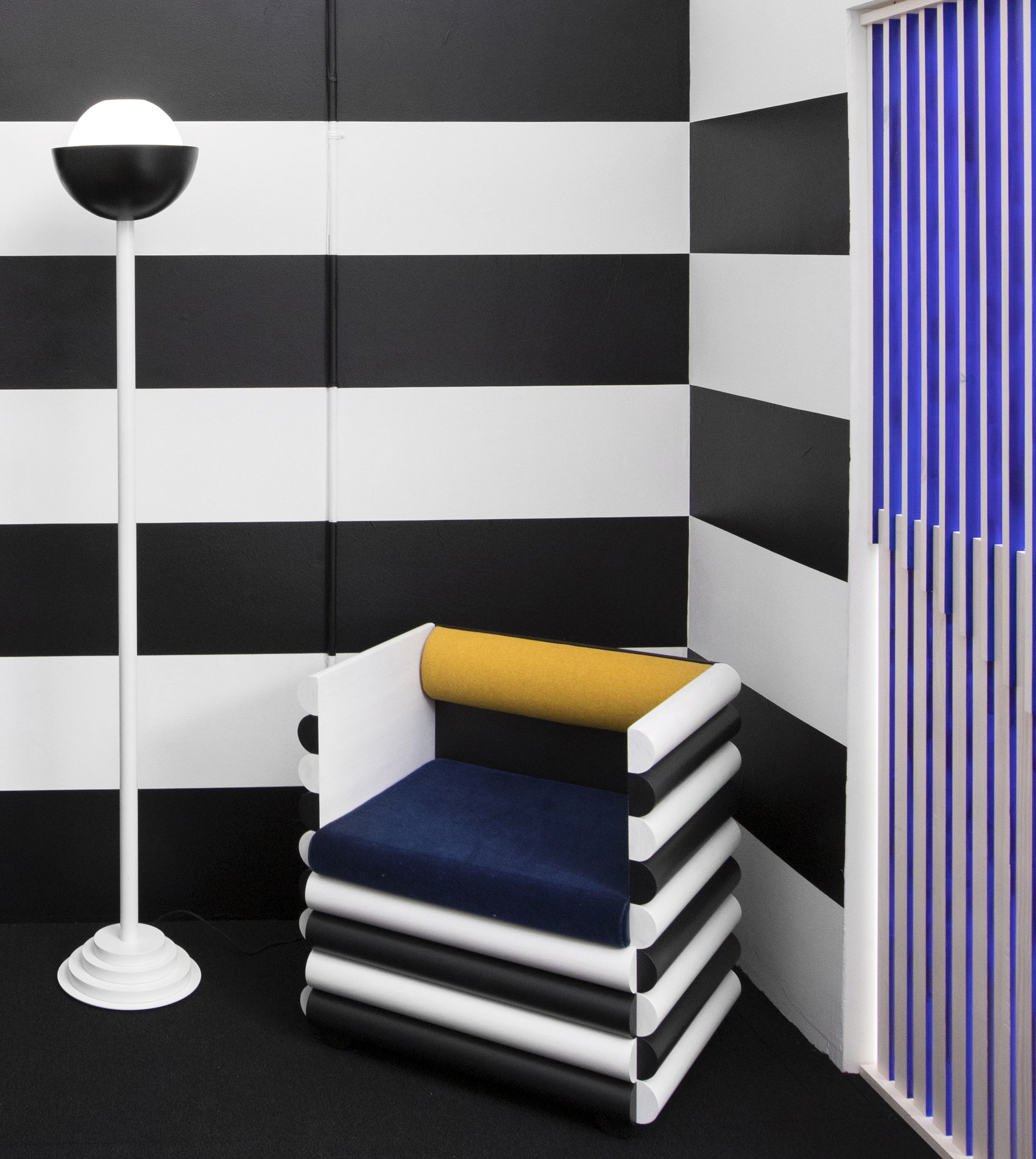 What are both of your backgrounds?
Steven: I was born and raised in Buffalo, New York. My family has a long history of working in craft and fabrication, which gave me an early interest in the arts. Architecture is a main inspiration for me, which began with field trips to the Albright-Knox Art Gallery and various Frank Lloyd Wright houses in the Buffalo area. Lately I'm interested in the interaction of form, surface, and color, and how they can be used to alter space.
Hannah: I was always most influenced by the Conceptual and Minimalist artists that came out of the Modernist era, but more recently, I've been looking at architectural detailing to derive patterns to augment space on a large scale. Currently, I've been cranking out stripe paintings, and look forward to building some large geometric sculptures over the summer.
You've only been professionally collaborating for a year — how did you come to start working together?
Steven: I'd been playing around with new forms in my studio, mostly out of plywood, so I could quickly ideate. I made a small bench out of the forms and texted a photo to Hannah, and that's where it began.
Hannah: It's true! I couldn't not paint it! I loved the form, but knew it needed color to add depth and variation, to really make it pop. The transition to collaborating was easy; we've been talking about our ideas and studio practices with each other for more than 10 years.
Steven: That first collab was more of a call-and-response. I made the form, and Hannah painted it to alter the viewer's perception of it.
Hannah: What separates this collection is that we've been working together on all aspects of the project: The furniture, wall coverings, upholstery, and accessories were all decided on together.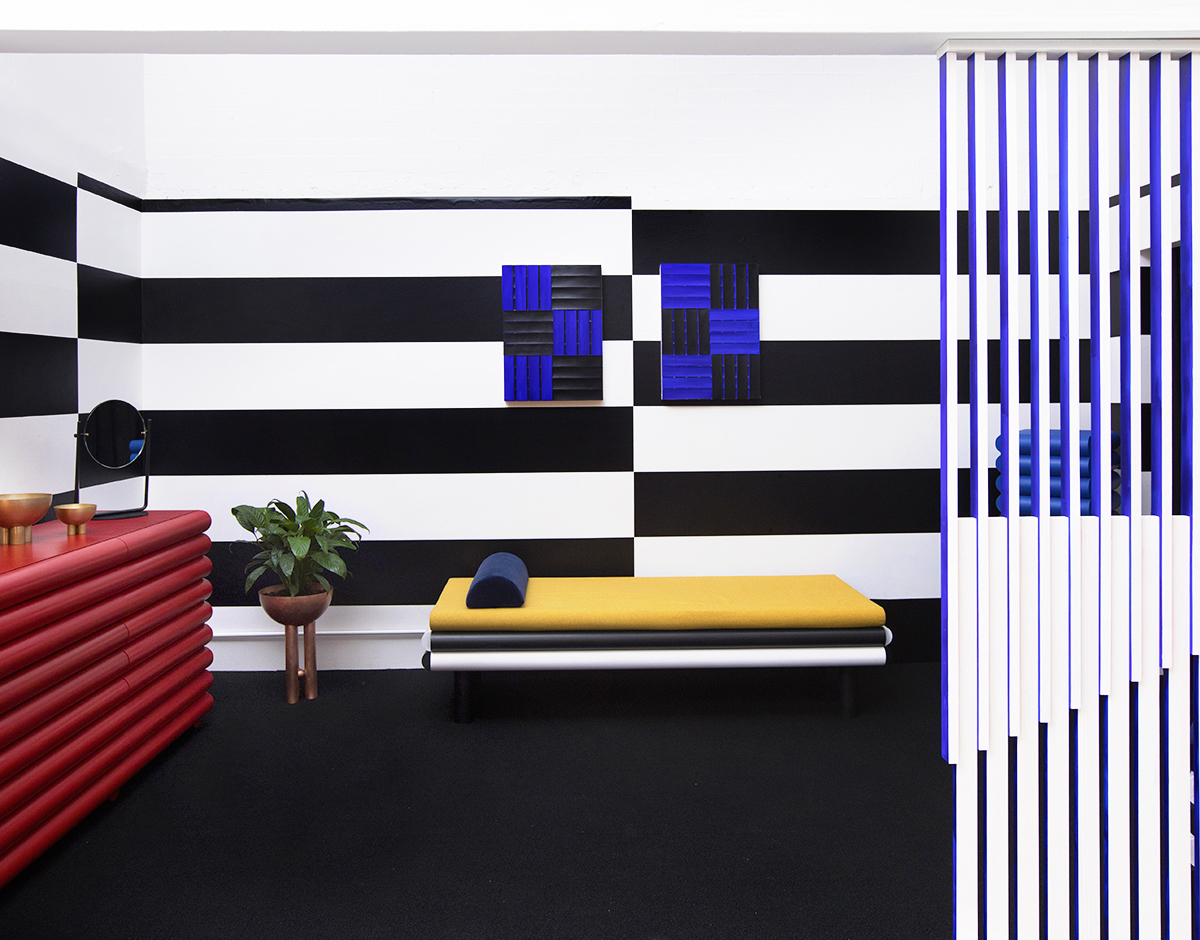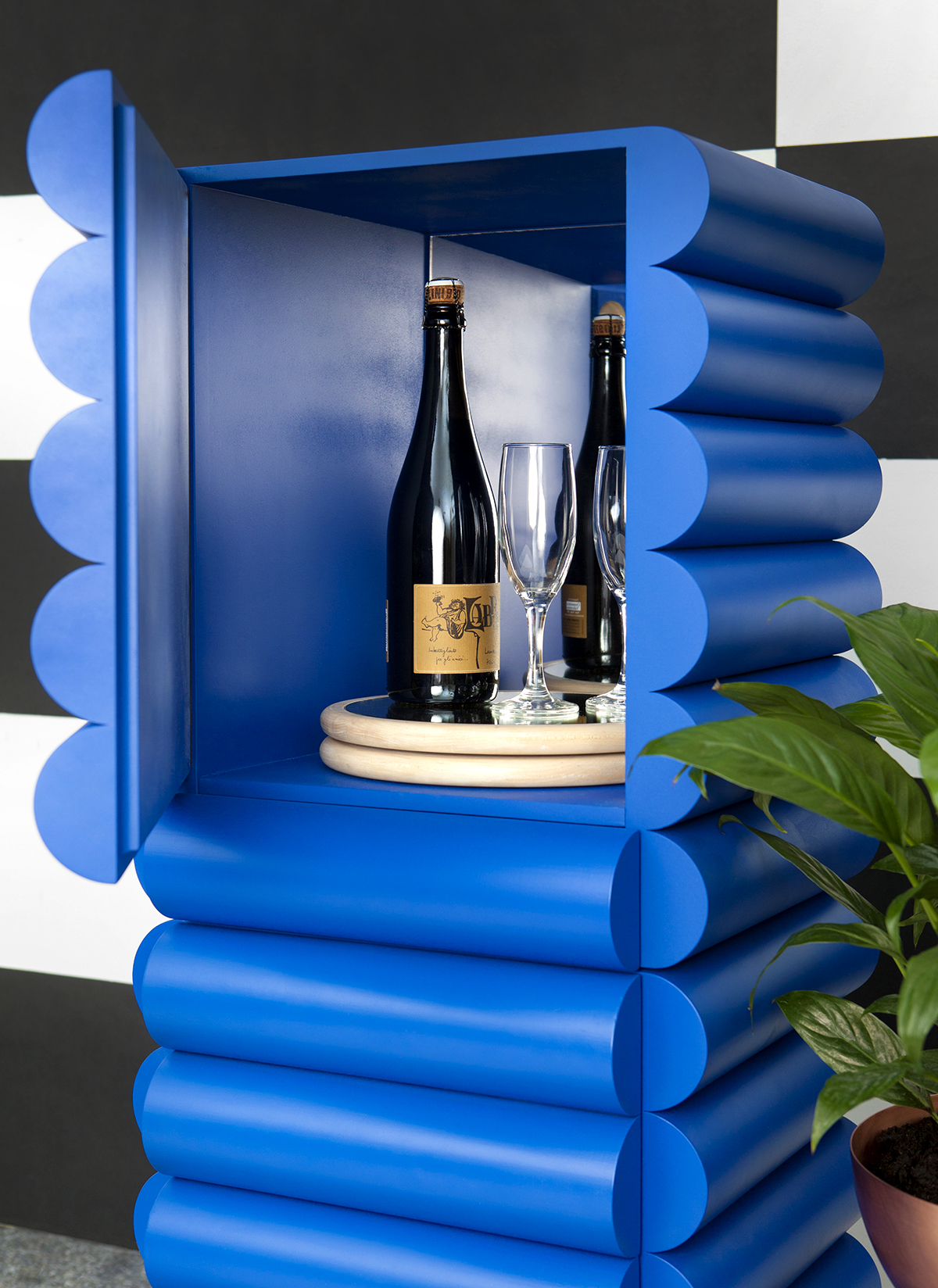 What did you discover about your similarities or differences through that first project?
Steven: I was a little hesitant at first about introducing bold, vibrant colors and patterns to the plywood pieces we had developed, but once I saw the first one, I knew it was what they'd been missing from the beginning.
Hannah: I think our differences come from our backgrounds as an artist and designer. Steve analyzes process, feasibility, cost, and materials when working on a project. I just start with an idea and make it work from there. I've learned a lot about material processes and how to build forms more efficiently from our collaboration.
What drove the new collection?
Steven: The Bubble series is about pattern creating visual rhythm and play for the viewer. This series is a departure from my previous work, which was really reductive in concept and form. Before, it was about only what was necessary to convey the shape of the piece, while focusing on the negative space that the piece included. The Bubble series is totally the opposite; it takes a horror vaccui approach of filling space completely.
What are the hallmarks of a great hotel design for each of you?
Hannah: My favorite hotels always have a great view, windows that open so I can get fresh air, enough blankets for the bed, and a fluffy robe. A stocked mini-bar never hurts, either.
Steven: Some of the best experiences I've had staying at hotels include the many Art Deco period hotels in South Beach, Miami. I'm drawn to them because of the detail involved on every level — molding, fixtures, colors, stucco, the works. It's all preserved in a way that I feel like I know what it would be like to live in one of those spaces and times.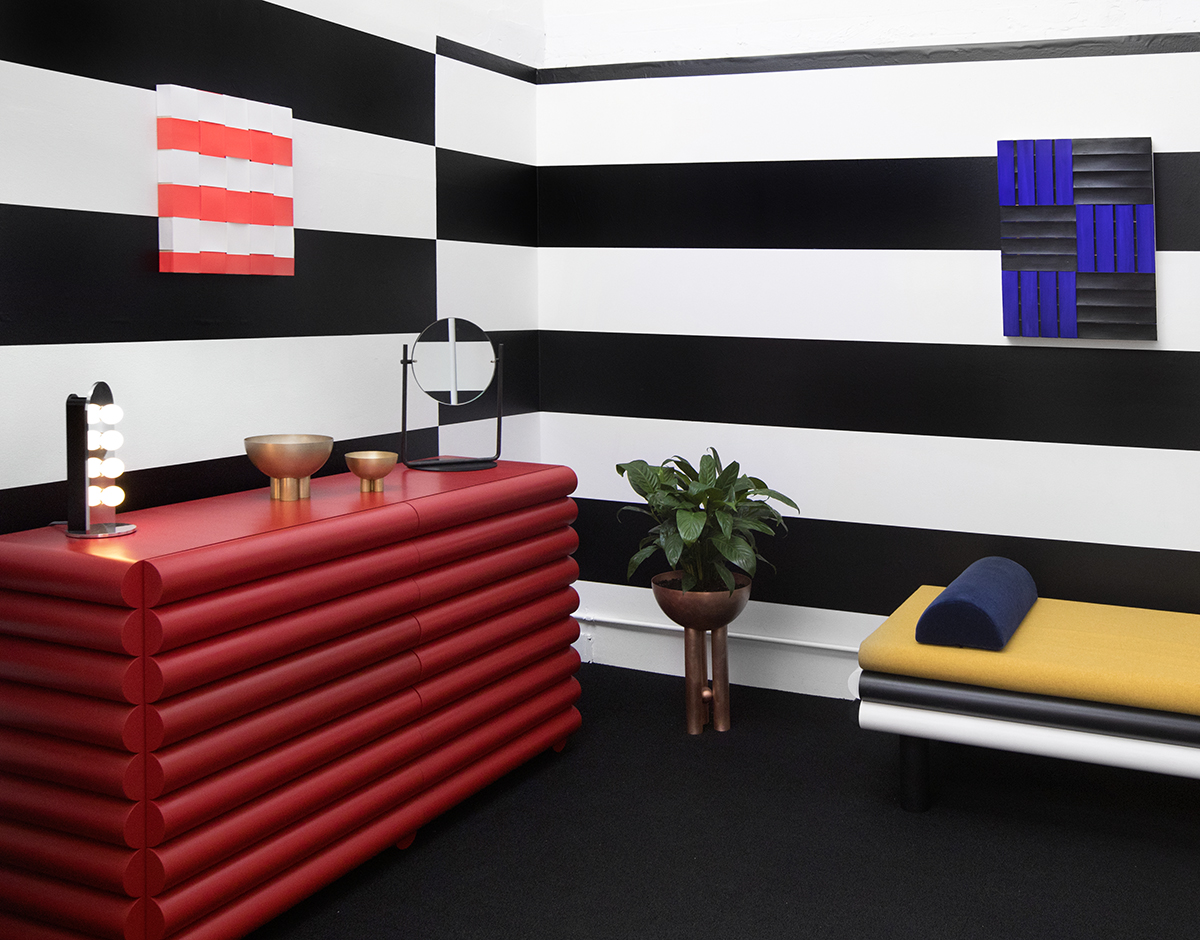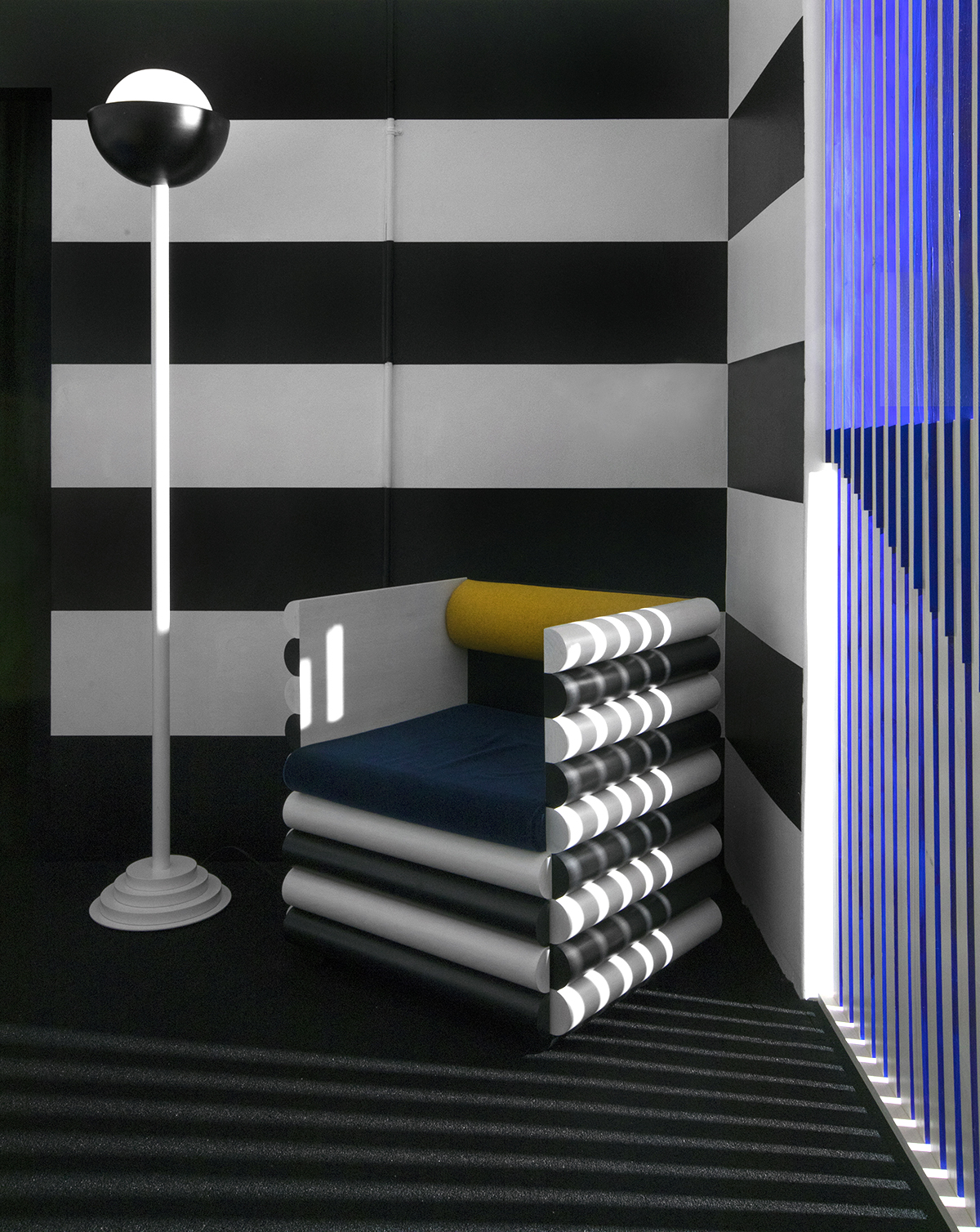 How does this project represent your ideal hotel room?
Steven: It doesn't just feel like a single room with a single function. There's a place to rest, a place to read, a place to sleep, and space to entertain.
Hannah: This room was created as a dream space, or a dreaming space. All of the normal conventions of space are suspended through pattern, form, and repetition. I'm always looking for spaces to dream in, especially when I'm staying in hotels. Too often, hotel rooms are sterile, with nondescript furniture that's meant to be invisible rather than noticed. This space is the opposite, with wall treatments that augment the perception of the room and reinforce the linear elements of the furniture.
Steven, what hotel design trends have you been noticing lately? And Hannah, what about hotel art?
Steven: I've seen that many hotels — not just the luxury ones — are taking their design more seriously, in that the details and styling are really considered, perhaps even reflecting their locale in an interesting way.
Hannah: Personally I think hotels are missing a huge opportunity to showcase and support local artists. They use mass-produced digital prints to save money and cover the walls, but literally anything would be more interesting to look at than a routinized landscape, or other 'nature-y' printed canvases.
If you could move into any hotel permanently, which one would it be and why?
Steven: Probably the Wythe Hotel or Williamsburg Hotel. They're both awesome works of architecture that are styled really beautifully, inside and out.
Hannah: I would love to have an extended stay at the Box House hotel in Greenpoint, Brooklyn. I love all the quirky details and architectural elements. Recently we also went to a fun party at the Yotel, which totally transported me from the grind of Midtown to a small, faraway, warm oasis, with an incredible view of the city lights from the balcony.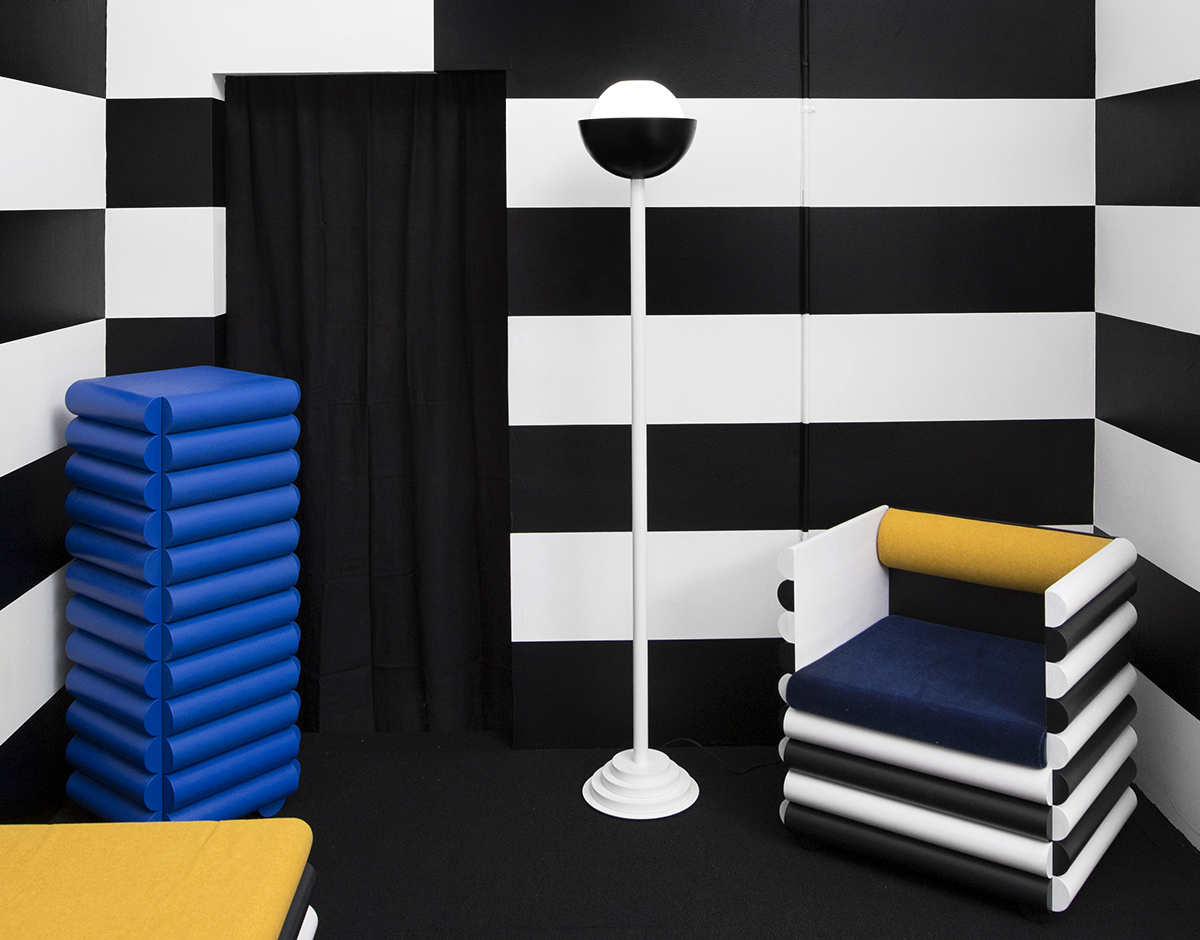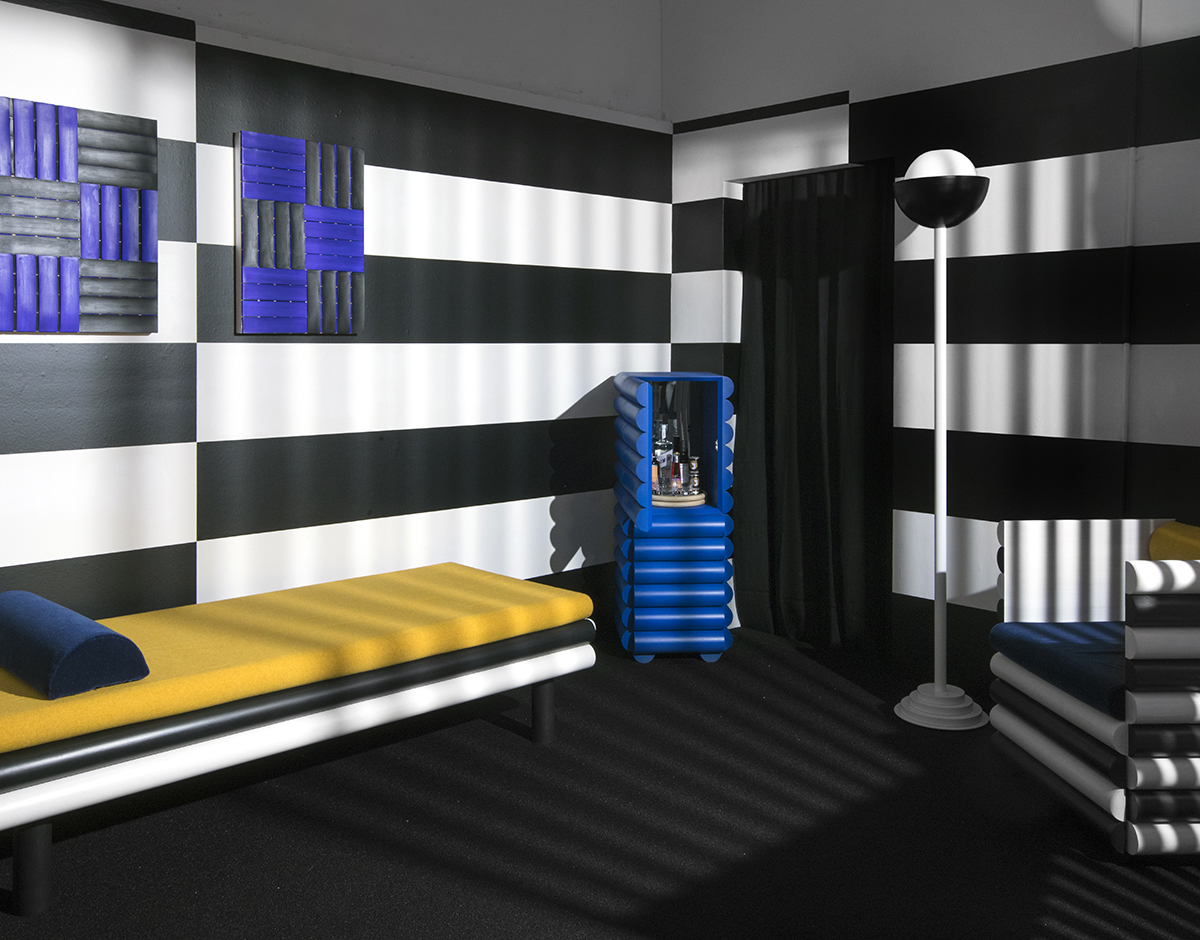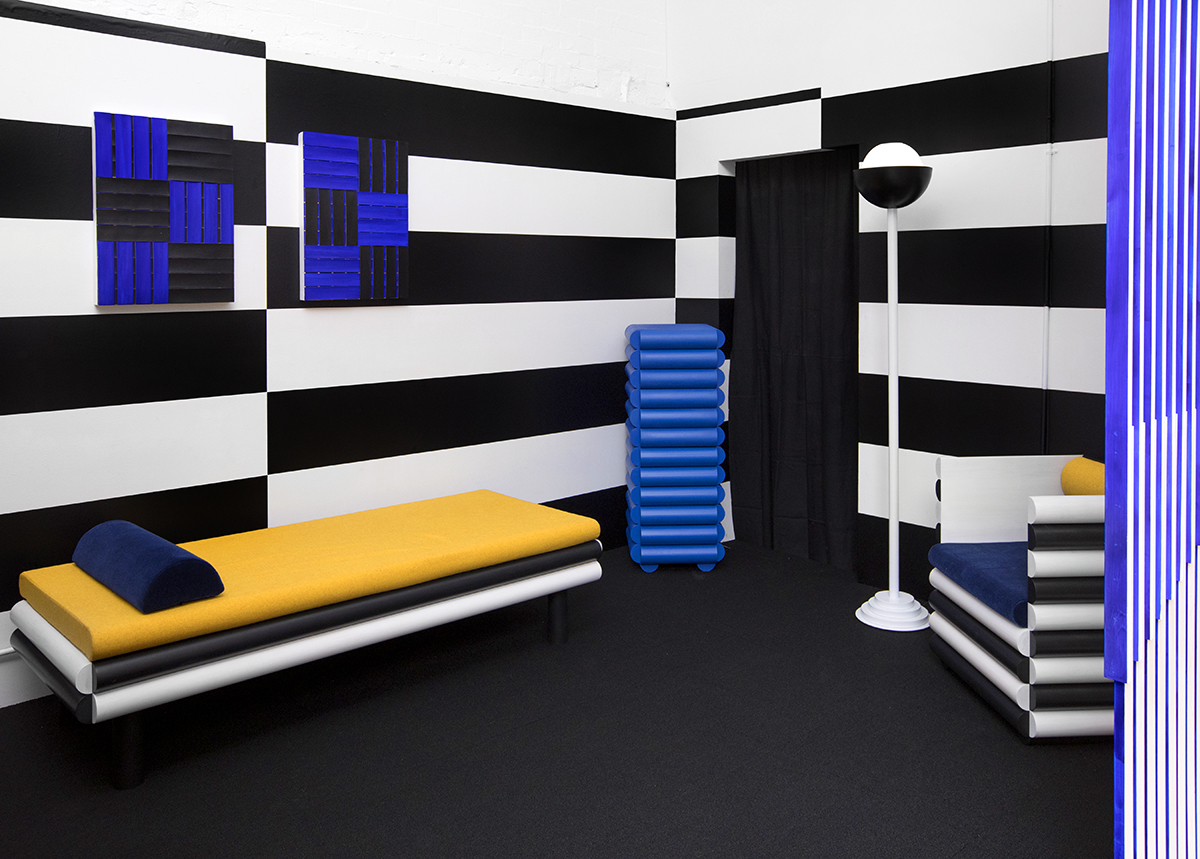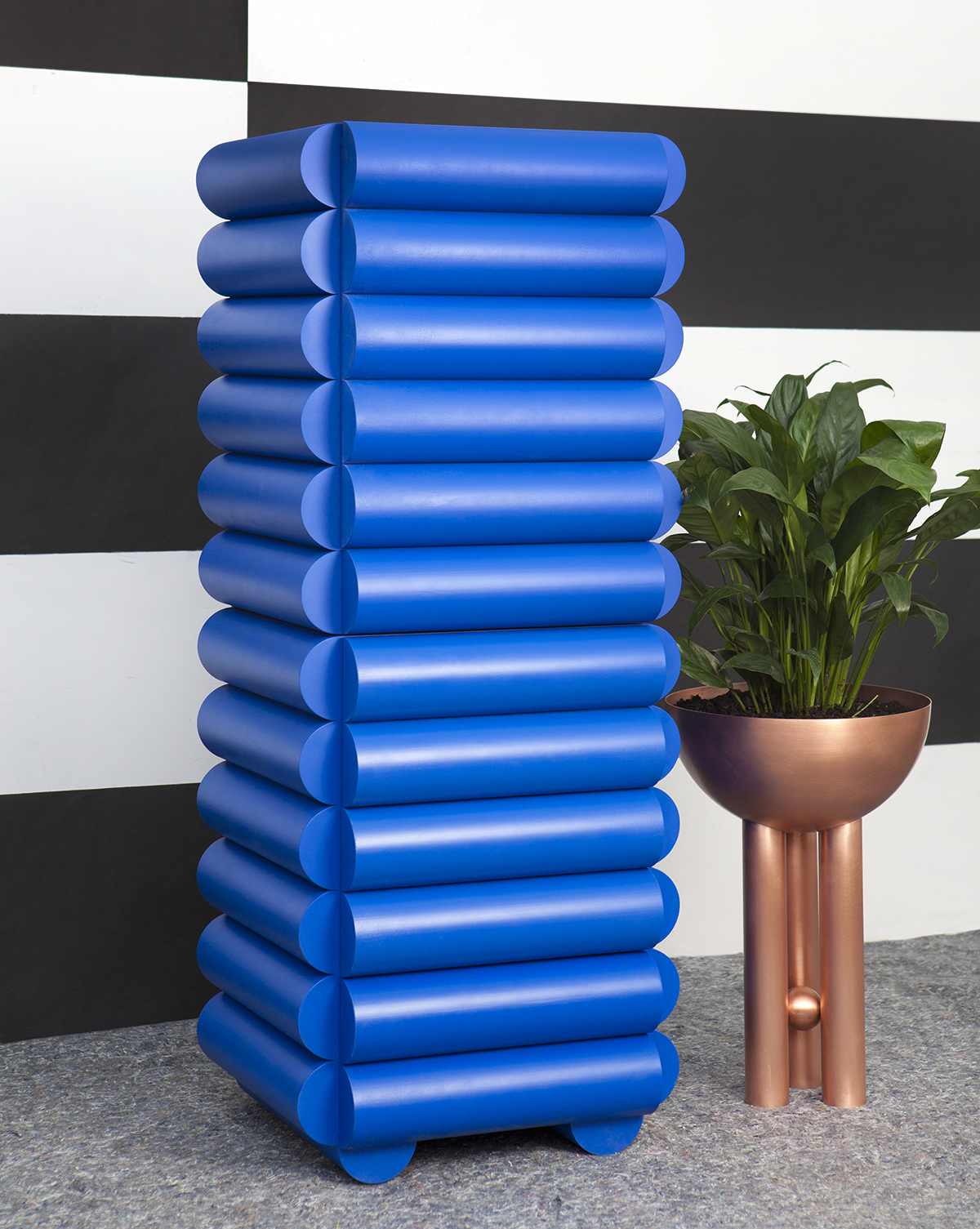 Camouflage by Steven Bukowski and Hannah Bigeleisen for HotelTonight will be on view at 201 Mulberry from May 17-20. Go here to learn more about Sight Unseen OFFSITE, and pre-register on Eventbrite for faster entry at our hub space.
This post was sponsored by HotelTonight but all thoughts and editorial content are our own. Like everything at Sight Unseen, our partner content is carefully curated to make sure it's of the utmost relevance to our readers. Thank you for supporting the brands that support Sight Unseen.