05.18.18
Vonnegut/Kraft and Mary Ping Team Up to Showcase a New Custom Textile-Design Service
When a textile has a pattern woven into it rather than just printed onto its surface, it gains a unique property: It's equally visually interesting on both sides. That was the first element fashion designer Mary Ping and furniture studio Vonnegut/Kraft seized upon when they teamed up to work with the new textile start-up Weft — which offers users the ability to design jacquard fabrics online and order them on demand — and it inspired their collaboration in more ways than one. The most obvious way is that at Sight Unseen OFFSITE, they're exhibiting the furniture they created using Weft textiles in a sort of mirror-image configuration, with one piece upholstered using the front side of each fabric they designed, and an identical piece upholstered using its reverse.
What's interesting, though, is that the furniture was essentially designed in reverse as well. Ping — who designs fashion and jewelry under her own name and accessories and objects as Slow and Steady Wins the Race — initially connected with longtime friends Katrina Vonnegut and Brian Kraft on the idea of camp furniture as a way to create a collection that highlighted textiles. But, Vonnegut explains, "As the project progressed, we decided that the furniture forms should be a response to the geometry and tonality in the textiles, rather than vice versa. It's the opposite of how upholstery is typically used."
Sharing references like Josef Albers and transparency, the trio used Weft's online tools to create fabrics with strong geometries that shift subtly in color throughout, before following those geometries to create a bench, stool, and ottoman. "We all felt that more linear pieces — paired with a minimal color palette — would be the most elegant union between the act of traditional weaving and the modernized digital capabilities of Weft," says Ping. The resulting collection showcases the designers' shared interest in materiality and in practical design solutions; we asked them to have a conversation about what else informed their collaboration.
PHOTOS BY CHARLIE SCHUCK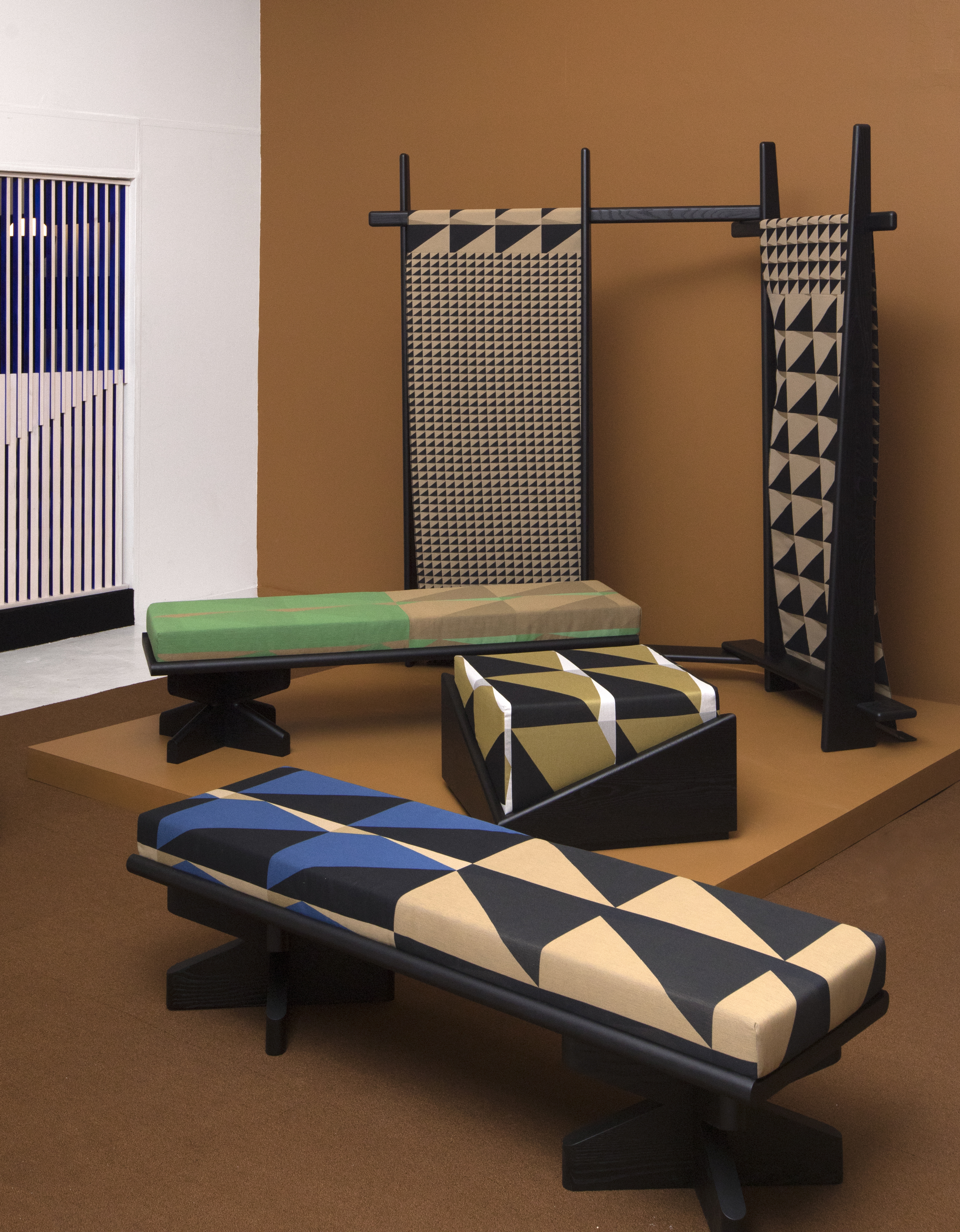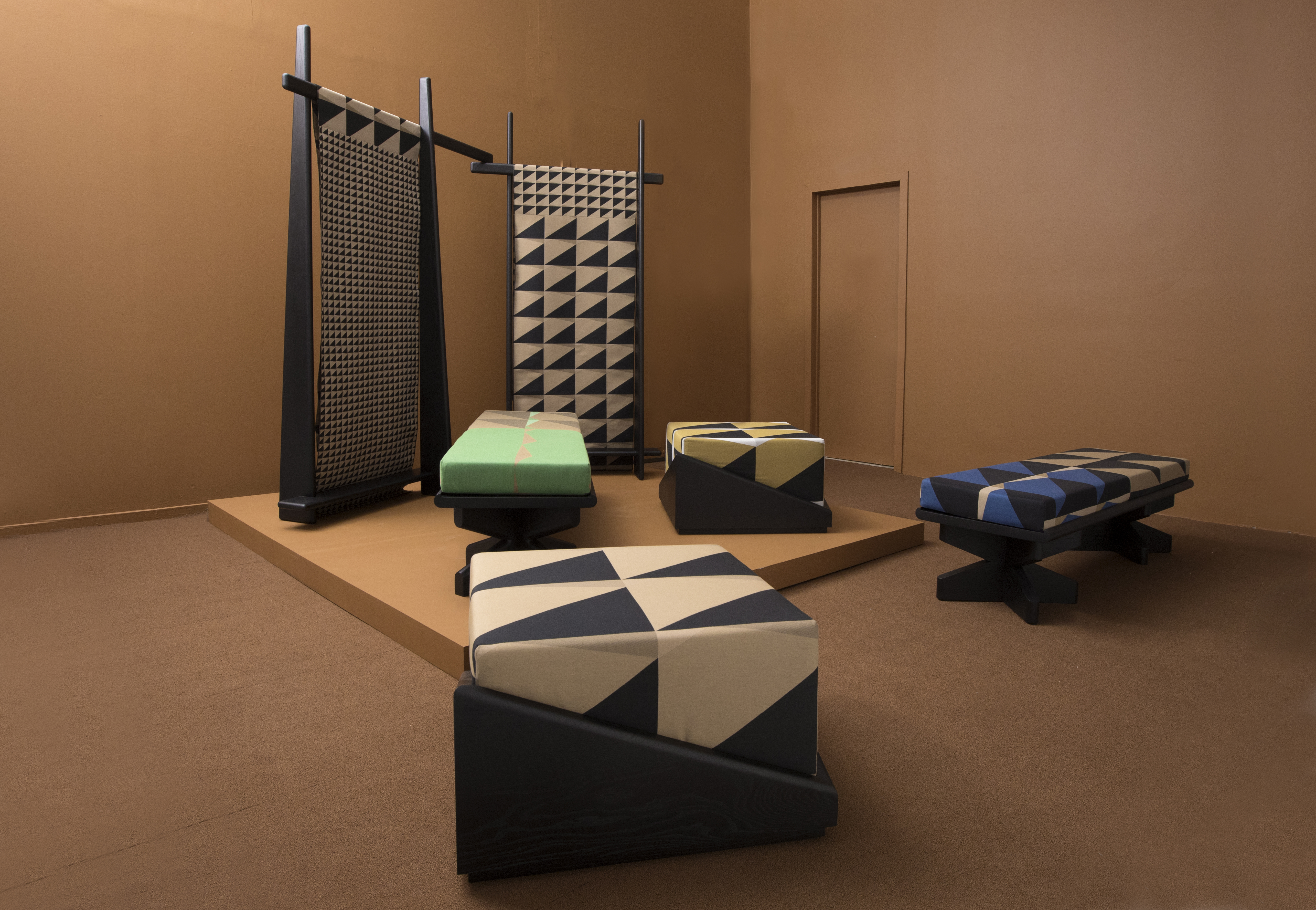 Katrina Vonnegut: How have you integrated woven textiles into your work in the past?
Mary Ping: We work with woven textiles all the time for Slow and Steady Wins the Race, especially with bags. It naturally falls into our consideration of materiality: How is the fabric seen and why is it particularly useful? This collaboration will be our first use of textiles in furniture. What was the first upholstered piece you designed with Brian?
Katrina: Our Crescent Lounge. The upholstery on the piece is very geometric. We knew we wanted elements that would compliment the geometry of both the wood frame and the upholstered cushions.
Mary: Do either of you know how to weave?
Katrina: No, but I've been around a lot of expert weavers and understand woven construction. I have a lot of experience creating textiles with machine knitting, though I guess that's different! How does furniture relate to your practice?
Mary: The studio is constantly making objects, from sunglasses to shoes, so furniture is just an extension of that daily practice. It's a deeper and more expansive exploration of utility in other formats. The things we put on our body can easily relate to the things we surround our body with.
Katrina: What's the most important thing you think a good design accomplishes?
Mary: Good design can carve out its own temporal dimension. Even an ordinary thing, if designed well, can have an umami-like sensory experience that makes it feel like it can exist beyond its time. We believe tremendously in longevity. Longevity means durability, and long-lasting consistency, and it's all-inclusive in its thinking and application. What's the one piece of furniture in history you wish you had designed?
Katrina: Probably the Transatchair by Eileen Gray (1927). It features such a balanced integration of the connection hardware with its structural members, and such style in its detailing. While one might argue that the width and ergonomics of its slung lounge seat seem like they ought to evolve towards a more democratic proportion, the geometry and resolution of its profile are undeniable. Is there an object that you often return to for inspiration?
Mary: Anything by Achille Castiglioni, because he always honored items that had an everyday purpose. If you could choose anyone in time and in the world, which five people would you invite to dinner?
Brian: Aristotle, Shakespeare, Gena Rowlands, Randy Newman, and Steve Coogan.
Katrina: Mary Shelley, Rudolph Steiner, Jane Campion, Rachel Carson, and Eileen Gray. You?
Mary: Joe Cesare Colombo, Katherine Hepburn, Martin Balsam, Robert Bresson, and Oprah.