05.17.18
The New, Architecturally-Inspired Wallpaper You Need For Your Home
If you visited Sight Unseen OFFSITE last year, chances are you didn't miss the presentation by Twyla, the Austin-based online purveyor of limited-edition prints: Just inside the entrance to the show, seven artworks hung on a wall, accompanied by seven virtual-reality headsets that transported visitors to imaginary, 360-degree rooms, created by 3-D artist Tom Hancocks. The project perfectly illustrated how great art could inspire a great interior.
Now the brand is hoping to provide not only the inspiration, but the decor itself. Today marks the launch of Ratio, Twyla's first-ever, limited-edition line of luxury wallpaper, with the first four patterns curated by Sight Unseen. Aiming to highlight Twyla's ability to capture minute texture and detail, we asked four of our favorite architectural photographers to lend us a single image — each now available among Twyla's online art offerings — and then invited four artists to create paintings loosely inspired by their use of shadow, color, line, or shape. The paintings were then digitally scanned and manipulated by Twyla to create the mural-style and repeat wallpapers that are on view through Sunday at our OFFSITE hub space at 201 Mulberry through this Sunday — no headsets necessary. We spoke with each of the eight participants to get their perspective on the project.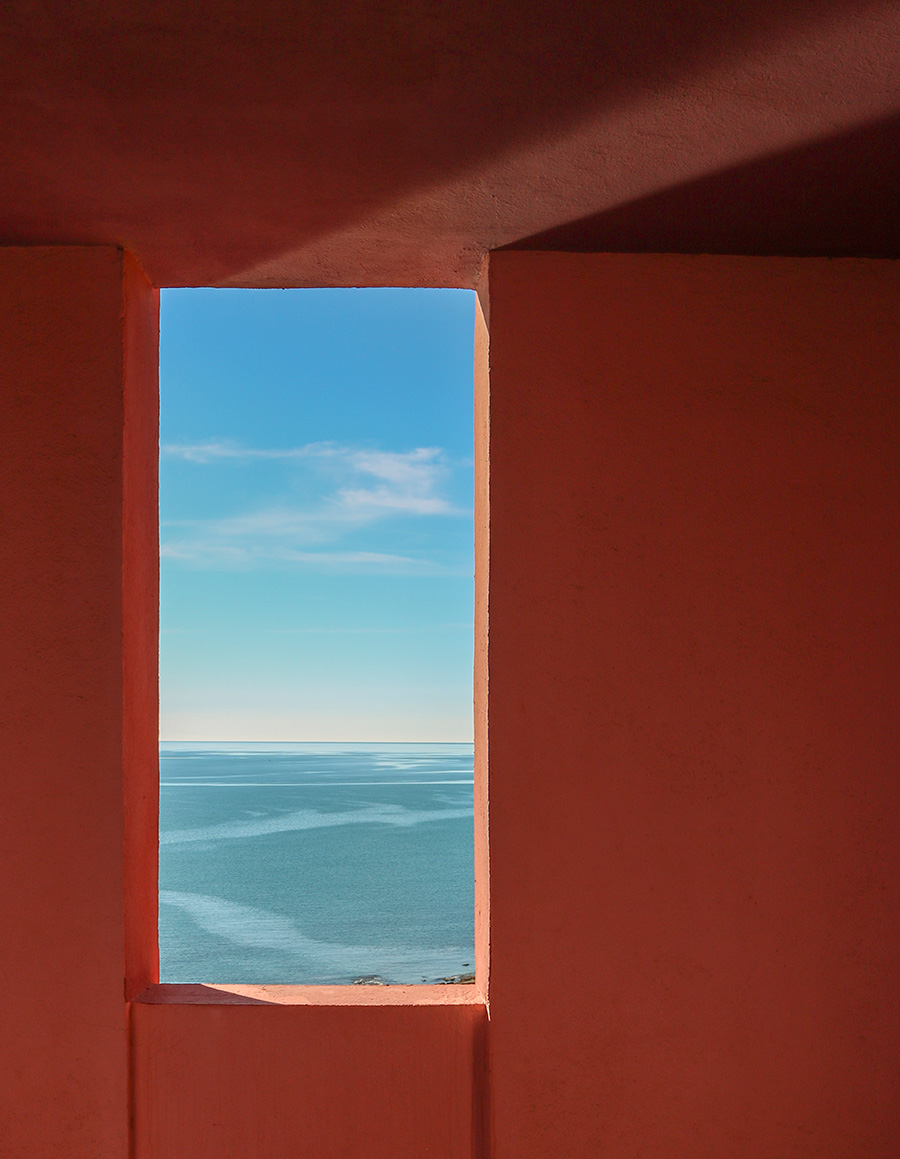 The Photo: Tekla Evelina Severin
The Stockholm-based photographer and multidisciplinary designer — known for her colorful, graphic Instagram feed — works with clients such as Levi's, New Tendency, Muuto, The Gourmand, and Oak the Nordic Journal on projects including photography, set design, creative direction, exhibition design, and other color-related commissions.
"At Ricardo Bofill's iconic labyrinth building Muralla Roja, I took a series of photos interpreting the architecture itself. But here I wanted to turn the lens in the opposite direction: to the sea, where you see only a hint of the building. This photo says a lot about Bofill's inspiration and use of color; the building was inspired by the Mediterranean tradition of the casbah, with the purpose of contrasting nature and the outside."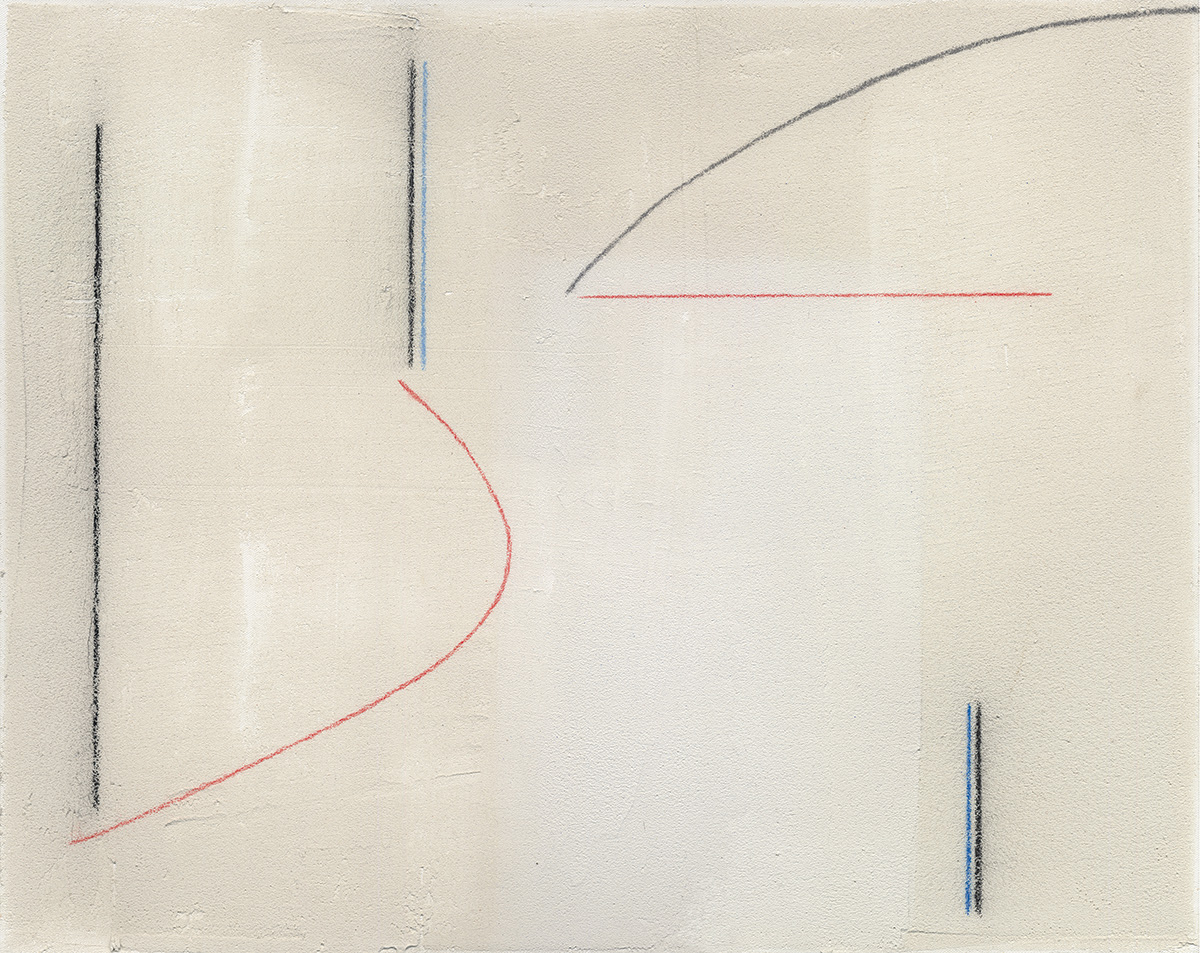 The Painting: Flora and Form
Flora and Form is a multidisciplinary studio with a focus on painting and ceramics, led by artist Danielle Romero. The inspiration behind Romero's work is rooted in nature and its various forms, colors, and textures. More recently, architecture and design have begun to inspire her work, specifically the relationship between human habitation and the natural environment.
"The first thing that grabbed my attention in Tekla's photograph was the piercing blue ocean inside that very linear frame. I was immediately drawn to the juxtaposition of the hard lines of the opening and the organic flowing form contained within it. It was interesting to see this expansive body restricted to a specific shape, and I knew I wanted to attempt to translate that in the final piece."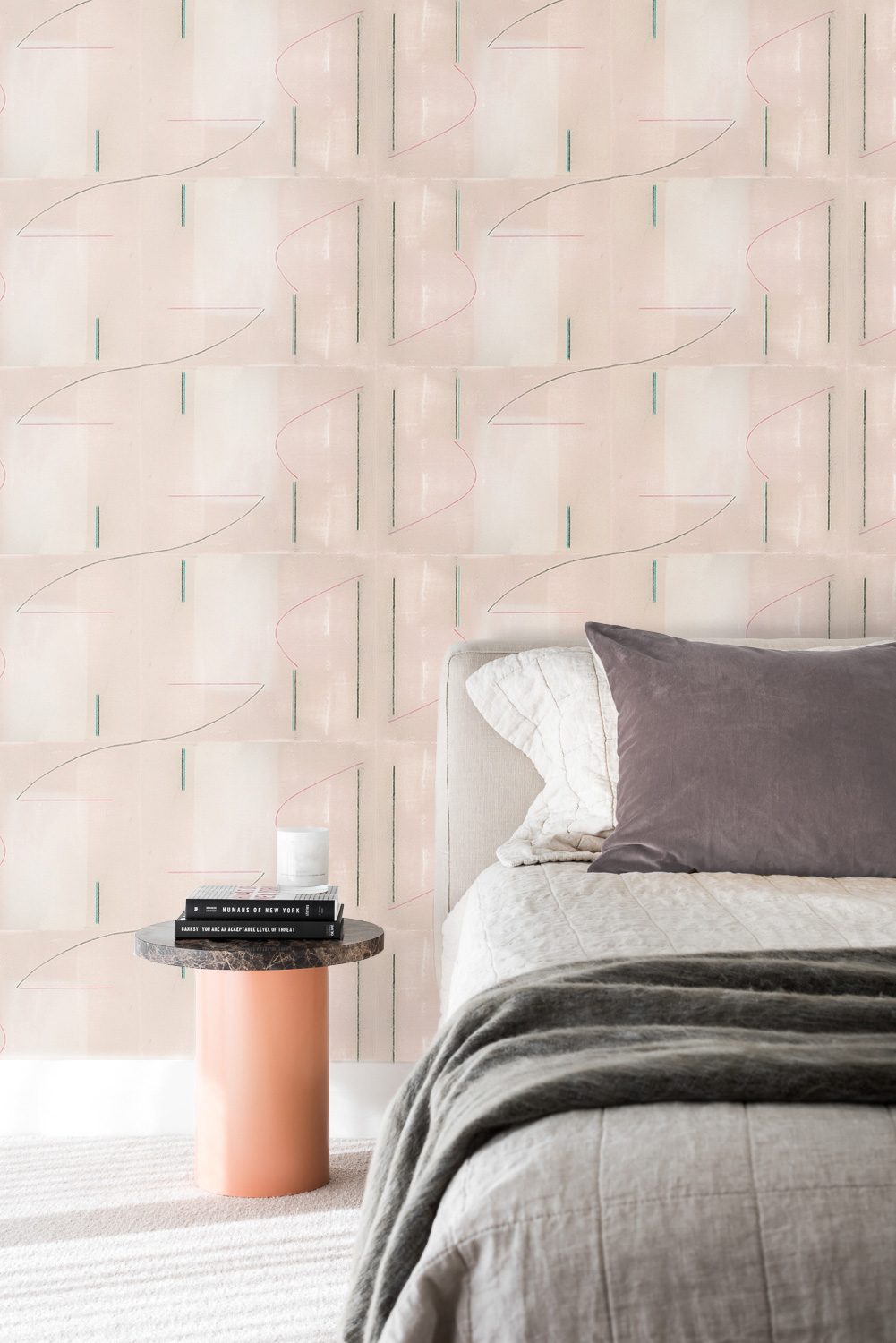 The Wallpaper: Tekla Evelina Severin x Flora and Form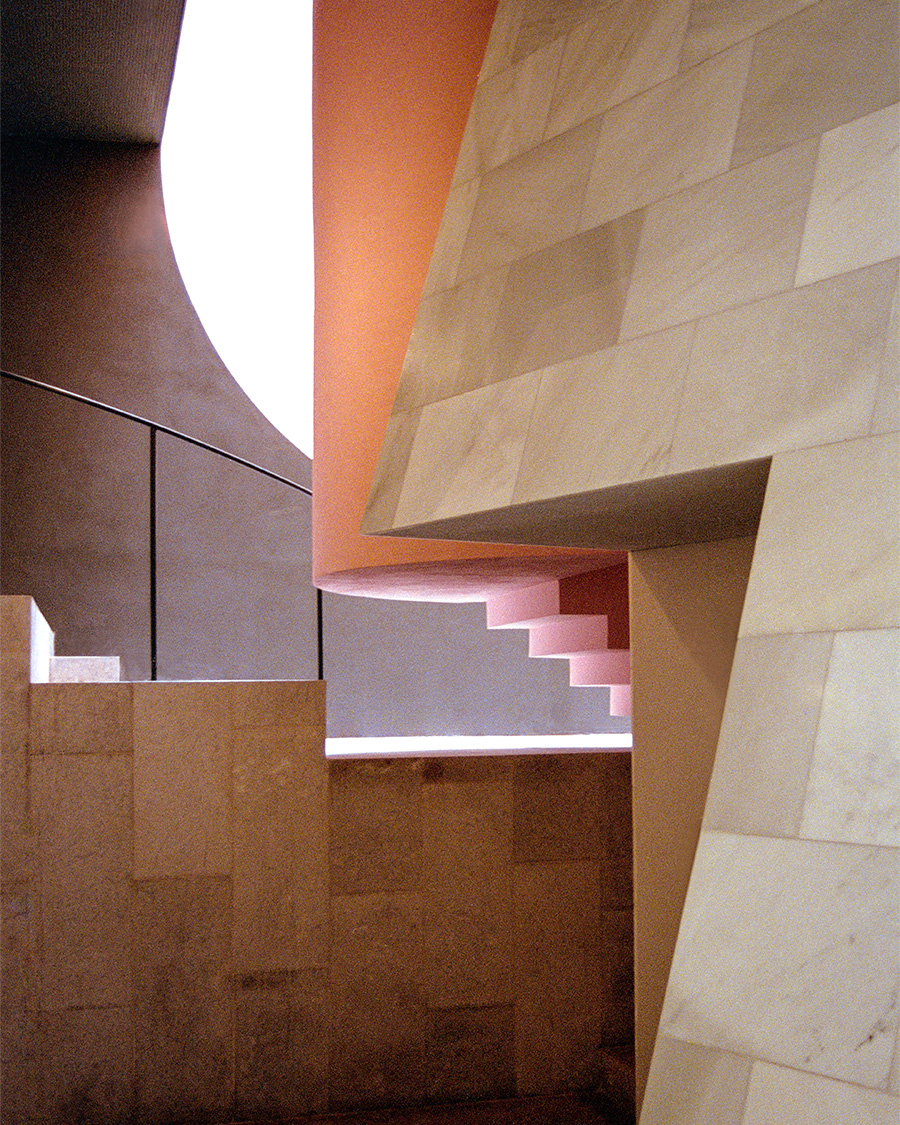 The Photo: Clemente Vergara
Barcelona-based Vergara came to photography only a few years ago; having studied environmental engineering, he works by day as a sustainable development project manager for a water management company. His images — all minimalism, primary geometry, and colors — are often meticulously researched in advance, he says, but "I prefer to remain an amateur. Because I don't see photography as a job, I can be more relaxed when shooting."
"This photo is of a building designed by the architecture studio MAIO Architects. Shooting famous buildings makes me happy, but what I enjoy the most is when I shoot a more modest or unknown building and succeed in extracting some otherworldly moment."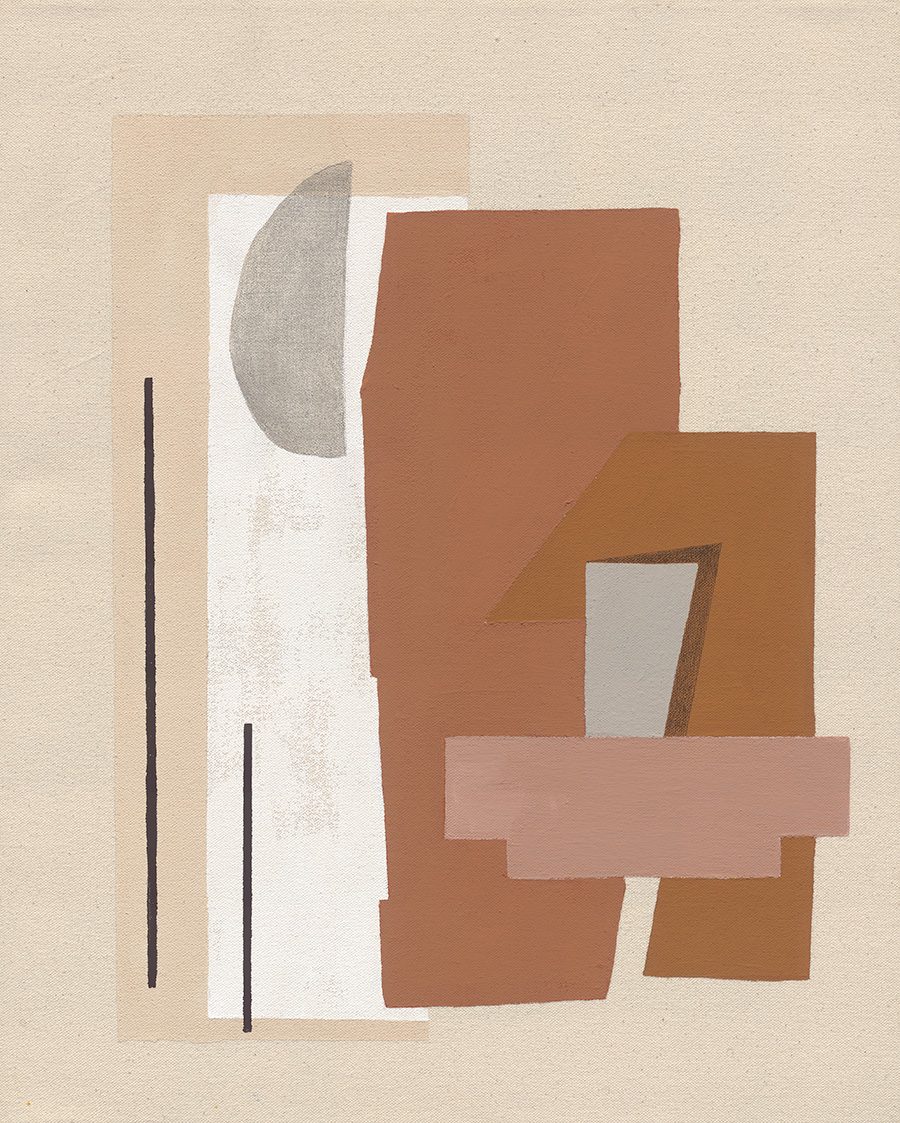 The Painting: Karina Bania
Karina Bania is a mixed-media painter whose work focuses on landscapes, geography, and space. Her paintings feature pale hues and layers of subtle texture, often incorporating traditional pigments and dyes in stains and washes. Focused on the harmony between spontaneity and intention, each discrete shape forces a conversation between the visible and unseen. Bania is based between San Diego and Baja, Mexico.
"The photograph I chose had such striking angles and shapes, but also a softness radiating from the play of light. I could envision it as a painting the moment I saw it. My paintings explore the abstract geographies that we navigate in our lives. In each painting, there's a conversation between emptiness and fullness, stillness and movement. I'm trying to portray the visible and invisible landscapes of place and connection."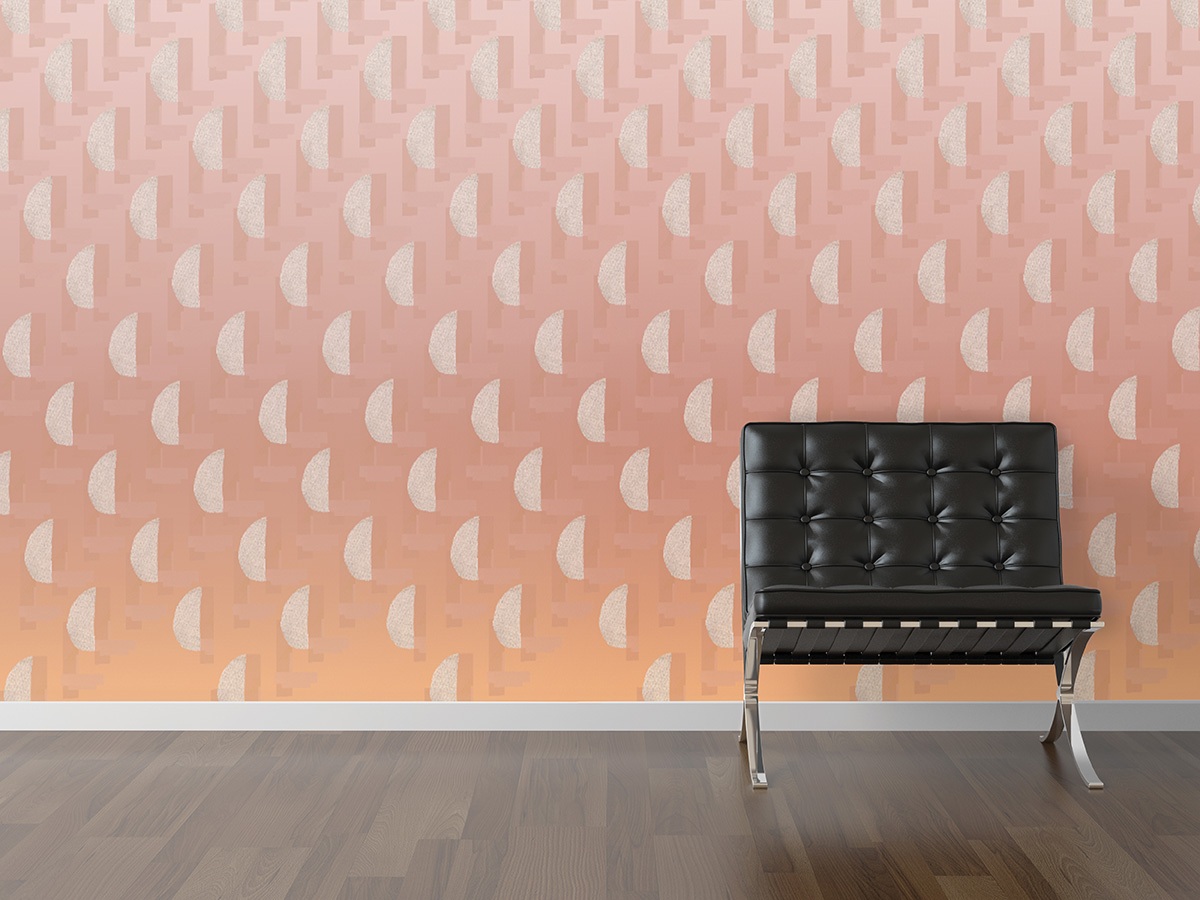 The Wallpaper: Clemente Vergara x Karina Bania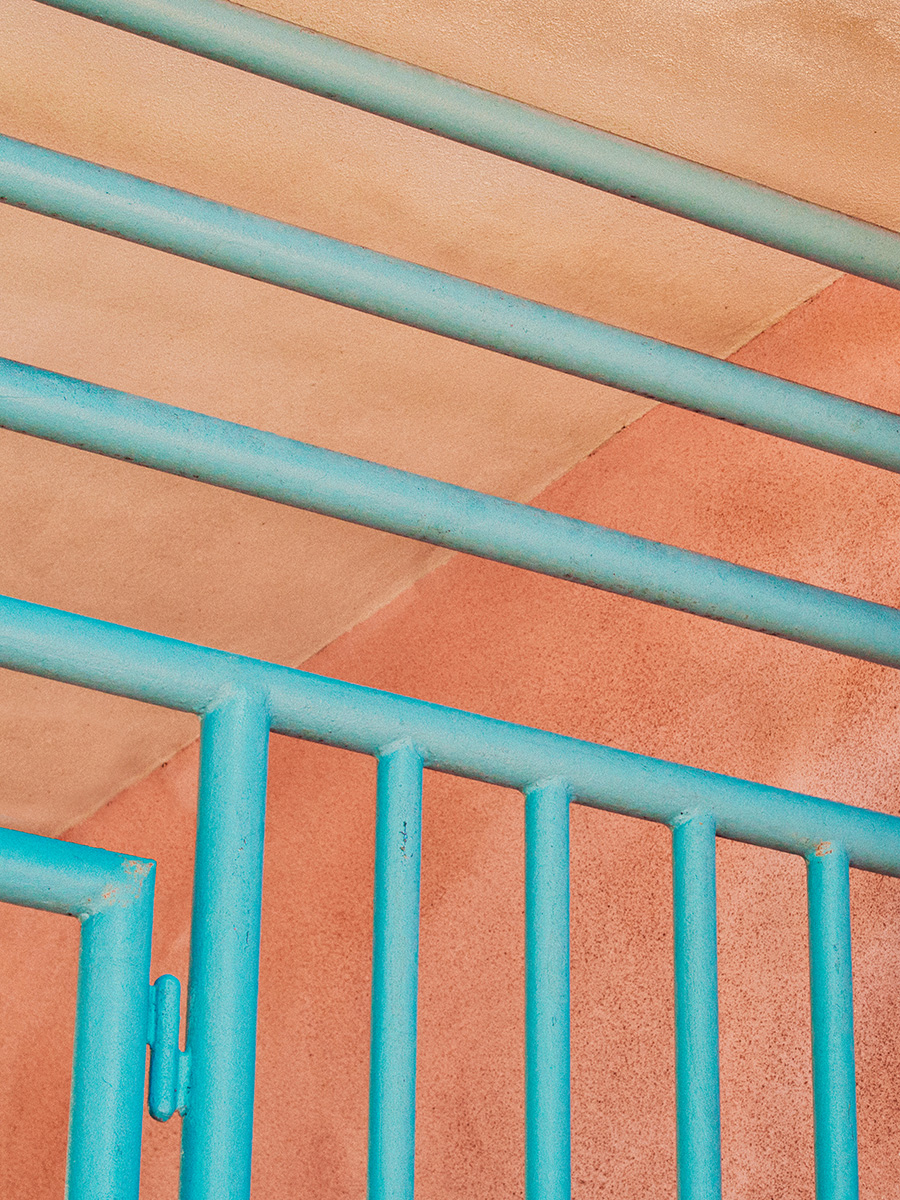 The Photo: Vishal Marapon
Vishal Marapon is a Vancouver-based photographer who shoots commercial and editorial photography. His work has been featured in The New Yorker, Elle, and Kinfolk, among others.
"This photo was taken in Los Angeles. I was there for a visit working on a personal project that explored the culture of the city, and touched on colors and shapes that often find echoes in my contemporary practice. Part of my process is trusting my intuition, and this image was an example of something just catching my eye in the moment."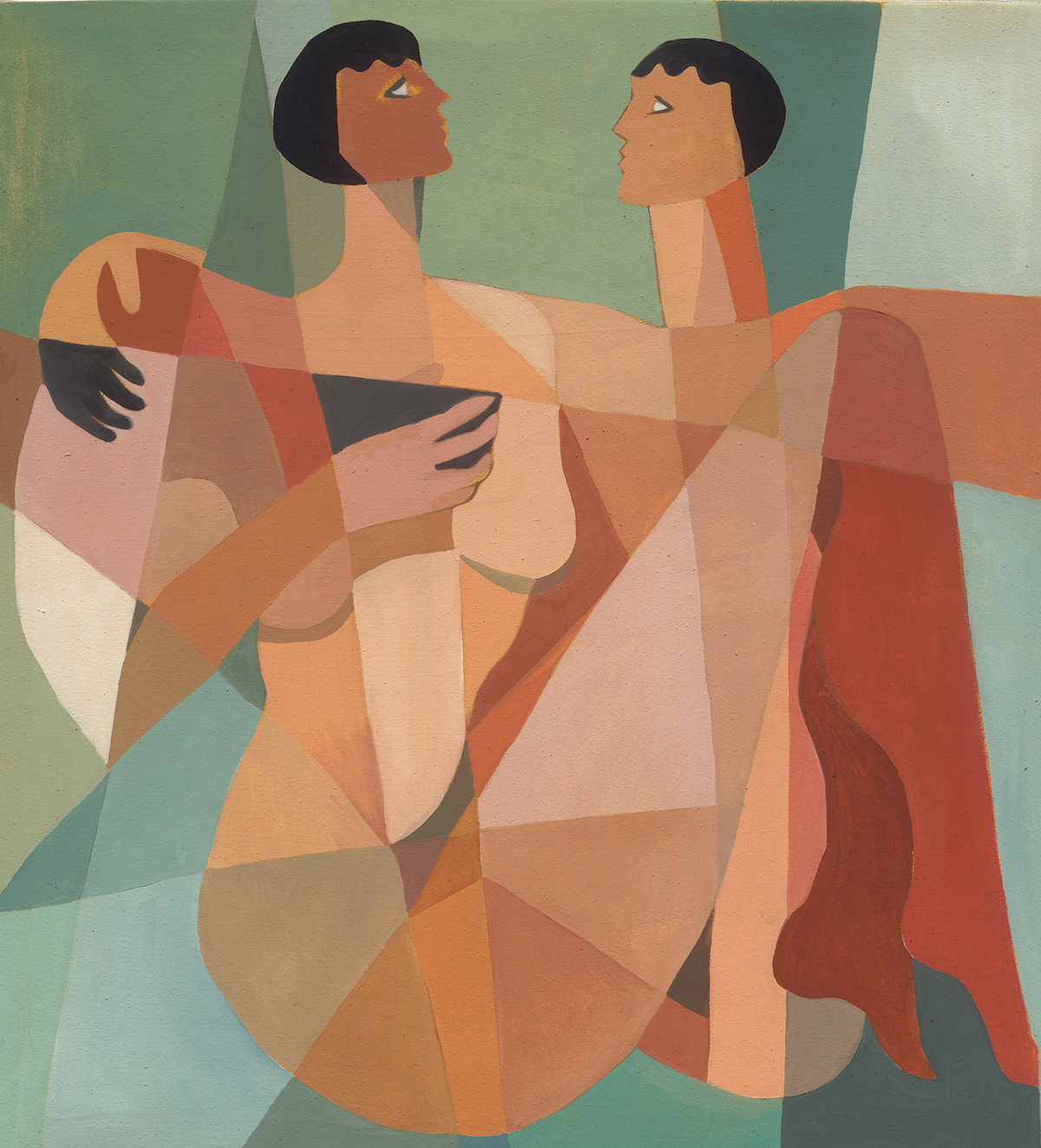 The Painting: Jessalyn Brooks
Jessalyn Brooks spent a decade in Detroit, studying music and dance, playing jazz and writing music, before moving to Los Angeles a few years ago to perform in a cabaret show — and ended up staying. After dabbling a bit in retail, Brooks turned to painting, which is now her full-time work.
"I chose this particular image because of the colors. Living in Los Angeles, I'm inspired by the way the sun bleaches exterior paints — something I found in Vishal's photo (which I didn't know at the time was taken in LA!). I try to capture colors that fall just in between the obvious colors — the grays, the browns, the greens. I saw those colors in Vishal's image and wanted to translate them."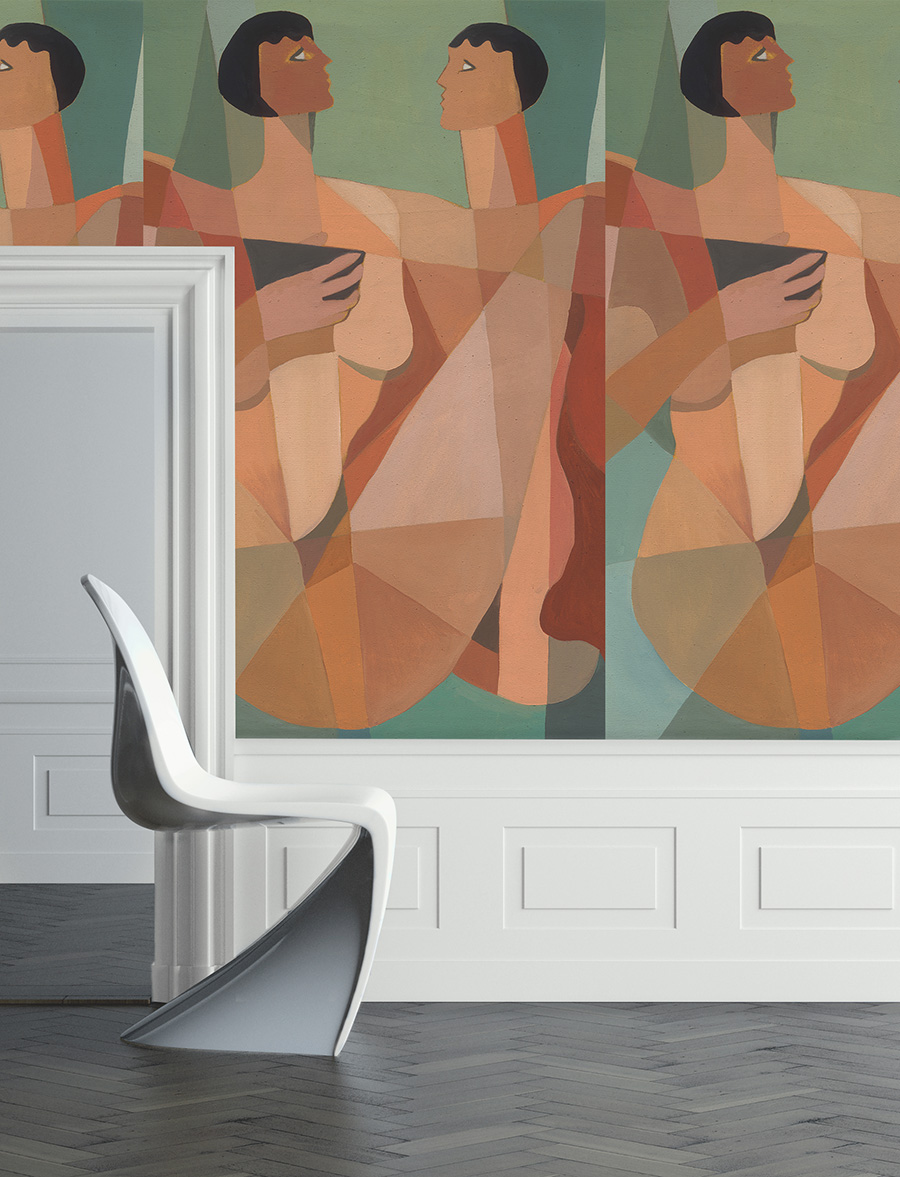 The Wallpaper: Vishal Marapon x Jessalyn Brooks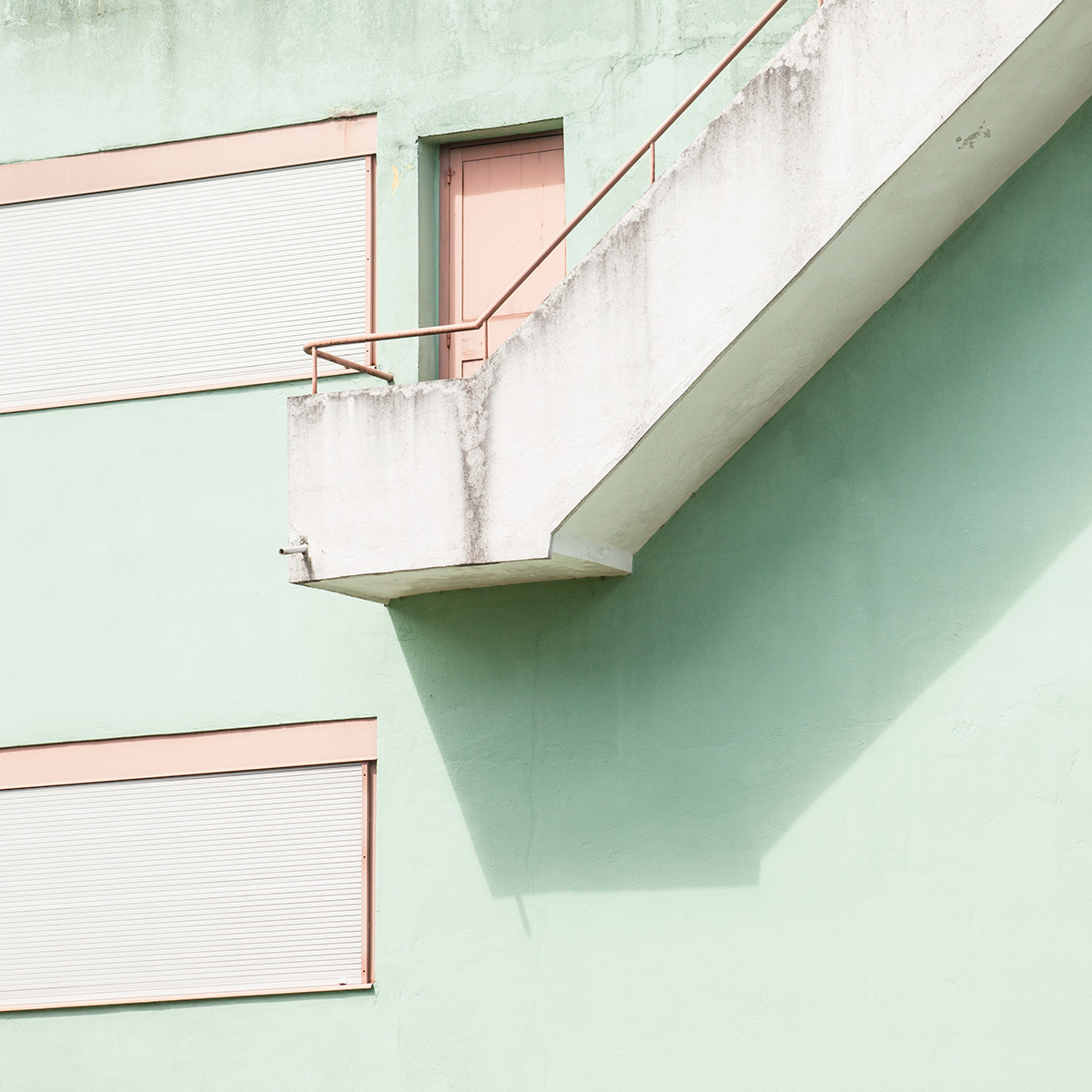 The Photo: Matthieu Venot
Matthieu Venot is a French artist whose images capture the urban environment. Focusing on the part rather than the whole, his photographs abstract his surroundings into colorful graphical vistas, turning the quotidian into the iconic.
"I took this image in the spring of 2017, in the south of France, near the city of Bordeaux. I like how the colors work perfectly together, and the fact that it seems like a stair to nowhere."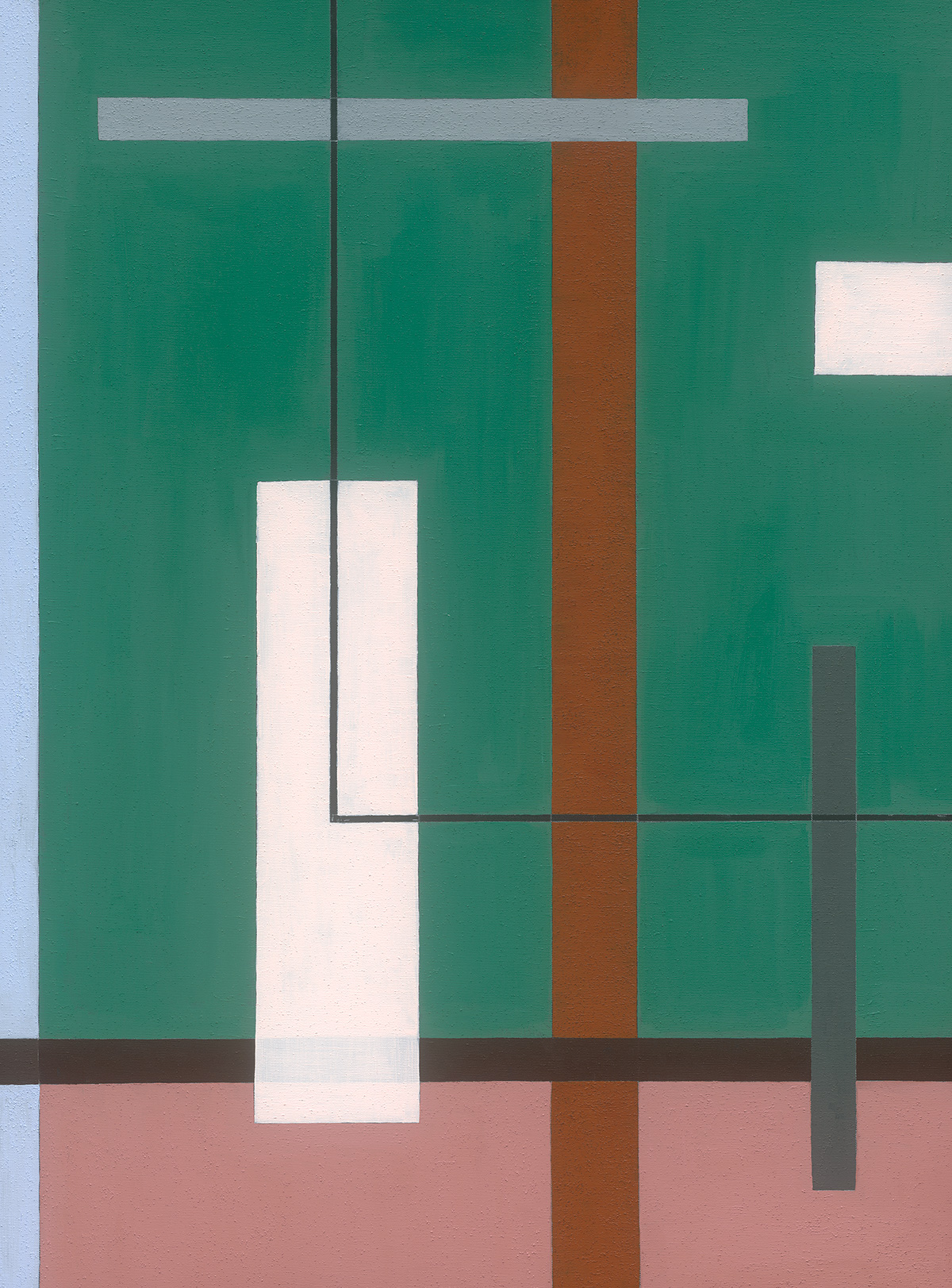 The Painting: Hollister Hovey
While working for years in healthcare journalism and PR, Hollister Hovey found a creative release in painting. "My art was always about creating an aesthetic that would make rooms come alive. It's a practical, design-focused view — and a fine-art gallerist's nightmare," she says. After years of experimenting with decor in the apartment she shares with her sister, the two started an interiors-staging firm called Hovey Design, for which Hollister creates much of the abstract acrylic art.
"In Matthieu's photo, I loved the Art Deco colors and geometric lines that convey architectural detail but could easily be an abstract painting. The greens and pinks feel so current and fresh. When looking at all of his images together, you're transported to a surreal, sherbet-drenched dream world."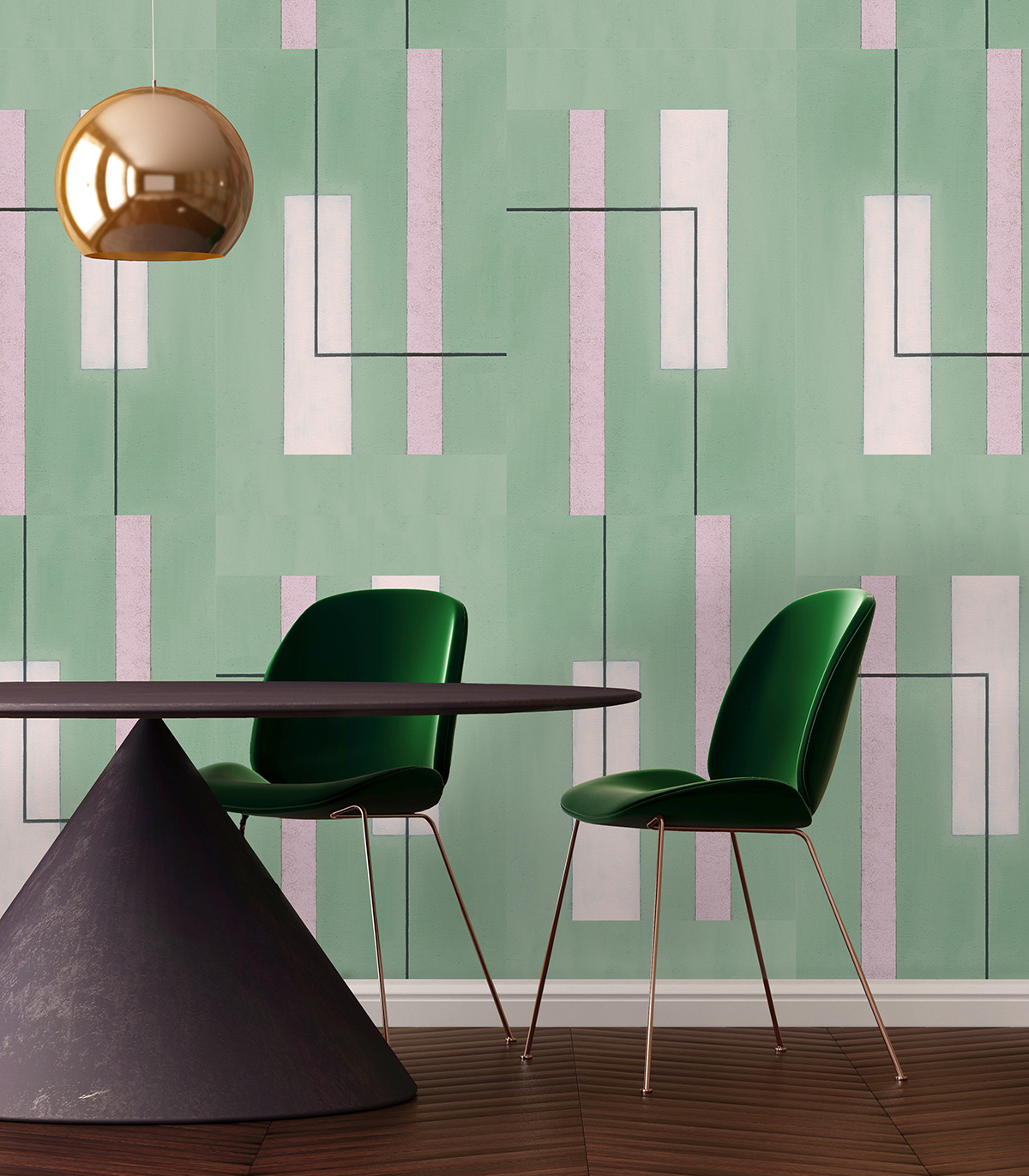 The Wallpaper: Matthieu Venot x Hollister Hovey
Ratio by Twyla will be on view at 201 Mulberry from May 17-20. Go here to learn more about Sight Unseen OFFSITE, and pre-register on Eventbrite for faster entry at our hub space.