05.16.16
These Norwegian and American Designers Spent Six Months Collaborating on Skype
PHOTOS BY WHITE ARROW
Last summer, we traveled to Norway for three weeks, where we spent much of our time visiting studios and meeting with emerging designers like the ones involved in the collective Klubben. Our conclusion? The American design landscape bears a substantial similarity to the Norwegian design landscape, combining a comparative lack of homegrown design brands and manufacturers with a steadily growing talent pool. Yet we also discovered that while American design has responded in the past 10 years with a shift toward independent studios, designers as entrepreneurs, and a more DIY approach to business, many young Norwegian designers still rely on international brands to discover, produce, and market their work.
That's how we got the idea to set up a cross-cultural exchange pairing 5 entrepreneurial American studios (Ladies & Gentlemen, Bower, Farrah Sit, Jonah Takagi, Assembly) and 5 up-and-coming Norwegian studios (Vera and Kyte, Bjørn van den Berg, Silje Nesdal, Hallgeir Homstvedt, Morten and Jonas), who spent the past six months working together via Skype and emails on a long-distance collaboration, with the aim to develop an object or series of objects that utilized an American workshop for fabrication. The Americans took the lead in showing the Norwegians their production and sales processes, the pairs created shared mood boards and explored new techniques and materials together, and the results are currently on display in our Norway x New York booth at Sight Unseen OFFSITE, which closes today at 5pm. In case you don't get the chance to see it in person, we're sharing all of the works with you here, along with the designers' mood boards and stories about how their projects came together.
Norway x New York was made possible by the generous support of the Royal Norwegian Consulate General in New York, which works on promoting Norwegian Culture (contemporary art, performing arts, design, architecture, literature, music, and film) and Norwegian businesses in New York.
1. Vera and Kyte x Ladies and Gentlemen Studio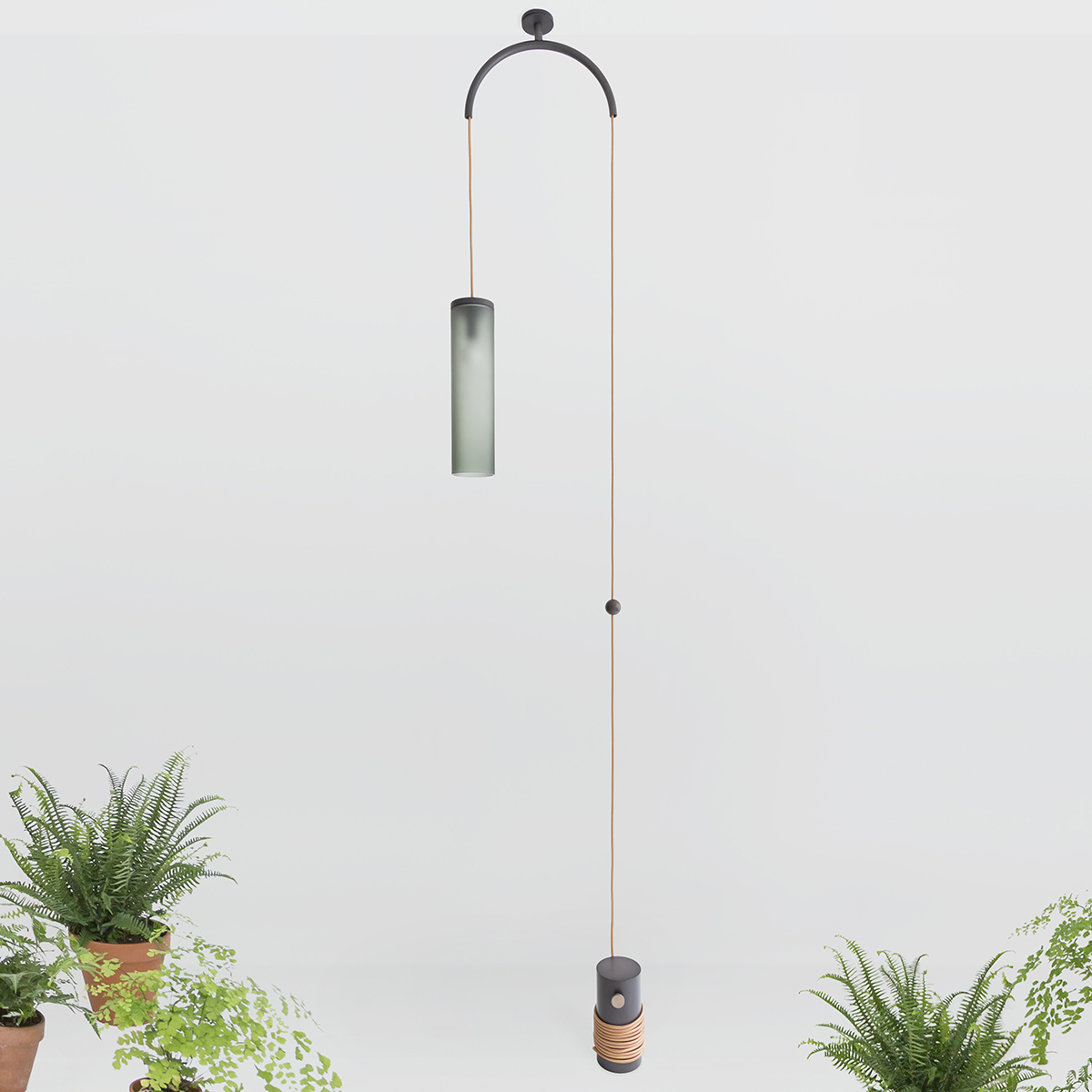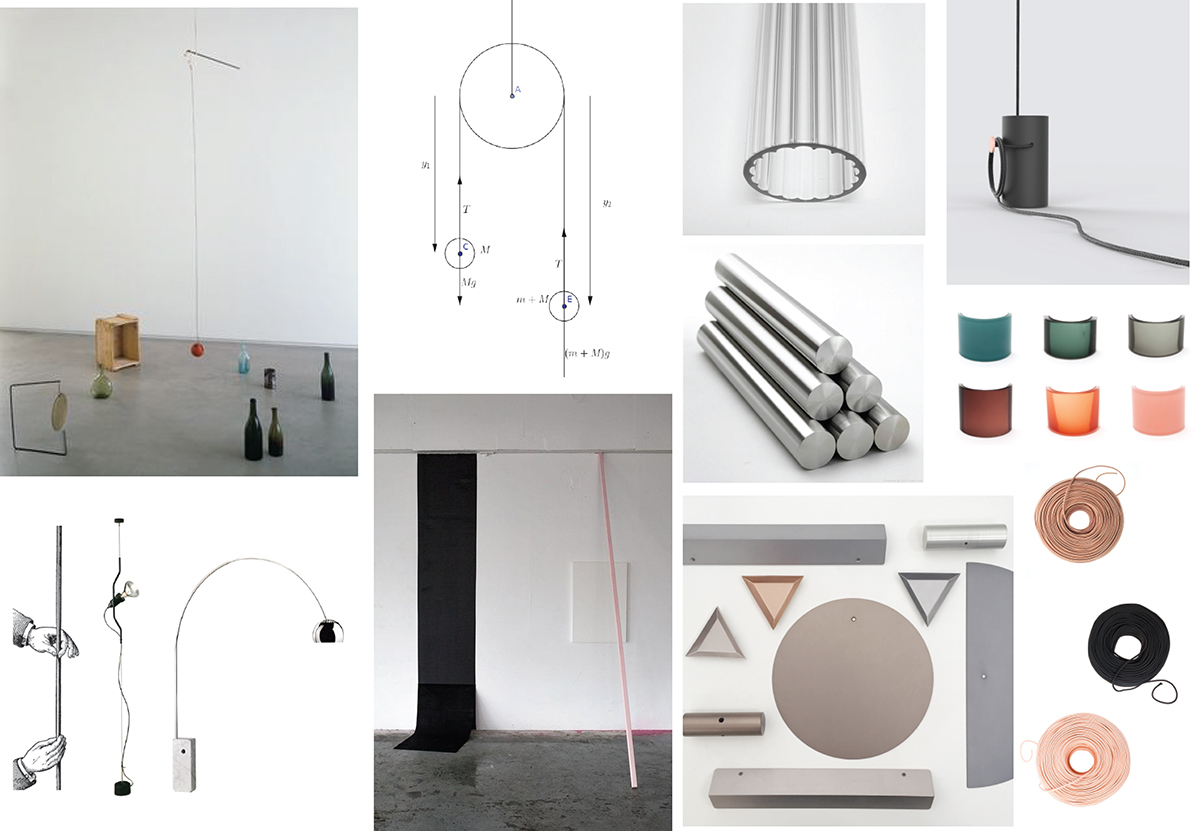 Taking inspiration from both Achille Castiglione's Arco and Parentesi lamp, Vera & Kyte and Ladies & Gentlemen sought to challenge traditional lighting archetypes through their collaborative project, Krane. The series' gestural arch pulley, glass shade, and floor weight encourages users to adjust the fixture according to it's location and need. Krane was the result of both studios' shared affinity for simple, playful, and sophisticated designs. This common ground facilitated a fluid design process that iteratively built one concept on the next, successively refining towards the final result. The product's realization leverages L&G's on-going relationship with glass artist John Hogan, their network of small-scale US metal fabricators, and the studio's own in-house production capabilities.
2. Assembly x Morten and Jonas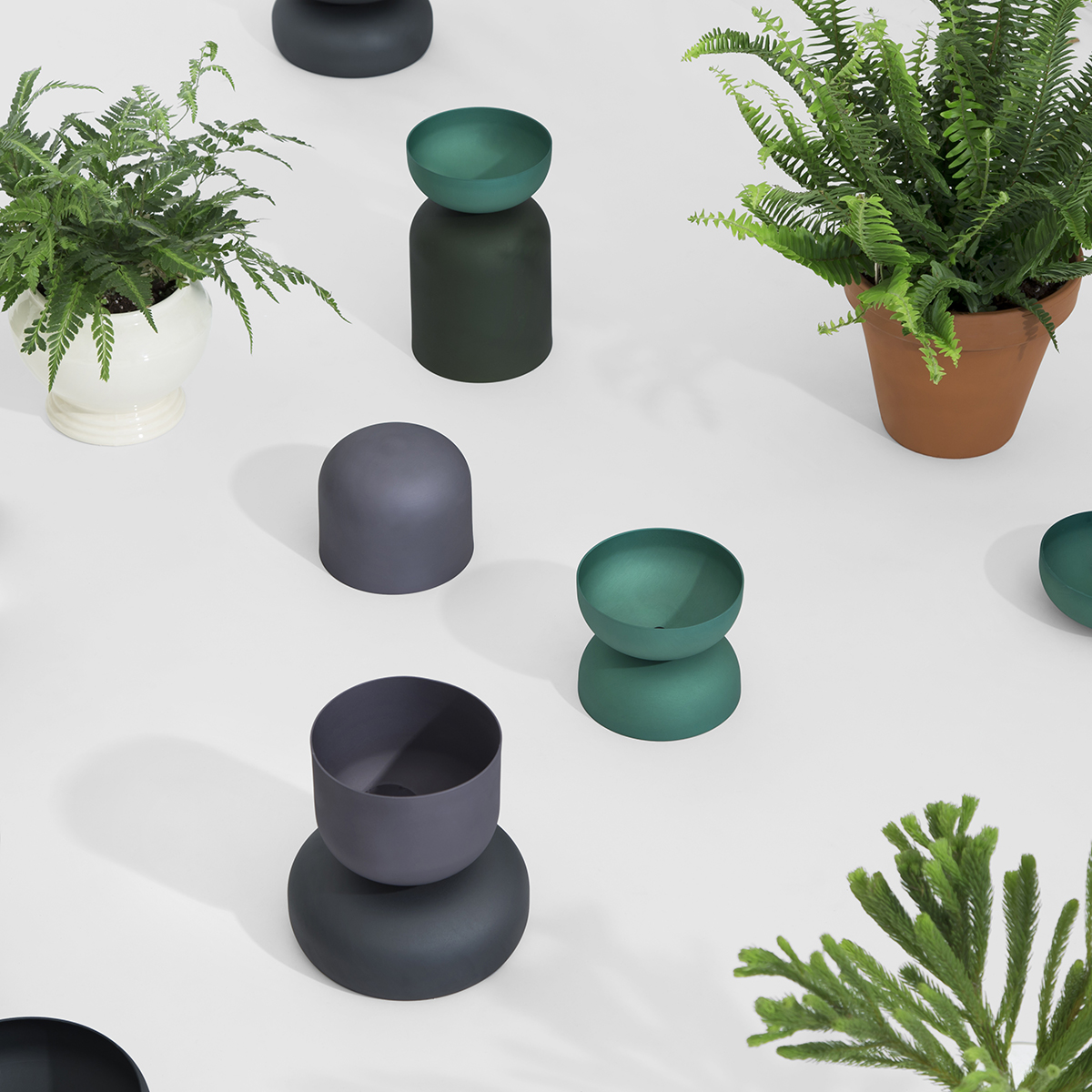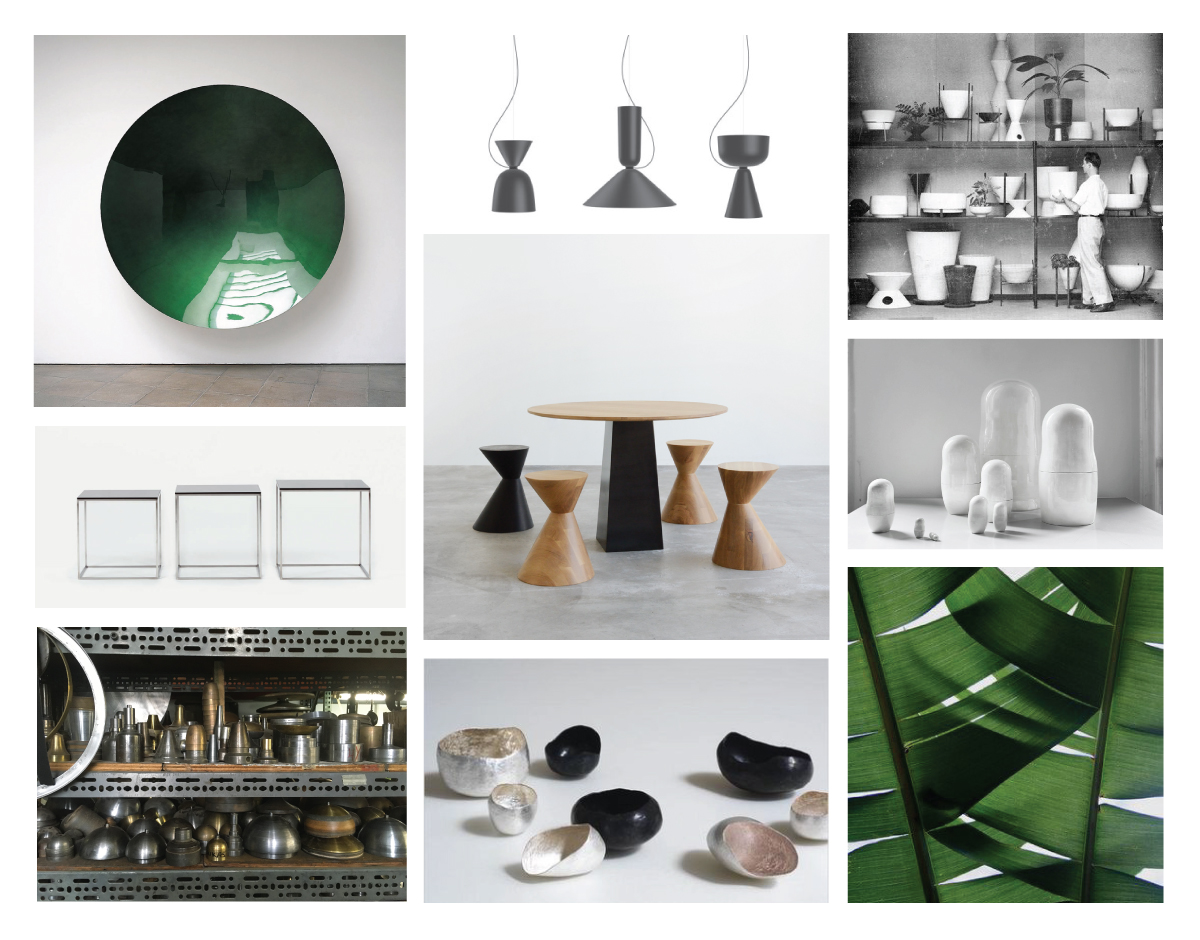 Based on the idea that the whole of a project is greater than the sum of its parts, the ADMJ Vessels utilize four core shapes to create 19 possible relationships. Each element can function individually or be paired, and each studio chose one shade of grey and one shade of green for the series, resulting in a distinct yet related palette. The ADMJ forms are made entirely in Brooklyn, New York: They've been spun by IRCA Metal Spinning in the Greenpoint Manufacturing and Design Center, sandblasted by Evernu Metal in Park Slope, and anodized by TruTone metal finishing in Bushwick.
Assembly: "We were excited to work with Morten & Jonas on this project because their studio works in a wide range of materials — wood, metal, glass, upholstery — and the products all have a distinct playful cheeriness to them. Working together remotely was no small feat, but after several rounds of exchanging sketches, we settled on a collection of vessels. Our studio in Greenpoint, Brooklyn, is right down the hall from IRCA, a small metal-spinning shop that utilizes traditional craft-based methods and are happy to work at diverse scales of production. Their approach to fabrication is very much in line with our own: Everything is made with care."
M&J: "We found it challenging to work with a design studio only by Skype, but it's fascinating to see how other designers formulate ideas. We were particularly interested in the simplicity and purity of Assembly's work, in the sense of how they use materials and how the joints of different parts within their objects are assembled."
3. Silje Nesdal x Farrah Sit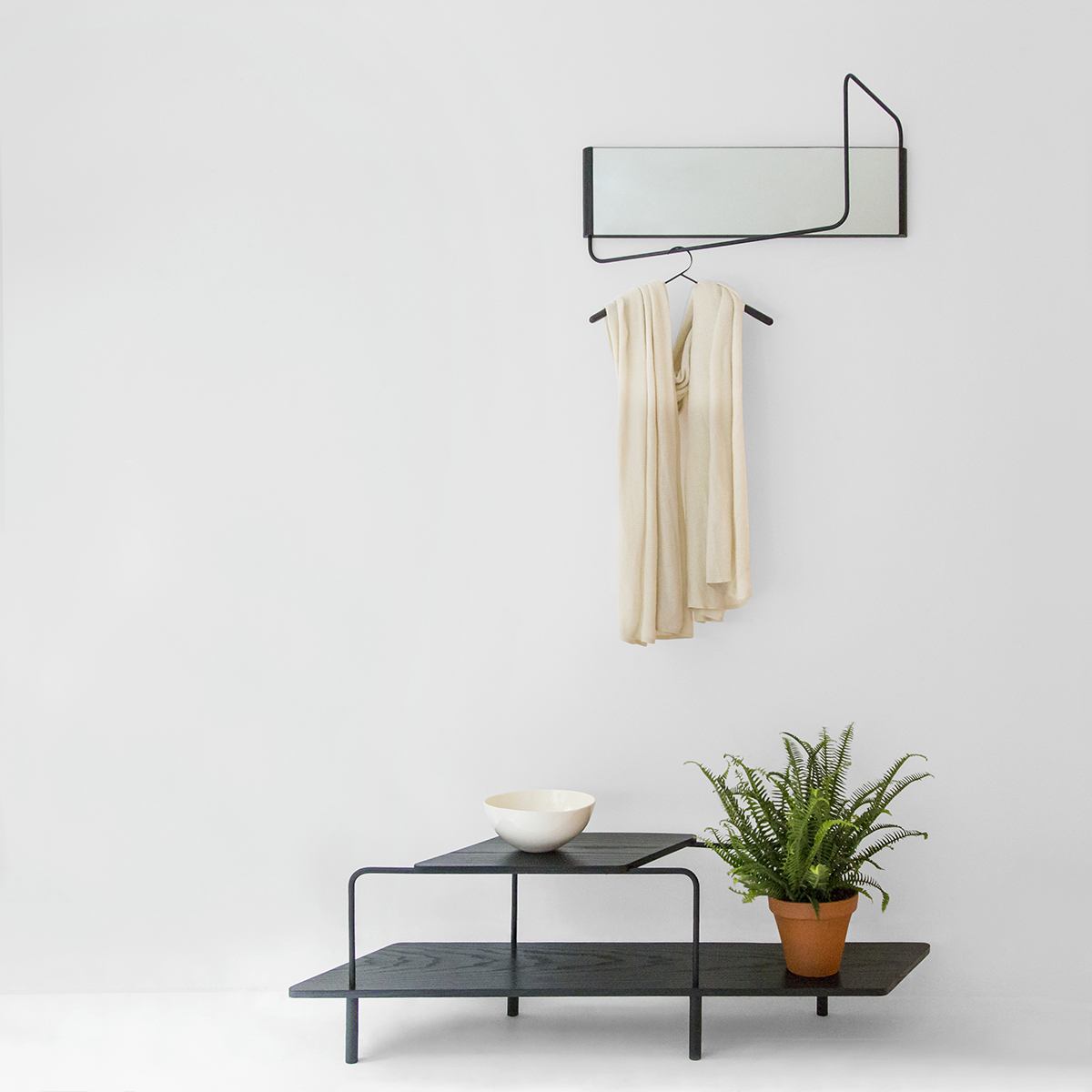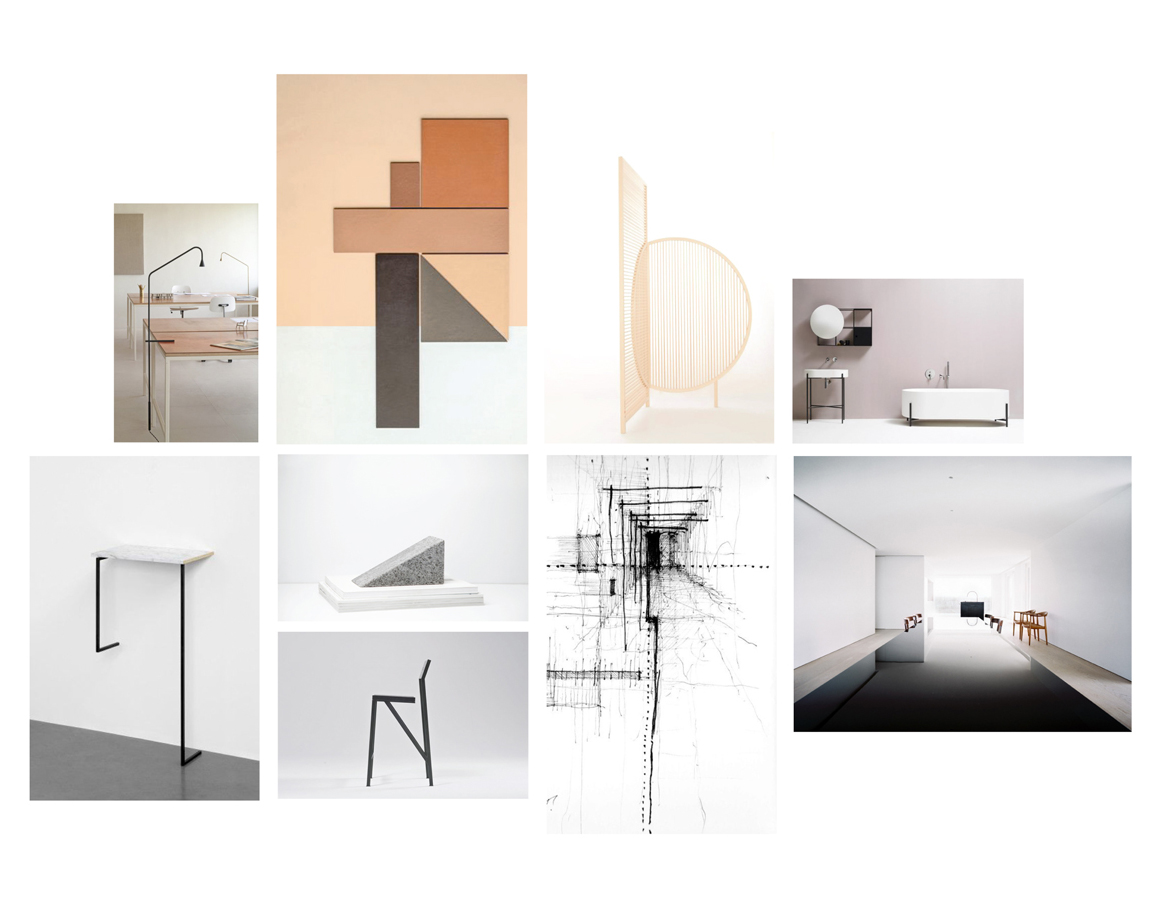 Interested in each other's search for simplicity in form, Farrah Sit and Silje Nesdal soon discovered they had more in common than their design aesthetic: both had a background in the fashion industry. They decided to start there and design a collection for clothing, and for elevating the daily rituals that surround dressing and leaving the house — an act that's so personal it often defines our presence in the world for the day. The resulting bench, mirrored clothing rack, and clothing hangers create a moment in a home, with skewed lines and planes defining sparse volumes made of blackened ash, steel, and mirror. The staggered metal legs of their bench support parallelogram shapes, where a single seat floats above a generously long shelf below. The acute and non-rectilinear form of the piece eases the flow into a room when used in an entryway.
The clothing rack integrates a vanity mirror into one artful, lean profile. Soft metal bends traverse the front of the smoky mirror, outlining an asymmetrical and angular void. The rounded wooden corners hug the metal rod's profile as it disappears behind the smoked mirror's background. The clothing rack's shallow protrusion from the wall does not interrupt the space it occupies, while maximizing its versatility and storage.
In addition to discussing aspirational vignettes, the designers set out to address a few challenges found in their own daily rituals:
—Entryway benches never used for putting on shoes because they're always occupied with mail, purses, or random things. Shoes piled below the benches make cleaning a hassle.
—Preferring to hang coats on hangers rather than on hooks in an entryway.
—Choosing between multiple outfits turns one's bedroom into a disaster area; having a separate clothing rack outside of the closet allows for orderly selection.
Farrah Sit: "I was impressed by Silje's reduction of form to the point where the material essence is the focal point, and the function is hidden within this. I was really interested in seeing how her background in fashion could manifest in our collective design."
Silje Nesdal: "When I first saw Farrah's website, I knew this was a good match. Farrah is more experienced than I am with furniture and products, but we had both been in the fashion industry and chose to leave it."
4. Bjorn van den Berg x Bower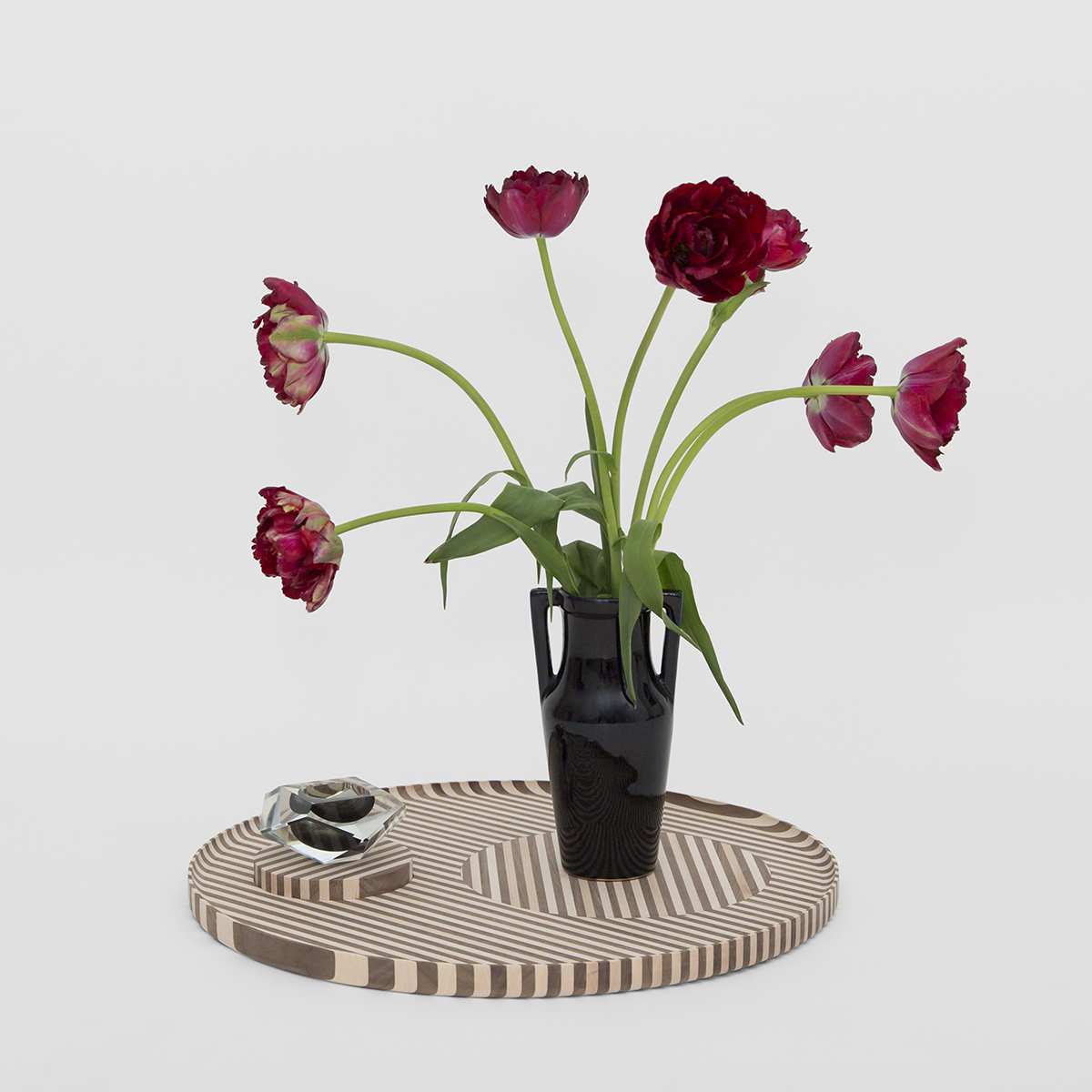 The collaboration between Bjørn van den Berg and Bower Studios was a great learning experience for both parties. Van den Berg usually works individually, designing and prototyping on his own, before sending off his designs to producers, whereas Bower are able to work closely and quickly with a large range of New York City manufacturers. Some of the directions in the designs led Bower to explore materials and manufacturing processes that were new to them. They made new connections and learned about qualities and challenges of working with materials they hadn't worked with before.
Although they're from distant geographies and different cultures, Bjørn and Bower share a common visual language in their designs: clean, simple, graphic objects that connect with people on many levels in their day-to-day lives. Both studios wanted to design an object they hadn't previously, which led to the idea of a series of vessels that explores the visual effects that are created when a round object is shaped out of a square block of layered material. With the help of two local woodworkers, the designers laminated a sequence of light and dark woods, creating a bold, graphically striped effect. The process of creating this collection involved experimentation, accepting lack of control, and welcoming serendipity.
5. Jonah Takagi x Hallgeir Homstvedt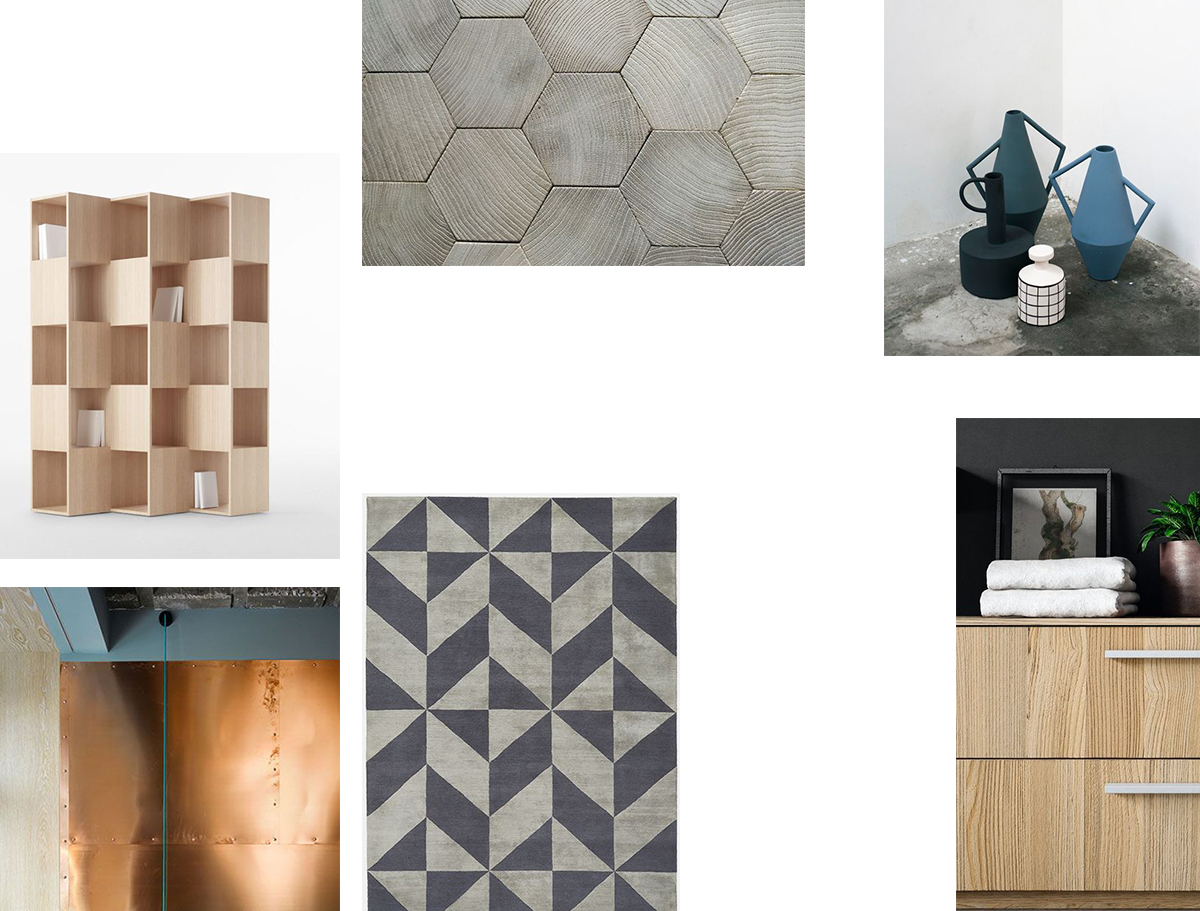 The Beaded Vessels project began with the desire to explore a medium and process that was completely new to both designers. The pair had collaborated on projects before, but there was always an element of familiarity in either the typology or the material they worked with. They decided early on to make a series of vessels, and after some thought, arrived on extruded ceramic — a process that's been around for hundreds, if not thousands of years, and that is most commonly associated with the manufacture of bricks and honeycomb particle filters. Extrusion is the process of forcing a softened material through a die at high pressure, resulting in a profiled shape that can be trimmed to virtually any length. Homstvedt and Takagi wished to explore this process in an attempt to create a form that was only achievable through extrusion, settling on a beaded texture applied to a family of small vases. In hindsight, the textures closely resemble that of penne pasta, which also happens to be an extruded product.
There was a great deal of trial and error involved in making this work and the final objects are by no means complete or perfect. Some of the pieces feature subtle bends and bulges, due to the extrusion process and the fluidity of the clay body. The project was made possible through the University of Oregon, where Homstvedt spent the past winter as a visiting professor. Thanks to Brian Gillis, the head of the ceramics department, Homstvedt got unlimited access to the facilities, a pneumatic extruder, and the help of the shop technician.
The pair also developed Flip Flop, a subtle reinterpretation of a doored cabinet that's inspired by switches, Jacob's Ladder folk toys, and the wooden furniture of Børge Morgensen. Utilizing traditional joinery and solid oak wood construction, Flip Flop features a single door centered in the cabinet's width that swings freely in both directions. This reconfiguration of an archetypal furniture form allows for the objects on its shelves to be displayed or hidden by way of a simple gesture: swinging the door from side to side. Because of this, the piece appears to be in limbo, never fully open and never fully closed, a balancing act between public and private. In use, one might store personal items on one side of the cabinet while the other side might contain items for display. The Flip Flop cabinet created for this exhibition represents the first in a family of freestanding furniture pieces that utilize a signature center swinging door, such as a sideboard or a wall-mounted shelf. Each piece is made to order at the Martin Chair Company in Ephrata, Pennsylvania.