04.21.10
Corvo, by Noé Duchaufour-Lawrance
During the annual Milan Furniture Fair, booths bubble over with new items, carefully chosen props, and company spokespeople running around trying to sell you on the relevance of it all. Rare is the company that focuses its energies on a single product. But last week, in a quiet courtyard off Via Savona, the American manufacturer Bernhardt Design did just that, introducing its first product by Parisian designer Noé Duchaufour-Lawrance: Corvo, a warm, curvaceous wood seat with a complicated beveling system and legs that in the back resolve into shapely architectural T-sections. "In showrooms you see chairs from the front, but you'd never see them that way in your house, where they're usually shoved up against a table or desk," explains Duchaufour-Lawrance.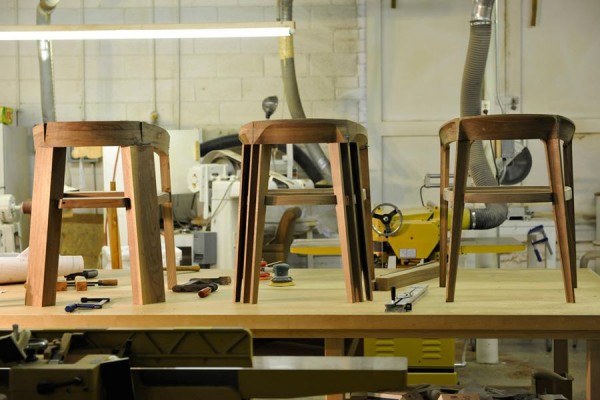 The solo act made sense, considering it was the designer's frustration with the excess of Milan fairs past that first inspired the chair. "We don't need so many new products," he says. "But if you must have one, there ought to be a sense of philosophy and history behind it. You should be able to explain how it's been done, with hands or a machine, its technique and its inspirations."
The video above — filmed on-site at Bernhardt's 1930s-era North Carolina factory and screened on a loop all week at the Milan presentation — explains Corvo's construction in poetic terms. But the real story lies in the tiny decisions that weren't caught on tape, like how Duchaufour-Lawrance designed the chair first on a PC in carbon fiber, perfecting its curves and radii digitally before ever setting foot inside Bernhardt's facilities. "I wanted to design without the constraints of a material," says Duchaufour-Lawrance, "and I didn't want to focus on the limitations of wood."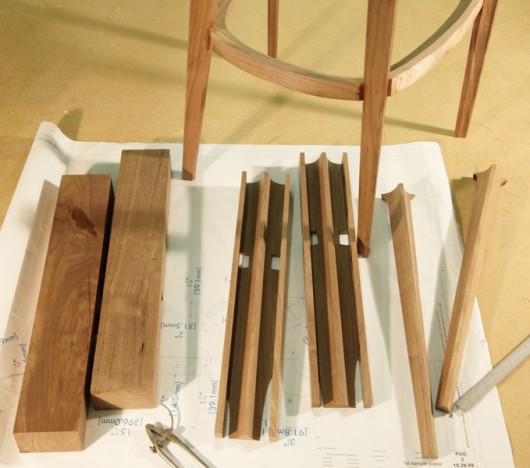 But wood, of course, is Bernhardt's calling card, and when it came time for production, Bernhardt's president and creative director Jerry Helling had to think long and hard. "When we started, we had every intention that this chair would be made on a five-axis CNC machine, the way most wood chairs are made at this point," Helling explains. "But every surface is constantly tapering and beveling and transitioning into another surface, which made building it more like creating sculpture than making machined parts." The two soon came to the conclusion that the only way to make the chair correctly and honestly was to carve, shape, and sand each one by hand. "It took two artisans four weeks and 15 different tools to make the first prototype," Helling says.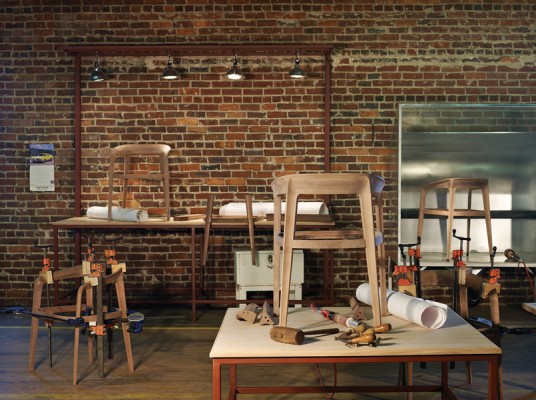 Corvo's organicism comes naturally to the Duchaufour-Lawrance, whose father is a sculptor, but the chair's real inspiration takes its cues from Mother Nature's more technical side: mathematics, shapes, and order. "I don't want to be mystical about it, but I just want to try to make objects that replicate the feeling I find when contemplating the shapes and materials and proportions in nature — which is of course impossible, since it's too perfect," he says.