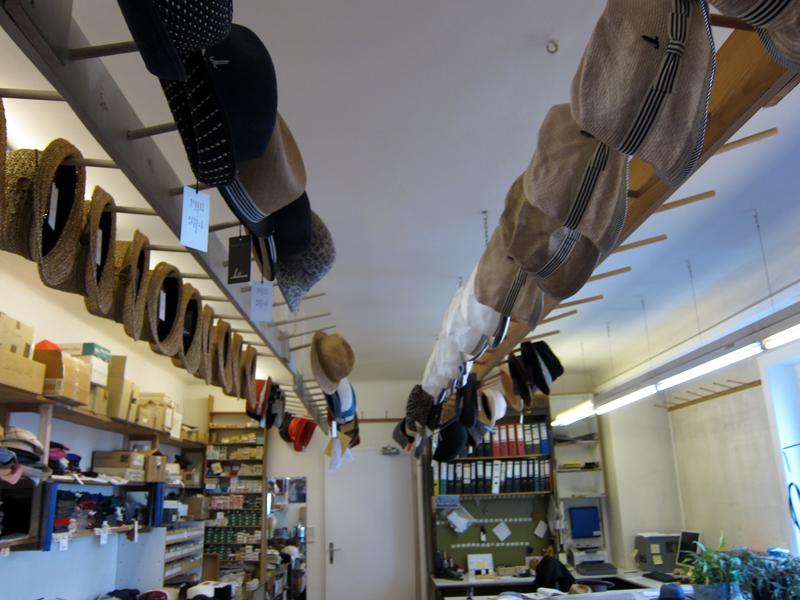 If you've recently strolled through the streets of Vienna's city center, chances are you're familiar with Mühlbauer, the 107-year-old hat-maker whose two flagships, tiny jewelboxes designed by the German-Italian architect duo Kühn Malvezzi, are located just a stone's throw from Adolf Loos's infamous American Bar. Ditto if you've been paying attention to the ever-changing hat wardrobe of Brad Pitt — who's a fan — or if you've been shopping for accessories in chic department stores from Bergdorf's to Le Bon Marché. The millinery has made such a name for itself in the past few years — collaborating with cult fashion brands like Fabrics Interseason and outfitting the likes of Yoko Ono and Meryl Streep — it's hard to believe that in 2001, when Klaus Mühlbauer took over the company with his sister Marlies, "nobody even knew that Mühlbauer was related to hats," he says.
The company was founded in 1903 as a small shop and atelier in the Viennese suburb of Floridsdorf by Klaus and Marlies's great-grandmother Julianna. "She was probably talented with her hands and liked to make beautiful things, but in those days being a milliner was as common as working in IT today," says Klaus. "Everybody wore a hat." Their grandfather Robert made Mühlbauer into a household name, opening 16 stores in Vienna and retiring at the end of his life having made a small fortune solely in hats. The turning point came in the late '60s. "Suddenly people wanted to show their hair, and they didn't want to be like their parents," says Klaus. "So when my father came in, he transformed the company into something else entirely." In the '70s, '80s, and '90s, the company focused primarily on women's clothes, well-made but affordably priced, "good style, but not extraordinary," says Klaus — in other words, the kind of goods that suffered greatly when stores like Zara and H&M began to conquer European capitals like Vienna.
It was Klaus and Marlies who returned the focus to headwear. "Even through they had become a side product, hats were all along the most remarkable product in the whole company," says Klaus. The siblings shut down all but two of the Vienna stores, transforming one into a hat boutique and one into Mode Mühlbauer, a showcase for the remaining fashion pieces as well as ready-to-wear brands like A.P.C., MM6, and Cacharel. Production began to take its cues from high-end fashion houses, with bi-annual collections presented in New York and Europe and lookbooks created by famous artists and designers. In 2001, Mühlbauer was producing around 3,000 hats per year. These days, the 16-person atelier churns out nearly 13,000 headpieces per year from its 1,000-square-foot facilities, where I had the pleasure of visiting this spring. "For industrial production, 13,000 is nothing, but this is all handmade," says Klaus. "At the end, when you touch the product, when you hold it in your hand, you see the difference." During my visit, Klaus took a break from preparing the fall collection to introduce me to the workings of the shop and to demonstrate how exactly Mühlbauer's high-fashion headpieces are made.