11.30.12
Milena Silvano on Intelligent Clashing
Rhiannon Gilmore's posts on Intelligent Clashing often begin with a tiny nugget of an idea — a pattern, a color, a shape — that after a bit of research flourishes into a loose, visual narrative. In her most recent post, though, the nugget wasn't so much tiny as nearly floor-length: a beautifully draped, woven silk poncho trimmed with fringe and edged with reclaimed and antique textiles. The poncho was the creation of Milena Silvano, a UK stylist-turned-slow fashion enthusiast who's become something of an obsession for Gilmore in recent weeks:
"For some time I'd been wondering: Where were the UK designers producing small, slow collections like those coming out of the States? I was thinking along the lines of ERMIE or Wiksten — collections that hold the personalities and the passions of the women who make them and are small enough to feel truly intimate and exclusive, in a warm wholesome way. I'd started to think there just wasn't anyone working in this way here in the UK, and then I found Milena Silvano. And it was funny the way I found her because for weeks, she kept cropping up in different places. I was happily following her on Instagram and madly repinning her finds on Pinterest for a few weeks before I realized this was the same person whose amazing hand-painted shift dress I'd recently posted on Intelligent Clashing. By the time I finally contacted her to say hi, I felt like I'd had several conversations with her already. She was exactly what I'd been looking for — a woman with total integrity producing small collections from her own studio, collections that feel valuable and special and are very, very wearable. The Intelligent Clashing post I put together around Milena's Modern Utopian Poncho contains the elements I see and value in her work — the handmade, the found, old and new, ritual, women's handcraft and artistry."
Read on for Gilmore's Q+A with the designer, then check out the other images from her post below. To see more of Gilmore's amazing free associations, visit Intelligent Clashing.
To me, it seems that every element of your production has a wholeness to it, which is fully integrated with who you are. Tell me about this, of the things that inform every level of what you do.
I'm happy that you think so. I'm particularly interested in the relationship between life and work, and in finding the perfect harmony between the two. I am also strongly inspired by Eco Feminist thinking — which places value on the feminine and the nurturing — and the socio-political engagement that stems from this movement.
I believe that crafts associated with women (mending, knitting, stitching) support a sustainable and thoughtful attitude and for this reason I am keen to keep my work hands-on. Working intimately with the garments results in a certain tactile quality that I hope makes the wearer think about the story behind it.
I'm fascinated by the fact that you live in rural Sussex. What are your days like there and how does the rhythm of rural life inform your collections?
I moved to East Sussex a year ago, after what seemed like a lifetime in London. I moved out of the city as the scene, nightlife and even the culture wasn't inspiring me anymore. I came to Sussex to learn to have a relationship with nature as it has gradually become a big driving force behind my work.
Changes are happening slowly, though, as something you realize when you work with nature is that you have to adapt to its pace. I'm growing dye plants from seed and making compost, and I have established a relationship with the nearby farmers so I can 'liberate' them of invasive weeds like dock, whose root I can use for dyeing.
Where do your collections start? What was the process behind the creation of the Modern Utopian Poncho for example?
I'm inspired by the notion of uniform in the clothing of cults and sects. I like to design wearable pieces, and to build around them a mood of mysticism, through process and technique. The fabrics often tend to lead the creative process: I love hand dyeing and screen-printing and I am all for a soft look. That is to me the key to a modern and proud femininity.
The Poncho developed from the desire to work with an Indian supplier promoting the collaborative venture of tribal silkworm rearers, rural women yarn makers, and hand loom weavers in some of the poorest Indian hinterlands. I found this perfect hand-woven silk and I trimmed it with a patchwork of vintage silks. I think it worked out to be a good balance between ethical integrity and creative output.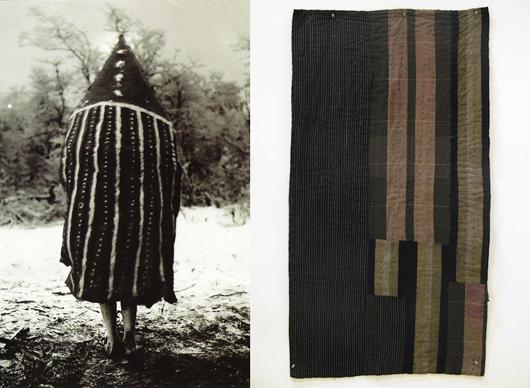 (L) image from the collection of Martin Gusinde, portraying the last initiation ceremonies of the Selknam (R) Quilt of unknown origins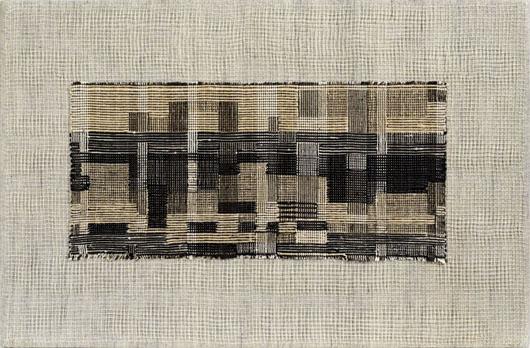 Weaving by Anni Albers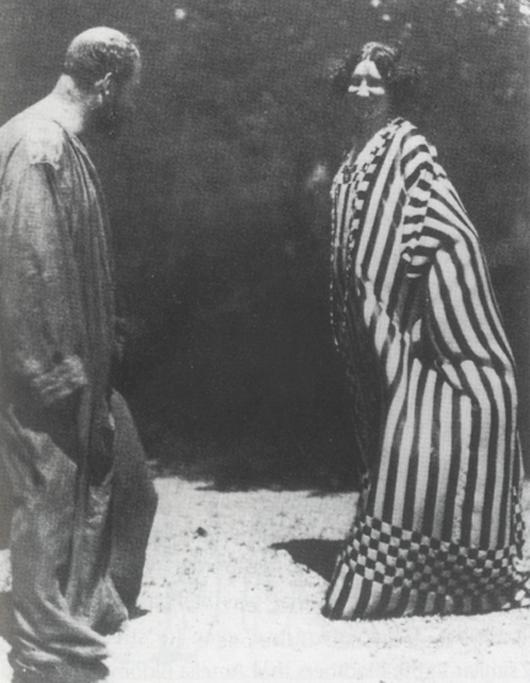 Gustave Klimt and Emilie Flöge wearing garments of Klimt's design, 1905-1910