03.21.13
Gaetano Pesce's Studio on The Aesthete
PHOTOS BY BRIAN W. FERRY
Many Sight Unseen readers will no doubt be familiar with the work of Gaetano Pesce, the Italian design icon most famous for his use of amorphous, Jello-y plastics. But how many of you knew that he's been based in New York since 1983, with a huge studio in Soho and a workshop near the Navy Yards? You heard me, the Navy Yards! If you had no idea, it's not really your fault; the man is rarely spotted at design openings or speaking on panels, and he hasn't had a major solo show in the city in 25 years — until now, that is. To mark the debut of L'Abbraccio, a retrospective of his work that opens tonight at Fred Torres Collaborations in Chelsea, I interviewed Pesce for the online magazine The Aesthete about why he moved to New York in the first place (because it's a "service city," aka whatever you want whenever you want it) and why he feels like he "didn't exist" here until now. Special treat: studio photos shot by SU contributor Brian W. Ferry! Check out a preview of the piece here, then head back to The Aesthete for the full story.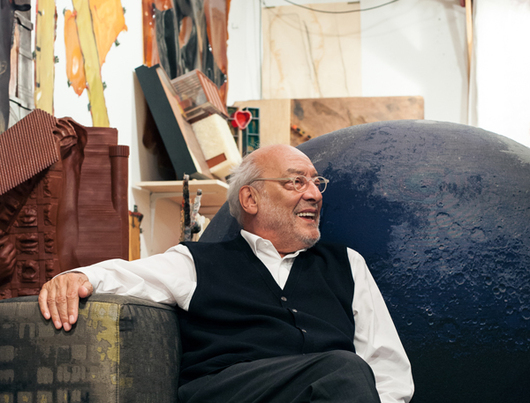 In the last decade, Gaetano Pesce has been honored with retrospectives at the Centre Pompidou in France, Triennale di Milano in Italy, and Vitra Museum in Germany, yet when his exhibition L'Abbraccio opens at Fred Torres Collaborations in Chelsea on March 21st, it will mark the first time the 74-year-old Italian designer has had a significant solo show in his adopted hometown in more than 25 years. Despite having moved here in 1983, "until now I didn't exist in New York," Pesce mused recently as we spent the afternoon together in his Soho showroom, surrounded by experiments and prototypes. "A lot of people think I live in Italy, but here, I don't exist." 
It's a surprisingly easy mistake to make, even for those who are well aware of his status as an international design icon: Aside from occasional contributions to the former Moss gallery and a tiny survey show that took place at Columbia University in 1999, Pesce has never had a strong public presence in the New York scene. He lives uptown, keeps the aforementioned showroom on Broadway and Prince and commutes out to his workshop near the Navy Yards in Brooklyn whenever he needs to get his hands dirty ("it's my New York triangle," he laughs). A local gallery represented him in the '90s for a short spell, but then the owner of the gallery died, and no one else came calling until Torres found him through a mutual friend last year.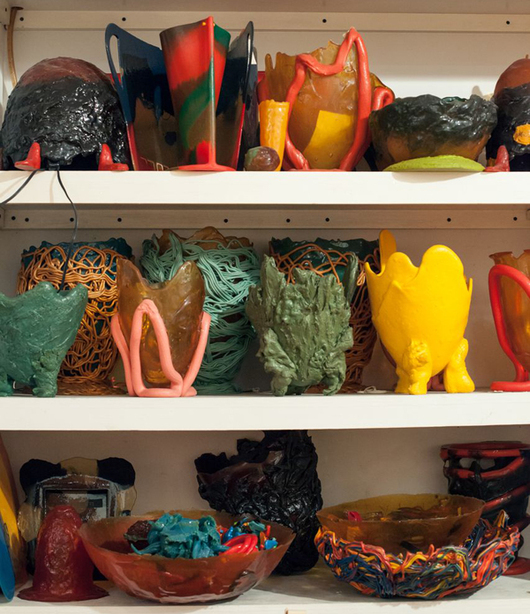 By contrast, it was in Italy that Pesce first achieved fame with the 1969 launch of his groundbreaking Donna chair, a curvaceous anthropomorphic throne that would go on to become a symbol of Italian design's golden age. He's spent his career since then working primarily in plastics, which is also strongly evocative of that time and place. And it's in Milan that Fish Design — the company he started in 1995 to produce housewares and jewelry in his signature wobbly resin — is currently based.
Part of what's kept him an outsider in New York, presumably, is the innate Italian-ness of his work, which has a sometimes romantic, sometimes grotesque expressiveness that doesn't seem like it could possibly emanate from a city drowning in cynics and modernists. Pesce's best known for all things blobby, eccentric, humorous, and brightly hued, from intestinal chairs made from extruded neon PVC to the title piece in the Torres show, a cabinet that depicts two cartoonish naked people hugging. His office feels a bit like a cross between a psychedelic candy store and a journey through the human body. "I come from Venice, where the culture is all light and color," he tells me from his perch atop a jewel-toned sofa depicting the moon rising over the New York skyline…
Click here to read the rest of the story — and see many more images of Gaetano's studio, shot by SU contributor Brian Ferry — on The Aesthete's website!