05.28.13
At New York Design Week 2013, Part III: Jambox at Noho Next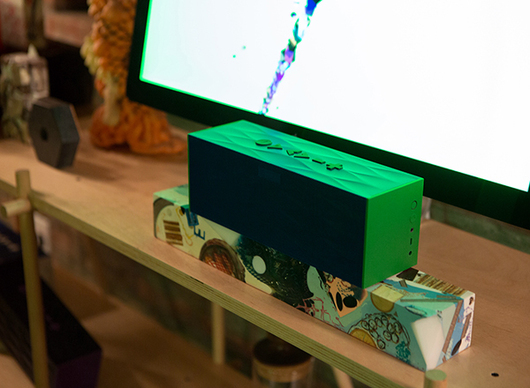 This year's Noho Next show didn't just look amazing — it sounded amazing, too. That's because in the exhibition's flagship space, Sight Unseen created a special installation for Noho Design District sponsor Jawbone, a kind of video listening area decked out not only with the brand's latest wireless speakers, but with an array of furnishings and objects culled from some of our very favorite designers — from Paul Loebach to Tom Dixon. Styled with the help of Seattle's Ladies & Gentlemen Studio, the space invited Noho Next visitors to kick back, relax, and experience the sound of Jawbone's latest BIG JAMBOXES, which are newly available in more than 100 customizable color combinations. Check out the setup below, then scroll down to watch the seven designer-made videos that Sight Unseen hand-picked to screen over the weekend. And don't forget to head over to Jawbone's website to custom-design your own BIG JAMBOX!
This post is sponsored by Jawbone, one of the official partners of the 2013 Noho Design District.
The installation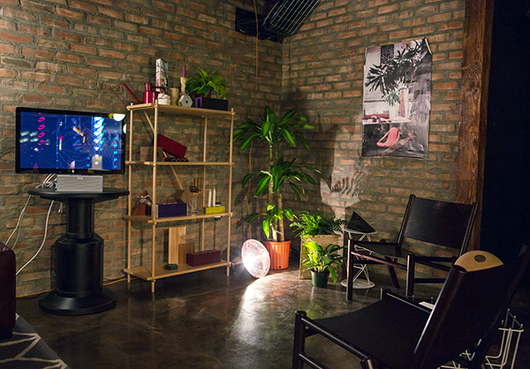 The right side of the space was set up as a small sitting area, with lounge chairs and a copper floor lamp by Tom Dixon, side tables by Blu Dot (white wire) and Paul Loebach (black wood), shelving by Jonah Takagi, a wall poster by Paul Barbera, and a smattering of other small objects by Chen Chen and Kai Williams, Pat Kim, Fort Standard, Eric Trine, Kiosk, and more.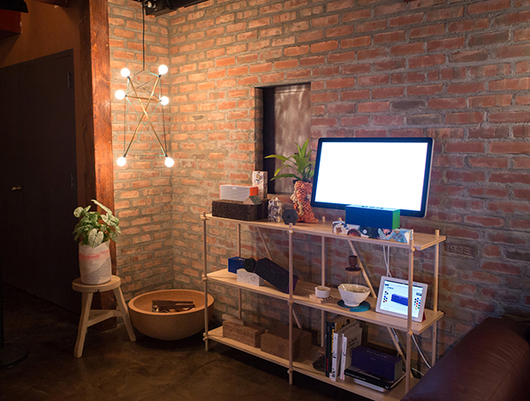 The left side featured shelving by Takagi, a chandelier by Brendan Ravenhill, a stool by Tom Dixon, a plant cozy by Doug Johnston, and more objects by Chen and Kai, Fort Standard, etc — plus a selection of coffee table books pulled from the homes of yours truly, the editors of Sight Unseen!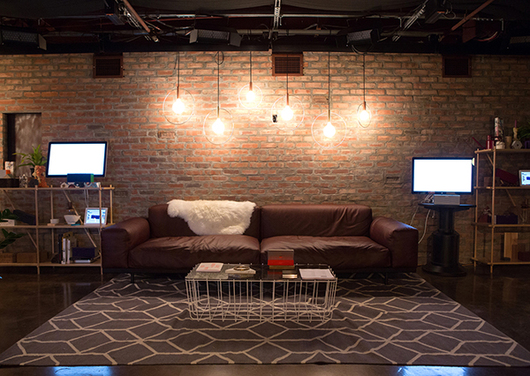 An overall shot of the space. The leather sofa was on loan from The Future Perfect, the rug is part of Fab.com's new in-house line of furnishings, the coffee table is by Blu Dot, and the pendant lights hanging in a perfectly staggered row behind the whole setup are by our impeccable project stylists, Ladies & Gentlemen Studio.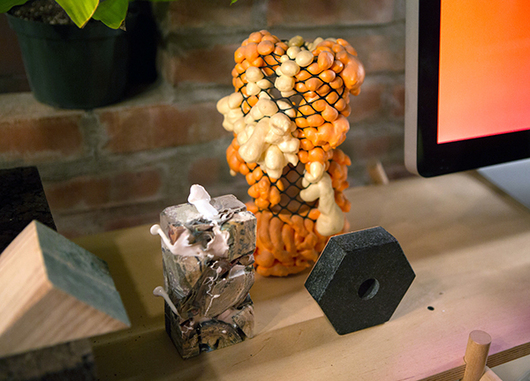 The smaller items that gave the installation character were gathered by Ladies & Gentlemen from a group of New York design studios, in this case Fort Standard (hexagonal candleholder) and Chen and Kai (materials experiments).
The videos
Will Hurt: "Sais, by Floating Points"
Common Space: "Confetti System (tunnel)"
Kijek/Adamski: "Katachi, by Shugo Tokumaru"
Andreas Ervik: "Ancient Body New Technology"
E. Lee Smith: "The Alphabet"
Nicos Livesey: "Train Logger"
Cyriak: "Cirrus, by Bonobo"