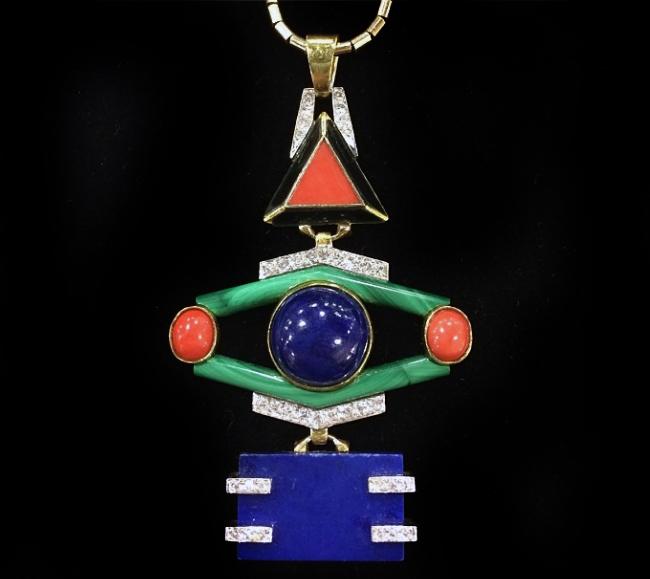 A weekly Saturday recap to share with you our favorite links, discoveries, exhibitions, and more from the past seven days. This week: a stunning geometric '70s tapestry piece, dispatches from the LA Art Book Fair, an unconventional take on a diamond ring, and a jealousy-inducing Art Deco-era necklace (pictured above) found by Caitlin Mociun at an antique fair in Miami.
Links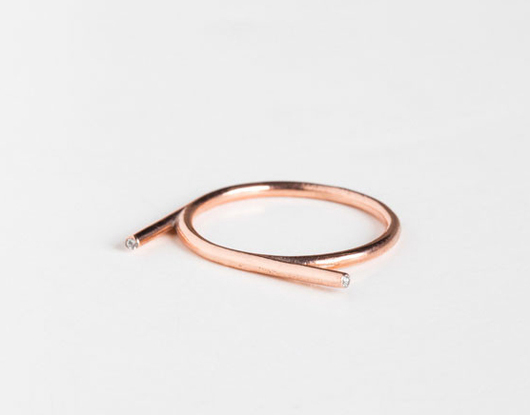 This week, our friends at the designer editions purveyor Of a Kind released our favorite piece we've seen on their site yet: the White Diamond Pharos ring by Los Angeles furniture and jewelry designer (and Noho alum) Steven Shein. With two tiny conflict-free diamonds set into both ends of a copper-plated sterling ring, we're surprised it hasn't sold out yet.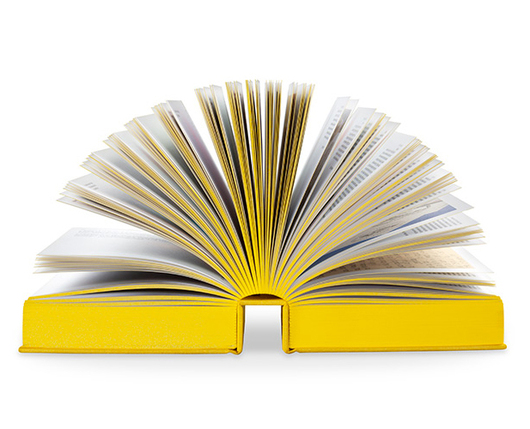 On Wednesday, AIGA/NY and the fab website Designers & Books co-hosted a talk at Parsons with Debbie Millman and the iconic book designer Irma Boom, who was recently the subject of a major retrospective in Paris. In case you missed the event, Designers & Books published a great interview with Boom on their site that starts and ends by comparing her work to architecture; click here to check it out.
Discoveries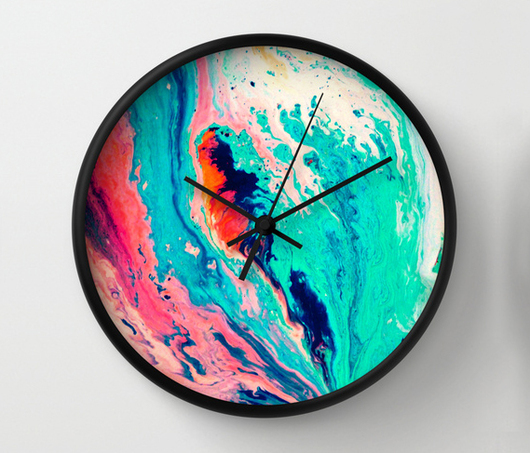 The art and design marketplace Society 6 has long been a great resource for finding cool user-created iPhone and iPad covers, framed prints, and tote bags, but this week it launched a brand new category: wall clocks. There are already 2,000 different motifs available, our favorite of which is this gorgeous marbled version by Kimsey Price. Check out her other painterly designs here.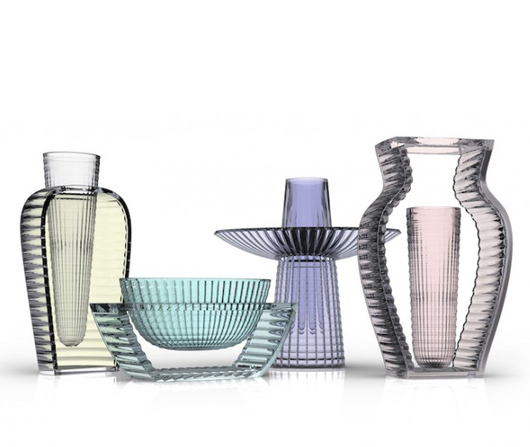 Eugeni Quitllet's new Shine Vases look like pastel-tinted crystal, but surprise! They're Plexiglas, produced by Kartell.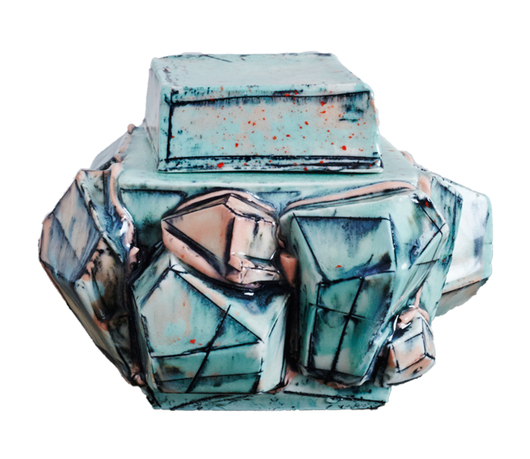 Melissa Sutton founded Plum Collective as an online storefront for 20th century furniture and home accessories, like Wormley chairs and Wirkkala lights, but she recently decided to make a foray into contemporary pieces, starting with an exclusive series by Baltimore artist Brett Freund. Pictured above, a small one-of-a-kind porcelain box for sale on the site for $100.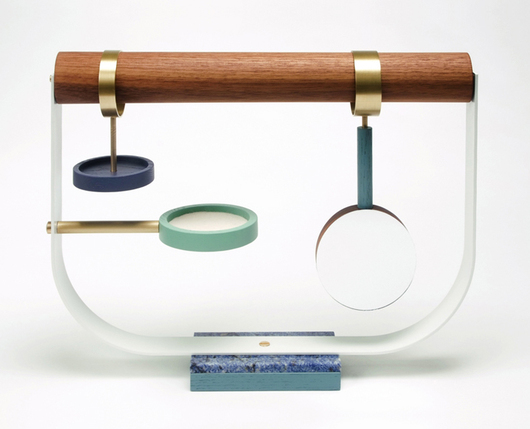 We discovered — and fell in love with — Zoe Mowat's Arbor jewelry stand at last May's Wanted Design show, and this week she released a new edition, for sale in her online shop, featuring a white frame and a jet-blue marble base. Purchase it here for $449.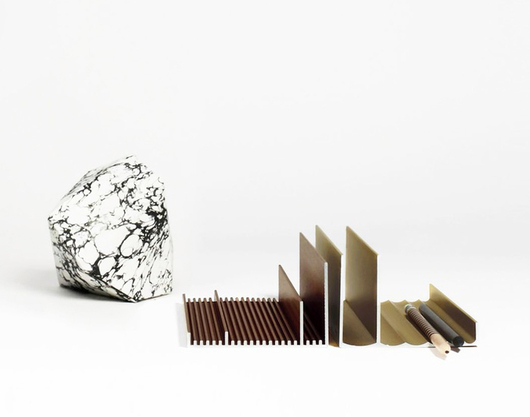 Designerbox is a subscription service that for 29 Euros (and up) per month, delivers you one new exclusive edition monthly by legit folks like Sam Baron, Aldo Bakker, Arik Levy, and Outofstock. The latest edition, pictured above, is a desk organizer by up-and-coming French talent Pauline Deltour, which is still available for sale as of press time.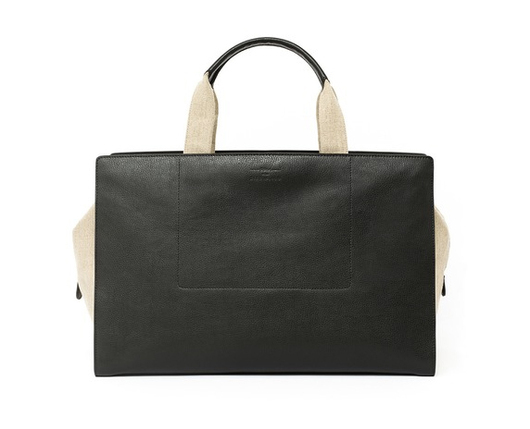 We also love this new item by Deltour, which launched at Maison et Objet: the so-called Superbag for Discipline, which features shockproof pockets for laptops and tablets and also comes in yellow and electric blue. No word yet where and when you'll be able to purchase it.
Exhibitions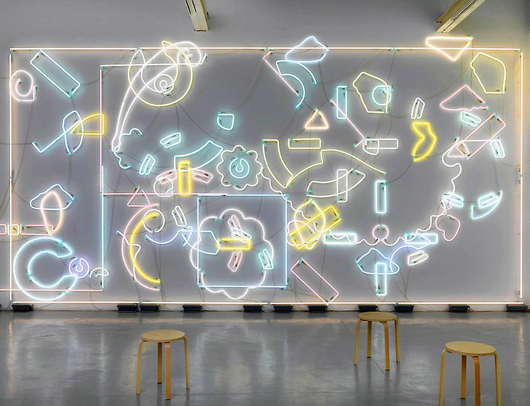 New York PR stalwart Brian Phillips clued us in on Instagram to this amazing Pae White show which just opened at London's Greengrassi gallery. Called "Genau or Never," it features 540 separate neon pieces, strung up around the perimeter of a giant room. Click here to see more photos of the full installation.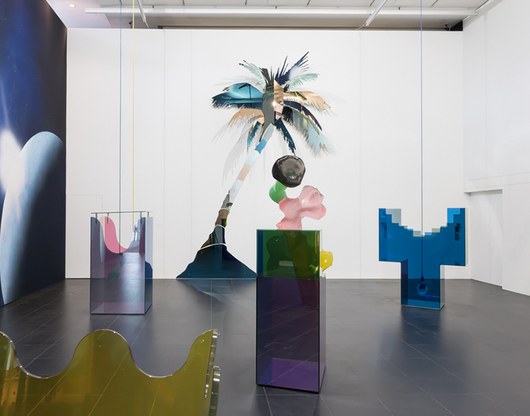 At Bloomberg SPACE, in London's Bloomberg building, artist Gary Webb has created a colorful landscape of colored glass boxes and mirrored palm trees, set against the backdrop of a "fictional solar system." So good.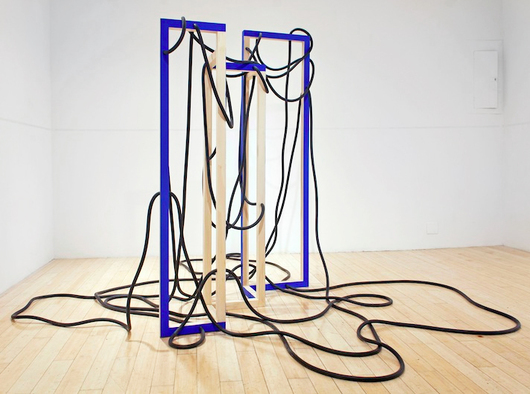 At New York's Kansas gallery, Sreshta Rit Premnath has just installed "Knot Not Naught," which includes this piece made from wood, foam cord, and chroma key paint, and is on view through March 1.
Instagrams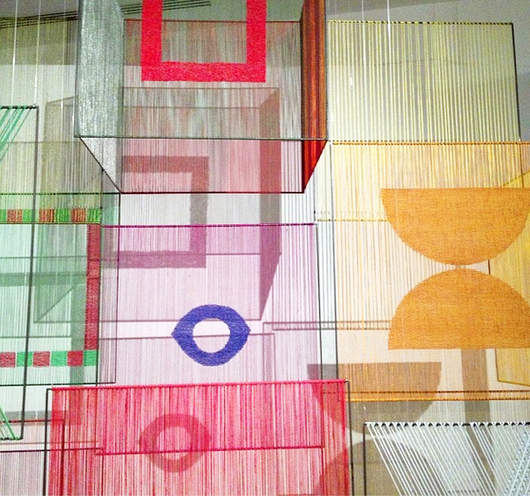 Oh, what an amazing week on Instagram! Collective Design Fair director Sarah Medford officially blew our minds with a photo of this textile installation at the Musee d'Art Moderne de la Ville de Paris, a '70s piece by Swiss artist Elia Giauque that's part of a group show called Decorum. If you're in Paris before February 9, don't miss it.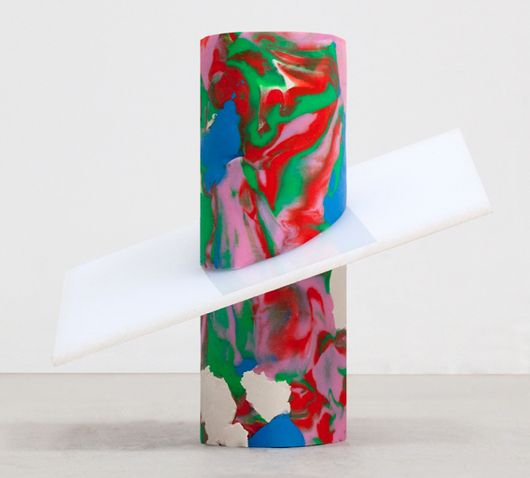 One of our favorite new Instagram account discoveries is @_gino_ho — we know nothing about it except that it's a constant stream of amazing abstract contemporary art, almost more like a Pinterest feed. The piece above is "Rencontre" (2013), by Akatre.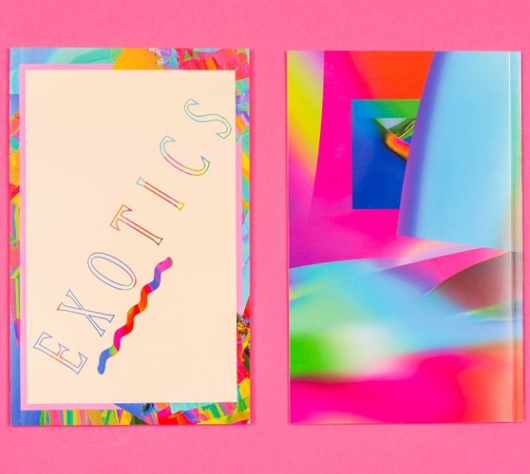 Our biggest source of FOMO this week has been the LA Art Book Fair, which is happening this weekend and which we would have loved to attend, sigh. Graphic designer Chris Golden of The Studio Gold posted this shot of the new book Exotics, for sale in booth Y58.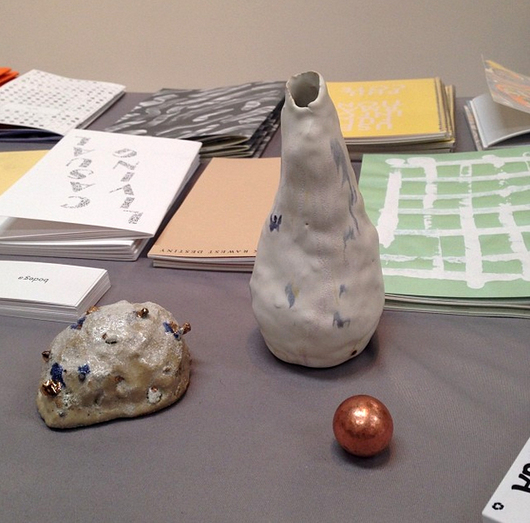 Another great shot from the LAABF, of the booth of our friends at Bodega, featuring some ceramic works by Jessica Hans (whose Shadow vase is currently on sale for 20% off in the Sight Unseen shop!).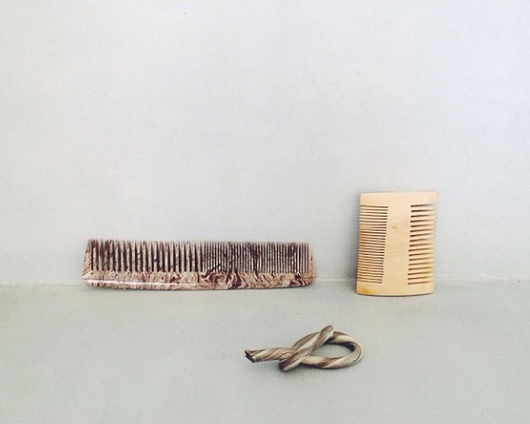 The jewelry design studio Apreski has another one of our favorite Instagram feeds, the highlight of which this week was this still life shot. We still can't get enough of all things marbled.
Pinterests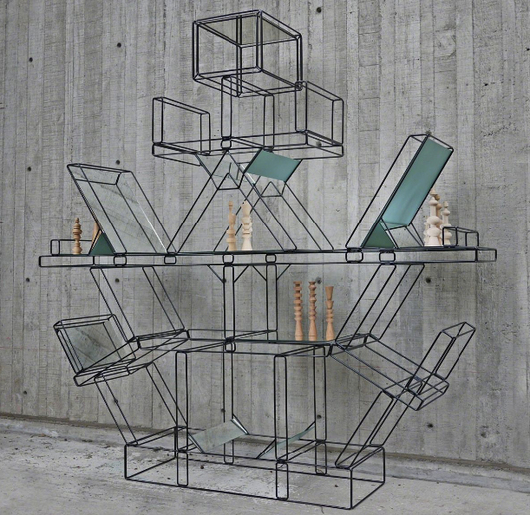 Pinterest — specifically the handiwork of a one Nate Rasmussen — introduced us to this incredible wireframe bookshelf by Edgar Orlanieta, called "Totem After Ettore Sottsass." Nate Pinned it from Artsy, where it's part of the site's online catalog for the upcoming Zona MACO art fair opening February 5 in Mexico City.