11.30.13
Week of November 25, 2013
A weekly Saturday recap to share with you our favorite links, discoveries, and events from the past seven or so days. This week: hot guys in design, a new online furniture shop in Berlin, Artsy's definitive Design Miami preview (including the Jeff Zimmerman ombre vases above), and more.
Links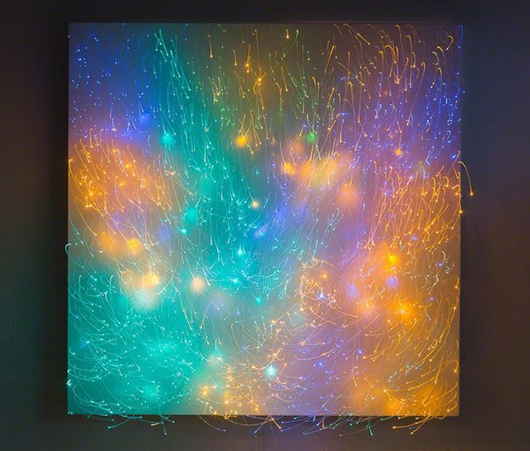 Twice a year, Artsy publishes an astonishingly thorough preview of what's to come at Design Miami and Design Miami/Basel, breaking down the offerings from each gallery and interviewing tastemakers about their most-anticipated picks. Granted we're lucky enough to be heading down to Miami next week ourselves, so we didn't want to spoil the surprise by looking at the latest preview too closely, but we did spot the Jeff Zimmerman vases at the top of this post, plus this Astrid Krogh piece from Galerie Maria Wettergren made from optic fibers and light monitors. We'll try to post an Instagram video of it in action next week!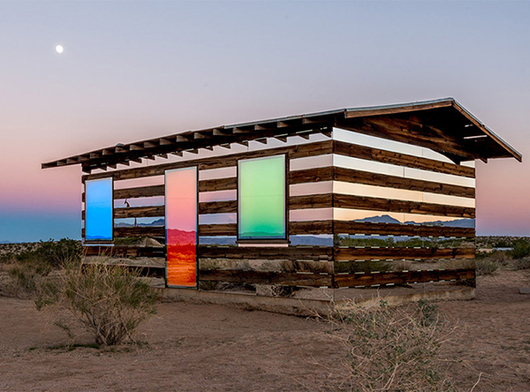 HUH magazine posted a video this week of California artist Phillip K. Smith III's gorgeous Lucid Stead project, in which he explains how he transformed a 70-year-old homesteader shack that he found on his property near Joshua Tree into a dynamic art piece that dialogues with the surrounding desert. He inserted mirrored panels into the shack that reflect the landscape during the day and light up at night with LED projections that slowly cycle through the color wheel.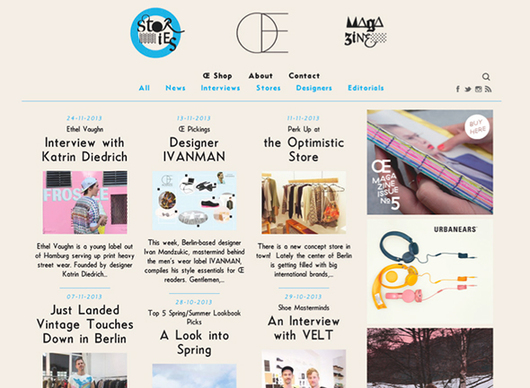 We've never had the pleasure of perusing a physical copy of the Berlin-based fashion journal OE Magazine, but after being informed this week that it had just launched its first presence on the web, we became instant fans. The site features international fashion news, plus interviews and studio visits with up-and-coming Germany-based talents; we've already made a few exciting discoveries, including Hiroko Oda and Hien Le.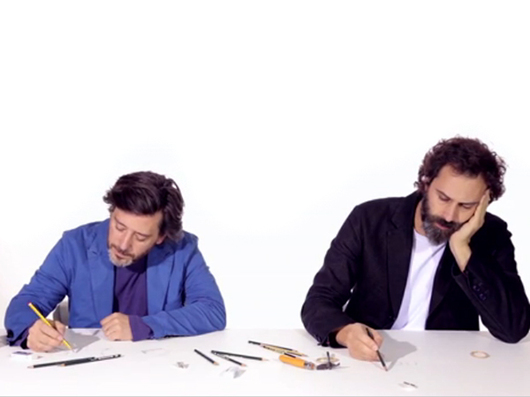 On Nowness this week, Ed Barber and Jay Osgerby, the design team behind the Olympic torch and new Ace Hotel in London, describe in a video interview why the pencil is "as important, if not more important, than the computer" when it comes to their design process. Turns out the boys are prolific sketchers — and have a seriously silly working dynamic. When Osgerby shoots a pencil across the room with a rubber band in the video, Barber quickly shoots back, "He's lost it!"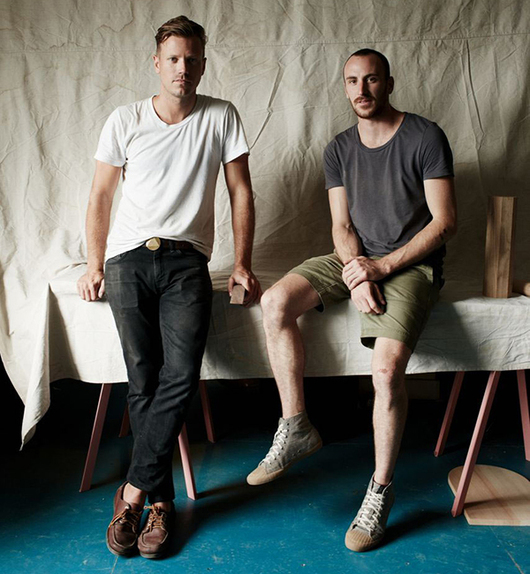 Speaking of handsome men, The Cut shouted out Fort Standard's holiday shopping event at Steven Alan Home earlier this week with a video profile posted under its swoon-y "Male Gaze" rubric. "Fall in love with their designs and creative minds — or just fall for their looks (facial hair! the undercut!) in the photo above," says the intro. For those of you who could care less about all that, the video is actually a pretty thorough introduction to the pair's design philosophy, too.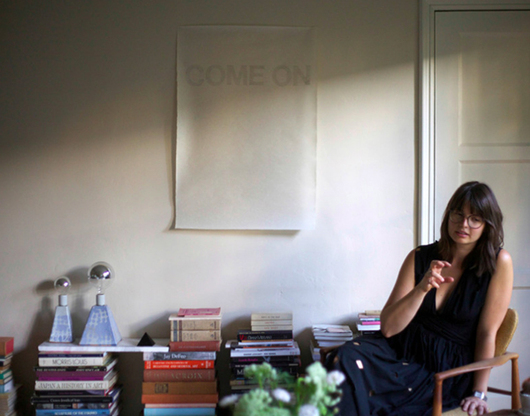 Another nice profile: Freunde von Freunden's recent home/studio visit with L.A. artist Lauren Spencer King, whose Silverlake abode is a nice mix of vintage furnishings and contemporary ceramics. We especially loved the glimpse into her jewelry collection — much of it designed by her mom in the '60s and '70s — and the appearance of these BZIPPY & CO. ceramic lamps in her living room, one of which we carry in the Sight Unseen Shop!
Exhibitions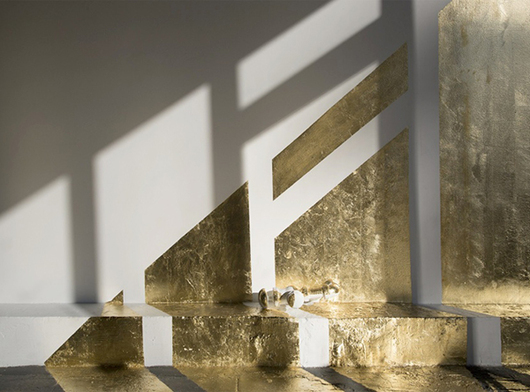 We were tipped off via Instagram to artist Emilie Halpern's intriguing Shoka exhibition at L.A.'s Pepin Moore Gallery. She timed the show to start with the Autumnal equinox and conclude with the Winter Solstice, breaking it into three separate parts corresponding to the three elements of the universe in the shōka style of ikebana: the earth, the heavens, and humanity. Part three opens today; part two, for which Halpern gold-leafed sunlight falling on the gallery wall, is pictured above.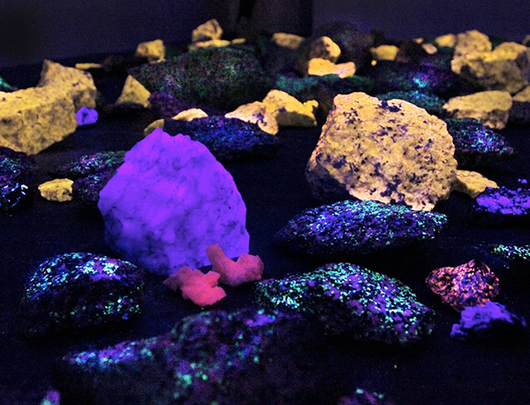 For part one, Halpern laid out a grid of fluorescent rocks on the gallery floor that looked like a minimal earthwork by day, but turned crazy neon colors at night when they were lit with a blacklight. Click here to see the transformation, and to check out images of the final installation once they're posted.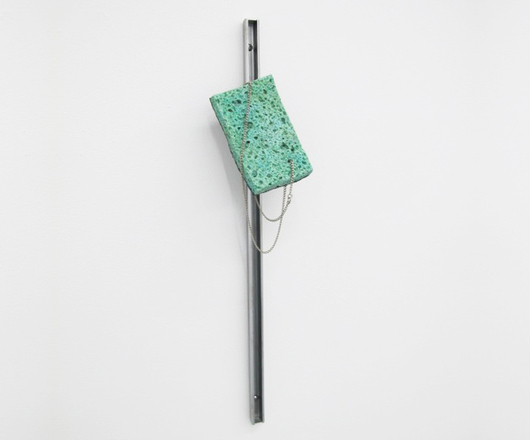 File under kind of hilarious: Daily Chores, artist Paul Gabrielli's solo show at Invisible-Exports gallery in New York featuring sculptures made from doormats and colorful used dish sponges punctuated with looped jewelry chains. What does it all mean? Apparently something to this effect: "As viewers, we are locked into a conundrum, where confinement and liberation, romance and the mundane, partake in a mise en scene, suggesting that in the dreamlife of objects, as elsewhere, constraint may be a form, or condition, of freedom." Anyway, today and tomorrow are the last days to see the show in person before it comes down.

Calder's been everywhere as of late, with a big sale at Sotheby's last month and a killer jewelry installation at Salon 94 in New York. Add to the mix this retrospective at LACMA, which opened last Sunday and focuses on "the artist's radical translation of French Surrealist vocabulary into American vernacular." Pictured: an untitled tripod sculpture from 1934.
Discoveries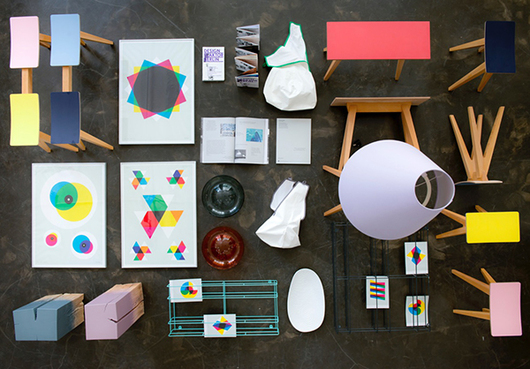 Two of our good friends in Berlin — Judith Seng and Alex Valder — have just banded together with fellow designers Carsten Giese and Maren Bönsch to open the curiously named online store Maison Maria Odelga, where they're offering their self-produced stools, lamps, shelves, and prints for sale directly to customers. Welcome to the future of design, people!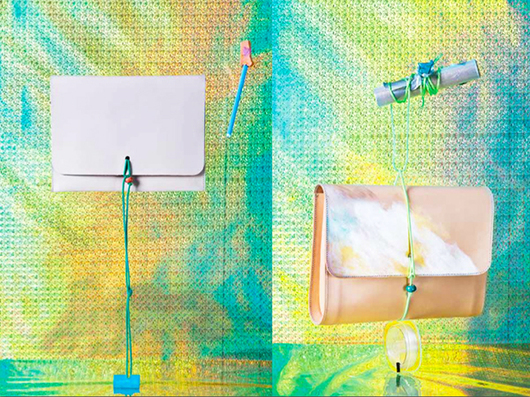 The Prague-based footwear and accessories designer Maria Petrakova emailed us a few days ago about her latest collection, Levitating Objects: It's a series of leather clutches and iPad covers with handmade ceramic beads on colored cords, which she styled for the lookbook images above. It's unclear from Petrakova's website where one would see and/or purchase them, but we were happy to receive her submission nonetheless. Check out a recent post on her footwear designs in the online magazine Okolo.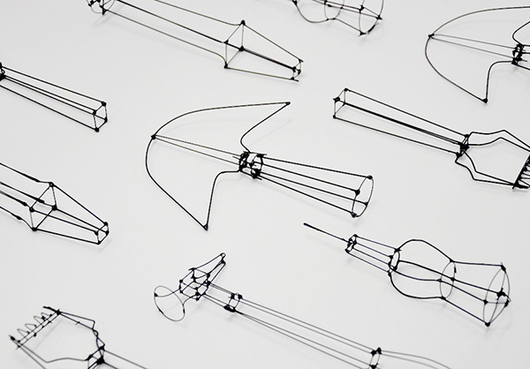 The web was buzzing this week with images from Studio Toogood's recent blood-red installation for Hermès's Bond Street shop in London, on view through December 7.  But our favorite part of the project was this collection of amazing wireframe leather-working tools, which appears to have been created in collaboration with Tom Watts for the invitation to the installation's opening. Wish we had been on that list!
Instagrams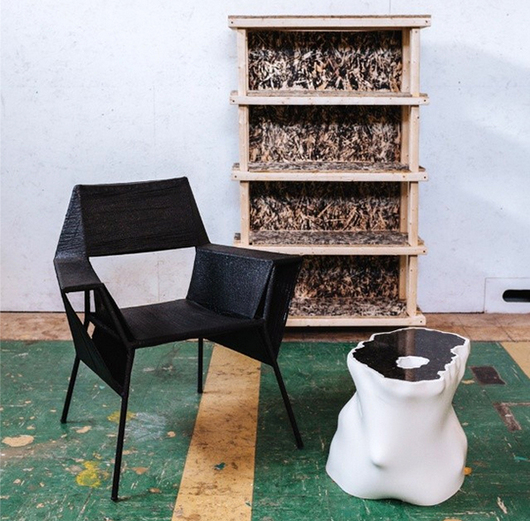 Beautiful shot from Detroit designer Christopher Schanck this week of the studio space he shares with fellow Johnson Trading Gallery wunderkind Jack Craig. Schanck's truckbed liner–coated chair is on the left, while Craig's PVC shrink-wrapped stone table is on the right. Schanck and his studio assistant collaborated on the OSB shelving in the background.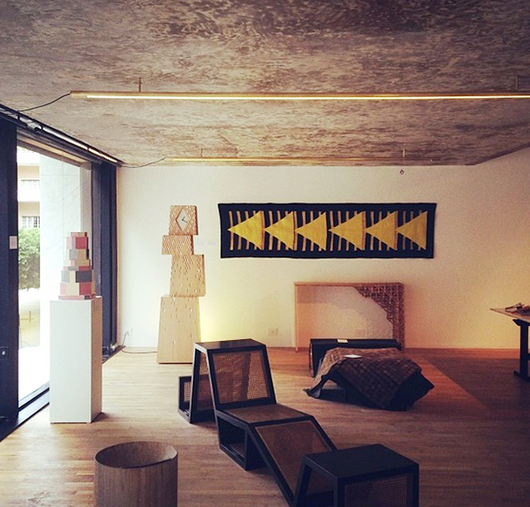 Carwan Gallery finally has a permanent home in Beirut! Co-founder Nicolas Bellavance-Lecompte posted this photo of the new space a few days ago, featuring works by designers including Oeuffice, Nada Debs, Taher Asad-Bakhtiari, Mischer'Traxler, and Karen Chekerdjian. Congrats guys!

Finally, since this week was a holiday and all, we wanted to share this sparkly image from a recent holiday photoshoot by Lauren Coleman for The Future Perfect. It's also an excellent excuse to say how excited we are that fave California designer/sculptor Alma Allen — whose copper bowl is pictured above — is going to be included in the next Whitney Biennial! So trippy!