07.16.12
Clemence Seilles in PIN-UP #12
Berlin's many charms are hardly lost on your editors. After a sunny, weeklong trip five summers ago, we both fell in love with the German capital — the wide open spaces, the well-situated swimming pools, the way clubbing unfolds as an actually enjoyable activity. But while my partner in crime has returned to the German capital each consecutive summer, I've never been able to find the time to go back. This summer, then, I was lucky enough to visit by proxy through the eyes of Felix Burrichter and his staff of Berlinophiles over at PIN-UP Magazine, which devoted its entire Spring/Summer issue to the changing metropolis. "For very long, Berlin was this one thing: You went when you had no money," says Burrichter, who serves as both editor and creative director of the architecture biannual. "But there's a cultural elite — a moneyed elite — that has developed there over the past 10 years. Mostly people from out of town or in the art world. So there's an interesting friction right now. When that moneyed elite takes over, the city will lose a lot of its charm. But right now it still feels very raw and budding."
The issue was in some ways a homecoming — Burrichter grew up in Düsseldorf — but in the end, the Berlin depicted in the magazine's pages bears more of a resemblance to Burrichter's adopted home in New York. "What fascinates me about Berlin right now is that it's very international," he says; hence the features run to a British architect who recently remade the city's Neues Museum (David Chipperfield), a West African transplant (Francis Kéré), and Clémence Seilles, a Frenchwoman who arrived in Berlin with a singular goal — to assist in the studio of designer Jerszy Seymour — and who never left. We've been fans of Seilles' work for some time now, and her conversation in the magazine with fellow Sight Unseen friend Matylda Krzykowski was too good to confine to print. Burrichter has graciously allowed us to excerpt it below. Read the article in full here, then follow the link at the bottom to subscribe to PIN-UP.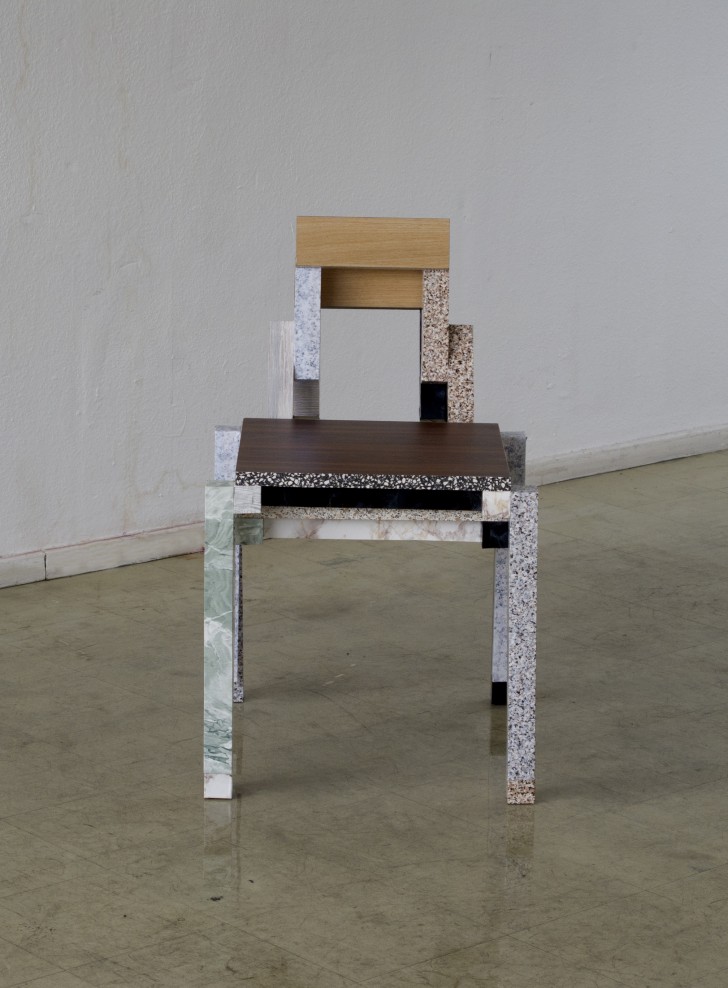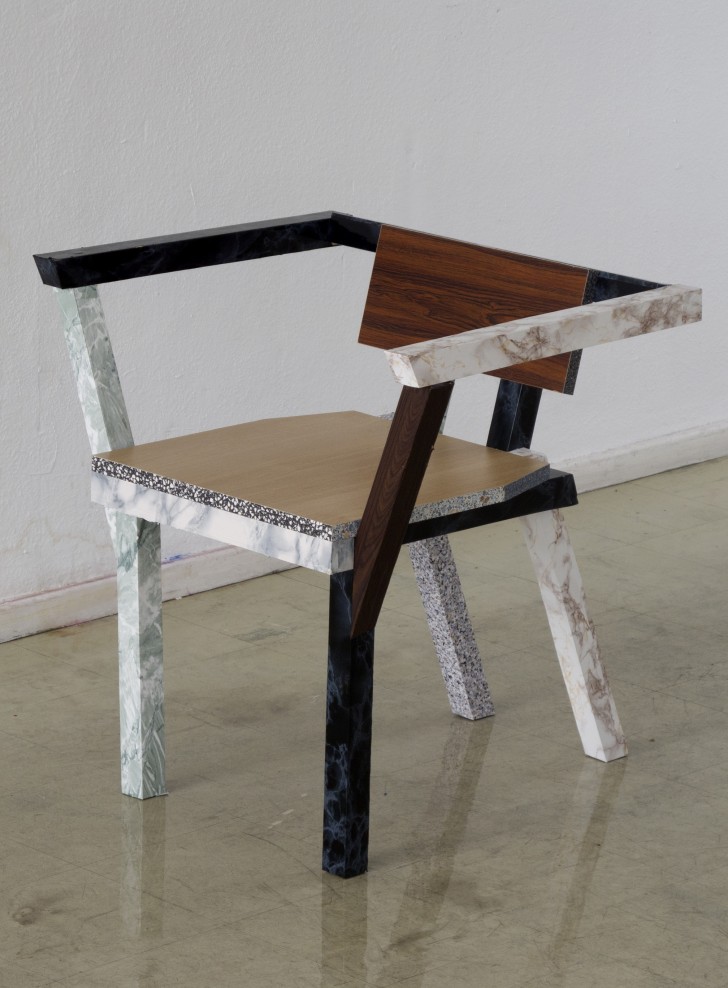 Authentic Sources chairs by Clémence Seilles and Clas Ebeling. The chairs use MDF and particle board, which were partially covered in printed adhesives with imitations of Turkish marble, Tuscan quartz, oak, and birch wood.
By Matylda Krzykowski
The hallway leading up to Clémence Seilles's studio in Berlin-Wedding is lined with various stones, marble, plasterboard, and other raw and inexpensive building materials — many of which she finds in the street — while her atelier itself is a Wunderkammer of peculiar-looking DIY tools. Clémence moves a few things around and excitedly shows off one of her favorite pieces: a device that produces paint splashes in various textures. The 28-year-old French designer's love for such gadgets borders on the indulgent, but thanks to her skilled hands and her fantastical imagination, it contributes to the production of precious artifacts that include everything from lamps, chairs, and shelves to sculptures and entire room installations. Born in St-Tropez and trained at the Ecole Supérieure d'Art et de Design de Reims and the Royal College of Art in London, Seilles moved to Berlin in 2009 to assist designer Jerszy Seymour, with whom she also teaches at the Sandberg Institute in Amsterdam. In her three years in the German capital, she has established a small yet impressive body of work that is distinctly her own. But her solo work is just one aspect of her career, she explains in her charming French accent. She is just as happy collaborating with other designers, or with artists, filmmakers, scenographers, and fashion designers. Seilles doesn't purposely set out to blur the lines between disciplines or break any rules — for her they simply don't exist. Her first and only condition of activity, it seems, is the freedom to be nothing more, and nothing less, than what she makes.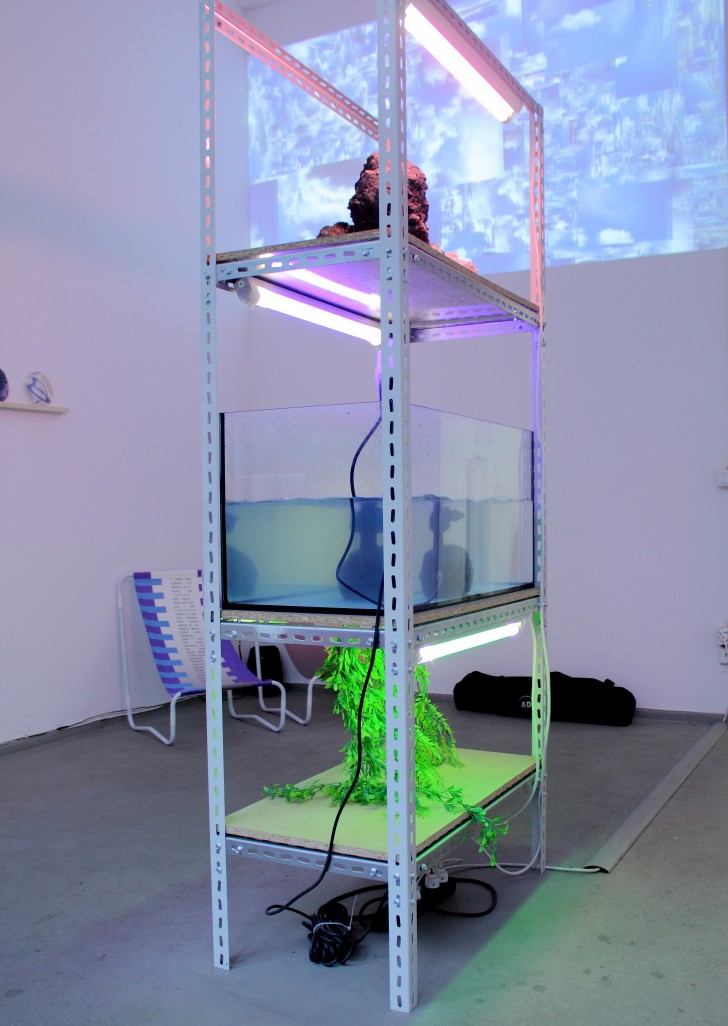 Multicolour Wellness Tower
MK: You were born in St-Tropez and now live in Berlin. How would you compare the two places?
CS: Wow, what a question! You can't really compare them. For me, St-Tropez is the place of my birth, that's all. But it's also a fantastic and weird source of energy, somewhere between something totally spoiled and the nostalgic pop-culture picture of the young and fresh Brigitte Bardot. But today Bardot is busy going senile and nouveau-riche Russians have become the spectacle for desperate French rednecks.
MK: Sounds very pop!
CS: No, St-Tropez is very much dead. The pop life is in Berlin, or actually Europe in general. But Berlin works very well as Europe's capital. Locals and foreigners can get together with not too much debate over where you're from and why you're here — it all happens quite naturally. And it's easy to move around everywhere in Europe from here. London has the same quality of being international, but at the end of the day you feel very much like you're on an island, which restrains the communication and moving around on the continent.
MK: As someone who appears very French at heart, did you imagine you'd end up in Berlin one day?
CS: I am very French. Somehow. But even when I came to Berlin for the first time, in 1999 when I was still a teenager, I could already imagine living here. It's not that I was so interested in German culture, but I sensed that this place is very open to receive and to give.
MK: And you moved to Berlin in 2009?
CS: Yes. I moved here because of Jerszy Seymour. After my studies in London, I was looking for an interesting person to work for as an assistant. Most of the people I wanted to work with happened to be in Berlin, like Raoul Zoellner, Clas Ebeling, Owen Hoskins, and of course Jerszy, so it wasn't exactly a coincidence. For me people always come first, and I like to take advantage of the experiences available around me. In Berlin there are a lot of experiences available, and you can have both learning experiences — like assisting an established designer — and the opportunity to realize your own projects. You don't have to look too hard to find the mental and physical space or for inspiring people you can work with. And both are important to me, since as much as I like to experiment by myself, I also rely very much on the energy of others and the magic that happens when you work with someone else.
MK: I think your collaboration with Clas Ebeling, with whom you did the Authentic Sources chair series as well as the Batik lamps, is a very good example of your channeling other people's energy. I asked him about his work the other day, and he just smiled and said that, compared to you, he only does 0.1 percent.
CS: [Laughs.] He's another person with another way of being. In Berlin you find a huge range of creators with many different ways of working, from the hysterically productive to the hyper contemplative, super slow-production artist. But when Clas and I met, it was obvious we would do something together, maybe because of the attraction of our different projects. After I did the Osmoses lamps [2010] I wanted to work more with textiles; at the same time Clas was pushing his textile research into how to create special patterns, so we started a little textile laboratory together, creating fake marble patterns, synthetic-stone patterns, etc.
MK: You don't really work within the so-called design industry — I even heard that instead of selling your work you sometimes do some kind of trade.
CS: It's true, I don't work with the industry so much. It could happen, but what's more important to me is to work with situations. Take the Osmoses lamps for example. It began as a self-initiated textile project, no gallery involved. A few months later, the HBC art space here in Berlin organized a show called "Art Barter," where artists were invited to trade their work for anything except money. I traded my lamp with a Frenchwoman called Marie Petit in return for a one-month stay in her villa on a wild Croatian island — one lamp in exchange for a one-month holiday! Then I met Clas Ebeling and he and I decided to go to Croatia together and work on a textile project. It's the experience of the making that is the adventure, and the context of creation is completely part of a project. So instead of getting the materials from far away, we shipped ourselves far away with our materials. In a way it was the reverse of what designers usually do.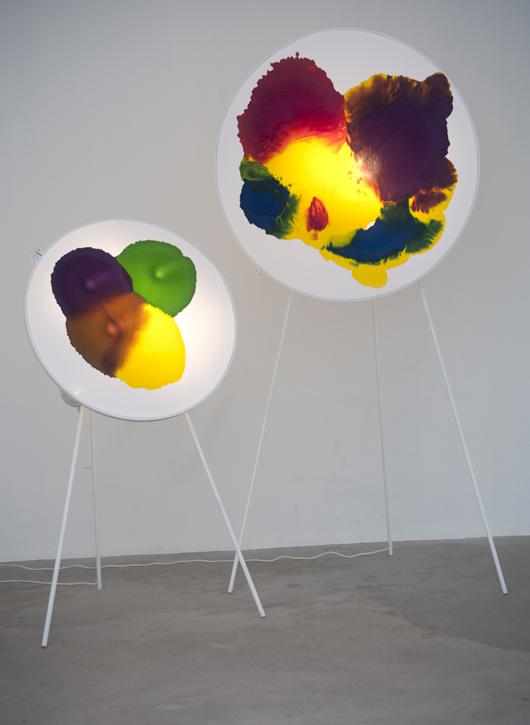 Osmoses lamps (2010)
MK: So what happened in Croatia?
CS: It was just a fucking hippie trip! And we did some batik. You know, it's not that easy to go on a hippie trip. But when you're there on a fantastic island, a wild island, it's easy to come out of yourself, because the surroundings give you this energy and possibility.
MK: So how did you come up with the idea, and the material, for the Batik lamps?
CS: The materials come from an ancestral technique, batik. It's an expression of artificiality, probably the first expressionist school that happened before a few centuries later we gave it a name. The shape is a growing force, a triangle that occurs often in my work. In the end it doesn't matter what the shape is, because I'm not a Raymond Loewy, or someone like that. I think I'm rather an expressionist. Making batik on an island with waves splashing and crashing right next to me is very expressionistic. In a way the Batik lamps are a contained, growing wave that finds itself in the shape of a triangle.
MK: The other night you invited me to dinner at your house here in Berlin. A lot of the people whose names you mentioned earlier were there. It seems you organize dinners like this regularly, in order to gather all the significant players around you?
CS: I do it often, yes. It allows me mastery over them by way of generosity! [Laughs.] They are all my artist friends: Adrien Missika, Emile Ding, Claudia Comte, Jerszy Seymour… But the night you were there someone very important was missing: Elisa Valenzuela. We met when we were at art school in Reims when we were both 19 years old. Since then she has become an outstanding luxury Parisian glamour woman as well as a talented post-acid punk photographer and filmmaker. She is a dangerous explosive cocktail that I want to taste. She and I are working together on a science-fiction-movie project involving all the artists I just mentioned. They'll be making psychedelic sculptures that will act as the décor.
MK: Sounds like quite an explosion! How did the idea for that come about?
CS: It's been an ongoing project, but we want to shoot it before the end of this year. But it's not just a film, you know. We will also present and produce it partially through exhibitions related to scenography, performance, and timing issues. We're in talks with the Centre Pompidou in Paris to organize screenings and special events around the project in 2013. Right now we're still working on the funding for it and we're not quite there yet. But for me this project is a total priority. I have sleepless nights to make it happen.

MK: Is it your first time working with film?
CS: Yes, and it's really new for me to face such a representative and narrative medium. Coming from a design education, and moving freely to various contexts, the film medium appears as an ultimate format of representation.
MK: So what's the film about?
CS: It's set in a post-apocalyptic earth where newborns and adults will rebuild the whole planet by mistake. Each time they fart, they release a sculptural form, carrying the traces of the old world. All sculptures and background elements are a sublimated representation of this extinct world. Elisa and I wrote the script in an impulse to illustrate a physical demonstration of buildings: the narration, the décors, the collaboration frame…
MK: And what would those buildings look like?
CS: First of all I would look for someone to work with. Not necessarily an architect — more a fashion designer, or an artist.
MK: But in a building there are so many rules you have to follow…
CS: But that's just a commodity. You hire a technician or any other person who knows the basics. But for the actual project, for the poetry, which is what I'm interested in, I would look for an artist, not a technician. I would approach this with unconditional romanticism.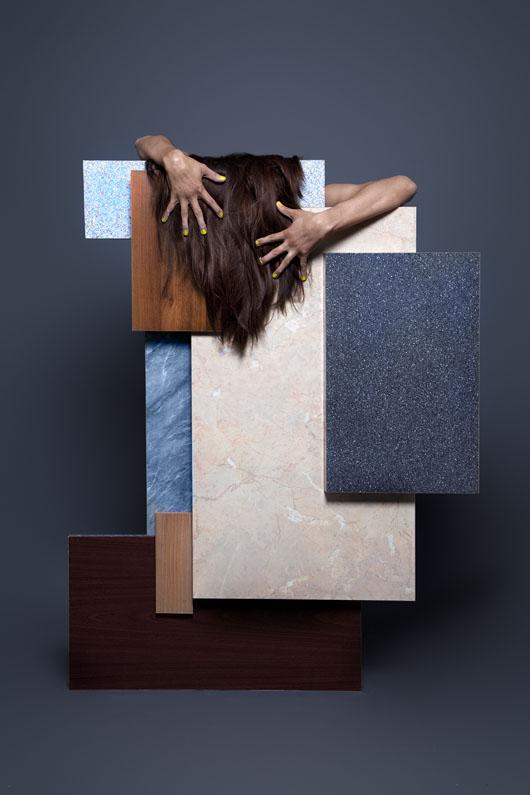 MK: Are you as romantic in your role as a teacher at the Sandberg Institute?
CS: Maybe! [Laughs.] But I go there exclusively for workshops, which are initiated by all of us in the Dirty Art Department [Jerszy Seymour, Stephane Barbier Bouvet, and Catherine Geel]. I set the students up to work together and create a dialogue among their individual projects. That's how I work most efficiently, bringing the students into the action. Sometimes there is a brief, which is an excuse for them to make something — it could be a banquet for 50 people, or a giant sculpture taking over the whole room. So that way the students are being prepared for the workshop, and when it starts I do maximum one day of discussion and then I want them to use what is around them, and they act.
MK: How would you describe your teaching method?
CS: In a sense I help to show them how much their projects are connected to each other. I make them make things without forcing it. I want them to expand their forces. But in the end they do their own thing.
MK: Can you be more specific?
CS: For example, if I have two students that are thinking about two totally different projects, I will sometimes see a potential for them to work together for the benefit of each other's project; I explain to them what kind of link I see in their approach, then a conversation happens that gives value to their own project, and I give them space to deal with that. I just told two students to work together on an installation for the open day. The outcome was very good, it was a step that gave them a different perspective on their own development.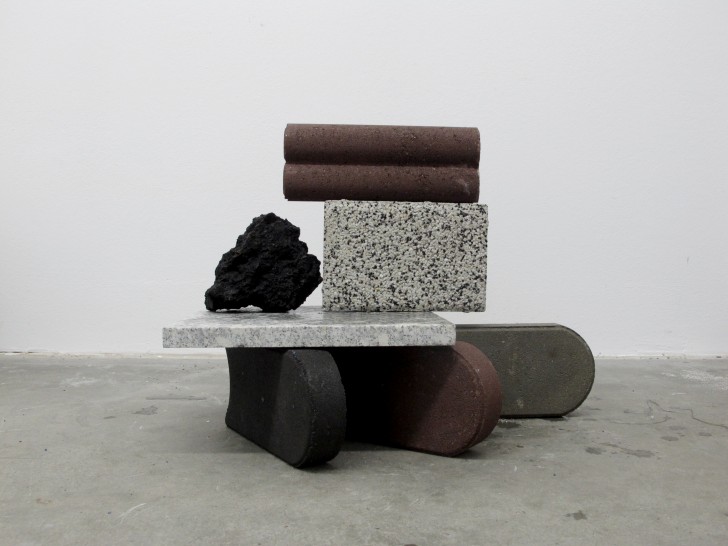 Monumenta (2011) (c) Clemence Seilles
MK: Do you also encourage them to use the same kind of DIY building materials you like to use in your work?
CS: I would say no. It would be absolutely terrible to wish on them what I do! [Laughs.] But of course it happens that I share with them what I know, what I have, where I get it from. I think it's good to give them an insight into your own references and sensibilities.
MK: At the beginning of the year you went on a trip to Russia. Is that what inspired the title of your Datscha sculptures?
CS: They also use that term here in Berlin — Datscha is what they call the little cottages outside of the city where you go on the weekends to work in your garden. They're actually the main source of inspiration for the kind of material I find in building-supply stores. In Germany these stores have a very generous variety of garden gear, paving stones, etc.
MK: What is your strategy for choosing the different materials?
CS: Agglomeration is the key. I collect wood, various metals, minerals, representations of nature, and fake or recomposed fragments of nature developed by the industry for an urban world. Garden tiles are available as a product, but I also use various "poor" building materials that I find on the street, like pieces of asphalt, stucco, or other leftover industry products. Even if these components have exhausted their regular use they still have wonderful expressions by themselves. I copy what I call "recipes from industry." First I start in my workshop to build a laboratory of dust and dirt. Then, for example, I talk to the companies that make roads, building materials, or garden tiles in order to get tips for the best methods. I make my own experiments for space, furniture, or for science-fiction-movie décors.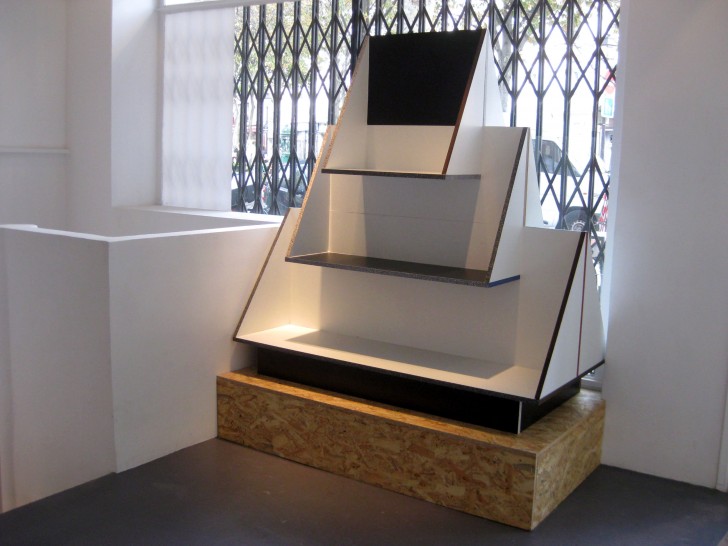 (c) Andrea Crews Gallery
MK: And this idea of agglomeration is inspired by your trips to building-supply stores and to these dachas?
CS: Yes, l love these DIY stores and trips to dachas. It's a bit of a white-trash project!
MK: Pop life, hippie trips, white trash… And the other night you also had a bit of a rock-'n-roll moment when, standing at the window, you yelled "Nazdarovie!", downed a shot, and threw your glass out into the courtyard.
CS: Yes. I call that a "Why not?" moment. It's something very stupid and nothing you think about very much — you don't see the consequences. It can cause some surprising, inspiring situations, but it can also turn out to be quite bad.
MK: And how often does Clémence Seilles have "Why not?" moments?
CS: Not every day, but every other day!