03.19.14
Renate Müller at R & Company
Renate Müller is 68 years old and has been designing children's toys for half a century, some of which she created for her family's toy factory in Sonneberg, Germany, in the '60s and '70s, and the rest of which she still makes by hand in her nearby studio, as part of the personal line she began in 1978. The materials she uses for that line have stayed exactly the same ever since (jute, wood, leather), as has her process and her policy of working alone, save for the occasional hand lent by her daughter. Many of her animal typologies have remained perennial, too. Yet when it came time to create 26 new pieces for her second solo show at New York design gallery R & Company, which opened yesterday, Müller decided to bust out a pretty major — and amusing — twist: Surrealist creatures with two heads, or no heads, that only someone with a very vivid, childlike sense of imagination could possibly dream up.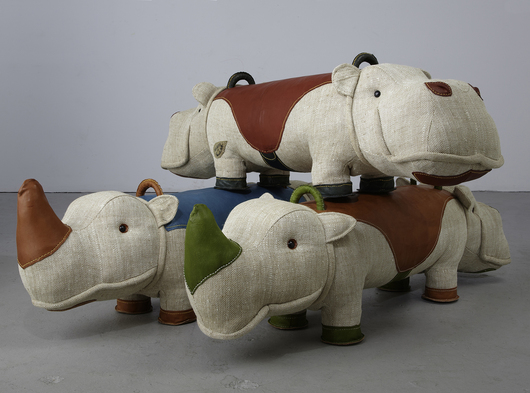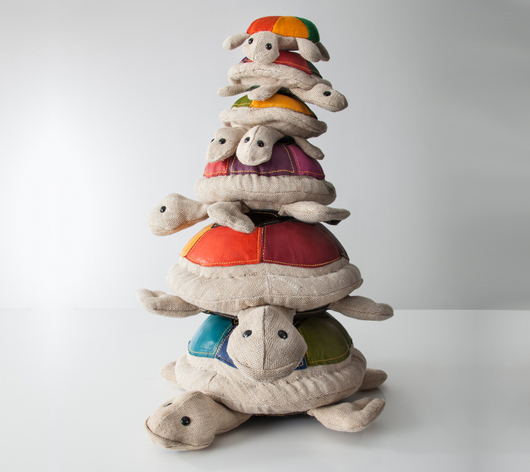 When we spoke with Müller earlier this week about the exhibition, she explained how the idea first hit her out of nowhere while she was gardening at home two years ago. "Suddenly I thought, oh my god, I should make a double face!" she recalls. "Then later I realized that many children like different animals, so if I made the back of the toy bigger to fit more than one child, they could sit together but with one riding a hippo and the other a rhino." As she was already developing these ideas in advance of the show, Müller learned of a serendipitous event that both underscored her creative instinct and inspired her to add in one more two-headed creature, pictured above: "A double-face turtle was born in a Texas zoo last year and became quite famous in Germany," she says. "I found a picture of this turtle on the internet, and said to my husband, now I must make one, too."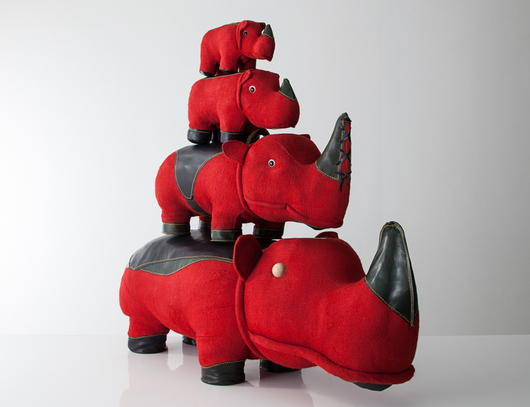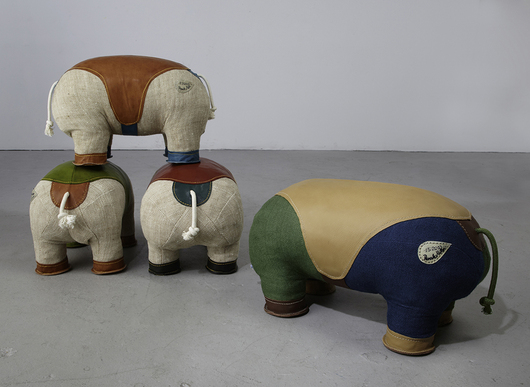 If the thought of giving their child a related piece in the form of two hippo butts might have the potential to freak some parents out, it's not so much an issue at this point — Müller originally developed her toy designs for therapeutic use by disabled children, and still designs with kids in mind, but acknowledges that selling her work in a gallery setting means that many of her clients these days are older (if young at heart). While her animals are constructed to withstand plenty of use — she recently was asked to repair a hippo that had spent 55 years in a children's hospital and lived to tell the tale — it's not every parent that would spend five figures on a mere nursery plaything. Most of the work Müller actually does for children these days is in the form of playgrounds and kindergartens, which she's been designing with her business partner, artist Bernd Ruckert, for 15 years.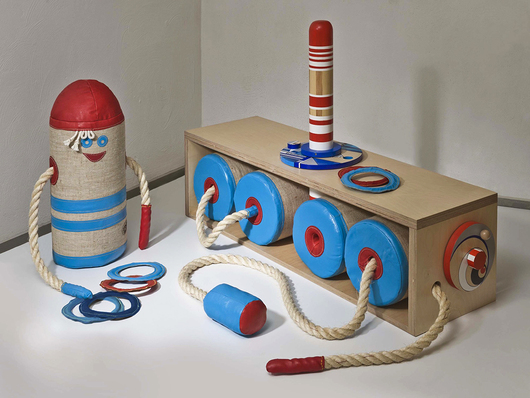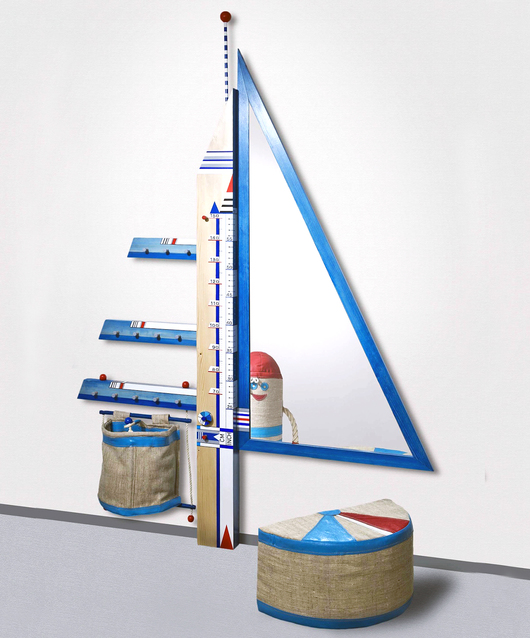 That lesser-known side of her career also peeks out in the show at R & Company, by way of a series of brand new installation pieces Müller has made in collaboration with Ruckert. They mimic some of the same materials and colors as her animals but in novel, nautically inspired forms like a wooden pontoon and an 8-foot-tall boat-shaped coat stand. They may be outfitted with playful details like wheels and bells, plus a hand-painted treasure map by Ruckert, but they all hew to the same principals Müller learned in toy-design school more than 50 years ago: "When I first started, my teacher infused in me the lesson to always use very simple materials, and simple forms, for the best understanding of children." Kids of all ages can appreciate that.