03.18.14
Sam Baron on Fabrica's Extra-Ordinary Gallery Collection
When we found out that Fabrica, the Italian design studio and research center, had just launched its striking new Extra-Ordinary Gallery collection in its online shop earlier this month, the pieces were so intriguing and beautiful that we thought we'd struck editorial gold — turns out we weren't the only ones! The collection has been all over the design blogs in the past two weeks, and deservedly so. Yet we couldn't pass up the chance to share it with our readers anyway, so we got in touch with our old friend Sam Baron, creative director of Fabrica's design department, and asked him for some special insight into the collection, which he curated. The result is a fun little personal diary, featuring five of the line's standouts as they relate to Baron's daily routine.
"When Sight Unseen asked me to pick five favorite items from the recently launched Extra-Ordinary Gallery collection, I wasn't sure how to choose," Baron says. "How hard is it when you've initiated a project with young designers you've invited onto your team out of respect for their abilities to create and surprise? So, after thinking about the original concept of the collection, I decided to analyze my day today and choose the items that were linked to my activities. This collection was meant to be an homage to simple, ordinary objects that turn into something extraordinary because they've been designed and produced with care and passion — and an eye towards making our routine not-a-routine! We wanted people to enjoy simple life moments while using our goods in order to demonstrate that design is not just about style, but also about real functionalities. In fact, one of the lines in our brief read: 'Design something that you would like to be able to afford, to offer, or to receive.' All five of these objects embody those objectives perfectly."
Pictured above: Vanity Affair mirror by Giorgia Zanellato, $142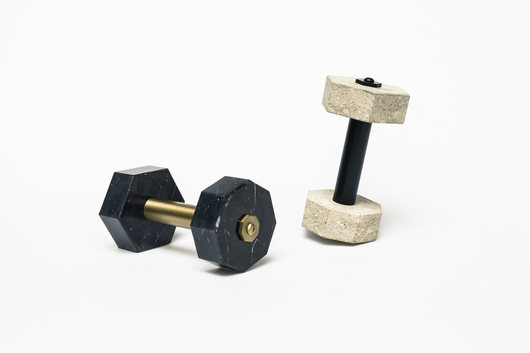 This morning…
"I went to the gym to recover from a crazy week of meetings and reviews of prototypes because the Milan Furniture Fair is getting close! Charlotte Julliard, our French designer, made a stony impact when she presented this idea to me the first time, bringing as references the Greek athletic decors from Athens. As the marble comes from Italy, this humble piece recognizes Fabrica's unique cultural crossover."
Heracles dumbbells by Charlotte Julliard, $92 ea.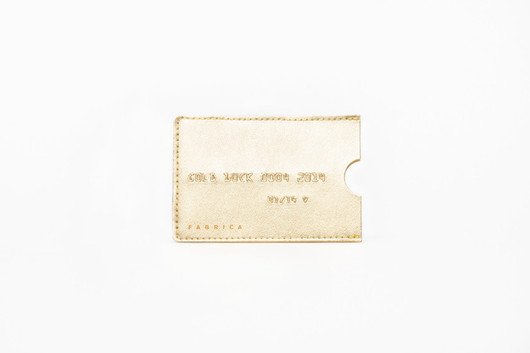 On the way back…
"In order to have an orange juice while eating my 'bollo de arroz' for breakfast, I had to show my credit card — this golden sleeve expresses that sometimes, thanks to a universal plastic-electronic card exchange, we forget the value of money as it was conceived through golden coins."
Bling cardholder by Sam Baron, $11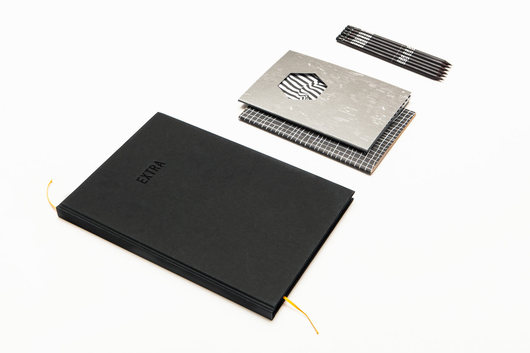 Time to work…
"Let's put ideas on paper, write down important stuff while being on the phone, and also write down our appointments! Paper is a crucial material in my life. Catarina Carreiras and Mariana Fernandes of Studio AH–HA have combined their talents as graphic designer and illustrator to create this family of useful and well-sized sketchbooks that can fit in your bag or stay with elegance on your desk. I particularly enjoy the already-doodled-on first pages, which invite you to end your pencil yourself on the whiteness of the following ones."
Graphite sketchbooks by Catarina Carreiras and Mariana Fernandes, from $17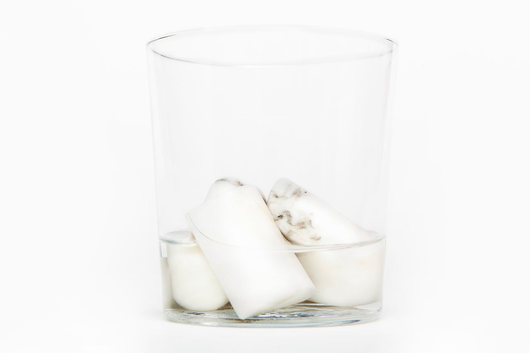 C'est l'apéro!
"With my wife and friends, I like to end the afternoon with a drink on the terrace of a bar in order to share good news, help the one less lucky, or just have silly or deep conversations. The design of On the Rocks comes from the fact that in bygone times, people used cold stones to cool beverages. With his little set, Federico Fioriani proposes a new-old way to appreciate a detail as simple as an ice cube — a little material attention that also permits our drinks to be less watery!"
On the Rocks by Federico Fioriani, $39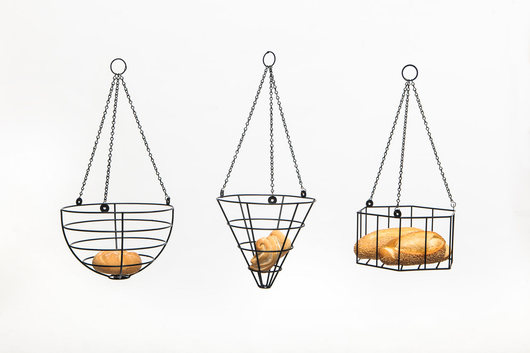 Back home…
"It's dinner time, and I'm the one that's cooking tonight. From vegetables to bread, fruits, or even aromatic plants, Kirsty Minns's baskets create this random hanging sculpture in the kitchen. The display will change depending on what we put inside or also depending on the season and its appropriate hearth fruits! As a coutryside-born guy, they remind me a bit the simple kitchen where onions used to be hung in a bouquet on top of my family's fireplace."
High-Wire baskets by Kirsty Minns, $42 ea.