12.24.13
Studio AH–HA, Graphic Designers
Working as a design journalist confers some pretty amazing benefits — travel to international design fairs, VIP invitations to parties, the occasional holiday gift — but this, right here, is hands down our favorite part of the job: discovering something so new and exciting we get a rush just from being the first to be able to share it with you. We originally met Portuguese graphic designer Catarina Carreiras a few years ago during the Milan Furniture Fair, where she was helping staff the installation of her then-employer, Fabrica, and we've kept in touch with her ever since; in 2011 she joined forces with fellow designer (and OMA alum) Carolina Cantante to start the communication and design agency Studio AH—HA, which now operates out of Sam Baron's office in Lisbon. Carreiras still does work for Sam and Fabrica, but as of this very story, she and Cantante are officially announcing the existence of their burgeoning practice — and its brand new website — to the rest of the world. You'll want to stare at the duo's gorgeous work for ages; seeing as it's the last story we'll be posting until January 2 as we embark our annual holiday hiatus, you'll have plenty of time to do just that. Happy new year, and enjoy!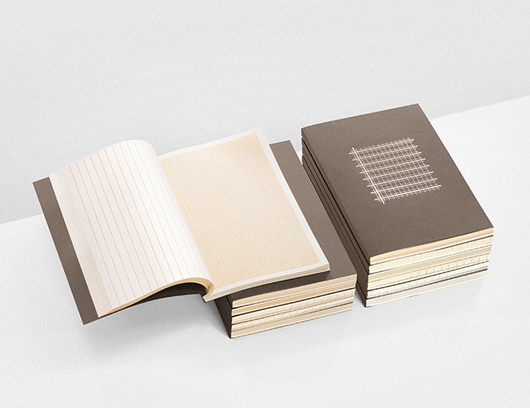 Describe your most recent project and how it was made.
"We have just launched the AVÔ collection. We try to find, at least once a year, some space in our heads to work on a personal project — something that's simple to explain, fairly easy to make, is a good excuse to work with people we admire, and has no clients involved. There are these big vitrines at the lobby of our building (a former shop of Vista Alegre, a historical Portuguese porcelain company) that provide us a great exhibition space.
"AVÔ means grandfather in Portuguese. Catarina's grandfather passed away a year ago, and her grandmother gave her all his amazing and unknown collections of paper: blank notebooks, blank working sheets, blocks of tracing paper, airplane envelopes… He had a big love for books and a library in his basement where he never let anyone in, so it was sort of a magical find. We kept all the paper and promised her grandmother that we would do a project about it. After going back and forth with ideas, we decided to cut all the paper into an A5 format and join different parts of different types of paper together into a new notebook, one that's more contemporary and refined yet pays homage to Catarina's grandfather's love of paper. The notebooks are little time capsules, a reminder of how paper goods used to be made with so much care and beauty."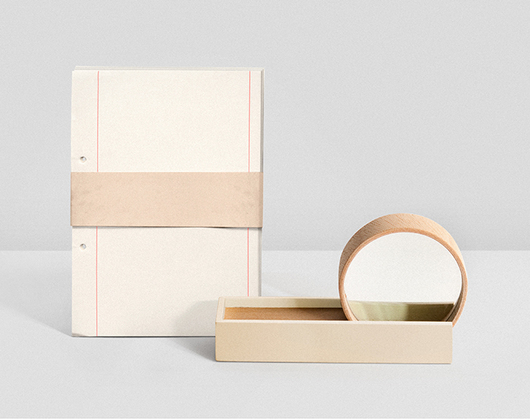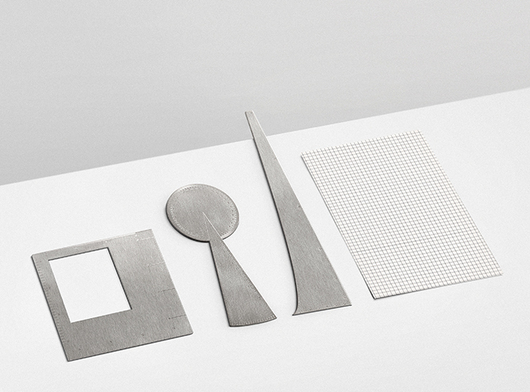 "After making our own object, we thought it would be interesting to invite other friends and designers to do the same sort of exercise. So we made an inventory of all the different types of paper we had and asked each designer to pick one and do an object about it. And voilá, beautiful things started arriving at our studio, different from eachother but unexpectedly really balanced as a collection. We did a one-day event — displaying the piece next to its source of inspiration — where we launched our notebooks as well. Catarina's grandmother was so touched that the whole exhibition was worth it just for the expression on her face."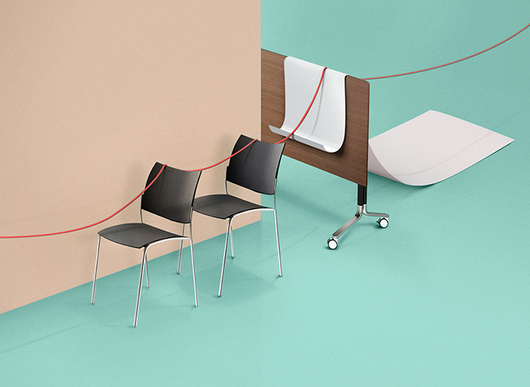 Describe your next project and how you're currently making it.
"We have been working together with Sam Baron on the rebranding of an old Portuguese office furniture company called Fluxograma. They're quite known in Portugal but they were lacking a communication strategy and graphic sensibility. They have a shop in the center of Lisbon that had been somehow forgotten. We started by redesigning the interior of the shop and all its print material. And every three months we do an installation in the main room and windows — we've just finished the first one. We renamed the shop Fluxograma Studio and decided that it's the part of the project where we can get all our creativity out and push the brand's limits, since it's focused on a younger and interested audience. So the graphic guidelines are quite playful, using geometric shapes to define space and taking inspiration from old architectural plans.
"We usually feel quite comfortable working within product and interior design — we've both worked with architecture offices and design brands before (OMA, Experimenta Design, Vitra, Fabrica, Zanotta) — but it's quite challenging to work with a company that has so much history and clients that are used to standard (and sort of boring) offices. There is also the fact that they sell furniture from a whole range of brands, so it was not easy to use each producer's images because they all had different moods."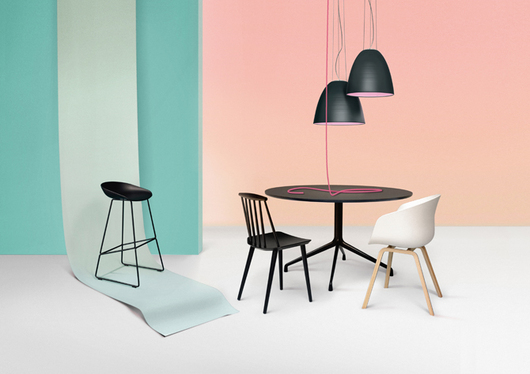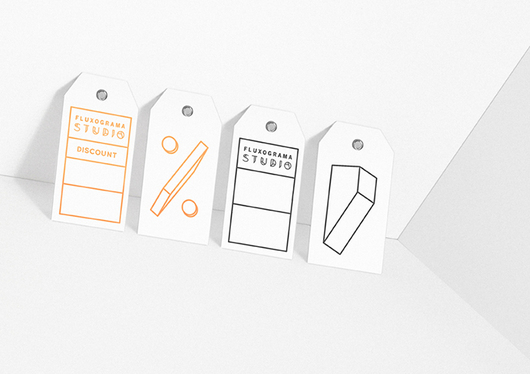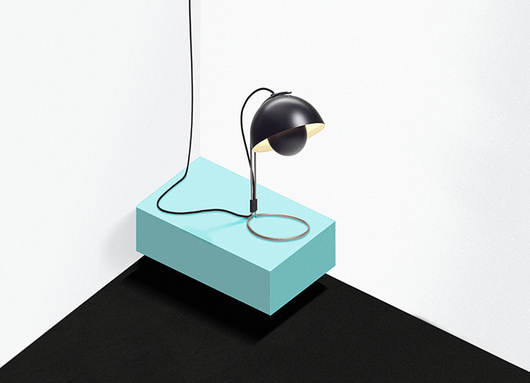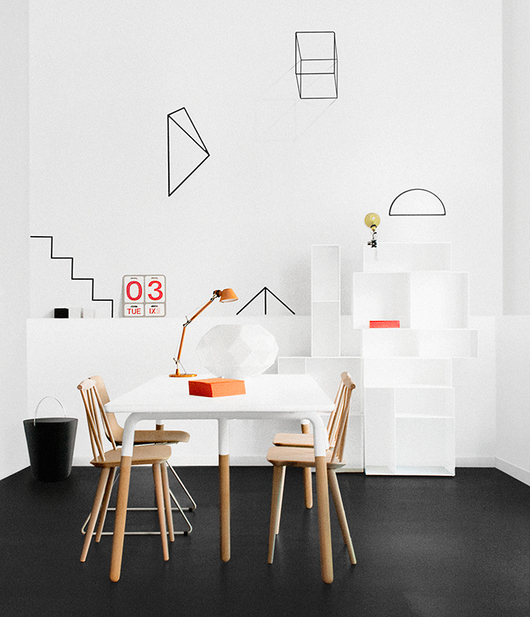 "When we had to think about the next step, the redesign of Fluxograma's website, we started making Photoshop tests, combining all its different furniture on fake sets. The pictures look quite surreal, like a sort of 3-D drawing that looks very real and makes people wonder. (It's a sort of digital styling, ha.) So we focused the website on the plasticity of these pictures and tried to make the navigation and interface as straightforward and light as possible, to meet all types of clients, from middle-aged businessmen to new couples that want to furnish their first house.
"Now we've been designing their catalogue and a quarterly printed newsletter. We decided that the newsletter would also be called Studio and would be designed within the playful graphic lines of the shop, like a small brand inside a mother brand. On the other side, the catalogue is more informative and clean, with a simple layout that gives a wide overview of what the company has to offer. They will both come out at the beginning of next year."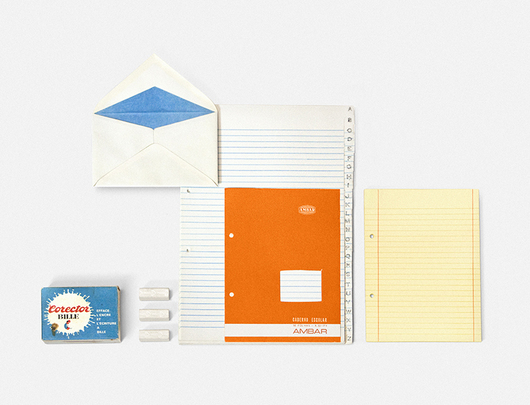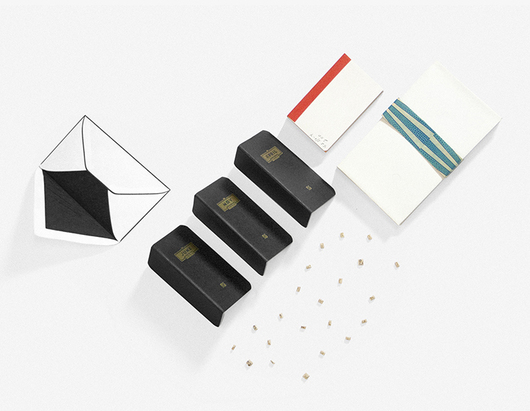 Tell us one thing that's been inspiring you lately and why.
"We try to get away from design references, and we've been getting really inspired by small banal life details, simple pleasures and personal stories. We like to take something common and ordinary and make it special, without adding to much to it — just by twisting it around and show it on a new perspective, an unexpected one. Projects that we can explain to our grandmothers in a sentence and that they understand right away.
"We like the idea of going from 2-D to 3-D, and getting inspired by two-dimensional shapes and objects that everyone is familiar with. We love paper and we've been collecting old stationary (pictured above), visiting the oldest paper shops in Lisbon and Treviso to find samples, and compiling all sorts of images of sketchbooks, envelopes, notebooks, etc. We're thinking about making some objects inspired by old print traditions or typical print objects. Nothing to do with stationary or office supplies, but inspired by them."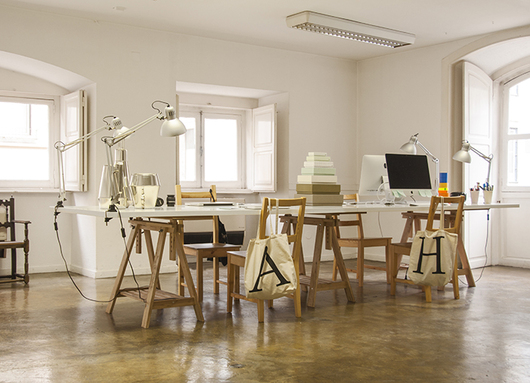 Show us your studio and tell us what you like about it.
"The studio belongs to Sam Baron & Co, so we often share it with different people coming from all sorts of creative areas — depending on the projects he's working on at the moment. We do all the graphic work he needs, and in exchange we get to absorb all the freshness Sam brings every time he's back from one of his trips or projects. We love his vibe and energy, and it definitely makes us more productive because it's very easy to feel lazy in Portugal with all its sunny days.
"The studio space sits right in the center of Lisbon, just next to our former fine arts university and to the Museu da Cidade, the famous Rua Garrett where Fernando Pessoa spent his days, the opera theatre S.Carlos, and all these other ancient traces of past generations. In the north part of the neighborhood there is Bairro Alto and all its hip stores, and the south part, close to the Cais do Sodré Station, used to be this dodgy area but now has been rising with new galleries, restaurants, and bars. So we have everything at the tip of our fingers and great excuses to finish well our working days. It's also close to the train station, which allows us to forget about cars and take beautiful tram, bicycle or train rides in the morning.
"The thing we like the most about it is the light and the amount of space we have. There's this big table just for us, where we can spread out research, make mock-ups or have some extra people working with us. And we love these vitrines where we can make exhibitions or invite friends to show their work — they're a sort of mini gallery space inside the studio. We love the light and warmth of Lisbon, and although we have left to live here and there for the past 5 years, we were always looking forward to having our working base here."