01.18.12
Sam Baron's Personal Collections
As a child growing up in the Jura mountains on a small farm on the border between France and Switzerland, the first thing designer Sam Baron remembers collecting were the stickers you scrape from the skins of fruits, heralding their arrival from someplace exotic — tomatoes from Mexico, say, or bananas from Guadeloupe. "For me, it was like a small souvenir from a trip I had never taken, an invitation to think about someplace else and another way of life," Baron told me from his studio in Lisbon earlier this fall. Of course these days, the designer needn't only imagine what life is like in faraway places: As head of the design department at Fabrica and a designer for outfits like Ligne Roset, Secondome Gallery, and Bosa Ceramics, Baron's work has him constantly jetting from Paris to Milan to Treviso, where Fabrica is based; to Venice, where his glassworks are blown; and back to Lisbon, where he recently opened an office with Fabrica alums Gonçalo Campos and Catarina Carreiras, and where he lives with his wife.
As a designer, Baron has never lost that dreamy quality that defined his childhood, and he still loves the way it's possible to experience a previously unknown locale through its objects and artifacts. And so last winter, when Colors magazine asked him to guest-edit its 20th-anniversary issue, it seemed natural that Baron would choose collecting as the issue's theme, gathering 20 obsessives from around the world whose passions for things like parking meters and used tea bags spin peculiar narratives about the value of objects. "I also liked that the word collector has different meanings: obviously someone who collects but also the magazine itself becomes a collectible," says Baron. (In fact, a stockpile of the Benetton quarterly's complete back catalog is one of the more conventional sets featured in the issue.)
For the subjects in the magazine, who display an uncommon zeal for things like vacuum cleaners and handcuffs, collecting is an obsessive, myopic pursuit. But Baron's attitude towards his own collections — eight of which are featured below — is a bit more dispassionate. What interests Baron about collecting isn't necessarily the object itself but rather the act, and how a certain value becomes ascribed to something once it's been pursued and hoarded. It's an attitude he brings towards his own process; design, he says, is more about transforming than inventing, and both his own pieces and his work with Fabrica often play with old typologies, evaluating the forms of the past in order to delicately subvert them. (When we spoke, for example, Baron had recently completed a porcelain collection for the Portuguese ceramics producer Vista Alegre that transformed the company's ornamental ceiling medallions into a functioning table service.) Says Baron: "Those objects that you turn into something new, it's a way to show that you understand where you come from and where you want to go." Here, Baron shares eight of the collections currently populating his Lisbon home and studio.
PHOTOS BY CARINE DAMON
1. FLATWARE (top). Growing up, Baron was no stranger to the kitchen: His father was a farmer and his mother ran a small restaurant on their plot. Flatware — and spoons in particular — always captured his interest in the way that such a simple object could represent such a vast diversity of habits in cultures across the world. "It's such a normal, everyday object, but there's a real richness in terms of design and the value that each one has," says Baron, whose collection above includes everything from airline spoons to camping utensils to chopsticks.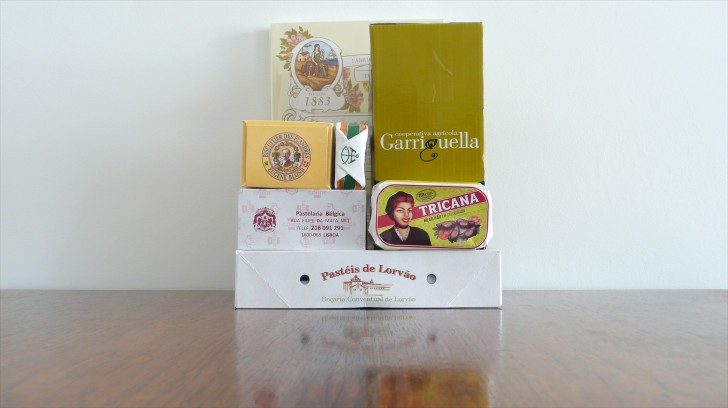 2. FOOD PACKAGING. Baron's favorite collection in the Colors compendium was a Belgian artist's stash of 500 plastic bags. "I liked the idea that something you once trashed could become something that you collect, that something no one was looking at could become almost a museum piece." A similar notion moves him to collect packaging items like biscuit boxes and sardine tins. Though many of the boxes in his collection admittedly bear the stamp of a graphic designer, Baron is sensitive to the beauty of the more anonymous designs and to the strange ways different countries are obliged to tag their food. "Some countries are super rule oriented and you need to write out everything; some countries are a bit more free and you can just write the name of the product on the box. For a designer, things like that — ideas about consuming and merchandising — are interesting to notice."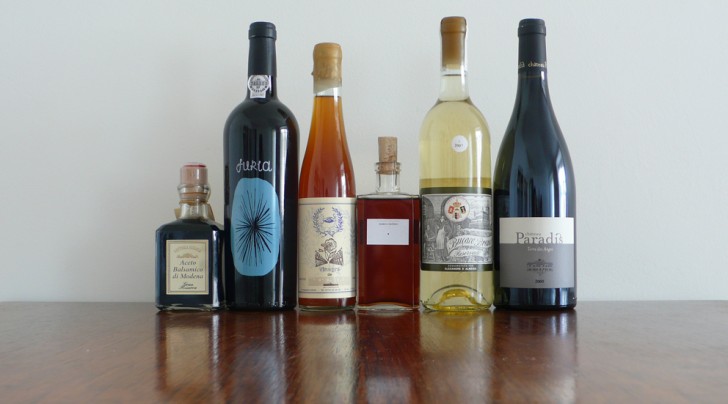 3. BOTTLES. If Baron is attracted to food packaging for its ephemeral qualities, he's drawn to these bottles — an Italian balsamic vinegar, an artist-designed Portuguese wine bottle, a honey vinegar he picked up in Spain — for exactly the opposite reason. "Packaging is cardboard; you eat what's inside and you throw it away. A bottle has much more presence as an object," he says. It's also a materials thing: Baron has long been intrigued by the properties of glass, perhaps in part because of Fabrica's proximity to the glass-obsessed culture of Venice. (Though the glass Baron uses in his projects — including the glass sausages the designer displayed at our Noho Design District two years ago — is a sturdier mouthblown borosilicate.)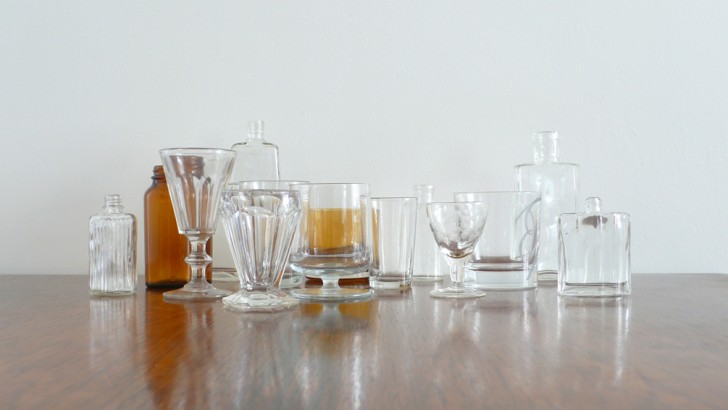 4. GLASS. Baron picks up bottles and foodstuffs and the like willy-nilly on his travels, but his glassware collection is the only one that was all assembled from the same source: "In front of our house, in the city center of Lisbon, there's an old glass factory that has been closed for more than 50 years," says Baron. "Last summer, they were finally beginning to dismantle it. One morning outside the factory I found a big box with different kinds of bottles, so I began to go every morning to pick them and built this small collection from the factory's archive." Baron knows the factory once made glassware for chemicals, drinks, and "small spray bottles for cologne, these kind of grandma fragrance–type bottles," but no one knows exactly what else; even the old people in the street can hardly remember when the factory was functioning.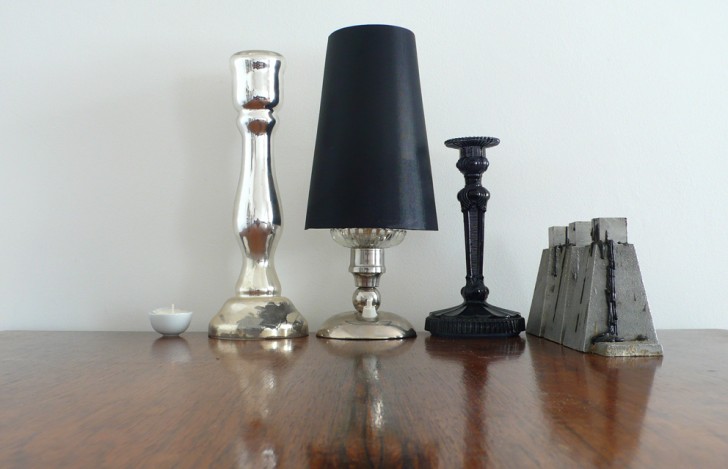 5. LIGHTING. Baron's collection of lights is bit of a hodgepodge, everything from an Ikea tealight to the trapezoidal candlestick at right, which was made from reclaimed aluminum by an old schoolmate of Baron's. The black candlestick is also a Vista Alegre design. "A few years ago they went into the archive and began reusing some of the old molds," says Baron. "Aesthetically they're really baroque, but because the molds are so old, they're imperfect, which imparts a bit of newness to them."
6. SKETCHBOOKS. "I always start with drawing," Baron says. "It's quite important for me, the sketching moment — to be by myself and thinking about ideas and making my own little world. Sometimes I use the small black ones, sometimes I use a nice A5; I change the format so as not to get bored. But they're also my memories, full of traveling souvenirs — museum tickets I glued inside or strange labels from Polish beer. It's a way to remember where and when I was, and a nice way to put information together."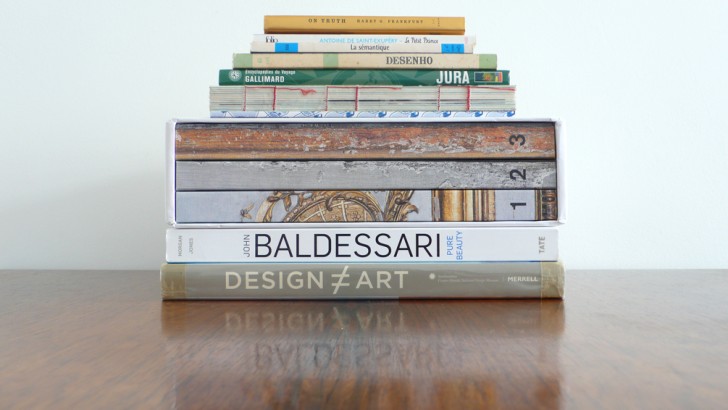 7. BOOKS. Some of Baron's books are about travel and places — note the slim, green spine of a volume dedicated to Baron's hometown — but most are related to art or exhibitions, "where most of my inspiration comes from," Baron says. "Designers always have to be concerned with functionality and price, but artists don't have a brief. It's such a privilege that they can come up with an idea and it becomes their work; they get to reinvent themselves every time."
8. ART  A mix of Baron's own art pieces including an illustration on wood from Julio Dolbeth, a limited-edition postcard from Germany, a diapositive slide found in a classroom, and a black and white photo/drawing from Julien Maire's performance in the Transmedialefestival.