12.23.13
Come All Ye Faithful, Curated by Carson Chan
In last week's Saturday Selects post, we pointed out a recent mini-trend of design exhibitions being staged in residential contexts, including the subject of this post: Come, All Ye Faithful, a show in which Berlin-based writer and curator Carson Chan has replaced all of the objects in Zürich gallerist Florian Christopher Seedorf's home with works by his favorite European artists and designers. Opening last month and running through January 12, the exhibition was timed to coincide with the holiday shopping season, when consumerism runs rampant and people are in a state of frenzied acquisition. With Come, All Ye Faithful — which also functioned as a kind of tongue-in-cheek holiday pop-up shop, since everything in it is for sale — Chan wanted to examine the consequences of all that acquiring. "When purchased objects enter the home, they assume new roles, entangling themselves with the lives and emotions of their new owners," he explains in his curators' statement. "Come, All Ye Faithful is an exhibition that observes our relationship with the objects we live with." Chan took time out of his busy holiday schedule to answer a few questions about the project for Sight Unseen.
Designers with work featured in the photo at top: Awst & Walther, Sol Calero, Hadley + Maxwell, Jan Kiefer, Rodney LaTourelle and Louise Witthöft, Lindsay Lawson, Zoë Claire Miller, Niko Princen, Jerszy Seymour, Rein Vollenga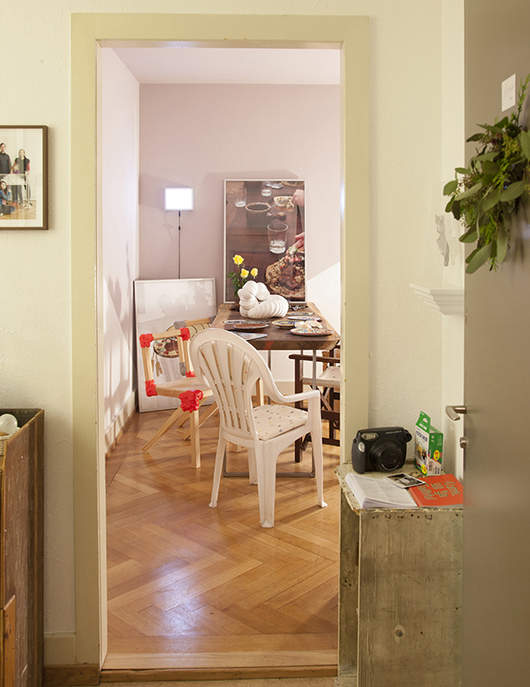 Awst & Walther, Sol Calero, Ethan Hayes-Chute, Jan Kiefer, Martin Kohout, Rodney LaTourelle and Louise Witthöft, Lindsay Lawson, Zoë Claire Miller, Katja Novitskova, Niko Princen, Jerszy Seymour, Rein Vollenga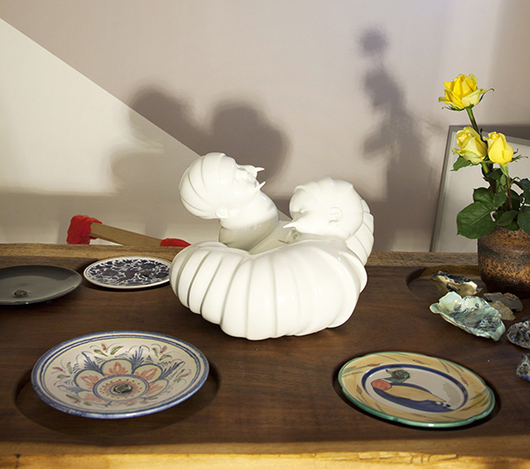 Jan Kiefer, Zoë Claire Miller, Rodney LaTourelle and Louise Witthöft, Jerszy Seymour, Rein Vollenga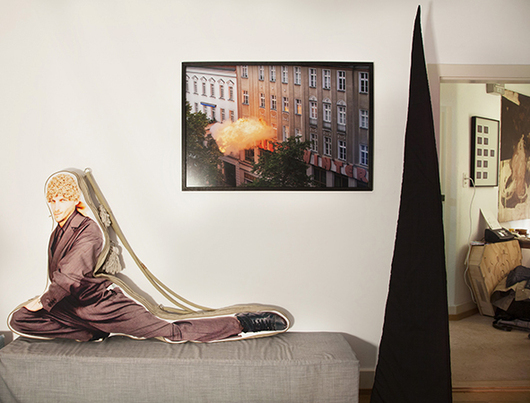 Bless, Devon Dikeou, Andreas Greiner and Fabian Knecht, Charlie Koolhaas, Nathan Peter, Jeremy Shaw, Tobias Spichtig

There have been a few curators in New York who started their careers running galleries out of their own homes. In New York it's more of a financial/space issue though — do you know why Florian decided to start doing it?
"Florian has been working in rather established commercial galleries for the past decade or so, first in Berlin and now in Zürich. About a year ago, he wanted to make exhibitions with more emerging artists. Zürich is an expensive city, like New York, and the easiest way for him to start making shows was to simply do it in his living room. The works in his exhibitions are for sale. The idea is not to make it a project space. Having the works at home gives him a sense of what it's like to live with the work — something that's interesting to some collectors."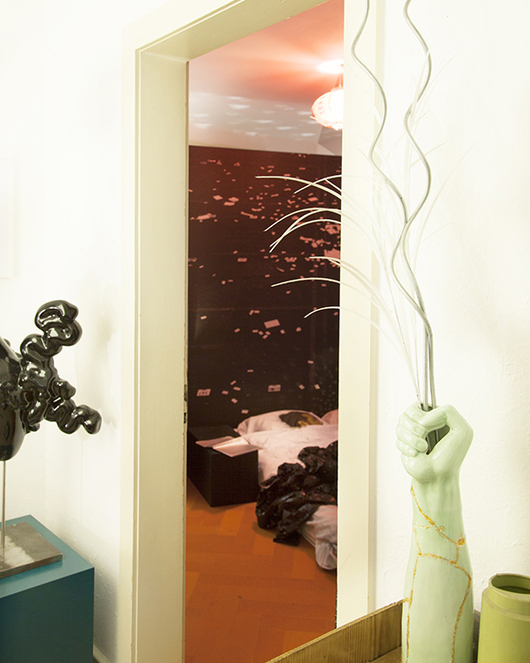 Bless, Andreas Golinski, Ethan Hayes-Chute, Antonia Hirsch, Elisa Strozyk, Amalia Ulman, Rein Vollenga, Beny Wagner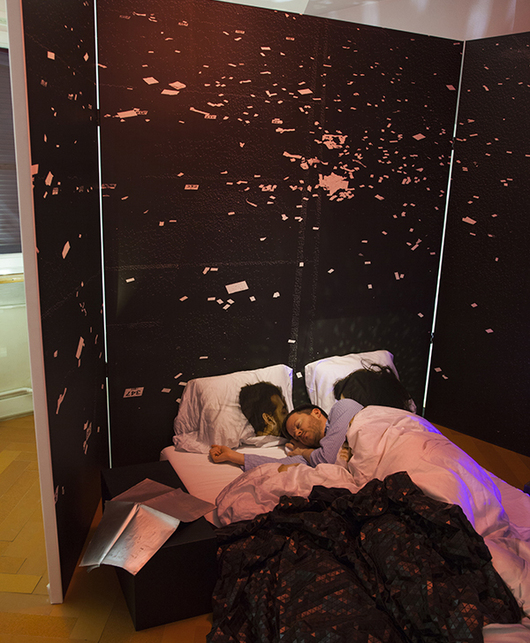 Bless, Andreas Golinski, Antonia Hirsch, Elisa Strozyk, Beny Wagner
As a curator yourself, how do you feel the presentation of design changes when its exhibited in the context of a home? I mean I know this is a special show where the space is part of the driving idea, but I'm still curious to hear your thoughts. Personally I think people get more excited seeing design shows exhibited in residential spaces — there's some kind of magic or unexpected twist, no?
"Definitely! Living with art, or seeing fine art in the domestic space, is actually the how most artwork was experienced before the public salons of Paris in the mid-18th century. 'At Home With Art,' a project launched by the Arts Council of England in 1999 that sought to make homes a legitimate space for contemporary art, was an instructive precedence for this exhibition. Artists including Angela Bulloch, Tony Cragg, Anish Kapoor, and Antony Gormley were commissioned to make works that could be mass-produced and easily enter the average home so that museums and elite galleries would not be the only venues to engage with contemporary art.
"At Florian's apartment, I was interested in how artworks shift status as they enter a collector's home. I was at another collector's home not long ago where an Olafur Eliasson light sculpture was installed in the cloakroom of the apartment and essentially used as a lamp. It was amazing there, and it made so much sense. When an artist makes an artwork, the materials used gain artistic value; when the work is sold, it gains commercial value; and when it enters a collector's home, it gains personal value.
"Some of the artists in Come, All Ye Faithful that were at the opening were a little shocked to see what their works looked like displayed within a domestic setting — next to a bed, in a kitchen, in the bathroom, installed amongst non-art objects. Many artists today, even those who have been working professionally for many years and have dedicated collectors, only imagine their works displayed in white-cube style exhibition spaces. Rarely do they imagine works specifically for the home. In my exhibition, Martin Kohout's Skin Smooth (2012), a UV-print on transparent plastic that's been exhibited in galleries hung like a shower curtain, is actually exhibited in the bathroom as a shower curtain."

Humberto Díaz, Devon Dikeou, Ethan Hayes-Chute, Lindsay Lawson, Nathan Peter Jeremy Shaw, Something Fantastic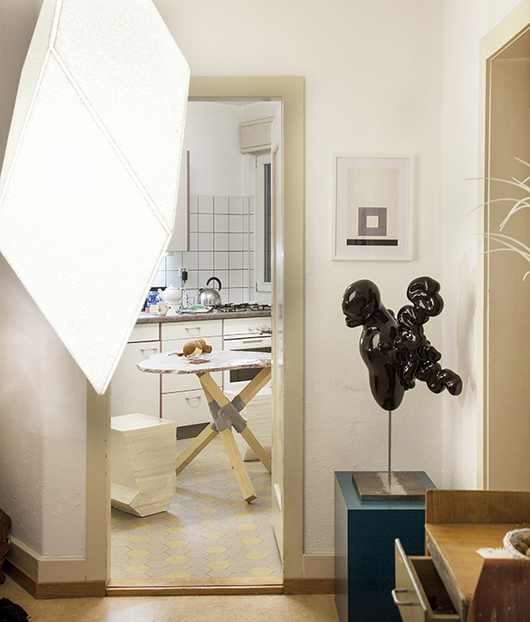 Jón Þór Birgisson, Constant Dullaart, Nuri Koerfer, Przemek Pyszczek, Ana Roldan, Jerszy Seymour, Something Fantastic, Rein Vollenga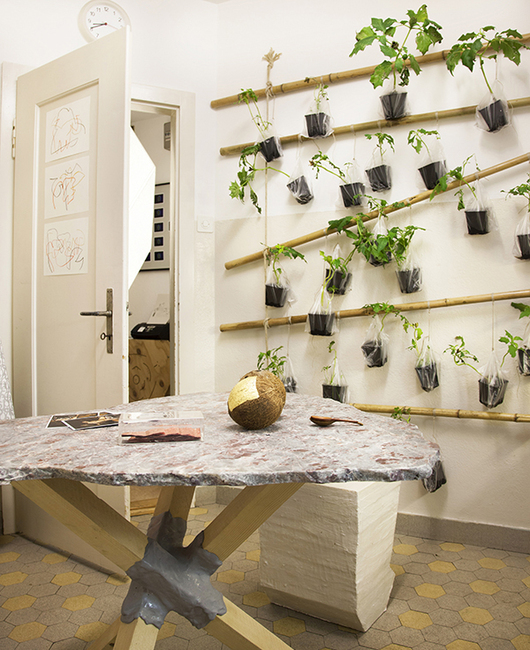 Shane Anderson, Jón Þór Birgisson, Devon Dikeou, Marianne Eigenheer, Nuri Koerfer, Anca Muntenau Rimnic, Antoine Renard, Ana Roldan, Jerszy Seymour, Something Fantastic, Pedro Wirz
What was your impetus for selecting these objects for the show? I'm sure you were trying to create some kind of atmosphere in the house or some kind of experience for visitors — I'm curious to hear what it was. The release almost made me think you'd want the house to look bad, as a comment on the negative effects of overconsumption, hoarding, and the IKEA lifestyle.
"One of the driving ideas in selecting the works was to find objects that could subvert assumptions about their value. A unique rug by Luis Berrios-Negron and Paul Ryan, which was exhibited dOCUMENTA last year as a hung tapestry, is exhibited here as a living room rug; Julian Charrière's Panorama 52° 29' 55.98'' N 13o 22' 18.88'' E  appears to be a photograph of the Alps, but in fact is a photo of powdered white chalk strewn onto mounds of dirt he found at construction sites in Berlin. Hadley+Maxwell's chair sculpture is shown next to Jan Kiefer's Eco Table (2013), upon which Zoë Claire Miller's ceramics are displayed, suggesting usage for all these objects that none of their makers have intended. Generally speaking, artists cannot control how their works are displayed after they are sold. Similarly, the way the work is read and understood is most definitely changed when it enters a domestic environment. Charlie Koolhaas's photographs and Niko Princen's photo collections are strewn about like family photos, while Timur Si-Qin's 3-D printed teeth were shown in the bathroom medicine cabinet, as if they were the inhabitant's dentures.
"This exhibition actually has more participants than the biennial exhibitions I have been involved with in Marrakech and Denver, and I was curious to see how people from various fields could be exhibited in unexpected ways. Architect Juergen Mayer contributed dish towels, artist Nik Kosmas developed energy drink powders for the pantry, Sigur Rós singer Jón Þór Birgisson made spoons, poet Shane Andersen sent poems on postcards, and novelist Brittani Sonnenberg sent prose in the mail. The intent was not to make the apartment look bad per se, but definitely cluttered — as if inhabited by an inveterate consumer. Like Sir John Soane's house, maniacal clutter brings a dense beauty all its own."
If we're going to be celebrating crass holiday consumerism and hoarding here, how about telling us the top five things you wish you were getting for Christmas?
"Cash, cash, cash, cash, and cash, of course!"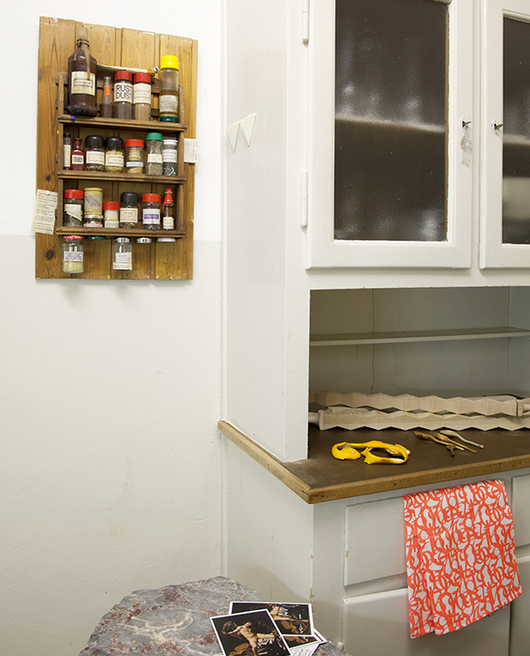 Shane Anderson, Jón Þór Birgisson, Federico Del Vecchio, Ethan Hayes-Chute, Juergen Mayer H, Jason Metcalf, Jerszy Seymour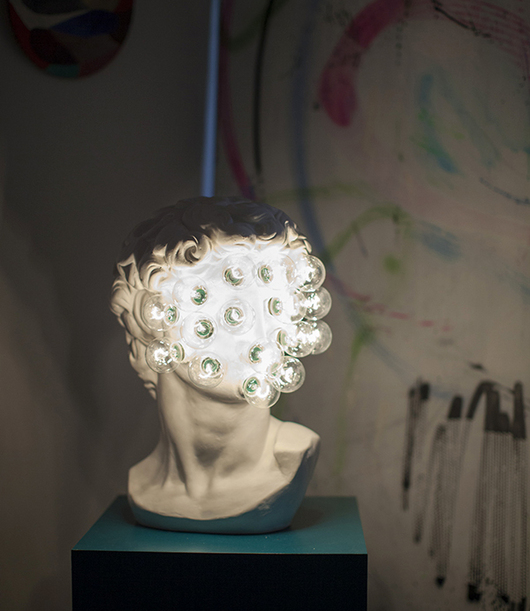 Sol Calero, Lindsay Lawson, Henning Strassburger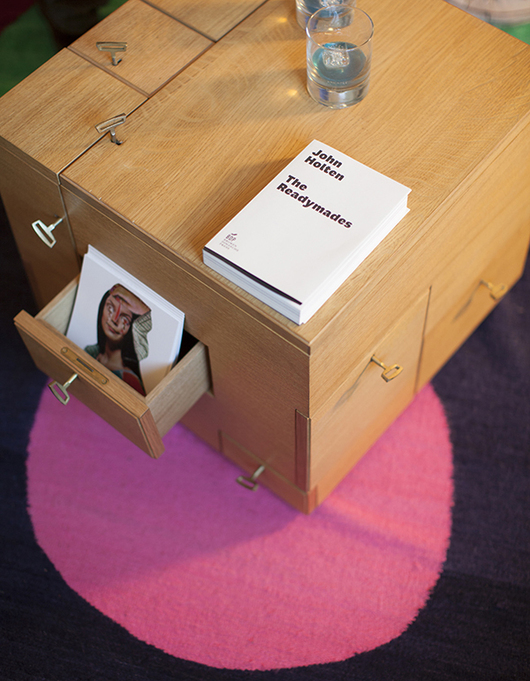 Calla Henkel and Max Pitegoff, Luis Berriós-Negrón and Paul Ryan, Broken Dimanche Press, Sigurd Larsen, Mario Zoots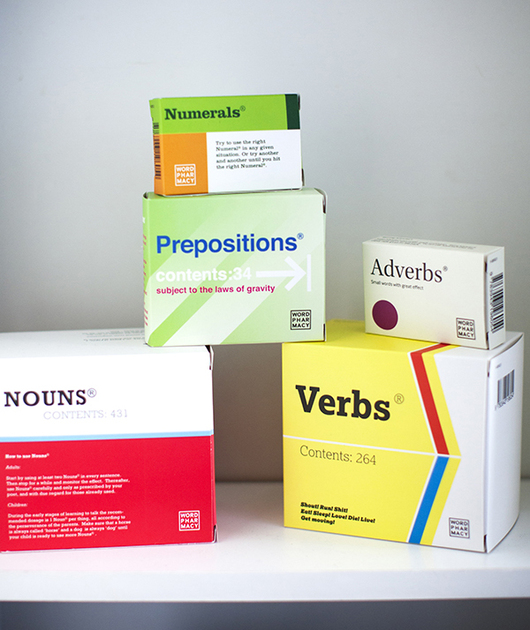 Broken Dimanche Press