04.09.14
Oeuffice's Milanes Collection, from PIN-UP No. 16
Now that Seattle Week on Sight Unseen is over, we're turning our attention to another northwestern capital — Milan, Italy, home of the Salone del Mobile, where Jill and I are on serious scouting duty this week. Before we begin posting our annual eyewitness dispatches from the fair, though, we wanted to start our coverage with a small paean to our temporary digs: an article I contributed to the forthcoming Milan-themed spring/summer issue of PIN–UP magazine, which features the work of one of our favorite local design firms (Oeuffice) photographed inside the foundation of one of our favorite local architects (Piero Portoluppi). Check out the excerpt below to learn more about Oeuffice's Milanes collection of tabletop items and the impetus behind these gorgeous images, plus how you can snag the PIN–UP No. 16 when it goes on sale next month.
PHOTOS BY DELFINO SISTO LEGNANI
To appreciate the beauty of Milan, it helps to have an eye for detail. "Milan is quite a discreet, hermetic city, in terms of architecture," says Quebec-born Nicolas Bellavance-Lecompte, who has lived in Italy's second-biggest metropolis since 2007, and who co-founded the design firm Oeuffice there with Jakub Zak in 2011. "Yet when you pay closer attention, you discover things like intricate gates, refined railings, or even an elegantly shaped storm drain." Oeuffice decided to pay homage to these moments of subtle architectural pulchritude by devising a series of table centerpieces that reinterpret Milan's urban motifs at a domestic scale. The resulting Milanes collection comprises three different models in brass, black marble, and oxidized steel: a crisscrossing candelabra resembling the city's ornamental entrance gates, an open vase based on its twisted balustrades, and a serving piece reminiscent of its security grilles.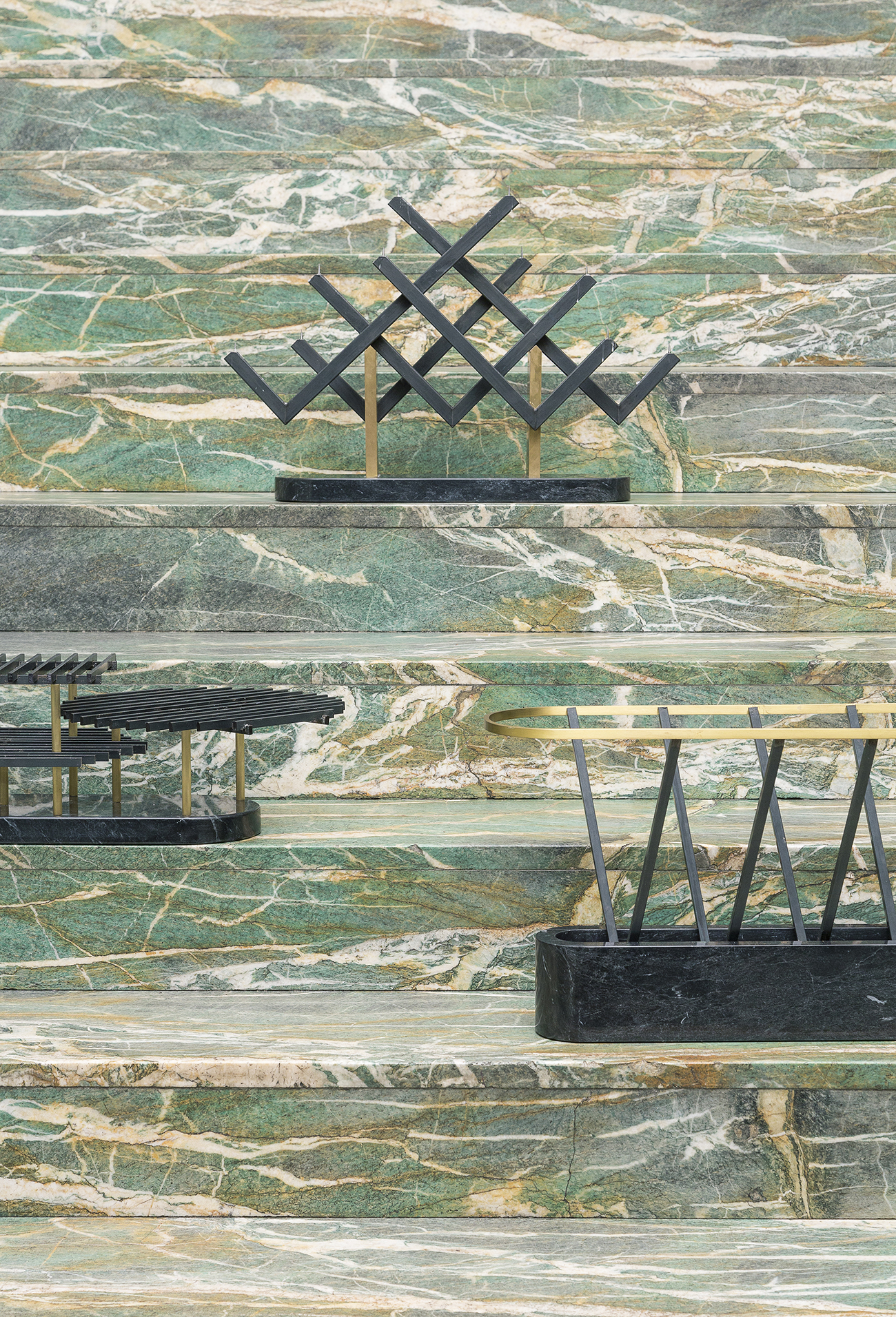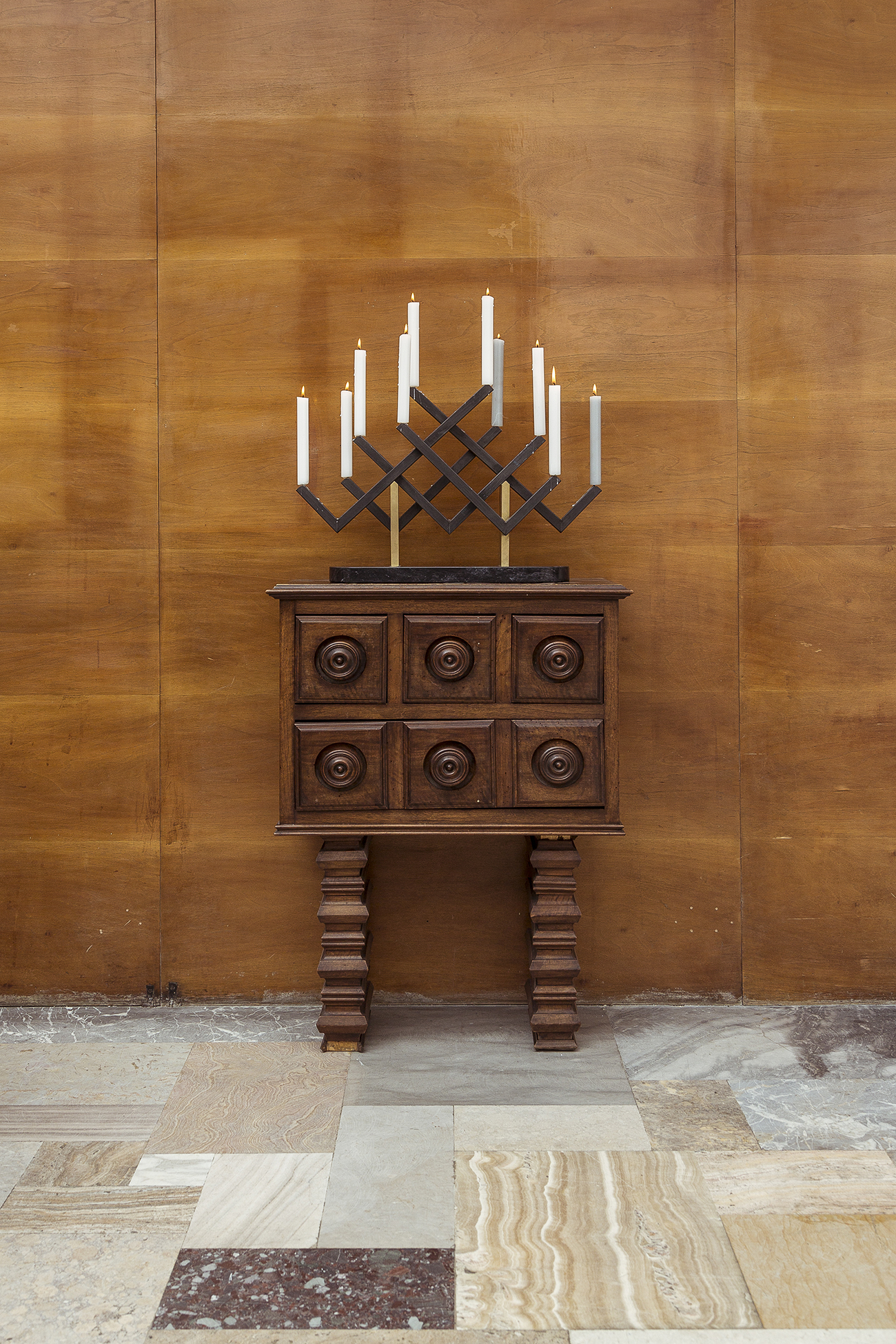 Many of the designs the two designers admired during their field research were by the architect Piero Portaluppi (1888–1967), who also built one of Milan's most famous domestic landmarks, the Villa Necchi Campiglio. "Portaluppi is one of our greatest inspirations," says Bellavance-Lecompte, and so it was only fitting to photograph the Milanes pieces in the late architect's eponymous foundation, for which he designed everything from the furniture down to the multicolor patchwork marble floors. "Portaluppi had an obsession with details," says Bellavance-Lecompte. "There is a small niche in one of the walls in his office. It's about twelve feet up in the air, so nobody can even see it, but it's meticulously executed." A perfect architectural image for Milan's haughty sense of stealth luxury.
Excerpted with permission from the forthcoming PIN—UP No. 16, which includes an 80-page MILANO SPECIALE and hits newsstands in the US May 1st, 2014. Click here to become a subscriber.