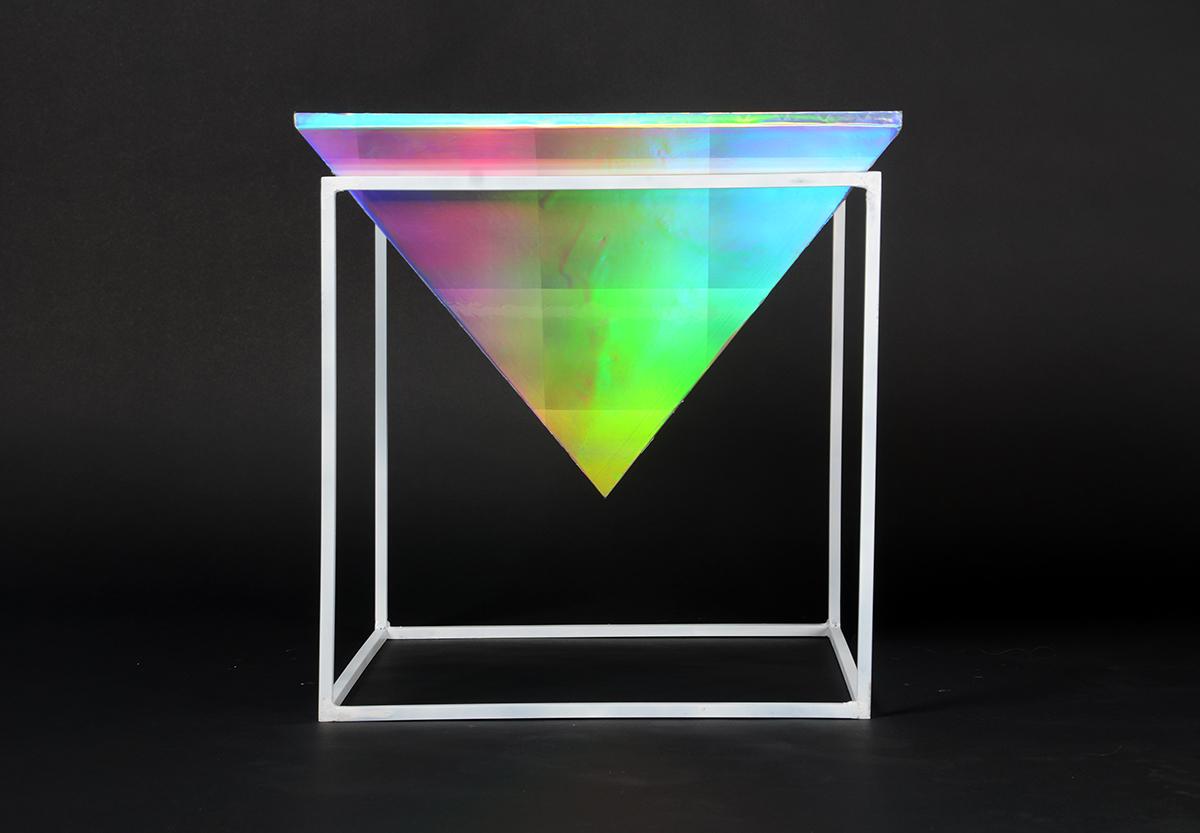 A weekly Saturday recap to share with you our favorite links, discoveries, exhibitions, and more from the past seven days. This week: A table inspired by nailpolish that defies gravity (above), an ode to an architect whose homes are a cross between Star Wars sets and desert caves, furniture with abstract exoskeletons, and more.
Discoveries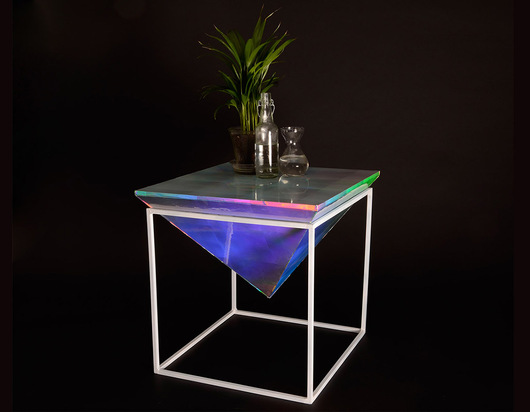 We were flipping idly through the grad projects from Stockholm design school Beckmans when we spotted this futuristic table made from metal and iridescent plastic film by Elina Johansson and Isa Andersson, who were equally inspired by an attempt to create a piece of furniture with a sense of weightlessness and by a trip to a Swedish festival, where they spotted someone wearing holographic nailpolish.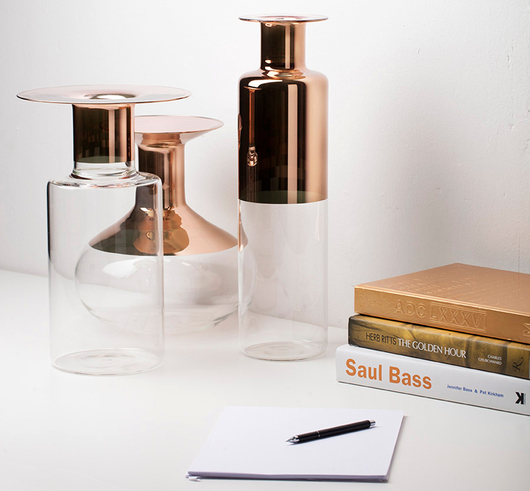 Italian designer Giorgio Bonaguro named this series of borosilicate-glass vases Tapio after one of the designers that influenced them: Tapio Wirkkala, who was one of many Scandinavian designers who collaborated with Italian glassblowing factories in the '50s and '60s, a process that Bonaguro researched for this project.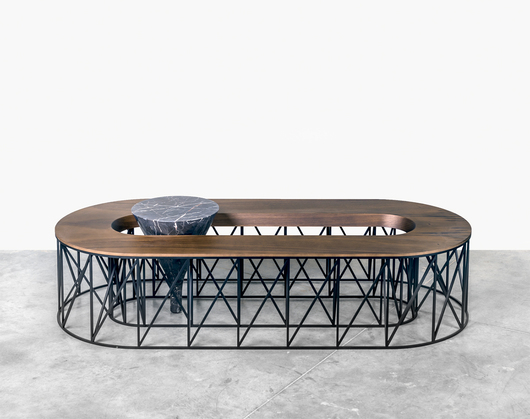 Launched in Paris this week with Galerie Gosserez, the Exo collection by French designer Grégoire de Lafforest — a suite of furniture with abstract exoskeletons — includes the table above, plus an armoire, lamp, and dining table. See the whole series here.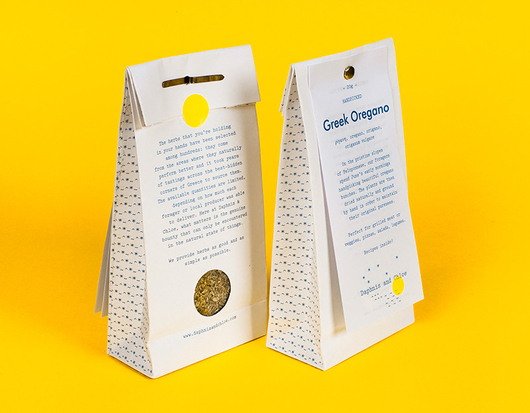 We first learned about the Greek herb purveyor Daphnis and Chloe, run by Evangelia Koutsovoulou, when we were introduced to her in Milan by the Apartamento guys. Koutsovoulou's intent was to source top-shelf indigenous herbs, seal them in beautifully designed packages, and ship them to foodies around the world; this week, she finally launched the brand's online shop, where specimens like this bag of Greek oregano can be had for under $10 (plus shipping).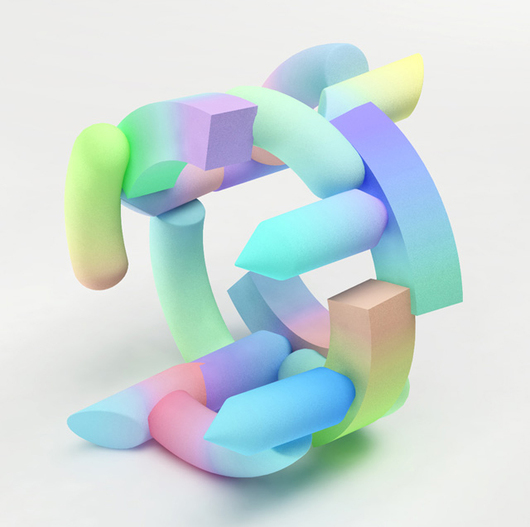 Maiko Gubler's Gradient Bangle renderings have been a major fixture on the tumblr / Pinterest scene for awhile now, but they're not just digital artifacts — Gubler has made them into actual 3-D printed bracelets in the past and, this week, launched a series of (very) limited edition archival pigment prints in Handjob Gallery's webshop.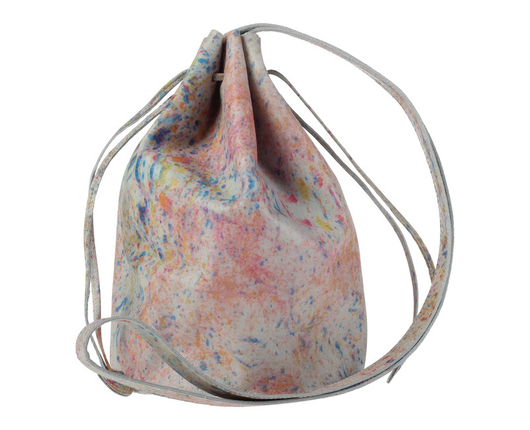 Shabd and Baggu have teamed up before, on a line of tie-dyed canvas backpacks, but we daresay we like their latest collab even better: four styles of splatterpainted and color-washed leather bucket bags that are currently selling for $200 each on Fab.com.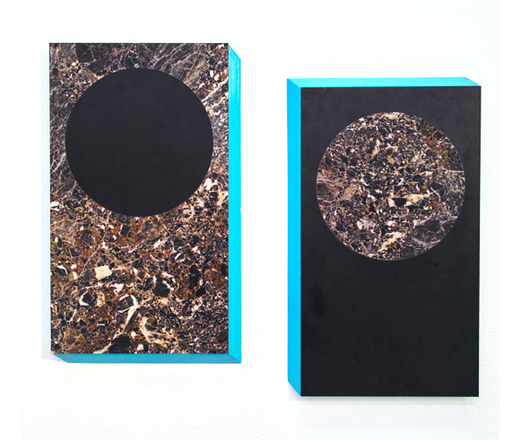 Taiwanese designer Jojo Chuang, who recently graduated from Cranbrook's masters program, reached out this week to show us his portfolio, and it contains some interesting projects that fall somewhere between graphic and furniture design, his two specialties. Check it out here, including the Idea of a Plane series pictured above.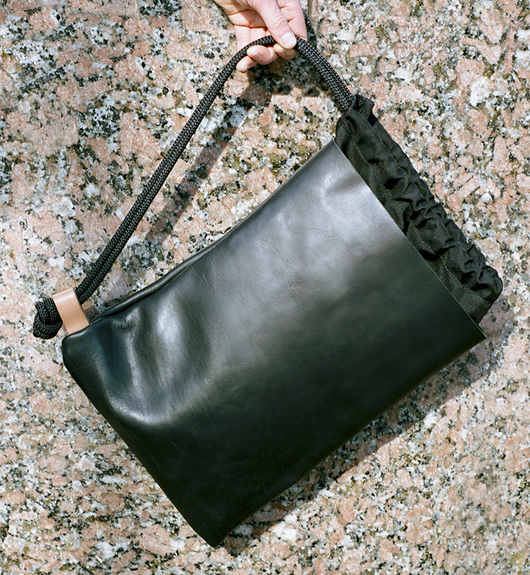 An equally covetable leather bag that debuted this week is the unisex Dossier Sac by Canadian design newcomers Knauf & Brown, made from Horween leather with a climbing-rope drawstring strap. We saw the boys carrying them during Sight Unseen OFFSITE, where they debuted their new furniture collection, but never thought to ask who made it — visit their online shop to purchase one, or just see more of the lovely lookbook photos shot by Jennilee Marigomen.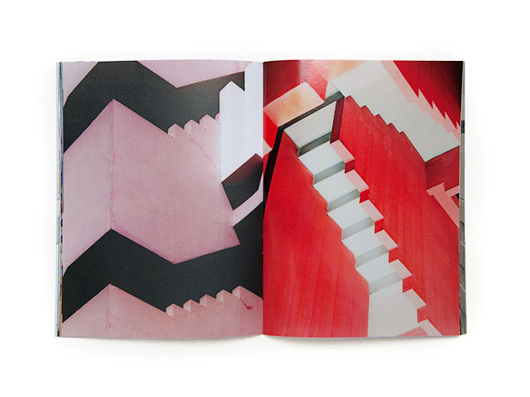 The 36th edition of one of our favorite magazines, Berlin's mono.kultur — which publishes a single long-form interview in each issue — is focused on the Spanish architect Ricardo Bofill, whom it explains is "notorious since the 1970s for his vast city-like housing estates that look like surreal experiments in crossbreeding desert caves with Star Wars." We can't wait to get our hands on it — pick one up for yourself in the magazine's online shop!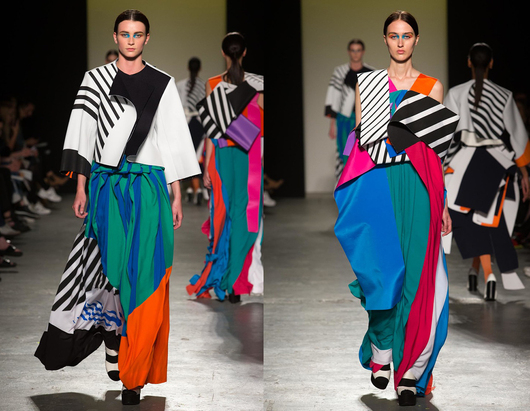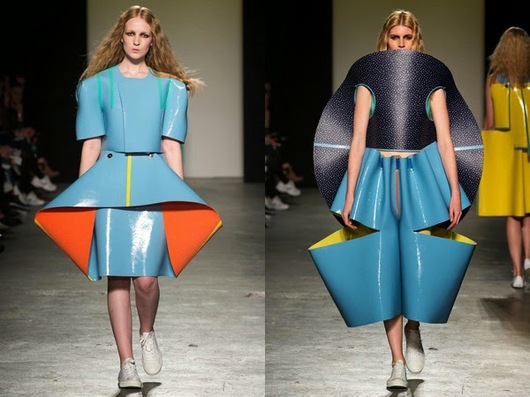 Dezeen this week introduced us to the Memphis-inspired thesis project by University of Westminster fashion student Valeska Jasso Collado (bottom), whose exaggerated structures are crafted from metal, foam, and latex. But when we followed the link back to Westminster's site, we found something we like even more: the graphic, layered, Punky Brewster-esque collection of Rora Chow (top), whose garments contrast structured shapes with gorgeously billowy ones.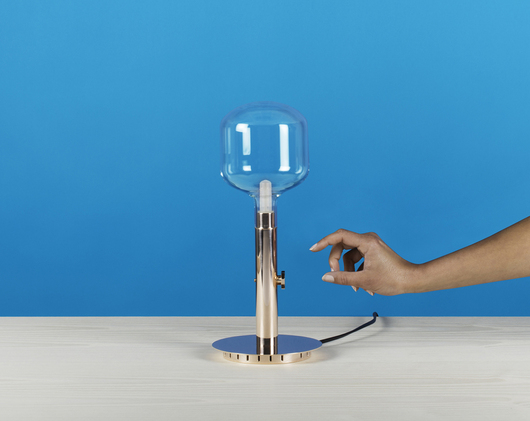 Quentin de Coster's new Argand light isn't the first to present an electric version of an old-fashioned oil lamp, but it may be the most clever: The knob on the side of its rose-gold-plated base dims the light, just like that of its predecessor, by lifting and lowering an LED tube hidden inside.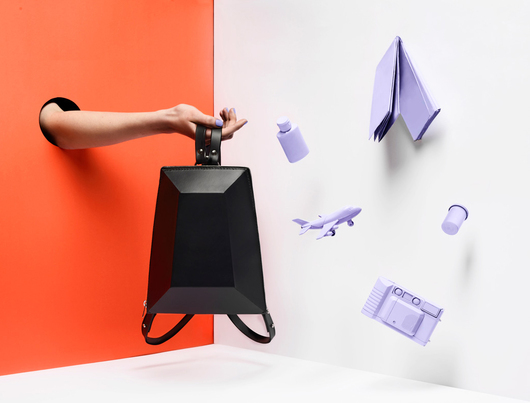 This past December, we featured the launch collection of the Berlin-based accessories label Alpha Cruxis, fantastically styled and shot by Monika Holtzer. The brand has just launched FW14 with an equally amazing lookbook that we couldn't resist sharing here.
Exhibitions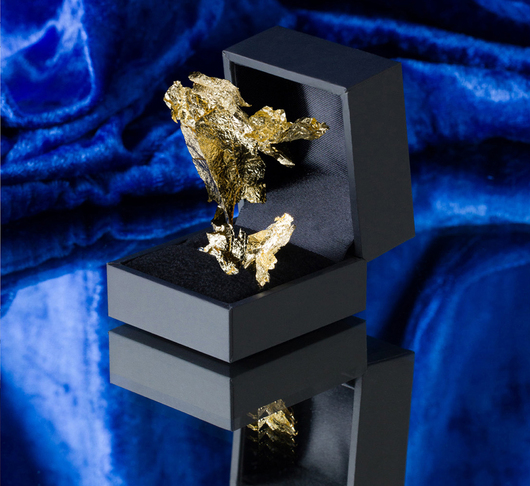 Launched last weekend in Basel but on view during Design Miami is the exhibition CRAFT & BLING BLING 'FAKE', curated by Depot Basel in conjunction with the contemporary jewelry magazine Current Obsession. The team invited 12 jewelry designers to each create a piece that ponders the idea of fakeness, including Adam Grinovich, Barbara Schrobenhauser, Edgar Mosa, Florian Milker, Florian Weichsberger, He Jing, Julia Walter, Kevin Hughes, Mallory Weston, Philipp Eberle, Rainer Kaasik-Aaslav, and Sophie Hanagarth, all of whose pieces have been shot by Thomas Albdorf for Issue #3 of Current Obsession.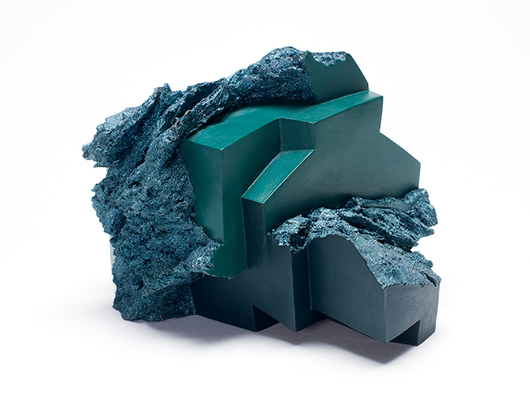 In May, New York's Matthew Marks gallery debuted a show of Ken Price's more commonly known Large Sculptures. But alongside it is a second, more charming exhibit of Price's Specimen Rocks, small ceramic objects made between 1983 and 1984 and displayed inside vitrines that were purpose-built by the artist. Most of them have never been exhibited before.
Links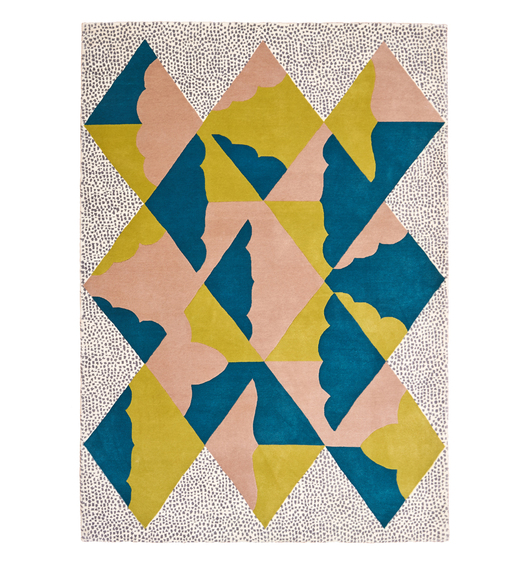 This rug is our favorite of three designed by London's Kangan Arora for Floor Story and recently published on Design Milk. We were particularly drawn to the colors, but the shapes, according to the site's contributor Nanette Wong, are inspired by "the kaleidoscopic array of circus tents and also the colorful flurry of an Indian kite-flying festival."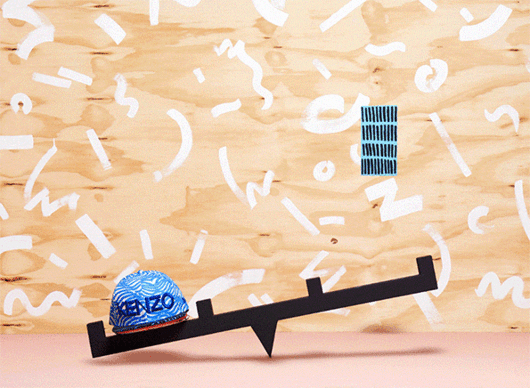 We've been meaning for ages to feature the colorful work of London set designer Anna Lomax, who got a hat tip this week on It's Nice That for the animated gifs she's created with photographer Jess Bonham for Kenzo's 2014 resort collection. We especially love the painted-plywood backgrounds.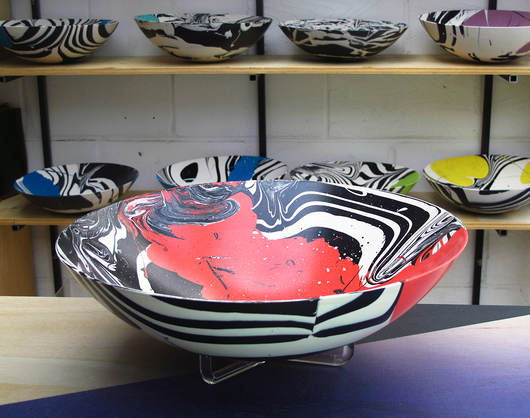 We're no stranger to marbled jesmonite — Hilda Hellstrom's coasters in our shop are made from the stuff — but we still thrilled to this report on Disgeno revealing the latest project by our favorite experimental London duo Silo Studio: a series of bowls made from liquid jesmonite that's swirled inside what's essentially a makeshift spin-art machine. Read more about the project, called Newton's Bucket, right here.
Instagrams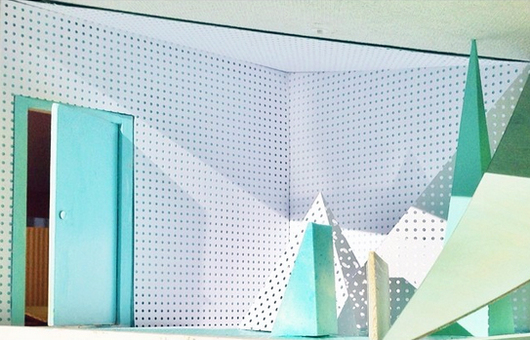 When asked alongside eight other architects, designers, and stylists to turn an all-white '60s dollhouse by Dahl Agenturer into an homage to something or someone, Swedish Instagram phenom Tekla Severin took an approach similar to the one that drives her colorful feed: "Since I work in such a concrete way every day as an interior architect, my homage was to abstraction."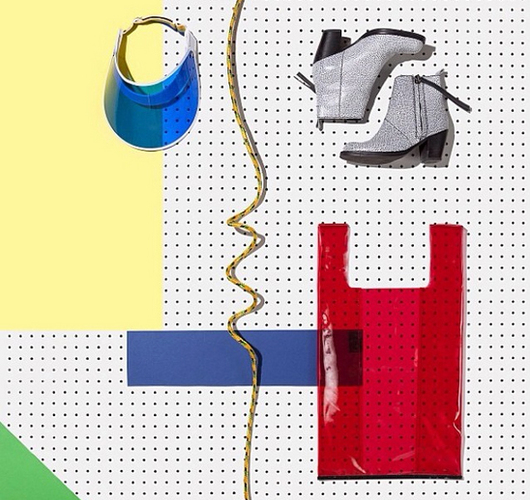 One of our favorite Instagrammers (Richie Talboy) using one of our favorite materials (pegboard).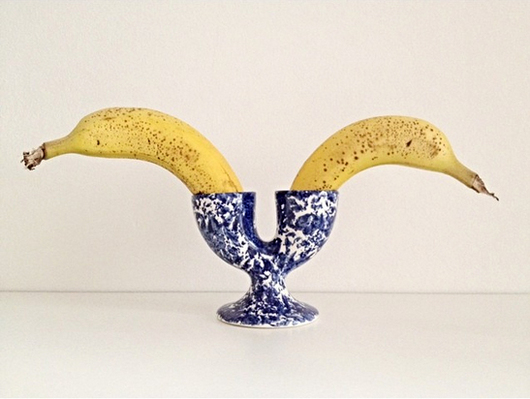 The fruit-filled still life meme has been tenacious as of late, but we like this slight variation created by Spanish textile design studio Suturno — not to mention that amazing ceramic whatever-it-is.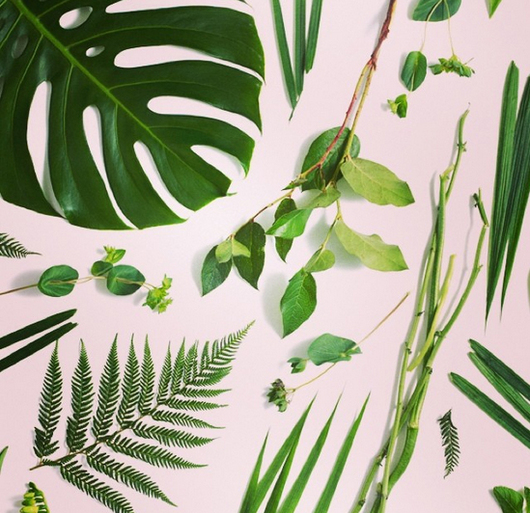 Our former I.D. colleague Maayan Pearl, who now works on the design team at J. Crew, keeps posting adorable sneak peeks at the brand's styling projects, like this real-life tropical print.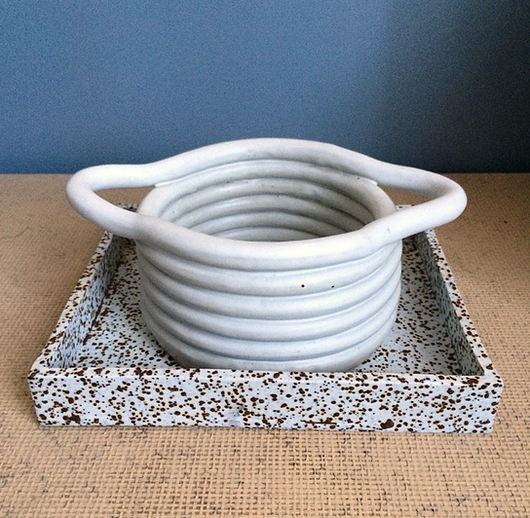 We follow dozens, if not hundreds, of incredible ceramicists on Instagram, but something about both this pot and tray by Beleu feels especially fresh. Want.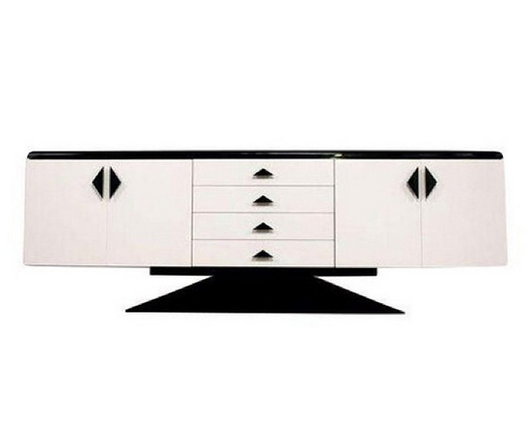 This '90s lacquer credenza posted by Design Milk reminds us of Rafael de Cardenas's furniture for Johnson Trading Gallery, minus the crazy colors.