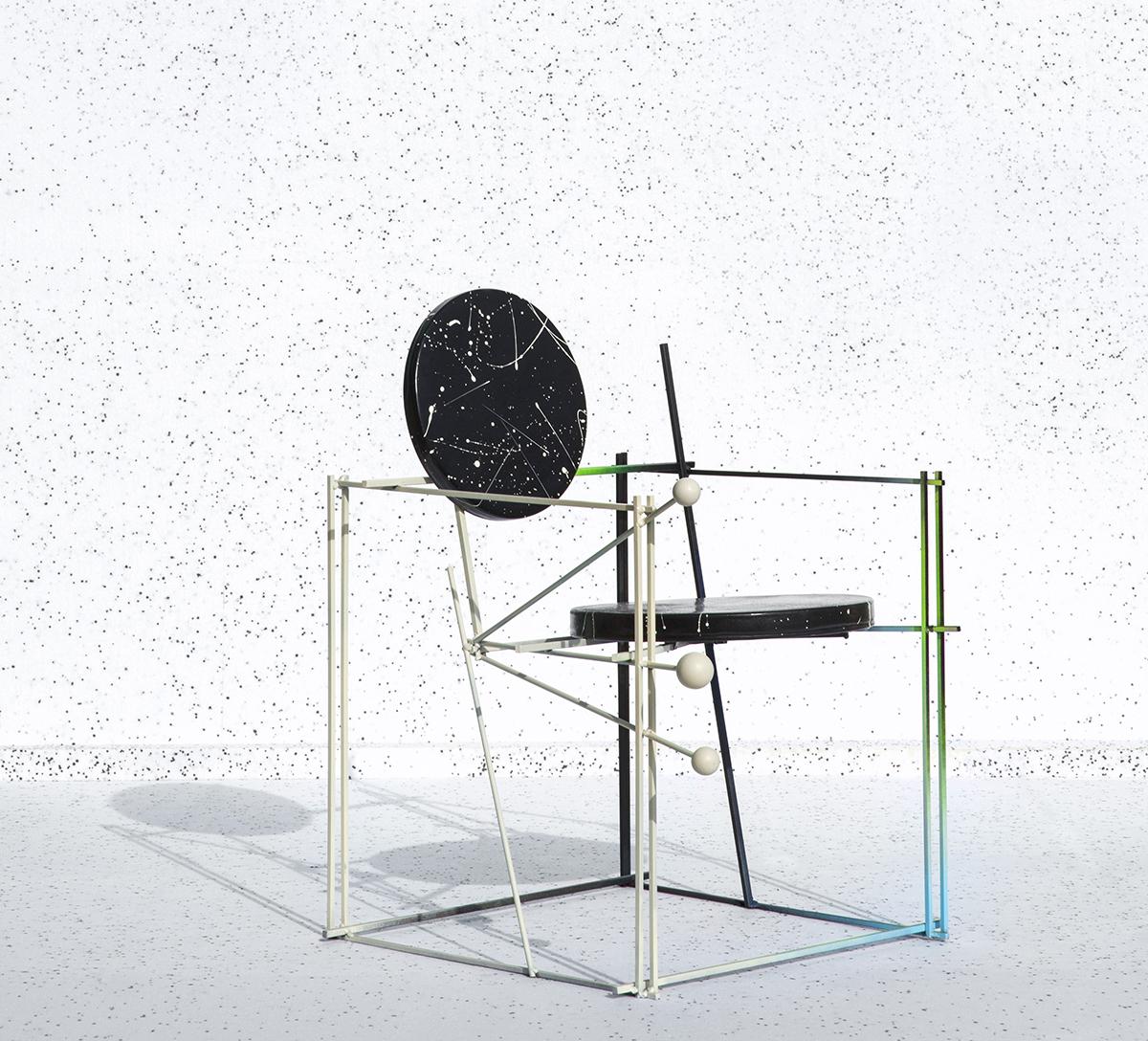 A weekly Saturday recap to share with you our favorite links, discoveries, exhibitions, and more from the past seven days. This week, we resume the series with our last (no, really) Milan fair roundup, plus our favorite new shopping destination in L.A., two exhibitions of nominally functional furnishings, and a ghostly faded mirror that makes for a nice addition to the genre's current craze.
Discoveries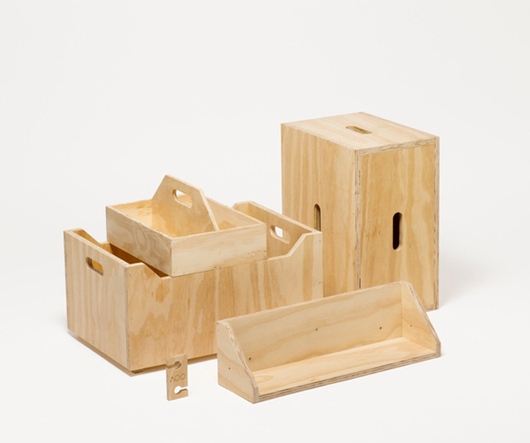 The in-house collection of raw-wood furnishings at the Barcelona store AOO — whose opening we featured on the site last November — just keeps getting better. These tool shelves and bins just launched on the site this week, but sadly are only available in-store.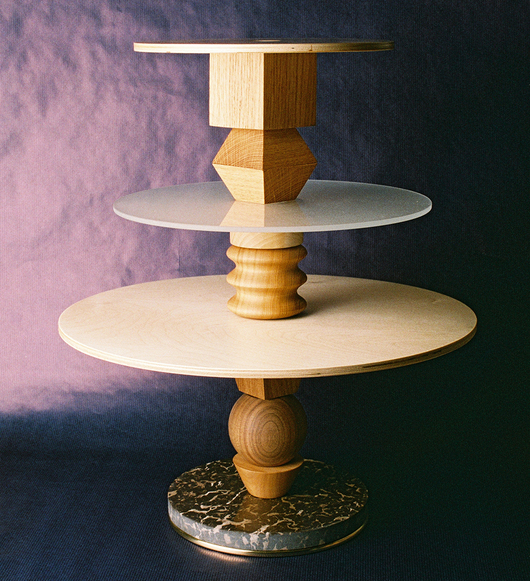 We recently received a submission about the ongoing project Pop-Up Dom (Pop-Up Home), a kind of open-ended, recurring design exhibition originally staged by a group of young Slovenian designers in an abandoned office in a former tobacco factory in Ljubljana. The project now encompasses nearly 250 objects, but our favorite is probably this Totem table by Trapez, as photographed by Ada Hamza.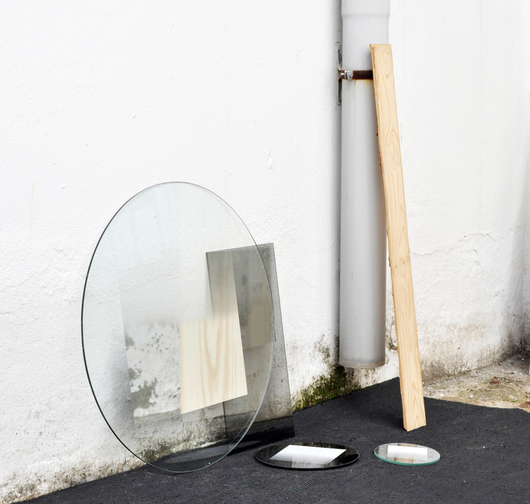 It's slightly hard to capture in photos, but Marta Ayala's new Nebula Mirrors feature a glass disc inset with a square mirrored surface that fades from bottom to top in a ghostly way. Click here to see more images of them.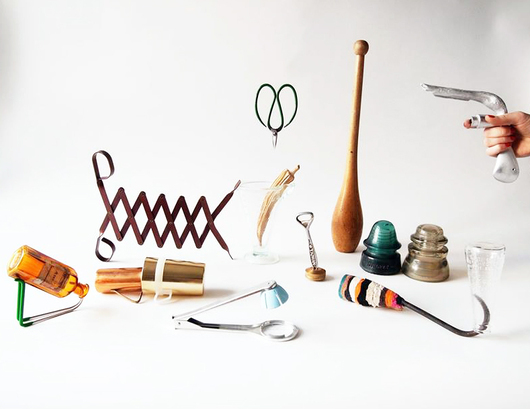 This image is even more mysterious, in a way — we found it posted to the Facebook profile of designer Mark Braun, but without an explanatory caption. Anyway, we liked it, and we hope it's not some sort of secret because if so we've just royally blown it.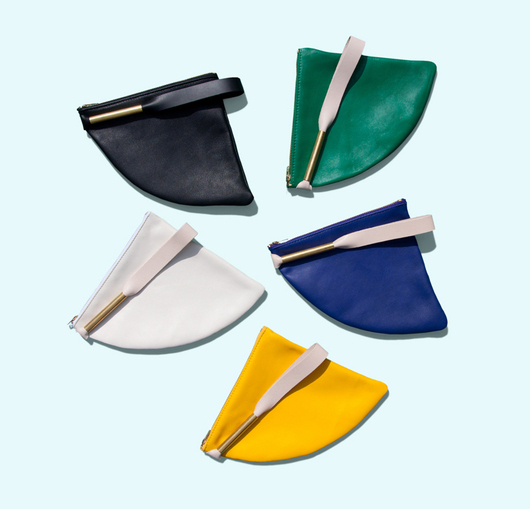 Isn't it exciting when two individually talented designers come together to make something new? Albert Chu of the accessories line Otaat met jewelry designer Jenny Myers of Myers Collective while studying architecture at Harvard, and they recently formed the aptly named Otaat Myers Collective to showcase collaborations like this brand-new series of colorful pouches. We're planning to feature the pair more extensively very soon, but in the meantime, snag one of their pouches for yourself right here.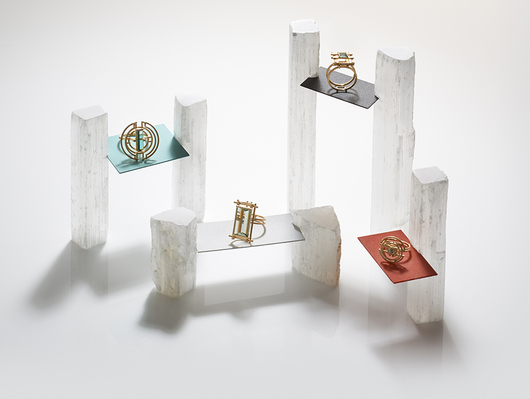 Our other new accessories discovery is the London jewelry brand Shimell and Madden, whose website appears to be in the process of being updated, but whose Prism and Symmetry rings, above, caught our eye. They'll be on view alongside a host of other goodies at the Saatchi Gallery's Collect show in early May.
Milan Recap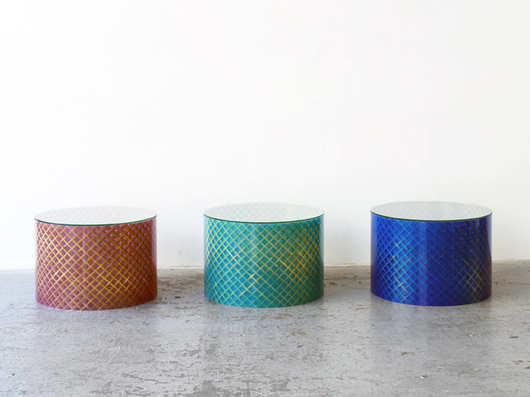 We thought we were done with our 2014 Milan coverage, but then our inboxes swelled with images of pieces we missed, either unintentionally so or because we had trouble taking a nice photograph in situ. The latter was the case for Jo Nagasaka's new tables for Ichiro, constructed using traditional Japanese craft techniques. Luckily we found the lovely photo above, shot by Hirotaka Hashimoto, over on Designboom.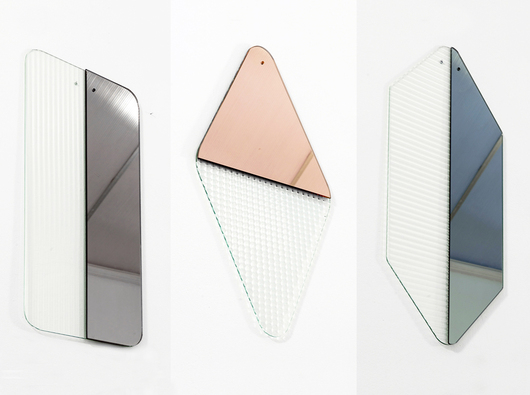 Among our favorite pieces we didn't see were these Obei Obei mirrors by Cristina Celestino of Attico Studio. Actually, the whole exhibition looked super amazing…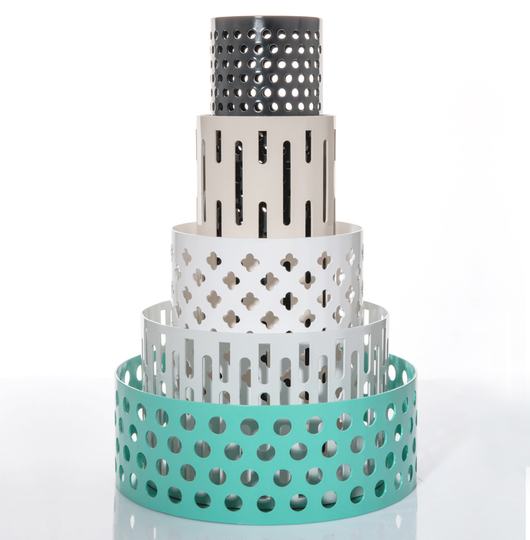 …Including these perforated containers by Serena Confalonieri. See the rest of the photos here.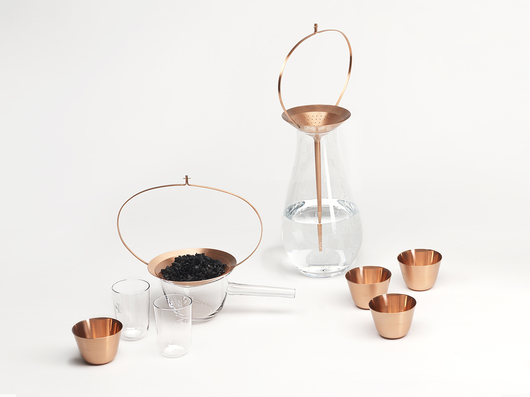 Formafantasma's lava-based series for Libby Sellers was much-talked about during the Salone, but we also loved this series of vessels the duo made for Lobmeyr, called Still. The set utilizes charcoal to function as a low-fi water filtration system.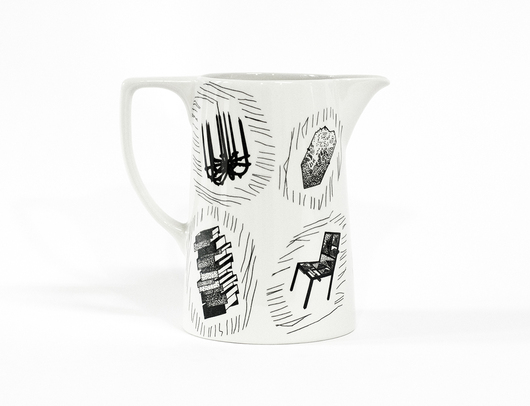 We actually got to drink water out of this vessel, though: a brand-new ceramic pitcher by Berlin designer Eyal Burstein for 1882 Ltd., which adorned the tables at a dinner party we attended in Milan. The jug is part of the Homemaker series, which also includes a plate set, with more pieces to come; the line is a collaboration between Burstein, 1882, and Vivienne Westwood, who displayed it in their shop during Salone. It's based on a design of the same name created by Enid Seeney for Ridgway Pottery in 1957; Burstein updated the original pattern with contemporary furnishings by himself and folks like Max Lamb. To see the original plates and get the full story, click here. To order pieces from the series, click here to email 1882.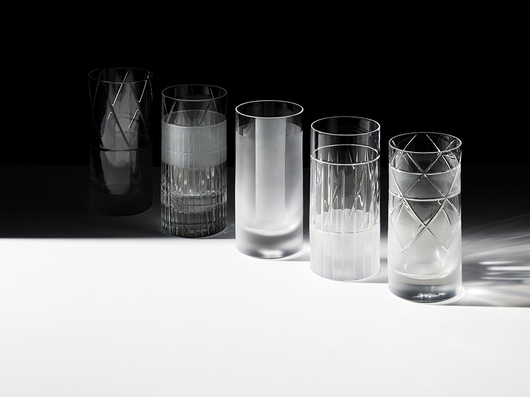 The new glassware brand J. Hill's Standard has an equally cool backstory: It was started by a Waterford-based entrepreneur who realized the storied company was no longer hand-making its wares, leaving the skills of local artisans to wither. Its first collection includes a series by Martino Gamper and one by Scholten & Baijings, pictured above (photo by Tom Brown).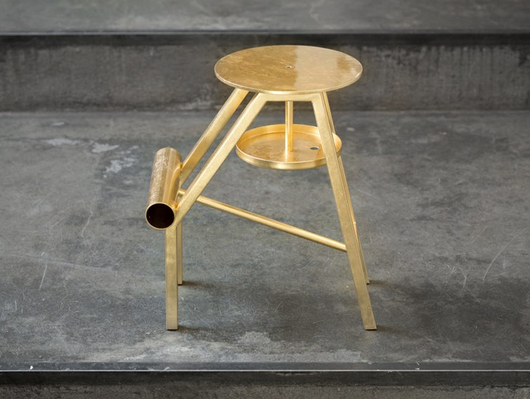 This lovely brass stool by Japanese designer Koichi Futatsumata debuted with Opinion Ciatti at the fairgrounds.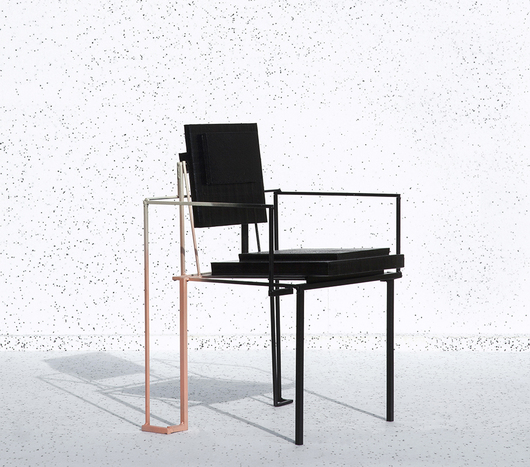 We'd been observing the work of Dutch designer Tessa Koot for awhile before the Milan fair, but felt it was time to finally share her latest project, spotted in Lambrate: The Sorry Collection, including the Gradient chair above and the Wassily K Chair pictured at the top of this article.

One of our favorite events in Milan was a fun dinner we attended to celebrate the Swedish Design Goes Milan exhibition, which was catered by the Stockholm restaurant Björk and included pieces by 40 designers and design brands. We loved this screen created with colored yarn by Atelier Ryberg.
Links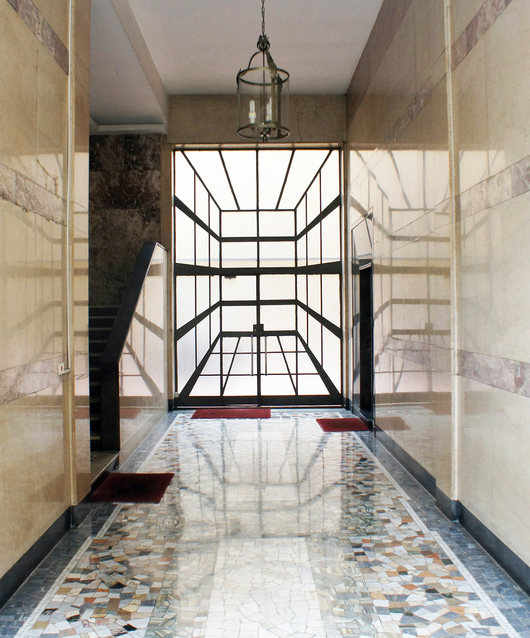 The young RISD grad Jamie Wolfond brought his debut line of furniture to show at Designersblock in Milan, but left with something unexpected — a series of photographs of the foyers he encountered during his trip, which he's posted more of on his Tumblr.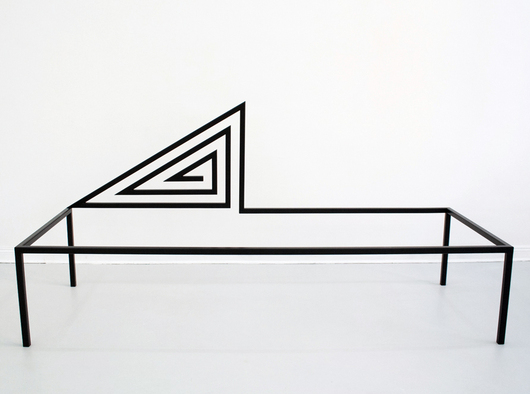 They almost look like furniture, but artist Yasmin Müller's hyper-graphic sculptures, currently on display at Cruise & Callas gallery in Berlin, are entirely lacking in function. That said, they have a strong design sensibility and are lovely to look at. See more over at Design Milk, where we spotted them.
Instagrams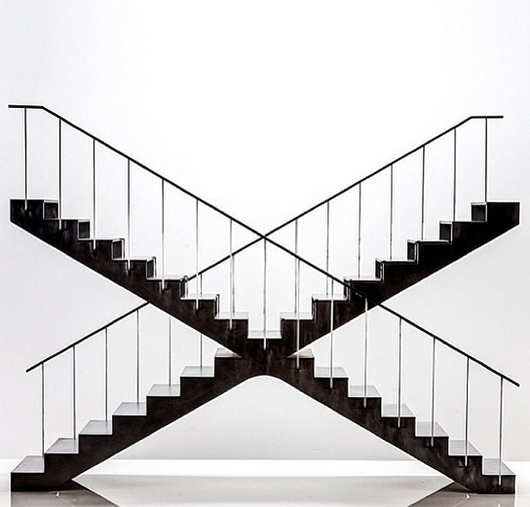 Jamie Gray of Matter posted this shot earlier this week, by way of announcing his latest exhibition: a solo show of work by Ian Stell. It's up now through May 10th at the store on Broome Street, after which part of it will move to our show, Sight Unseen OFFSITE, for the viewing pleasure of all those visiting New York during ICFF.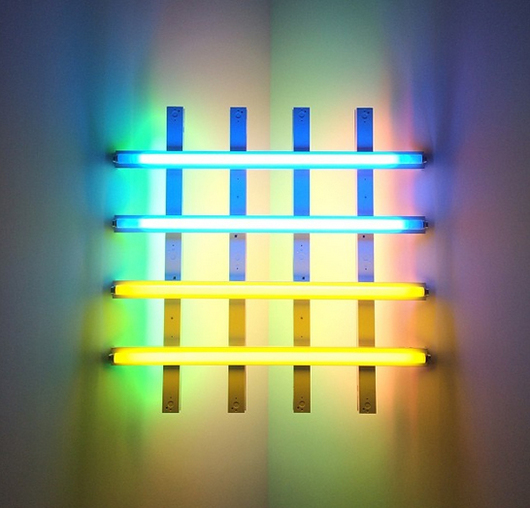 Beautiful photo of a Dan Flavin piece at the Modern Art Museum of Fort Worth, taken by power-grammer Caitlin Mociun.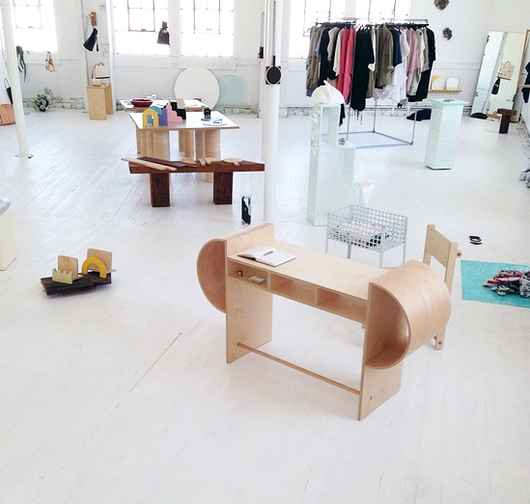 We were very sad when the L.A. shop Iko Iko closed down. But they've just reopened in a bigger, better space, which they're sharing with Building Block and which features furniture by Waka Waka. Nice job guys!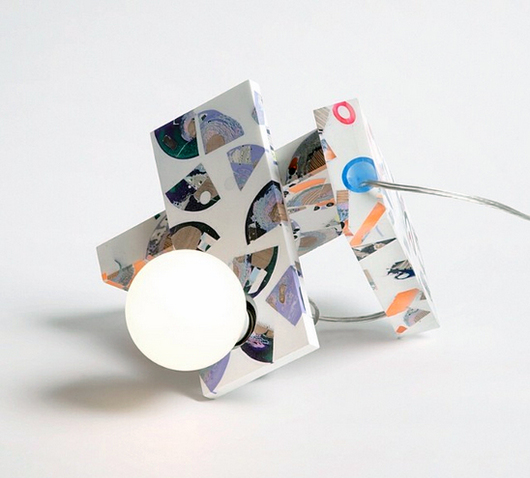 This Wednesday is my 35th birthday. If I knew anyone rich enough, I would be asking for this lamp by Chen Chen and Kai Williams. Maybe when I turn 40. A girl can dream.