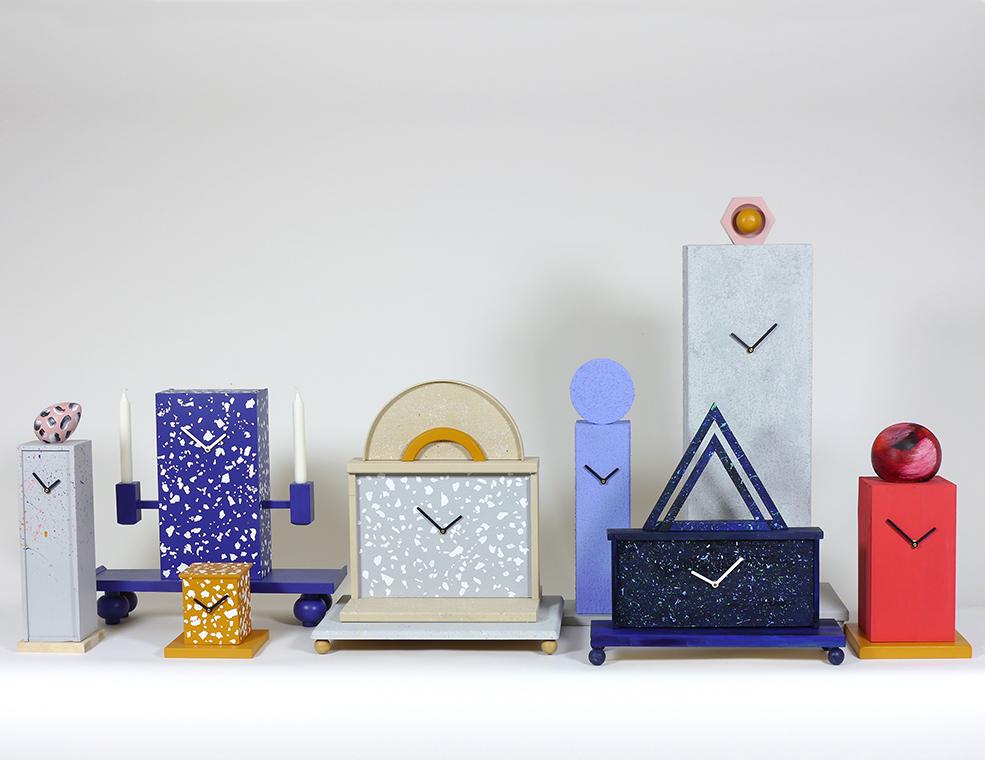 A weekly Saturday recap to share with you our favorite links, discoveries, exhibitions, and more from the past seven days. Today, we temporarily interrupt Seattle Week to bring you far-reaching news from places like Sweden (clocks and tables made from rejected furniture), Milan (a preview of novelties launching at the upcoming Salone del Mobile, where we'll be reporting from next week), and the Internets (a rash of color-field abstraction on Instagram).
Discoveries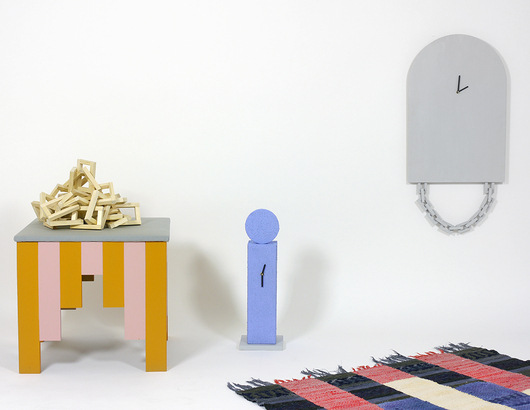 For her Recompositions exhibition — on view through May 4 at Sweden's Falkenbergs Museum — designer Jenny Nordberg put a call out for locals to donate dowdy, unwanted furnishings and objects, then worked in the exhibition space for weeks breaking it down into parts and re-crafting them into colorful tables, rugs, and clocks (top). We're excited to share that the resulting collection will be on view for the first time ever outside Sweden at our show, Sight Unseen OFFSITE, during New York Design Week next month. Click here to check out our first round of confirmed exhibitors.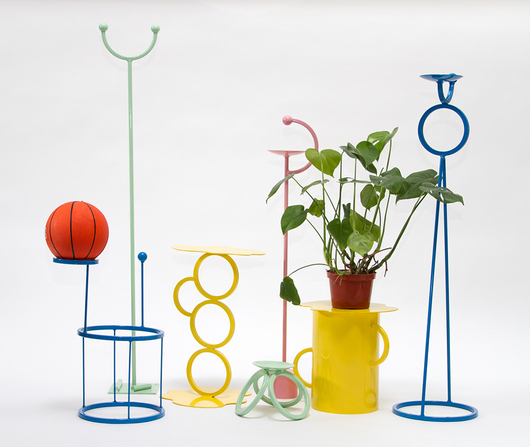 Back in February 2013, we introduced you to the playful Alley Oop collaboration between furniture designer Eric Trine and illustrator Will Bryant; today marks the opening of the second edition, held once again at the Los Angeles store Poketo. It includes more plant pedestals, coat racks, and — for reals — an art car.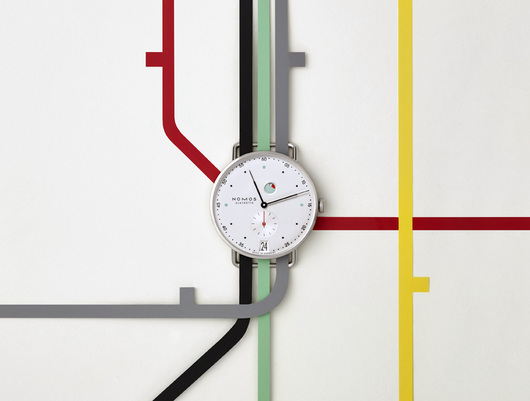 The trend of furniture designers making watches continues with this brand new model by Berlin talent Mark Braun for NOMOS; it's super sophisticated, yet with a tiny pop of color we appreciate. Also, paper whiz Sarah Illenberger styled the photo above.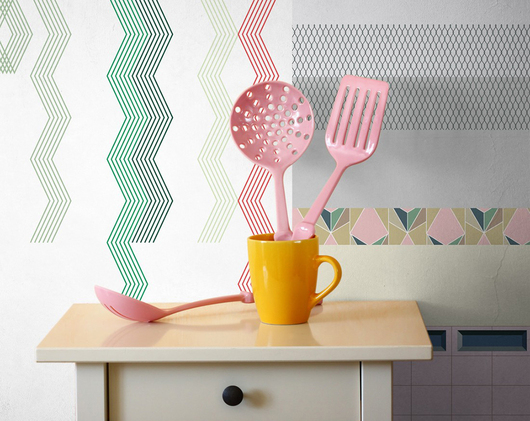 London pattern designers All The Fruits have just opened an online shop, where you can snag rolls of their Cut and Paste wallpaper — it comes in long, adhesive-backed strips which feature multiple bands of mismatched patterns, allowing users to cover a wall without having to worry about alignment and repeats.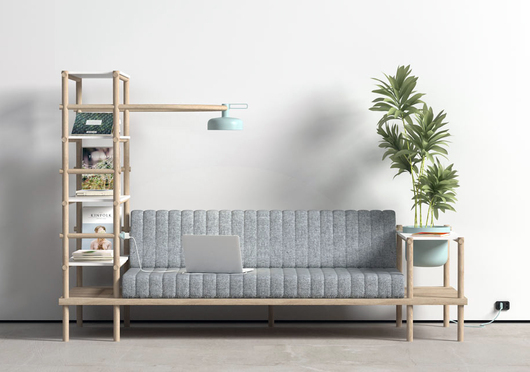 This week Design Milk introduced us to this multi-functional sofa design by Milan's Burak Kocak, which is just a concept for now but makes perfect sense for those of us with tiny Brooklyn apartments who own perfectly functional desks but are addicted to working on our sofas instead….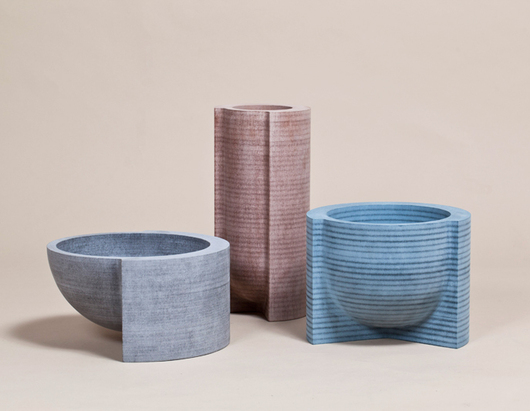 One of our favorite releases at last year's Milan fair were Philippe Malouin's MDF Functional Shapes, which apply artisanal, labor-intensive craft processes to one of design's most lowly materials. To make them — and the newest version above, created for a private commission — Malouin starts with pigmented MDF that's cut into slices, glued, lathed, and hand-polished to perfection.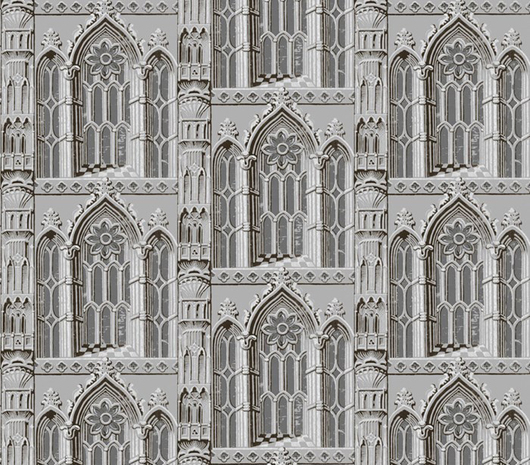 Speaking of Milan, this great new wallpaper print by Graham and Brown, part of a series inspired by designs from the collection of the Victoria and Albert museum, kind of reminds us of the Duomo. It's almost a little Fornasetti-like, too.
Milan Preview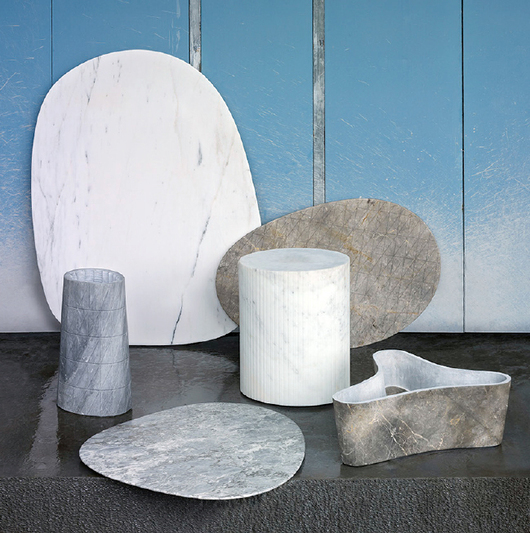 New tables by Scholten & Baijings for Tuscany's Luce di Carrara: Not a pastel ombre in sight! (Unless you count the photo backdrop.)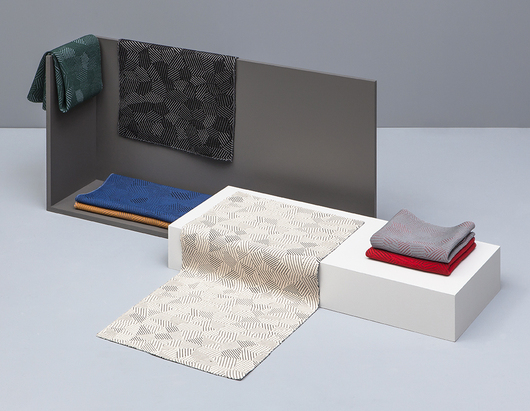 Textile designs by Sylvain Willenz for the new Dutch textile company Febrik, as shot and styled by Raw Color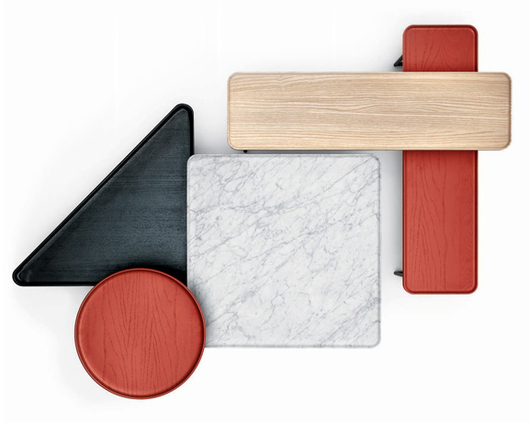 Torei Family side tables by Luca Nichetto for Cassina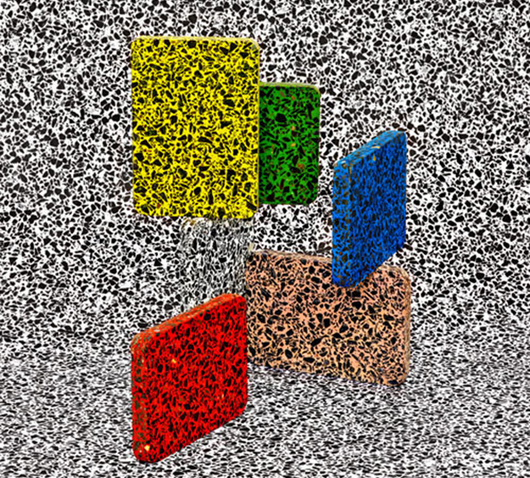 Honeycomb-reinforced panels by the Terrazzo Project, shot by Emile Barret and Ana Varela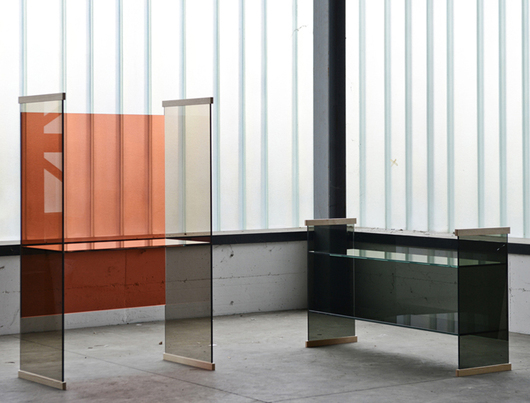 Thermo-welded glass desks in obsession-inducing colors by Ronan and Erwan Bouroullec for Glas Italia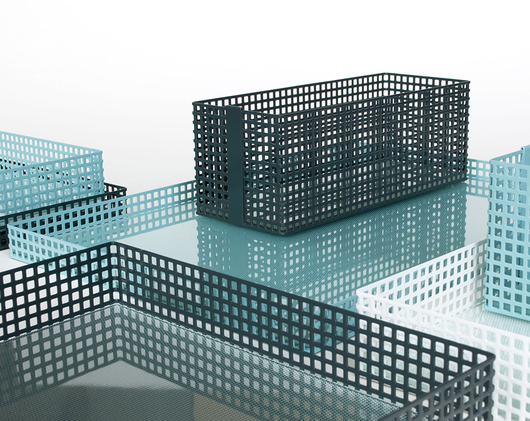 David Derksen's Table Architecture trays in powder-coated steel and glass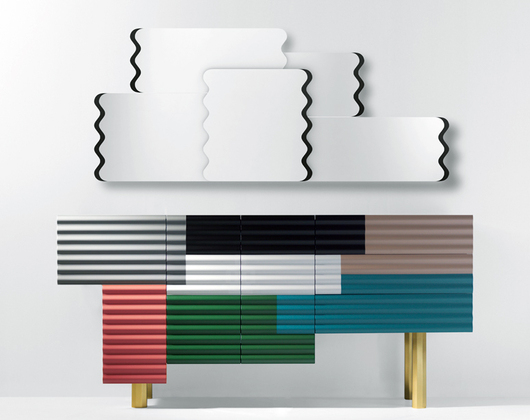 The Shanty cabinet by Doshi Levien for BD Barcelona, which finds beauty in the temporary corrugated-metal dwellings seen in poverty stricken neighborhoods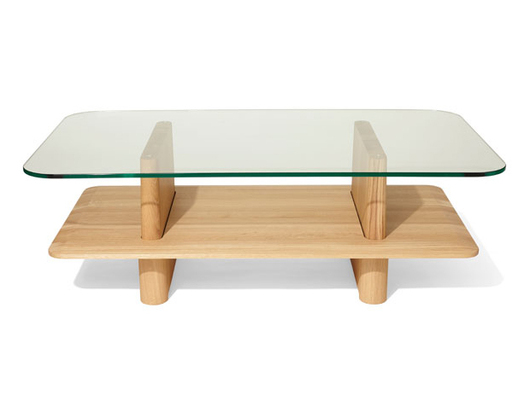 Fort Standard's oak-and-glass Tenon coffee table for SCP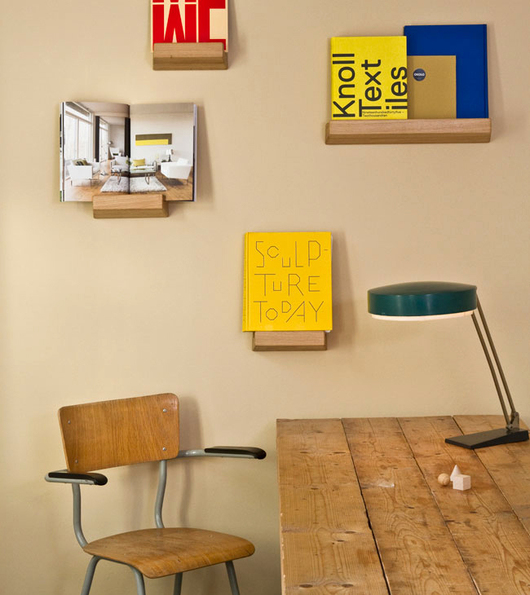 The Lookshelf series of floating wall shelves by Daphna Laurens for Vij5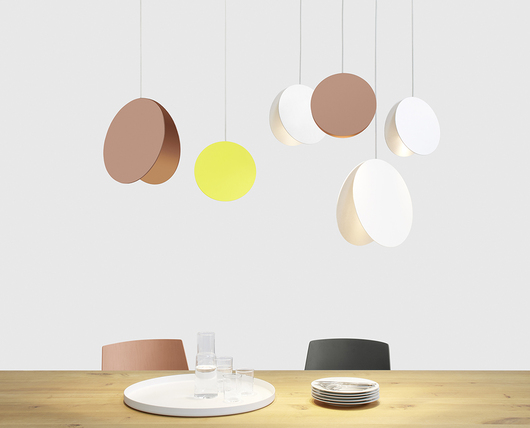 e15 is launching a lighting collection! Most of it is secret until next week, aside from these North pendants by the Hamburg-based duo Eva Marguerre and Marcel Besau.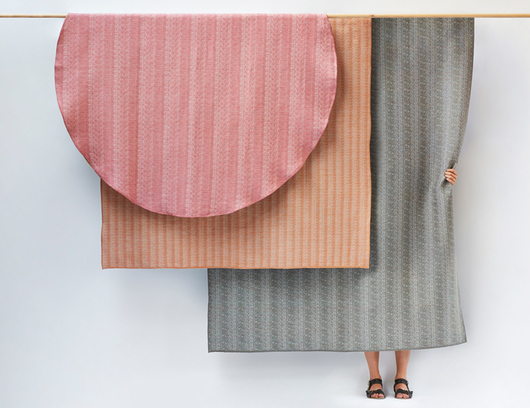 Textiles by Glithero with perforated patterns created by punchcards that normally used to feed music through a mechanical organ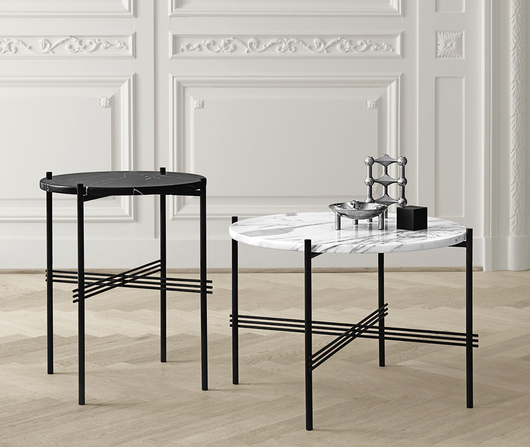 The Danish brand Gubi can do no wrong, if you ask us — their new collection by Gam Fratesi includes these marble-topped TS side tables.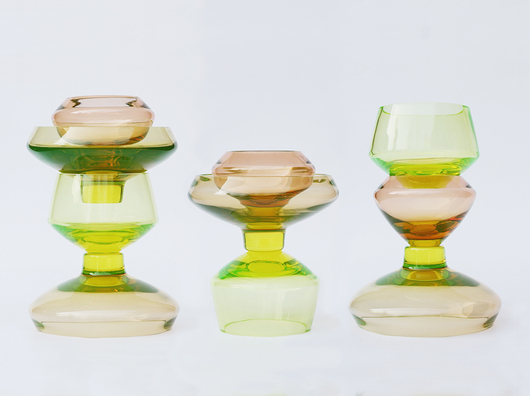 New stacking vessels in uranium glass by Pia Wüstenberg's Utopia & Utility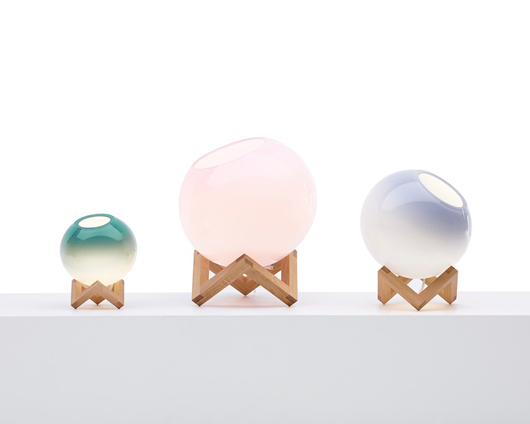 PER/USE's MCE lamps have bases inspired by optical illusions and mathematical illustrations by the likes of M.C. Escher and Oescar Reuterswärd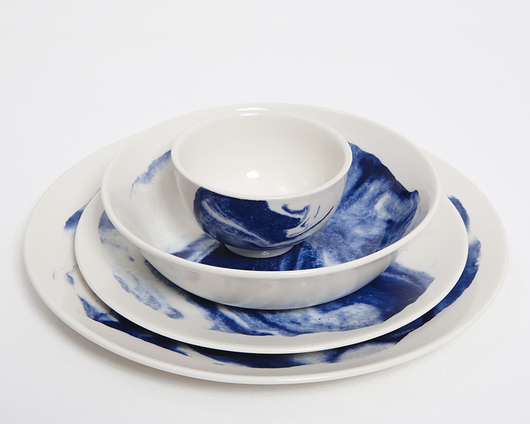 Faye Toogood's new Indigo Storm series of earthenware dishes for porcelain brand 1882 Ltd.
Instagrams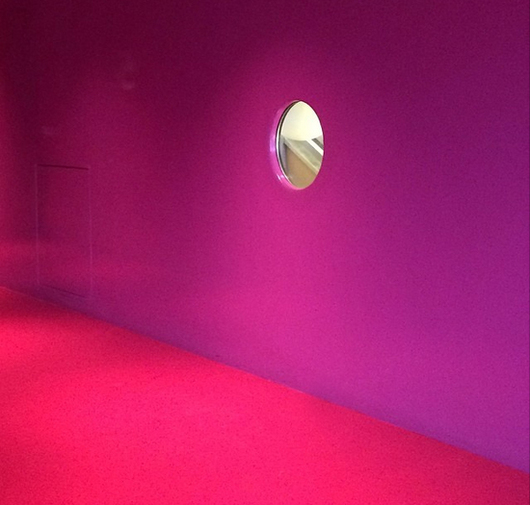 We're not sure where this glorious room — shot by textile designer Lily Raskind — is located, but lately we've been loving this kind of abstract color-field Instagramming.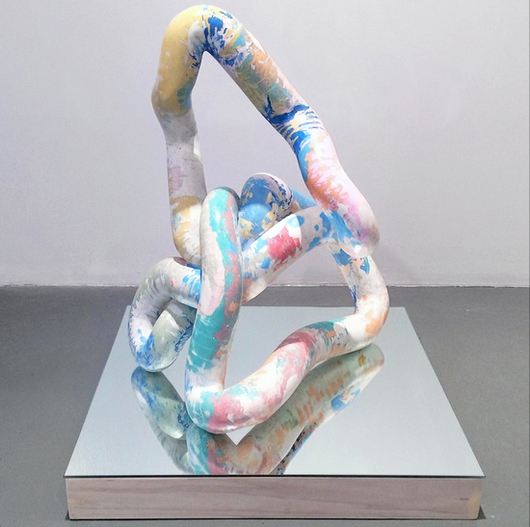 We've also realized how many of the folks we follow like to post images of other people's art, like this sculpture by Carolyn Salas, shot by @onderdonx at Bushwick's Harbor Gallery. People ask us all the time where we find our Sight Unseen story subjects — this is one of the biggest ways.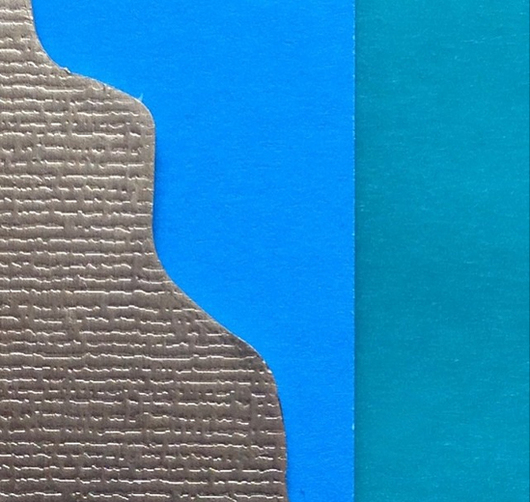 More color-field abstraction from @joe_silveira, whose fantastic feed is consistently filled with such images.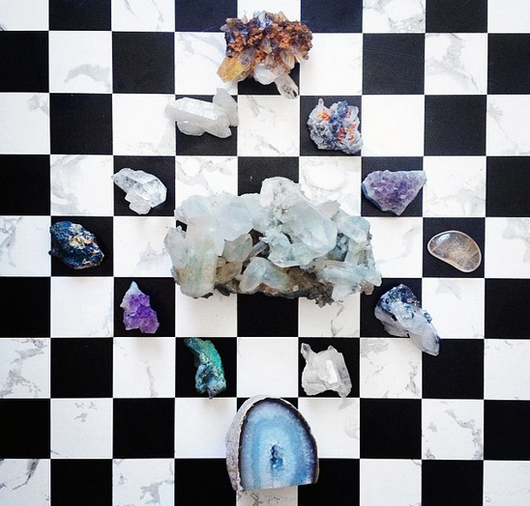 Josephine Heilpern of Recreation Center — whose polka-dot mugs are one of the best-sellers in our shop — has been styling and posting some real zingers lately, this one combining two of our favorite things: crystals and marble. We're expecting to see a ton of the latter in Milan next week, which we'll be sharing with you starting Wednesday, once Seattle Week draws to an close.