02.15.14
Week of February 10, 2014
A weekly Saturday recap to share with you our favorite links, discoveries, exhibitions, and more from the past seven days. This week: sculptures made from deconstructed window blinds and laminate floors, a book on vintage corporate identity design manuals, a series of fake Cuban shop windows (pictured above), and the most excitement we've ever experienced over a bar of soap.
Exhibitions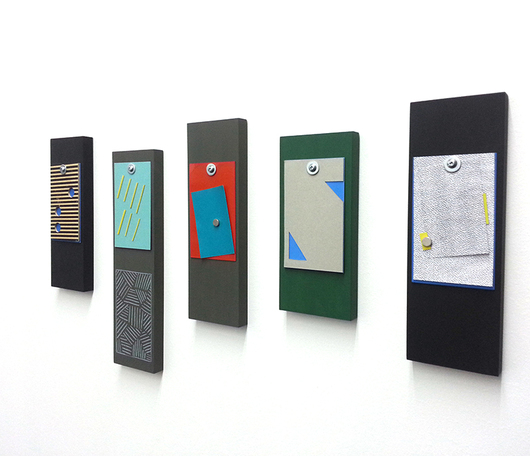 These panels by 26-year-old Canadian artist Vanessa Maltese were on view at last weekend's Material Art Fair in Mexico city; they're essentially paper compositions tacked with magnets to steel panels coated in chalkboard paint. Vanessa Maltese, Charts 1 through 5, 2014, Courtesy of the Artist and Cooper Cole, Toronto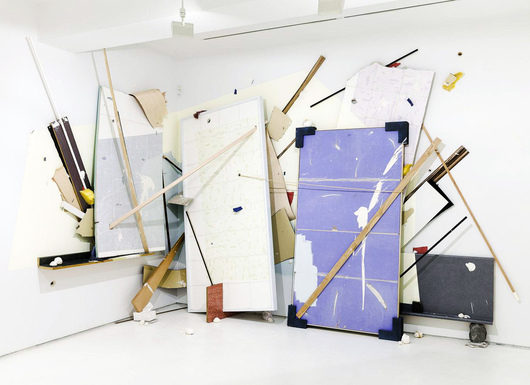 Thursday saw the opening of the first NYC solo show of Brooklyn painter and recent RISD grad Katie Bell at Mixed Greens gallery in Chelsea; Bell "repurposes building materials and the elements of interior design" in her pieces, which in this case comprise "everything from insulation foam to window blinds, shelf paper, laminate, carpets, and a discarded Jacuzzi," according to the gallery.
Events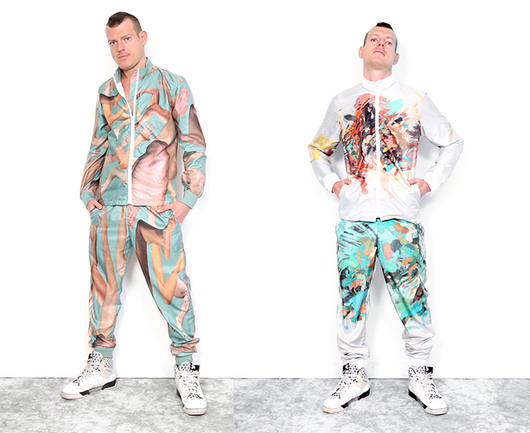 Our friends at Print All Over Me recently teamed up with the gallery Louis B. James to commission a capsule collection of printed tracksuits by 20 queer artists (including Kalup Linzy and David Benjamin Sherry) in response to the Sochi Olympics and Russia's recent anti-gay legislation. The tracksuits can be purchased here, and all proceeds benefit the Russian LGBT Network. Above: Arm and a Leg by Ryan McNamara, Red Tulip & Blue Tulip by Wardell Milan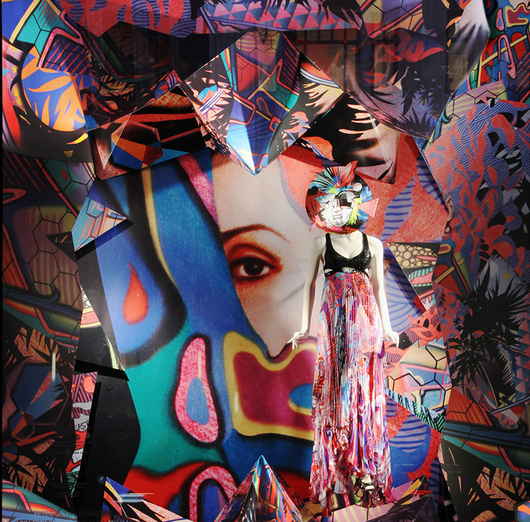 Another multi-artist project commissioned by friends of Sight Unseen: Grey Area's 10 Artists for 10 Spaces installation series, which took over the windows at Bergdorf during New York Fashion Week. The African prints–meets–Nathalie du Pasquier–meets–origami piece pictured above is by Peter D. Gerakaris.
Discoveries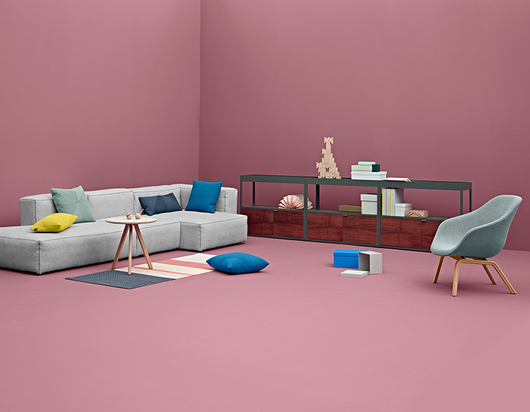 We'll be posting a report from Stockholm Design Week sometime this coming week, but meanwhile, we wanted to shout out a couple more of our favorite new things to come out of it, including this gorgeously styled modular aluminum shelving system called New Order, by Stefan Diez for Wrong for Hay.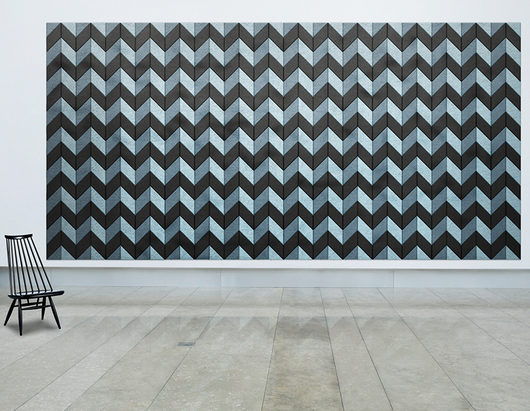 Baux, a new venture launched at the Stockholm fair and founded by the designers at Form Us With Love, has definitely made its way around the web this week. But we couldn't resist including it here anyway; it's a system of insulating wall tiles that come in dozens of shapes and colors, which can be composed in infinite ways and used as a striking architectural feature like the one pictured above. See more sample designs here.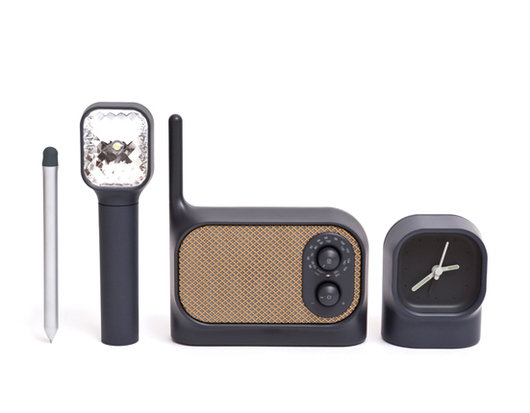 French designer Ionna Vautrin's new series of desk accessories for Lexon include the friendly-looking 60s-inflected Mezzo radio and clock, a flashlight with a faceted reflector inspired by old camera flashes, and a pen with its clicker enveloped in a squishy rubber cover.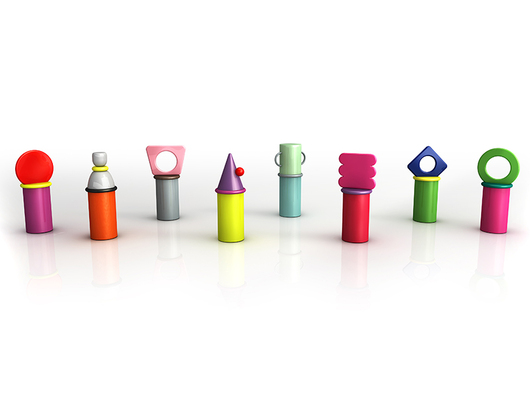 We had to laugh when we saw this rendering of a new project for aluminum furniture brand Altreforme set to launch at the Milan Fair this spring — designer Elena Cutolo created these jars in homage to Ernest Hemingway and his time spent in Paris in the '20s, but we saw Memphis written all over them. And then we read that — bingo! — Cutolo collaborated with Ettore Sottsass for 10 years. We're looking forward to seeing the final pieces.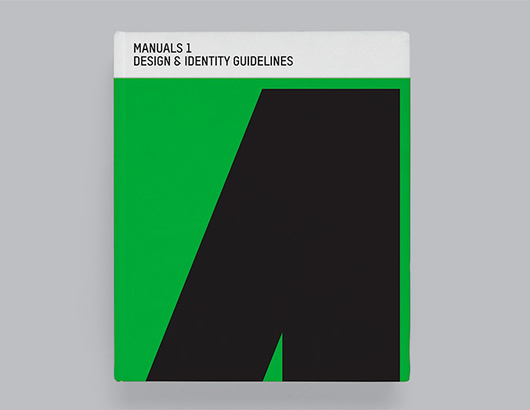 We're also looking forward to the release next month of Manuals 1, a new book now available on pre-order from the London publisher Unit Editions. It's billed as "the first comprehensive study of corporate identity design manuals," and it features 21 such examples from the '60s to the early '80s — "the golden era of identity design." The NASA manual looks particularly cool.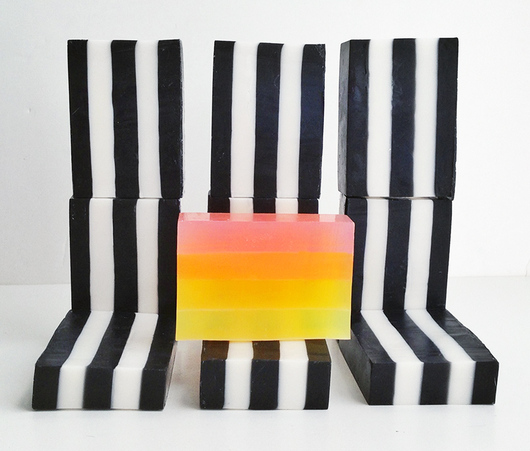 The Maine-based design aficionados at Wary Meyers already blew our minds with their line of custom candles, and now they've added all-natural, hand-made soaps to their repertoire. The striped glycerine bars come in six different color schemes and a choice of scents like "beachy coconut" and "sea air."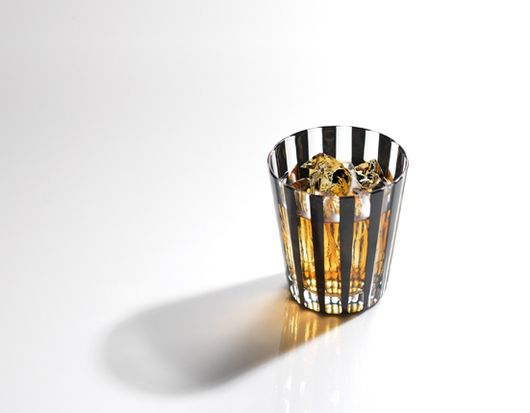 We don't know too much about the Takumi Japan trade fair taking place this weekend in collaboration with Tent London, but we got a newsletter about it, and instantly fell in love with this drinking glass by Kimoto Glasswear. If someone decides to import it to the US, let us know!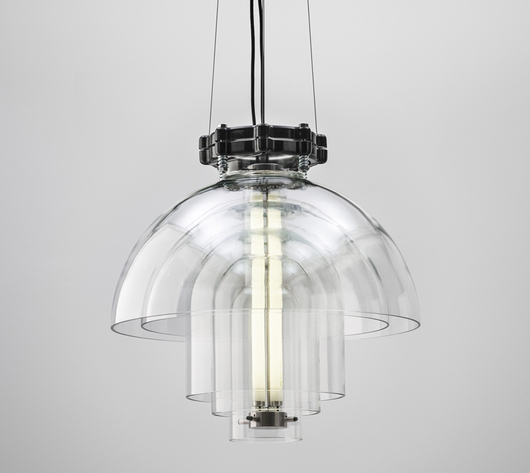 Design blog The Method Case recently introduced us to this gorgeous light fixture by Studio deFORM, a young Prague-based duo that created it for Kavalier Design using prefabricated Simax glass and a special welding technique.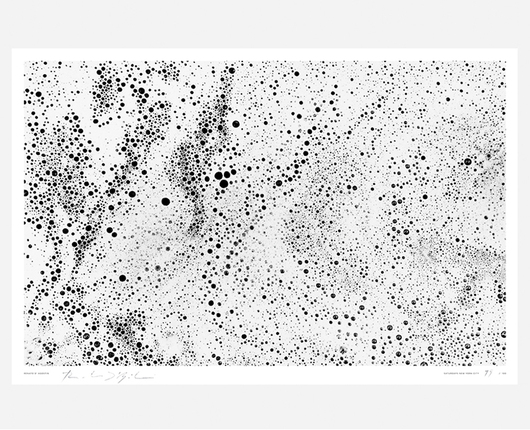 In the fall we introduced you to the work of the seriously up-and-coming Brooklyn photographer Renato D'Agostin, and this week he released a limited edition series of $100 silk-screened prints with the surf magazine Saturdays. Although bummer — it looks like they've already sold out.
Links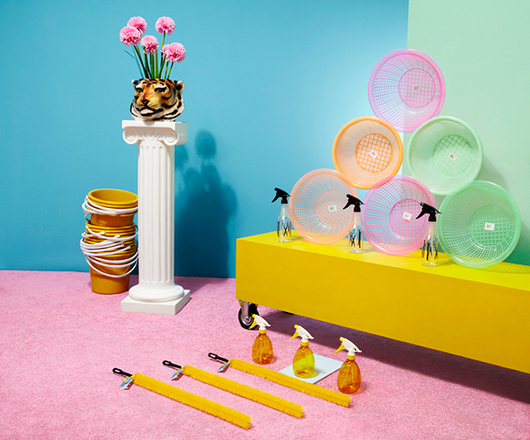 Two of our favorite stories this week were both posted on our other favorite design blog, It's Nice That, the first being this imaginary series of over-styled "shop windows" filled with mundane household goods sourced from Communist Cuba, a project by Anna Lomax and Catherine Losing.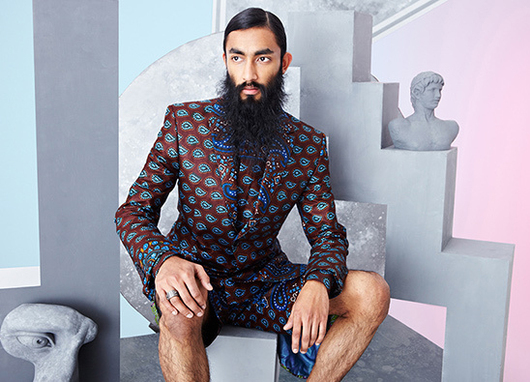 The second was an homage to 80s surrealism by set designer Thomas Bird, created for the SS14 lookbook of clothing brand Dent de Man. Click here to see more shots of Bird's "magical abstract temple" — and more of the amazing printed menswear it was created for.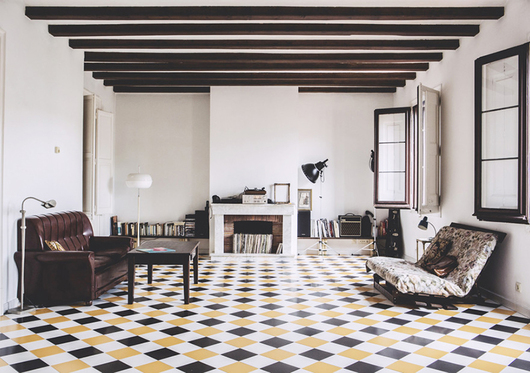 Our hearts swelled a little when we saw this post on Freunde von Freunden a few days ago — the German blog photographed the new showroom of the Barcelona leather accessories brand Iriarte Iriarte, whose adorable founding duo were the subject of one of Sight Unseen's very first posts back in 2009! Ahh, memories.
Instagrams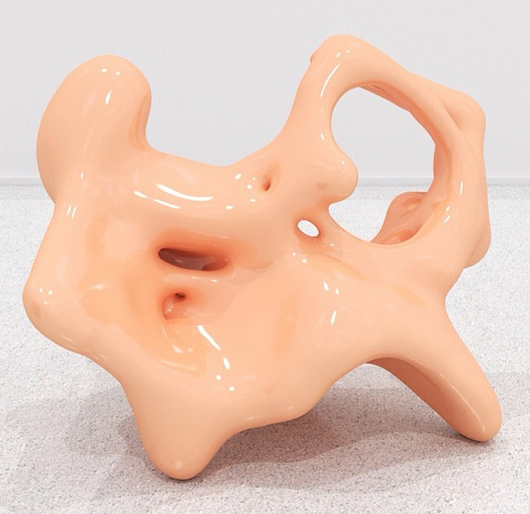 We're hoping to do a story soon on New York artist Tom Hancocks, but for now, allow us to introduce you to his amazing Instagram feed, which delights as much as confuses us. Are these all digital renderings? Are some of them real? Either way, we're obsessed.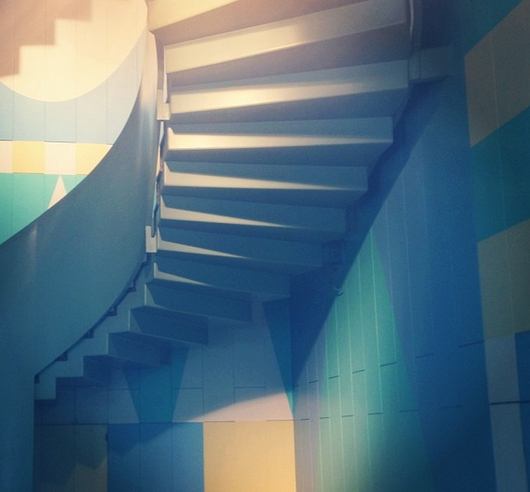 The next issue of Pin-Up magazine will focus on Italy and debut during Salone, hence editor Felix Burrichter's recent dispatches from Milan, where he snapped this beautifully washed-out Instagram shot of a staircase by Alessandro Mendini.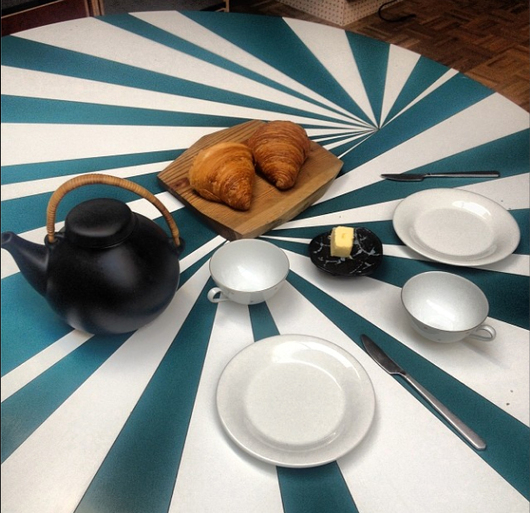 And the FOMO award of the week goes to: Disegno editor Johanna Agerman-Ross, who posted this shot of the lovely Valentine's Day breakfast she was having at Martino Gamper's studio. Our breakfast yesterday? A hardboiled egg stuffed down our throat as we rushed out the door to a meeting. Meh.