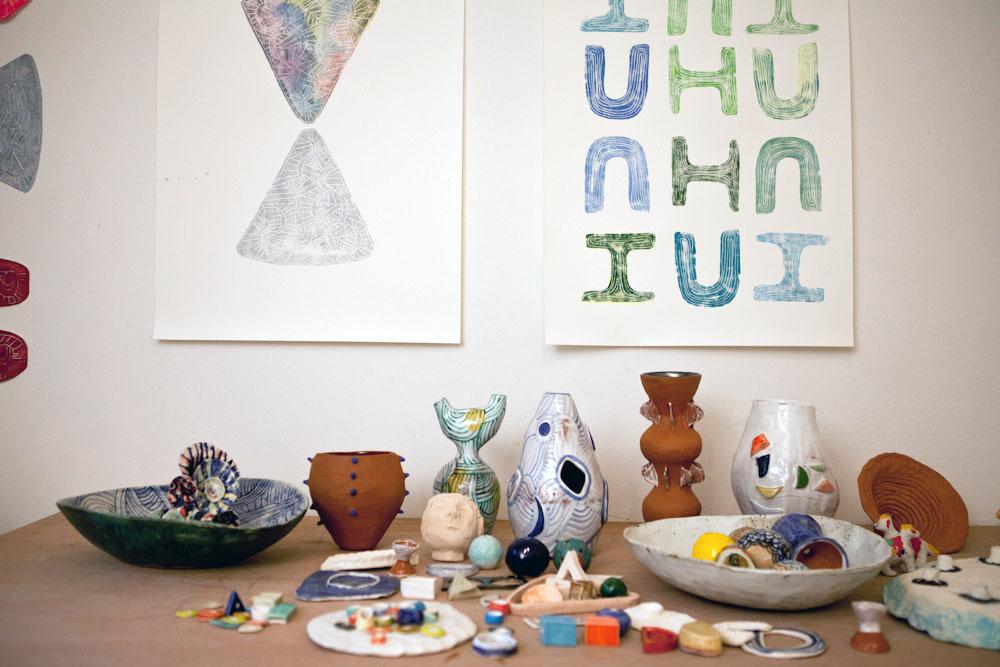 PHOTOS BY MICHAEL A. MULLER
Katy Krantz likes to leave things to chance, at least when it comes to making ceramics. She has a method, but it involves working with a "wild and crazy collaborator" — a giant gas kiln that can fire clay at extremely high temperatures. "When you fire that high, the clay and glaze react in ways that are unpredictable. You get a lot of weird, random spotting, things that I would never be able to paint on." That element of surprise and transformation runs through her colorful, abstract sculptural objects and jewelry, as well as her block prints and recent forays into fabric. Though she'll establish "loose parameters" at the outset of a project, she says she's "never been able to work with a real detailed plan in mind. I can work like that, but I tend to make really boring work that way. When I have too much control, it's less interesting."
There's been something serendipitous, too, in the way she's put her art out into the world. A few years ago, when Krantz was living in Brooklyn, she walked into Saffron, a flower shop and gallery space in Fort Greene and approached one of the owners, Kana Togashi, in a move she says was out of character. "I was like, Hi, you don't know me, but I make these ceramics, and I think your flowers would look really pretty in them. Do you want to come over to my studio and see them?" Togashi did, and offered Krantz a show. In addition to museum exhibitions, her works have also been shown in spaces like Iko Iko in Los Angeles and can currently be seen at Seattle's Totokaelo, Propeller in San Francisco, and at Mociun in Brooklyn.
Krantz came to ceramics from a fine arts background, having trained as a painter. Feeling a little constrained and burned out in her practice, she decided to try her hand at coiling pots. "I was completely hooked. It slowed me down a lot, which is what I really like. With painting, you make a move on the canvas and you just go from there, each move builds on the next. Working with clay there are all these built-in stops. With each step along the way I had to stop and look and take my time. That was really good for me."
Originally from New Jersey, Krantz has crossed coasts a few times, growing up in the Bay Area and graduating from UC Santa Cruz before heading to New York, where she got her MFA from Hunter in 2007. Four years ago, her husband's medical residency brought them out to Seattle. She now does most of her printing and painting in a studio space below her apartment, while the kiln at Seattle's Seward Park Clay Studio lets her gets as wild and crazy with clay as she wants.