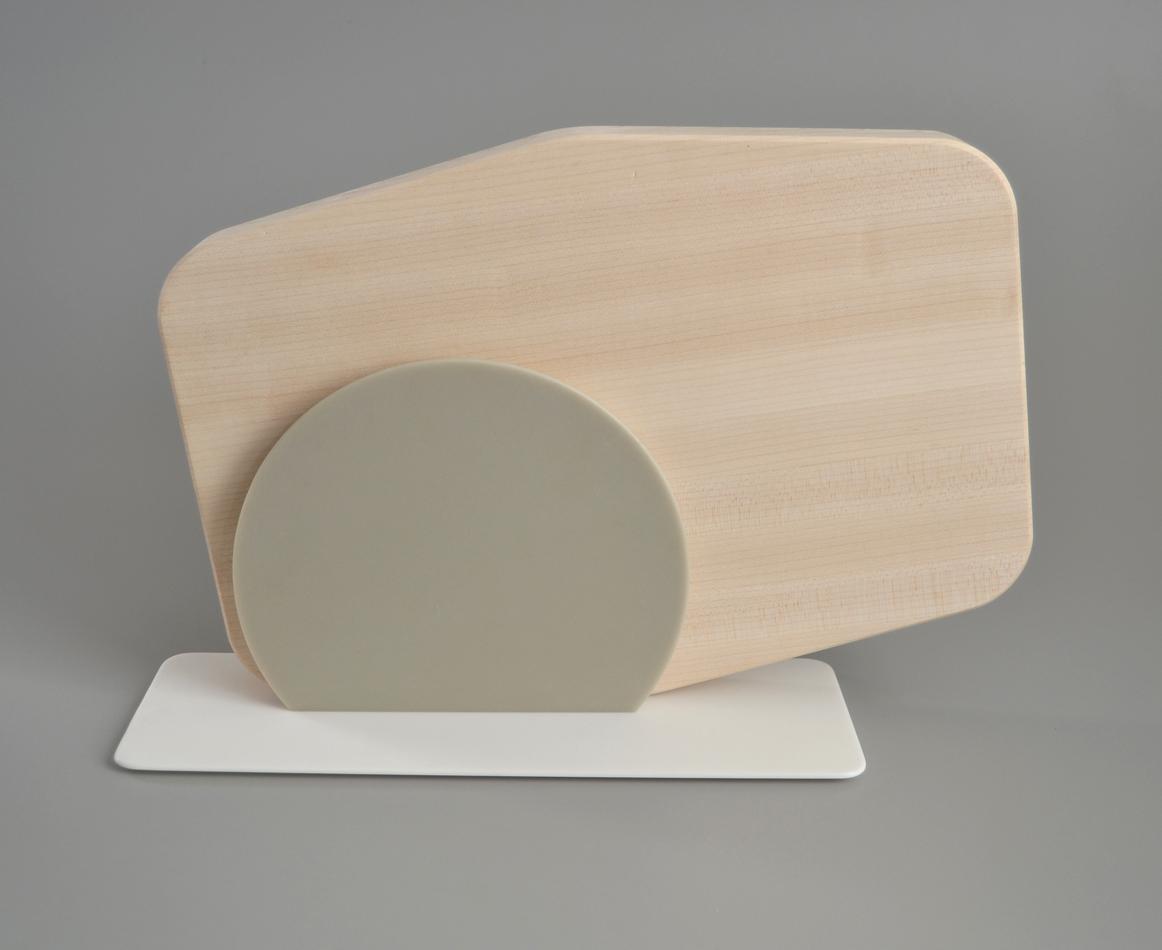 A weekly Saturday recap to share with you our favorite links, discoveries, exhibitions, and more from the past seven days. This week: Maybe it's just the gloomy New York weather, but today we're wishing we could be anywhere but here: a slice of Max Lamb's terrazzo you can actually buy, a faux-fabric fireplace by Faye Toogood, and the coolest Marimekko pattern we've seen in ages.
Events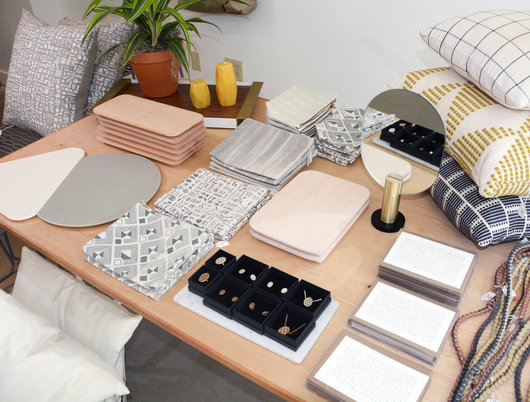 Today is the final day of Design Week Portland, which offered everything from an architecture film series to auto-tune karaoke. Yet there's one key element of the event that you can still check out until October 25, both in person and online: the boutique Woonwinkel's Design Market pop-up, which features work by West Coast talents like Erich Ginder, Grain, and Fruitsuper. We're especially into the shop's new Corian and wood cutting board sets by Studio Gorm, pictured at the top of this post. Shop the collection here!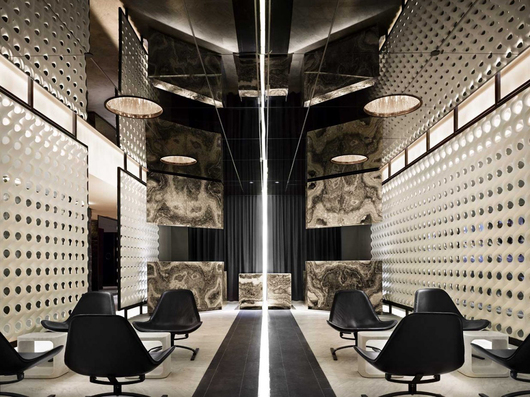 This month marks the celebration of this year's National Design Awards, a distinction given by a panel of judges at the Cooper-Hewitt, Smithsonian Design Museum. And while we weren't privy to the White House luncheon last week with Michelle Obama and Tim Gunn in attendance, we did get to attend the snazzy, David Stark–designed gala in New York this Thursday night. Highlights included Ben Stiller introducing (via video) Interior Design award winners Roman + Williams (whose lobby for the Standard Hotel New York is shown above) and Milton Glaser basically doing a comedy routine to introduce Lifetime Achievement award winners Chermayeff + Geismar. Congrats to all the winners!
Links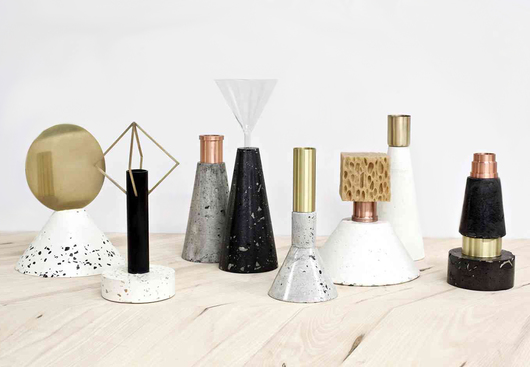 The week before also marked the eigth annual Vienna Design Week — we haven't attended in years, but design writer Yoko Choy took a tour for Wallpaper and discovered, among other things, these lovely studies by Chmara.Rosinke. The Austrian-Polish duo had a solo show hosted by Sotheby's at the Palais Wilczek.
Discoveries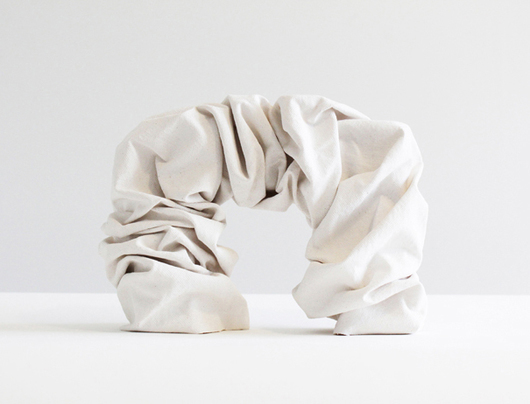 London's PAD fair doesn't begin until next week, but the previews have been trickling in, including this so-called "loose fabric fireplace" by Faye Toogood, which will make its debut at Gallery FUMI's booth. The piece is a collaboration with Lapicida — it's actually not fabric at all, but carved limestone. Trippy.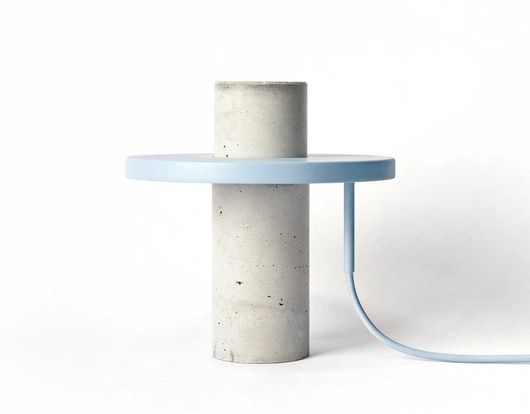 The Totem lamp by French studio Alexandre Dubreuil Design is a simple idea that's particularly well-executed: It's a freestanding column of concrete with a small ridge, atop which rests a pale-blue metal ring embedded with LEDs. No surprise that it made the blog rounds this week.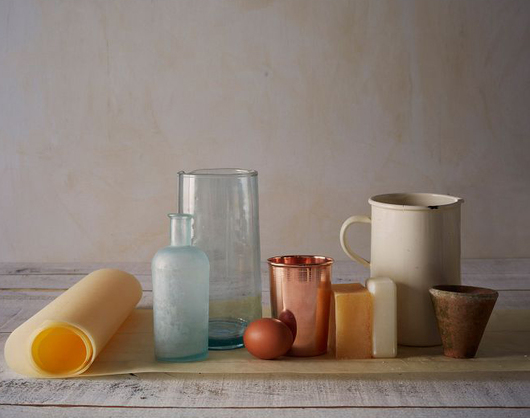 As you may have noticed, we're continuously amazed by how much incredible, affordable art there is out there these days. We were browsing West Elm the other day (whose offerings in general are so spot-on right now) and saw this serene little Dutch-inspired still life printed on birch wood, one of two styled for the site by floral designer Amy Merrick.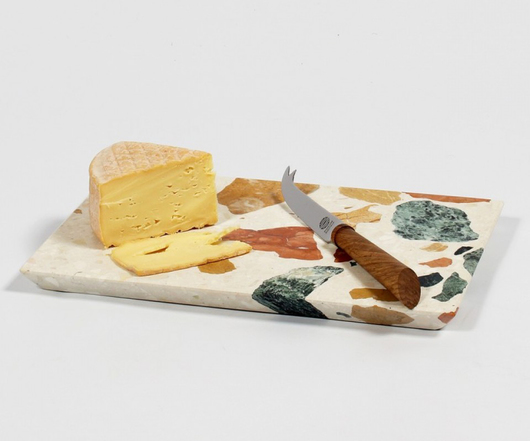 Falling into the same dream-kitchen scenario is this cutting board, which we were surprised to discover on the website of the UK-centric emporium Makers & Brothers, only because we weren't aware that Max Lamb's next-level Marmoreal project — launched at this year's Milan fair by the architectural surfaces company Dzek — had spawned a commercial object. It ain't cheap (180 Euros), but it's certainly more affordable than lining your floors in the terrazzo-like material.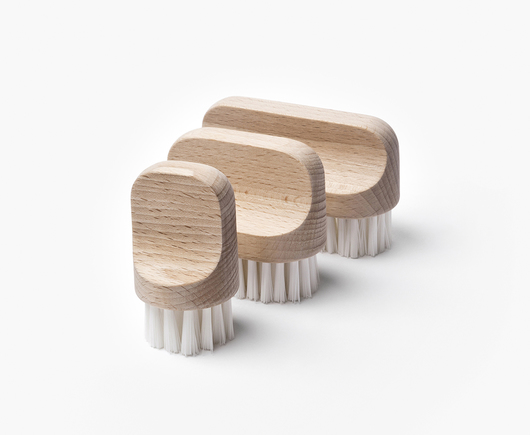 One last kitchen item: these brand-new beechwood fruit-and-vegetable brushes by French designer Ionna Vautrin, which range in both size and softness, depending on how firm the food is that you're scrubbing. Called Canot, the series also includes a cutting board whose feet have matching contours. Photo: Michel Giesbrecht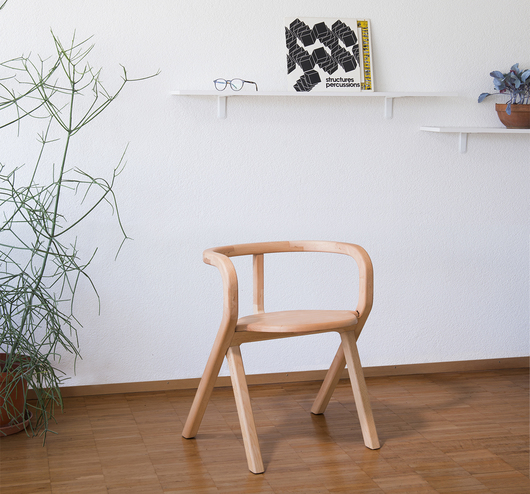 Hongchao Wang and Peng You of Benwu Studio went to two different graduate schools (ECAL and RCA, respectively) but that didn't stop them from collaborating on a thesis project, the Sumo chair, pictured above. Nor has their partnership ceased now that Wang lives in New York and You lives in London — they're a duo to keep an eye on, for sure.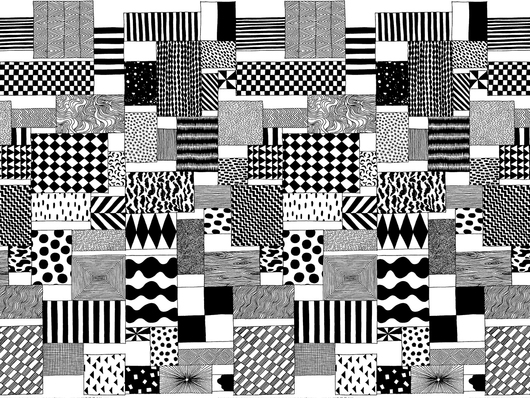 Marimekko's iconic poppy pattern will of course always be a classic, but we tend to prefer when the Finnish brand's textiles get a little more intricate and graphic. Case in point: the new black and white Ajatus motif, consisting of unevenly tiled squares filled with a medley of polka dots, triangles, starbursts, and even something that looks like a more scribble-y version of Bacterio.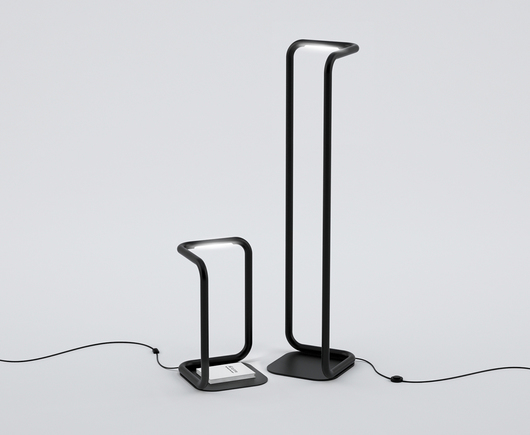 This week, Russian designer Maxim Maximov sent us images of his new All Is One collection, in which objects like ottomans, tables, and clothes racks all share the same fundamental shape and bent-steel-tube construction. We particularly loved these neat lamps that double as book/magazine racks.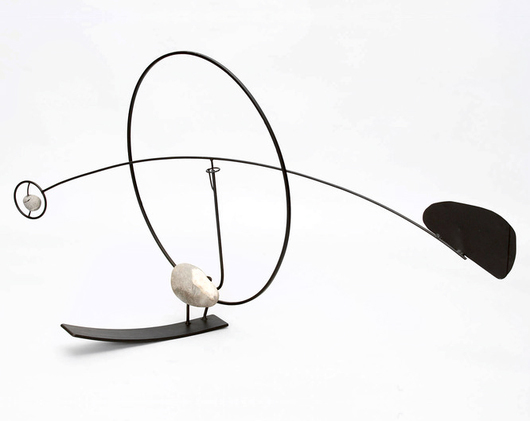 A few days later, another great bent-metal specimen arrived in our inboxes, albeit in a very different form: an anonymous '60s stabile sculpture made from painted iron and river stones, one of gallerist Patrick Parrish's latest acquisitions. It's totally worth joining his mailing list to have objects delivered to your screen every week.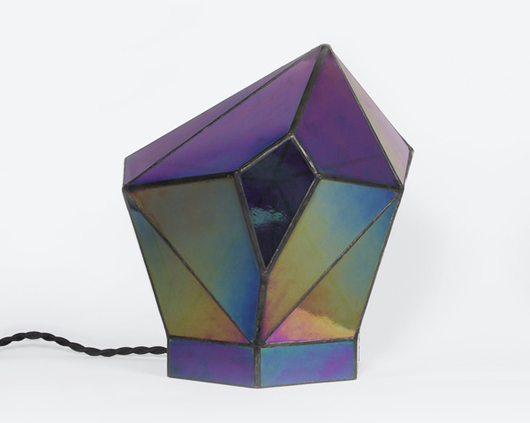 At the height of the terrarium frenzy, Score + Solder was THE place to get the coolest housings. But with that particular craze having died down a bit, we were excited to see that the company had since branched into other typologies, like crystalline desk lamps. They come not only in transparent glass, but also in this striking iridescent version, through which you can still see the bulb inside when it's lit.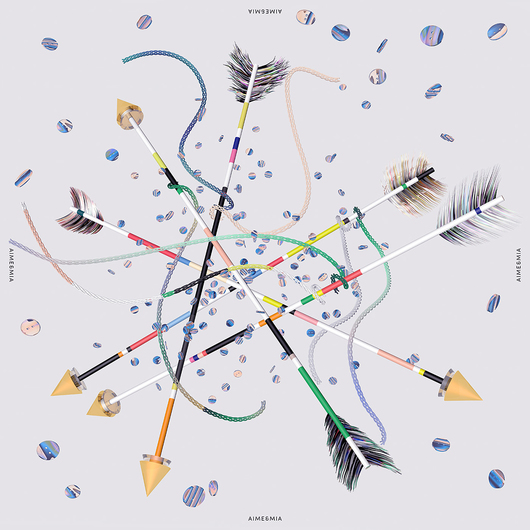 We should probably keep better tabs on New York Fashion Week, because we totally missed the launch of a new US-based scarf company in the vein of Milleneufcentquatrevigntquatre, called Aime + Mia. Their digitally printed collection includes the Attire scarf above, plus ten other very different but equally graphic patterns.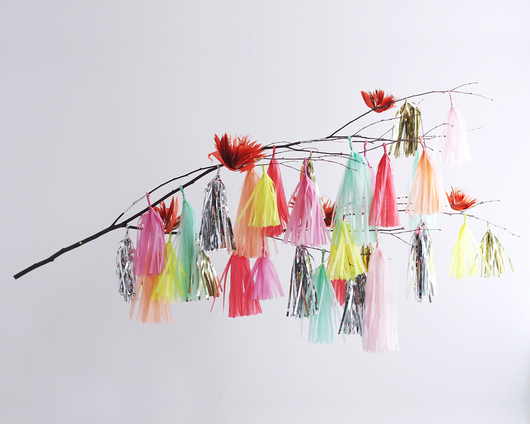 We hadn't gotten a newsletter from Confettisystem in ages until this week — their fall update tipped us off to a few items they've just added to their online shop, including a shaggy blue piñata and this Tassel Branch Mobile. It's literally colorful paper and tinsel tassels hung from a natural branch, making each one-of-a-kind. You can hang it horizontally from the ceiling or prop it upright in a vase. Not a bad method of staving off the winter blues.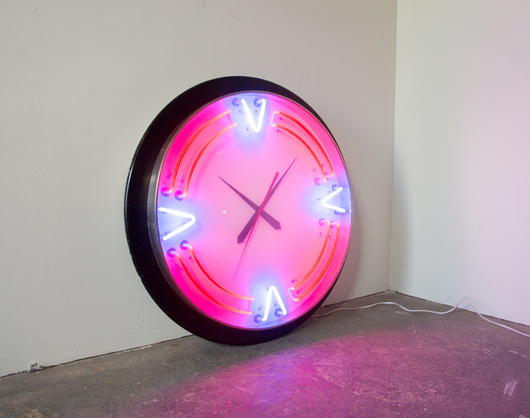 Jill spotted this bananas vintage neon clock on the website of the Brooklyn shop Strawser + Smith. No info on it except that it was mounted to a building façade at some point — not that it really requires any further explanation!
Exhibitions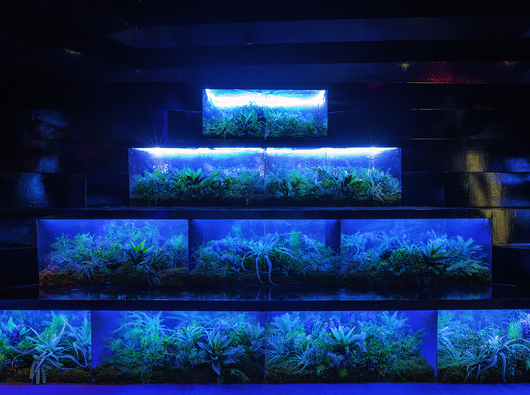 We visited the NYC Makers biennial at MAD months ago — have you? If not, tomorrow is the last day to see the show, which is a tour de force of objects by 100 designers from around the city, from Ana Kraš to Misha Kahn to Lindsey Adelman to Rafael de Cardenas, who built an epic, must-see nightclub installation inside one of the gallery rooms (detail shot above).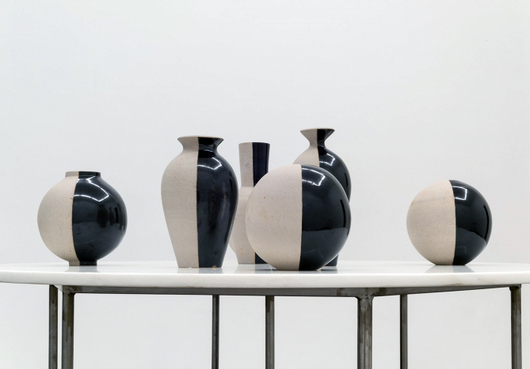 Almost exactly a year ago, we featured Claire Nereim's poster series Plant Planet. But Nereim is primarily a fine artist and trained sculptor, one who currently has a solo show up at New York's Jancar Jones gallery. It includes four new sculptures, one of which is this tabletop assemblage of lovely stoneware Moon Pots. See it before it closes next Friday!