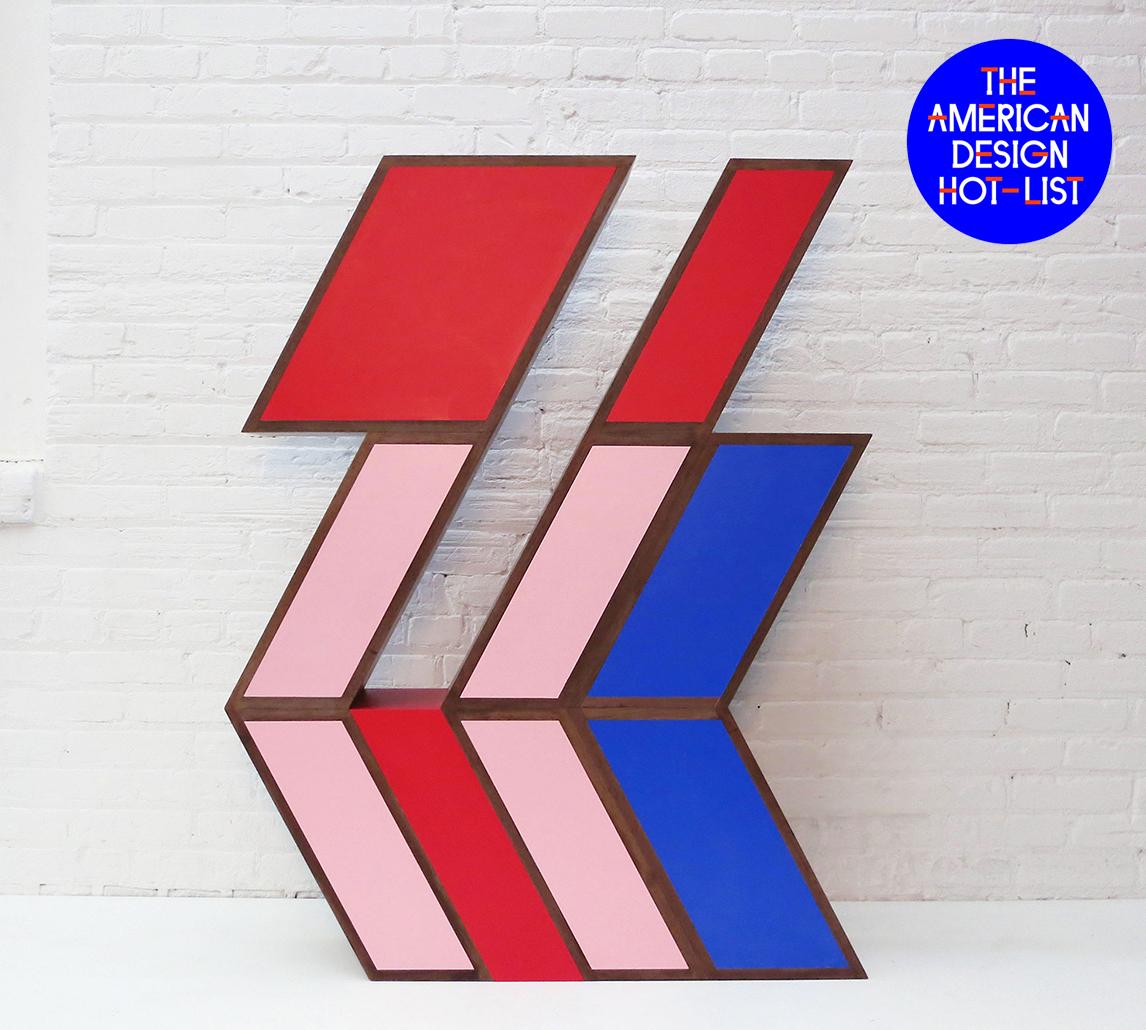 This week we announced the 2014 American Design Hot List, Sight Unseen's unapologetically subjective annual editorial award for the 25 names to know now in American design. We're devoting an entire week to interviews with this year's honorees — get to know the next five Hot List designers here, then hop on over to our Pinterest and our Instagram for even more coverage.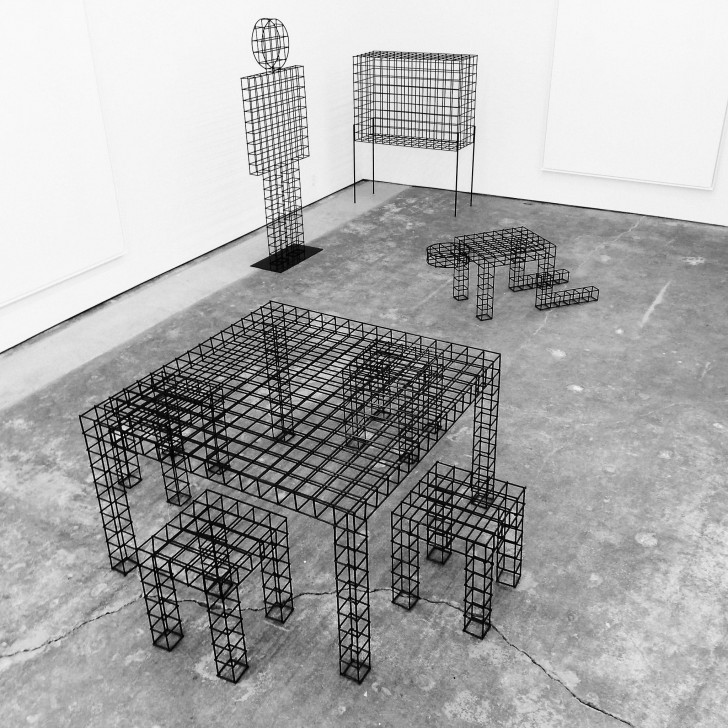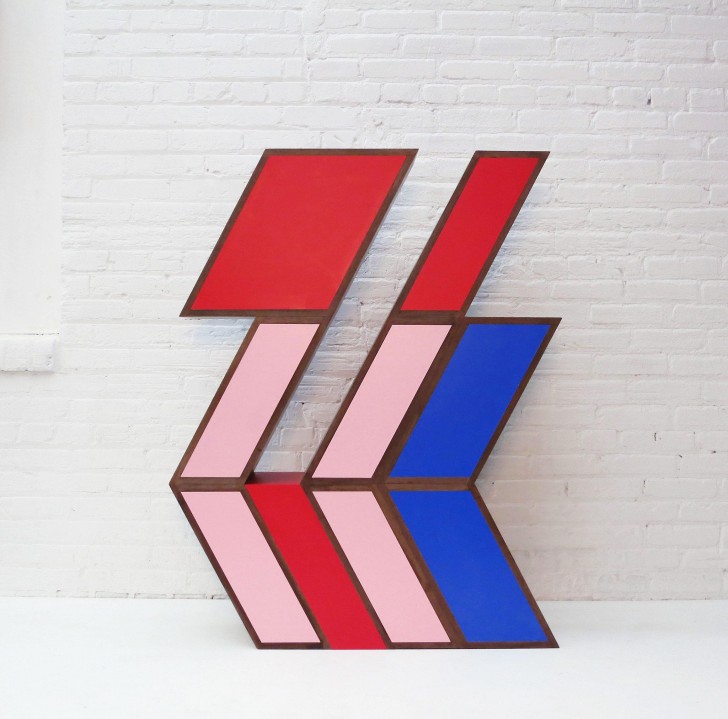 RO/LU
Minneapolis, ro-lu.com
After laying low for a while, landscape designers and furniture darlings Mike Brady and Matt Olson opened three simultaneous exhibitions across the country this fall.
What is American design to you, and what excites you about it?
We get asked this. It can be an interesting question, but I don't have an answer. I don't consider myself an American designer. For me it feels like place is where my attention is, and that's usually the Internet (or nature.) What excites me about the Internet is other people's work and ideas and the proximity to it.
What are your plans and highlights for the upcoming year?
We try not to make plans so that we can follow the flashes that happen forward. We just closed three exhibits: Surfaces On Which Your Setting And Sitting Will Be Uncertain with matching clothing by Various Projects at Patrick Parrish Gallery (9/4-10/4), In Waves with composer Alexis Georgopoulos and filmmaker Paul Clipson at Jack Hanley Gallery (9/7-10/5), and Future Tropes at Volume Gallery (9/5-10/5) in Chicago and Design Miami. We are going to do a project at the Los Angeles Book Fair. We have several collabs happening. We are working on three books. Next spring we will be staging a performance piece we've been working on for a few years at multiple locations in NYC.
What inspires your work in general?
So hard to not say everything. I mean, what would anything be without everything else? But, here goes: Knowledge and non-knowledge. Humility and trust. Mistakes and misunderstandings. Waves and reflections. Questions and water. Listening to someone read aloud the same thing I'm reading from a page. Changing my mind over and over.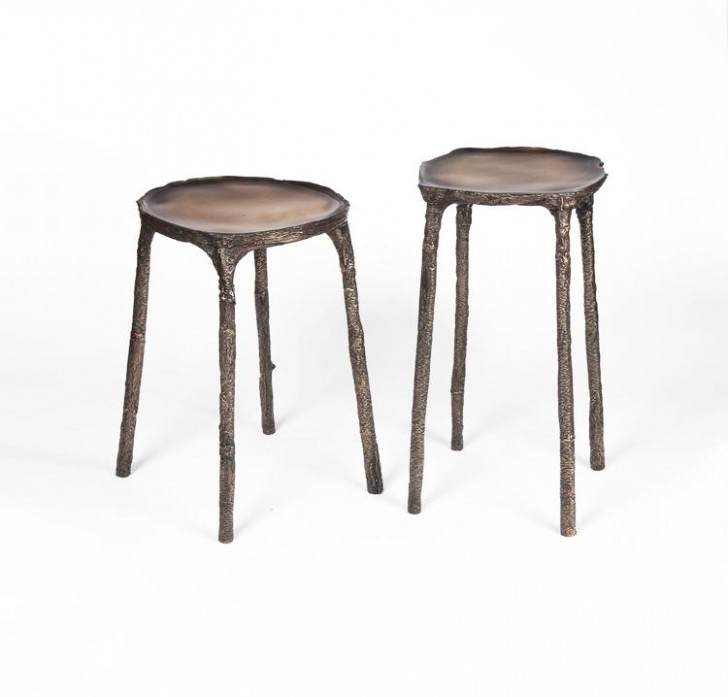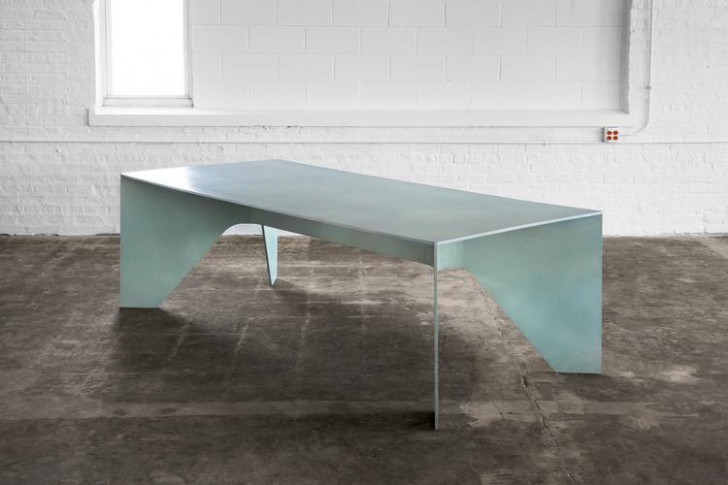 Steven Haulenbeek
Chicago, stevenhaulenbeek.com
Haulenbeek's experiments in ice-cast bronze are a fascinating exploration into what happens when you invent an entirely new process. 
What is American design to you, and what excites you about it?
American design reflects the nature of what made America in the first place: an eclectic mixture of culture, exploring new territory, and a desire to make it on our own while throwing caution to the wind.
I am incredibly excited by the work of my American contemporaries — very likely several, if not all, of those included in this list. It makes me feel proud, inspired, and so happy to be among them. They also make me feel competitive and excited to keep experimenting, taking risks, and creating great work.
What are your plans and highlights for the upcoming year?
A new relationship with Casati Gallery here in Chicago will open up some new doors for me this year. I am working on a body of Ice Cast Bronze work as well as cast pewter. The first pieces launched last month with side tables, wall mirrors, candle holders, and several vessels. I will also be creating several new pieces commissioned by Casati Gallery to be shown at Design Miami.
What inspires your work in general?
I have always been inspired by materials and processes. I often begin the making process without any plan for an outcome and then develop plans based on what small discoveries or problems I am confronted with along the way. My "Ice Casting" process started this way. Lately ice has been the material of choice. In the beginning the idea of adding ice to a typically fire-y process like bronze casting was inspiring but as I experiment more and dig deeper into this process, I find that the new set of necessary equipment and the constraints that they create becomes equally as interesting. Lately I've found myself dreaming up and sometimes building new tools to compliment new variations within the process. That is when it really feels like you're on to something.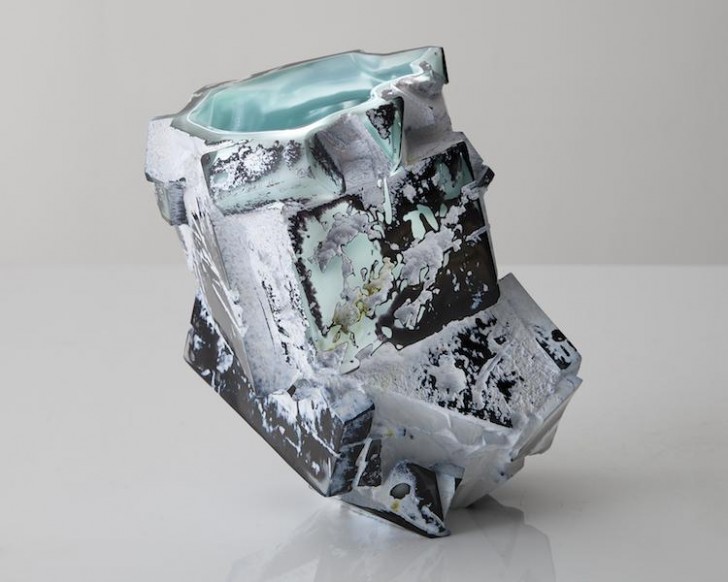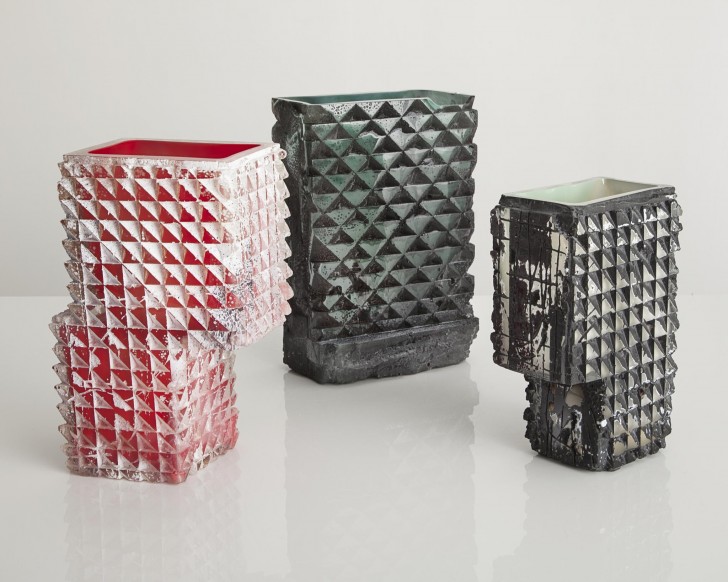 Thaddeus Wolfe
New York, r-and-company.com
The rough, geometric textures of Wolfe's otherworldly glass creations are like nothing we've seen before. 
What is American design to you, and what excites you about it?
American design is strong and pluralistic now. I'm amazed how many independent studios/designers are producing great pieces. I find it hard to keep up with everything — even just what is going on in New York. I assume this is partially due to the time in which we find ourselves, both economically and culturally. More designers have decided to form their own businesses rather than working for larger companies. The venues to exhibit and show the work and the market to support it have grown significantly in recent years.
There appears to be more emphasis now on formal aesthetics than on ironic/ jokey concepts, which were prevalent in the recent past. This shifting of the aesthetic is an important development. It reflects a maturity of ideas behind what is being made, and that that well-made objects have an inherent value when the are visually exciting.
I also particularly enjoy seeing so much great new work in ceramic. I hope the same thing will happen in glass.
What are your plans and highlights for the upcoming year?
Coming up this year, I will have work in two shows this November through R & Company — The Objects Show, and The Salon: Art + Design at the Park Avenue Armory. This December will be my first time exhibiting at Design Miami, also with R, which I am very excited about. Beyond that, I am planning for my first solo exhibition at R & Company, which will be in 2015.
What inspires or informs your work in general?
Working in glass with all its possibilities and inherent limitations has definitely informed the scope of what I am able to do. I have largely focused on a singular technique of blown-cast objects for some time now. This has allowed me to thoroughly explore and develop color, pattern, surface and the intuitive construction of the forms. I gain insight into what I am doing from a lot of visual sources in my environment and otherwise. I am interested in the organic deterioration of surfaces in my urban surroundings, Czech cubism, visual complexity in simple repeated structures in minerals, plants, and other natural phenomena, and recently poroid patterns in certain bracket-fungi (the undersides of shelf-like mushrooms). My goal is a synthesis of visual input/ideas from the natural and unnatural worlds into something more complex and abstract which does not necessarily reference any one specific thing.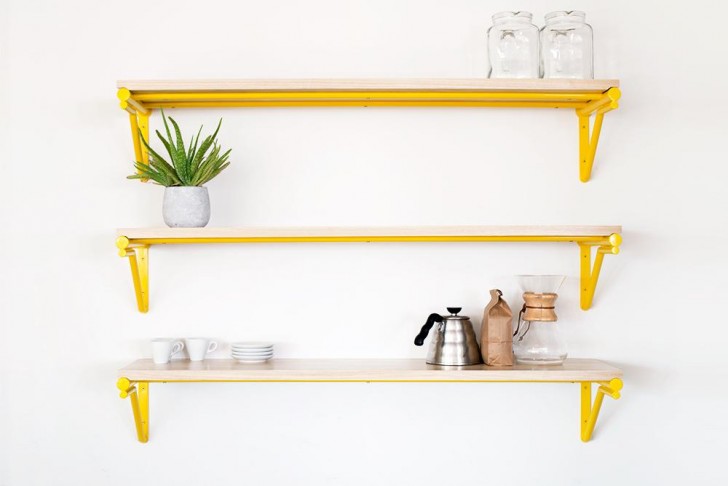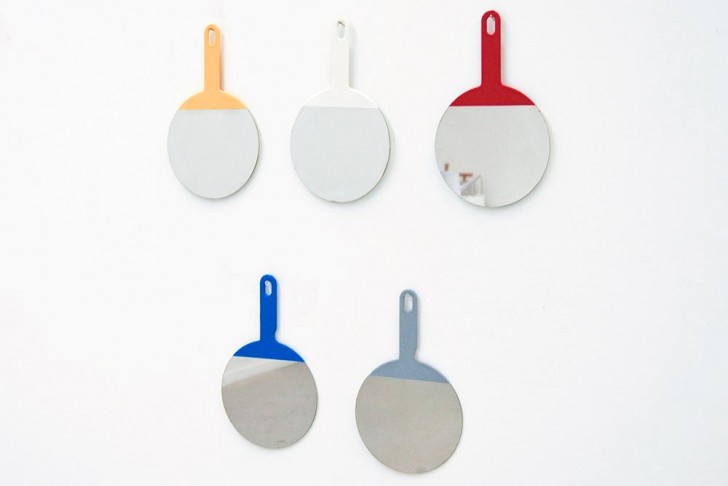 Visibility
Brooklyn, vsby.co
Visibility's young RISD grads have serious pedigree — Sina Sohrab works for Bec Brittain while Joseph Guerra spent time with Industrial Facility and Big-Game — and a seriously cute debut collection under their belts.
What is American design to you, and what excites you about it?
American design historically has been so interesting because of its relation to industry and innovation. Breakthroughs in materials and engineering have allowed for masterful work such as the Eames's experiments with plywood, Louis Kahn's Salk Institute, and Chris Bangle's work as chief of design for BMW. This precedent allows for a multitude of new opportunities for us to challenge and innovate with new projects. In addition, America's art movements have had a profound effect on us as well, from Robert Irwin and Donald Judd to Diebenkorn and Agnes Martin. As designers here in the U.S. we have a unique opportunity to be at the intersection of art and design even if we ourselves lean towards industrial design.
What are your plans and highlights for the upcoming year?
We're pretty excited by the diversity of projects that we have coming this year. We're moving products into production, both new and old, we're designing an experience-based event that will also premier a new product, and we'll be debuting a new piece for a long-standing New York institution. There's even more but we can't share everything!
What inspires your work in general?
We are highly interested in objects that are familiar but challenging. It's important that a piece be relatable to everyday users while also providing something innovative and exciting. Industrial Facility designed an alarm clock that resembles a bicycle bell. It's a familiar object in a new context. Context and the history of design are very important to us. Most objects are fairly evolved and it's crucial to understand the history of that object and how it got there.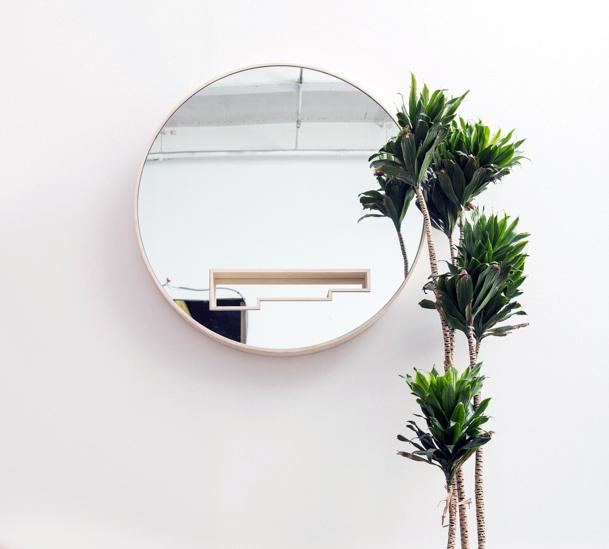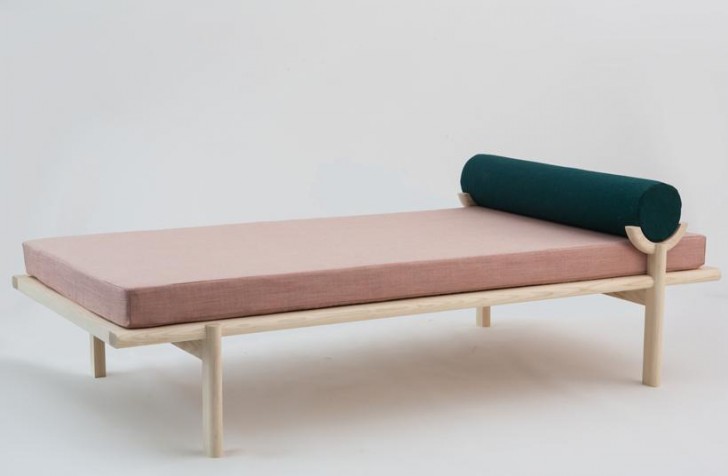 Vonnegut/Kraft
Brooklyn, vonnegutkraft.com
A couple in life and business, Katrina Vonnegut and Brian Kraft make beautifully crafted, sculptural but functional work from natural materials.
What is American design to you, and what excites you about it?
The American design that we're immersed in is rooted in the model of the self-sufficient, independent studio that thrives on taking as many aspects of production into its own hands. Working through the prototyping stages of experimentation and engineering all the way to manufacturing, this approach gives designers a dexterity with materials and a fluidity in their process that is really inspiring and has led to some great American design in recent years.
What are your plans and highlights for the upcoming year?
We recently expanded our studio and are finishing up the buildout in the next month, adding a new office and more space for machinery and work benches. Since we spend most of our time there, we've really made it a priority to plan the space to be as efficient and comfortable as possible. We're really excited to see it come together, and we'll be jumping right in to work on our new collection for 2015. We've also recently joined Colony, a cooperative showroom in downtown Manhattan, where we'll be releasing one new piece this fall, along with new editions of our Crescent Lounge and Relief Mirror.
What inspires your work in general?
In the everyday, just getting into our studio and trying out new tools and techniques, working out shapes and joints, and devising new ways of combining materials. Our practice ends up being really integral, including occasional exploration in prototyping details and full-scale mock-ups often before we're even done with any technical drawings. On a more ethereal level, we try as often as possible to get deep into nature, where we find inspiration for texture and form. We just got back from our annual hike on Mt. Katahdin in Maine. The landscape there is otherworldly and expansive and has such range of rock formations caused by glacial cirques. Throughout our most recent trip up and down the mountain, we collected so many incredible images of rocks and mushrooms and lichens. Right now we're really excited to use them as reference for our upcoming collection.