09.27.14
Week of September 21, 2014
A weekly Saturday recap to share with you our favorite links, discoveries, exhibitions, and more from the past seven days. This week: our exhortations that you visit the New York Art Book Fair, buy a brand new design magazine, embrace the aesthetic of paperclips, and see an eccentrically staged exhibition of iconic late-20th century chairs.
Exhibitions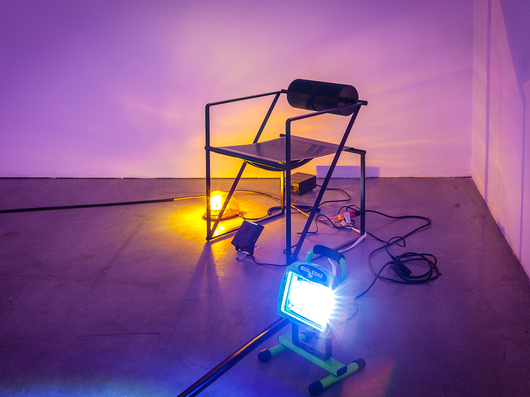 If you happen to be in New York, the Swiss Institute recently opened a cant-miss design show in its Soho space called Fin de Siècle, which is the first in a new series of annual design-focused exhibitions it's planning to commission. This one, curated by Greek-Norwegian architect Andreas Angelidakis, is a survey of late-20th century chair designs by folks like Branzi, Botta, and Breuer, among others. The exhibition design is so strange and incredible that it helps to see more than one photo — we highly encourage you to check out the rest on the Swiss Institute's site if you can't visit it in person.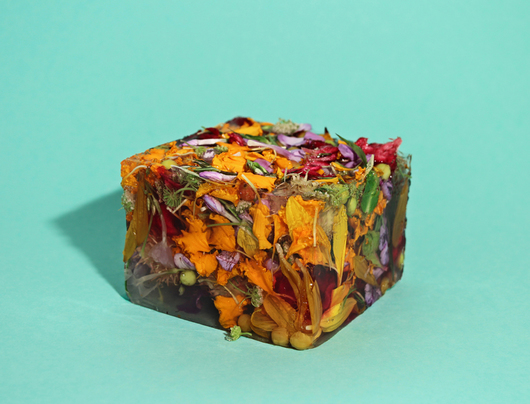 The art world can't get enough of still lifes in general these days (though admittedly, neither can we), with further evidence arriving in our inboxes this week from New York artists Josie Keefe and Phyllis Ma, who refer to their artistic endeavor as Lazy Mom. The pair currently have a show up at Bushwick's Good Work Gallery, featuring photographs of their food-based sculptures as well as edible jello sculptures they'll share with visitors on closing night, October 18.
Events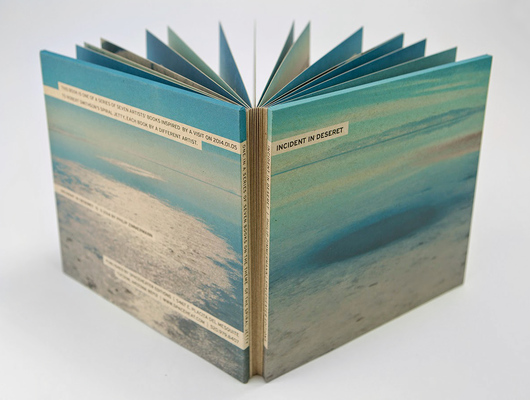 This weekend is one of our favorite New York events — Printed Matter's Art Book Fair, at PS1. We've already made the rounds of this year's show and are planning to post a more in-depth roundup of what we saw this week, but for now we wanted to call it out to make sure everyone made time to attend! Pictured above: a lovely book by Philip Zimmerman and Spaceheater Editions that chronicles Zimmerman's visit to Spiral Jetty.
Links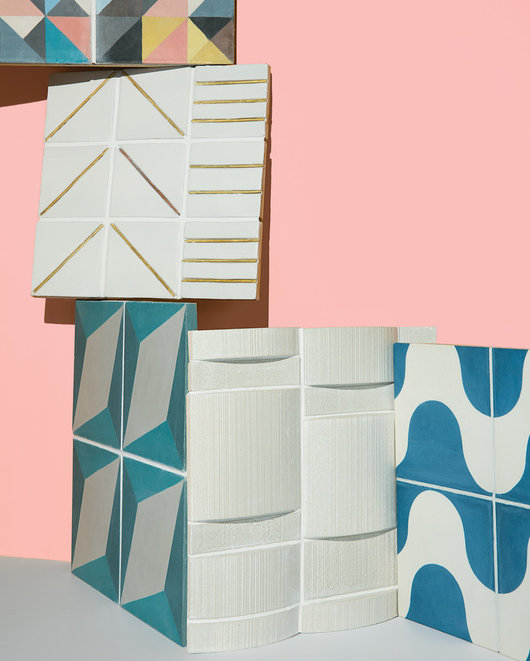 This weekend also marks the release of T Magazine's fall design issue, for which I curated the objects featured in two stories, about colored glass objects and Swedish carpets. You can see those stories posted online now, but contrary to what the credit says, I did not do the market editing for the gorgeous image of colorful ceramic tiles, pictured above — hence my eagerness to share it with you here.
Discoveries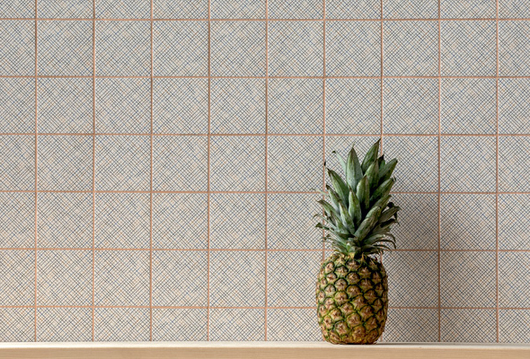 We had tiles on the brain this week, in fact, as a new series of porcelain stoneware beauties by Inga Sempé for Mutina arrived in our inboxes. The cross-hatched pattern above is called Croisée.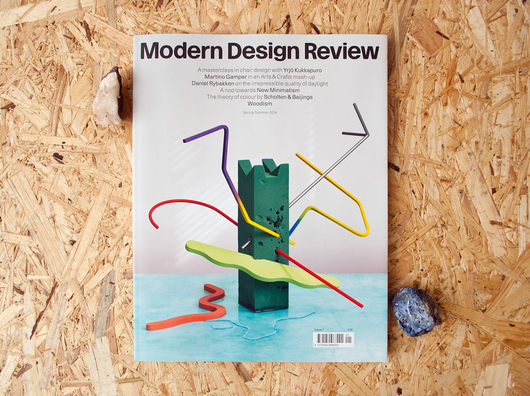 Who doesn't love a new design magazine? We were over the moon when Disegno launched a few years back, and now our faith in print media has been renewed once again with editor Laura Houseley's new semi-annual journal Modern Design Review, which is art-directed by the pros at Graphic Thought Facility. The first issue, pictured above, reflects on topics like display, new minimalism, wood, and the work of Martino Gamper and Daniel Rybakken. Get it here!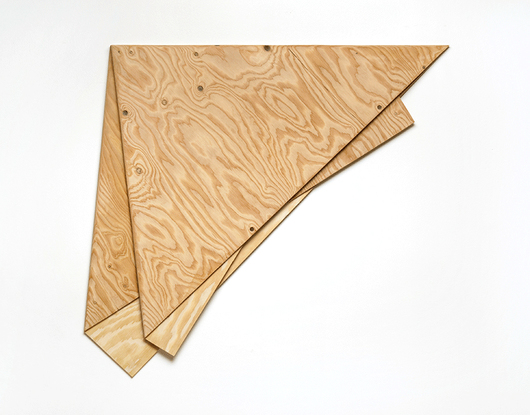 Our brand new assistant editor Ryland Quillen — whom we're very excited to welcome on board! — introduced us to the work of artist and Vassar College professor Harry Roseman, in particular his Folded and Draped Plywood series, which you can view more of via this link. After poking around though, we realized that Roseman is also the guy who created those faux curtains that line the walkway to customs at JFK. We'd always wondered about those….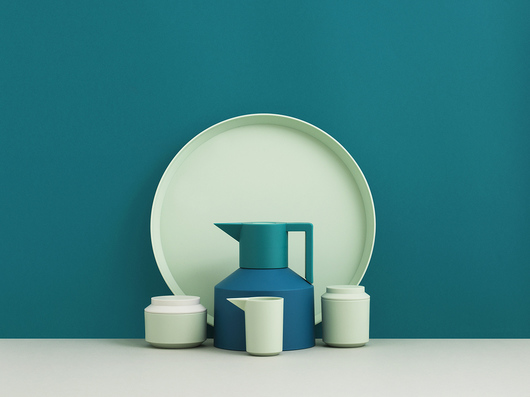 The folks at Normann Copenhagen know a good thing when they've got it  — having launched the Geo vacuum jug in 2013 by Nicholai Wiig Hansen (fun fact: same guy who designed Ikea's iconic locker-like PS Cabinet), it recently unveiled a line of matching kitchen accessories in equally cute colors. Love that little bird-nosed creamer.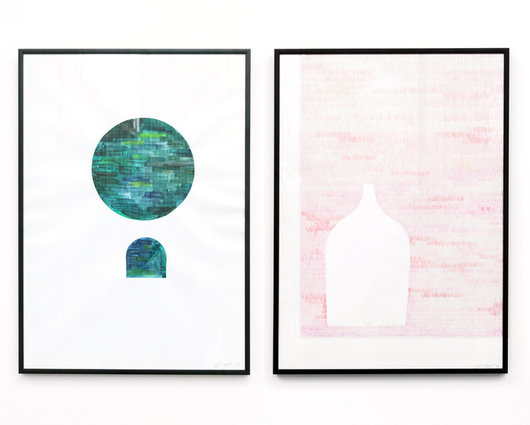 Earlier this week we posted our official roundup of this year's London Design Festival, which we'd also been tracking in our previous two Saturday posts. But the darn show is so rich and so prolific that we keep finding more gems to share! The image above is of two prints by designer and former Tom Dixon acolyte James Patmore, who created them for his site-specific Horizon installation during LDF, which is based on a theme of calmness. See the full project here.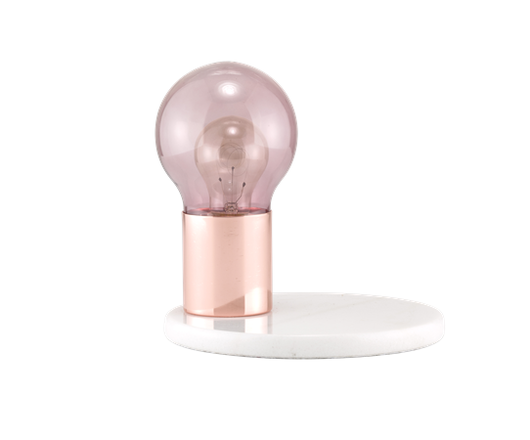 Having spent a considerable amount of time in Berlin, we're well aware of the design store Bolia, which is like a Danish CB2 except with higher price points and a Scandi design vibe. The store recently released its new fall collection, and while we can't afford most of it, nor does the company ship here (yet?), we found a few gems in the mix, like this little marble and rose-gold Snow lamp.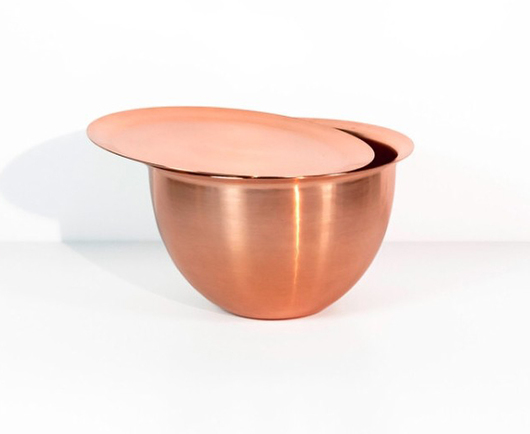 The new brand Tiipoi sounds very Scandinavian, but in fact it's a London-based company working with materials and producers in India to make high-end housewares like this spun-copper bowl. We discovered Tiipoi via Design Milk, who discovered them via the designjunction show at the London Design Festival.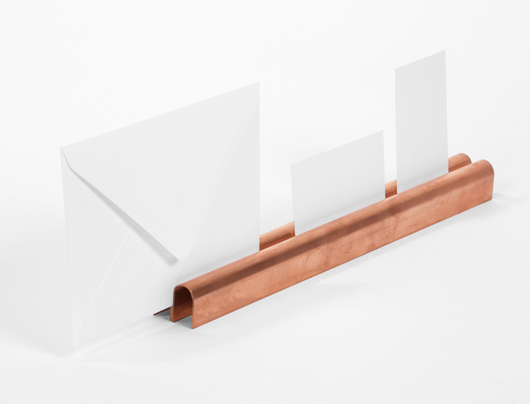 These bent-copper desk accessories, on the other hand, we ourselves first discovered, at this year's Salone Satellite exhibition in Milan. They're the work of the brand new, up-and-coming Belgian studio LeviSarha, who also make one of the most amazing hand mirrors we've ever seen, which happens to be for sale in our online shop!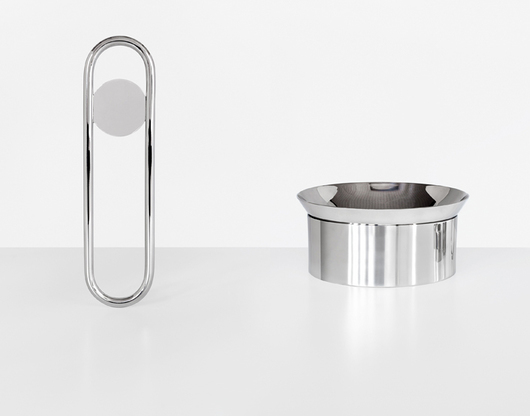 Another up-and-coming duo with a beautiful new project in metal: London's Loris & Livia, who last week launched the stainless-steel cocktail set pictured above at — where else? — the London Design Festival. We particularly love the bottle opener, which reminds us of those oversized paperclips from the '80s.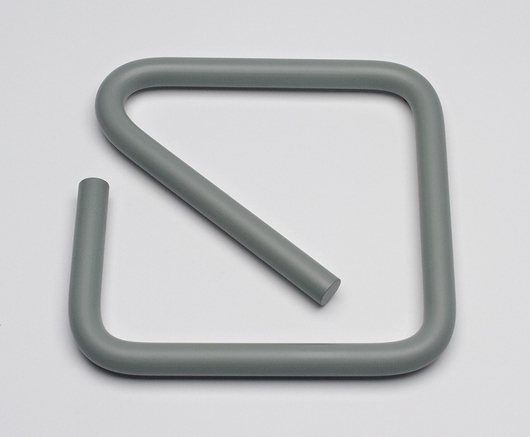 It's a look that must be in the air, because the American housewares brand Field announced this week the launch of a paperclip-like trivet designed by David Okum. Each trivet is produced in Rockford, IL, and then coated in heat-resistant ceramic in Burlington, NC. Pick one up here for $90.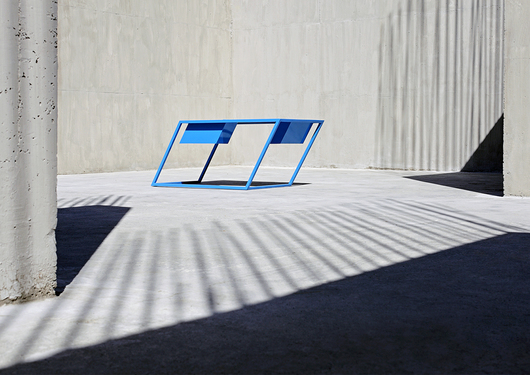 When our new editorial assistant Ryland pitched us this canted blue desk for inclusion in today's post, it hit us close to home — the designers behind it, XYZ Integrated Architecture, are based in Tbilisi, Georgia, which is where my father was born and raised. (For another great Tbilisi-based design studio, check out Rooms.)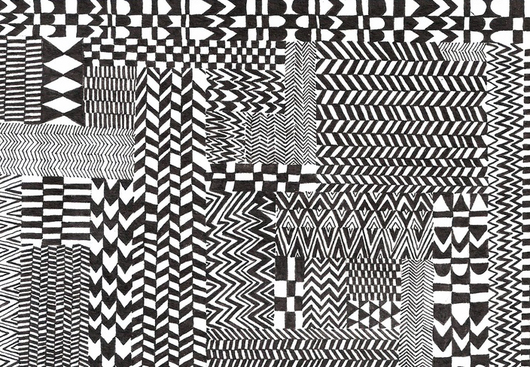 The Brooklyn-based artist Caitlin Foster introduced herself via email this week, and we immediately fell for her intricate graphic drawings, which range from zig-zaggy to amoeba-like to figurative illustrations of plant leaves and stones. Check out Foster's portfolio here.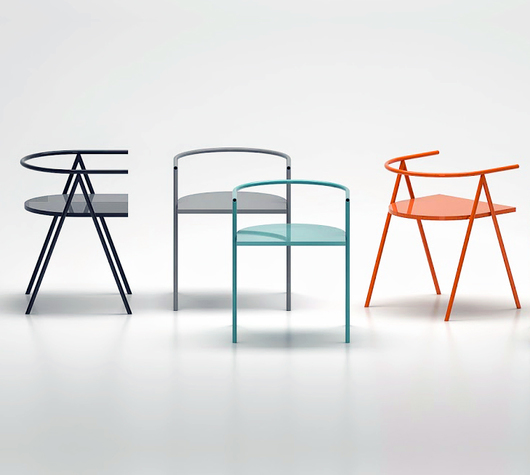 Having taken a weekend trip to Łódź, Poland, a few years ago, we're always pleased to see news from its fledgling design scene. The chairs above were an entry into a competition at this year's Łódź Design Festival, by a design studio called Latko & Fragstein, and are meant to find a contemporary way of utilizing otherwise vanishing crafts in the Silesia region of Poland. Unfortunately the studio's website is under construction, so we don't know what else is in their repertoire.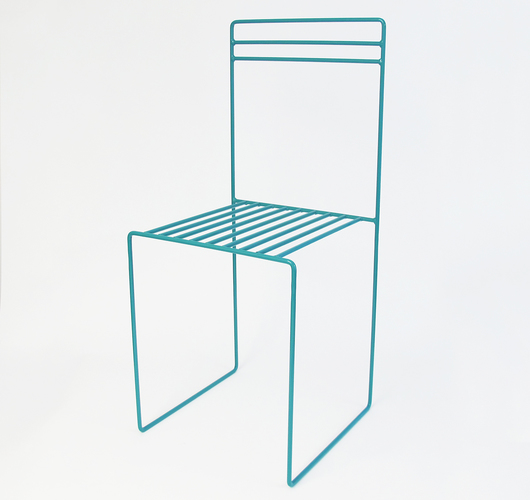 Most of London designer James Stickley's existing work is super bold and post-modern, but his latest project, the Lines chair, pares things way, way down to the simplest form imaginable. While the idea isn't particularly groundbreaking, the execution is quite nice, especially the teal colorway.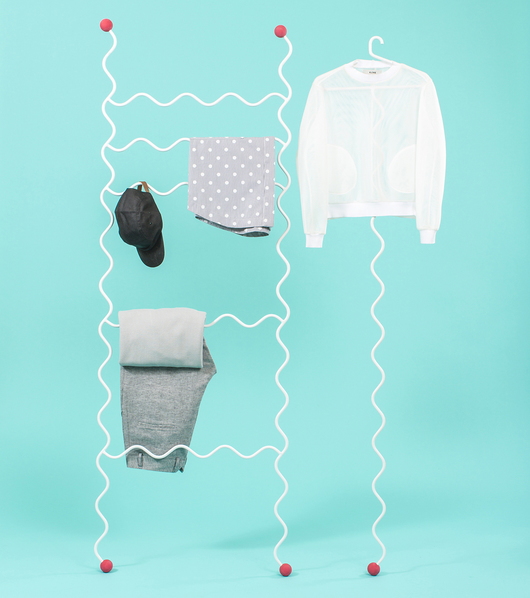 The skinny-lined furniture just kept coming this week, with a third entry by the Australian designers Dale Hardiman and Mathery, which made the rounds on the interwebs. And for good reason — not only did the group find a way to make clothes storage chic, they styled their photos impeccably.

This image by the Berlin art director Sandra Gramm has also made the rounds, but we couldn't resist sharing it anyway. It's part of a series of still lifes Gramm created using various unexpected shades of lipstick.