09.13.14
Week of September 8, 2014
A weekly Saturday recap to share with you our favorite links, discoveries, exhibitions, and more from the past seven days. This week: marble, fake marble, and a marbled painting made with a broom. Plus, select highlights from the London Design Festival, which started today.
Exhibitions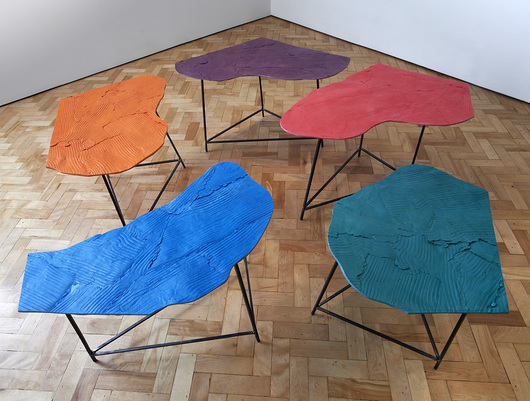 The London Design Festival officially began today, and while Jill and myself are not attending this year, we have eyes on the ground, as usual. Expect a full report once the show concludes, but for now, we're calling out a few highlights that have made their way to our inboxes this week. Pictured above and at top are Peter Marigold's colorful new Wooden Tables, now on view at Libby Sellers; they're made from Jesmonite poured into wax molds cast from individual pieces of wood. Photos: Gideon Hart.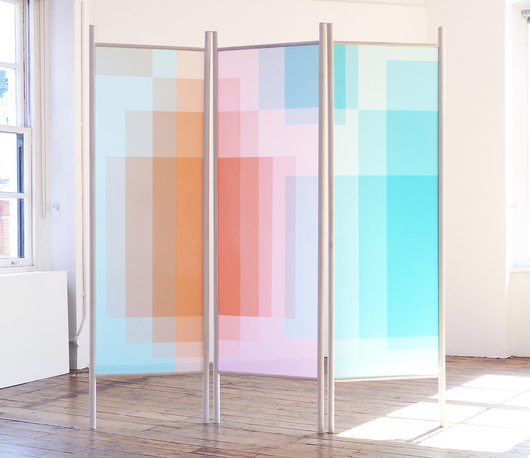 The Aram Gallery's LDF show, Future Stars?, curated by Héloïse Park, is a Sight Unseen reader's dream — it features the work of seven up-and-coming London-based talents in furniture, jewelry, and product design, many of whom we've endorsed on our site before as well. Maria Jeglinska, Lola Lely, Cat Potter, James Shaw, Sophie Thomas, Thor ter Kulve, and Kim Thome all have new pieces on view; Thome's Layers and Light Array folding screen is pictured above.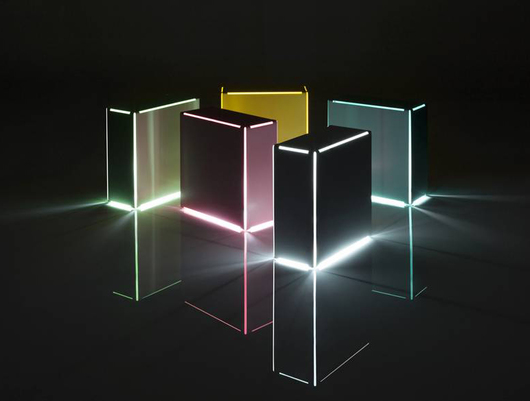 Back in May we featured the first piece of furniture by the London accessories studio Minimalux — a striking solid-brass bookshelf that cost $11,000 — and now the brand is adding to the range with the Dan Flavin-inspired Neon table lamp pictured above. It's also hosting a rather elaborate exhibition called HOUSE featuring not only its own full collection, but guest installations by Established & Sons, Muller Van Severen, and e15, all installed in a David Adjaye townhouse.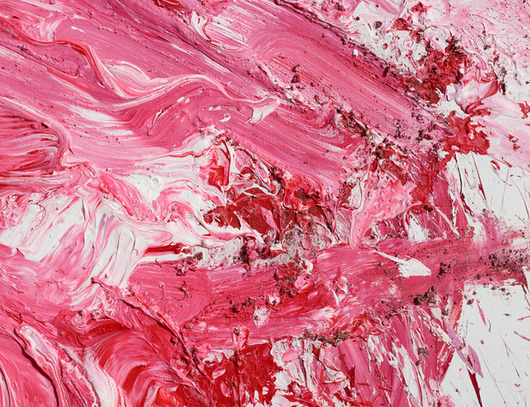 Yesterday the New York gallery Maccarone opened Otto Muehl: Paintings from 1988, featuring works the late Austrian artist created with a broom instead of a brush. The methodology may be strange — "The artist whacks the paint onto the canvas with a broom as if he had gone berserk, producing an atmosphere of ambivalence and disconcertment," reads the curatorial statment — but the results are quite beautiful.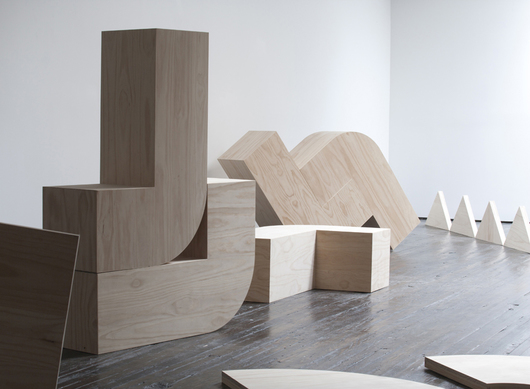 An exhibition so nice we visited it twice: RO/LU, Paul Clipson, and ARP joined forces on a show at New York's Jack Hanley gallery this week, consisting of a playground of giant plywood shapes by RO/LU that could be moved around and reconfigured by visitors, a film by Clipson, and a soundtrack by ARP. It was a big week for RO/LU in general — the studio also launched a collection of wireframe furniture at Patrick Parrish gallery a few days earlier.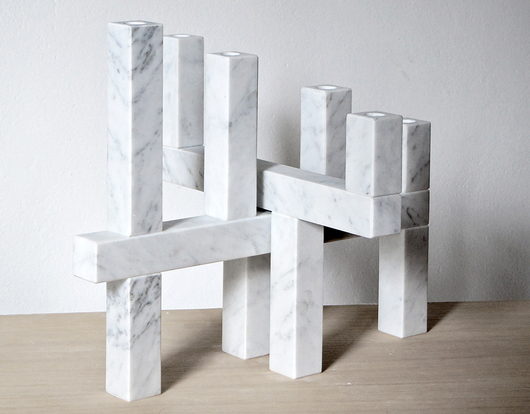 We find it kind of refreshing that the latest show at Paris's Gallery S. Bensimon, Ensemble, the curators dispensed with complicated themes and briefs and decided to simply put together a collection of works they admired. Participants include Christian Haas, Pool, Llot Llov, Dan Yeffet, and Italian studio Vano Alto, who introduced this jigsaw-like marble candleabra.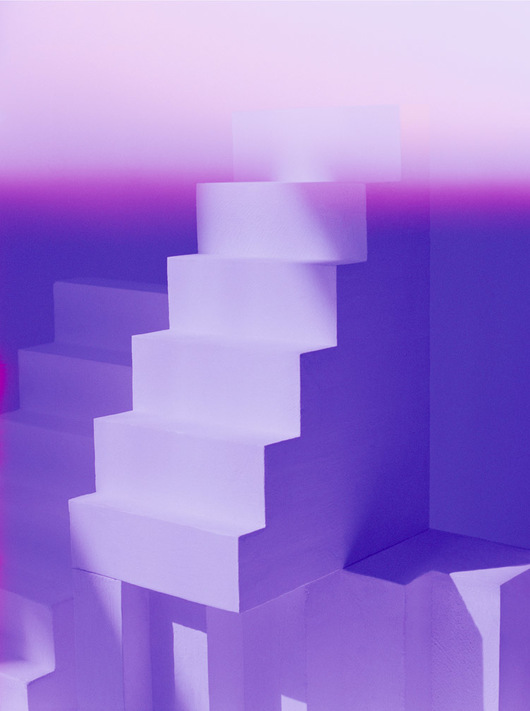 The team at the Amsterdam photography gallery Foam reached out to us earlier this week to promote their show Under Construction, New Positions in American Photography, which opens Tuesday and features the work of nine young American and Canadian artists, two of whom we've featured before: Lucas Blalock and Daniel Gordon. One of our favorite works in the show, though, is this piece by New Yorker Sara VanDerBeek, who creates her own sculptures and still lifes and then photographs them.
Discoveries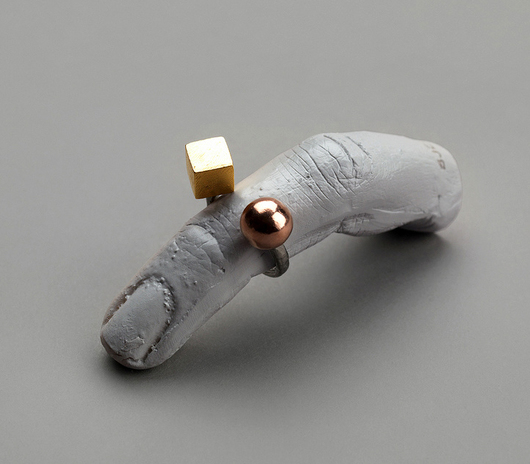 We also got an email from the folks at Bjørg jewelry, promoting their newest lookbook, but then got sucked into their site and found this piece, the Night and Day ring. Open rings with two shapes on either side — serious trend alert.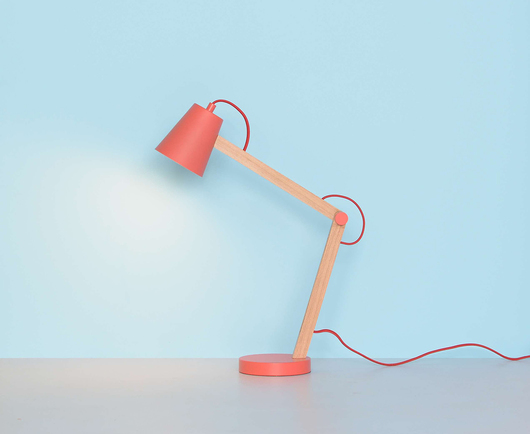 The London furniture store Heal's is launching a new brand during LDF this week. Called Ambrose, it's focused on catering to dwellers with small spaces and limited budgets — the Scandi-influenced Play lamp, pictured here, is only 75 pounds. Ambrose is also producing works by Matthew Hilton and the French studio Colonel.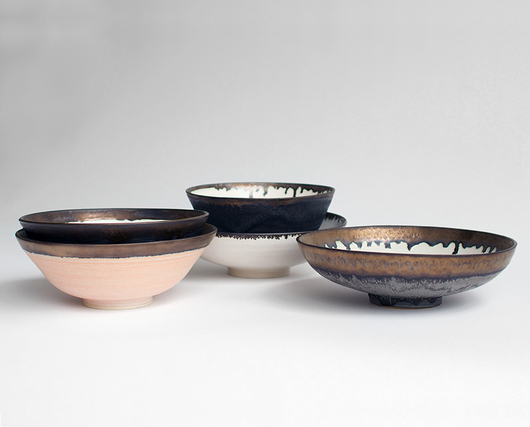 So it turns out that furniture designer and Roll & Hill founder Jason Miller has long dabbled in wheel-thrown pottery — who knew? In his latest studio newsletter he revealed a group of bowls he made recently, which don't appear to be for sale anywhere, but which are a nice, unexpected glimpse at the many facets of his design sensibility.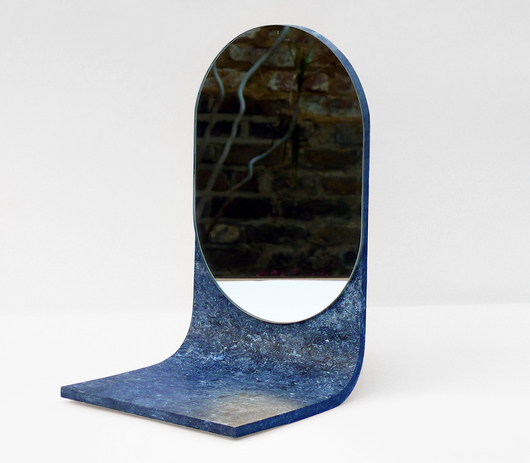 We're super into the name of Matteo Fogale and Laetitia de Allegri's new collection, also launching at LDF this week: "–ISH" is a series of furnishings made from stone-like materials that are actually composed of recycled and reclaimed post-industrial waste. "Slate-ish" is made from paper-laminate, "denimite" (pictured) is made from denim scrap, and "marbleus" is made from white cotton/polyester scrap. We'll show you more of the collection in our LDF wrap-up report.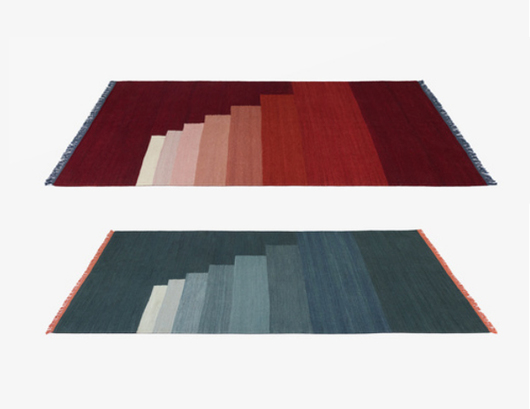 Another big fair we personally missed out on was Maison et Objet, but we heard there were quite a few gems. We're loving, for example, the new releases from Danish brand &Tradition, including a gorgeous white-marble floor lamp and these rugs by the graphic design studio ATWTP, which are woven with a kilim technique.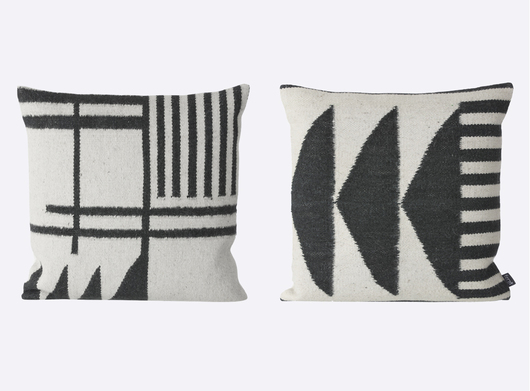 Ditto these amazing new pillows from Ferm Living, which just launched as well. They're only 54 Euros each in Ferm's online shop and they're slated to go on sale October 4. Our calendar is totally marked.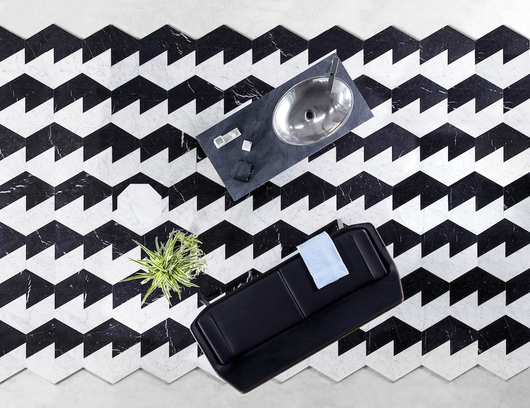 We don't normally pay much attention to tiles and flooring — not really our market — but we had to stop and stare when images of Scandola Marmi's new Profile collection arrived in our inboxes. Designed by Manuel Barbieri, it comes in two separate tile shapes that lock together to form a hexagon, so you can combine all kinds of types and colors of marble within the pattern above.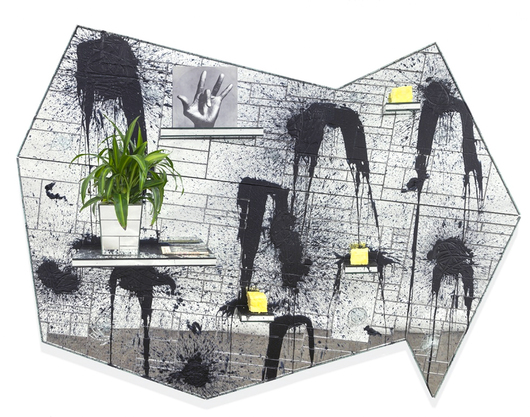 We were poking through David Kordansky Gallery's impressive fall newsletter when we jumped back to its website and started browsing work by some of its artists. We pretty much randomly found — and fell for — this mirror piece by Rashid Johnson, called "Un-American Idol." Those yellow blocks are shea butter.
Links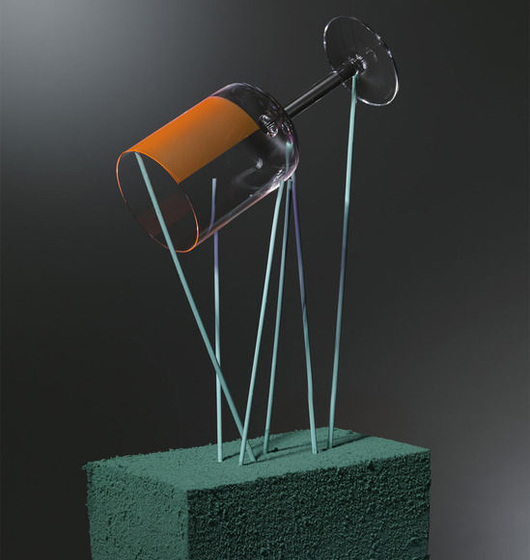 Gone are the days when design companies only made furniture in black, white, or beige, says Disegno. In its latest issue, the magazine ran a story exploring the surge of color in the design market lately, which we've been noticing as well — the Scandinavians are leading the charge, as far as we're concerned, but even the major Italian and German companies are embracing brighter hues as well. Check out the piece on Disegno's website, including a series of still lifes shot by Michael Bodiam.