12.19.14
Tanya Aguiñiga and Meg Callahan on Cotton
Nearly a year ago, when we first conceived the notion of arranging interviews between two creatives working with the same material, the idea was to make things interesting by choosing people with very different practices — a designer using resin to make furniture, for example, conversing with an artist using it to make paintings. That's exactly what we thought we'd done when we invited Meg Callahan, an Oklahoman quilt-maker living in Rhode Island, to talk cotton with Tanya Aguiñiga, a furniture and accessories designer raised in Mexico and based in Los Angeles, and yet it turned out the pair had much more in common than we'd realized: both studied furniture at RISD, both create contemporary work with traditional influences, and — with Callahan about to, it turns out, launch a furniture collection — both have an interest in blurring the boundaries between hard and soft. Which was fitting, in a way, since this story was inspired by a new series of films produced by Cotton that explore the common threads in the daily lives of two seemingly disparate people. Read the interview below to learn more about how Callahan and Aguiñiga approach both cotton and their design practices, then go behind the scenes with 10 other unique individuals by watching the Common Threads film series here.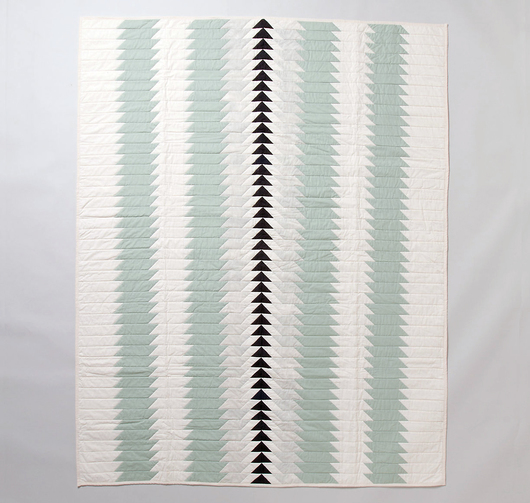 Meg Callahan: You studied Furniture at RISD as well. How did your experience there affect the work you do now? (Is this a real question or am I just stoked we both went through that program?)
Tanya Aguiñiga: Studying at RISD for my masters changed my life. I had only ever lived in Tijuana, Mexico, and San Diego. My work and identity were completely informed by growing up on the US/MEX border and the issues surrounding frontier living and bi-nationalism. After moving myself almost as far as I could get from my region, I was able to grow my work contextually. RISD was the impetus of that.
It really allowed me to experiment with processes that I had started to play with in undergrad without binding me down to one method. As a result, I was able to further my interest in textiles by taking weaving classes and delving full-on into textile processes.
Having also studied furniture at RISD, how did you come to settle on quilting?
MC: I studied Furniture Design at RISD, but always looked curiously into the windows of the textile department. I enjoy the precision and structure of building furniture, but I always tended to gravitate towards softer materials. I was doing some research for my degree project and ended diving into books about patchwork quilting; the process as well as the tradition appealed to me, and so I made one, and fell in love with the process.
I always thought that at RISD there was this interesting balance of tradition and experimentation: learning and researching time-honored methods and practices, but being challenged to ignore them as well. I continually try to maintain that balance when I work, especially in a craft that's so loaded with amazing and taboo traditions. To always strive towards that point of perfect balance between respect and reject. What role does tradition play in your work?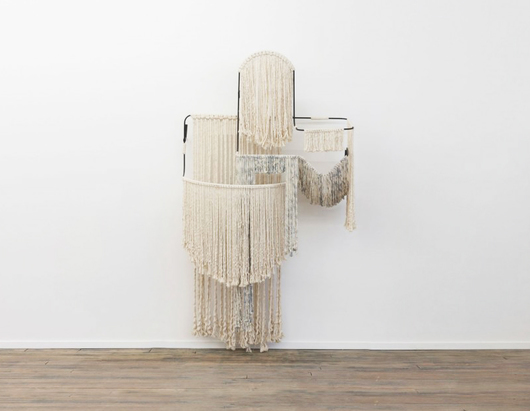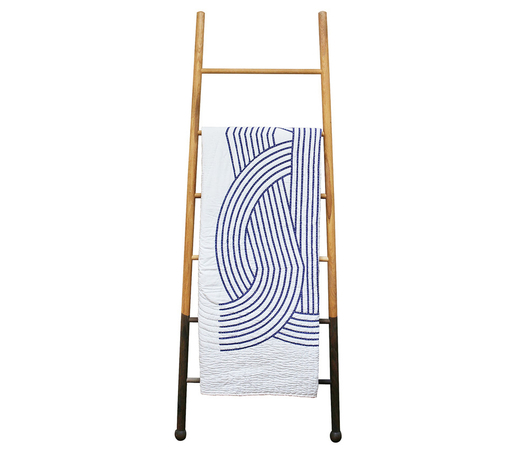 TA: Tradition is the most important aspect of my work; material comes next, and form last. I view tradition from a cultural preservation standpoint, and I try to use craft as a means to bring attention to specific processes. In my community based work, and often in my functional work, I try to work with different marginalized communities in the hopes of diversifying art/design/craft discourse to be more inclusive.
You use Native American imagery in your inspiration shots on your website. How are you influenced by Native American culture?
MC: Oklahoma has a strong Native American culture, and I grew up with that influence. I respect cultures that live in innovative and respectful ways. The material culture of Native Americans is a great source of inspiration to me. They have a history of making beautiful and useful things by honing in on the materials at hand.
TA: You seem to be inspired by landscape — how has living in Rhode Island influenced your work?
MC: Definitely the seasons. The colors of a Rhode Island beach are vastly different in winter than in summer. Tans, greys and white; no people, a little misty, and quiet in the winter. And then an explosion of color in the summer — bright blues and greens, rainbow umbrellas, sunburns, zebra bikinis. I like the two moods next to each other, and I try to bring across similar feelings or nostalgia in my compositions. However, I don't know if I can actually compete with a beach in summer.
TA: Rhode Island's seasons also left a huge impact on me. Having grown up with little climate change, I had never experienced seasons, or living with trees for that matter. Each season there brought about completely new pleasures and unexpected challenges. It taught me to see time in a different way and to be more mindful of nature and its fleeting characteristics. I became enamored with this and tried to capture it in some of my early thesis work.
MC: I think the way in which I produce pieces is really the influence Rhode Island has had on me: learning from craftspeople here, who have a history of making in their families. There's sort of a bluntness, and frankness, but also a spark of trying new things regardless of failing.
Your work seems to stretch beyond product into multiple forms and venues. What's your motivation?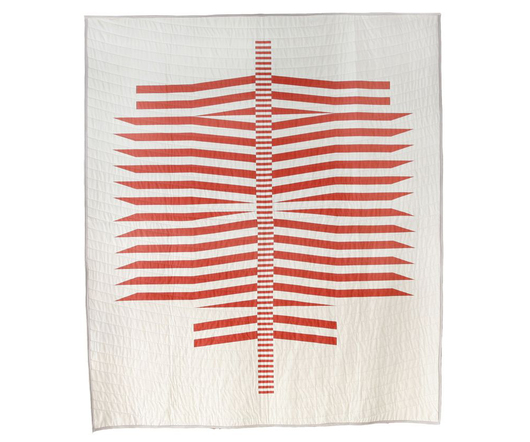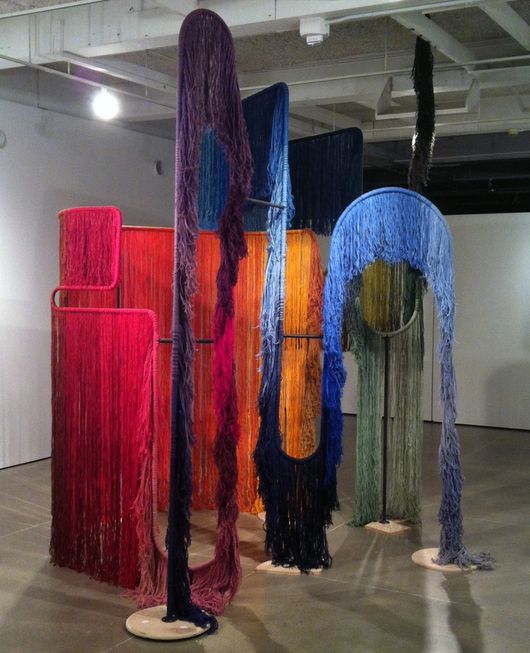 TA: My sense of self has always been fluid, which I attribute to growing up on the border. I've always worked the same way, never allowing myself to be held back by categorization and adapting in whatever way I can to be able to make a living. I started studying art at the same time that I was part of an arts collaborative that did community activism and installation art while also working in an education department at an art museum. I always sought out different ways to quench the aspects of art that draw me in: process, tradition, and community based engagement/change. This has stayed with me since and informs all my artistic endeavors.
MC: Well put. There's no one category/path that can satiate all the curiosities of making. And I think all of these different experiences are what ultimately makes work richer. If you can bring what you know of community into what you know about cotton — magic.
Does working with a relatable material such as cotton help provide a basis for engagement between people in your work?
TA: Yes, cotton is an excellent entry point for people to engage and to create with. Most of us live surrounded by cotton, so it's an easy way for me to show others the amazing potential of everyday materials. My students are blown away by the ways one can transform cotton and its ability to adapt. It's by far the most versatile material we work with both in the studio and in the classroom. Does working with cotton have any influence on the patterns that you create?
MC: I think so. It's hard to deny the qualities of cotton — like with any material, in some way, the inherent qualities will show throug' I try to both respect and deny those qualities. Older quilts that have had wear and tear and years of use will begin to pucker. A new piece will be flat and all the shapes, patterns, and lines are crisp (which is extremely satisfying), but once its used and the materials shift, and it gets washed, materials shrink and stretch and get dragged on the floor, etc., and it almost has the appearance of wrinkles. I think cotton shows age in a beautiful and uncontrollable way. What do you love/hate about cotton?
TA: I don't think that I hate anything about any material. I like to let materials teach me their ways and I try and work within their natural properties. I'm drawn to natural materials with connections to working-class lives. I like humble materials that my own family can understand and connect to — the materials that surround us growing up. Cotton and wool are my main mediums. Cotton has been my material of choice in the last few years — its ability to take dye and its affordability, variety, and strength are unparalleled.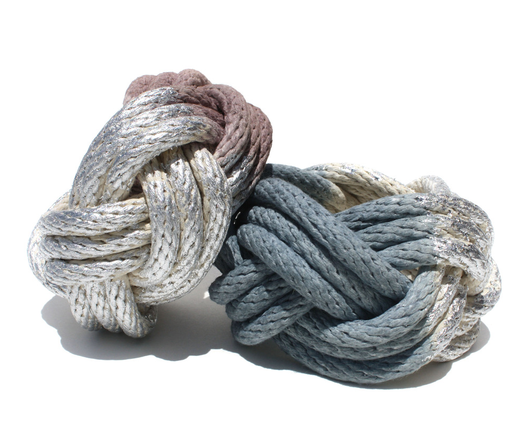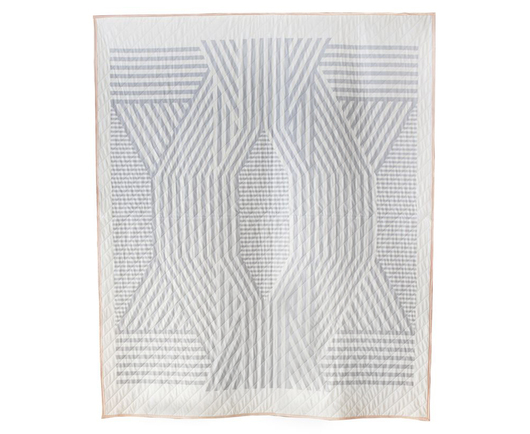 MC: I admire your ability to take an accessible item, such as cotton rope, and transform its structure. What is your process like?
TA: With the rope pieces, I visit my local rope guy, who has an amazingly unchanged 1960s business complete with shag carpets, wood paneling, and a secret door behind a bookcase! I look through his rope selections and pick spools that have special character. I bring the thousands of feet to the studio and begin to unravel, dye, tease, knit, paint, and knot to my heart's content. I let the altered cotton rope lead the way to becoming whatever it wants. All the pieces and processes are very organic.
Quilting is a meticulous and laborious process. How do you start on a design?
MC: I do a lot of mulling. I tend to chew on an idea for awhile… I sort of day-dream/visualize. And then I begin to translate those ideas into a mathematical pattern: sketching, measuring, computer drawing. Then I sort of become this robot — I prepare my studio and get into a system of cutting, counting, and sewing. It's meditative.
Do you ever feel limited by materials?
TA: I try to use a material for its very specific properties and that which separates it from another medium. I try and select my materials palette through problem-solving and experimentation and allow it to naturally shape the form it takes. Therefore, I never feel limited by a material, since I can just move on to working with anything I want to play with and work with its natural inclinations.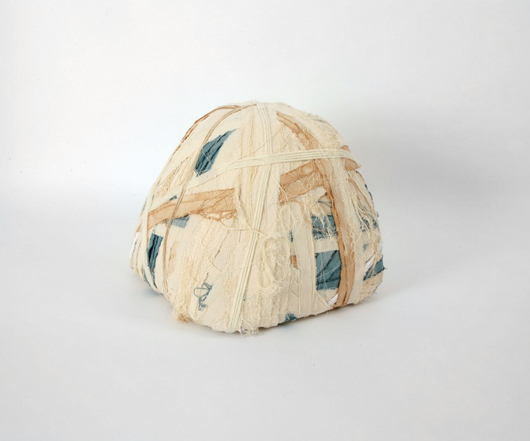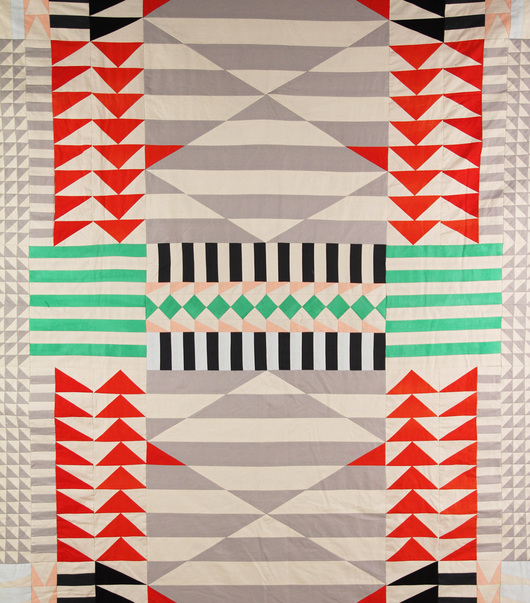 MC: Do you hold on to all of your material experiments? Is your studio full of cotton mysteries?
TA: Sadly, I do hold on to most of my material experiments. I try and have them categorized by project or material. I am a bit of a pack-rat. The studio is a vastly overflowing cavern of color and texture. There are a lot of weird experiments around, but I try to write down how I made them so I can replicate the process if needed.
I'm excited that you're working on developing new furniture pieces. Has it been fun to go back to the discipline you started with? Will you be incorporating quilting into the furniture? If so, has working with the combination of hard and soft had an impact on your design?
MC: Yes, it is weirdly comforting to go back to that discipline — there's nothing like cutting stuff on a table saw, and the smell of a wood shop. I don't think I'll be incorporating quilting, at least not literally; things always carry over whether intentionally or not. Rather, they will be pieces that compliment the soft goods. I do think working with hard and soft materials has had an impact on my design. I think hard materials can have a delicateness to them, and soft materials can have a harshness to them. And by working with both, I think I can pull from each and have one inform the other. Create a mean textile and drape it across an inviting chair.
What was a project you did in the past of which you felt completely proud?
TA: The last piece that I made for Volume Gallery, Tierra, was a true labor of love, and my most personal project to date. I wove a rug made from dirt from all the places that are sacred to me. It involved me visiting many painful places, and documenting and writing about each collection site in the making of a functional object. It explored issues of attachment to soil and land as regards to proprietorship, legacy, and war.
MC: That sounds incredible.
Click here to watch a series of short films that show how cotton connects ten other unique individuals, from a wallpaper designer to a whisky distiller to a wood salvager.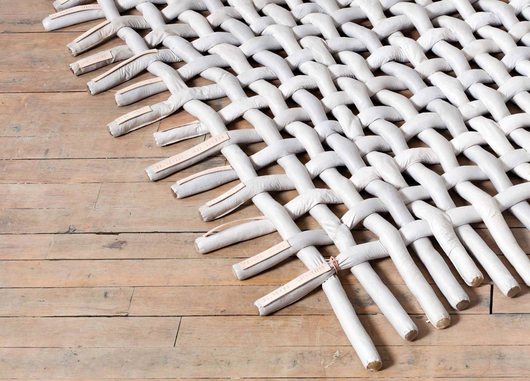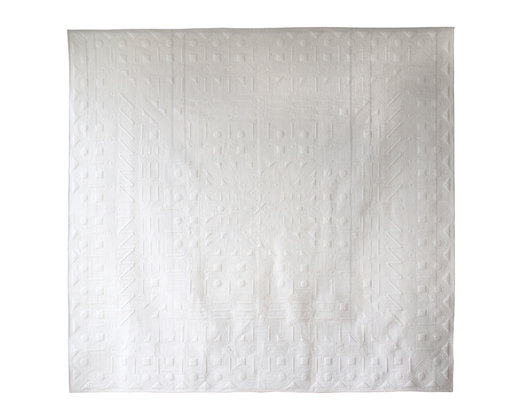 This post was sponsored by Cotton. Like everything at Sight Unseen, our partners are curated carefully to make sure they're of the utmost relevance to our readers.