12.20.14
Week of December 15, 2014
A weekly Saturday recap to share with you our favorite links, discoveries, exhibitions, and more from the past seven days. This week: new jewelry based on Superstudio sketches from the '70s, a new BDDW housewares line based in the middle of nowhere, and a tropical photoshoot by Studiopepe that basically makes us want to jump on a plane immediately and fly south.
Discoveries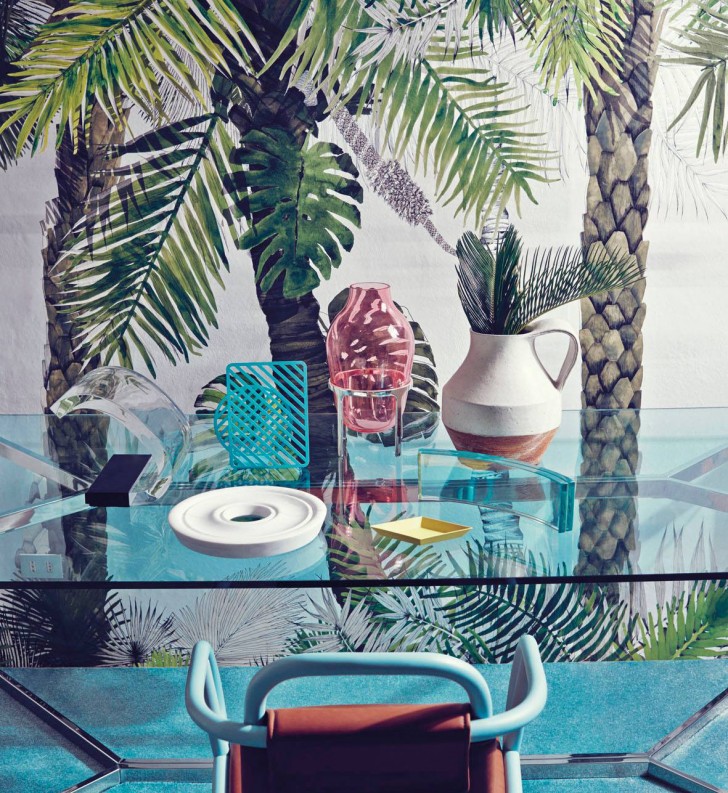 Normally we reserve this column for objects and stories that are relatively new, but today, we had to make a major exception: The images above are from a photoshoot by Studiopepe that ran in Elle Decor Italia this past summer, but with the East Coast winter already getting us down, we found ourselves especially mesmerized by them. (Though admittedly we're almost always mesmerized by the work of the Milan-based design and styling firm, whose portfolio you can scope out here.)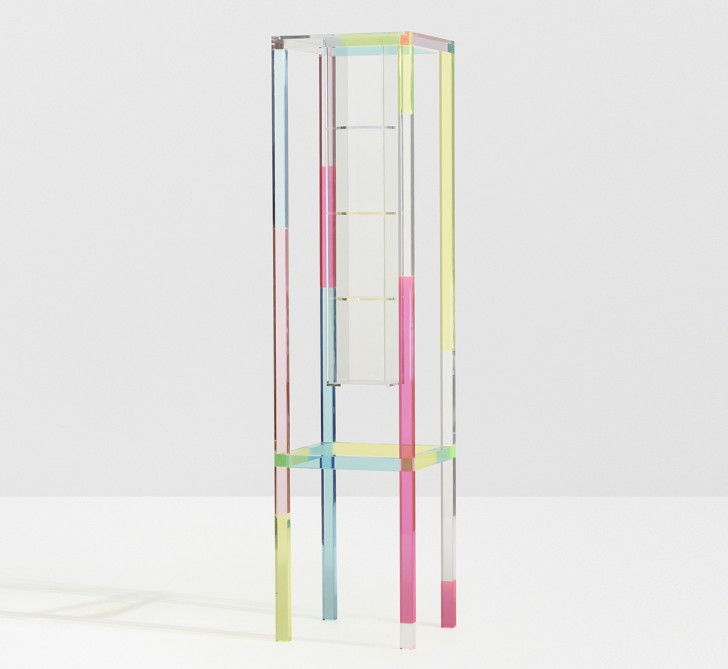 Maybe our timing just isn't that great in general this week, because we also couldn't help but share this image with you — of Shiro Kuramata's famed 1989 Cabinet de Curiositié — even though the auction it is a part of isn't happening until January 29. That would be "Shiro Kuramata & Hiroshi Sugimoto: Works from the Absent Past" at Wright, which also includes chairs, bottles, door handles, and terrazzo tables by Kuramata, plus a handful of photographs of bodies of water by Japanese photographer Sugimoto.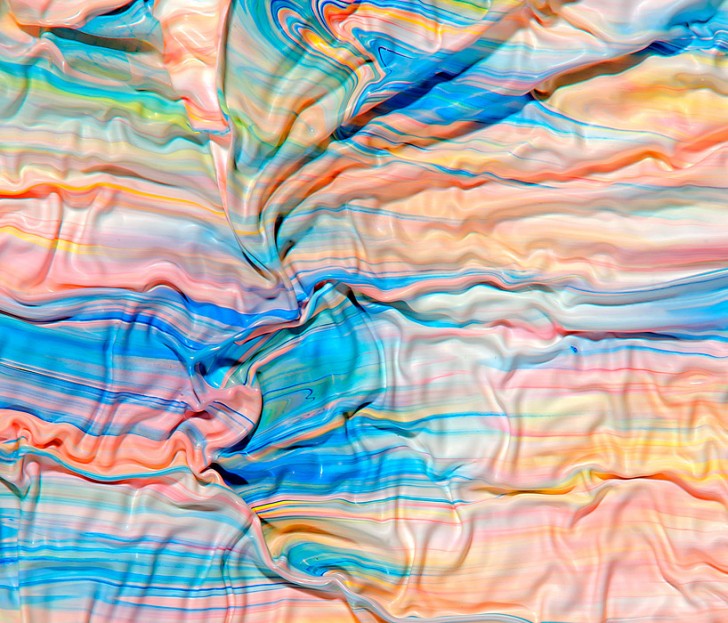 We're kind of dying over the work of Mark Lovejoy, which has been making the rounds on various blogs in the past two weeks. Some of the work on the photographer's site is a wee bit frenetic, but the series that looks like some combination of digitally rendered images or digitally printed fabric — and is in fact neither — is especially gorgeous. Lovejoy's process, as explained on It's Nice That, involves "myriad individual photographs of paints, pigments waxes, and resins, shot and reshot, manipulated, and then retouched some more until the surface textures take a pleasing aesthetic form, but retain their ambiguous genesis."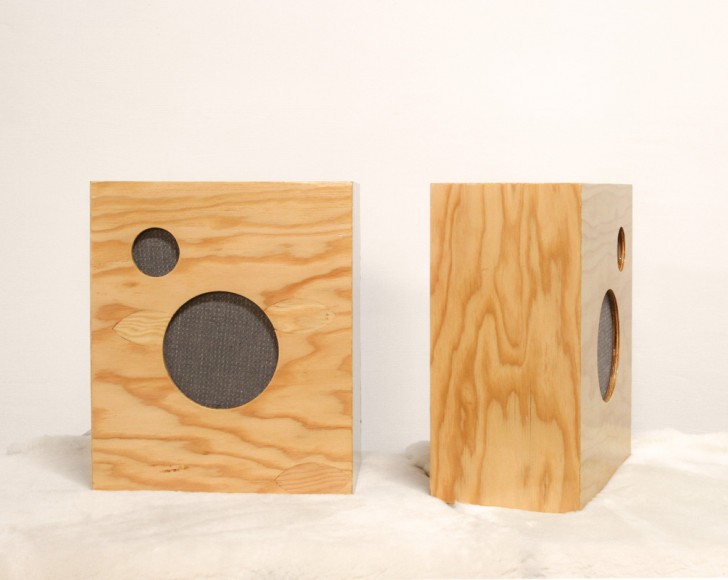 This week marked the launch of M. Crow, a new design line from Tyler Hays, founder of BBDW, that has an interesting backstory: "M.Crow is a 107 year-old general store in the remote Wallowa Valley of Northeastern Oregon. My great-great grandparents homesteaded the valley in the late 1800s and it's where I grew up. I bought the store a couple of years ago to save it from closure." Now it serves as the factory outlet for a collection that includes furniture, housewares, and clothing items which are made in BDDW's Philadelphia workshop but can be acquired at the Oregon store for 30-50% off. Online, the plywood speakers above, along with everything else, can be purchased here.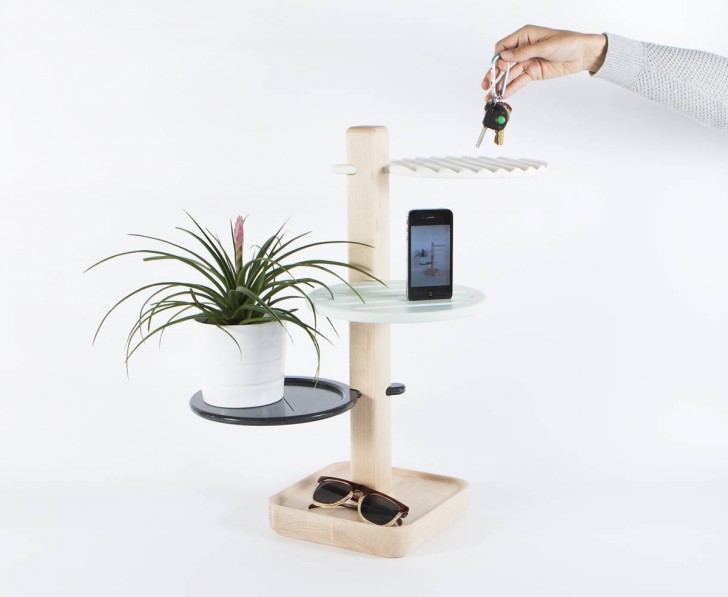 How good is this tiered storage stand by Canadian designer Char Kennedy? Called Stacks, it's made from wood, with three Corian trays in three different colors and patterns. We only recently discovered Kennedy's work — she's based in Vancouver and only finished her undergrad degree this past spring. One to keep an eye on.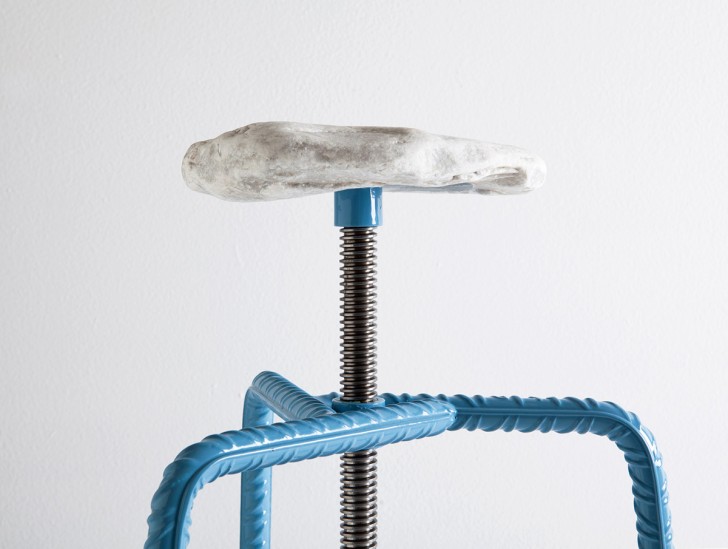 When asked to create a one-off piece for the recent exhibition "Architecture of Enjoyment," the Athens-based studio Greece is for Lovers found inspiration in their surroundings, forming this stool's legs from the rebar that became ubiquitous in the city after the economic crash froze local construction projects in mid-build. Its seat is pulled from another facet of Athenian life, beachy resort towns. "The pebble 'seats' literally appeared before our eyes while holidaying on the picturesque beach resort of Damouchari in eastern Pelion. The beach is covered in these flat and rounded marble slabs, smoothed out by the waves' endless churning over the years. Rumor has it that the pebbles are remnants of an antique marble quarry that got discarded into the sea, off the cliffs nearby."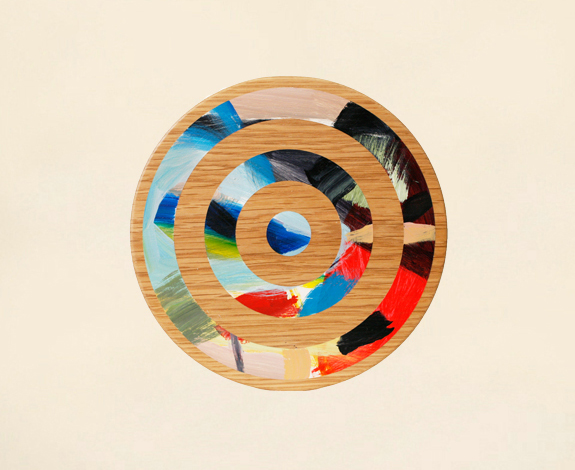 Another one-off: A special-edition of Brooklyn studio Bower's magnetized Key Target — toss your keys toward it and they'll stick — that has painted rings by Fort Makers in place of the production version's solid printed ones. The collab is for sale in Bower's online shop for $225.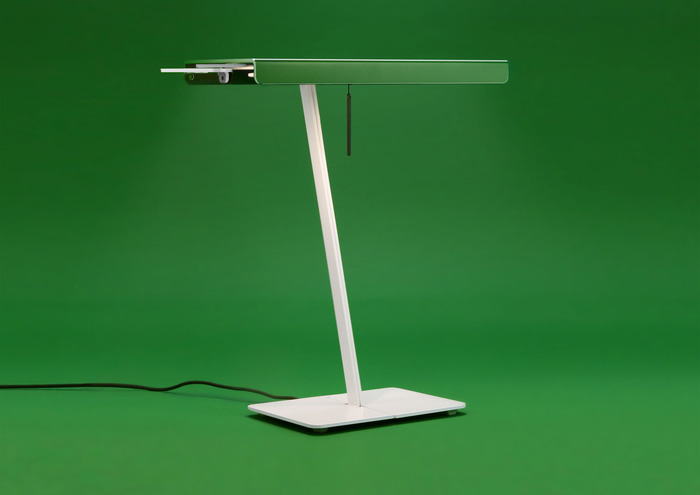 Are bankers' lamps a thing now? We'd been eyeing one over at West Elm for the past month or so when a submission came through this week from London designer David Oxley touting his sleek LED version, the Bank light, which is currently being Kickstarter-ed. You can snag one there on pre-order for only about $135.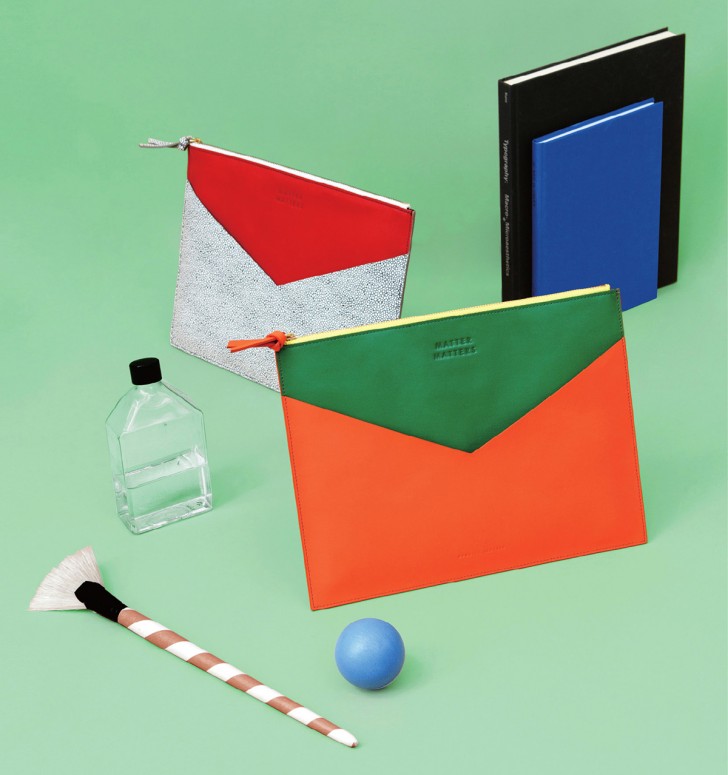 Those of us in the New York design scene know "matter matters" as the URL of the design store Matter, but in Hong Kong, the phrase refers to something entirely different: an accessory line inspired by Art Deco, Cubism, Memphis, and the Bauhaus that was launched in 2013 by graphic designer Flora Leung. Earlier this month Leung sent us her adorably styled spring lookbook, from which we borrowed the image above; you can see a few more shots from it here.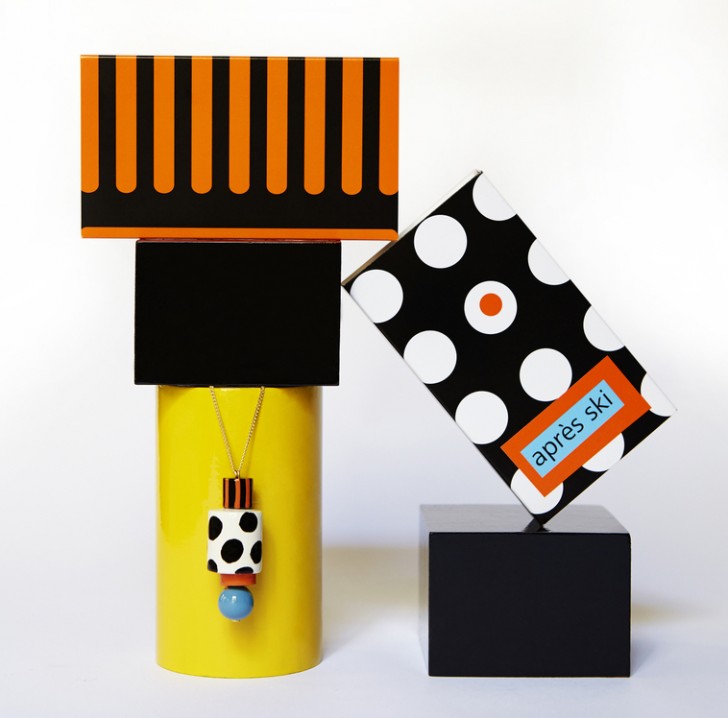 In a neat reversal of the usual process, Lucia Vergara of the Spanish jewelry line Après Ski commissioned Nathalie du Pasquier to design the gift boxes for her latest collection, Dentro y Fuera, then responded by creating this necklace inspired by them. We spotted it on Vergara's popular Instagram feed.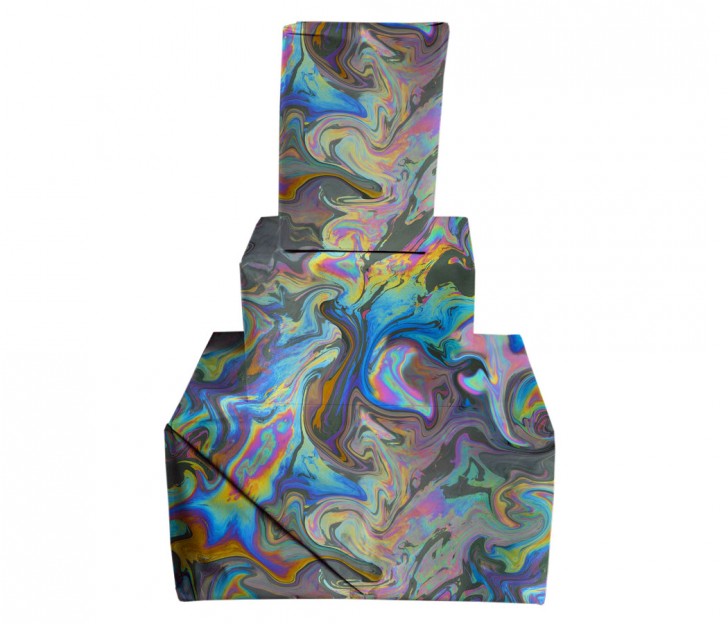 We also found this oil-slick wrapping paper on Instagram, in the feed belonging to the digitally printed accessories line Clashist. Perhaps it's too late in the game this year to be buying wrapping paper online, but this one's so good (and so limited-edition) that we recommend squirreling some away for 2015.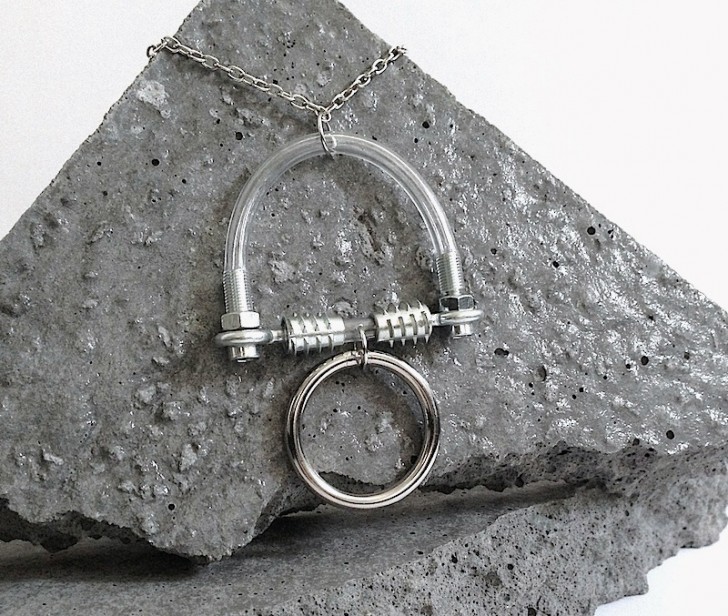 When Zoe Alexander Fisher launched Handjob Gallery Store a year ago, it consisted mostly of expressive functional objects handmade by her art-school friends and for sale online. Now Fisher has expanded the project to include both a brick-and-mortar location in Bushwick, Brooklyn, and talents that are further outside her original purview, like Seven Sodas, Australian jewelry designers who that emailed us earlier this week to introduce themselves. Their wares only appear to be for sale at Handjob's physical location, but you can also purchase them on the web at Etsy.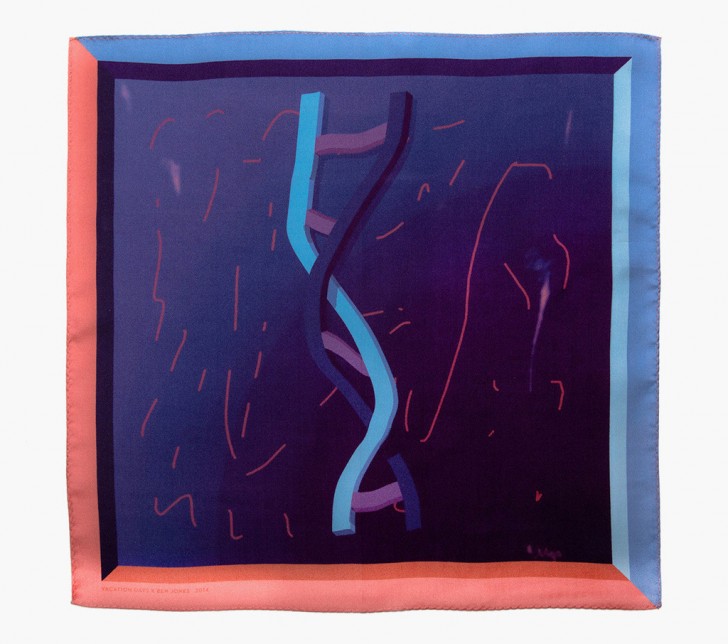 Being two women, the editors of Sight Unseen are not so much in the habit of donning pocket squares. Yet that doesn't stop us from coveting this one by LA artist Ben Jones, which is part of the Guest Artist Series from accessories line Vacation Days. Get it here.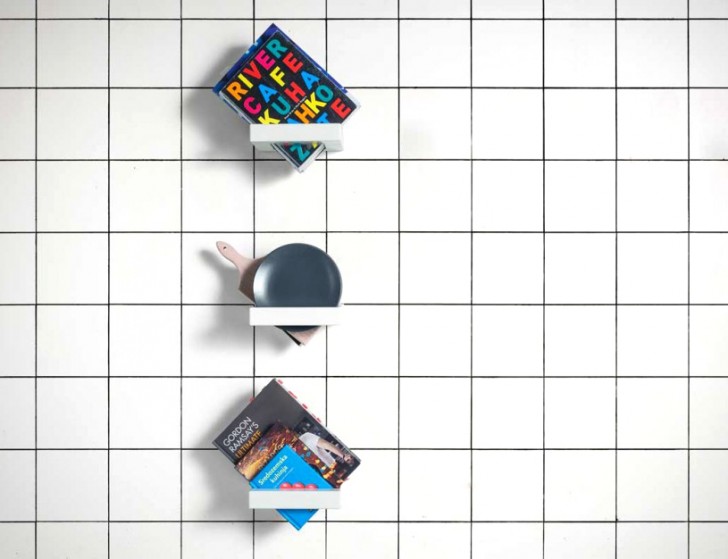 There are about a million ways to deploy Slovenian designer Luka Pirnat's clever little 360 Shelf, which is also currently live on Kickstarter — singly, in groups, in diagonal lines, in random clusters, canted every which way (see what we mean here). But we think it looks best hung straight and simple, because the way in which you rest books and other objects diagonally inside it is already quite visually intriguing.
Exhibitions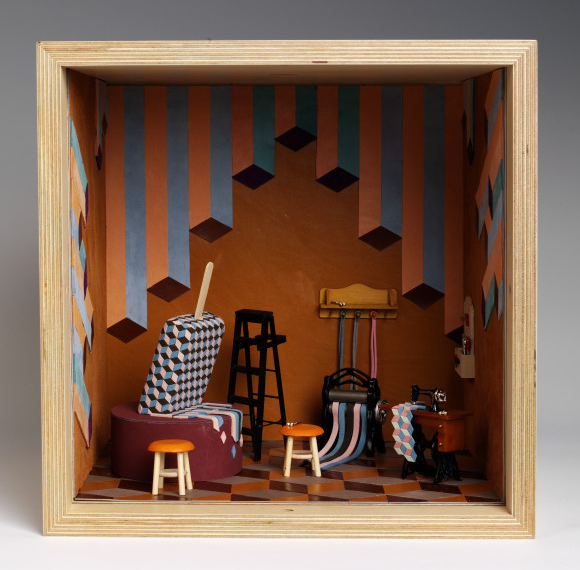 Having been obsessed with miniatures since I was a kid, I couldn't help but love a story on Dezeen earlier this week about the V&A's Museum of Childhood inviting 19 London designers to create tiny dream rooms for its current exhibition on dollhouses. The one above is by leather accessories designer Ina Hyun K Shin — it's a fantasy version of her atelier — and other contributors include Bethan Laura Wood, Donna Wilson, Dominic Wilcox, and more. Many of them have explained their concepts here.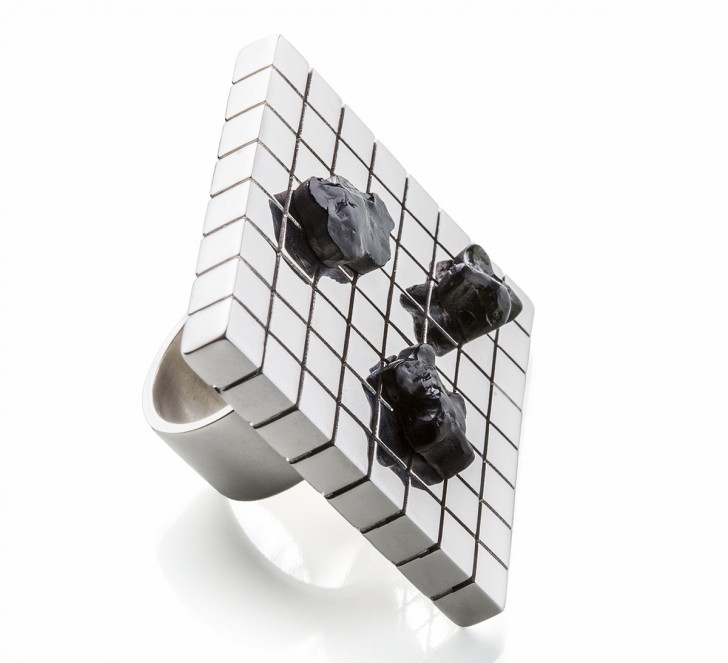 When we received an email from Italy's Secondome gallery with the subject line "Designers' Joy," we assumed it was some sort of holiday greeting. In fact, that's the name of the gallery's new contemporary jewelry exhibition, and it's pretty exciting, most notably because it includes a small collection of rings (above) and bracelets by architecture icons Superstudio — Secondome has produced the pieces for the first time ever based on original sketches from the '70s, and inspired by the group's gridded Misura furniture series for Zanotta, which happens to be one of our favorite things EVER. So good.
Events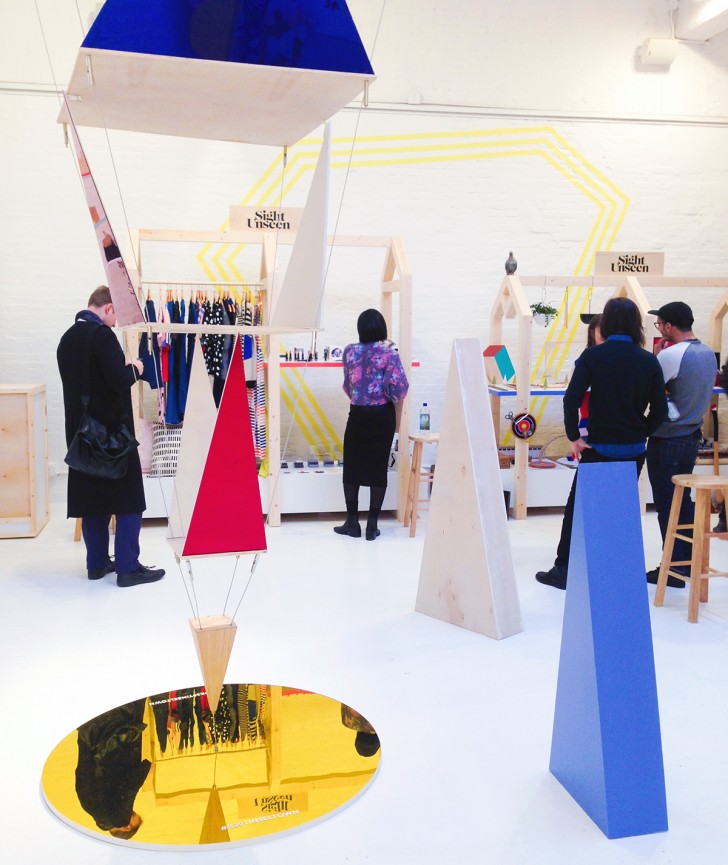 Last weekend, we partnered with Refinery29 to co-host and co-curate their annual holiday shopping pop-up, Tinseltown, where the vendors included Alex Proba, Best Made Company, Bower,CHIAOZZA, Dusen Dusen, Fredericks & Mae, MAKE Cosmetics, RillRill, and Print All Over Me. We just wanted to take a moment to thank everyone who came and checked it out — it was a huge success!
Facebook Posts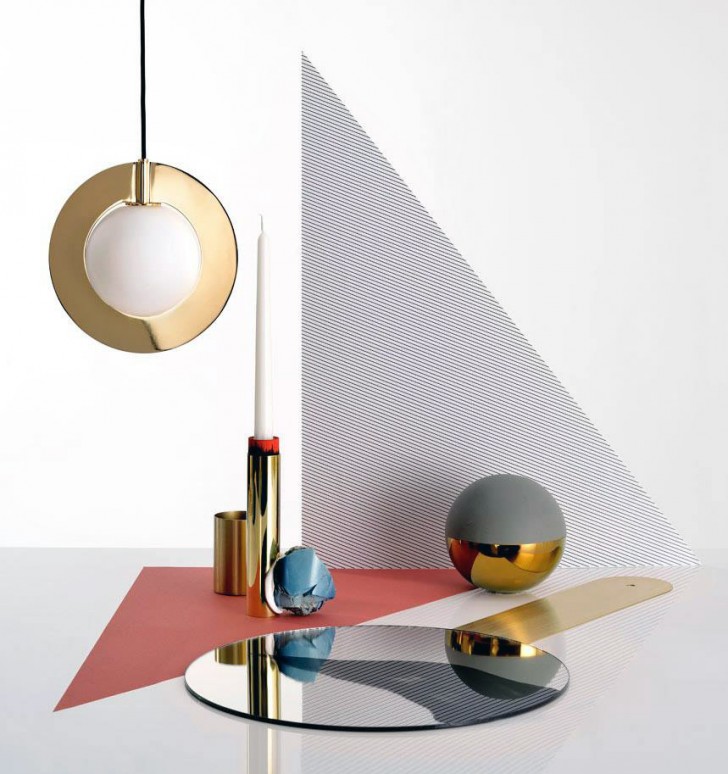 We don't usually find many gems on Facebook — unless you count news articles about improbable insect species or posts by friends catching us up on weird new slang like "on fleek" — but this week was an exception. First, designer David Taylor posted this gorgeous image from a photo shoot in Madame Le Figaro featuring his Slag candlesticks….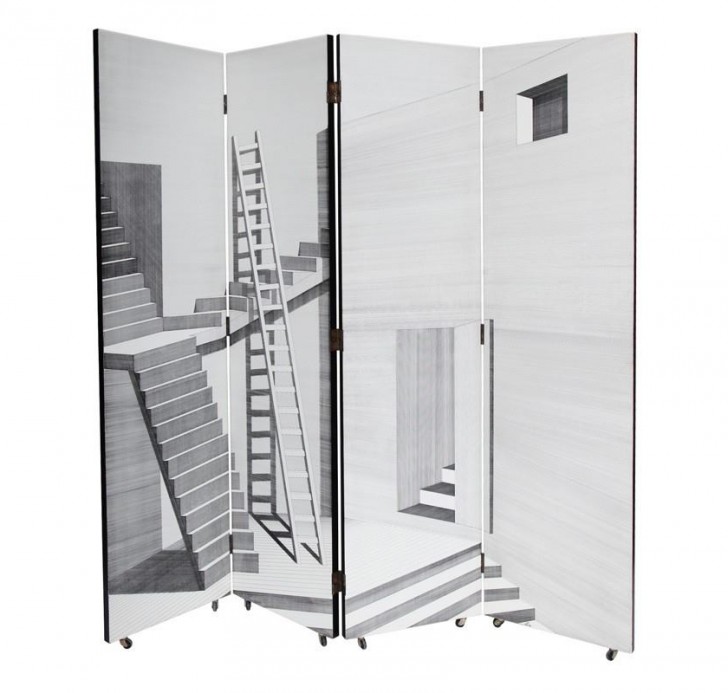 …And then our friend Felix Burrichter, the editor of PIN–UP, shared this amazing Fornasetti folding screen, which is very M.C. Escher, but better. Burrichter just randomly found the image on the internet, but after a bit of digging, it appears that the screen may very well be available as a re-edition here (we weren't able to verify that).
Holiday Cards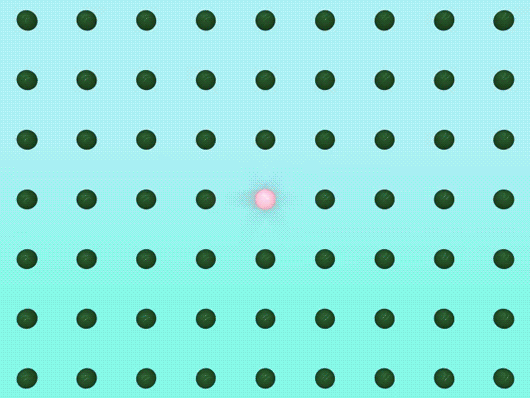 Our inboxes have been flooded this week with holiday cards and messages, but one in particular stood out — the gif above by Rafael de Cardenas's studio, Architecture at Large. Since this will be our very last Saturday Selects column of 2014, as we're putting the site on its annual holiday hiatus from December 24th through January 4th, we figured we'd close it by co-opting Cardenas's greeting — we couldn't have said it any better ourselves. Happy holidays!