12.22.14
Mathieu Julien and Jin Angdoo of Amateurs
For all its perks — freedom, travel, never having to take off your pajamas — the freelance life has one perpetual drawback: the panic that starts to creep in whenever you're between jobs. Add that to the sense of creative fulfillment that every designer and artist craves, and it's no wonder so many of them start their own projects on the side. For the Paris-based couple Mathieu Julien and Jin Angdoo, whenever they don't have work as a freelance illustrator (Julien) and a film and animation director (Angdoo), they dream up new projects to release under the extra-wide umbrella of their shared endeavor, Amateurs; launched in June, the website comprises projects that are experimental, hand-crafted, and fall somewhere between art and design, like painted tea towels and flags, embroidered sweaters and blankets, plus actual paintings as well. We checked in with the duo to find out more about the collaboration.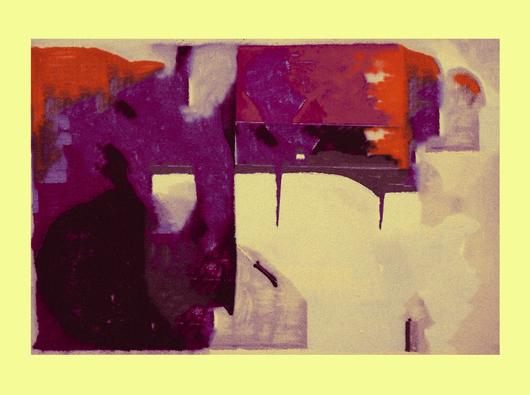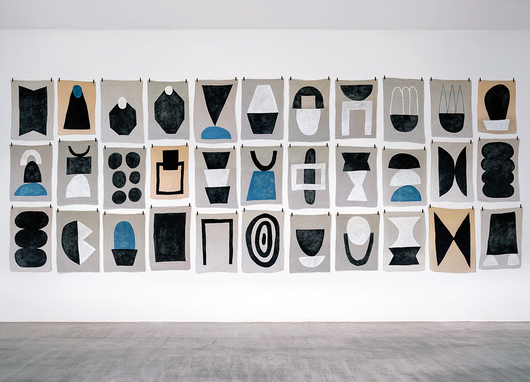 Describe your most recent project and how it was made.
With Amateurs, we work together on common projects as well as working independently on peronal projects. Our latest ones have been personal projects for both of us.
JA: I've made a series of 33 paintings on hand-sewed linen tea towels. This project partly derived from my fear of painting on a blank canvas. Therefore, I decided to paint on tea towels and not on framed canvas. I've intentionally made each tea towel irregular in shape, so the form itself also plays a role in the composition. The series of paintings is a study of shapes in black, white, and blue.
MJ: I've made a risograph printed edition. It's not released yet, because it's meant to be released with an extra element which isn't finished yet. The edition is a trichromy print on colored papers, which act as the fourth color. It's a collection of my paintings that have been methodically reinterpreted by a computer.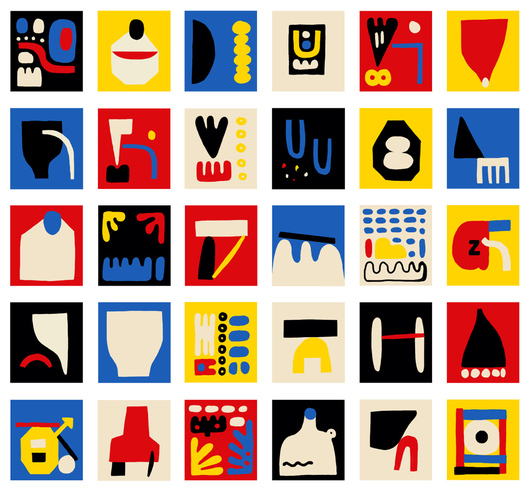 Describe your next project and how you're currently making it.
Our next project, which we are working together on, derives from our ongoing discussion about the status of Amateurs's website, which is a blur between an online exhibition and an online shop. Its ambiguity comes from the fact that many of the artworks we present there are made out of common materials. We like the aesthetic of simple everyday objects, and we find them interesting to work and play with. Therefore these artworks can be seen as decorative or designed everyday goods. Yet in fact, by our intervention, we change their status and function.
For instance, when Jin made a series of paintings on tea towels, which is a complete and original painting series, she changed their status as they most likely won't be used to dry dishes anymore. However, this gesture also didn't turn them into complete art pieces. The status of tea towels became rather ambiguous, and we like to flirt with those boundaries.
For our next project, to try the contrary, we want to hand-produce a series of canvas tote bags without changing their function nor their status when finished. Each tote bag will be hand-crafted and thus each will be unique, however their value and function will remain the same. As we develop this project, there's something exciting about producing objects which people are going to use in the end.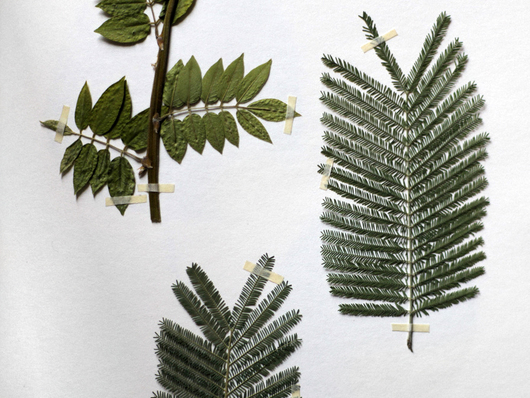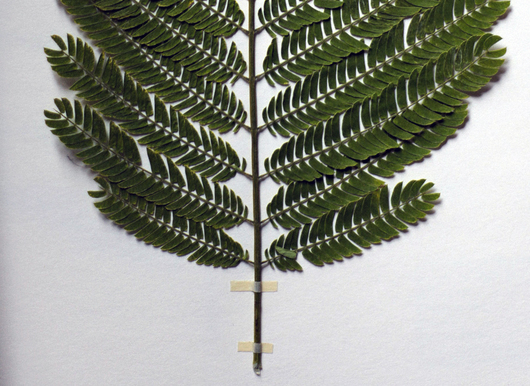 Tell us one thing that's been inspiring you lately and why.
JA: Lately, I'm very much into observing the intricate patterns within leaf and plant structures. I'm especially mesmerized by the fractal patterns. I only observed at first, looking and touching every plant I came across. Then a few months ago, I started an herbarium. Plants and nature in general are beautiful, but the science behind them is also equally beautiful to me. I'm not quite sure yet if this will inspire me directly in my work, but I'm sure it will become visible in my future projects in one way or the other.
MJ: Lately, a few modern art exhibitons have made a great impression on me — Serge Poliakoff and Sonia Delaunay, both at Musée d'Art Modern in Paris, which is right next to our flat.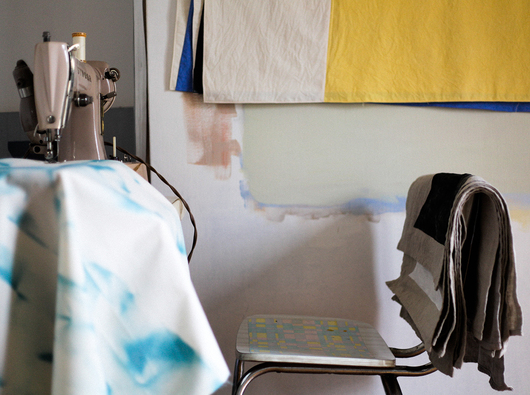 Show us your studio and tell us what you like about it.
We live in a tiny Parisian flat, but we manage to dedicate one room as our working space. In fact, this used to be our bedroom, which we transformed into our studio when we decided to start Amateurs earlier this year. What makes it perfect for us is the amout of tools we have accumulated over the years that make us independent in most of our projects. We have gigantic rolls of raw canvas and papers, a sewing machine, a projector, a spirit duplicator, an etching press, a lino press, various cameras, and liters of all kinds of paints and inks. These materials and tools aren't fancy but most of them are rather antique. However we know them well, and they do their jobs perfectely. As our atelier is small, we've learned to modulate it depending on what we're working on at a specific moment, from a sewing station to a painting atelier to a photo studio to a printing workshop and sometimes a guest bedroom.