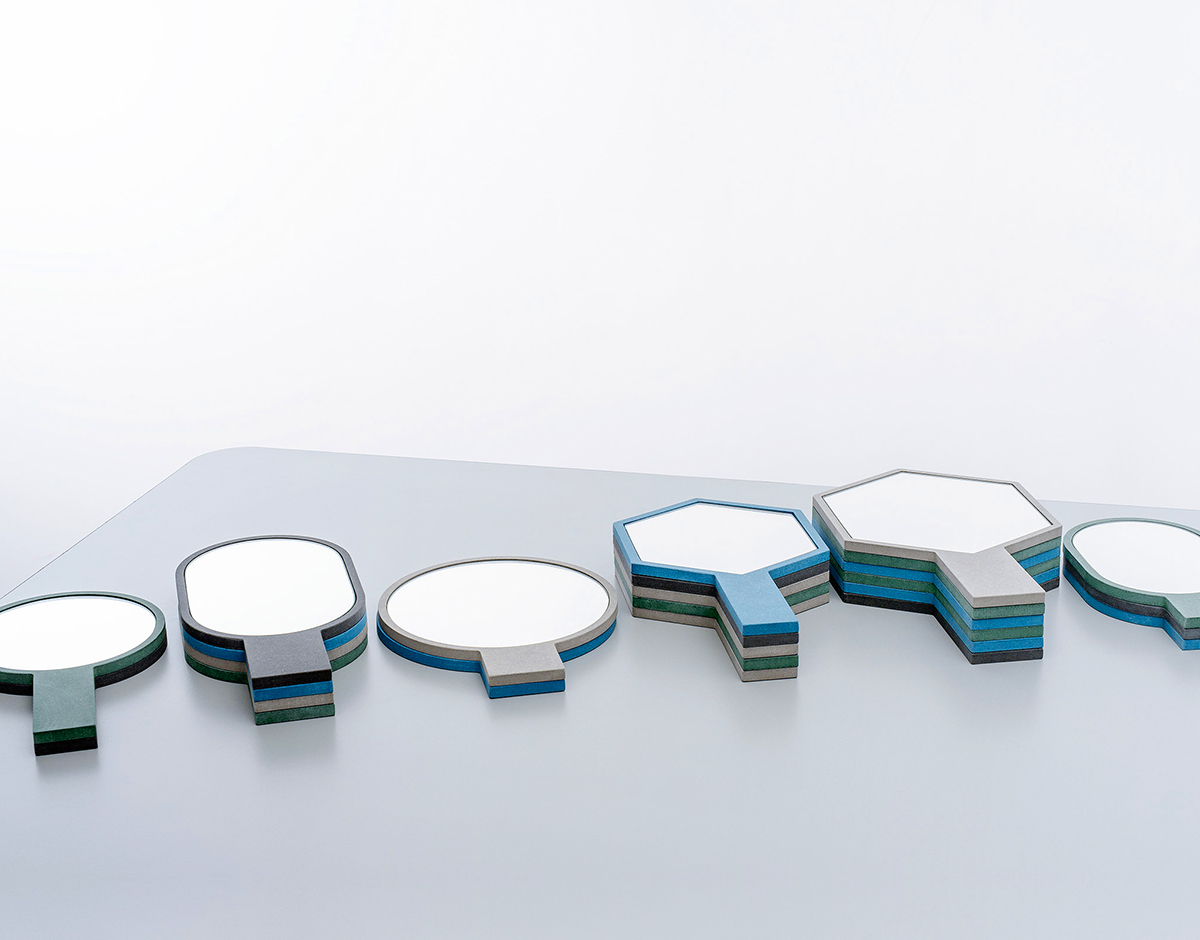 A weekly Saturday recap to share with you our favorite links, discoveries, exhibitions, and more from the past seven days. This week: Caitlin Mociun opens a colorful new store, Matthias Merkel Hess makes a wacky new desk organizer, and MPGMB designs a covetable new line of accessories made from dyed wood fiber, pictured above.
Discoveries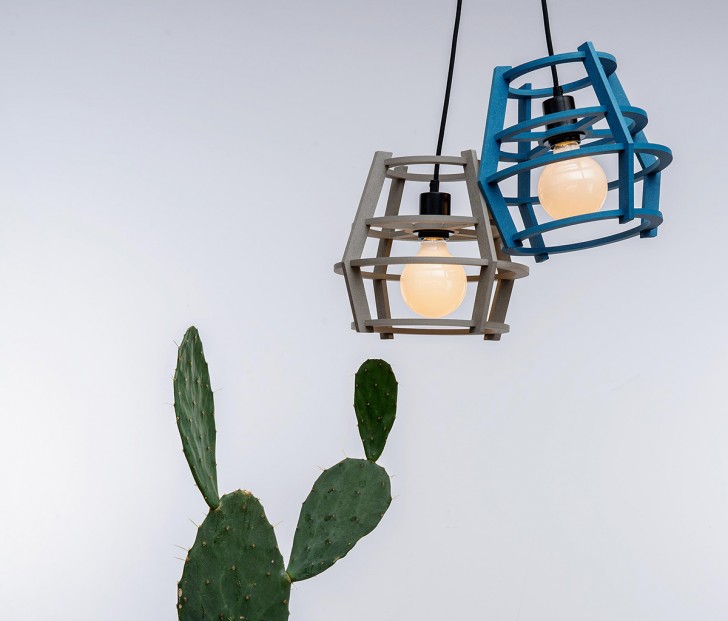 We've said it before but we'll say it again: We LOVE it when designers email us their new work. This week the Montreal duo Marie-Pier Guilmain and Maud Beauchamp — aka MPGMB, whom we featured on the site last year — clued us in to no less than four new products they've just launched, including the Suspension No. 1 lights pictured directly above and the Hand Mirrors at the top of this post, both of which are made from compressed-wood fiber panels colored with organic dyes. Don't miss their new series of vases and planters, too.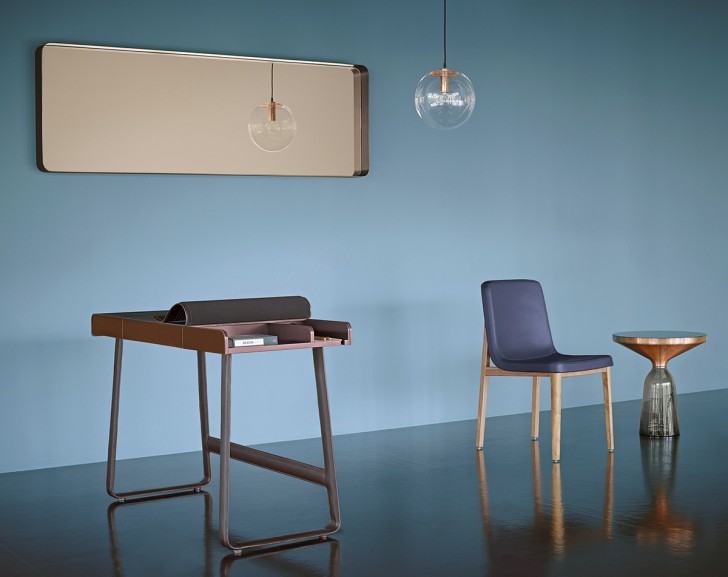 We're just days away from posting our on-the-ground coverage from this year's IMM Cologne fair, courtesy of our European contributor Rae Blunstone, but figured we'd squeeze in this cute catalog shot from Classicon — it features a new color for Sebastian Herkner's Bell Table, a new chair by neri&hu, and our favorite, the new smoky, bronze-hued Cypris mirror by Austrian architect Nina Mair.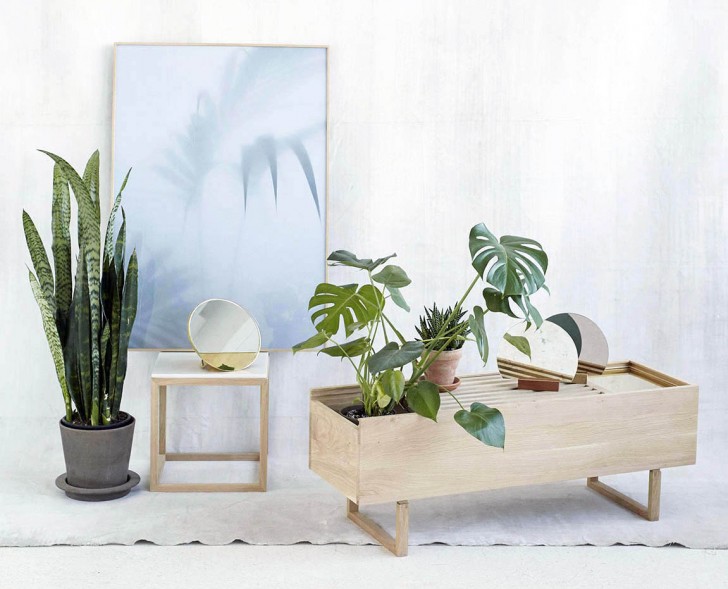 This week saw the first edition of a twice-annual design fair in Copenhagen called Northmodern, which had plenty of international participants but focused on Scandi brands and talents, like Ferm Living, Menu, Lex Pott, and a new favorite of ours, Kristina Dam. The Danish architect debuted a simple low storage table in oak and brass that's meant for holding not just books and things but plants, too. The two new mirrors in the shot above are pretty special as well.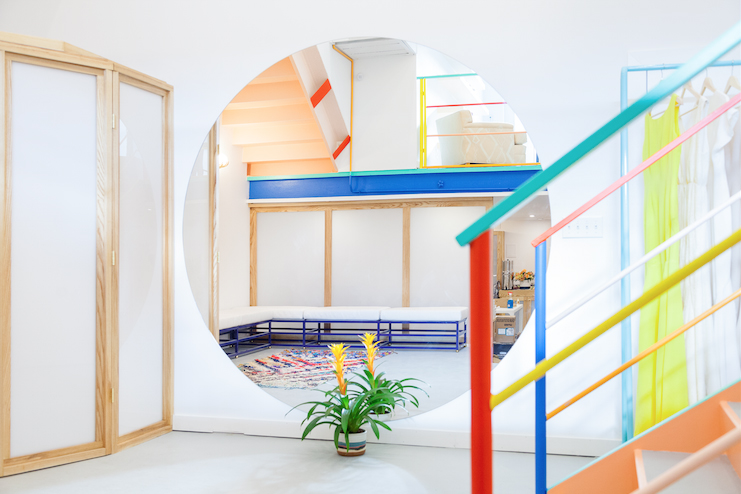 Despite its name — Mociun White — Caitlin Mociun's new bridal salon in Williamsburg has aspirations to nudge brides towards wearing color, and its vivid interior (as shot for T magazine's blog this week) appears to support that effort. In addition to dresses of her own design, the space features lights by Lukas Peet and a Bec Brittain chandelier, plus registry-ready wares by Workaday Handmade, Object and Totem, and Recreation Center.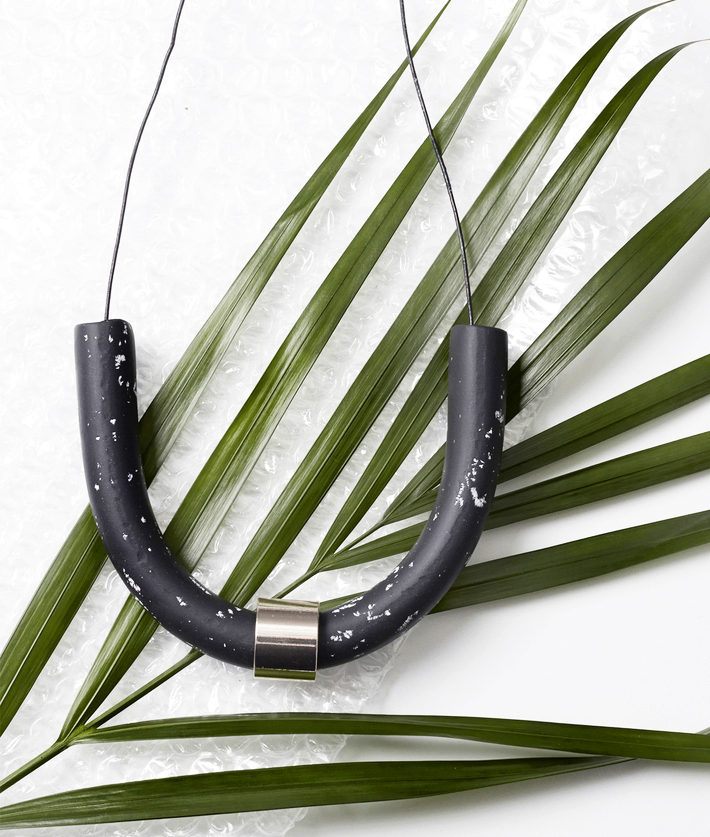 First things first: This necklace, along with half of the other ones we fell in love with this week in the online jewelry shop of Norwegian studio RK Design, is sold out. But that's not to say that there isn't plenty of polymer-and-metal amazingness still left to go around — especially at around $50 per one-of-a-kind necklace. Get there now before everyone else beats you to it!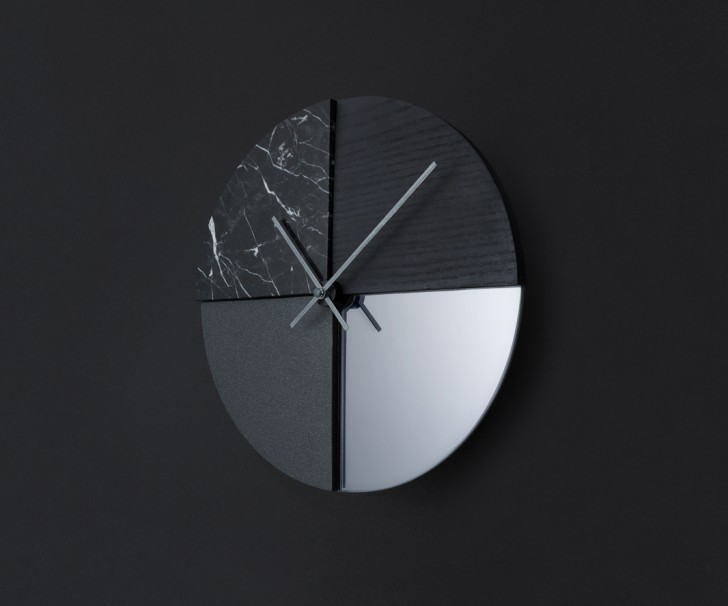 Whenever anyone asks us if we know great design talents based in Mexico, Panoramica is always at the top of our list. We first discovered the collective of six young designers at ICFF two years ago, but they've kept on impressing us ever since. Their new Mono collection, launched this week at Maison et Objet, is no exception — it includes a mirror, bench, and clock that feature simple compositions of black wood, Corian, glass, and marble.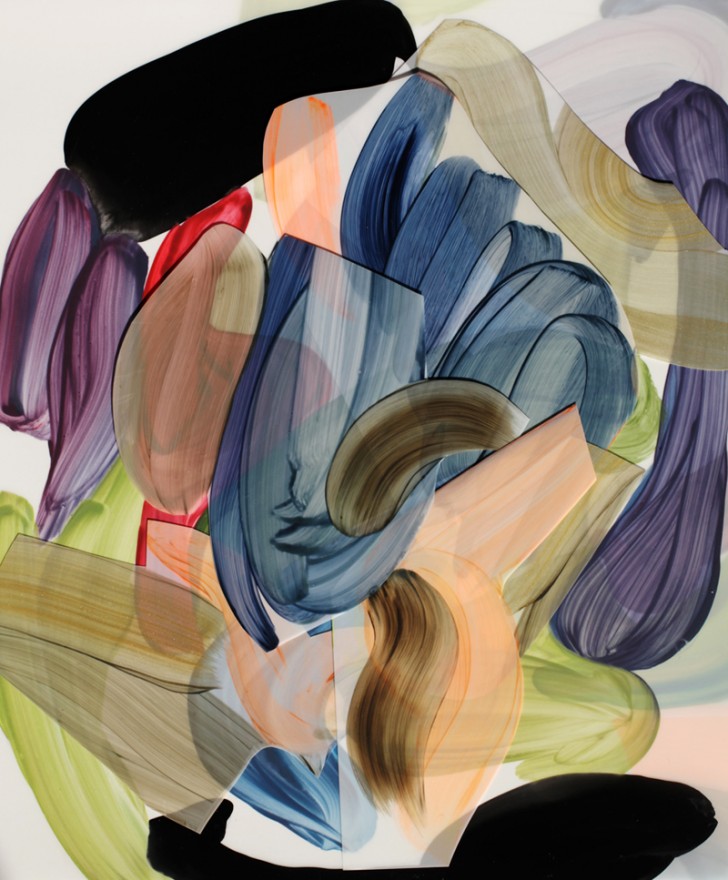 Another previously-featured artist who sent us an update this week was Yanyan Huang, a painter slash ceramicist slash fashion designer slash photographer who's based between Florence, Italy, and California. She recently updated her website with her latest painted digital collages and silk prints, including the pretty piece above, called Expanding Universe.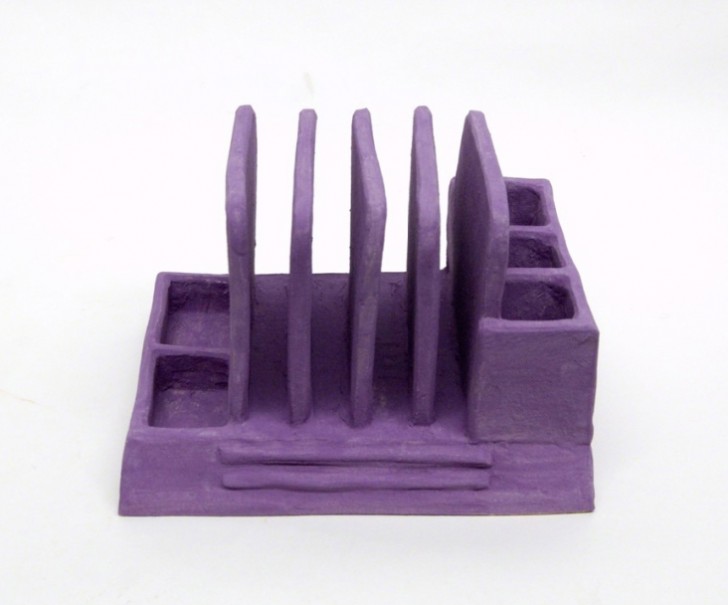 Last week we previewed Misha Kahn's latest creations for the FOG Design + Art fair in San Francisco, but it seems there were a whole host of other discoveries to be found at the show, as chronicled in this great wrap-up post by Artsy. Case in point: the wonderfully weird "Max Klein Desk Organizer" above by Matthias Merkel Hess, whom Artsy actually invited to fill their entire booth with his ceramic gas cans, kitchen mixers, and milk crates.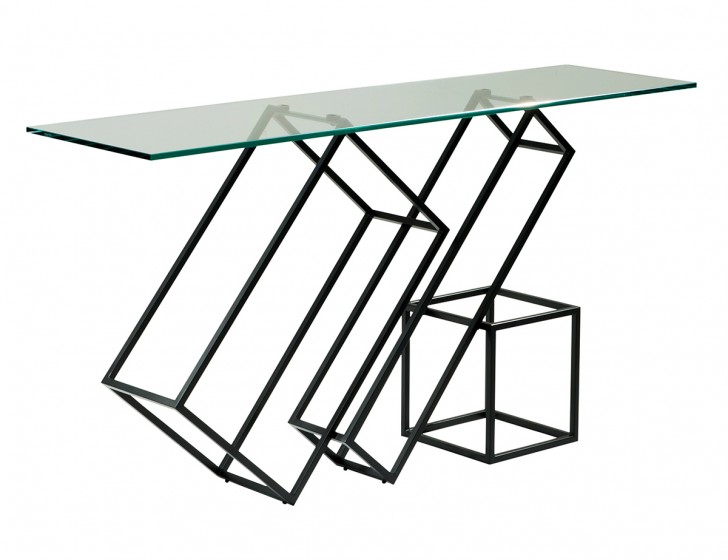 On the opposite end of the design-art spectrum, Cédric Ragot released a new line of furniture and lamps with Roche Bobois this week, including a pretty lamp/side table combo and this precarious-looking steel-and-glass console. The furniture chain also snagged Pia Wüstenberg's stacking vessels last year, so you have to give it props.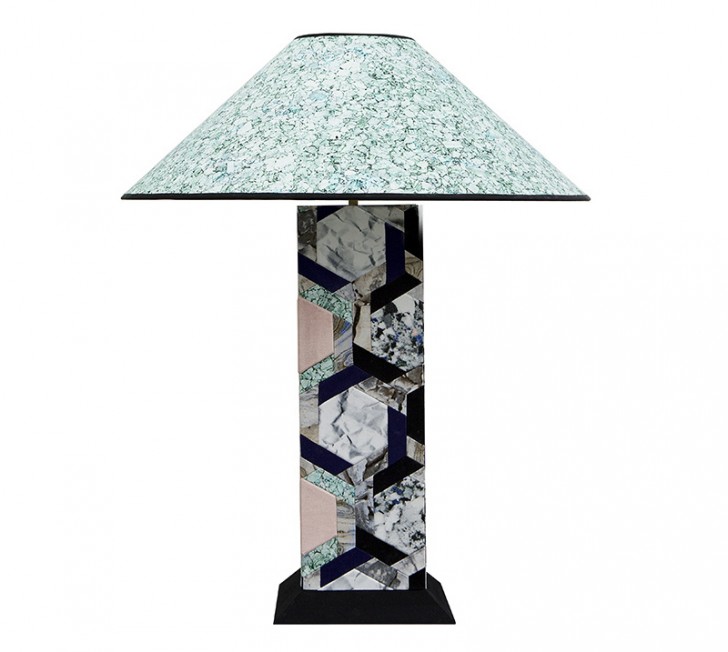 Not new but we couldn't help it: How amazing are Robert Normand's geometric mashups of faux-marble surface coverings? Sure, they're a little trendy, but we would not kick this table out of bed, no sir. Both it and the crazy lamp pictured above appeared on our Pinterest feed this week, which we encourage you to follow for more real-time discoveries!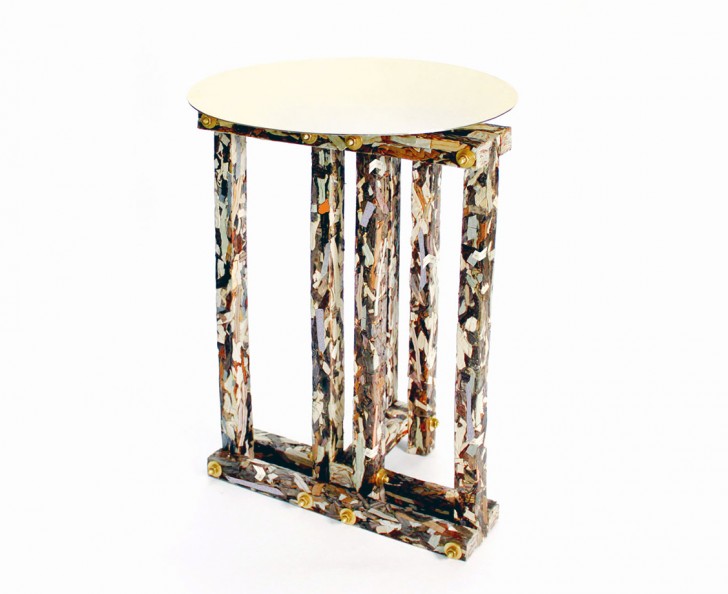 While it looks like some kind of technicolor OSB, this side table by Spanish designer Jorge Penadés is actually made of leather — for his thesis project, Penadés came up with a technique he calls Structural Skin, in which he fuses scraps left over from industrial leather production using a top-secret 100% biodegradable binder. (See a video of the process here.) "The outcome can be re-heated and re-shaped again, which means that nothing is lost and therefore the whole material is re-usable," he says. "The objective is to reintegrate the offcuts from the leather industry into their own companies by creating different objects that can be used for displaying their leather goods." In addition to the table, he's made a cool clothing rack, too; he'll show the full collection at the Salone del Mobile in Milan in April.
Exhibitions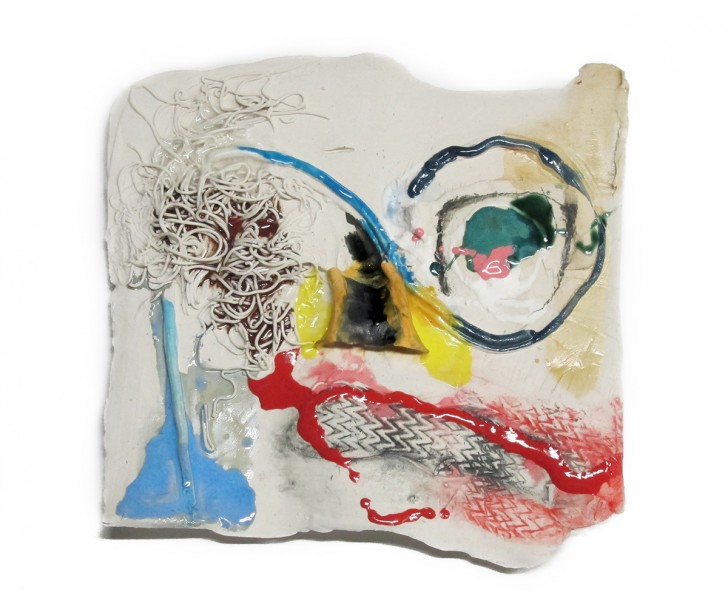 Thursday marked the opening of ceramic artist Jennie Jieun Lee's latest solo show, "Am I Ugly" at Toronto's Cooper Cole gallery. It features a dozen of her signature masks, each with names like Clarence or Tom (pictured), that imagine the ways people see themselves at their most insecure — particularly when exploring those insecurities on the internet. (Make sure to also check out the studio visit we did with Jieun Lee over the summer, which explains more about her approach to these themes.)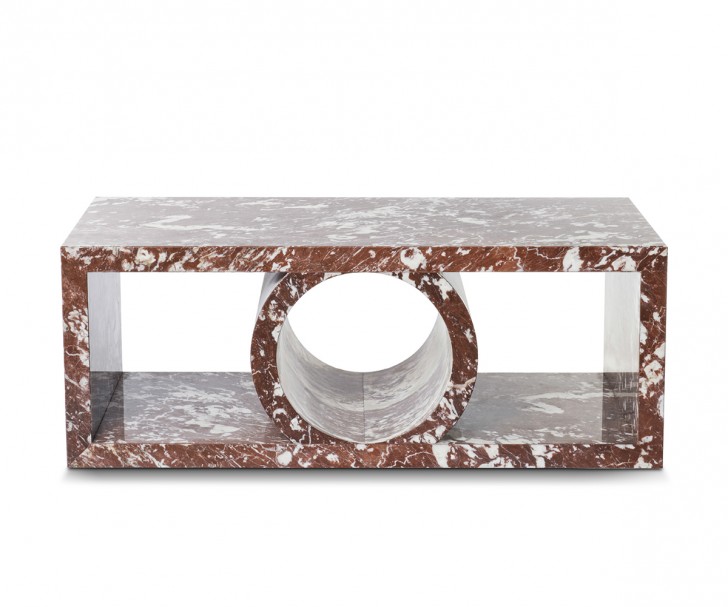 The design world may have a pathological obsession with marble at the moment, but for his new show Palais at Paris's Armel Soyer gallery, French designer Pierre Gonalons looked for inspiration to a whole other era in which the material was trending: the 1600s. The collection — which includes a console table, a pedestal table, a fireplace, a bowl, and the low table pictured above — is a throwback to 17th-century French classicism, and the decorative use of marble in the architecture and interiors of that period. Très hip.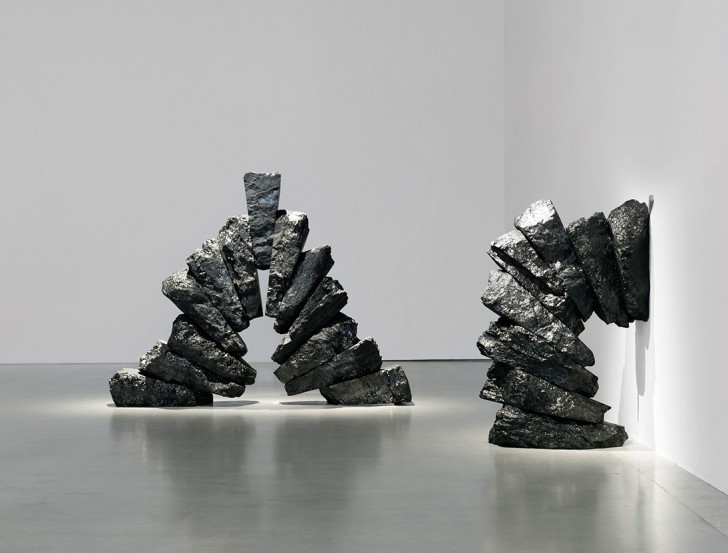 Hilda Hellström may have risen to international fame for her colorful experiments with Jesmonite, but the designer certainly isn't averse to using other materials; a recent solo show of hers in Sweden, which she relocated to from London this fall, features sculptures she's made with anthracite, a type of naturally formed coal with a high-gloss sheen. Hellström took blocks of the stuff and created classical arches that rely solely on pressure — the same force that forms coal in the first place — to stand.
Meals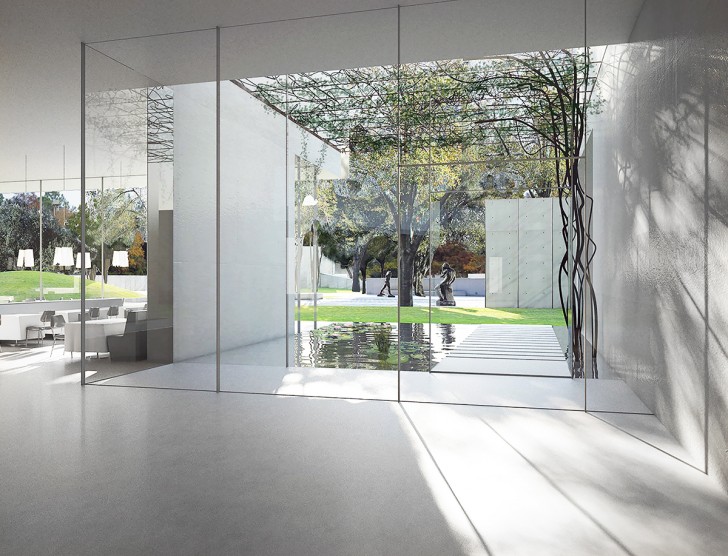 Meals? Yes, meals. This week we were lucky enough to enjoy two pretty incredible ones, all in the service of great design. The first was a lunch at Per Se, where we dined on artistic-looking carrot salads and small, buttery wheels of fish as Steven Holl unveiled his plans for a massive expansion to the Museum of Fine Arts in Houston, including two new buildings that will join existing structures by Mies van der Rohe and Rafael Moneo. We particularly liked the way the gallery building will be punctuated at intervals with seven vertical gardens like the one shown above. Who needs art when you've got views like that?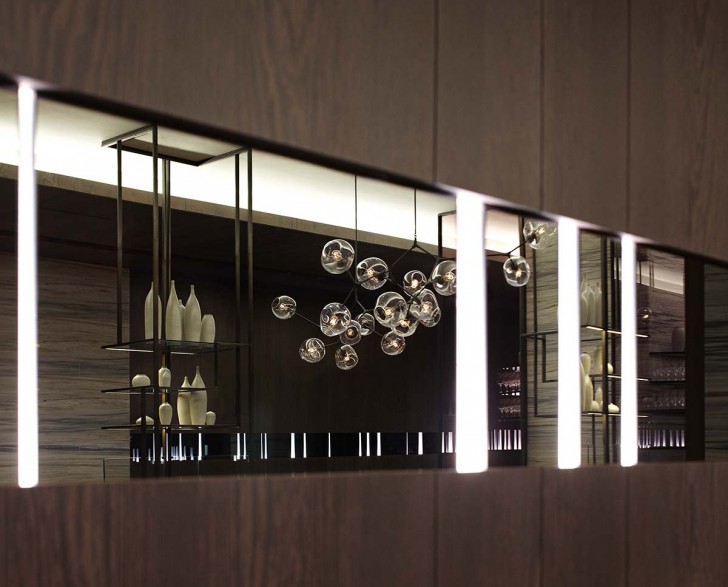 The second meal was a dinner at the latest tour de force from hospitality kings George Yabu and Glenn Pushelberg, the Park Hyatt New York, where the ceiling was colonized by Lindsey Adelman chandeliers and there was so much marble that not one, but two waiters pointed out how well my necklace matched the decor. The food was spectacular, and though we always lament the perpetual lack of color in ultra-luxury projects like this one, we'll take wood and warm metals over curtains and chintz any day of the week.