05.13.15
Chris Wolston's Fetish Lights
One of the many great things about living in this post-Postmodern, cyber-gray area of the 2k10s, is that artists and designers can draw inspiration from pretty much any culture or period and come away with something new and exciting. There's the brightly colored, geometric, "playful" route that has become so popular with today's makers — and then there's Brooklyn's Chris Wolston. His approach to making is often from a primordial or primitive perspective, where senses of the handmade and the human spirit are easily discernable. Using design to comment on the current state of the visual arts, Wolston creates objects that mix age-old processes like sand-casting and brick-making with newer technologies like neon. This unique mixture of clean and graphic with the downright nitty-gritty is Wolston's take on modern production techniques and the power of human intuition when applied to manual processes.
After receiving a Fulbright in 2013 that allowed him to investigate new and traditional ways of production in Colombia, Wolston was inspired to set up a second studio in Medellin to maintain and grow the relationships with artisans he had built during his year abroad. Collaborating with a local terracotta manufacturer is what led him to present a collection of ceramic furniture shown at last year's Sight Unseen OFFSITE. At this year's show, opening Friday, Wolston is back in full force, showcasing a series of sand-cast and neon sconces he's appropriately deemed "Fetish Lights." Read on to see what he has to say about operating studios on two different continents, what the creative climate is like in Colombia, and what he's got planned for the coming year.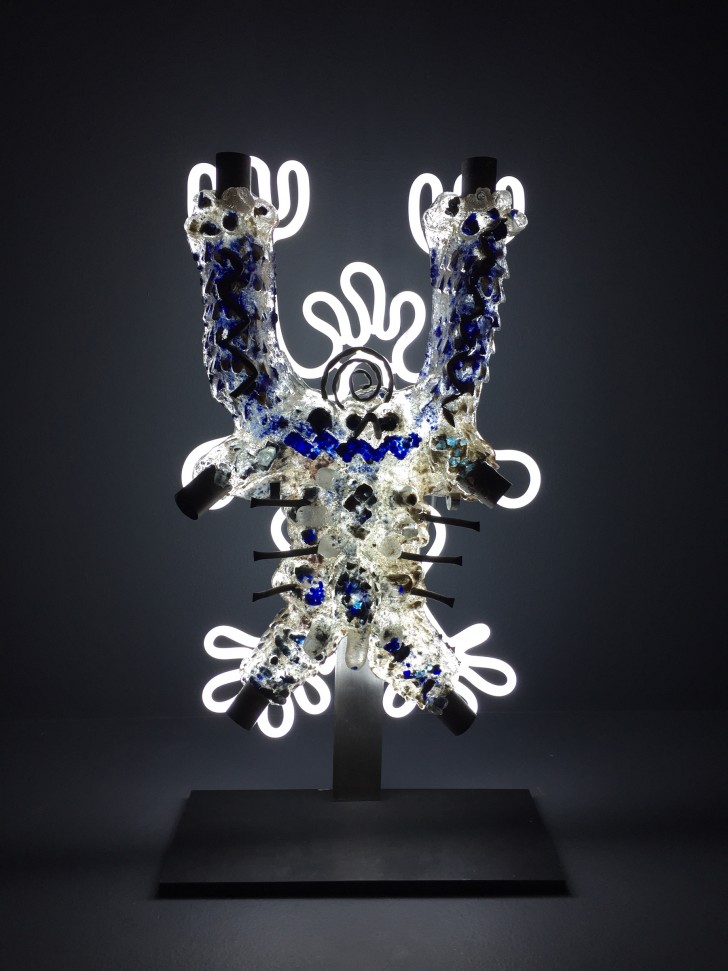 What compelled you to set up a studio in Colombia?
I set up my studio in Medellin at the end of my Fulbright grant there last year. A large portion of my research leading up to that point had involved working with local manufacturers and artisans, documenting the material processes they employed and how the products being generated fit into the city's larger material culture. Take, for example, the terracotta furniture I showed at OFFSITE last year. This work was part of a larger investigation into regional ceramic traditions in Antioquia, for which I surveyed a pre-Columbian ceramic archive, traditional hand-painted ceramic and artisanal cookware workshops, and industrial factories producing bricks for home construction. As my grant was nearing a close, I decided I had to maintain a workspace in Medellin, so I could continue working with the incredible contacts I had made in an environment I find continuously inspiring.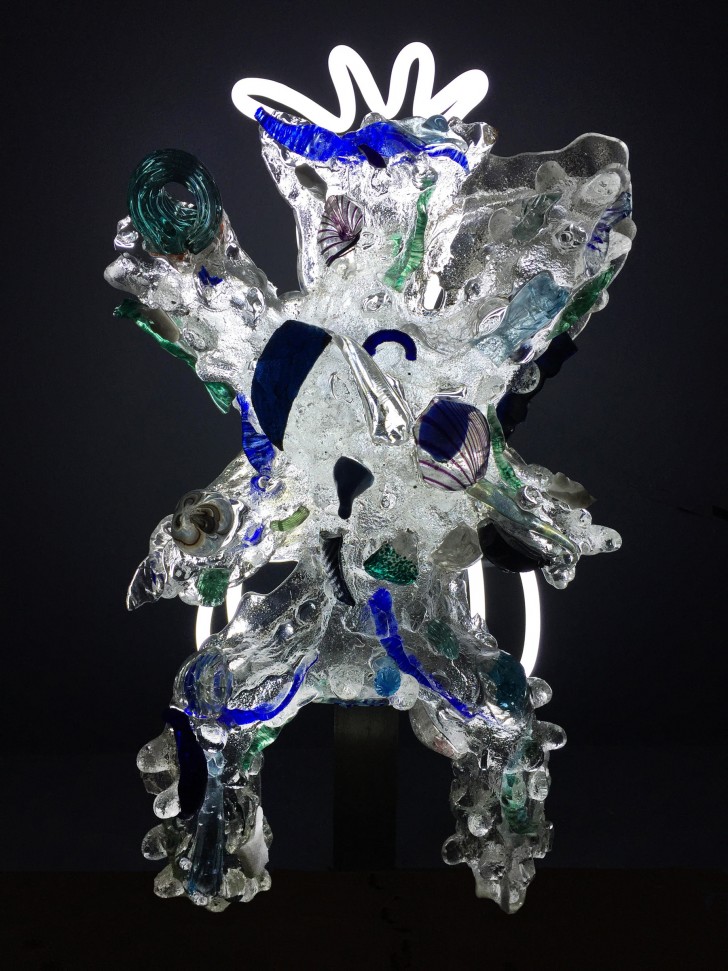 And what inspired the Fetish Lights that you'll be showing at Sight Unseen OFFSITE this year?
In Medellin, I witnessed them making bricks, and I found part of the process to be very surprising. There's a part of the process where a guy down the line sticks his fingers into the wet unfired bricks to pick out rocks and any other debris inside the terracotta. Most people might be fixated on the horses that are hired to trample the clay, but this man's intuitive, fast-paced hand was fascinating to me. Having studied glass, I wanted to find a way to translate this kind of energy into glass — a material you obviously can't touch with your hand. That was the main jumping-off point for my newest series. It basically became about using a texture to create a whole form.
Now that they're done I can see this odd dialogue with the aesthetic of so much else that's happening in design.  In a way, these things take some of the punch of Post-modernism but invite in craft and spontaneity. I see them as sconces that are dancing on the surprising angular rigidity of so much of the supposedly "fun" work I've been seeing.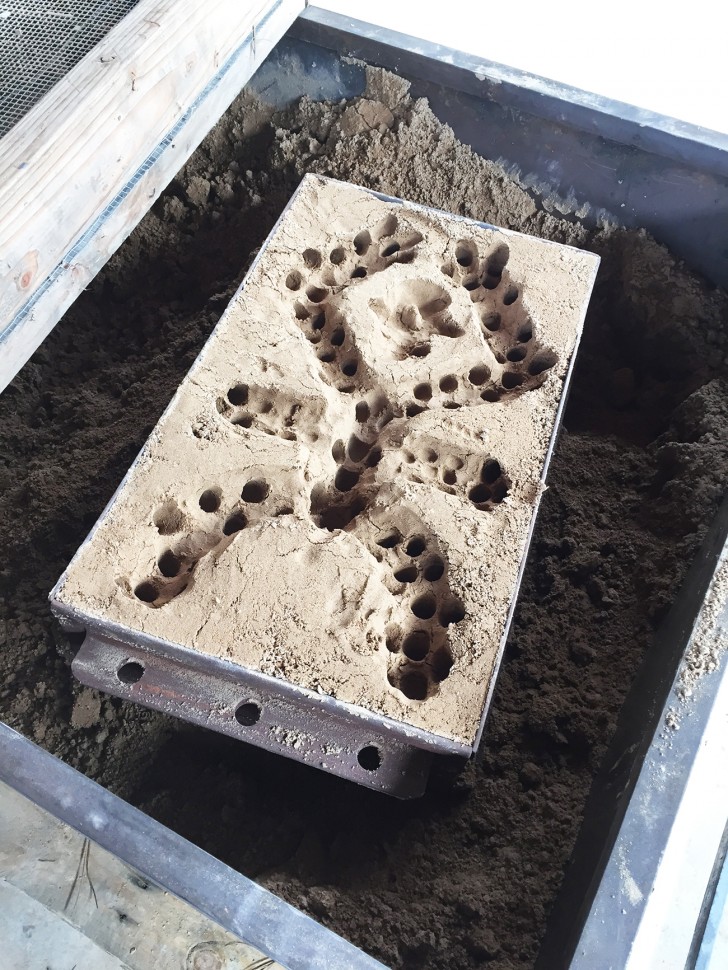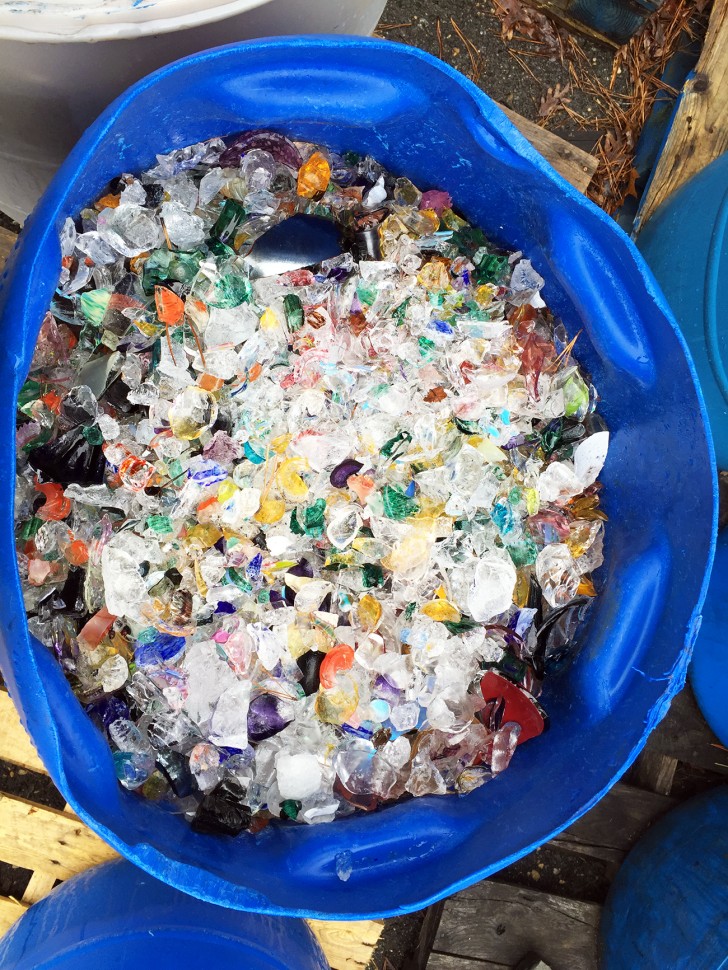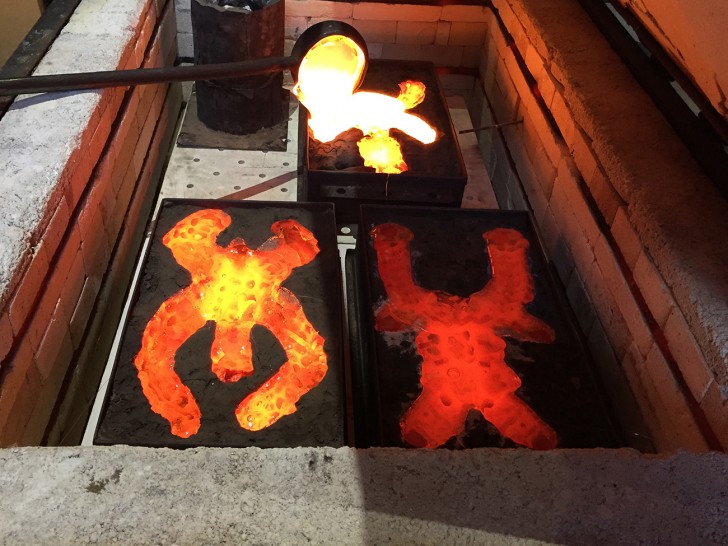 Can you describe, in layman's terms, the process behind the lights?
Fortunately, I don't even have to use layman's terms because they are literally MADE IN A SANDBOX! It's sand mixed with a sticky bentonite clay. I press and poke to make the shape I want, sticking chunks of cold glass partway into the sand, then I brush molasses into the mold to keep the sand from sticking to the glass that will be poured in.   Hot ladles of glass are dumped in, filling up the empty cavity. This is slowly cooled down and then gets dug out. It feels like Christmas each time I dig out a new one.  The part you can see when you're making it is the inside, and parts of the cold glass that will be visible are hidden — so the process forces you to be flexible and try to visualize something you can't actually see.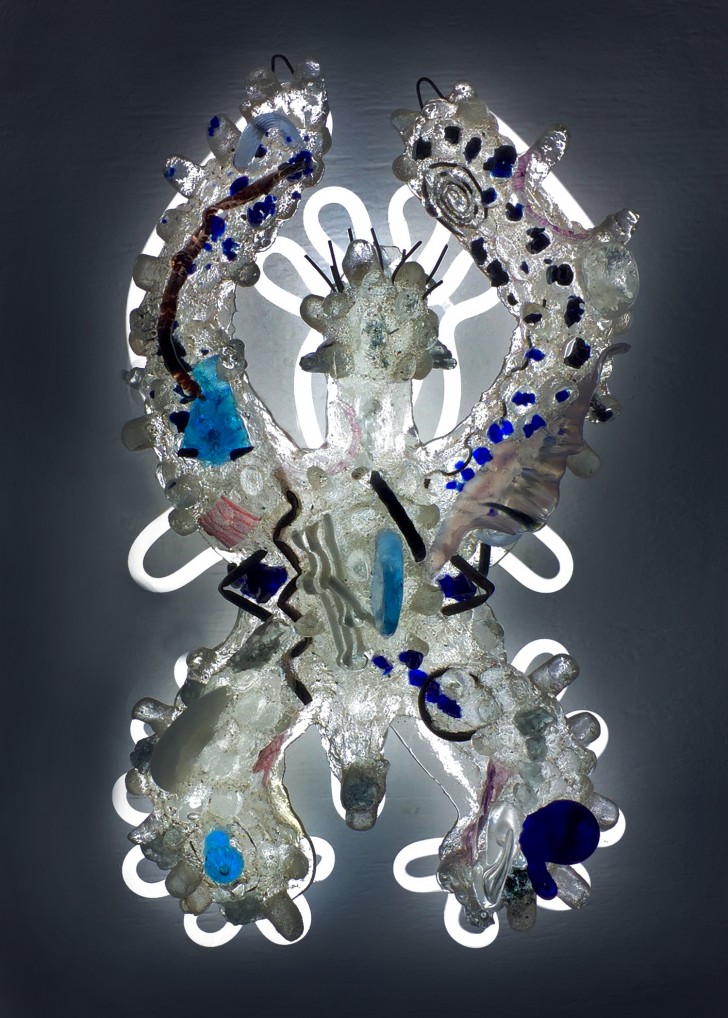 Formally, these shapes exist somewhere between Keith Haring and African fetish objects. What context do you see them in?
I thought it would be great to show them in a design context like OFFSITE. It's great that formally they're anthropomorphic — like one foot is in art, one foot is in design, and maybe a giant cock is trailing into craft. I felt like I had to respond to how rigid I felt the recent Postmodernist revival has felt. I wanted to make an object that was punchy and fun in its finished form because each step of the way was a kind of instantaneous, dancing, no rules approach to making. As little glass men they felt like they lived between so many genres. I thought the neon would outline them and give them some boundaries, but instead of containing them, the outline ended up being more of a squirmy expression of their lack of concern!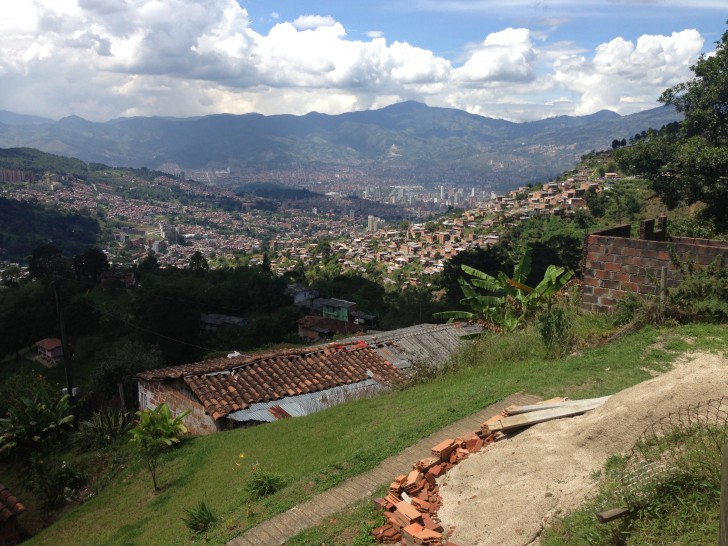 View of downtown Medellin from Wolston's studio
You still split your time between your studio in Medellin and New York City. How did that kind of binary life influence this particular series?
In the U.S., we're so used to big-box stores selling identical products. Although there's some of this in Colombia as well, there's so much leniency for small manufacturers to make things that allow for irregularities, thriftiness, and a very natural approach to making. In the States, being surrounded by these odd ideas of perfect objects and a methodical art-school approach to making, it's easy to not leave room for this type of responsive, think-as-you-go way of making. Every time I'm in Colombia, I spend the first few weeks being super ornery. But when I calm down from the slow pace and many obstacles I'm able to fall into this rhythm of making that feels less self-conscious and restricted.
Can you describe the creative community in Colombia?
There is a really youthful energy surrounding the creative community in Medellin, supported by a few major institutions like the Museo de Antioquia and the MAMM — Medellin's MOMA. Every time I return, there seems to be a new gallery or project space. Some of my favorites are Plecto Galeria, run by the forward-thinking Liliana Hernandez, and Plazarte, an ever-evolving art space in the city's historic Prado neighborhood. I first visited Medellin four years ago to check out the artist residency my friend Andres from RISD had started on his family's old coffee plantation — Campos de Gutierrez. My studio space is just up the road from Campos and it's amazing to be tapped into the creative energy from the artists working there. The romance of walking down the road together to rinse off in the waterfall sets such a different community tone than being in NYC and meeting up Thursday evenings for openings!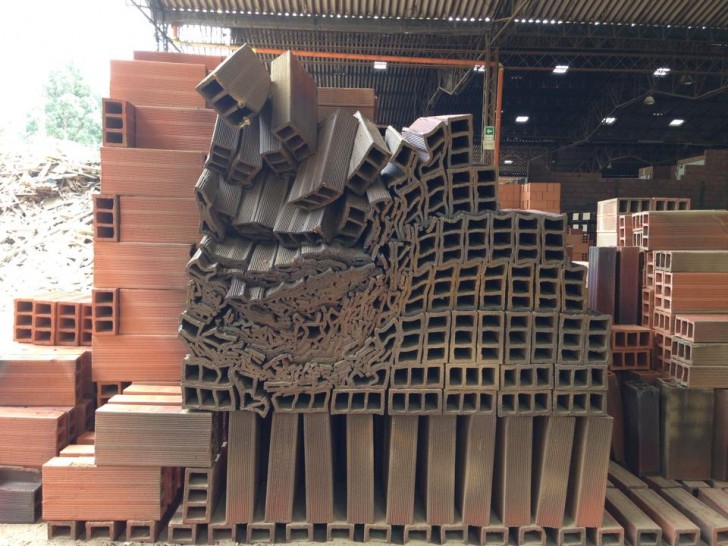 Melted bricks at a factory in Medellin
Are relationships with manufacturers, suppliers, and artisans easier to maintain than in the States? Do you find they're more willing to experiment with processes or is it vice versa?
Definitely! Perhaps there's more of a "let's do this together" team spirit vibe, and less of a "cash is king" attitude. But it also has a lot to do with the way the manufacturers are making things that it's easier to weasel in an oddball artist.
For instance, at the brick factory all the bricks piled next to the burner get ruined each batch. Maybe this is how it also happens in the U.S., but my guess is some high-tech heat sources and temperature monitors prevent it. In any case, when I asked about experimenting with these burnt bricks they were totally game. If a manufacturer is fixated on making identical perfect bricks,adjusting the temp on thousands of bricks probably isn't going to be an option. But there, they got excited to try something new, and then call their friend with a truck to help haul the results up the mountain.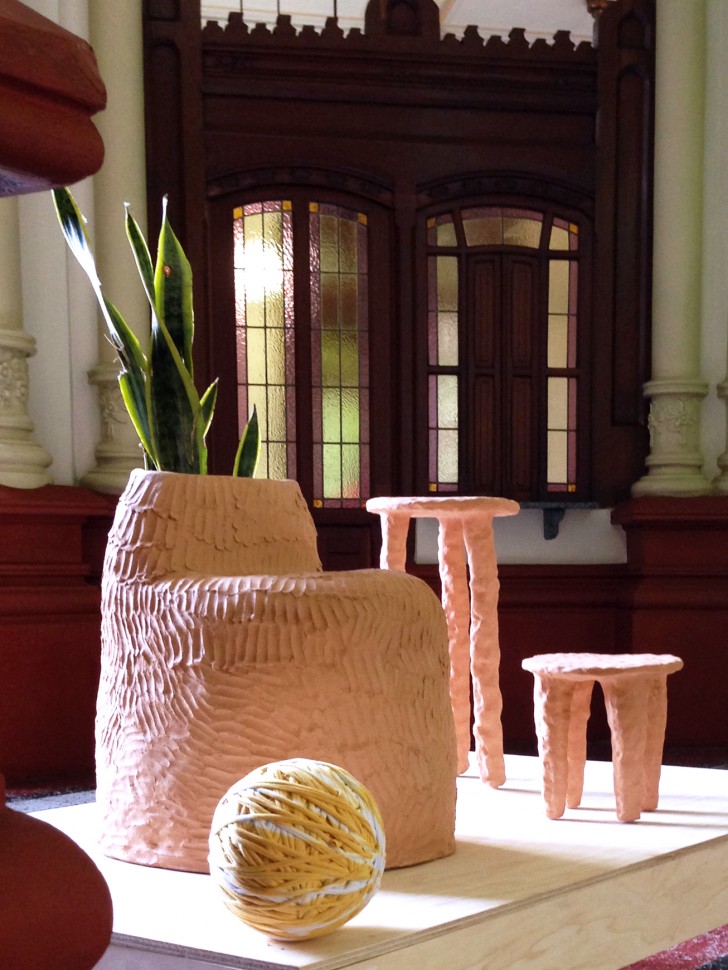 Last year at OFFSITE, you showcased a series of terracotta furniture. Was there anything specific that made you shift from clay to glass?
The terracotta furniture was meant to capture that energy of the hand in a really direct way and function as a series of relational sculptures of sorts, forcing a direct confrontation with material. It actually arose over lunch at the Guggenheim with one of my RISD glass professors when we started discussing how to get that same vibe into a glass piece — the proximity of hand to material and process. I was transported back to the marks left in the wet clay bricks by the man pulling out pebbles. Since you can't touch hot glass, obviously, it became about recording that action of the hand in the sand and then casting into it. In a way I feel like the pieces are more like charcoal rubbings you can take from a tree — like a quick action that captures a texture — more than a precise way of creating a specific object.
What can we expect from you in the coming year? Any big plans?
The most major is a project I'm beginning in Medellin inside an industrial brick kiln. Most terracotta used to make bricks is unprocessed and contains the natural fluxes and minerals used in making glass. By altering firing temperatures inside the factory's kiln, I am able to cause these fluxes to vitrify, turning stacks of bricks into melted mountains of glass. I can't say too much more on this at the moment, but I can say I have an additional line-up of new projects coming out of the studio here in New York and Medellin, including a collection of chainsaw furniture carved from rainbow eucalyptus trees and a series of hand-built ceramic replicas of domestic objects found in the Medellin home — a pressure cooker, a corn grinder, a spray bottle to keep fruit moist. For this body of work, I am working with a traditional ceramics factory in a town known throughout Colombia for its hand-painted earthenware. The pieces focuses on material, tradition, and regionalism.
Sight Unseen OFFSITE opens this Friday, May 15, and runs through Monday, May 18. For directions and a list of daily hours — as well as a peek at our list of exhibitors — click here!